When people talk about Singapore, they never fail to mention the food: the cheap and delicious street food found in hawker centres (recently added to the UNESCO Heritage list), the many Michelin star restaurants (as well as the world's cheapest Michelin-star meal) and more. However, delicious as our food is, there is so much more to the Singaporean food scene than just eating. Now that Singapore is opening up again, here's a list of my top 11 activities in Singapore for foodies, beyond eating:
Jump to:
Pulau Ubin Cookery Trail
Good for:
people interested in learning more about Singapore's useful herbs and plants
Malay food lovers
people who want to do something different

Not suggested if you:
have problems walking
hate the heat and mosquitoes (nothing is air conditioned on this trip! Although I loathe hot weather, I would be happy to go on this little adventure, anytime!)
This is one of my favourite activities for food lovers on this list! You pretty much go back in time to the Singapore of the 40s and 50s: we took a boat to Pulau Ubin (click here to see the boar ride) , 1 of Singapore's 65 islands, then drove to an old kampong (traditional Singaporean wooden house) where the cooking lesson was held. There we were greeted by the owner of the house, who had grown up on Pulau Ubin but now lived on the Singaporean mainland, with traditional Malay snacks.
There was an interesting short talk on the culinary and medicinal properties of various common plants growing in Singapore: for example, did you know that pre-"because you're worth it" (a reference to L'Oreal, in case you've never seen the advertisement), people used to dye their hair using banana peels? Something to try with the leftovers the next time you make banana bread! In addition, the leaves of one of Singapore's most common ferns, the bird's nest fern, were previously used to help with labour pains! Fascinating, isn't it?
After that, she took us on a foraging walk around the island, gathering some plants which we later added to the nasi ulam that we made, such as cashew leaves and belenut leaves. (Do note foraging is illegal on Pulau Ubin but our guide has a special permit.) At the end of the walk, we went back to the kampong and, in teams of 2-4, assembled our nasi ulam, fried some prawns in butter and curry leaves before ending with a cooling dessert of ice kacang made using an old school ice grater.
Unfortunately, the Pulau Ubin Cooking Trail isn't held often enough for my liking! (It is also very affordable- all of the above for only S$50!) To see if there's one organised for when you're in Singapore, do click on this link.
An experienced guide will take you around Botanic Gardens, Dempsey and an urban farm to share foraging knowledge with you. I previously did a foraging tour in London which was fascinating- the guide used to be a homeless drug addict but thanks to his foraging has turned his life around and was even showcased on national TV!- and we ate what we foraged. He even ate some of the plants that are known to be poisonous- apparently certain bits are edible but I chose to skip trying those LOL Anyway, unlike my London foraging tour, sadly this tour is purely informative so you won't actually be doing any foraging (as plucking fruits and what not in SG is apparently illegal) - I've signed up for this and will update again to let you know how a foraging tour, sans actual foraging, turns out!
Recommended for:
people who want to have fun, eat and do good at the same time (Food Playground is a social enterprise that seeks to empower Mums and bring them back to the workforce)
those unfamiliar with Singaporean local food and want to find out more
people who like to meet interesting people from all over (I attended the class with a couple from Alaska (as well as a few other tourists)- the husband is a wealth manager and told me that apparently Alaskan fishermen are very affluent so the private banking scene in Alaska is quite lively! I would never have known!)
Not suitable if you:
.... don't want to meet tourists...? (I was the only local when I attended- but you can tell I'm struggling to think of negatives!)
want an intensive cooking class (think Cordon Bleu) with lots of science and theory behind the cooking

The session was held at a historic shophouse in Chinatown and started with an introduction to Singaporean food (this is geared towards tourists: for example, we were quizzed on the difference between Singaporean and Western carrot cake, the former being savoury and the latter, a dessert, of course. Once we got down to cooking, it was 2 to an induction cooker but we both had the opportunity to cook. Together with a lovely Japanese lady, I made chicken Curry, ang ku kueh (wrapped by yours truly) and roti jalal (netting pattern designed by me!).
After we'd stuffed ourselves on our cooking, the class came to a close and Food Playground had another surprise in store: we were all allowed to choose from either an ang ku kueh mould or a roti jalal pouring cup. Very thoughtful, I must say, as it ensured that we could continue our cooking adventures at home without having to hunt down potentially difficult-to-find (for tourists) kitchen tools. (I chose the cup and, yes, I have used it!)
Note: I actually had to cancel my first booking as something came up, and the cancellation process was super easy and fuss-free. All in all, it was a 5-star experience and I definitely want to return to try the cooking classes for the other dishes! (Food Playground has a fixed schedule where each day of the week corresponds with cooking a different menu)
want to learn as many Singaporean dishes as possible (we made 6 dishes in 1 session)
are looking for good Singaporean hawker recipes (I was pleasantly surprised by the quality of the food we cooked- I had not been expecting the food to be hawker quality but I must say they were all- except the laksa, which needed more depth- as good as anything I'd eaten in a food court. If you want the secret, it's because we used pork lard to cook and not vegetable oil!)

Not recommended for:
people who want an in-depth cooking experience (the session was run more like a demonstration with opportunities for participation: all dishes were made as a group with the instructor sharing 1 cooker so we didn't get to cook any dish from start to finish.)
Note: the class targets locals, not tourists, so may not be suitable for people who are very new to Singapore.
Our instructor, Chef Low, was very generous both with her advice and resources- I mentioned that a friend had asked me to make laksa without prawns and she kindly passed me some vegetarian shrimp to experiment with! Apparently, her Grant Aunt used to cook for the Thai Royal Family! (I would love to try her Thai cooking class!) Under her expert guidance, we cooked these 6 dishes collectively:
Singapore Hainanese Chicken Rice (I haven't shared a recipe for this yet but I did use some of my takeaways from the session in my Singapore Hainanese Chicken Rice Porridge recipe.)
Chwee Kueh
Laksa (This was the only dish I did not take a photo of- maybe because it was my least favourite of the 6!)
For example, when cooking the chicken rice, Chef Low first showed us how to poach the chicken before Isabel, the French lady in our class, showed us how the French debone their poulet. Another classmate blitzed the chilli ingredients in the blender, whilst I toasted the rice in chicken fat, pandan and other aromatics after which the rice was cooked in the water that had been used to poach the chicken. I was rather disappointed to find that we added Maggi chicken seasoning to the stock as all hawkers do, or so I am told.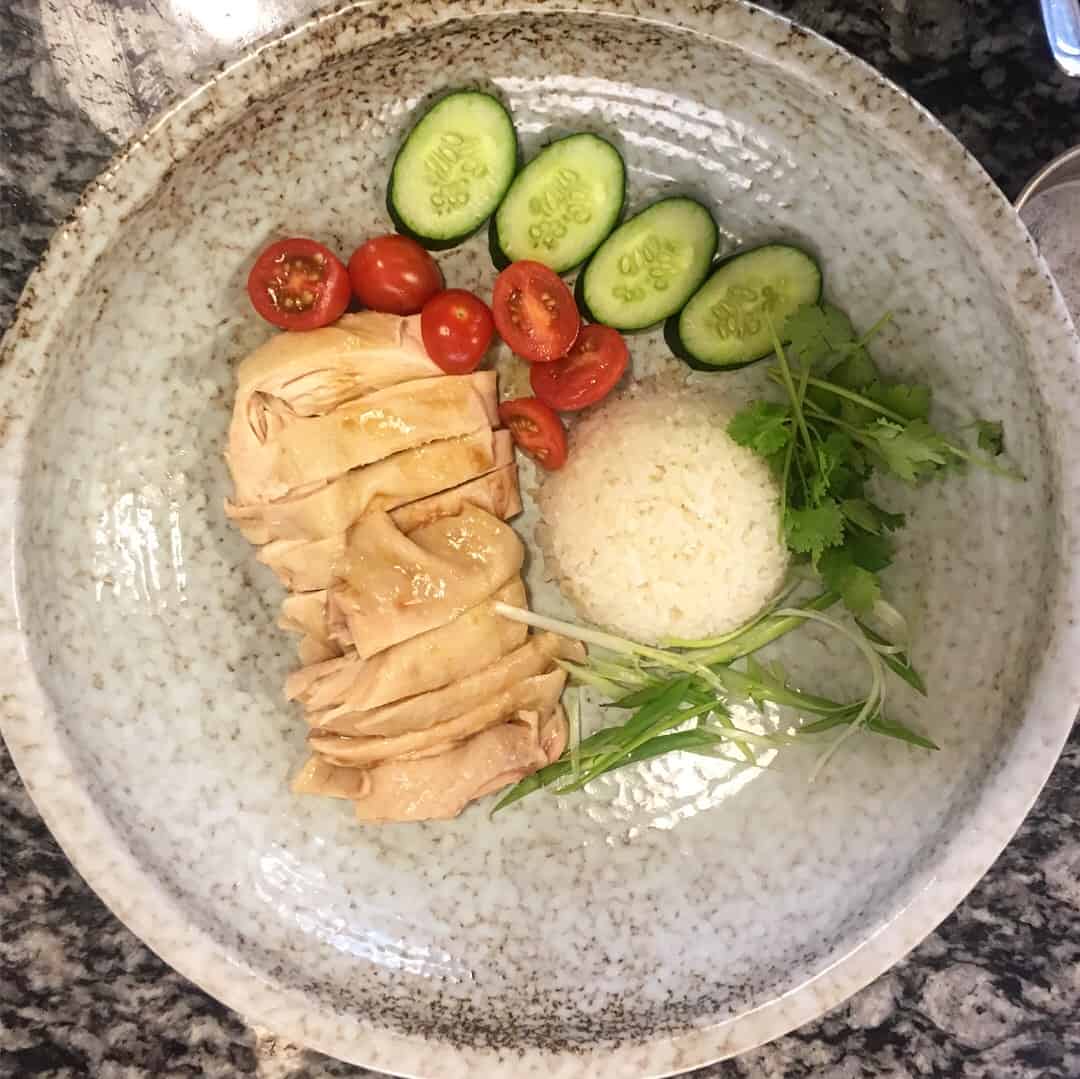 Singapore Food and Art Tour
Ideal for: anyone who wants to find out more about Singapore!
I actually met PS and her sister on the Pulau Ubin Cookery tour I mentioned above and was really inspired to hear that she'd left a career in consultancy to start Everyday Tour Company, which conducts several Singaporean tours such as a food and art tour of Singapore, a HDB tour and an architecture tour. You can even do a Crazy Rich Asian tour without leaving the comfort of your own home- it's conducted via Zoom and has even been featured on New York Times! Check out her Instagram account for some photos of what you may see on the tours, such as the one shown above- it's a love letter to Singapore 🙂
A modern day kampung where you harvest your own food from their garden before coooking and eating together. The write-up is a little sparse as I didn't manage to attend the session before COVID hit, although it is something I am very much looking forward to trying! In the meantime, I have to settle for ordering Mummy Soh's mee siam (self-collection from their house)!
Recommended for:
soon kueh lovers
appreciators of local food and drink
fans of Singapore heritage food
Situated in an industrial estate- opposite my Mom's office actually!- One Kueh at a Time serves the best soon kuehs I've ever tried. Smaller than the typical soon kueh, each one has skin so thin it's translucent and chock-full of goodness. (My favourite flavours are their regular and hae bee hiam soon kueh.) Sharing a building with Lim Chee Guan, a famous ba kwa (Singaporean pork jerky) seller, One Kueh at a Time is run by Nick and Karen who have created a very cosy cafe- the ambience and focus on local food & drink remind me of Maltby Spa Market in London (I used to live a 15 minute walk away- fun times!) The tea they serve is local Gryphon Tea, located in the same industrial estate, and the Gryphon sparkling osmanthus sencha passion fruit is one of the most delicious drinks I've had in 2020. When my friend asked for cold brew coffee, which they didn't have, Karen kindly offered her some of the coffee she had made for herself. It felt more like visiting a friend's home and nothing like the soulless experience of a chain cafe!
Note: they don't open on Mondays and it can be a trek to get there if you don't have a car (there is a bus stop outside but no MRT station close-by).
Urban farming has been all over the news and Edible Garden City is one of the forerunners of the movement. Look out for their workshops which have included making your own tea, creating an edible flower arrangement and reducing food waste by upcycling orange skins into fertiliser and cleaners.
I have to confess, I haven't actually been to this restaurant but this modern kelong is on my list of to-visit places. It's quite a trek as you need to take a ferry to their restaurant where you'll have the opportunity to catch your own dinner (it's a "sure-catch" pond so don't expect anything too exciting). According to my cousin who has been, Smith Marine is recommended for the adventure and freshness of the seafood rather than the quality of the cooking (deemed to be average).
A part hands-on, part demo session, you get to eat your dumplings at the end. Unfortunately, you need to form your own group of 5 to take this class, which is why I've not been yet!
One of my favourite memories of my time in London was the Borough Market Cookbook Club. Every few months- or whenever I was fortunate enough to get a ticket, really!- a group of us would gather at Borough Market, each bringing along a dish we'd cooked from the same cookbook. One time it was Jamie Oliver's "The Naked Chef", another it was Sybil Kapoor's "Sight, Smell, Touch, Taste, Sound" , and yet another it was Julia Child's "Mastering the Art of French Cooking" and so on. It was a great way of seeing if one liked enough recipes before investing in the cookbook, trying dishes one would not cook at home- I remember a delicious rabbit, something I've never even seen in my kitchen- and just having a good chat with other food lovers. There were even people who'd come to London on holiday (from Japan and America) and joined us- how cool is that?
Part of the amazing thing about living overseas is learning from your experience there which is why I've decided to start my own cookbook club in Singapore! Plans were derailed by COVID and the limit on the number of people who could gather but both Marshall Cavendish and Epigram (publishers of Singaporean cookbooks) have expressed interest in collaborating so do join the Facebook group for updates on when the first meeting will be!
PS If you're a Singaporean or Singapore-based recipe blogger looking for a community, do email me at greedygirlgourmet at gmail dot com to join our Whatsapp group!
Have I missed out on any of your favourite food-related activities in Singapore? If so, let me know in the comments! 🙂 I'd love to find new things to try!