Chinese New Year is all about good luck symbols, and what could be luckier than these 18 Golden Recipes for a lucky Chinese New Year? Not to mention, they're delicious too!
Jump to:
The Chinese New Year dinner table (CNY for short) is all about symbols. Chinese people eat lucky foods such as peanut cookies because they symbolise fertility, stir fry noodles for long life, dumplings because they look like gold ingots and so on.
Since the colour gold is associated with good fortune - and wealth!- in Chinese culture, I decided to do a round-up post of Golden recipes to bring luck to your Chinese New Year table.
They not only look amazing, but would also please all your elderly/ superstitious relatives and make sure that the coming year is a great one for you!
Note: since we're on the note of colour-themed food, here is a green coloured Asian feast for St. Patricks Day! For more traditional lunar new year recipes, click here.
🥟 Snacks
Walnut Cookies
For more Chinese New Year cookies, such as Chinese almond cookies, click here.
Peanut Cookies
Salted Egg Cornflakes
You can even use your homemade salted eggs to make this fried rice and popcorn, if you put your eggs in a salt brine now!
With these easy salted egg cornflakes and popcorn recipes, there's no need to splurge on Irvin's salted ducks egg fish skin anymore! Save your money for giving out red envelopes (ang bao) instead!
Note: for salted egg lovers liked myself, try 1 of these salted egg recipes!
Salted Egg Popcorn
Making your own popcorn is easy (and also healthy, if you serve it lightly salted and with no other sauce!) but if you're new to it, here are some tips on how to pop popcorn on a stove.
Curry Puffs
Frying tip: if you don't have a food thermometer, do as the Chinese have been doing for centuries. Insert the tip of your wooden chopsticks into the oil. If the oil is hot enough, you should see tiny bubbles forming around the wooden tip!
I do not recommend making this recipe in the air fryer as the dough doesn't taste as good. If you want a healthier version, use filo dough and bake them instead.
Note: if you put the curry puffs in before the oil is hot enough, they'll be oily and greasy!
Spring Rolls
Do yourself a favour and make these "gold bars" spring rolls in advance for less stress during your Chinese New Year celebrations. These dim sum morsels can be easily batch made, frozen and cooked on the day of your family reunion dinner party!
You can easily make a whole range of them by varying the filling from ground pork, spring onion and glass noodles to tofu, Napa cabbage and shiitake mushrooms!
Tip: serve them with some dipping sauce such as hoisin or sweet chili sauce on the side!
🥘 Mains
Salted Egg Fried Rice
Note: If you like fried rice, here are 17 leftover rice recipe ideas, many of which are for fried rice!
Pumpkin Rice
In Chinese, "Pumpkin" is "gua" which sounds like "ding gua gua" (top of the top!) so many families like to have a pumpkin dish during their Spring Festival celebration.
Tip: Use Japanese Kabocha Squash for a more vibrant golden color!
Cheese Instant Noodles
Longevity noodles is a main course for Lunar New Year as the long strands represent long life, so don't cut your noodles!
Gochujang Pasta
And since we're on the subject of non-traditional Chinese New Year recipes, why not some Korean-inspired gochujang pasta?
Fried Vermicelli
For more traditional longevity noodles, try this easy Singaporean recipe! Better than anything from your local Chinese restaurants!
Note: if you can't get the Indonesian sweet soy sauce, you can make your own with dark soy sauce, a bit of sugar and some spices.
Golden Porridge + Abalone = Double Fortune
Congee isn't usually served on special occasions but I couldn't resist adding this recipe because the size of the abalone is super impressive (It's bigger than my entire hand!)
If you serve such a large abalone on New Year's Eve, your relatives are sure to be impressed!
🥗 Sides
Vegetarian Wonton Soup
Ikan Pesmol
The Chinese word for fish is "yu" which is a homonym for abundance, so fish is 1 of the traditional lunar new year foods for family gatherings.
If you don't have time to cook a whole fish, why not cook a fish curry such as Ikan Pesmol or Tamarind Fish Curry instead? Curries are great party foods because they actually taste better the next day!
Assam Fish Curry
Egg Drop Soup
Pumpkin Seafood Soup
The dried scallops give this soup its umami-ness. If you can't get them, use dried shrimp or 1 of these dried scallop (conpoy) alternatives.
🍨 Desserts
For more delicious CNY desserts, click here.
Koi Fish Agar Agar
Gui Hua Gao
If you're a fan of osmanthus, you can also make osmanthus sugar, a super easy recipe!
Pumpkin Sticky Rice Cake
Nian Gao (Chinese New Year Cake) is traditional but, if you're looking for something different, try these pumpkin sweet treats made of glutinous rice flour instead.
They're sweet, stretchy and chewy!
Yuzu Konnyaku Jelly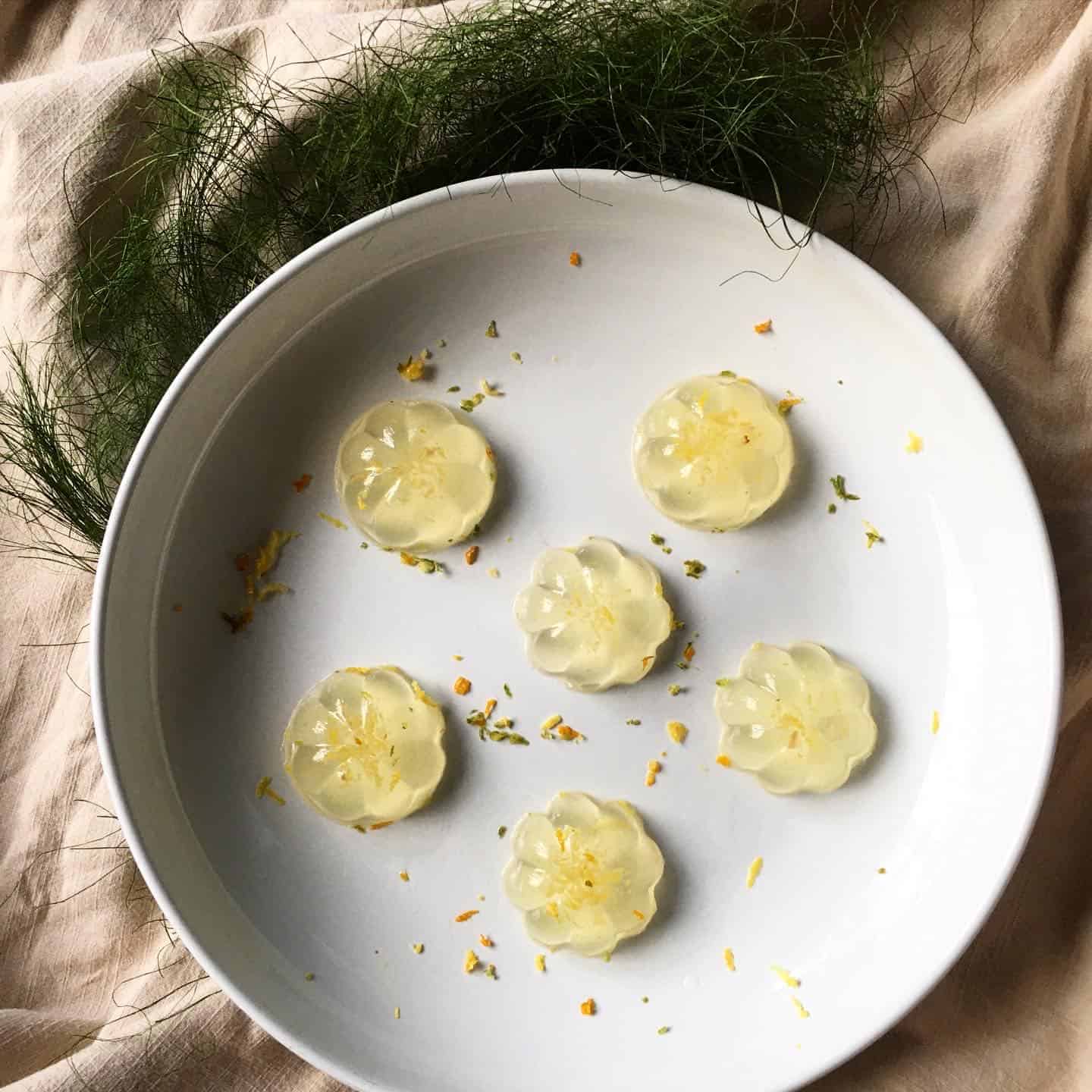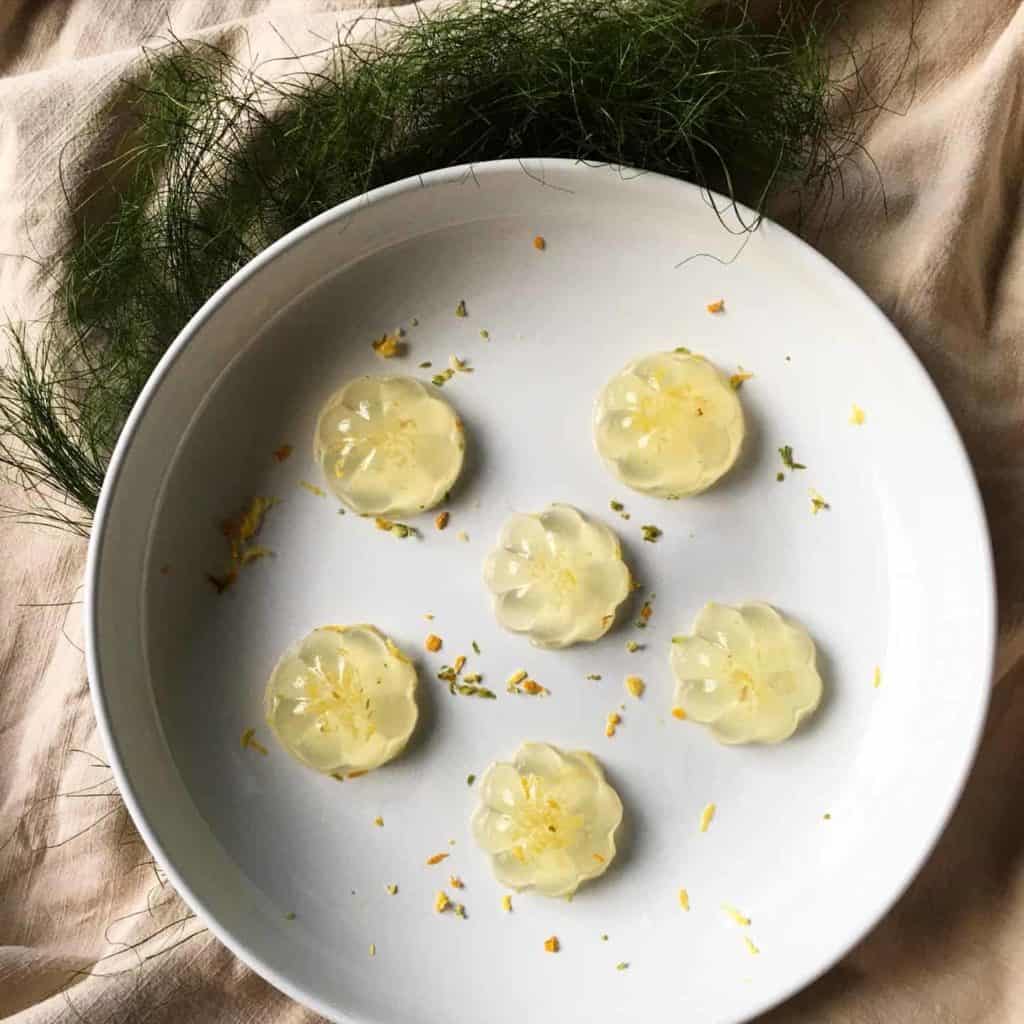 🍹 Drinks
Osmanthus Tea
Lychee Tea
Lychees used to be such a rare luxury that they were tribute fruit for Chinese emperors. A whole horse relay team was needed to bring the fruit from Southern China to the Chinese royal court!
Today, we're fortunate enough that lychees are readily available to everyone. For more of this sweet floral fruit, try these canned lychee recipes, such as lychee jelly with champagne.
And here are the various golden recipes to bring fortune to your Chinese New Year table- which of these delicious recipes is your favourite? Personally, I can never say no to anything salted egg!
If you've enjoyed this round-up, why not sign-up for my newsletter here?