Delicious and easy Asian & Chinese pumpkin recipes from Xinjiang flavours to Thai, perfect for bringing you a bountiful harvest over the Lunar New Year or for a fresh take on a traditional Thanksgiving ingredient.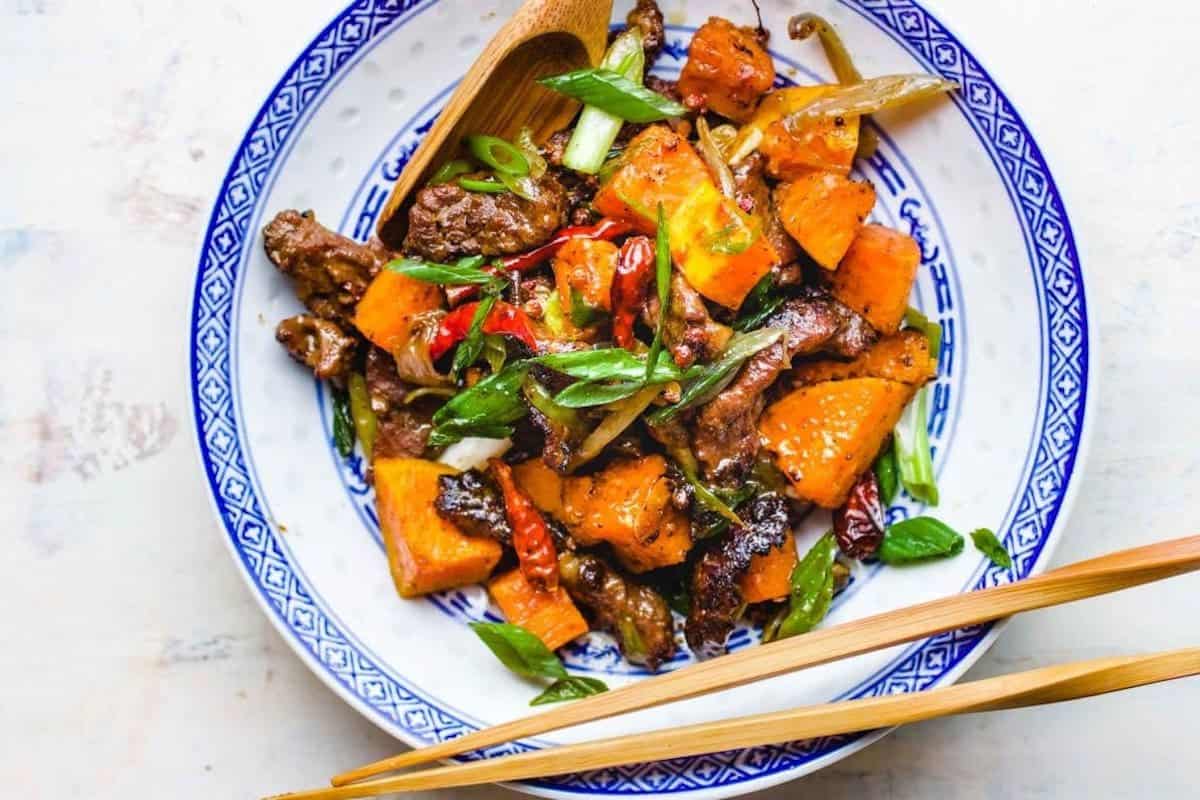 Jump to:
Everyone knows that pumpkin is a staple of American Thanksgiving (and Halloween)- it's a type of squash that is native to North America- but it's also eaten on other special occasions such as Lunar New Year.
Fun fact: Besides the bright orange pumpkin flesh, its shell, seeds, leaves and flowers are also edible once cooked. The roasted seeds make a delicious snack and pumpkin leaves are part of Korean cuisine.
Chinese New Year
Chinese New Year is commonly associated with lucky dishes such as dumplings and whole fish, but some people eat pumpkin for CNY too.
There's a belief that dreaming about pumpkins means you'll have a good harvest and some associate eating it ("kum kua" in Cantonese) with "You're the best" (ding gua gua in Mandarin Chinese), so this would certainly be a good time to eat golden brown, delicious Chinese pumpkin cakes (it's delicious with sesame seeds sprinkled on top) as well as Nan Gua Bing, a savory pumpkin cake that only requires 4 ingredients.
Other CNY recipes
Chinese cuisine dishes that are typically found on the CNY table include:
If you're not sure where to start, here's an easy Chinese New Year menu plan.
Thanksgiving
A pumpkin dish is a staple on the Thanksgiving table. These Asian & Chinese pumpkin recipes are great if you're bored with the classic menu.
We usually end up with tons of leftovers after the holidays, so if you've had enough of pumpkin pancakes and pumpkin buns, the porridge and soup recipes below are good alternative ideas for any extra pumpkin puree you have on hand after making your pumpkin pie.
Note: If you're here for Thanksgiving ideas, here are 14 delicious Asian Thanksgiving recipes as well as some ideas on how to use up leftover roast chicken and turkey.
Nutrition
3 heaped tablespoons (i.e. about 80g of pumpkin) make up 1 portion of your 5 a day. Other associated health benefits potentially include:
better skin
better eye sight
improved immunity
reduced risk of metabolic syndrome such as diabetes
cancer prevention
Moreover, the natural sweetness of the pumpkin means that you can use less sugar than normal in a pumpkin recipe.
Note: this information is for entertainment only and not meant as medial, diet or health advice. Please consult a qualified medical professional instead for such purposes.
How to Store
If you've leftovers after cutting your pumpkin, cover it with plastic wrap and store in the fridge. Some pumpkins are huge though- if it's too large to fit in the chiller, divide it into thin slices then store in an airtight container.
It can also be frozen for for up to 3 months- line the pumpkin slices in a single layer, and put it in the freezer. Once frozen, they can be jumbled up in a ziplock bag without sticking to each other (for easy defrosting.)
Chinese Pumpkin Soup
This delicious pumpkin carrot soup is so easy to make, it's great for an easy weeknight dinner!
Chinese Pumpkin Soup with Carrots
A deliciously savory dish, this Chinese Pumpkin Soup with carrots is also very nutritious and really easy to make in a few simple steps! (Basically, cut + steam!)
Check out the steamed Chinese pumpkin soup here.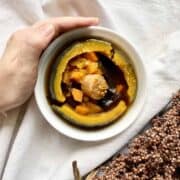 Chinese Pumpkin Porridge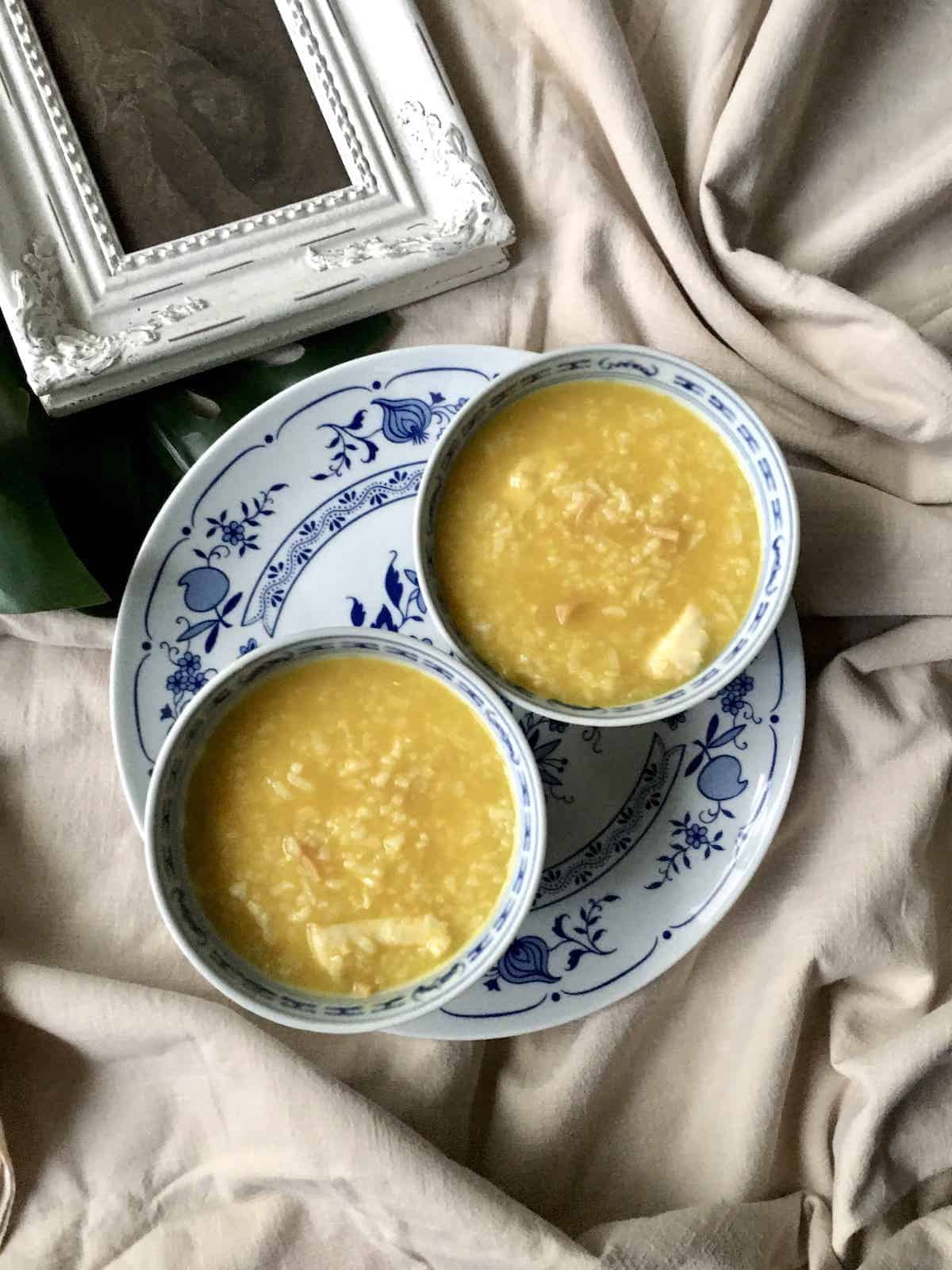 Easy hotel Chinese pumpkin rice recipe (with soup and fish)
Adapted from the recipe of a Michelin star Chinese restaurant (in a 5-star hotel) to make it possible for daily weeknight dinners!
Check out the pumpkin puree congee here.
Pumpkin rice
A very simple recipe is to add some pumpkin cubes to your rice cooker the next time you cook rice. Drizzle some sesame oil and minced garlic on top, and you're good to go!
Pumpkin bread
You can also add mashed, steamed pumpkin to your mantou dough to get delicious, orange steamed mantou buns.
For regular Western-style pumpkin dough , try this easy pumpkin bread recipe from King Arthur Baking.
Thai-inspired Vegan Pumpkin Soup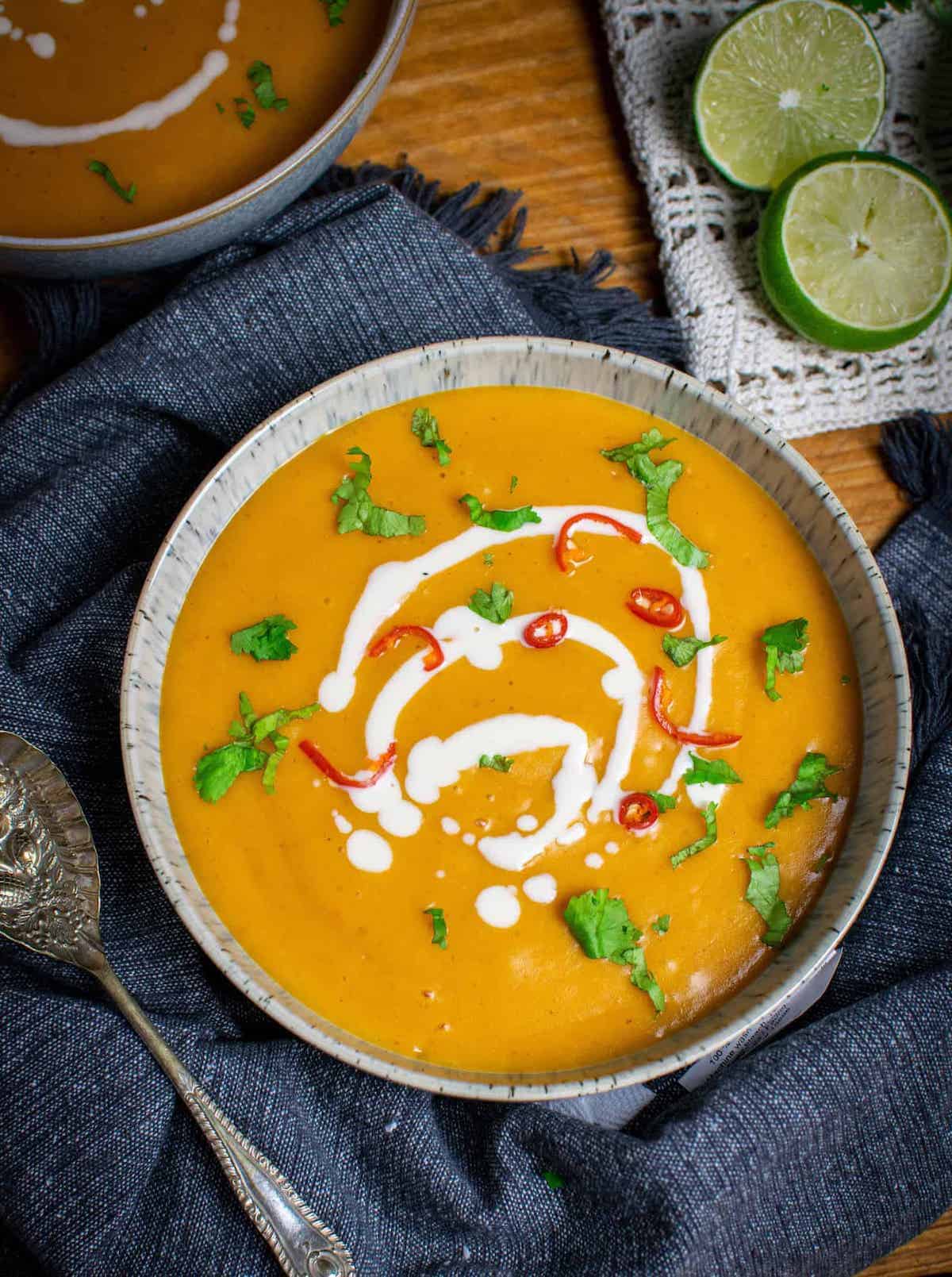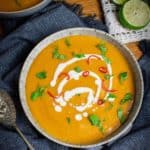 Instant Pot Pumpkin Chicken Curry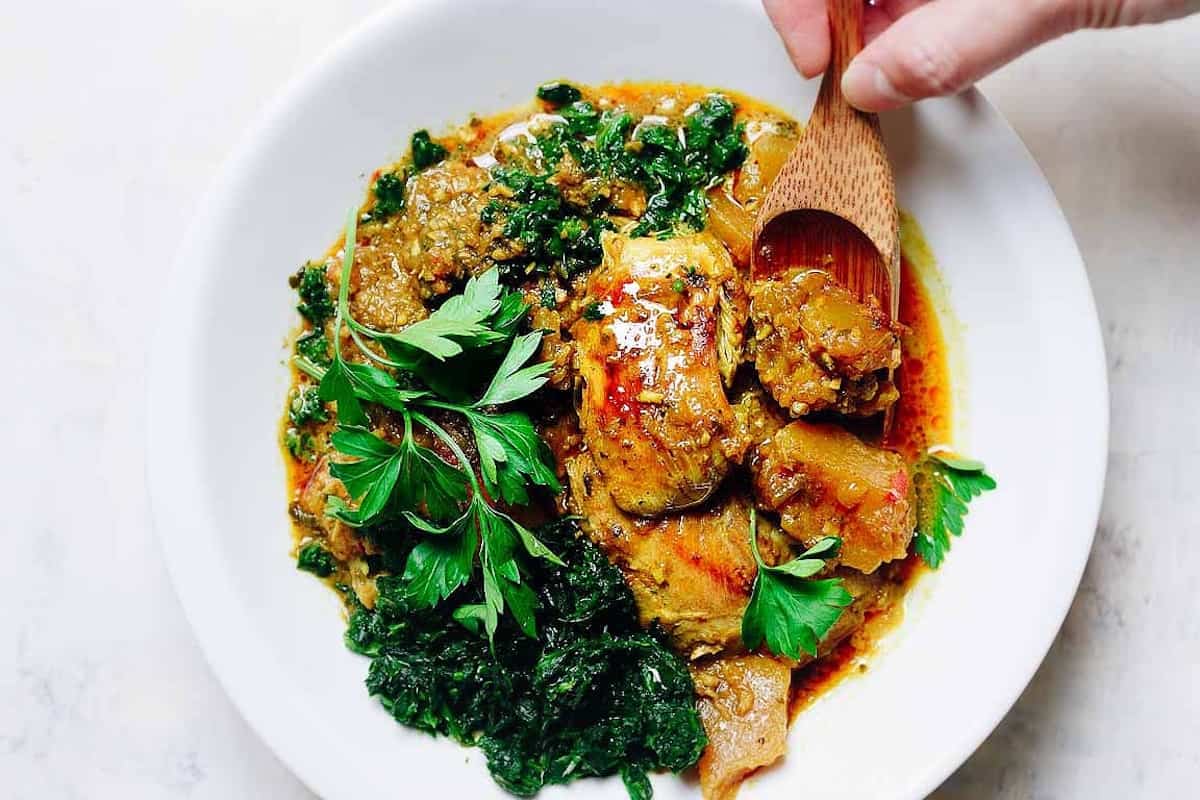 Instant Pot Pumpkin curry with chicken
The beauty of this Iheartumami recipe is that it is paleo, whole30, keto friendly and super easy to make if you have an instant pot!
Click here for the pumpkin curry recipe.
Xinjiang-style stir-fried beef and pumpkin
Beef and Pumpkin stir-fried with cumin
Inspired by Xinjiang flavours, this Iheartumami beef and pumpkin is stir-fried with cumin, and every bite is full of flavour- not to mention that it's paleo and Whole30 as well. You can also use butternut squash if you don't have pumpkin!
Click here for the pumpkin stir-fry.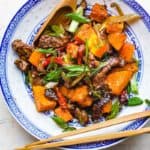 Baked mini pumpkins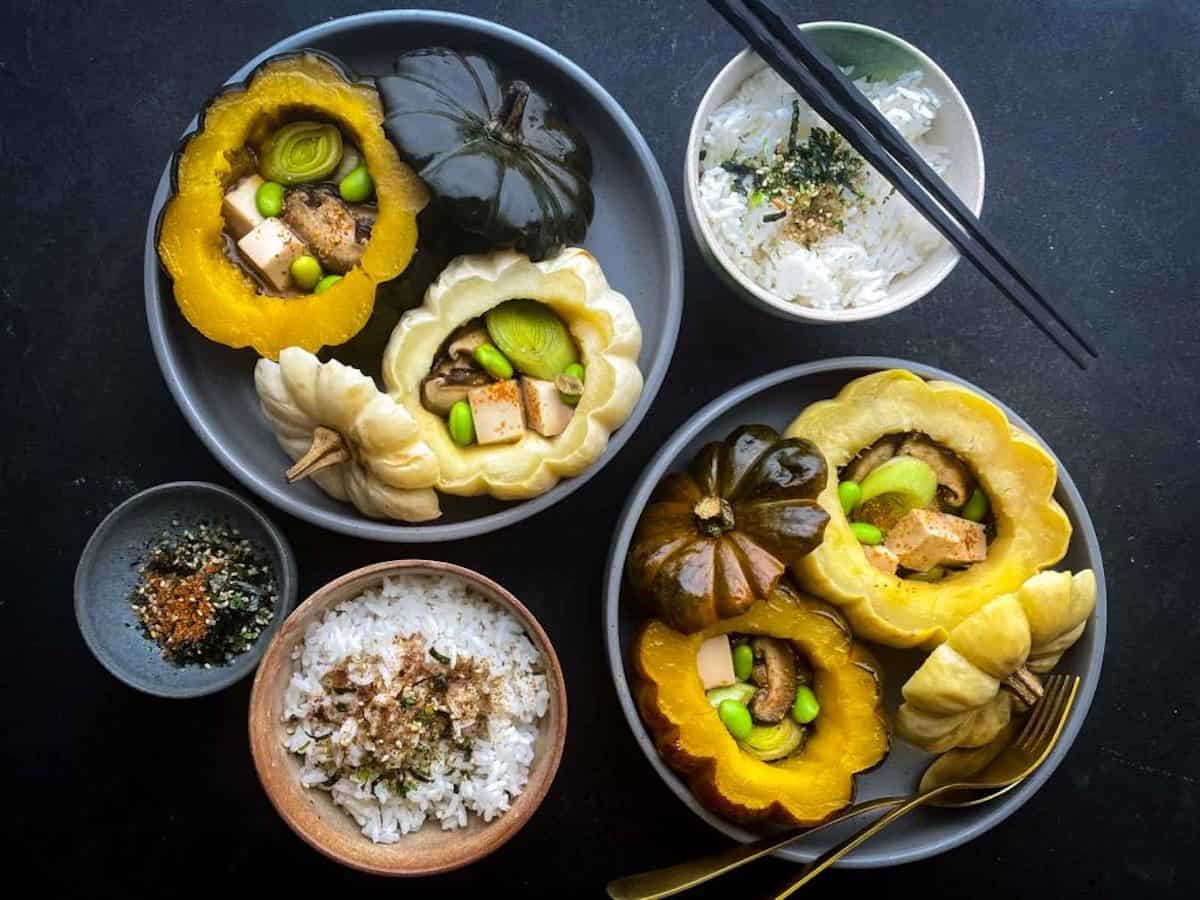 Mini pumpkins stuffed with shiitake mushrooms and baked
Mini pumpkins make great serving platters- they can be stuffed and baked like in this 4.92-starred The Devil Wears Salad recipe, or used to double boil soup and desserts.
Click here for the baked pumpkin recipe.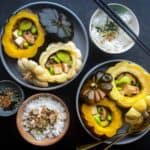 Gochujang squash
Whilst this recipe originally calls for butternut squash, pumpkin is a great substitute too as the gochujang sauce is very flexible.
You can also mix it with kabocha, sweet potatoes and carrots, though you'll need to be mindful of the different cooking times and cut the sizes accordingly.
Easy Gochujang Butternut Squash recipe
An easy 5-ingredient gochujang butternut squash recipe that is bursting with flavour. The hardest thing about this roasted Asian butternut squash recipe is cutting the squash!
Click here for the gochujang squash recipe.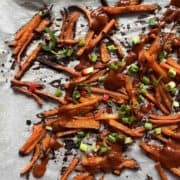 What is your favourite Asian food that contains pumpkin?