A sweet and creamy Chinese recipe that is quick & simple to make, with nutty overtones giving this easy black sesame soup dessert a complex depth of flavour. This 3-ingredient traditional Chinese Tong Sui is naturally vegan, gluten-free, delicious & very nutritious!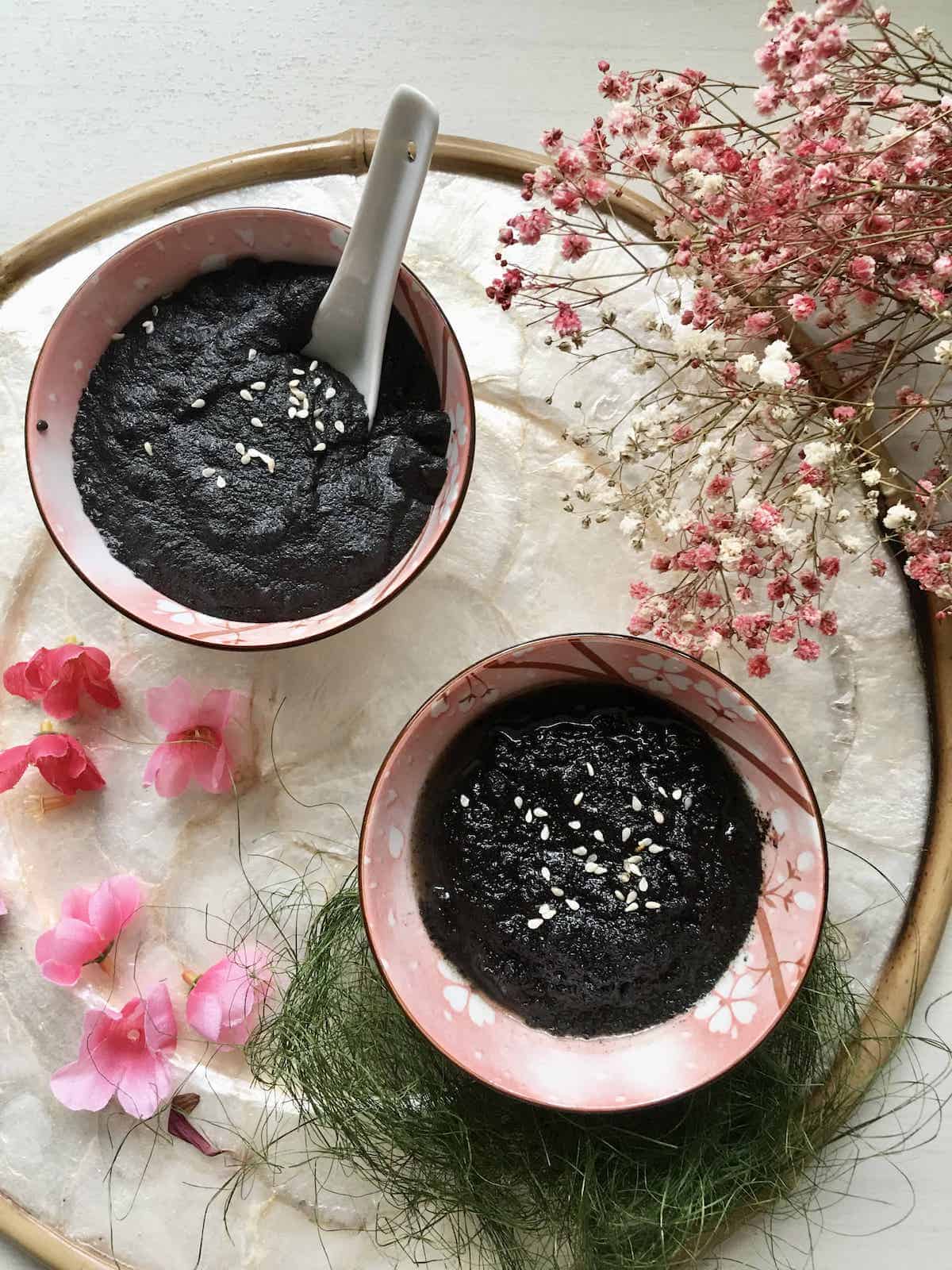 Jump to Recipe
Jump to:
Sesame 101
Also known as benne, sesame is thought to have originated in either East Africa or Asia and has been used by the Chinese for at least 5000 years. The largest producers of sesame today are India, Myanmar and Sudan whilst Japan and China are the largest importers, as sesame is very common in both cuisines.
Besides this black sesame paste soup, the Chinese also use black sesame in glutinous rice dumplings (tang yuan) & muah chee.
Fun fact: Besides using sesame in cooking, the Chinese also used to burn sesame oil to make the best ink blocks!
What is it?
Black sesame soup (芝麻糊 zhi ma hu) is an old-fashioned but delicious Chinese dessert that is said to be good for your kidneys & hair (apparently it helps white hair turn back to black). Warm and nourishing, it's especially nice to savour slowly when the weather is cold.
This dessert is popular in many Asian countries outside of China such as Singapore, Malaysia, Hong Kong, Vietnam & Taiwan.
If you're interested in Chinese traditional recipes, you may also like these peanut cookies, jujube tea, suanmei tang (sour plum tea) as well as this sea coconut & longan tong sui.
Why make it
Black sesame paste soup is wholesome and good for you (See Benefits below)
It's tasty- many desserts have a flat sweetness to them but the slight bitterness of black sesame seeds make this tong sui (tang shui) more complex. The texture should be thick and creamy.
Black sesame dessert is naturally gluten-free and vegan.
Health Benefits
Black sesame has always been considered good for one's health in Traditional Chinese Medicine. In particular, it is thought to:
Help with tired & dry eyes (as do goji berries)
Strengthen the internal organs
Beautify the skin & hair
Recent scientific research lends these claims some support as black sesame has been shown to promote heart health, reduce cholesterol, decrease antioxidant stress and offer protection with respect to chronic livery injury amongst other things.
Note: this information is for trivia only and not meant as dietary or medical advice.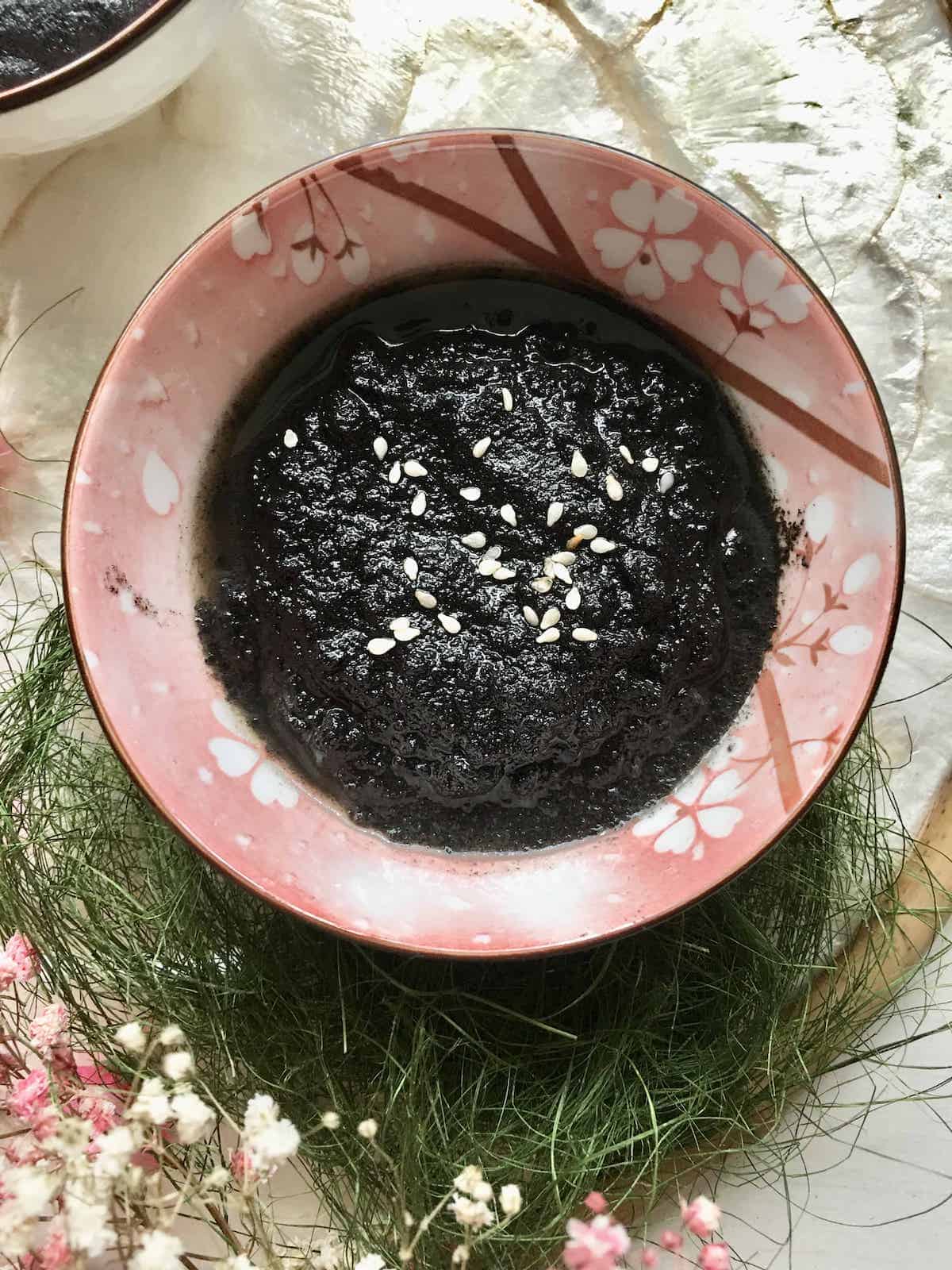 Ingredients & substitutes
You only need 3 main ingredients:
black sesame paste

This can be bought from the Asian supermarket or you can make your own.
For DIY black sesame paste, slowly toast the seeds (without oil) on LOW heat for 7-12 minutes, stirring continuously (you should be able to smell the sesame fragrance and hear some seeds pop when they're "done." Do not dry fry for too long or the bitter notes of black sesame will become too strong.) After that, allow the seeds to cool then pound or blitz the seeds in a spice grinder or blender.

glutinous rice flour

Some people use glutinous rice, but that's more work- you need to start soaking the rice the night before (minimum 4 hours), then blend the grains with the toasted black sesame seeds, before bringing the mixture to a boil. Glutinous rice flour shortens to cooking time drastically and allows you to make this tong sui almost instantly!
The glutinous rice flour serves as a thickener- if you don't add it, the black sesame paste and water won't merge well, and you'll end up with a thinner version of this soup with 2 distinct layers.
However, don't add too much or you'll end up with a lump and not a soup! (If that happens, add more water.)
Substitute: if you are allergic to rice (!!), you can replace with oats that have been processed into powder to thicken the black sesame soup or 1 of these easy glutinous rice flour substitutes.
Click here for more recipes which use glutinous rice flour

brown sugar

Substitute: white granulated sugar or rock sugar

Optional: sesame oil or neutral vegetable oil

This is to give the black sesame dessert a smoother mouthfeel

Optional garnish: toasted white sesame seeds & a drizzle of coconut milk
How to store
Once cooled, the black sesame soup can be stored in the fridge for up to 2 days. Some people say you can freeze it, but I've never tried doing so. You may need to add a few tablespoons of water when reheating!
Tips
The mixture has a very low boiling point and once it starts boiling, will keep boiling even over a low heat- you will need to keep stirring to make sure it doesn't stick to the bottom of the pot and burn.
In Asia, there are instant packets of this black sesame soup- it's like the Chinese equivalent of Horllicks or Milo, you could say. To make your own instant pre-mix, toast the black sesame seeds and blend into a powder (make sure you stop blending before the seeds release their oils- if not it becomes black sesame paste, which will need refrigeration.) Stir in the glutinous rice flour and sugar, mix well and keep in an air-tight container for 1-2 weeks. Anytime you want to have this vegan & gluten-free Chinese dessert, you can just boil this pre-mix with water. Healthier than store-bought as it has no preservatives/ additives! Makes a great gift for lazy friends who enjoy this classic Chinese snack.
If you want a super silky dessert, you can always strain the black sesame soup, but personally I like a slightly grainy texture.
You can add some tang yuan (glutinous rice balls) to the soup, if you want something heartier and more filling. (Boil the tang yuan in a pot of water then serve the cooked balls in the black sesame dessert.)
FAQ
Are black and white sesame the same thing?
Black sesame is unhulled, whilst white sesame has had its hull (outer shell) removed, making black sesame crispier. Sesame is like chocolate: dark sesame/ chocolate has a more bitter taste whilst the white counterpart is sweeter.
Is tahini the same thing as black sesame paste?
No, although they're both made from sesame, tahini is ground from raw sesame seeds (or slightly roasted ones) whilst sesame paste is made from deep roasted seeds- a small difference that makes a big difference to the flavour! Weirdly enough, the tahini made from raw sesame is actually stronger in taste than that made from the lightly roasted seeds! Personally, I find tahini much more bitter in taste than sesame paste.

Other traditional Chinese recipes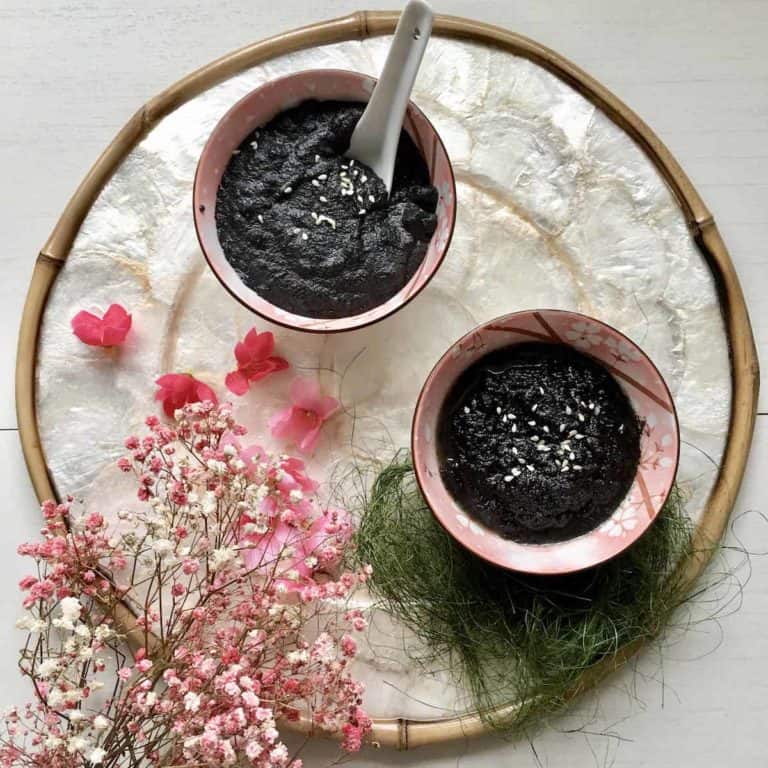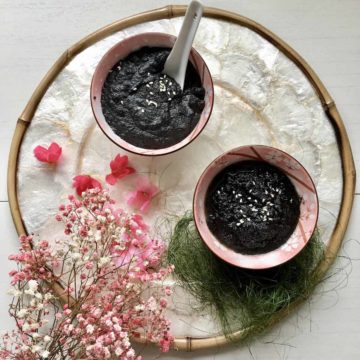 Easy black sesame soup (Vegan) (3-ingredients)
This classic Chinese sweet soup is simple to make, tasty & healthy!
Equipment
Spice grinder or blender Only necessary if you are making your own black sesame powder

Pot & heat proof spatula
Ingredients
0.33

lb

Unsweetened Black sesame paste (150g)

Substitute: dry fry sesame seeds till fragrant (70% black sesame and 30% white sesame to give the dessert a richer flavor). Once cooled, blend the seeds into sesame powder. Pulse intermittently- if you run the blender for too long you may end up with sesame paste. Alternatively, you can also buy black sesame powder at some Asian supermarkets- give it a quick toast to make it more fragrant, before continuing with the rest of the recipe

1-2

Cups

Water, or to taste (depending on how thick you like your dessert)

1

T

brown sugar, or to taste

Substitute: rock sugar, white granulated sugar or a neutral honey

½-1½

T

Glutinous rice flour

Substitute: you can use glutinous rice grains. These will have to be soaked for a minimum of 4 hours (or overnight) then blended with the black sesame seeds. Alternatively, you can use regular rice flour or ground oats.

1

teaspoon

Sesame oil or neutral vegetable oil

Optional: this is to improve the texture of the soup and make it more silky

A pinch of toasted white sesame seeds

Optional garnish

A splash of coconut milk
Instructions
Add the black sesame paste (or powder) to the pot with the water and bring to a boil. If using black sesame paste, you will have to keep stirring to dissolve the paste into the water.

Once boiling (this soup heats up FAST), turn the fire down so that the soup is simmering. Start by adding in ½T glutinous rice flour and 1T sugar, stirring continuously to prevent the soup from catching at the bottom of the pot. If you want a thicker soup, add some more glutinous rice flour. (I usually add 1T of glutinous rice flour- start with less as you don't want to end up with a stodgy lump instead of a soup! If it becomes too thick, just add more water to thin it down.)

After simmering to your desired consistency, taste to see if the soup is sweet and thick enough. If not, add a bit more sugar and flour. Simmer for about 10 minutes, stirring continuously.

Before switching off the fire, add a teaspoon of sesame oil and mix it into the black sesame soup.

Ladle into bowls and serve warm. You may want to garnish each bowl with toasted sesame seeds and a drizzle of coconut milk.
Notes
Note: If you enjoy desserts like salted caramel, you may want to add a touch of salt. Salt helps to accentuate the flavour of desserts in my opinion, (e.g. salted chocolate chip cookies) but not everyone is a fan.