Homemade calamansi juice is a delicious and refreshing drink that is perfect for summer! Easy to make too in under 10 minutes! You only need calamansi limes, water and a sweetener. (With Step-by-step photos)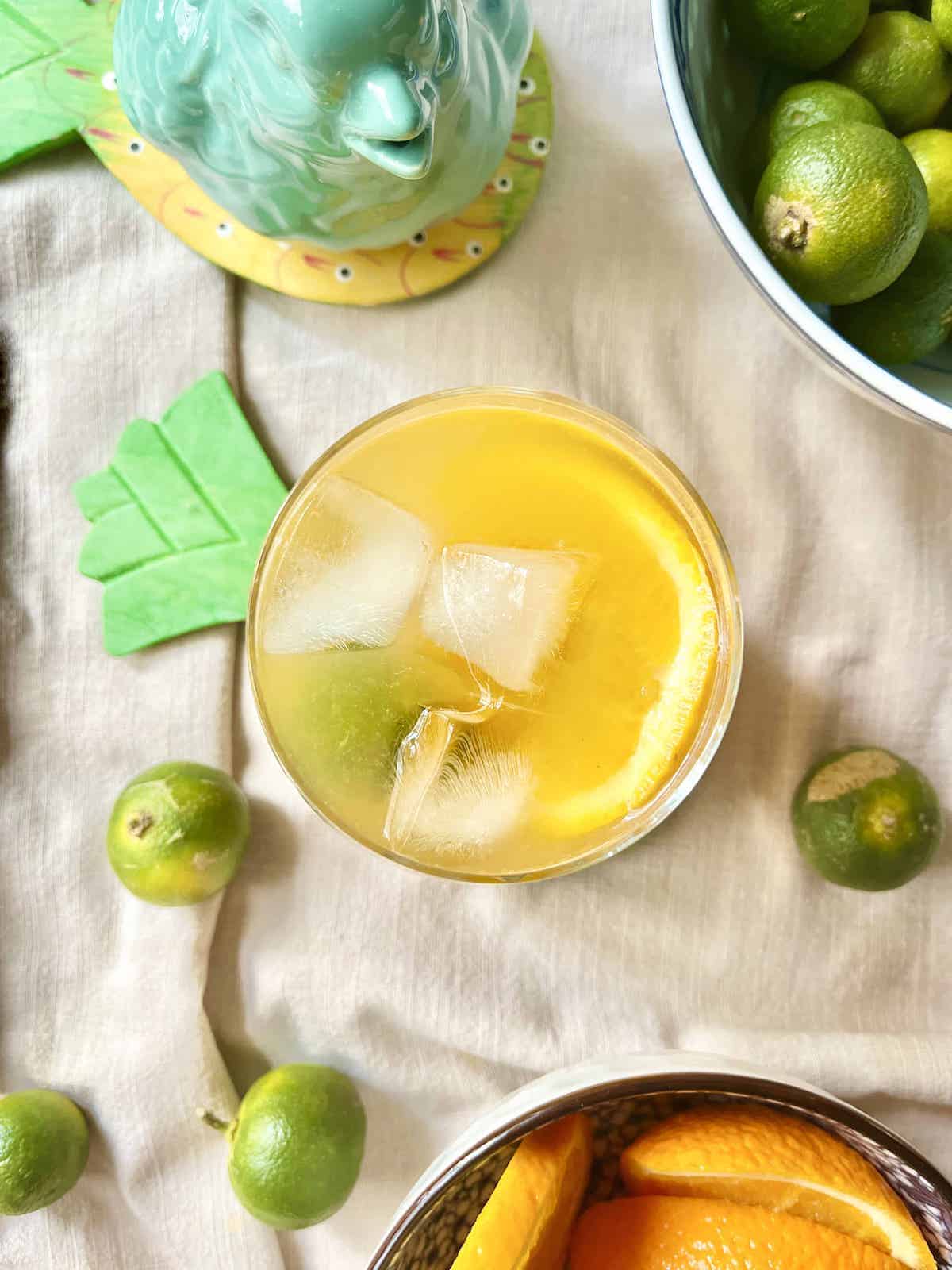 Jump to:
⭐ Why This Recipe is a Star
Homemade calamansi juice is so cooling when it's hot outside: the refreshing taste of this tropical drink really helps to wash down the oily feeling left in your throat after a heavy meal. (Like Coca-Cola but healthier!)
It's delicious: calamansi has an almost floral aroma. The unique flavor of the juice is much nicer than regular lime or lemon fruit juices!
What is Calamansi?
Calamansi, sometimes referred to as Philippine Lemon, Philippine Lime, kalamansi or calamondin fruit in the United States, is a citrus fruit found in many parts of Asia such as Philippines, Indonesia, Singapore and Malaysia. It's a cross between Kumquats and Mandarin Oranges, and has a delicate floral note.
The fruits are small and dark green with thick flesh, usually no bigger than 1 inch in diameter. (I've also seen some larger orange ones in the US but never in Asia.) The rind of calamansi is usually too thick (and small) to zest easily.
Growing up, I had a calamansi tree in my backyard. Pure calamansi juice is very sour (even when the fruit is super ripe) but has a wonderfully floral aroma.
Adding a squeeze of this small citrus fruit is a terrific way to add a burst of acidity to lift the flavor of heavy Singaporean dishes or to cut through the fat of meat (as with this toyomansi dipping sauce.)
1 tree grows lots of fragrant fruit. Squeezing fresh Calamansi Juice, also known as Filipino Lemonade or Limeade, is a great way to enjoy it! Alternatively, you can make calamansi lime curd, or 1 of these delicious lime desserts.
Health Benefits
Note: this is meant for info only. Before making major changes to your diet, please consult a doctor or qualified health professional.
The fruit has amazing health benefits:
Some people think it helps with weight loss and as a natural bleaching agent for the elbows and knees, but it's mostly anecdotal evidence. Since the juice is usually mixed with sugar, I'm not sure how much weight it can help you lose!
🥘 Ingredients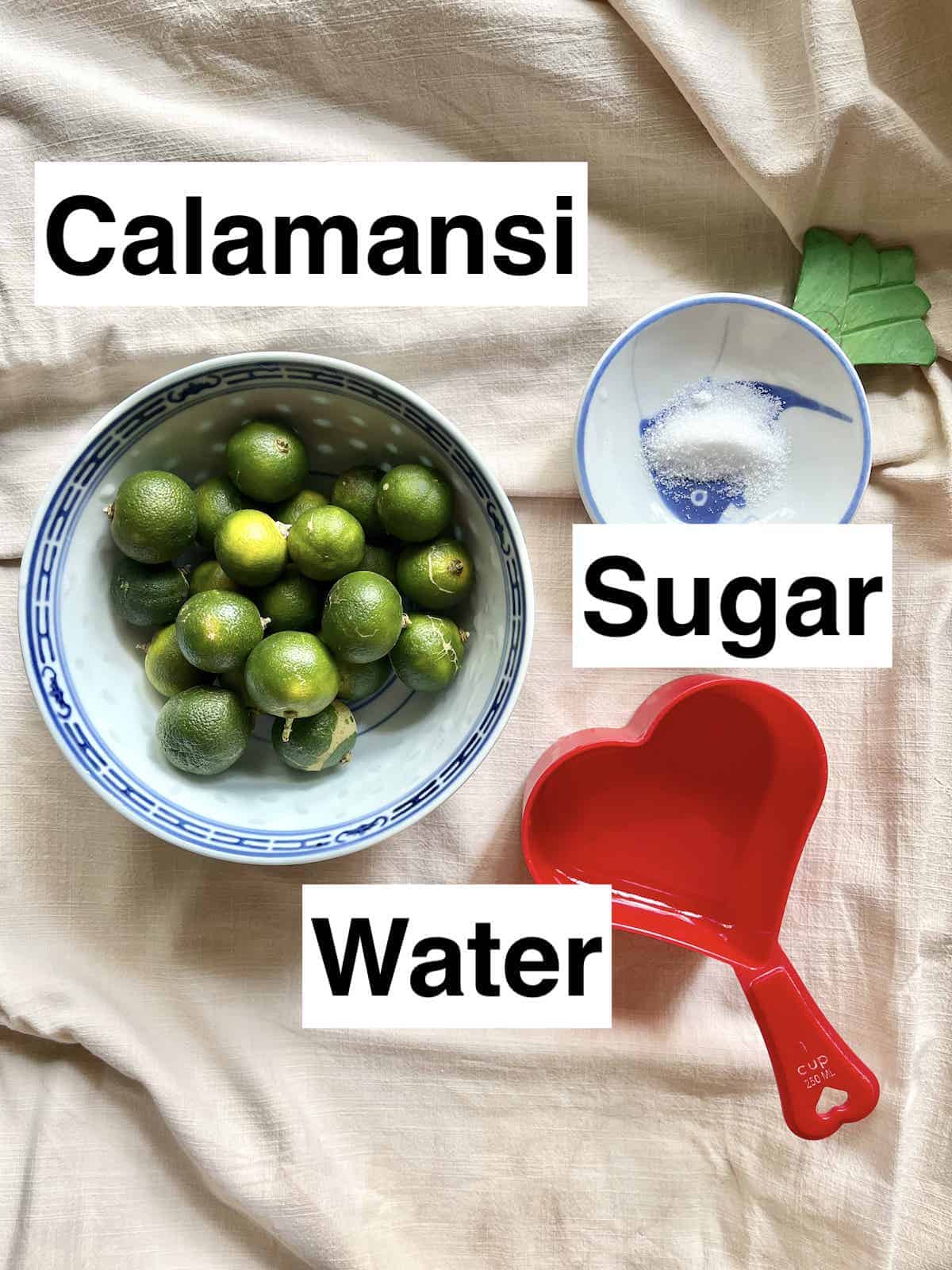 You only need:
calamansi limes: you can find this sour fruit at Asian supermarkets. (If you live somewhere warm and with lots of sun, they're pretty easy to grow from seed!) Choose the largest ones you can find, if not squeezing will be a pain. If you can't get them, you could use Meyer Limes, Key Limes or these calamansi fruit alternatives but the flavour won't be the same.
water: the lime juice is super tart so diluting it with water helps reduce the amount of sugar you need to add. Of course, you can use pure juice if you don't mind adding more sweetener!
a sweetener: I know we all want to be healthy but you really can't skip the sweet for this tropical juice- it's necessary to mellow out the sharp flavor. I cook water and white sugar to create a simple syrup for sweetening. White sugar allows the calamansi flavor to shine but you can also use honey, flavoured simple syrup or 1 of these sugar substitutes. (You can also use regular white sugar if you don't mind stirring a lot to dissolve it and having sugar grains settle at the bottom of your glass.) I don't recommend brown sugar, coconut sugar or maple syrup as I find it covers the pure fruity flavor.
Note: for an extra cooling drink, add ice cubes! To avoid the ice cubes diluting your drink, you can freeze extra lime juice in ice cube trays. Alternatively, you can add half the amount of water the recipe calls for and 5 ice cubes.
📖 Variations & Substitutes
Limau Assam Boi (桔子酸梅): add a Chinese preserved salted plum (sng moey or Suan Mei 酸梅) to the drink. Like Milo Dinosaur, this is a popular drink at hawker centres in Singapore, Malaysia and Southeast Asia!
Calamansi Soda: instead of plain water, use soda water or sparkling water (in the same quantities.)
Turmeric Ginger Tea: or use it instead of lemon juice in this turmeric herbal tea recipe
Calamansi honey ginger tea: sweeten with honey and a ginger syrup.
You can play around with the garnish and add mint leaves or ginger.
🔪 Step-by-Step Instructions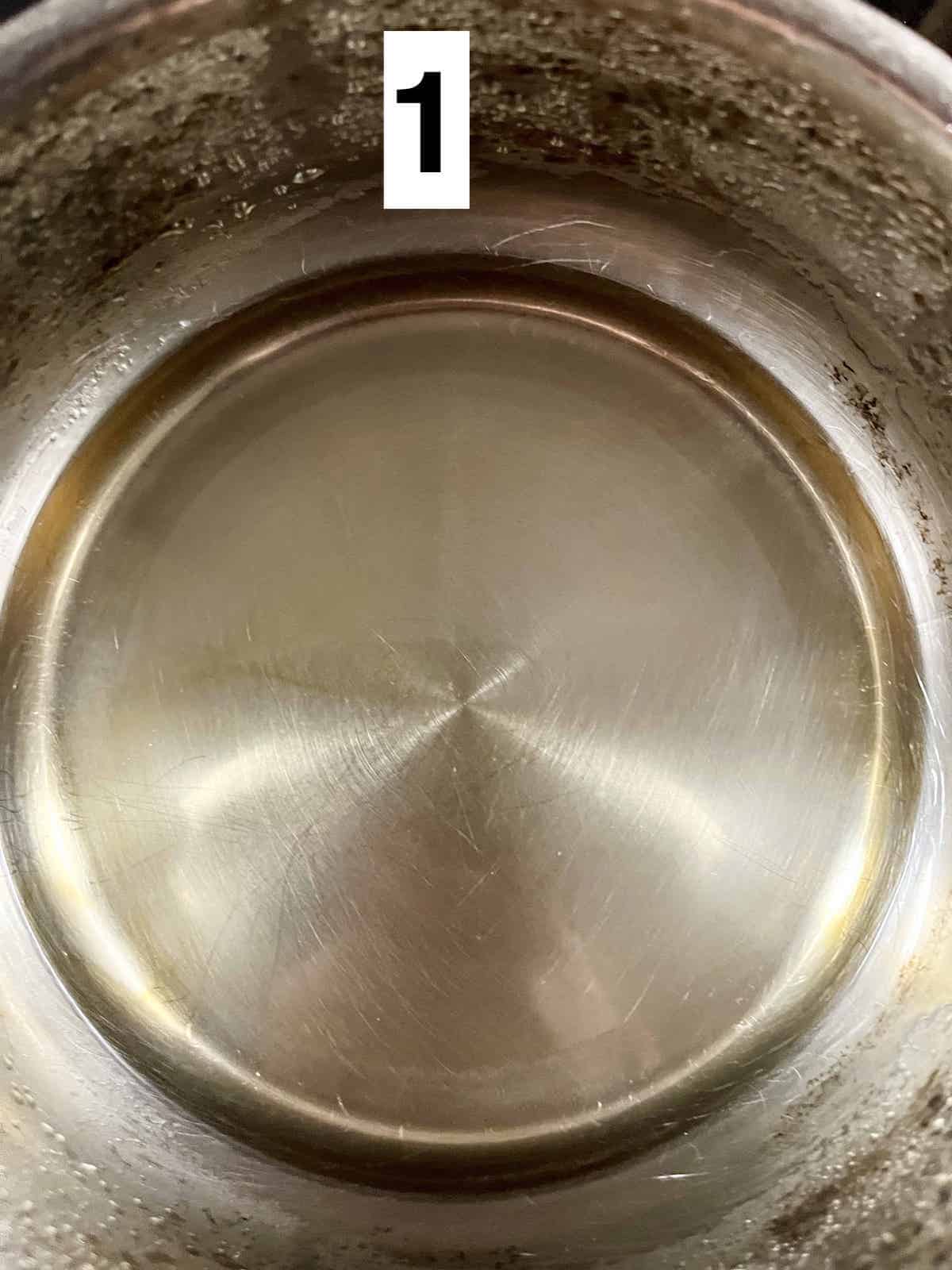 1a. Cook an equal amount of white sugar and water over medium (or medium-low fire.)
1b. Stir till the sugar is dissolved. (You don't want too hot a fire as you don't want the sugar to brown.)
Note: extra simple syrup can be stored in the fridge to sweeten other drinks such as cold brew matcha, pineapple matcha and cold brew latte.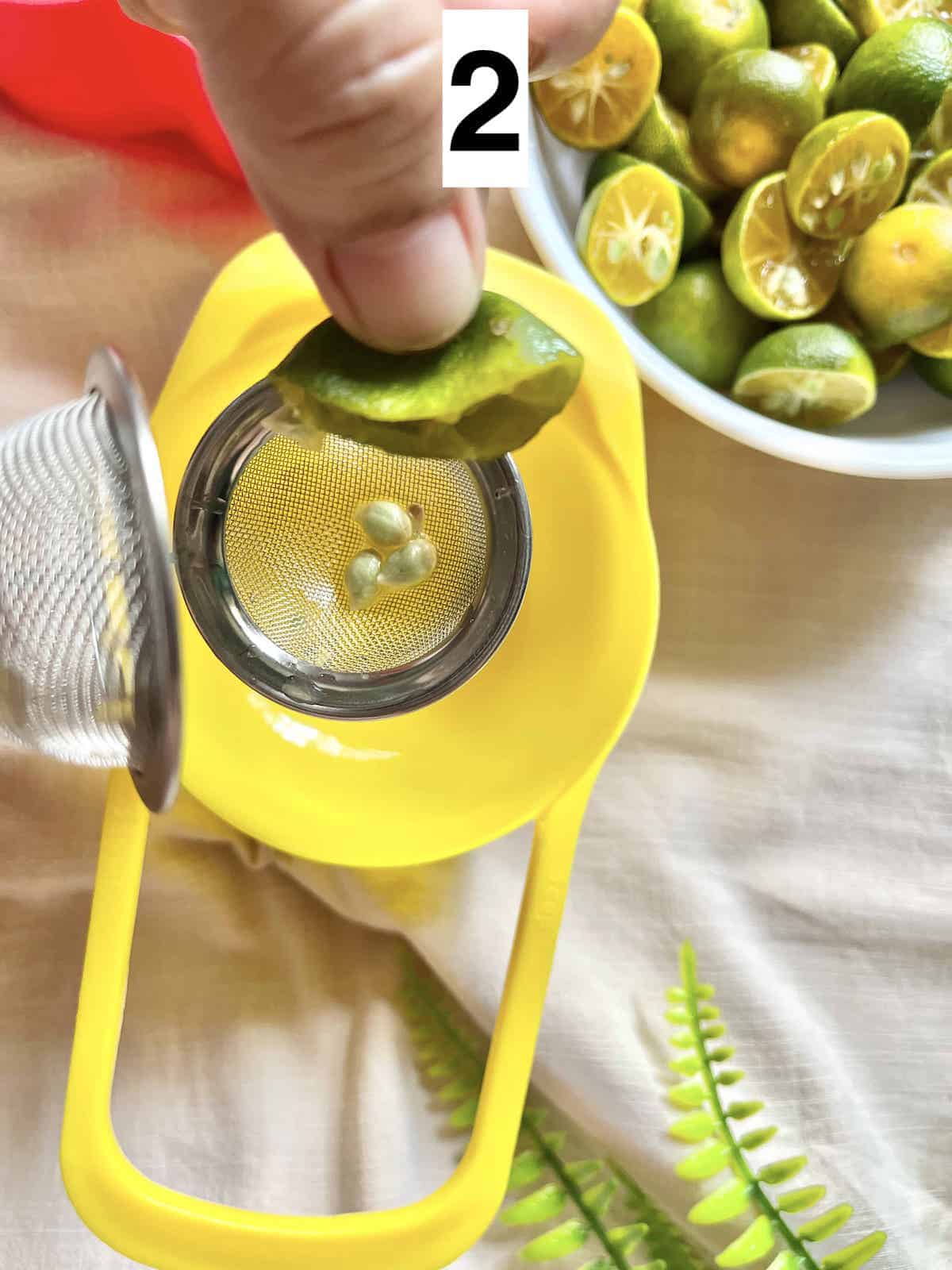 2a. Cut the fruit in half and squeeze over a sieve to strain out the seeds.
Note: I had to squeeze 22 limes to get ⅓ cup of fresh juice! Because the fruits are so small, you'll get the juice all over your fingers so wash your hands well before squeezing and keep a dishtowel on the side.
Tip: I do not recommend using a lemon squeezer as the fruit is too small for the squeezer to work efficiently.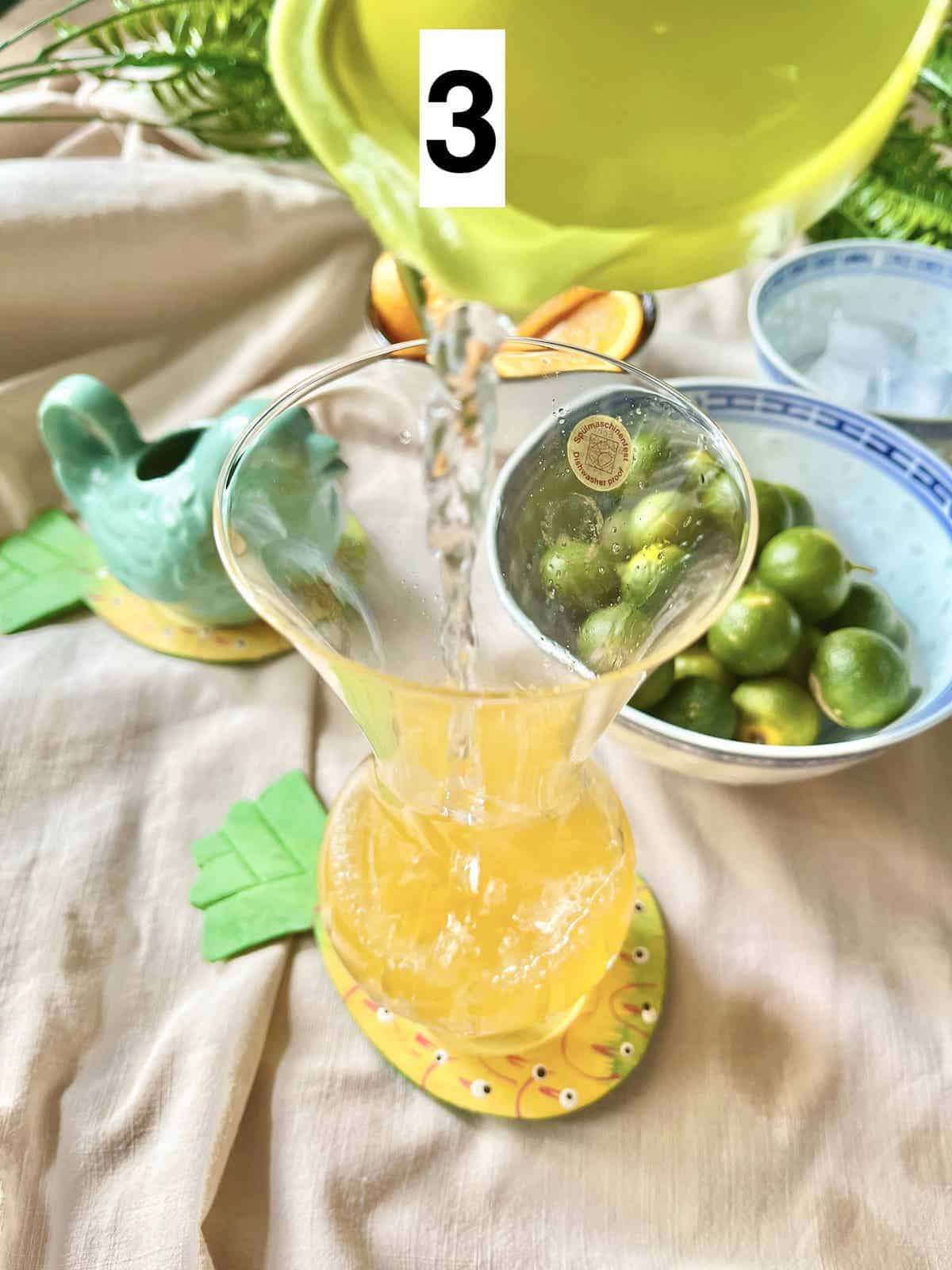 3. Mix the juice with twice as much water (so ⅔ cup) and sweeten to taste with the simple syrup.
Note: I recommend adding ice cubes to the calamondin juice!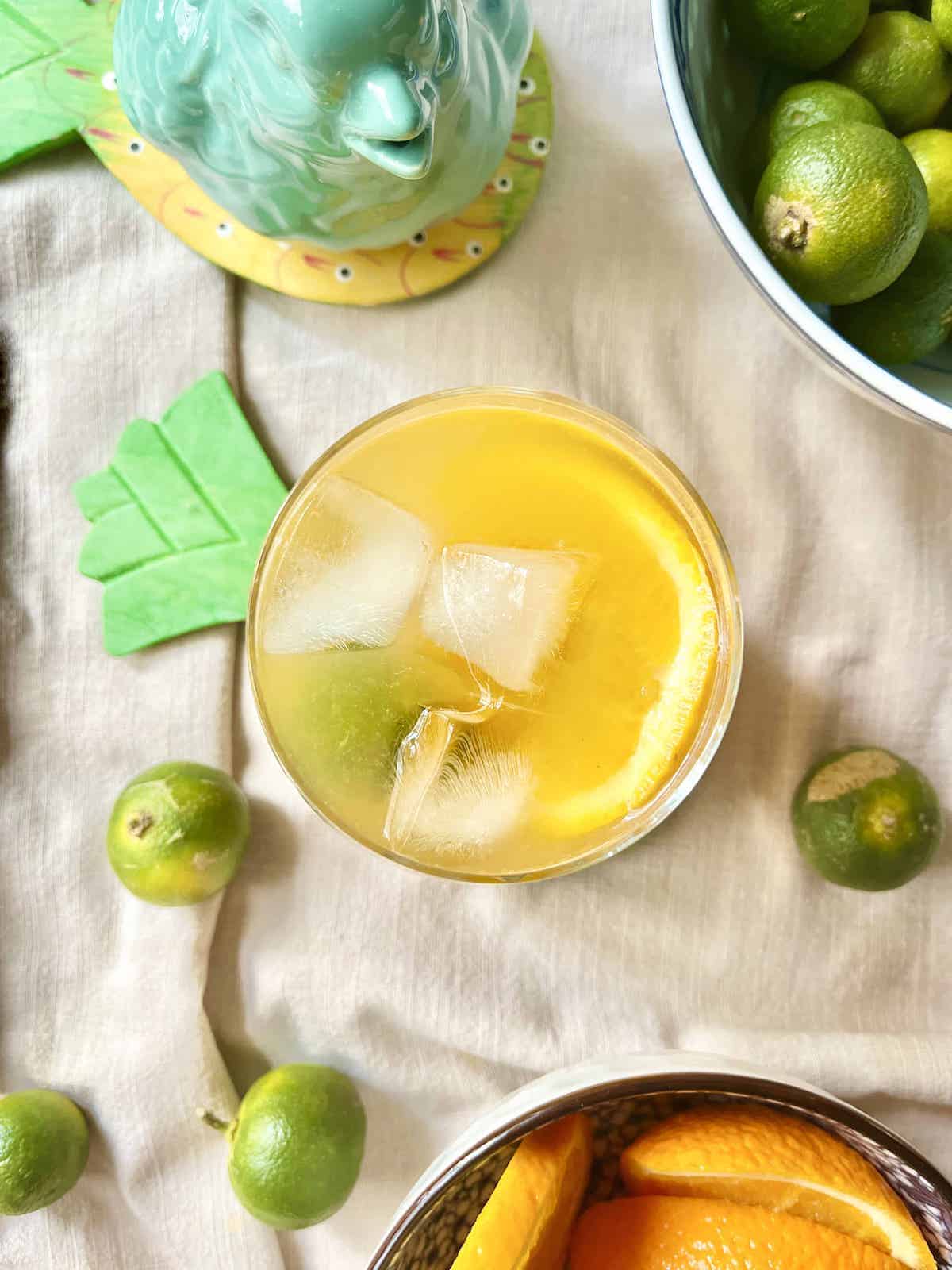 I highly recommend adding ice!
🥡 How to Store
You can make a huge batch of this golden lime juice and keep it in the fridge for 2-4 days.
Alternatively, freeze in ice cube containers and use them to chill any limeade that you make in future.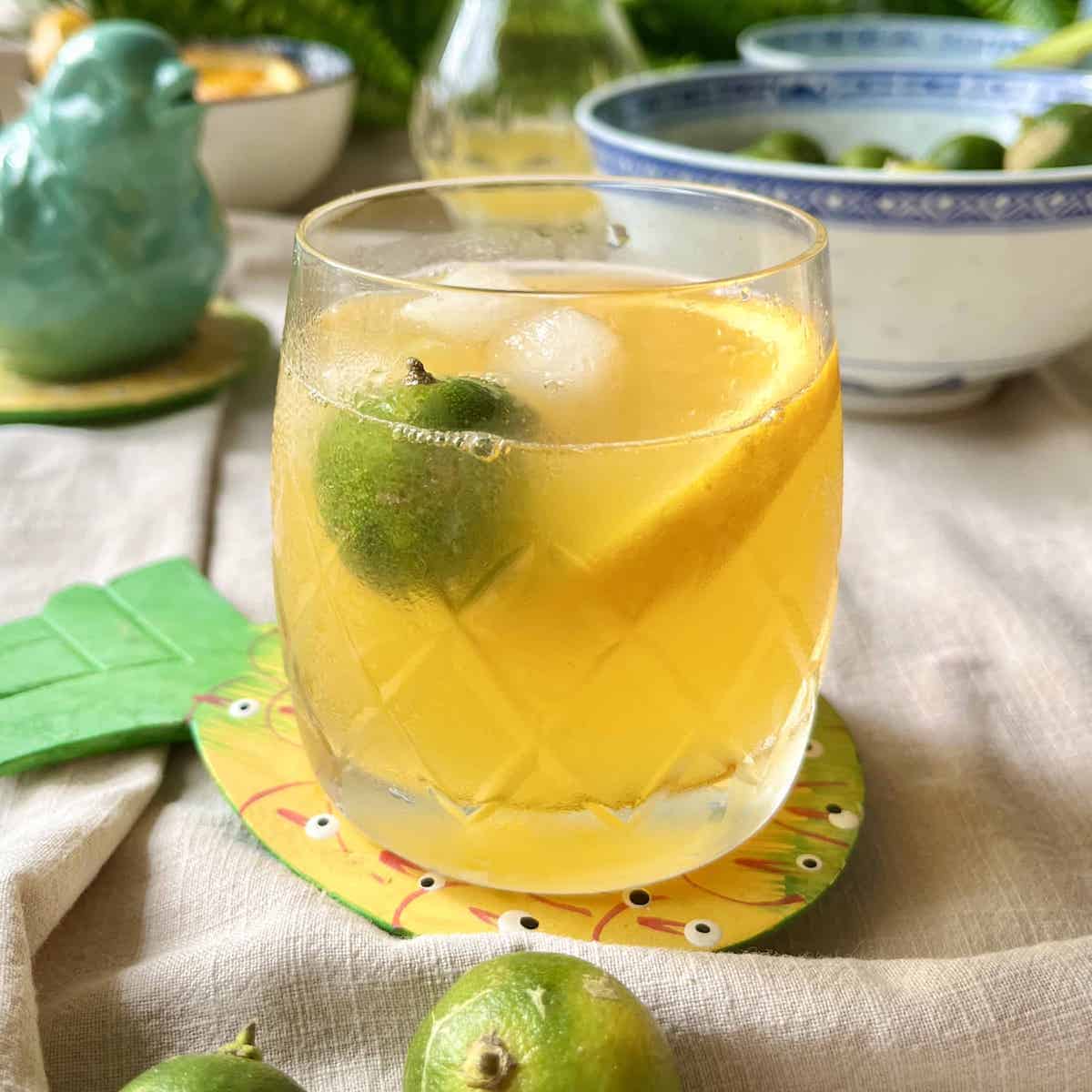 🥗 Other Summer Recipes
Enjoyed this easy Filipino version of Lemonade? Please leave a 5-star 🌟🌟🌟🌟🌟rating in the recipe card below! If you REALLY liked this glass of calamansi juice, please consider supporting it by buying me a coffee! 🙂 (No obligation though!) Thank you and have a great day!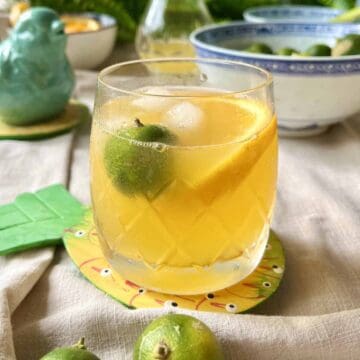 Calamansi Juice (Filippino Lemonade)
Homemade calamansi juice is a delicious and refreshing drink that is perfect for summer! Easy to make too in under 10 minutes! You only need calamansi limes, water and a sweetener. (With Step-by-step photos)
Equipment
sieve

To strain out seeds.

Pot

To make the simple syrup
Ingredients
Simple Syrup
½

Cup

white sugar

We won't need so much but extra can be stored in the fridge.

½

Cup

water
Calamansi Juice
22

Calamansi Limes

You want to get ⅓ freshly squeezed lime juice.

⅔

Cup

water

You can omit this but you will need a LOT more sugar to mellow out the sharpness of the juice! Substitute: sparkling water or 5 ice cubes (which you allow to melt into the juice)

¼

Cup

simple syrup

Or to taste. It will taste nicer if you add more but I wanted the drink to be healthier!
Instructions
Simple syrup
Over medium or medium-low heat, stir the sugar into the water till dissolved. Be careful not to let burn. Transfer to another container so it can cool more quickly.
Lime Juice
Wash the limes and cut in half.

Squeeze the limes over a strainer to catch the seeds.

Dilute with twice as much water as juice. (This ensures you still have good flavor but don't need to use so much sugar.)

Stir in the simple syrup. Taste and add more if necessary.

Recommended: add some ice cubes as the drink tastes amazing cold!
Notes
Variations
Sweeten with honey and add ginger syrup
Add a preserved plum
Some people like to blend the lime rinds, strain, then add to the juice
Substitute the water for soda water to make lime soda
Note: the nutritional information is an estimate automatically calculated using the WPRM recipe maker and I am not responsible for its accuracy.
Nutrition
Calories:
669
kcal
Carbohydrates:
216
g
Protein:
10
g
Fat:
3
g
Saturated Fat:
0.3
g
Polyunsaturated Fat:
1
g
Monounsaturated Fat:
0.3
g
Sodium:
86
mg
Potassium:
1557
mg
Fiber:
41
g
Sugar:
87
g
Vitamin A:
737
IU
Vitamin C:
429
mg
Calcium:
502
mg
Iron:
12
mg
If this Asian lemonade recipe was helpful, maybe you'd like to sign up for my newsletter in which I send you more authentic Asian recipes?