Candlenuts, also known as kemiri, are very common in South East Asian cooking where they're used primarily to thicken curry pastes, sauces and stews. If you can't find any where you live, here is a list of easy to find candlenut substitutes, including some nut-free ones.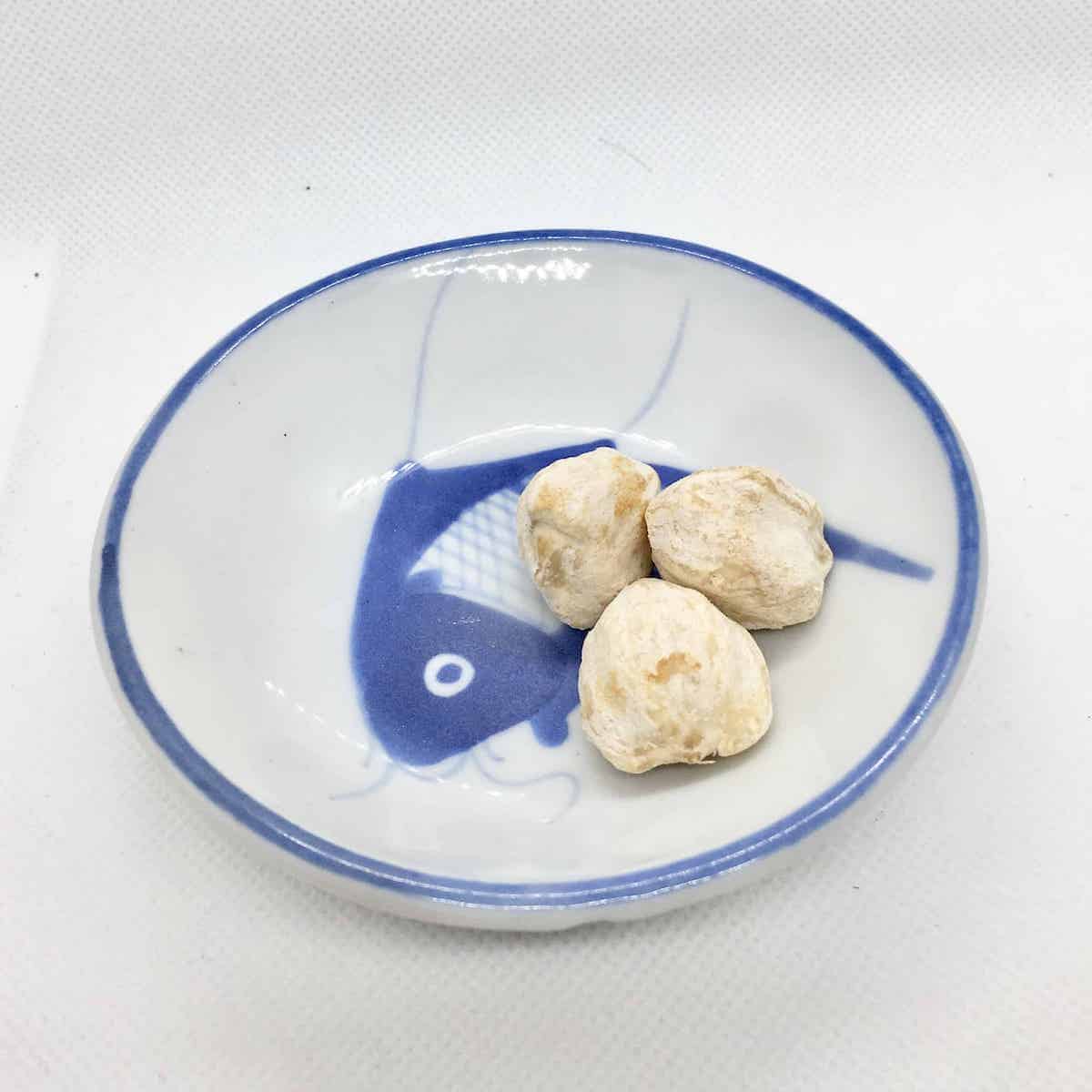 Jump to:
What are candlenuts?
Also known as Kukui nut (Hawaii), Indian Walnut, Buah keras (Malay), Buah Kemiri (Indonesia), Lumbang (Philippine), candlenuts (scientific name: Aleurites moluccana) are a common thickening agent used in SouthEast Asian cuisine. For example, it is a key ingredient in Indonesian cooking and used in some sambal (a regional chilli paste.)
Fun fact: It is also popular in Hawaii- both for culinary & non-culinary purposes- where it is the state tree! The Kukui nut tree can grow to over 20 m (65 feet) and has small white flowers which grow in clusters. Fresh candlenut fruit has a whiteish skin than eventually turns green or black, and each contain 2-3 kernels.
Nutritional content
Candlenuts contain a minimum 60% of oil, which is why they make South East Asian food more savoury- a good candlenut substitute should contain a similar amount of oil.
How to cook
Small quantities of candle nuts are pounded into a paste then used to thicken Malay & Nyonya/ Peranakan stews and curries, often in addition to coconut milk and shrimp paste, such as: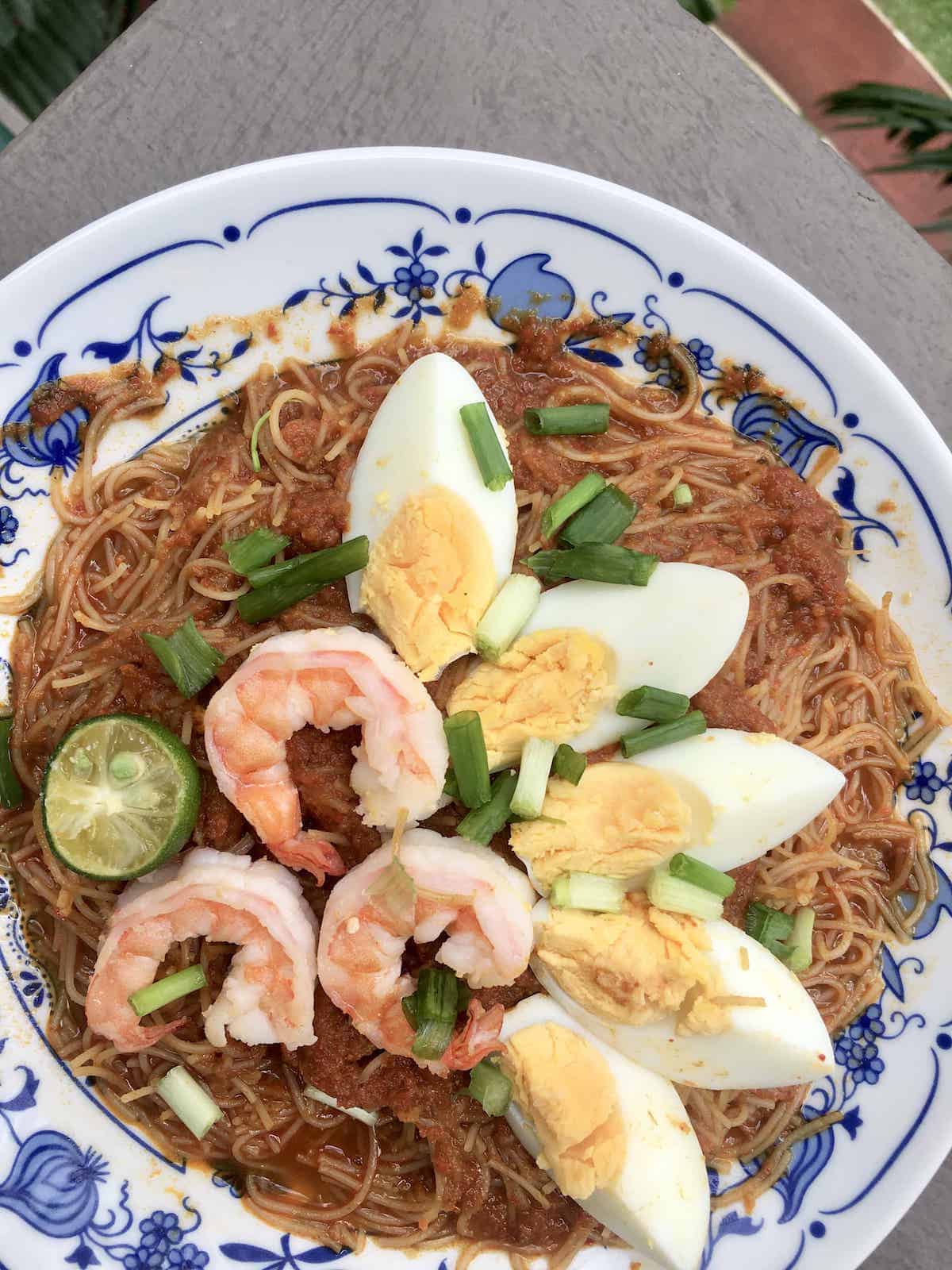 Mee Siam is a popular breakfast dish in Singapore- when out of candlenuts, I've used coconut flour as a thickener. (Although the Malay Mee Siam recipe doesn't have coconut, there is an Indian version with coconut.)
Fun fact: these oil-rich nuts are such an essential ingredient in Nyonya food that the 1st (and currently only) Peranakan restaurant with a Michelin star is called Candlenut.
Outside of Asia, these nuts are also used in Inamona, a Hawaiian seasoning that goes very well with seafood and thus is added to Hawaiian Poke. To make Inamona, roast the nuts to make them more earthy and smoky then crush them with salt, and sometimes black pepper and/or chilli.
You can also roast chopped candlenuts and use them as a food topping, in the way you do with sliced almonds.
Non-edible uses
Candlenut has a high content of inflammable oil and thus are also used as lamp oil, candles or torches- hence the name! Because 1 nut burns for about 15 minutes, ancient Hawaiians actually used Kukui nut torches to tell time.
Some people use them in diet products due to their laxative effects, but this is quite controversial due to the nuts toxicity: there are no known scientific studies confirming candlenuts' safety or efficacy with regards to weight loss.
The fruit is used as an optional ingredient in tattoo ink in Sabah, Malaysia.
In Fiji, candlenut oil is used in cosmetics.
In China, the candle nut tree is cultivated primarily for non-food uses e.g. to make varnish.
Where to buy
They're usually available at the closest Asian markets or online. The packet may be marked with 1 of their other names: usually Kemiri, but sometimes Kukui nut, Indian Walnut, Buah keras, Kemiri (Indonesia) or Lumbang.
How to store
Keep them in an airtight container.
Tips
Don't buy too many at a go as the oil-rich candlenut goes rancid.
Do not eat raw as they are a little toxic (result in vomiting and have a laxative effect.) Some South American countries as well as Spain have actually banned candlenuts. (Apparently, 3 people in Brazil died after using it for weight loss.)
Make sure to choose the slightly yellow candlenut, as that is its natural colour. White ones are actually bleached!
FAQ
What do candlenuts (kemiri or Buah Keras) taste like?
They're creamy and quite mild in taste, though with a slightly bitter aftertaste. Note that they have a slightly toxic effect when raw so please do not eat them uncooked. (They've actually been banned in Spain & a few South American countries!) Cooking destroys the alkaloids in them.
Substitutes
Macademia nuts
This is most commonly cited as the best substitute for candlenuts- the 2 look and taste similar (both are mild in flavor with a similar texture) as well as composition (and are related species). Moreover, they're widely available.
The only downside is that they're pretty pricey. Use at least as many raw macadamia nuts when substituting (as they're about ½ the size.)
Brazil nuts
Some people actually consider the Brazil nut to be a superior substitute for candlenuts as compared to macadamias!
Pine nuts
If you can't get macademias or Brazil nuts, try pine nuts which should be a reasonable substitute.
Cashews
The creamy texture of raw cashews is why it is used as a cream replacement in so many vegan recipes. This is also what makes it a good alternative to candlenuts, although remember to reduce the number of nuts used.
Note: almonds (53%) walnuts (65%) and pistachios (50%) also have a high fat content (see the number in the brackets) but I don't recommend using them alone as they have quite strong flavours. (You could potentially try mixing raw almonds and walnuts in the ration 4:1- the bitterness of the walnuts may be balanced by the sweetness of the almonds.)
Nut-free substitutes
Coconut oil + coconut flour
If you needed candlenuts for a dish that uses coconut, a mix of coconut oil (for savouriness) and coconut flour (to thicken) would help to provide some of the oil and thickening properties in its place. Obviously, don't use this in a dish that you you don't want to taste coconut-y as coconut is a rather overpowering flavour.
Note: do not use desiccated coconut- this will thicken your curry but also add a gritty texture to it (similar to beef rendang).
Palm oil
Some Indonesians recommend using a ton of palm oil (a very common oil in the South East Asian kitchen) in place of candlenuts, to replicate the high oil content. If you choose to do so, remember that sustainably grown palm oil is now available.
If you use a different replacement for candlenuts, I'd love to hear what it is! To be honest, if you can't get any of the above, it shouldn't be a deal-breaker, try the recipe without the candlenuts and see how you like it!
Before you go, here are some recipes that may be of interest: