A list of the 13 best Chinese Sides for Chicken Noodle Soup, from salads to breads.
Jump to:
Chicken Noodle Soup is a classic dish that you can serve on its own, as a side dish or as a main.
In its most basic version, this comfort food is a simple recipe that consists of chicken broth, egg noodles and salt. You can throw in shredded chicken meat and vegetables to bulk up the light broth, if serving as a main dish, or serve it with some of the following sides.
Tip: chicken noodle soup is is a favourite when one is feeling under the weather- if so, load up on the garlic cloves in the soup, pair it with saltine crackers and this turmeric, lemon and ginger tea, which is full of flu-busting ingredients!
How to Freeze
Soups freeze well but noodles don't- they turn soggy and mushy!
I recommend making the chicken soup separately ahead of time and freezing it (it should last for up to 3 months if stored properly.) You can simply bring it to the boil, then add the noodles, when you want to eat it.
If you've already made a huge batch of soup and noodles, separate the chicken broth from the noodles, and freeze the liquid after it has cooled. The noodles can be kept in an airtight container in the fridge and eaten over the next 1-2 days.
Variations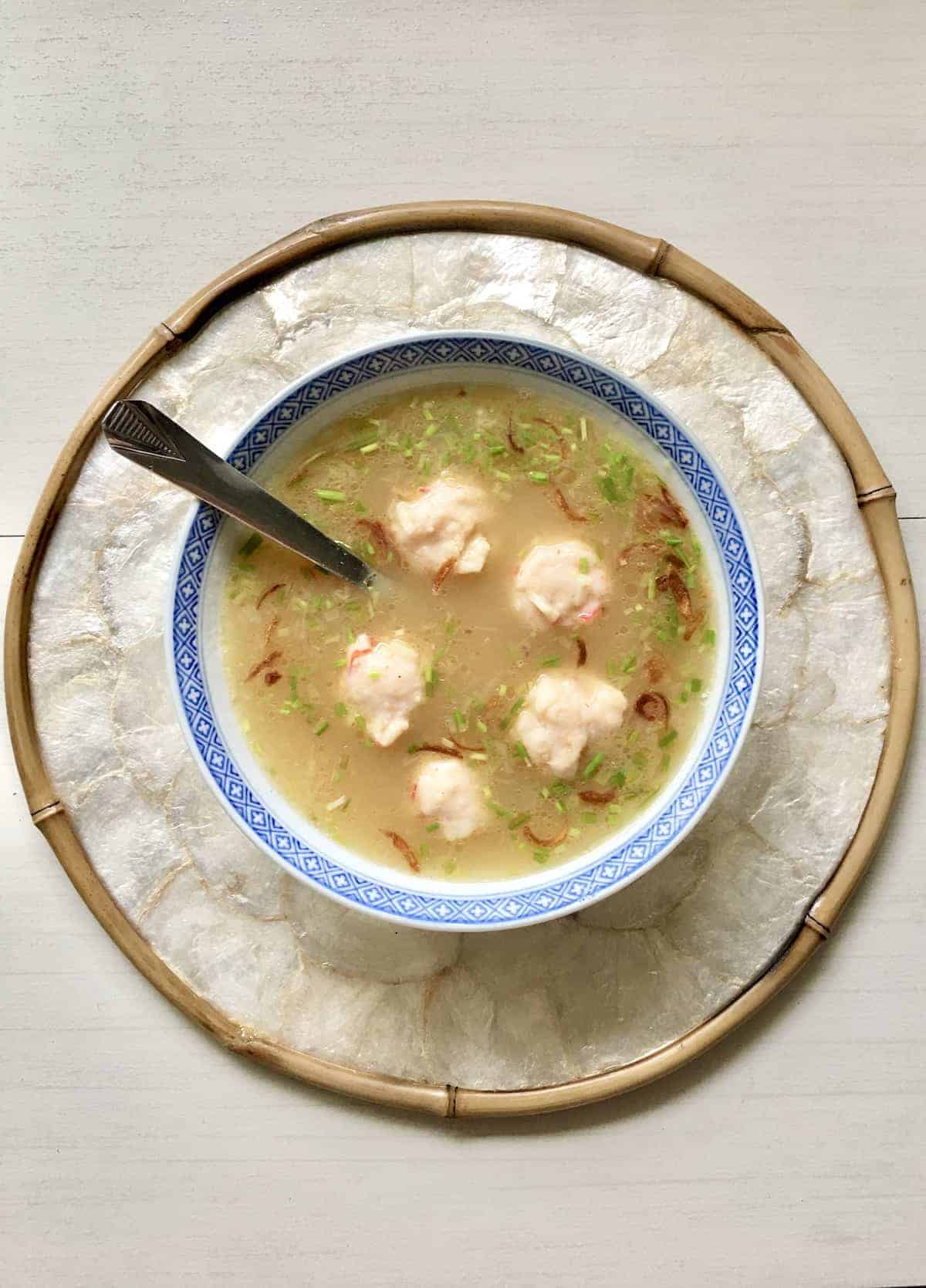 Creamy chicken noodle soup: add a few tablespoons of cream to the soup just before switching it off- heat up the soup but don't let it boil (after adding the cream) as you don't want it to split! Pair with some crusty bread and cheddar cheese or mozzarella cheese to complement the cream.
Asian chicken noodle soup: Add some dried shrimp or dried scallops to the soup base, use fish sauce instead of salt to season then drizzle sesame oil and cilantro (or spring onions) on top.
Vegan chicken noodle soup: If you're vegan, substitute with vegetable broth or try this plant-based chicken wonton noodle soup, which tastes just like the original!
Expert Tips
Tip #1: How to make Campbell's Chicken noodle soup better: add some diced vegetables and fresh herbs, such as fresh basil and/or parsley, to brighten the flavours. A squeeze of lemon or lime never hurt too, and don't forget to top with black pepper.
Tip #2: For juicy & tender chicken: Use chicken thighs- dark meat has more fat and thus so much more flavour than chicken breasts. It also doesn't get as dry so you don't have to worry so much about overcooking! 
Tip #3: Leftover roast or rotisserie chicken makes for an easy addition to a bowl of chicken noodle soup
Tip #4: For a light and clear soup base: cook the noodles in a separate pot from the soup, as it will release starch which will make the soup cloudy.
FAQs
Snacks
These fingers foods are some of the best sides as they're full of flavour but won't make you so full you can't enjoy the main meal.
Vegetables
Sweet potato fries are 1 of the most popular side dishes out there- they taste great with sambal mayo!- but why not widen your diet and try butternut squash fries instead? (Or grilled asparagus spears make super healthy veggie fries!)
Fresh salad is always a great addition to a meal but instead of avocado salad or Italian salads, why not try Korean mashed potato salad (gamja salad), Chinese spinach salad or Chinese Cucumber salad, a very popular side dish?
Mushrooms
Mushroom recipes make for some of the best side dishes as they tend to cook very quickly.
Expert Tip: Just remember to rinse them lightly instead of soaking, as the mushrooms will absorb all the water like a sponge (and won't cook up as well.)
For more Asian side dishes which use mushrooms, click here.
Tofu
Tofu is a good side dish for those on a budget as it tends to be inexpensive- it also absorbs the flavour of its sauce very well.
The umami-ness and creaminess of this salted egg tofu makes for a nice contrast with the lightness of the chicken soup.
Meat
Carbs
Instead of garlic bread, fluffy biscuits, cornbread and pretzel rolls, why not try some Asian breads?
Some people like to pair noodle soup with a grilled cheese sandwich or vegetable panini, but I personally find it too heavy a combination- these steamed mantou buns are much lighter in texture, and are a great way to bulk up the dish without stuffing oneself!
Expert Tip: You can also pop the mantou into the air fryer, if you're not a fan of steamed bread.
If these Chinese side dishes aren't enough, here are some Asian desserts to complete your meal:
What is your Chinese side dish for chicken noodle soup? Let me know in the comments! If you've found this list of Chinese side dishes useful to you, do share it on your social media!