An overview of the Cooking with Keywords (CwK) keyword research course (part of SEO for food blogs), as well as the impact it has had on my blog, to help you decide if it's the right investment for you!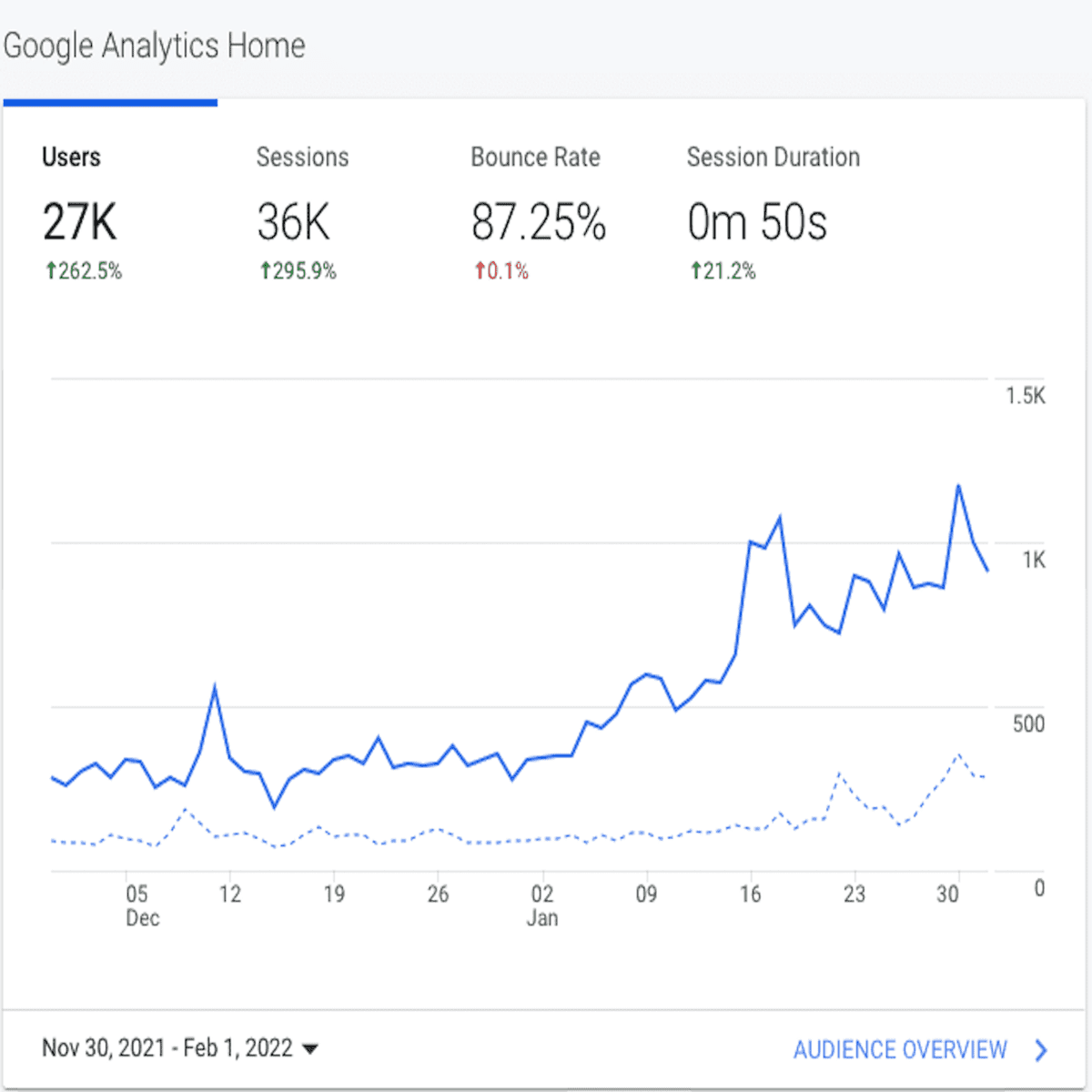 Note: I am an affiliate of Cooking with Keywords and receive a commission from every sign-up through this post 🙂 However, stats don't lie, so read on 🙂
When I googled "food blog keyword research", Google came up with 29,200,000 results, so hopefully this post will help you make a decision from the millions of choices!
Jump to:
Before I started my Asian food blog, I had a (now-defunct) DIY blog which was featured on BuzzFeed and TimeOut London. Sounds like the blog should be doing pretty well, no? Unfortunately, I had NO clue about blog SEO or keyword research then, so despite having quality backlinks, I wasn't able to scale my traffic and after struggling for 1-2 years, I decided to close the blog and save myself the hosting fees.
However, my dream is still to earn a living doing something that I enjoy (I love creating stuff, be it jewelry or food!) and which would allow me the flexibility to work from anywhere in the world, so after a few years, I decided to start this Asian recipes with a test kitchen approach blog. (One of the "USPs" of my blog is choosing a classic Asian dish, trying several different recipes for it, sharing what I'd learnt and then developing my own version. The current most popular post on my blog- Cantonese poached soy sauce chicken- was created with this approach.) This time, it had to work and so I signed up for a SEO audit with Casey Markee, who is highly recommended by many food bloggers.
Why I decided to invest
If any of you are familiar with Casey, you'll know that there's a looong waiting list for his SEO food blog audits. I first contacted him in March 2021 and he advised me that even his mini-audits would best suit a site with a minimum number of posts (which I didn't have at that time). Anyway, to cut a long story short, I got back in touch with him in Dec 2021, paid the deposit and Casey kindly gave me a list of things to do pre-audit (which will be in June/ July 2022).
One of the items that he highly recommended was taking Aleka Shunk's Cooking with keywords course. I must admit that I was a little hesitant as I'd already spent a ton of money on a zero-income generating blog but eventually decided to bite the bullet and I am SO glad I did.
As a wannabe full-time food blogger, I really enjoy reading other food blogger's income reports, or traffic stat posts etc so I decided to write this post to share what I'd learnt on CwK to help other bloggers decide whether it's right for them if they're looking to learn more about SEO for food bloggers and, specifically, keyword research (and, of course, hopefully earn some affiliate income!)
What is Cooking with Keywords?
It's an online course by Aleka Shunk that teaches food bloggers about keyword research to help them increase their organic Google traffic. Unlike other courses, Cooking with Keywords is geared specifically towards recipes and food blogging so it should be 1 of your top choices if your goal is to learn more about SEO for food bloggers.
Aleka's credentials
Aleka has her own food blog - through keyword research, she tripled her traffic in under 4 months
With only 150 posts, she ranked for 37,000 keywords with 75-78% of traffic from Google
Aleka has a Masters in teaching and worked as a teacher for 10 years.
Myself and many other people who've taken the course highly recommend it
What you get from the course
Access to the online CwK keyword research SEO for food bloggers course which has 16 modules and was specifically developed by a food blogger FOR food bloggers
The modules can be rewatched as well as downloaded
PDF templates summarising some of the most important content

e.g. keyword terms
e.g. post checklist

Membership of a Cooking with Keywords facebook group, in which you can ask as many questions as you like (and Aleka regularly answers!)- as of 11 Feb 22, the group has over 400 members and is quite active (I believe I see new posts in it every day and, so far, have not had any of my questions ignored.)
The SEO for food bloggers (keyword research) course modules includes topics such as:
Domain Authority
Paid Keyword research Tools
Free Tools
Yoast
Old posts (written before you took the course)

Seasonal content

and more!
Note: The modules are updated from time to time (you have access to the updated ones). Since I signed up, Aleka has also kindly added 4 new sections to the course (including rank tracking), so there's always more for you to learn.
Course goals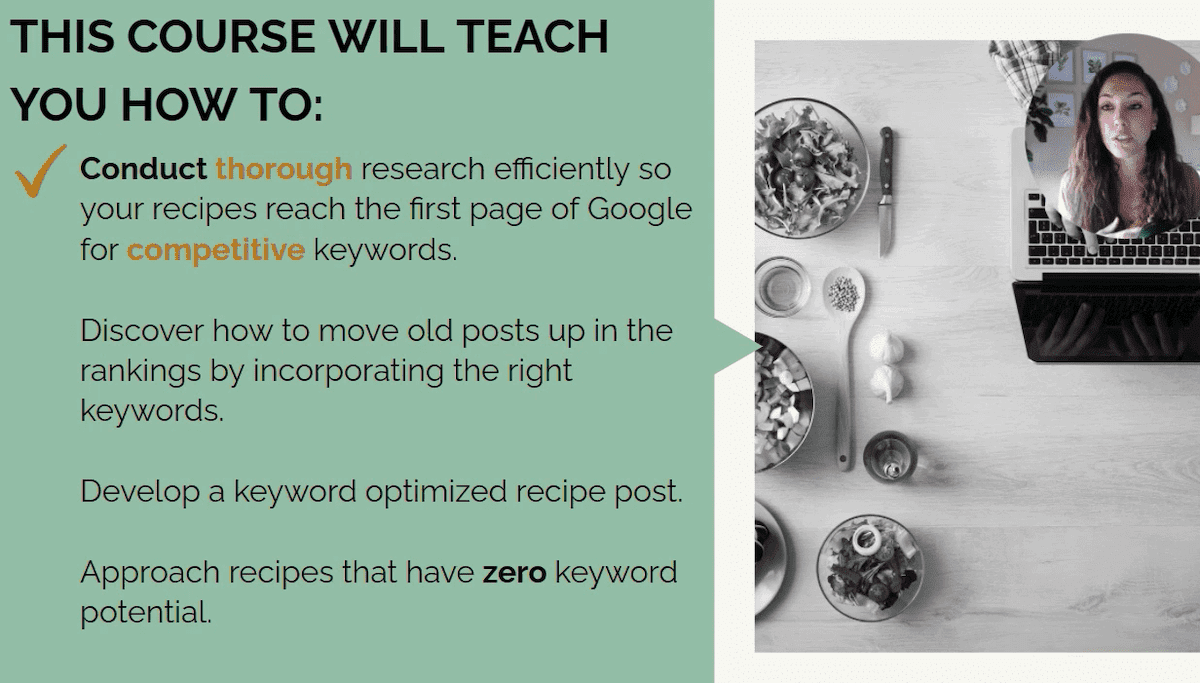 Cooking with Keywords aims to teach you to efficiently research keywords so you can achieve 4 main objectives:
Rank on the 1st page of Google SERP
Learn how to improve old posts with the right keywords
Develop a keyword optimised post
Approach recipes with zero keyword potential

I will update my post with stats relevant to these 4 KPIs (Key Performance Indicators) once I have more data- currently it's only been around 2 months since I 1st signed up!
What else you need
To fully benefit from CwK, you will need to invest in a keyword research tool as well such as KeySearch, SemRush or Ahrefs. (I went for Keysearch as it is the cheapest- click the link for a review of this keyword research tool.) Aleka also shares about free keyword research tools but you get what you pay for and the free ones have limited capabilities.
Personally, I think to get maximum benefit from this SEO for food bloggers course, you have to be willing to pay for at least keysearch, which starts from $17/month (it's 20% less if you use my discount code "KSDISC")
My previous keyword research process
Almost zero. I knew almost nothing about food blog SEO so although I had Keywords Everywhere installed on my browser-the free version doesn't come with keyword volume information- I just posted about whatever I felt like writing about (or eating, since I had to cook the recipes and photograph them!)
I mean, I knew about the different tools- KeySearch, SemRush, Ahrefs etc- but I had no clue which one to sign up for as everyone was saying they gave different data (for e.g. for keyword volume) and I didn't know how to decide which 1 was the best. What's the use in paying for a tool if the data it gives is fake, after all?
I had listened to all the TopHatRank webinars (to see my summaries of each session, click the link) to brush up on my SEO for food bloggers knowledge (although I hadn't gotten round to taking detailed notes for everyone webinar yet). In addition, I had listened to some of the Blogging Millionaire's podcasts and parts of the FoodBloggerPro podcasts but other than that, I was pretty much a blank slate.
Note: the resources mentioned in the above paragraph taught me a lot of random information about SEO but not so much that was specific to keyword research.
Impact on number of users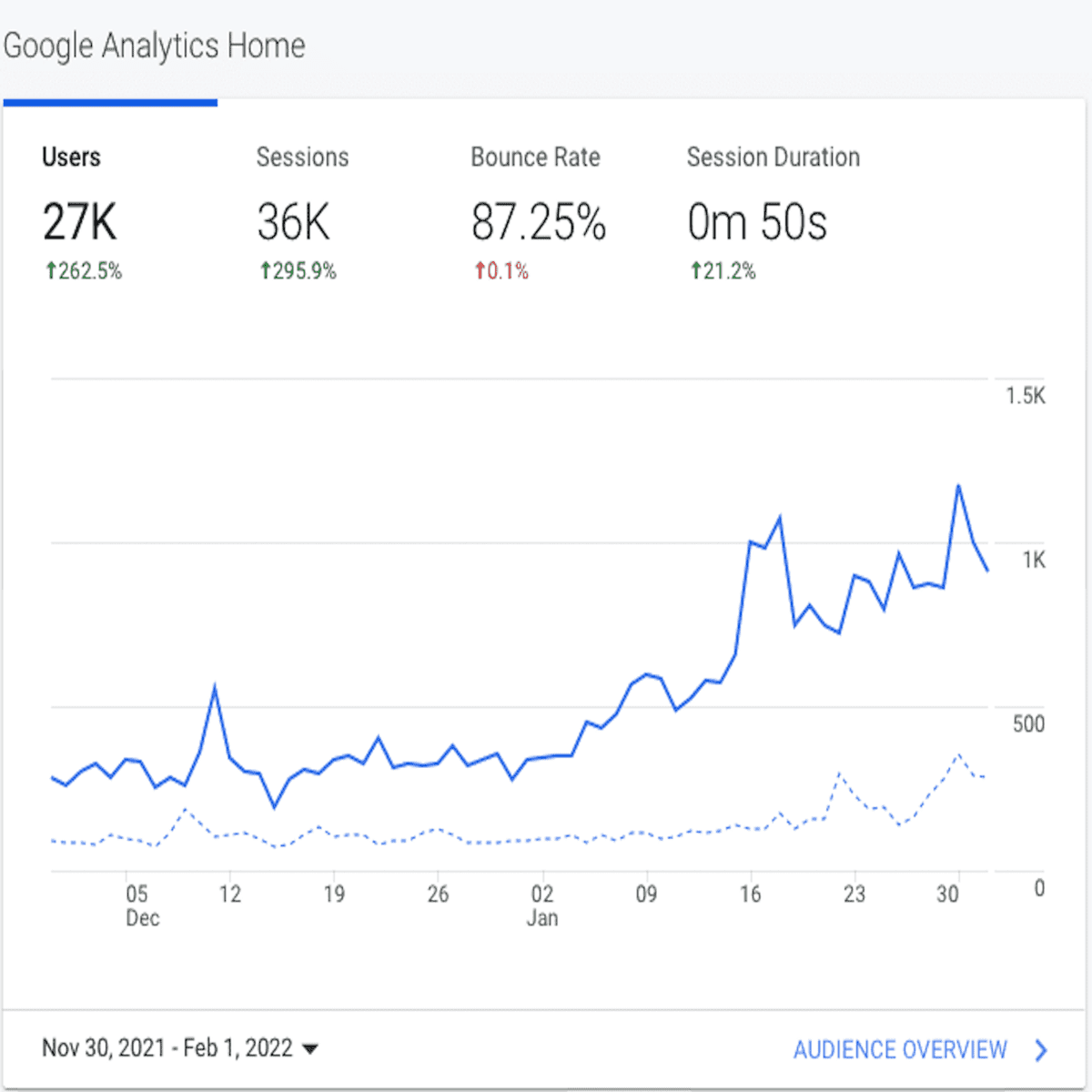 Before I published my 1st Aleka-ised post (i.e. pre 31 December), I had 357 daily visitors to my blog on 30 Dec 2021. Currently (1 Feb 22), I have 907 daily visitors on 1 Feb 2022, which is an increase of 154% in 1 months' time. Of course, 1 indisputable factor is that I published a LOT more posts after taking the Cooking with Keywords course as I felt so empowered by my new food blog SEO know-how and motivated (also, I wanted to capitalise on the seasonal traffic as Chinese New Year was approaching!)
Note: I must confess that whilst I have listened to the entire course, I have only taken notes for ½ of it, so my new posts are not fully optimised yet. (I was in a rush to publish new posts to capture the Christmas and Chinese New Year traffic. Now that the festive season is over, I will be going back to re-listen to the course, so that I can update my old posts using everything I know about SEO for food bloggers. I will refresh this post when I have new stats to share after fully optimising :))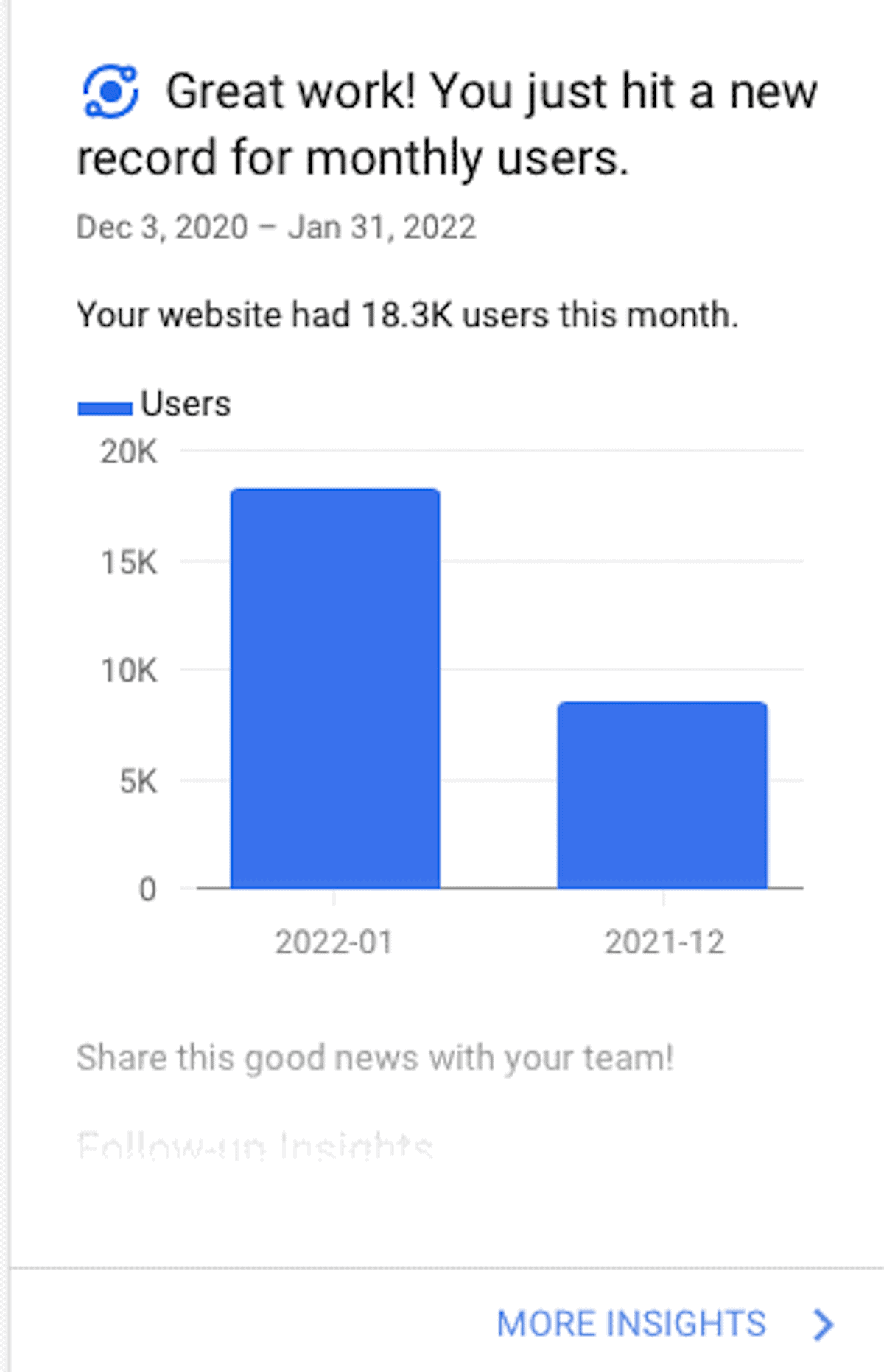 Number of users per Blog post
As mentioned, the increase in my users could be due to the greater number of recipes I'd published. I wanted to discount that impact so I decided to work out the number of daily users I had/ have per post.
Before 31 December, I had 51 posts on my blog and between 31 Dec- 1 Feb, I published 30-31 new posts. So to check whether the increase in traffic is due to the fact that I now have more posts, I decided to work out the number of daily users per blog post for before and after Cooking with Keywords.
After doing my sums, before taking this keyword research course, I found that I had 7 daily users visit my site per blog post (357 users divided by 51 posts), whilst I now have slightly over 11 daily visitors per blog post (908 users divided by 82 posts), which is a more than 50% increase in 4 weeks!
Google traffic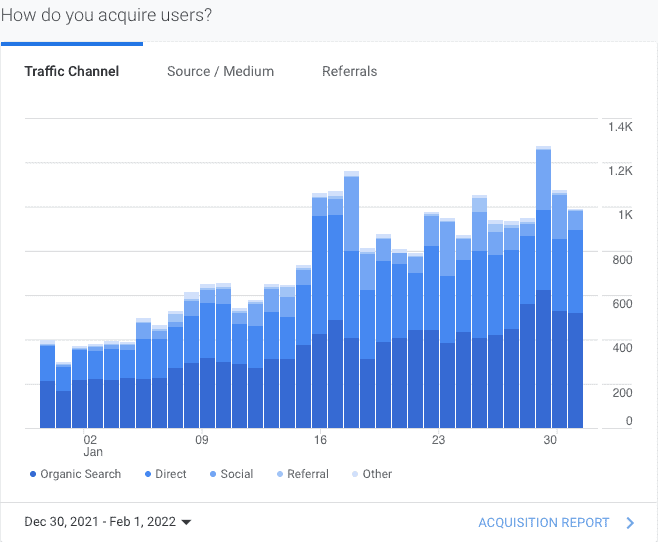 Before taking the course (on 30 Dec 2021), 216 of my users were from Google whilst on 1 Feb 2022, the number was 522. Dividing by the respective number of posts (51 and 82 posts), I had 4.2 daily visitors from Google search before taking the course and 6.4 daily visitors post-course, so another 50% increase, thanks to my newfound SEO for food blogs learnings.
Google Top 5 posts
Although organic traffic is the ultimate factor, I decided to drill down a bit more and look at the number of Google Top 5 posts I have after publishing recipes based on what I'd learnt in the CwK keyword research for food bloggers course. Although I published new 31-32 recipes, I'm looking at the results on Google Search Console Insights, and that only shows you the last 15 posts.
3 are actually category pages (old ones) so no clue why they appeared there. Out of the 12 new posts, 4 are actually round-ups which I did not do keyword research for (Aleka has mentioned she is working on a new module/ course about keyword research specifically for round-ups), so that leaves us with 8 recipes. Out of these 8, 5 rank in the Google Top 5 SERP for at least 1 keyword. (Note these keywords may not actually be the focus keyword I was targeting- I didn't study the posts in detail so am not sure about that- but they are keywords relevant to my post!)
Google Search Console Insights also shows the 15 most popular posts in the last 28 days- of these 15, 8 are new recipes that I created using keyword research (1 of which is a round-up).
Note: these new posts are mainly related to Chinese New Year, so seasonality could also be a reason why they did well.

Other effects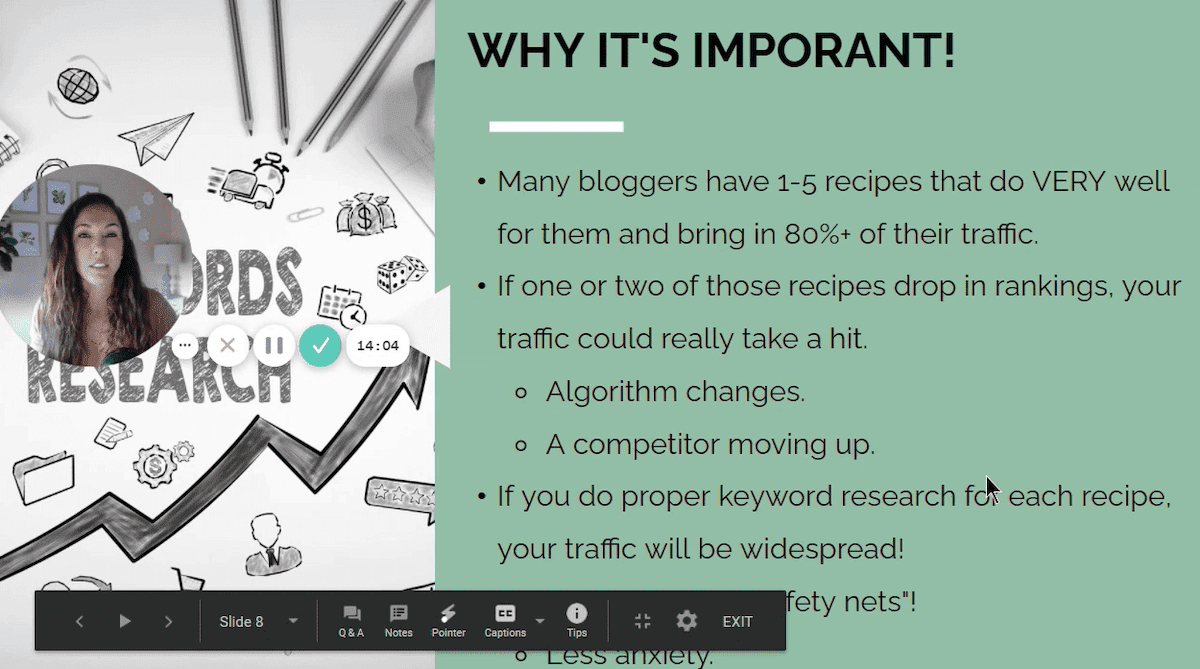 One thing Aleka mentioned in her course intro was how many bloggers had a few posts that brought in most of their traffic which was a stressful situation to be in (what happens if Google decides it doesn't like these posts anymore?) This was EXACTLY my situation! As you can see from the image, my top post brought in more traffic than the next 3 posts!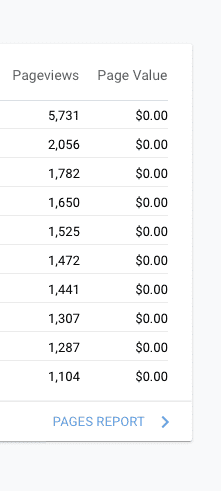 In the 8 weeks or so since taking CwK, you can see that traffic is more or less equaled out now. The post with the most traffic is 1 that I developed using Aleka's tips and tricks and the 2nd an old post that I had updated using SEO keywords for food blogs. (The 3rd most popular post is last year's top post.)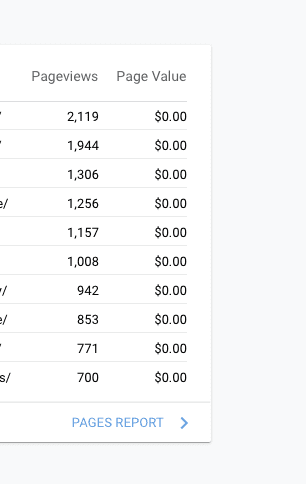 What I wish the course had
This section will be filled out soon, once I've actually listened to all the modules in detail!
Hopefully, this post has helped you gain a better overview of the Cooking with Keywords course so that you can make the right decision for your food blog based on the level of SEO for food bloggers knowledge you have! If you decide to sign up, I would be super grateful if you would use my affiliate link so my income-DRAINING blog can start generating a little revenue 🙂 In the meantime, good luck fellow food bloggers!