A no-fuss, easy Chinese canned abalone porridge with chicken (jook or congee) recipe which can be made using store cupboard ingredients, perfect comfort food and a delicious recipe for a weekday dinner.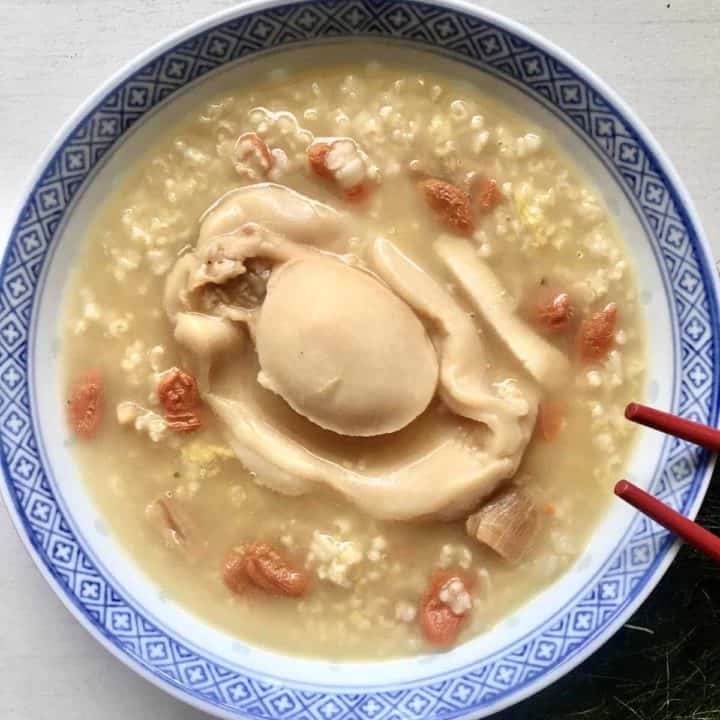 The abalone congee is easier to eat if you cut the abalone flesh into small pieces- I left a huge piece to make a visual impact in the photo (or sometimes to make my guests happy :P)
We eat this throughout the year, but abalone chicken porridge with dried scallops is especially popular during Chinese New Year, as abalone represents auspiciousness, and is considered a lucky dish. (It's also a good way to use up all the extra canned abalone one may have bought or received over the holidays!)
Ingredients
White rice

Substitute: brown rice if you want to be healthier and don't mind a chewier congee consistency

Chicken broth or stock

Substitute: ikan bills stock (remember to remove the heads or you'll end up with a bitter soup) or kelp and shiitake mushrooms broth if going vegan
Either homemade or good quality shop-bought/ bouillon
You will need at least 10x the amount of rice if making this in a pot (e.g. if you cook 1 Cup of rice you will need 10 Cups of liquid- if there isn't enough chicken stock, you can top up with regular water.) If using a rice cooker with congee function, fill it up to the marking on the rice pot.
If you're looking for a congee recipe that doesn't require chicken stock (only uses water), try this dried scallop congee.

Canned abalone

Optional: add 1-2 Tablespoons of the abalone broth
You can make porridge with dried abalone, but it'll be a totally different recipe, as dried abalone needs a long time to rehydrate and cook.
Remember to add the abalone meat in the last 5 minutes or so of cooking, so that it can poach over medium or medium-low heat: you don't want to boil it on a high fire or the flesh will become tough and chewy. (Canned abalone is pre-cooked- we're merely heating it up here. The amount of time it needs will depend on how thick your pieces are.)
A Chinese chef at the Michelin-starred restaurant Jiang Nan Chun once told me to steam the unopened can of abalone and I've heard some people do cook the can in their rice cooker to soften it, but I've never dared to try as I worry about kitchen explosions!
If you're making this for guests and want to impress, pay attention to the size of the abalone: the bigger they are, the happier my guests are! (I usually serve the main pot of porridge with a huge abalone, but use thin abalone slices when serving, as they're easier for the guests.)
Substitute: fresh or frozen abalone (I used canned as I want this to be a store cupboard recipe, which can be easily made with items from your pantry.) Don't throw away the guts here as they're packed with flavour!

Dried scallops (干贝 (gan bei) or conpoy)

Substitute: dried squid or dried conch will also give a nice savory flavor to the dish
Rinsed then soaked in hot water for 20-30 minutes to soften- keep the soaking water to add to the pot. (You can use your hands to break them into smaller pieces (after soaking) if you like.)
If you want the scallop to be extra soft, you can steam them first but I usually cook my porridge for at least an hour, so the shredded scallops aren't too chewy.
If you're looking for recipes to use up your dried scallops, try XO sauce or this silkie chicken nourishing soup

Ginger
Optional: Goji berries and honey dates

Added for sweetness and because they're good for you- that's why we drink Goji Berry tea (They can also be added to other herbal teas such as longan tea, osmanthus tea and jujube tea)- but are not really necessary.)
For more sweet and savory goji berry recipes, click this link.
Toss the soaking water into the porridge as well
Substitute: minced carrots or red dates (the red dates will give it a slightly herbal flavour)

Salt & white pepper
Substitute: soy sauce or fish sauce
Don't substitute white pepper with black pepper- totally different things!
Optional: drizzle of sesame oil with toasted sesame seed
Optional garnish: spring onion (green onions), fried shallots, fried anchovies (ikan bills) or thinly sliced ginger
Tips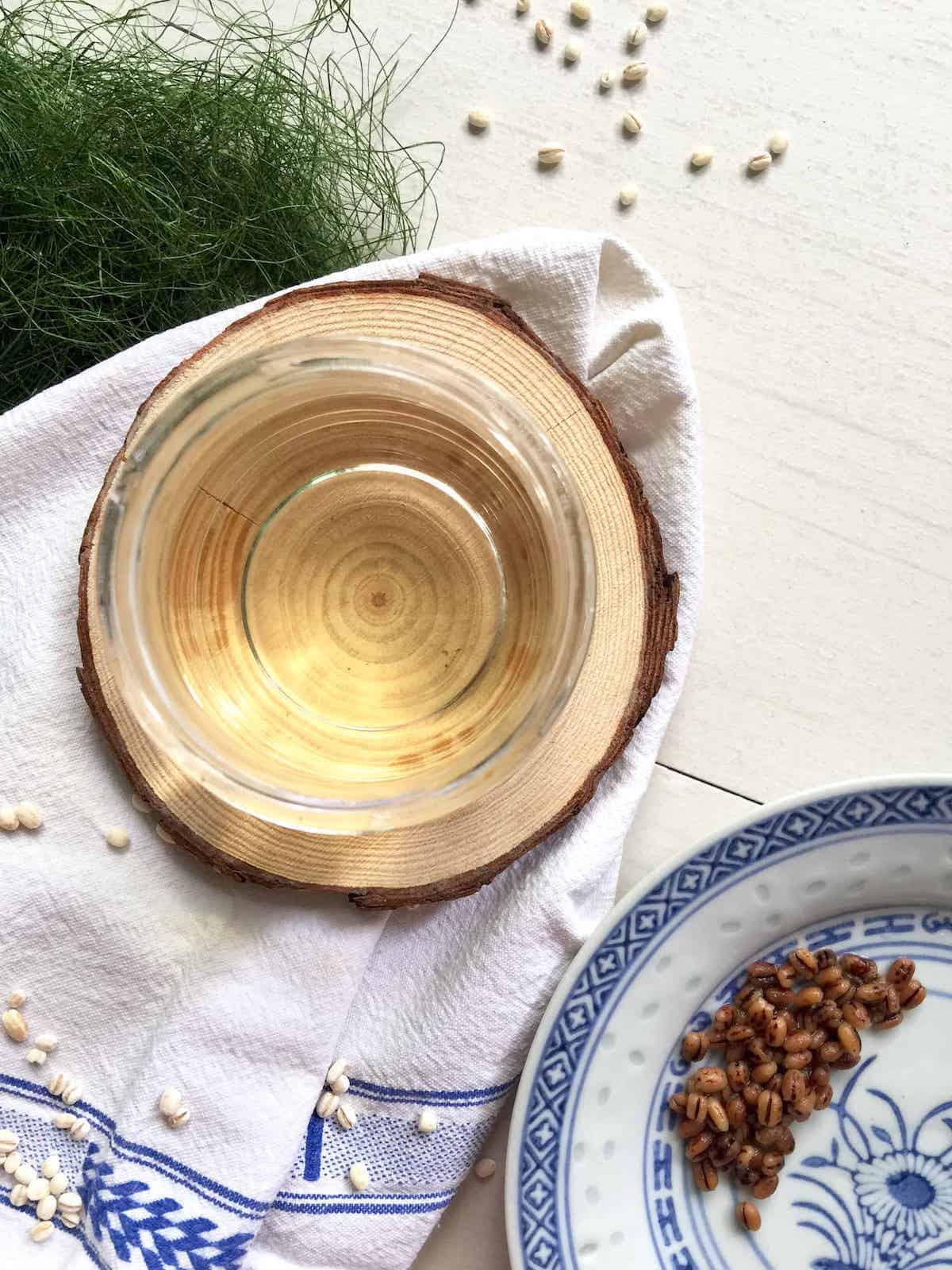 You can make this abalone recipe with white rice or brown rice: just keep in mind that brown rice will take longer to cook.
If you have a rice cooker with a porridge function, you can make it in it- just add everything to the pot and 5 minutes before the cooking ends, add the abalone
Save the abalone brine and add a bit to your porridge, keeping the rest for stir-fries and soups. (Don't add all into the abalone congee, or it'll have a weird taste.) Some people don't like to do this because of concerns about preservatives and chemicals, but there is a ton of flavour and it's a waste to throw it away- the abalone has been marinating in it for so long that I figure we've already absorbed all the chemicals if any!
There are many types of canned abalones- some have teeny ones and others have huge pieces. The 1 in my photo is a medium-sized piece from Eu Yan Sang.
For a heartier version of this porridge, add some shredded chicken or seafood ingredients such as fresh shrimps & fresh scallop (if feeling posh).
If you drink barley water, or roasted pearl barley tea, you can add the cooked barley grains to the jook.
Use a large pot- you don't want the water to spill out when the abalone chicken porridge is boiling!
How to serve
Abalone porridge can be eaten alone but Chinese people also have the habit of serving congee with side dishes and toppings. (Click on the respective links for ideas.)
FAQ
Can you eat the guts of the abalone?
Yes. Korean abalone porridge (Jeonbokjuk) differs from the Chinese one as it usually uses frozen or fresh abalone (the ones from Jeju Island are especially prized), and the guts are cooked with the rice, giving it a more earthy flavour. (The guts add a ton of taste to the porridge, which is why Korean abalone porridge still tastes great despite not using dried scallops.)

Other jook recipes
If you love rice porridge as much as we do, here are more recipes for you: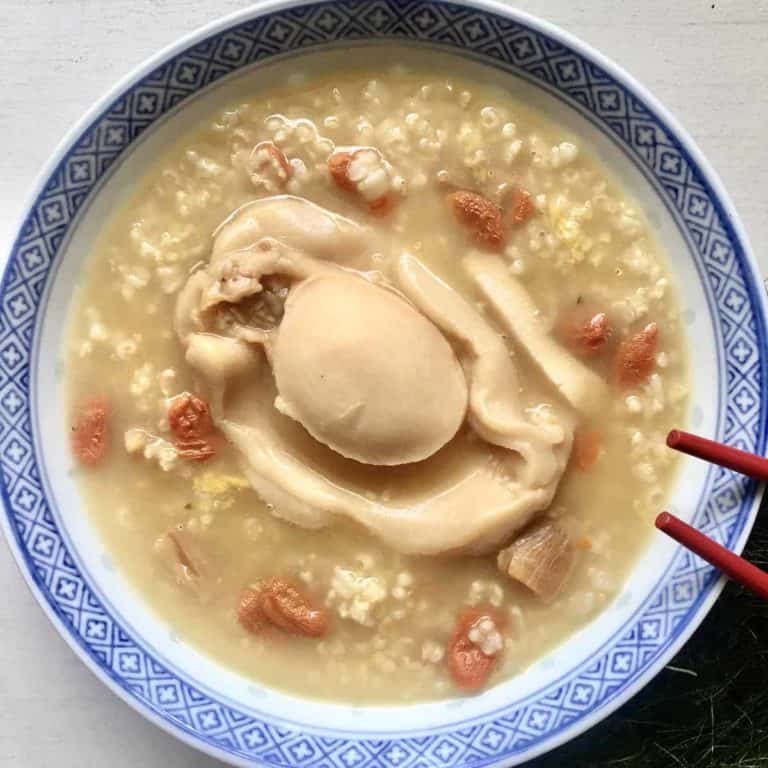 Chinese Abalone Porridge with chicken
A no-fuss, easy Chinese abalone porridge (jook or congee) recipe which can be made using store cupboard ingredients
Ingredients
1

Cup

White jasmine rice, rinsed

You can substitute with brown rice

10

Cups

Chicken broth

Substitute: chicken bouillon cube. Top up with plain water if you don't have enough chicken stock

1

Can

abalone

Cut into small pieces or thin slices. Add 2-3 Tablespoons into the porridge and keep the rest for stir-fries or noodle soups.

5

dried scallops/ conpoy

These give the rice porridge umami and depth of flavour but are quite expensive. (They'll also add a bit of salt to the porridge so taste before adding salt later.) Feel free to substitute with dried conch, dried squid or a dash of fish sauce instead.

3

Slices

ginger

Optional: handful of goji berries and 1 honey date

Goji berries are good for your eyes and both make the porridge a little sweeter which helps if you're using unsweetened homemade stock (Shop bought or bouillon cubes are usually heavily seasoned and may not need this.) Substitute: minced carrots or red date/ jujube (this will make the porridge slightly herbal though.)

Salt, to taste

Substitute: fish sauce. It's not traditional to use fish sauce in porridge but I do love its umami and depth of flavour which goes well with the abalone.
Garnishes
Optional: sesame oil

Drizzle on top of each bowl

Optional: spring onions, sliced

Optional: think sliced ginger

Optional: fried shallots

Optional: fried ikan bilis (anchovies)
Instructions
Quick & Easy method
Add the rinsed rice, dried scallops (along with the soaking water), ginger, 2 tablespoons of abalone juice, goji berries (and soaking water)/ honey date (If using) and chicken broth/ water to the pot.

Bring to the boil over high heat.

Once boiling, reduce the fire so that the porridge is simmering and leave till cooked to your desired consistency. You may need to top up the water and stir it every now and then (or it will burn at the bottom of the pot.) (Cooking will take at least 30 minutes if using white rice.)

5-10 minutes before you switch off the fire, add the cut up abalone to the pot and cook till it's warmed through. (If adding other proteins such as the fresh shrimps and scallops, add them with the abalone and simmer till cooked.)

Taste and season with salt to taste. A pinch of white pepper is nice but remember the taste can be very strong so less is more here.

Ladle into the bowls- if you wish, you can drizzle some sesame oil on top of each 1, along with some sliced ginger and spring onions (or fried shallots/ fried ikan bills.)
For a more fragrant porridge, do this extra step
Heat up some oil in the pot then stir-fry the ginger and the white part of the spring onions till fragrant.

Add the rinsed rice grains and stir fry for 1 minute. (If using carrots, add them at the same time.)

Pour in all the chicken stock/ water, scallop soaking water, abalone juice and goji berries (and soaking water)/ honey date into the pot. Add the soaked scallops and bring to the boil over high heat.

The rest of the cooking steps follows the quick & easy version above.
Notes
Note: if you're using brown rice, as I did in the photo, the cook time will increase.
To make your abalone go a longer way, dice it up into smaller pieces, so that the taste will better infuse the porridge.
To bulk the porridge up, you can also add shredded chicken (the thigh meat is less likely to overcook and become stringy, and also has more flavour), fresh shrimp or fresh scallops.
Before you go, you may also enjoy these recipes: