Natural Homemade Pandan Extract and Juice are both made from 2 simple ingredients. They smell and look so much better than anything out of a bottle! Besides flavouring food, they can also be used as a healthy and natural green colouring.
Jump to:
Why Make This
This Homemade Pandan Extract & Juice recipe is super simple: it only requires 2 ingredients and is really easy to make.
The recipe is also versatile: You make the pandan juice in under 10 minutes. Add 1 day of passive time- where the juice is just settling in the fridge- and you get pandan extract!
The juice and extract can be used as natural flavoring and coloring: No funky preservatives or chemicals that are bad for your health, unlike the bottled stuff! Also, unlike artificial pandan which is a bright, almost neon green, natural pandan juice made from fresh leaves of the pandan plant is a much more pleasing colour (See below.)
Note: When we say juice, it's not drinking juice! (Doesn't taste too good- bitter- on its own.)
If you want a pandan drink, boil a couple of (washed) whole pandan leaves with pearl barley and water on medium heat to make pandan tea, which is a refreshing drink on a hot day. You can add ginger and lemongrass to make different tisanes.
Instead, use this to make pandan jelly or pandan drinks.
What is Pandan?
Pandan, also known as screwpine leaves or pandanus amaryllifolius, is often called Asian vanilla. However, the 2 flavours are not really interchangeable. Pandan is more grassy and vegetal whilst vanilla is more floral.
Screw Pine leaves are ubiquitous in South East Asian cooking and baking due to their colour and fragrance. (It probably helps that pandan, like Asian lemongrass, Asian Pumpkin, Assam Tamarind, Kaffir lime leaf (makrut lime) and the curry leaf plant, grows so readily in South East Asia thanks to the tropical climate!)
Juice vs Extract
Pandan leaf juice is simply water that has been blended with pandan leaves.
If you allow the juice to settle, it will separate into a darker pandan extract at the bottom and a lighter green liquid on top.
The pandan fragrance is stronger in the extract and it's a natural food flavouring. (The leftover "pandan water" on top can be used to cook rice.)
Ingredients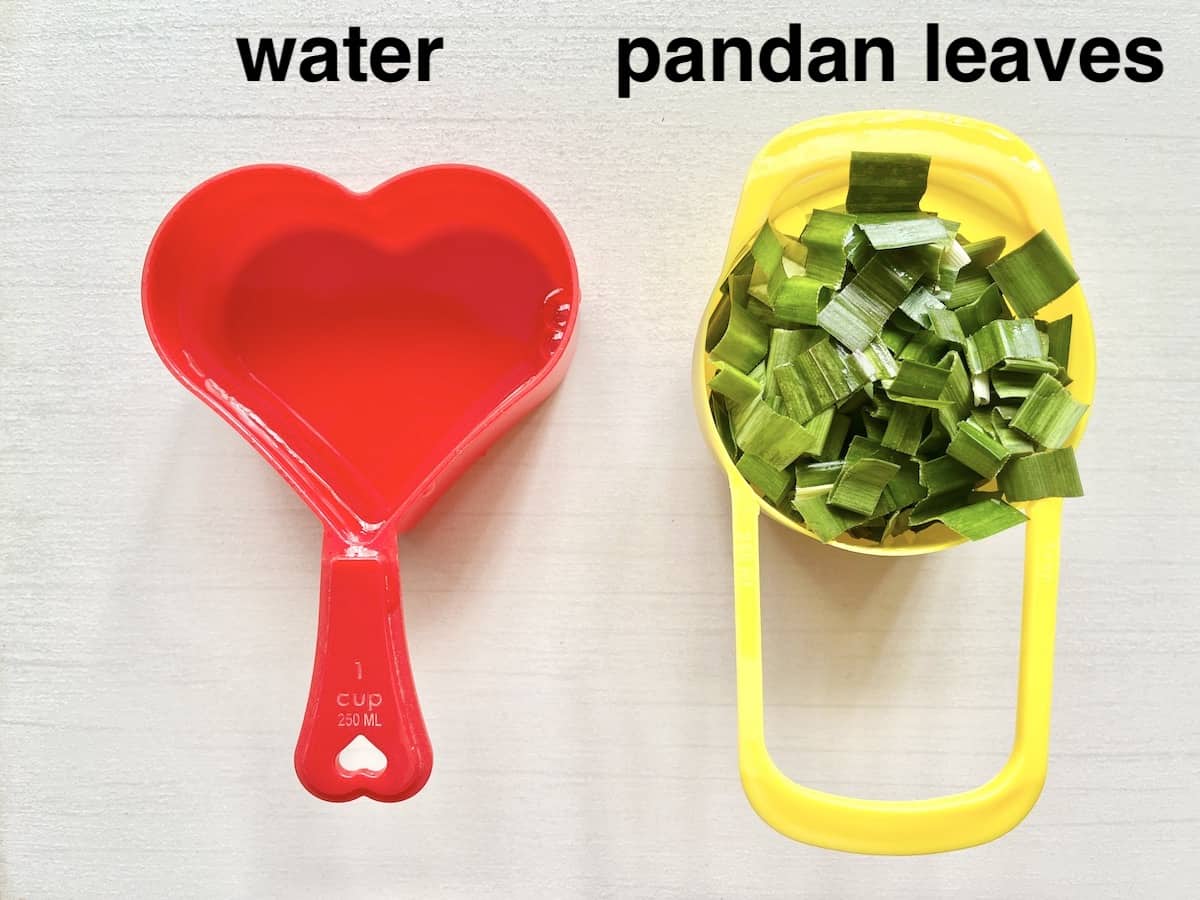 Homemade pandan juice/ extract only requires 2 ingredients:
pandan leaves: To blitz these easily, cut them as small as you can (maximum size 1-inch pieces, ideally smaller.) Pandan leaf is fibrous and can be hard to cut with a knife- an easier way is to use a sharp scissors instead. Fresh pandan leaves are preferred but you can use frozen pandan leaves too. These can be found in most Asian grocery stores.
water: the water is just to make it easier to make it easier to break down the leaves. You can use less or more if you wish. (If you use more water, the pandan juice will be more diluted in flavor.)
Step-by-Step Instructions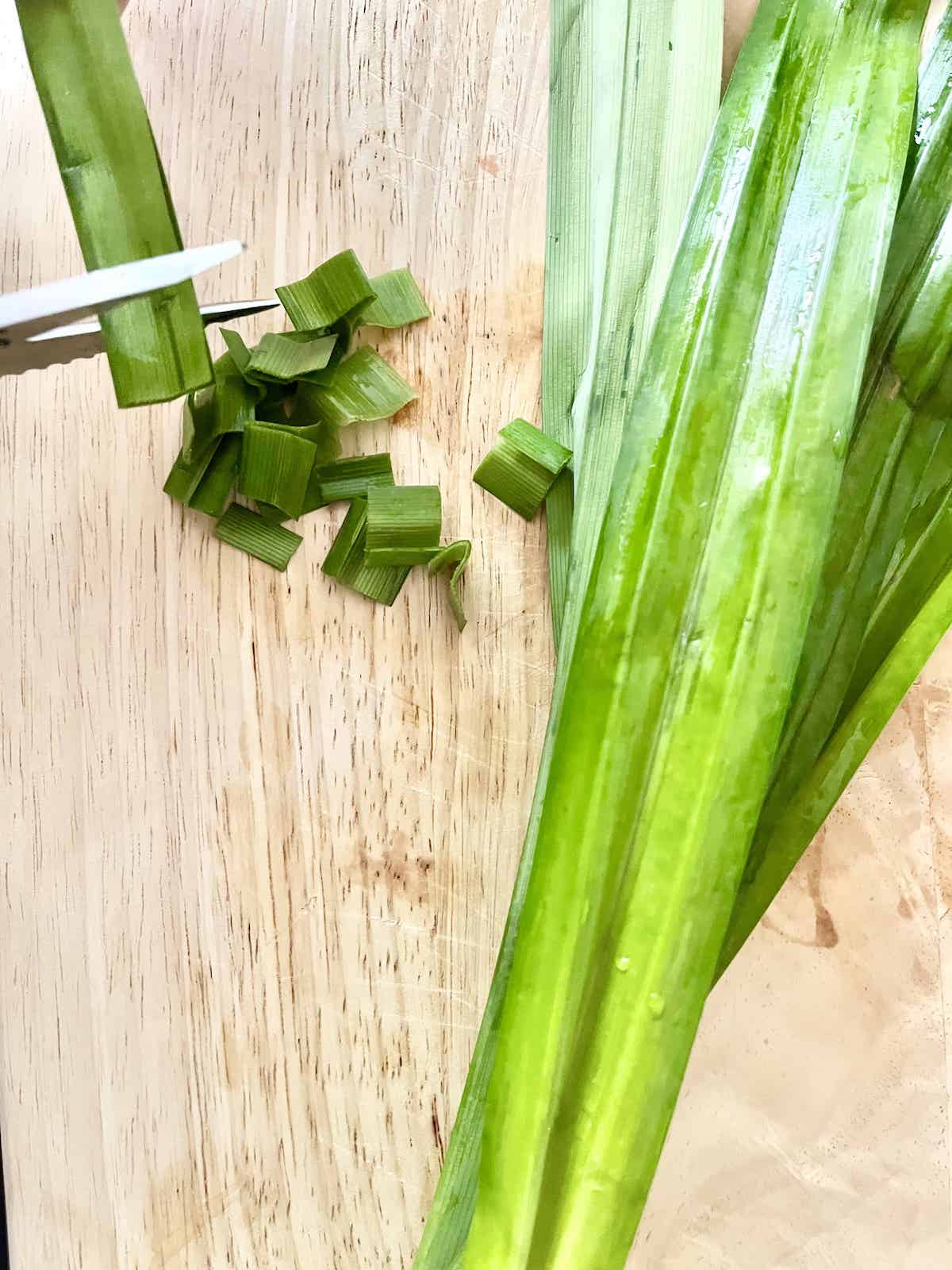 Use your hands to scrunch up the bright green pandan leaves to bruise and crush them.
Cut into small pieces, no bigger than 1 inch.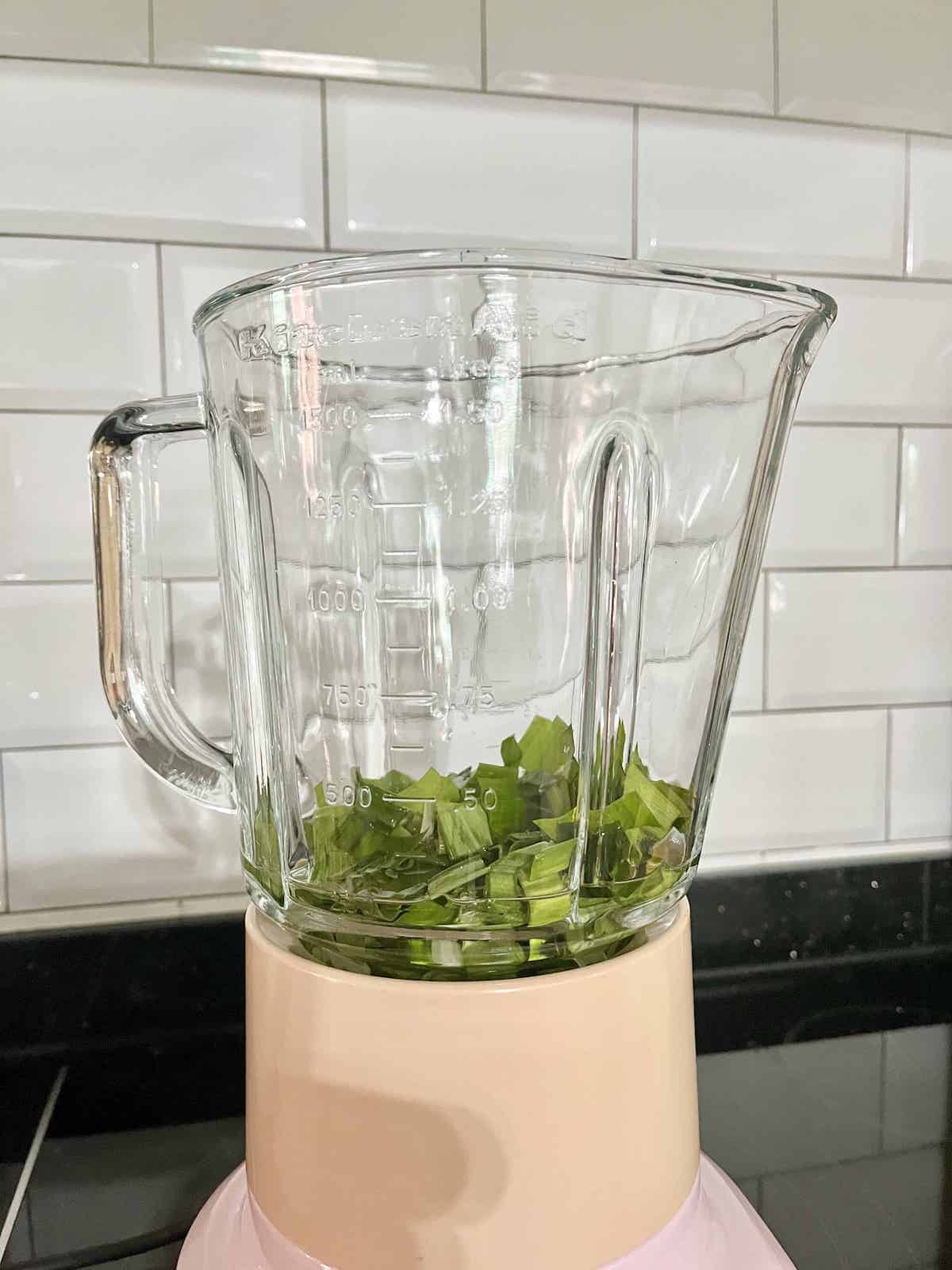 3. Add the cut leaves and water to a powerful blender. These leaves are tough!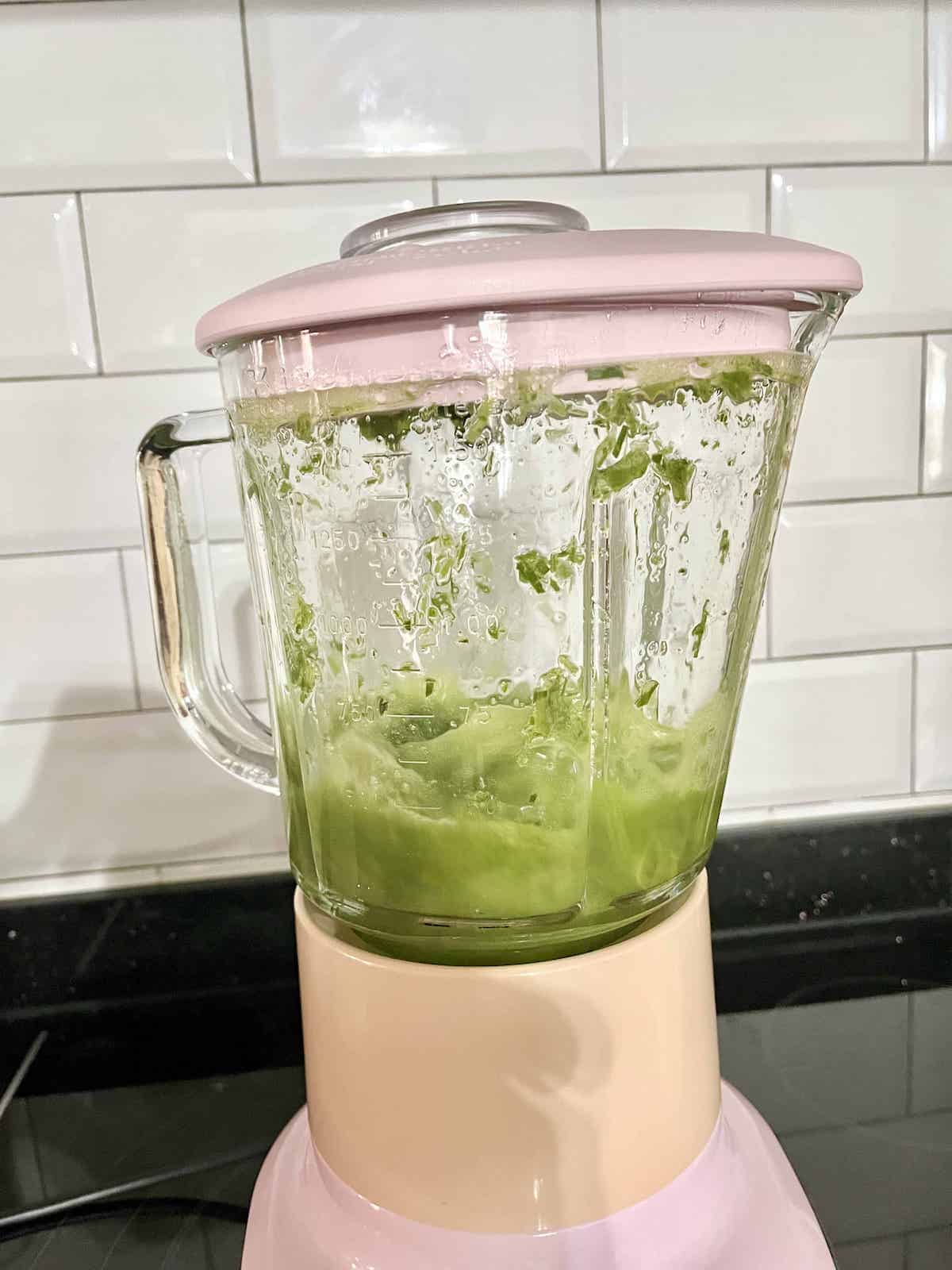 4. Blitz till the pandan becomes a superfine pulp. You may need to scrape down the sides from time to time.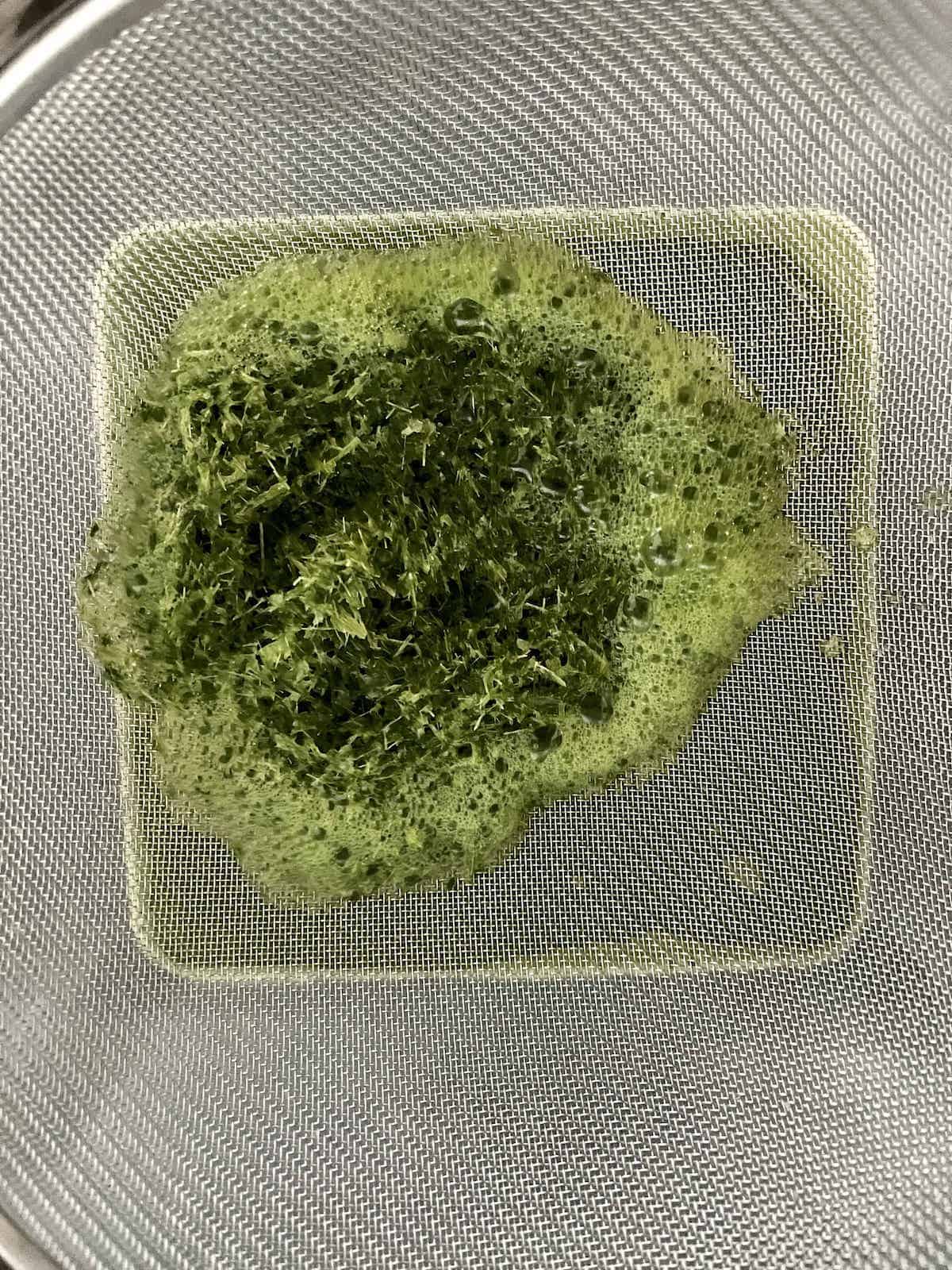 5. Sieve out the pulp and you get green pandan juice!
Note: The fresh juice will separate, with the top being light green and the bottom darker green (All the dark green sediment from chlorophyll will settle.) It smells grassy after blending, but will make your cakes and bakes very fragrant!
Turning Pandan Juice into Extract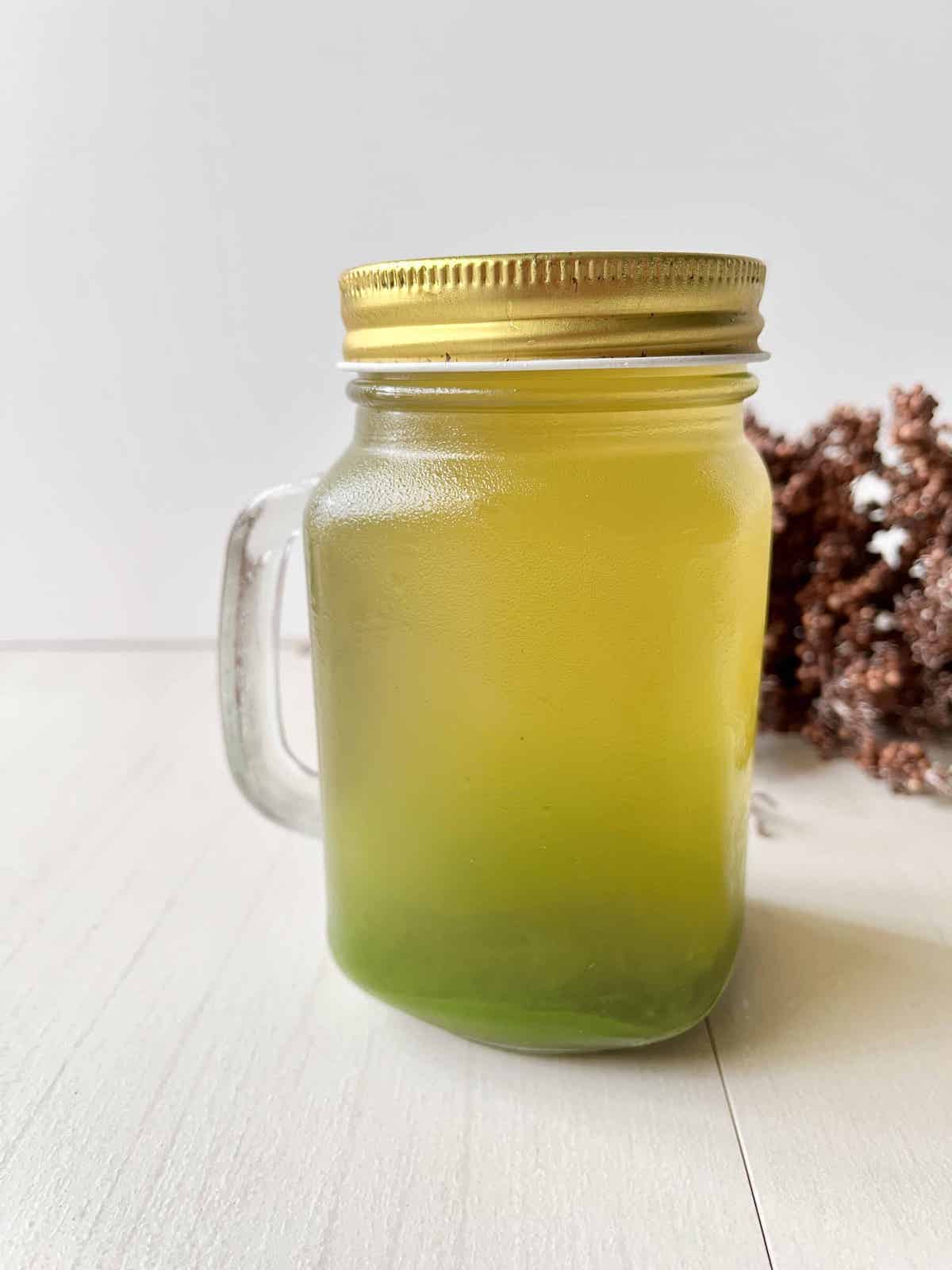 Let the pandan juice settle in the fridge for 1-2 days, then carefully pour the pandan water (on top) into another container. (It's quite muted if color and flavor- you can use it in curries or to cook rice or congee. )
How to Use
Sweet Dishes
Cooked with sugar to make pandan syrup for lattes and other drinks
To make a pandan rolled crepe
To color & flavor Asian snacks such as tang yuan (glutinous rice balls)
In baked goods such as pandan chiffon cake- 1 of the most popular southeast asian cakes!
Add to jelly along with nata de coco to make a cooling and delicious dessert (You can find more information on konnyaku jelly here) Alternatively, add a few spoonfuls to this no-sugar agar agar as young coconut and pandan are best buds.
Or cold desserts such as pandan ice cream
Making pandan coconut jam (kaya)
To flavor Asian drinks such as barley water
Savory Dishes
Add a few drops to flavour Asian dishes such as curries
Cook with white or sticky rice. If you also add some coconut milk and a few aromatics to the white rice, you get Nasi Lemak Coconut Rice.
How to Store
Fresh pandan extract and juice doesn't last long before it starts smelling bad. I would keep it for no more than 5 days in the fridge.
You can freeze it but it will gradually lose its fragrance in a few weeks.
Expert Tips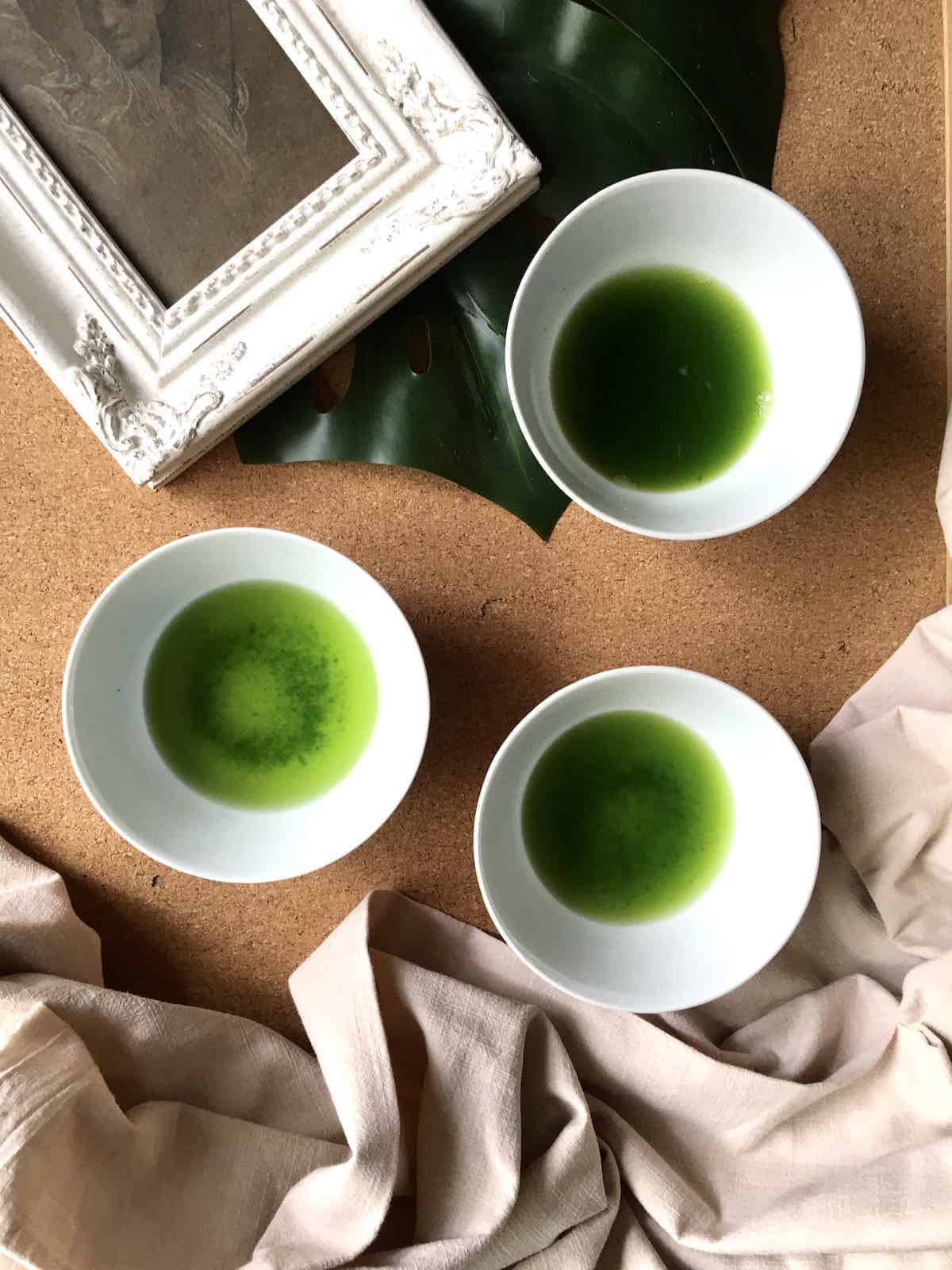 Tip #1: Use Mature Leaves: These tend to be a darker green with more flavor. (If you look at mine, they're quite light and are younger leaves (I ordered online.))
Tip #2: Use a good blender. If you have a tamper (the stick-shaped part the comes with the blender and fits through the hole at the top), use it! Pandan leaves are very fibrous and thus very difficult to break down. As the leaves are light, they fly to the top of the blender mid-blitz. Use the tamper to push them down.
Tip #3: Reuse the pandan pulp. After sieving you will be left with fine pandan pulp- this can be blended with water a few more times to make more juice. Alternatively, you can steep it overnight in milk or coffee to make cold brew pandan drinks. I recommend using only the first batch of pandan juice to flavor foods. The successive batches will be weaker in flavor and are for food coloring. (I am also experimenting on using the leftover pandan pulp, so as to reduce my addition to landfill. Will update!)
Tip #4: Use a cheesecloth. A coffee filter or sieve also work but the pandan fibre holds lots of water so you need to squeeze it hard to get all the juice. A cheesecloth makes life easier! If straining, sieve the water several times with the finest strainer you have as the pulp is very small and poky- you don't want any of it in your juice!
Recipe FAQs
Is pandan extract the same as pandan paste?
No, pandan paste is even more concentrated as it has been boiled down. In terms of concentration, from least to most concentrated: pandan juice, pandan extract then pandan paste.
What can be used to substitute for pandan extract or juice?
If you can't don't have any pandan or screwpine leaf, you can use artificial pandan as substitutes. They are readily available at Asian supermarkets and come in the forms of artificial pandan paste and pandan essence. Some people substitute with vanilla as they say it is the Western equivalent (I disagree!) Just note that anything you make with artificial pandan will have a very vibrant, fluorescent green color which may not be very appetising.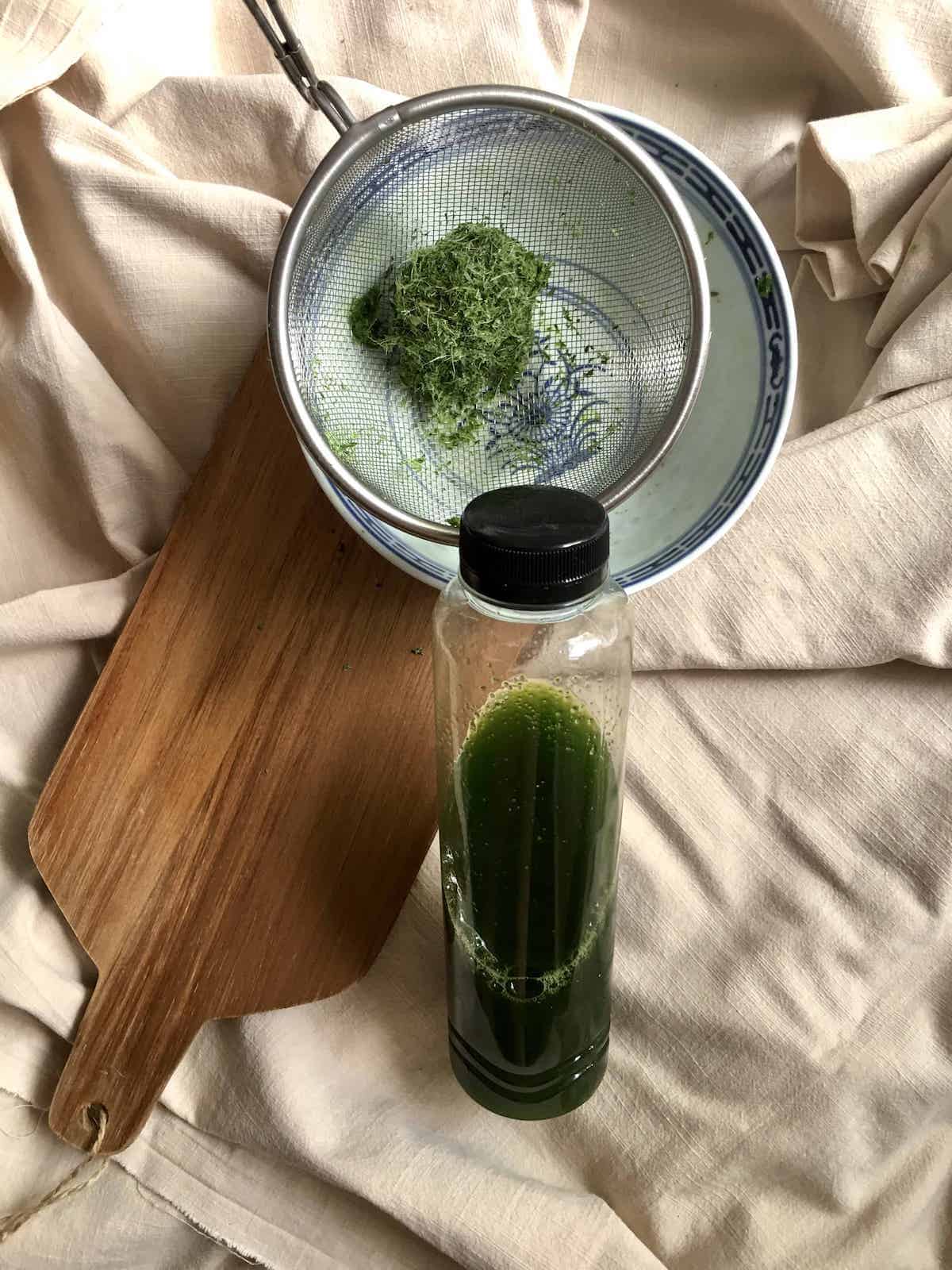 Recipes that use Pandan
Found this Homemade Pandan Extract Juice recipe helpful? Please leave a 5-star 🌟🌟🌟🌟🌟rating in the recipe card below & if you REALLY like it, I'd love a comment. Thank you!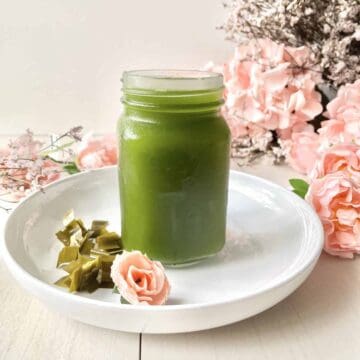 Homemade Pandan Extract and Juice
How to make your own pandan juice using only 2 ingredients: pandan leaves and water, which can easily be turned into pandan extract.
Equipment
Powerful Food Blender

If you have a tamper (the stick-shaped part the comes with the blender and fits through the hole at the top), use it! Pandan, or screw pine, leaves are very fibrous and thus very difficult to break down. As the leaves are light, they fly to the top of the blender mid-blitz. Use the tamper to push them down.

Sharp scissors

Colander/ sieve/ fine strainer or cheesecloth
Ingredients
0.12

lb

pandan leaves

(50g or 2 Cups full of loosely cut leaves) About 44-46 small pandan leaves from an indoor homegrown pandan plant. You can also use shopbought/ frozen leaves if you don't have your own plant- these tend to be much longer so you will need fewer leaves.

1

C

water

You may use less than this, depending on how concentrated you want the pandan juice to be
Instructions
Wash the pandan leaves carefully, getting rid of all dirt and sediment. (Soil tends to collect at the base of the leaves due to the structure of the plant)

Cut the leaves into small pieces, about 1 inch/ 2cm long.

Add the leaves and a bit of water to the blender to blitz. Gradually add more water till the pandan juice is the colour/ concentration you want it to be. This will take a while as the pandan leaves are tough and hard to break down. You will also need to scrape down the sides of the blender several times (the leaves will keep flying to the top as they are light)

When done, the pandan should be broken down to a super fibre pulp. Sieve the pandan juice (or squeeze it through a cheesecloth).

After sieving/ squeezing, you will get a ball of pandan pulp- use your hands to squeeze this ball again and you will be surprised by how much juice comes out! The green water that passes through the sieve is pandan juice, which may be kept in the fridge for up to 5 days (or till it smells bad).
Turning pandan juice into pandan extract
Let the pandan juice sit in the fridge overnight, then carefully pour the lighter pandan water at the top into another container. (This can be used as natural green colouring).

The darker portion at the bottom is natural pandan extract which will have a more concentrated pandan taste.
Notes
You may blitz the pandan pulp again to get a less concentrated pandan solution- this is ideal when you want a natural green colouring but no pandan flavor.
Note: the nutritional information is an estimate automatically calculated using the WPRM recipe maker and I am not responsible for its veracity. The values for pandan are taken from Healthline.
Nutrition
Calories:
42
kcal
Carbohydrates:
8
g
Protein:
1.3
g
Fat:
0.4
g
Sodium:
12
mg
Calcium:
7
mg
I used this Homemade Pandan Juice to make vegan kueh dadar for a friend. I'd love to hear how you used yours! Tag me on social media (@greedygirlgourmet) with your creations!