The easiest alcohol you can make- an easy Korean plum wine recipe that only requires 2-3 ingredients & a few minutes. Maesil-ju, which is very similar to umeshu (Japanese plum wine) and Mei Jiu (Chinese plum wine), can be drunk on its own both hot and cold, or made into cocktails.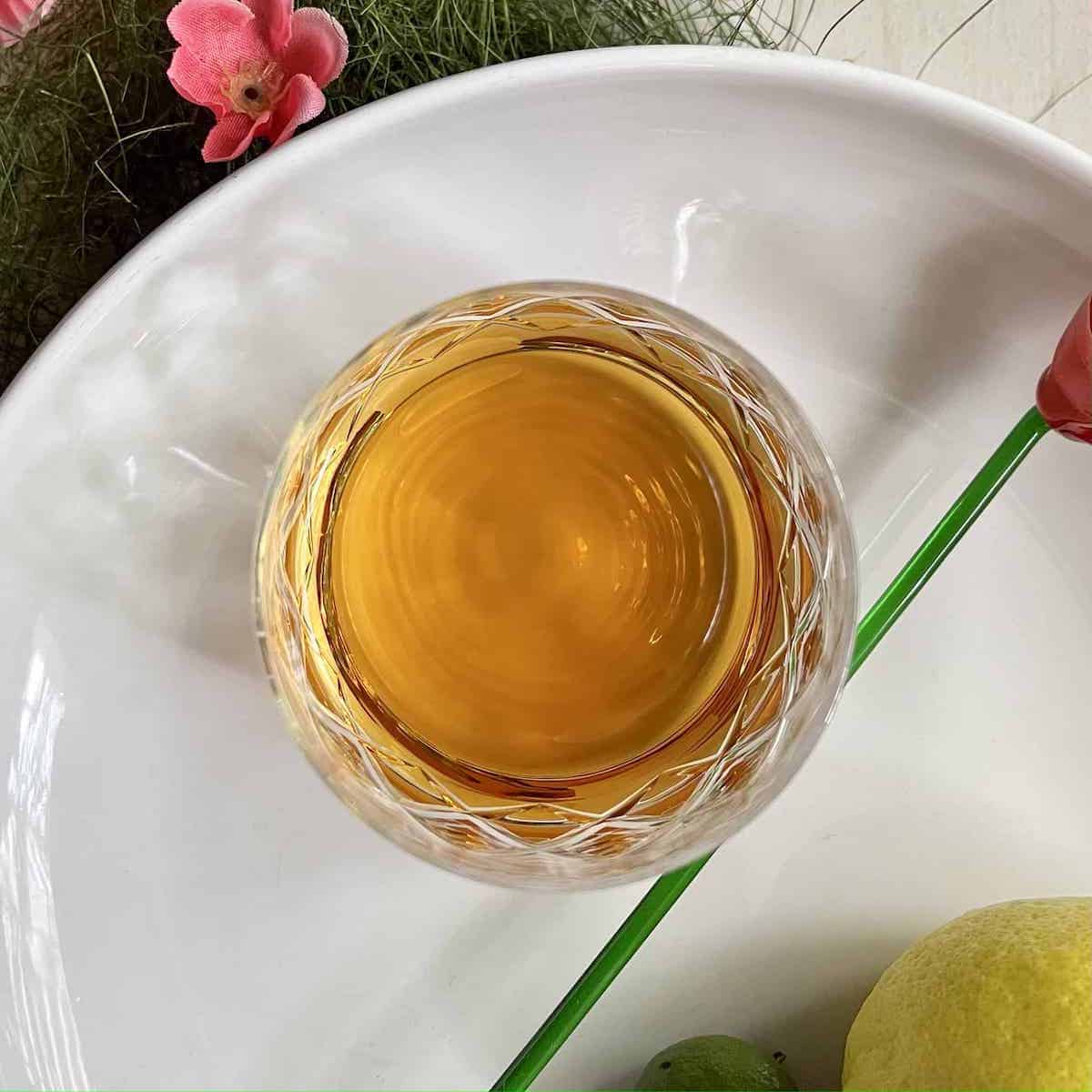 Jump to Recipe
Jump to:
What is plum wine?
Plum wine is also known as 梅酒 (Mei jiu), maesil-ju (Korean plum wine) and umeshu (Japanese plum (Ume) wine (Shu).) The name is altogether misleading as the fruit used isn't really what we know as plums and it's not really a wine, strictly speaking.
Korean and Japanese plum wine are both made with unripe green Japanese plums/ green Korean plums, and not the regular purple-red ones we find in the supermarkets. These green Asian plums are a specialty product and you'll need to head to a Korean or Japanese grocery store to get them. (They're also sold online, when in season.)
Instead, it's made by covering green plums with sugar and steeping in a distilled alcohol, usually shochu or soju. (I used vodka as this was pre-sanctions. More on the preparation below)
Fun fact: umeshu was featured in Episode 6, Season 1 of Midnight Diner or Shinya Shokudo (深夜食堂), a popular Netflix drama.
If you enjoy making your own alcohol, you may want to give makgeolli, or Korean rice wine, a go- it is super easy too.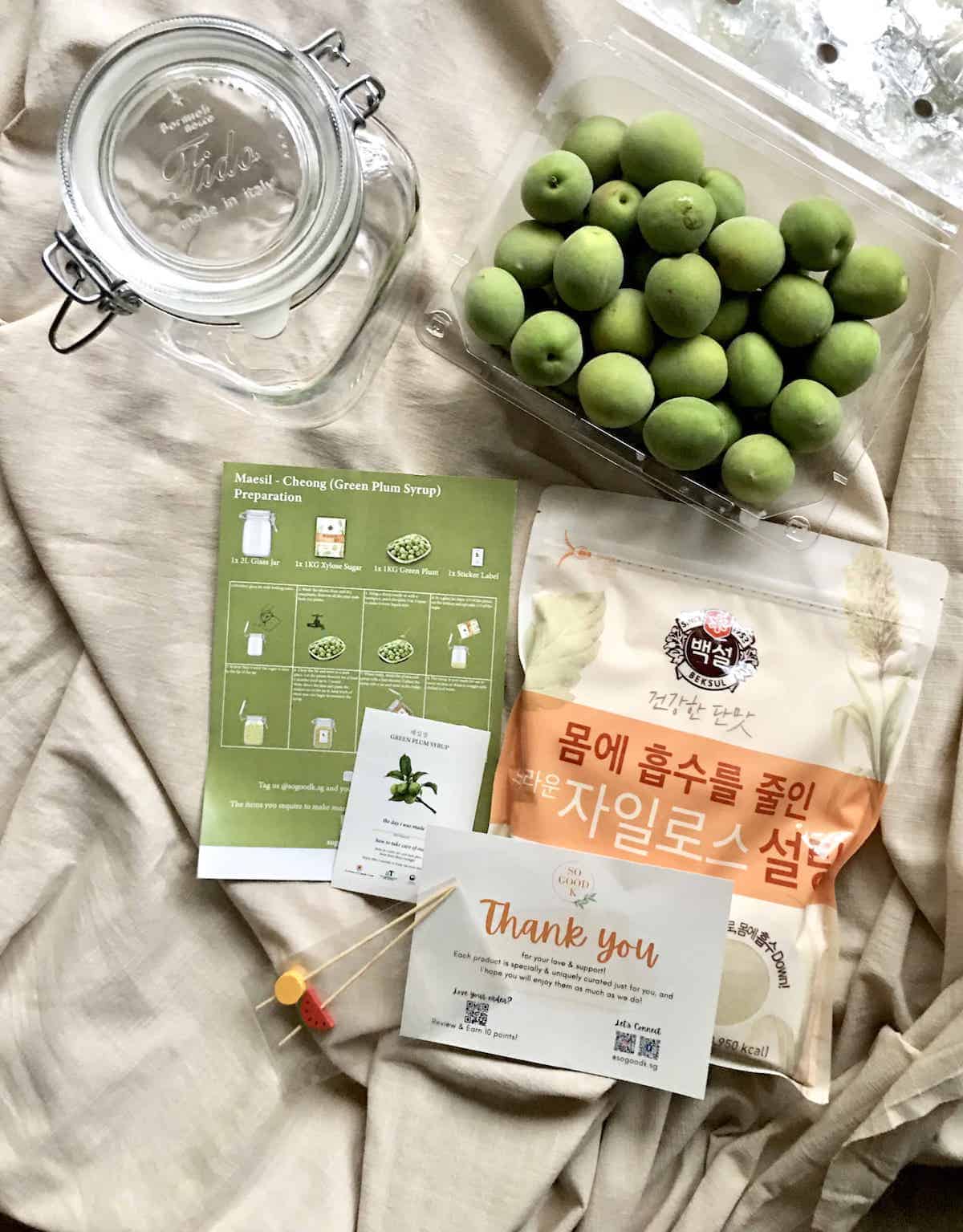 How to make
There is more than 1 way to skin a horse or, in this instance, make Asian plum wine. In the recipe card below, I've shared 2 ways to make plum wine. The 1st way produces Japanese plum wine after a minimum of 3 months whilst the 2nd gives you both plum syrup (also known as Korean maesil-cheong) AND plum wine.
Note: The 2 are quite similar so I thought I might as well put both in this post and let you choose you preferred option.
Method 1: Umeshu
You basically cover the green plums with sugar AND alcohol of at least 35% ABV. (More details in the recipe card below.) However, if you like to make the most of your food, try the 2nd method which gives you plum syrup AND plum wine.
Note: if you're interested in Korean fruit syrups (cheong), try this tangerine-cheong.
Method 2: 2-in-1 where you make plum wine after making maesil-cheong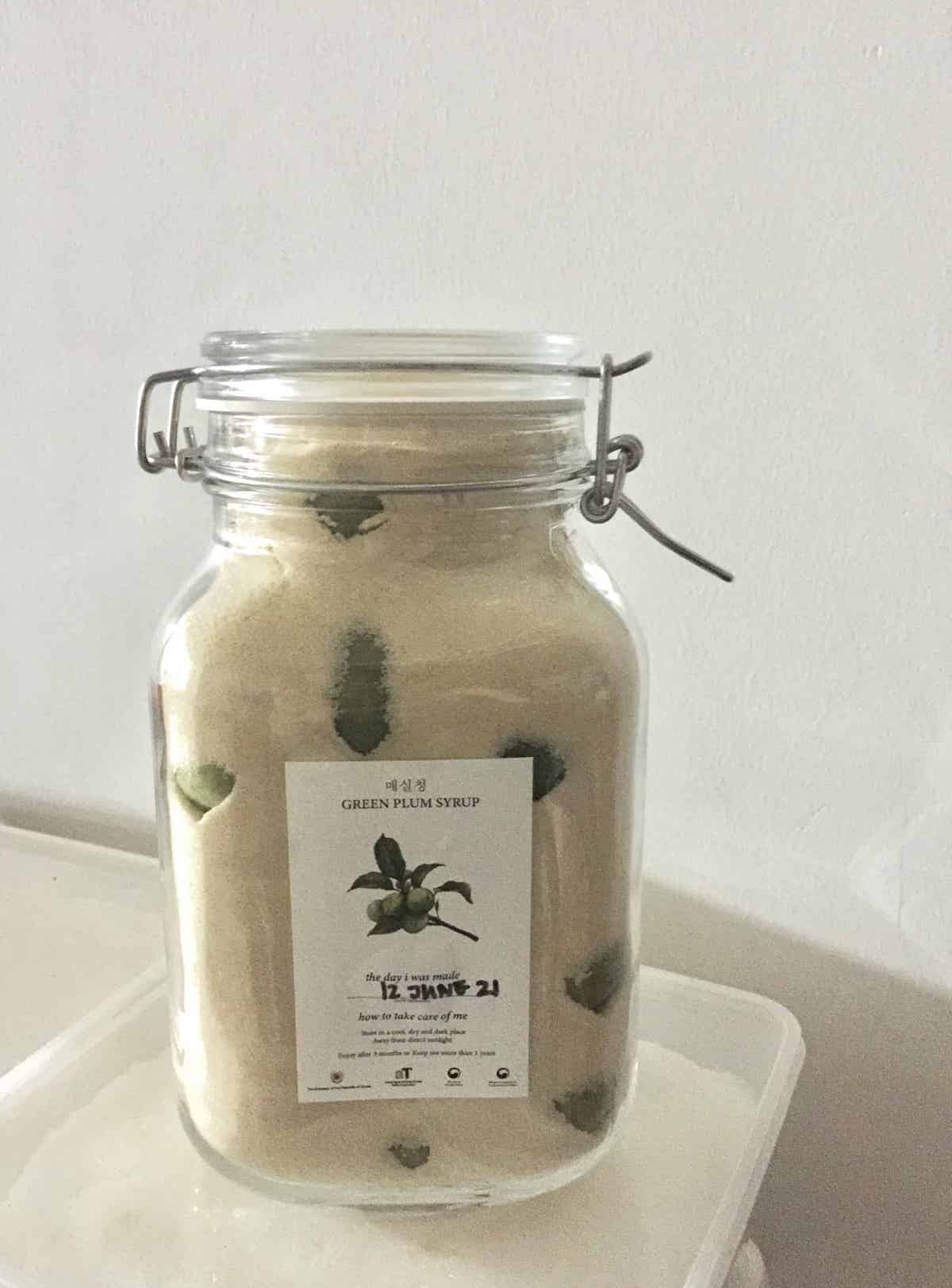 After your maesil-cheong is ready, strain out the syrup (and store the plum extract in the fridge.) Leave the now slightly shrivelled plums in the same jar and cover them with soju, or whatever alcohol you've chosen to use.
Store in a cool dark area till ready to be drunk. Leave it for 3 months then strain out the maesil-ju and store it in the fridge. Don't toss the pickles as they can still be eaten! (Ideas below)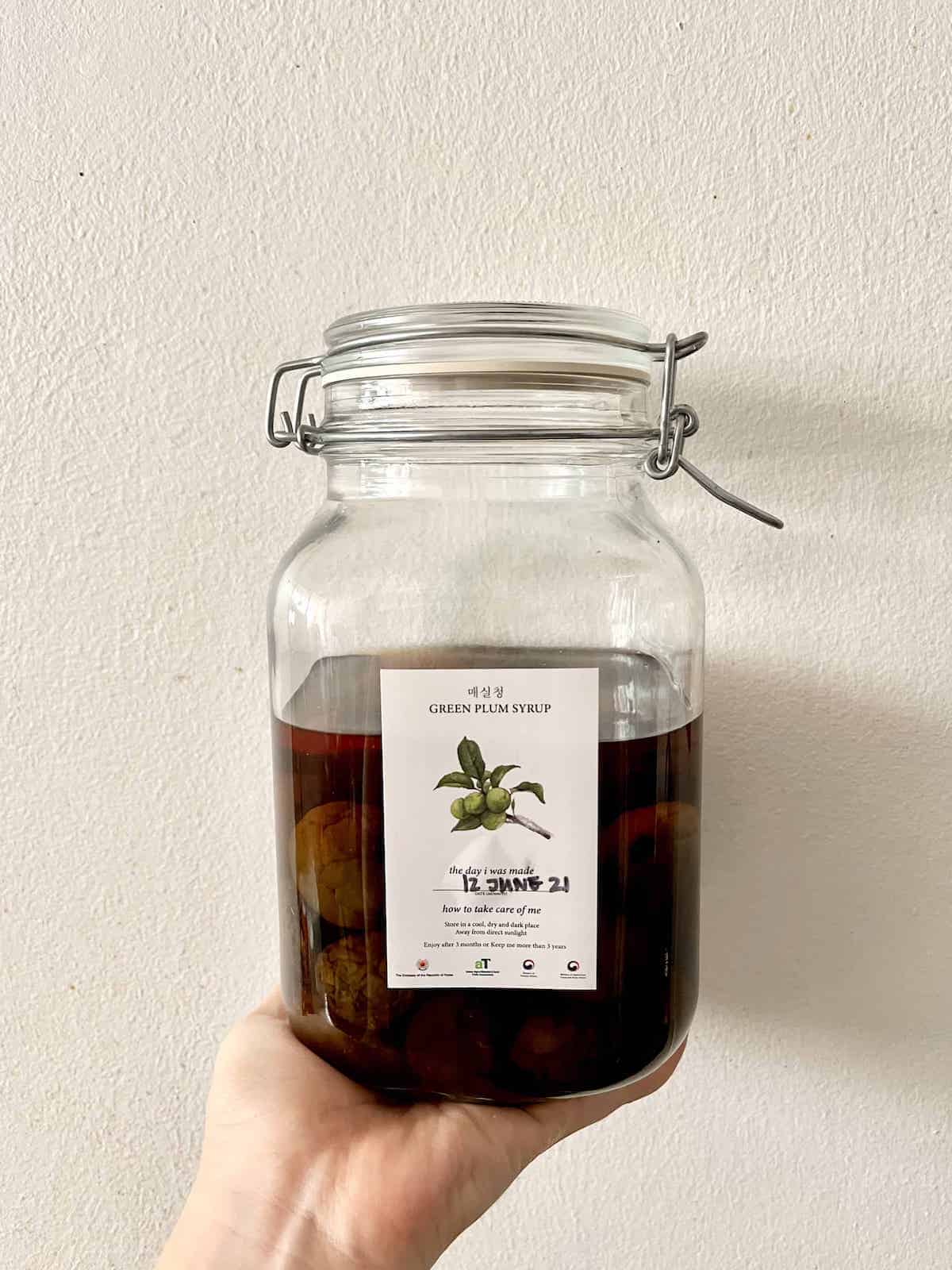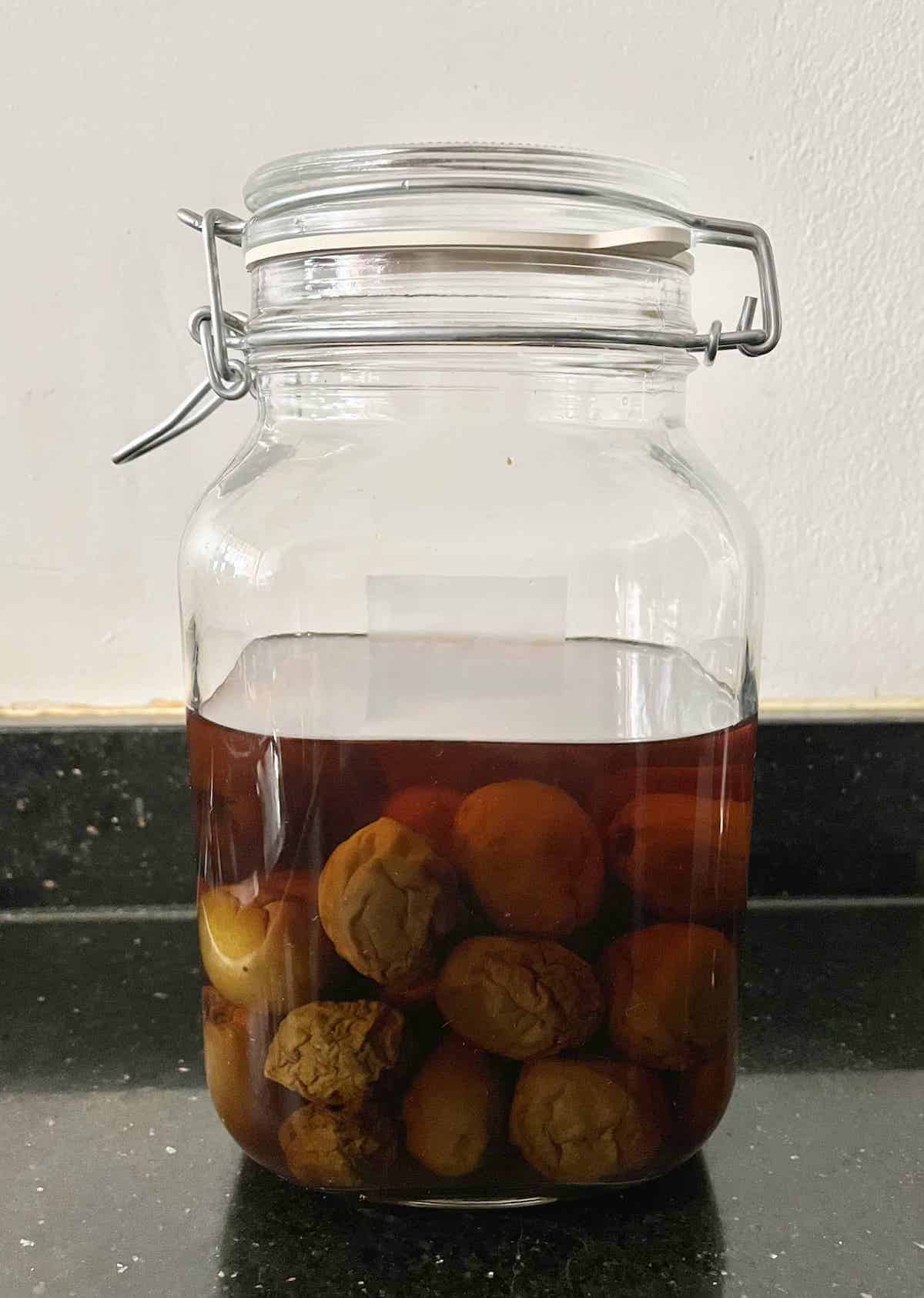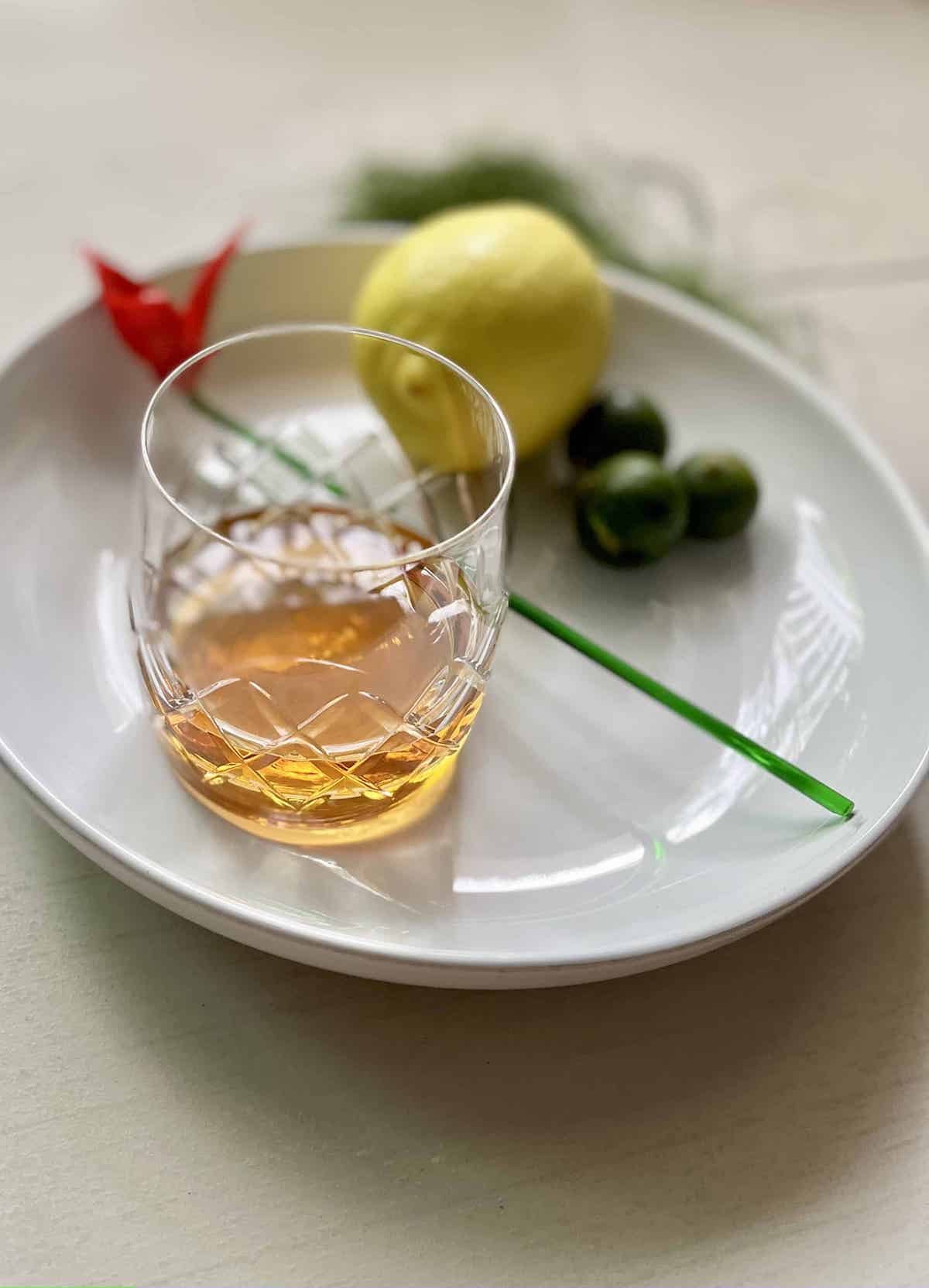 How to serve
You can drink your homemade plum wine:
On the rocks- just add a big ice cube to the glass!
Mixed with soda water, tonic water or carbonated water.
Added to cocktails- you can use it to replace vermouth in Rob Roy, for example.
Mixed with an equal amount of black or green tea.
It can also be drunk cold, at room temperature or hot (you can mix it with warm water.)
It goes really well with dishes such as Peking duck!
How to store
If your jar was disinfected properly, your plums cleaned thoroughly and no moisture enters the jar, your plum wine can last for years in a cool and dark place, away from sunlight.
Note: some say the wine will become bitter and cloudy if the plums are left in it for over 1 year.
Tips
You will need fresh Ume to make this, which is only available mid May to early June. (Alternatively, if you're using my 2nd method, which uses the plums left over after making plum syrup, you can make this anytime of the year!)
Don't eat the raw green plums- they're super sour, and may give you a stomachache!
However, once your Asian plum wine is ready, the plums inside can be:

cooked with sugar to make jam
added to bakes
included in cocktails and other drinks
or even eaten as snacks! For example, some Koreans mix it with gochujang and use it as a banchan (side dish).
Mixed into your jellies.
It's literally the gift that never stops giving.

Although you can use regular white sugar to make this, rock sugar is recommended.
The Japanese actually use a special vinegar to make ume-shu: White Liquor (ホワイトリカー) If you can't get it, substitute with an alcohol that is minimum 35% ABV (alcohol per volume) as a lower alcohol content may result in the homemade plum wine going bad. For example, shochu or vodka. Some people also use brandy or sake.
FAQ
What does plum wine taste like?
It is a little bit sweet and a little bit tart. The flavour is reminiscent of vermouth or other fortified wines, so some people classify it as a dessert wine.
Can you eat the plums in your umeshu plum wine?
Yes! I have a few ideas in my post on what to do with these "leftovers"!
How long can plum wine be kept?
Store bought plum wine should be refrigerated and consumed within 6 (carton) -12 months (bottled). Homemade plum wine, however, can be kept for a very long time if stored properly- in fact, it is common in Japan for parents to make plum wine when their child is born and to only drink it after the kid turns 20!
Other Korean recipes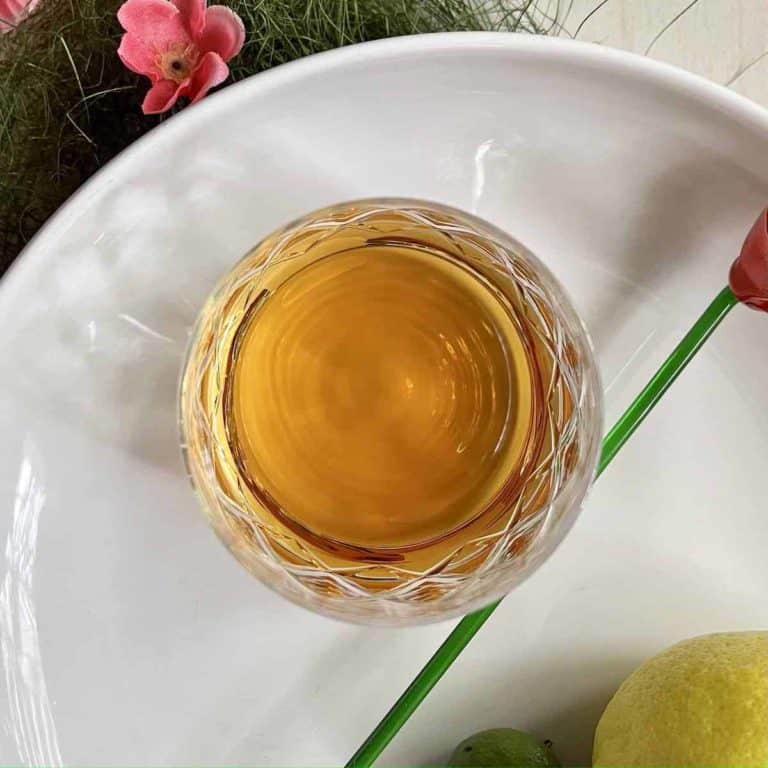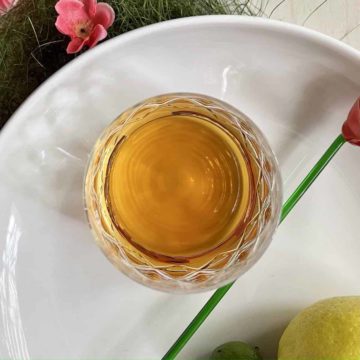 Easy Korean plum wine recipe (maesil ju)
A quick & easy Korean plum wine recipe that only requires 2-3 ingredients & a few minutes. Maesil-ju, which is very similar to umeshu (Japanese plum wine) and Mei Jiu (Chinese plum wine), can be drunk on its own both hot and cold, or made into cocktails.
Equipment
Glass jar with a wide mouth and an airtight lid (Sterilised)

For 2 lbs of plums, you need a minimum 4 litre container

Strainer, if using Method 2
Ingredients
Method 1: Japanese umeshu
2

lbs

unripe ume, or Japanese green plums

Choose smooth ones with no wrinkles or scratches. If 1 is bad, there goes your entire batch of plum wine!! Subsitute: ripe Ume can also be used if your prefer a fruitier flavor

1

lb

rock sugar (it extracts the plum essence more slowly)

Substitute: granulated white sugar, honey or brown sugar

Japanese White liquor- enough to cover the plums, about 8 cups if you use a 4l jar.

Substitute: Alcohol with minimum 35% ABV. I used 1 entire bottle of vodka for a little over 2lbs of green plums
Method 2 (Quick way): making maesil-ju after your maesil cheong is ready
Green Korean plums

The ones that are leftover after making your maesil-cheong.

Enough Alcohol (minimum 35% ABV) to cover the plums- I used 1 entire bottle of vodka for slightly over 2lbs of Korean plums

Examples: soju, shochu, sake, vodka, brandy etc
Instructions
Method 1: Japanese plum wine (umeshu)
Soak the ume in a baking soda and water solution for 15 minutes. You need a 1% solution (so 2 teaspoons of baking soda for 1 quart- 946 ml- of water.) (This is to remove pesticides.)

After 15 minutes, rinse the fruit well then soak in clean water for another 1h45 minutes. Rinse and dry the fruits very well at the end.

Remove the stems, if any.

Place the sugar and DRY plums in the glass jar in alternate layers so that all the plums are surrounded by the sugar. (If not using rock sugar, you may need to shake the jar from time to time.)

Pour the alcohol into the jar and seal it, airtight.

Store somewhere cool and dark for a minimum of 6 months (Some say plum wine gets bitter if the fruits are left in it for over 1 year so try at your own risk! Without the fruit, plum wine can last indefinitely if stored properly. The taste will change over time, so it's interesting to compare and contrast. I have 2 different ones- 1 made with unripe plums and 1 with ripe ones- in my pantry as I type.)
Method 2: making maesil-ju after your maesil cheong is ready
After straining out your maesil-cheong, or plum syrup, store the liquid in the fridge. Leave the plums in the original glass jar then pour the alcohol over, making sure all the plums are covered.

Close the jar tightly and leave in a cool and dark place for at least 3 months. (You can leave it for up to a year if you wish.)

When you feel the alcohol is ready, serve hot, cold or mixed with soda water and other alcohols in a cocktail (See the post for suggestions.) It's a nice touch to include 1 or 2 plums in each cup.
How to serve
As mentioned above, you can have Asian plum wine hot, at room temperature or chilled. If you want variety, mix it with yoghurt, milk. soda water etc.
Notes
If you have a sweet tooth, you canadd more sugar (around 1.5 lbs).
I hate to be a bore, but again remember to make sure the jar and plums are dry, as moisture will make the wine spoil and you won't want that to happen after waiting so long!
Note: if you don't serve all the plums with your homemade plum wine cocktail, or if you decide to strain them all out after you feel the plum wine is ready, don't toss the fruits away. They are shrivelled but can still be eaten! See the post for suggestions on what to do with the remaining plums.
The longer you leave your plum wine, the better it tastes!