Osmanthus tea konnyaku jelly is a super quick and easy dessert to make- its gold colour and floral fragrance makes it a popular Chinese dessert, and it is even served in some Michelin-star Chinese restaurants!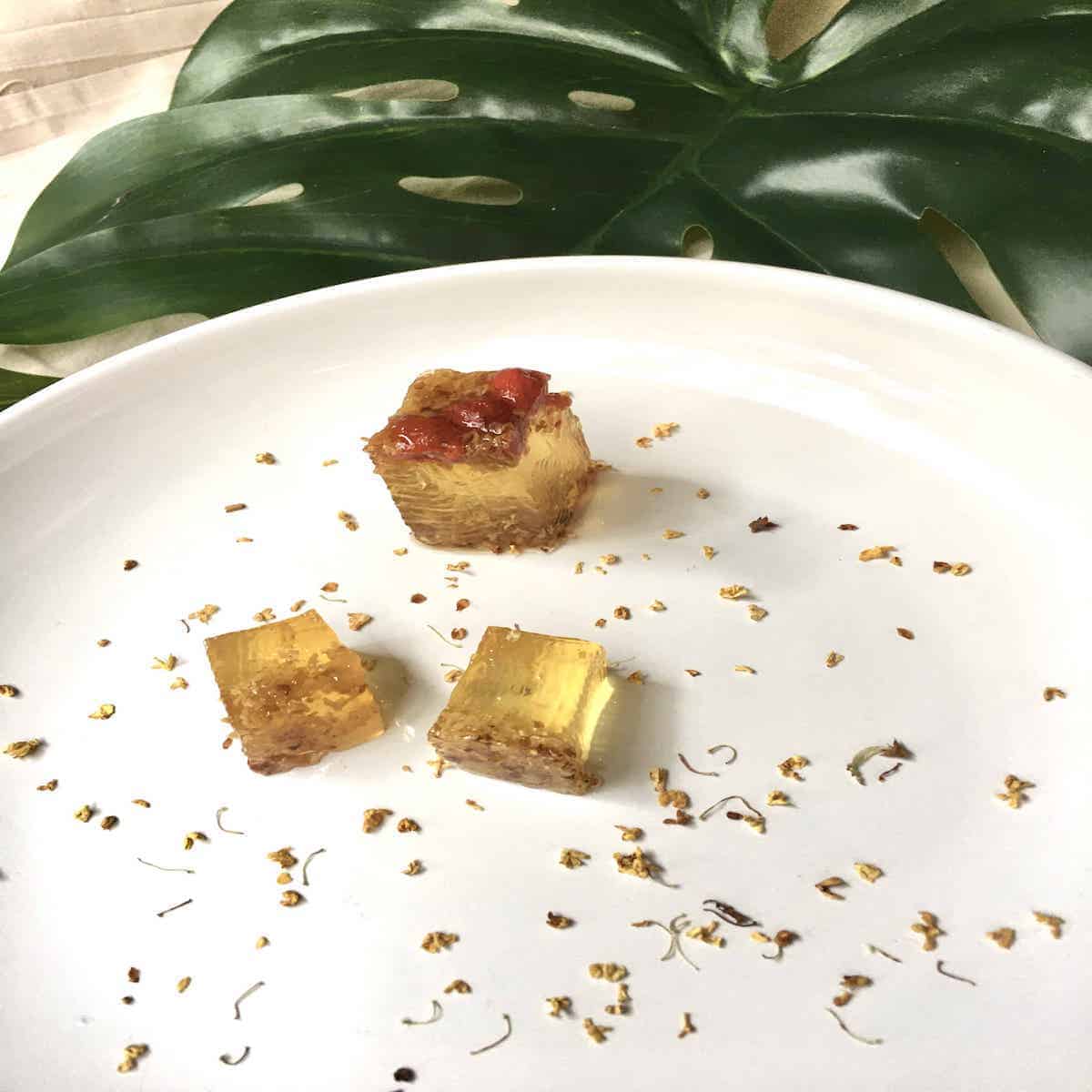 Jump to Recipe
Jump to:
How difficult can making osmanthus tea konnyaku jelly be? I often make osmanthus jelly with wolfberries to gift to friends as it's a cooling, healthy-ish, delicious and rather pretty dessert. (The taste is floral and light, so it may be an acquired taste if you're not used to Chinese desserts.) When they asked me to post this osmanthus tea konnyaku jelly recipe on the blog, I was skeptical as the steps are basically:
Make the osmanthus flower tea
Add the setting agent- be it konnyaku powder, gelatine or agar agar- and sweetener (such as osmanthus sugar) to the hot tea
Allow to cool and firm up before cutting into the desired shapes
Sounds like it couldn't be simpler! However, when I was writing this osmanthus konnyaku jelly recipe down, I realised that, as with all simple recipes, the steps are not as straightforward as they seem, so decided to write a blog post about it after all. For example: How much tea do we use, and how long should we steep the tea for? Does the tea need to be sieved out? How do we prevent the tea from clumping together in the jelly? Do all sweeteners work equally well?
Note: if you want to make konnyaku jelly but don't have any Osmanthus flowers on hand, you can always make champagne lychee or yuzu (a type of citrus) konnyaku jelly instead!
Osmanthus jelly dessert ingredients
Osmanthus jelly consists of only 5 ingredients (osmanthus flower tea, wolfberries (optional, can be omitted or replaced by other fruits), a setting agent, a sweetener and water) so the quality of the ingredients is very important. Try to use the best osmanthus flowers and wolfberries that you can find.
How to make Osmanthus tea
Osmanthus tea is made from osmanthus flowers, but inevitably contains some darker bits (ie the branches and leaves) which are harder than the soft flowers. These affect the texture of your jelly, making it taste gritty and unpleasant. In addition, some of the small twigs are so hard, you can't quite bite through them and they end up poking your mouth! You can obviously pick the dark bits out but it is rather tedious, so I usually skip it when I have a good quality tea. Better quality osmanthus tea includes fewer branches and leaves, making for an easier jelly making process, and better tasting tea. (The difference created from using different quality teas is actually noticeable- I've blind-tested this on friends.)
After you've picked out the branches and leaves (or not), wash your osmanthus tea (Use a sieve otherwise you'll end up losing all the tea). When making Chinese tea, it's important to rinse the tea leaves first to remove any dust or impurities- who knows what has gathered on the leaves whilst they were drying? So the same logic should be applied to making osmanthus tea jelly! (OK, I'll confess to sometimes being lazy and skipping this step.)
We then make the tea by bringing the water almost to a boil (don't use water at a full boil), adding the tea and letting in steep in the simmering water. The amount of time the osmanthus flowers are simmered for affects 2 things:
taste of jelly
colour of jelly
Simmering for a longer period of time intensifies the osmanthus flavour but, if simmered for too long, will also give rise to a bitter taste. (If you want a stronger osmanthus flavour sans bitterness, use osmanthus syrup / sugar(桂花酱/ 桂花糖) to sweeten the jelly instead of sugar/ honey- this syrup can be difficult to find, especially outside of Asia, so I'll share a recipe to make your own soon)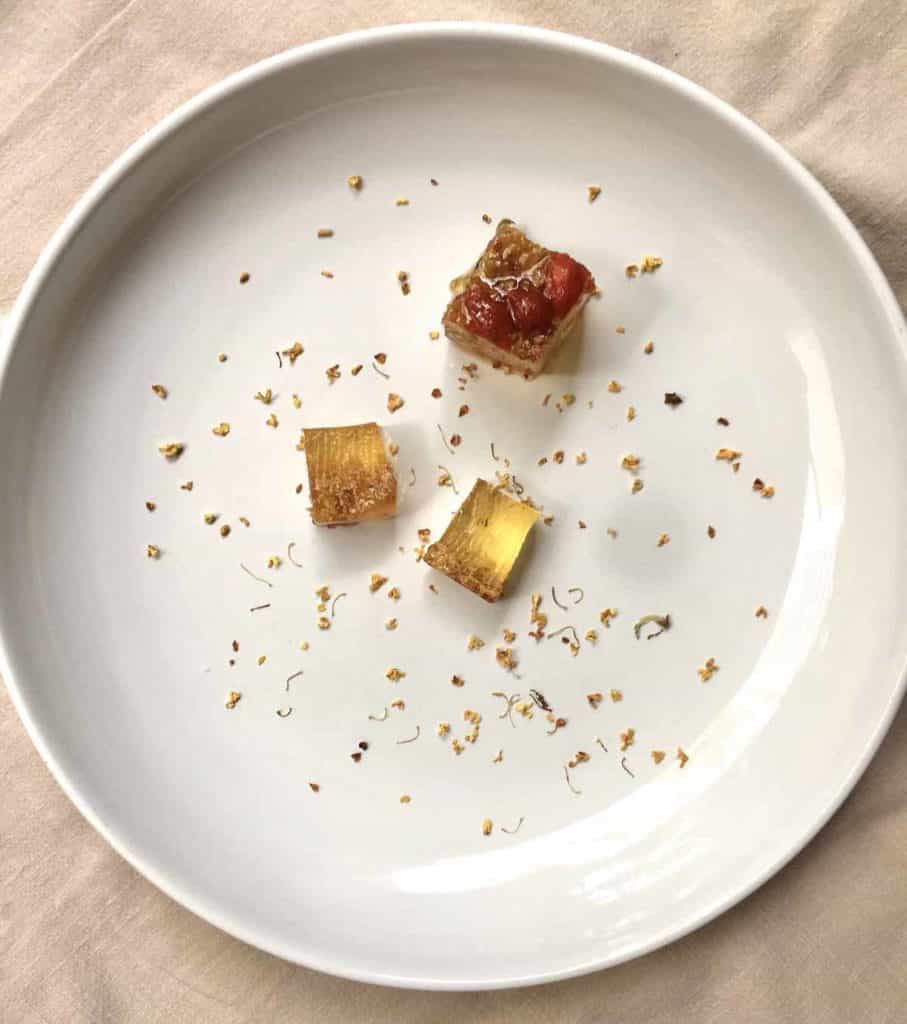 A longer steeping time also results in a darker Osmanthus jelly. Personally I prefer it when the jelly is medium-toned as it looks like golden crystal, but beauty is in the eye of the beholder.
Once the Osmanthus tea has been made, should we leave the osmanthus flowers in the jelly or sieve it out? This is a matter of personal preference, both in terms of taste and aesthetics. Half of my testers like the chewiness imparted by leaving all the flowers in the jelly but I personally find it gritty and almost dirty/ bitter tasting, so I like to sieve them out before adding the konnyaku powder, then adding a few back for aesthetic effect. (Note, if you sieve the flowers out before adding the konnyaku powder and wolfberries, the flowers will be steeped for 8 minutes less than if you had left them in, so do adjust the time used to simmer the osmanthus flowers accordingly.)
(Note- waste not, want not: after sieving out the osmanthus flowers, you can use them for a cup of tea! Chinese people usually combine Osmanthus flowers with either green or black tea leaves, such as oolong and pu era, to make a cup of tea.)
Wolfberries
I like to add wolfberries, also known as goji berries, (to find out more about wolfberries, please click here) to my Osmanthus tea konnyaku jelly. Wolfberries have been considered a health food by Chinese people for over 2000 years- in fact, they were documented as 1 of the 120 top grade herbs in 神农本草经 (Shen Nong Ben Cao Jing), the oldest book on Chinese herbs. They've also become more popular in the West recently, and you can find them in many health stores and supermarkets in UK. They bring a different type of sweetness to the jelly, creating a more complex flavour and their soft texture creates a delightful contrast to the chewy jelly.
Now, how much wolfberries should we add? I find that adding fewer goji berries actually makes for a prettier jelly but the berries are supposed to be a health food, so there's a trade-off between health and beauty! I would say around 20g per litres of water is a good amount, although I've been known to put in as much as 45g per litre (comment from taste tester: the jelly looks like a Chinese soup with all those wolfberries!) Be careful using more than 45g per litre as it could make the jelly taste too fibrous as well as affect the ability of the jelly to set well. (The berries are also sweet so do reduce the amount of sugar if you add more goji berries)
Setting agent: konnyaku jelly, agar agar or gelatine?
You can use gelatine, agar agar or, my personal favourite, konnyaku powder. Any of the 3 will create a jelly but I find that konnyaku jelly has a bouncier texture which works very well with the osmanthus flavour, and gives it a nicer and chewier mouthfeel. (What we call "QQ" in Asia)
Note: if, like me, you choose to make osmanthus konjac jellies (also known as konnyaku), do be careful as they've led to several kids choking to death and have been banned in some countries, such as Australia.
Choice of sweetener
Before adding sweetener, check your packet of konnyaku powder/ agar agar powder/ gelatine- some already contain sugar and don't need any more! If they don't contain any sweetener, you can technically use any kind of sugar (white, brown etc), honey or syrup to make this jelly. I find that using rock sugar or a light honey complements the natural osmanthus flavour the best. If you can find it, osmanthus syrup or osmanthus sugar is a good way of intensifying the osmanthus flavour of the jelly without making it bitter. Personally, I would never, never use dark brown sugar in osmanthus jelly as it overpowers the delicate flavour of the osmanthus tea flavour- anyone who has baked with dark brown sugar must remember how distinctive the molasses-y flavour is!
Setting the jelly
There are 2 ways to set the jelly:
Ladling into fancily shaped molds (Using pliable silicone molds is the best as it's easy to pop the jellies out after solidifying)
Pouring into a large, shallow container to set as a block of jelly which is then cut into smaller portions.
It's often said that you eat with your eyes, and that's very true for this osmanthus konnyaku jelly recipe. The way you set the jelly actually does affect the taste of the jelly (again blind-tested on friends)- when ladling it into the individual fancy molds, you have more control over the amount of Osmanthus tea and goji berries that go into each portion, and they tend to be more evenly dispersed. (This jelly is particularly suited for a koi fish mold, as the red goji berries and golden osmanthus flowers mimic the patttern of the koi fish scales, which makes a great Chinese New Year dessert. Gold = auspicious. Fish = abundance. All in all, you'll have lots of luck in the New Year if you eat koi-shaped Osmanthus jelly! For more Chinese New Year recipes that 1 person can single-handedly prepare for a group of people, check out this link.)
Alternatively, when you pour the entire mixture into a large container, the osmanthus and wolfberries usually just clump together and float in layers (Make sure that the container is a wide one- you want to form a shallow layer of jelly. If you use a deep but small container, the osmanthus (if all left in the tea) and wolfberries will have no place to spread out and will form very thick layers which will create an ugly jelly with a very fibrous texture and bitter aftertaste. To make the wolfberries and tea spread through the jelly evenly, give the mix a stir every now and then before the jelly fully solidifies.) After the jelly sets, you can then cut it into squares with a sharp knife or use a cookie cutter to cut shapes out. Do note that the second method results in a lot of "wastage"- the bits of jelly around the shape, though still edible, will be very awkwardly shaped.
When cutting the jelly, try not to use a knife with a jagged edge (eg table knife) as this will result in a jelly with a rough edge. Instead, use a knife with a straight edge for cleanly cut jellies which allow for a more translucent texture,
Konnyaku jelly troubleshooting: why is my set jelly liquifying?
There are a number of reasons why you are having problem setting your jelly. A slight amount of water leakage is normal (about 1-2 mm) but if you see a lot of water, something's wrong.
Did the konnyaku powder fully dissolve in the boiling water? The powder and tea must be brought to a boil, with the powder completely dissolving, for the jelly to set well. The best way to do this is to whisk the powder with the Osmanthus tea till it has slightly dissolved then begin to cook the mixture, bringing it to a boil until everything has dissolved. (This usually takes at least 1-2 minutes.) Whisk non-stop while heating to ensure no lumps form.
Have you added a ton of sugar? Sugar is not just bad for our health, it's bad for the jelly and too much of it will result in your jelly turning back into water too.
Osmanthus konnyaku jelly recipe
Refreshing osmanthus jelly recipe made with only 4 ingredients
Ingredients
Making jelly with 1 litre of water:

10

g

Osmanthus Tea Leaves

20

g

Wolfberries (can be increased to 45g if you particularly love wolfberries)

Konnyaku powder

(amount as per back of the packet; can be substituted with agar agar or gelatine. If the amount of water required is not 1 litre, please adjust the rest of the ingredients accordingly. For eg, if your packet only required 500ml, please halve the amount of osmanthus tea etc used)

1

litre

water

4 cups

 150

g

Osmanthus syrup/ osmanthus sugar/ rock sugar/ a light honey/ white sugar 

(Only add if your konnyaku jelly packet does not include sugar- sweeteners listed in order of preference, start with 150g of sugar for your first jelly before adjusting to taste for future batches)
Instructions
Remove any hard and dark bits (leaves/ twigs) from the osmanthus tea.

Heat 1 litre of water in a pot. Whilst water is heating, rinse the osmanthus flowers in a sieve. When the water is almost boiling, add all the osmanthus tea to the water and let it simmer for 5 minutes.

Add the konnyaku powder, bring the pot to a boil before reducing heat to a simmer, stirring continuously for 5 minutes. If using, add in the sugar and stir till everything is dissolved.

Add the wolfberries and continue to simmer for 3 minutes.

Pour into molds and allow to cool. Stir with a toothpick to ensure that the tea and wolfberries are dispersed evenly througout the jelly. When not too hot (you don't want to raise the temperature of your fridge), transfer to fridge to set for at least 3 hours (I usually leave it overnight)
Notes
If you prefer a non- fibrous jelly, increase the amount of time the osmanthus flowers are simmering for before sieveing them out (ie before adding the konnyaku powder).
Note: just a reminder to take care as several kids have choked to death on konnyaku/ konjac jellies!
This osmanthus flower konnyaku jelly recipe is super versatile as you can always change from osmanthus tea to other flavours, such as earl grey and lavender (a request from one of my best friends)! If you do decide to switch things up, do tag me on Instagram ( #greedygirlgourmet) as I would love to see the new flavours people come up with!