This osmanthus jelly recipe (Gui Hua Gao) is a delicious, quick and easy Chinese dessert made from edible sweet osmanthus flowers. Its shimmering gold color and floral fragrance have kept it popular through the years- you can even find it at Michelin-star Chinese restaurants today!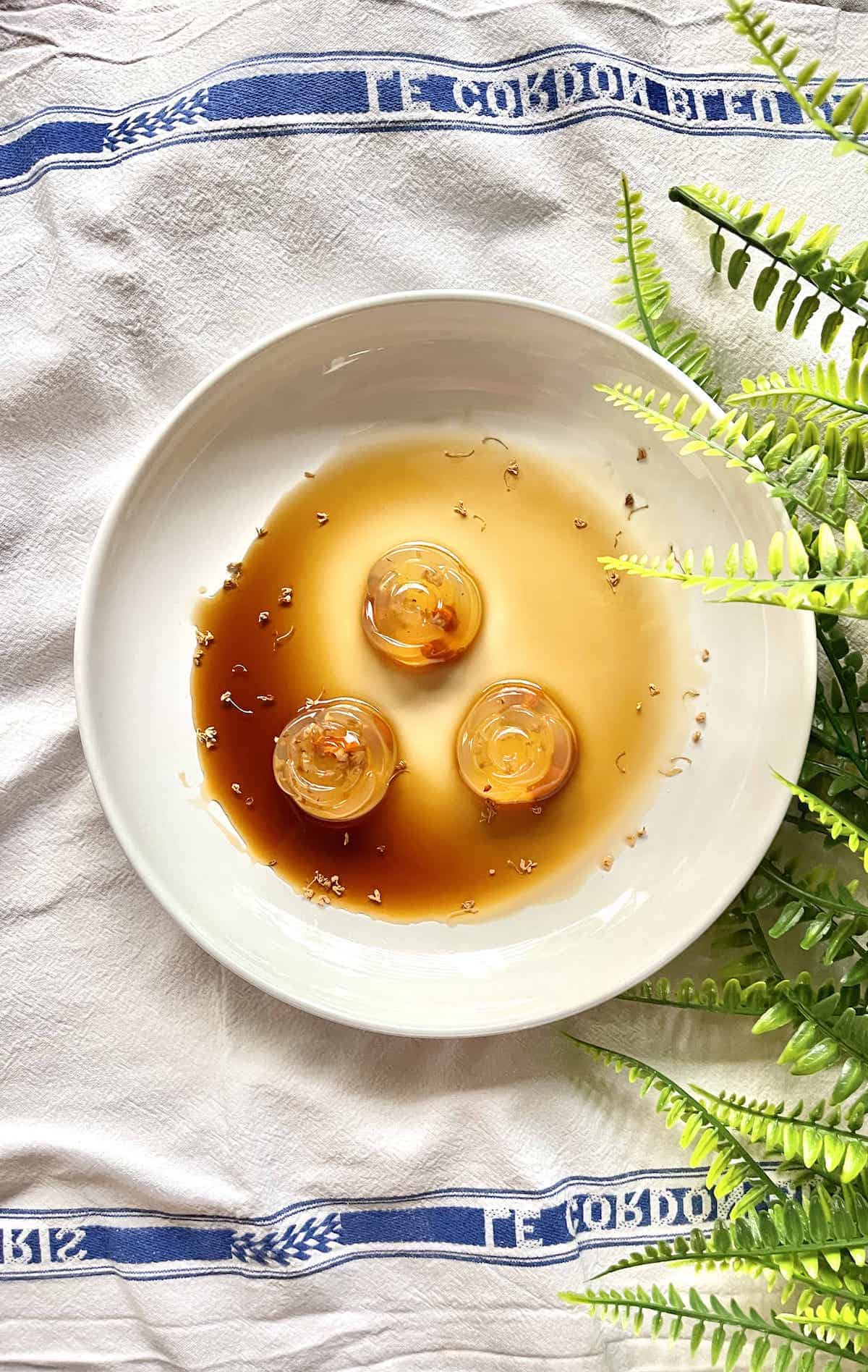 Jump to:
Known as Gui Hua Gao 桂花糕 (literally "Osmanthus Flower Cake"), osmanthus jelly is a popular traditional Chinese dessert. Made from the osmanthus flower 桂花, it has a unique flavor that is floral and light. That's why, along with mango pudding, it is 1 of the most popular desserts at Hong Kong Dim Sum restaurants!
Note: this jelly may be an acquired taste if you're not used to Chinese desserts- although sometimes called "osmanthus cake", it doesn't have the buttery flavors of Western desserts.
Why make this
This Osmanthus jelly recipe is delicious.
It is also nutritious: osmanthus is believed to be good for your lung health (according to traditional Chinese medicine) and research has backed up the old Chinese belief that goji berries are good for your eyes.
It's quick and easy to make in 3 basic steps!
Note: if you want to make jelly but don't have any Osmanthus flowers on hand, you can always make champagne lychee jellies instead!
Health Benefits
Osmanthus
Osmanthus fragrans flowers have many phenols and flavonoids. They also show anti-oxidant activity, reduce phlegm and may be a potential anti-allergen.
Note: If you have extra of these beautiful golden flowers, they can be used to make floral osmanthus tea and osmanthus sugar.
Wolfberries
Wolfberries (枸杞子) have been considered a health food by the Chinese for over 2000 years. In fact, they were documented as 1 of the 120 top grade herbs in 神农本草经 (Shen Nong Ben Cao Jing), the oldest book on Chinese herbs.
Also known as goji berries, they've become more popular in the West recently. You can find them in many health stores and supermarkets in US and UK and recent research has confirmed that they are good for the eyes.
Goji berries bring a different type of sweetness to the jelly, creating a more complex flavour than regular sugar alone. Moreover, their soft texture creates a delightful contrast to the chewy konnyaku jelly.
Note: Soak the dried berries before cooking for best results. If you're looking to eat more of these healthy berries, check out these dried goji berry recipes.
Ingredients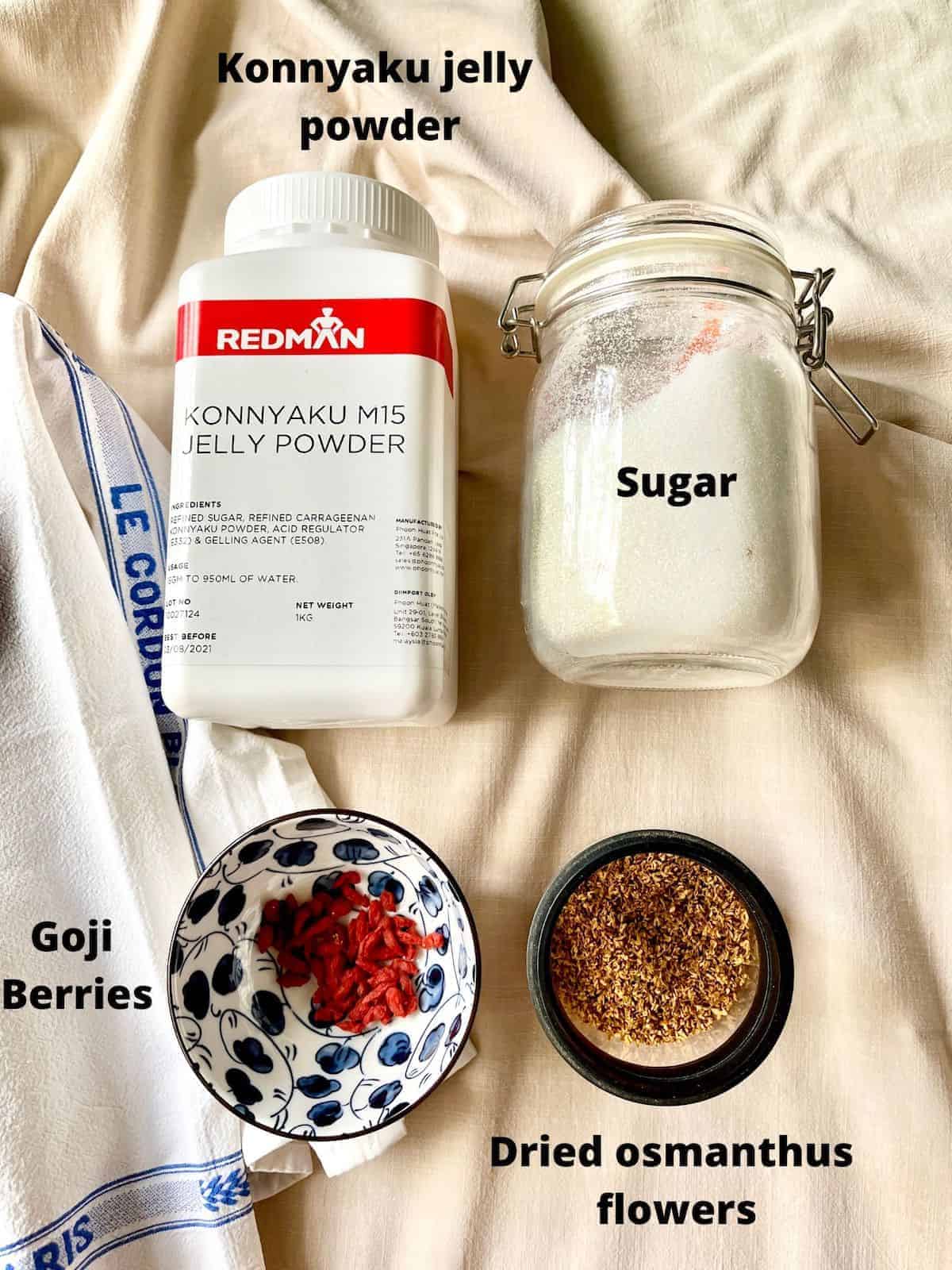 My Osmanthus jelly recipe consists of only 4- 5 ingredients so the quality of the ingredients is very important. The key ones are:
dried osmanthus flower tea: you want better quality tea which consists mostly of dried flowers (i.e. doesn't contain branches and leaves, which are darker and harder, and will make your jelly taste gritty. If you see any, pick them out before making the dessert.) I've blind-tested different brands and the difference in the taste of the jelly is obvious when you use cheaper ones.
a setting agent: this can be gelatine powder, agar agar powder (vegan) or, my personal favourite, konnyaku jelly powder (also vegan). The choice of setting agent determines the texture of the jelly. I am not a fan of gelatine as it makes a very soft jelly. Agar agar is nice and firm, but the color is slightly cloudy and thus not as attractive as konnyaku powder. However, note that several kids have choked to death eating konnyaku jelly. As a result, a few countries such as Australia have banned it.
Sweetener: rock sugar, the traditional sugar used in Chinese desserts, is the best choice taste-wise as its mellow flavor complements this delicious dessert. However, it's a pain to dissolve- it comes in big lumps- so I prefer to use white sugar. Alternatively, you can use a neutral or complementary honey. If using dark brown sugar as a substitute, remember that less is more as the caramel flavor can be overpowering.
For a full list of Chinese Gui Hua Gao ingredients, scroll down to the recipe card.
Osmanthus tea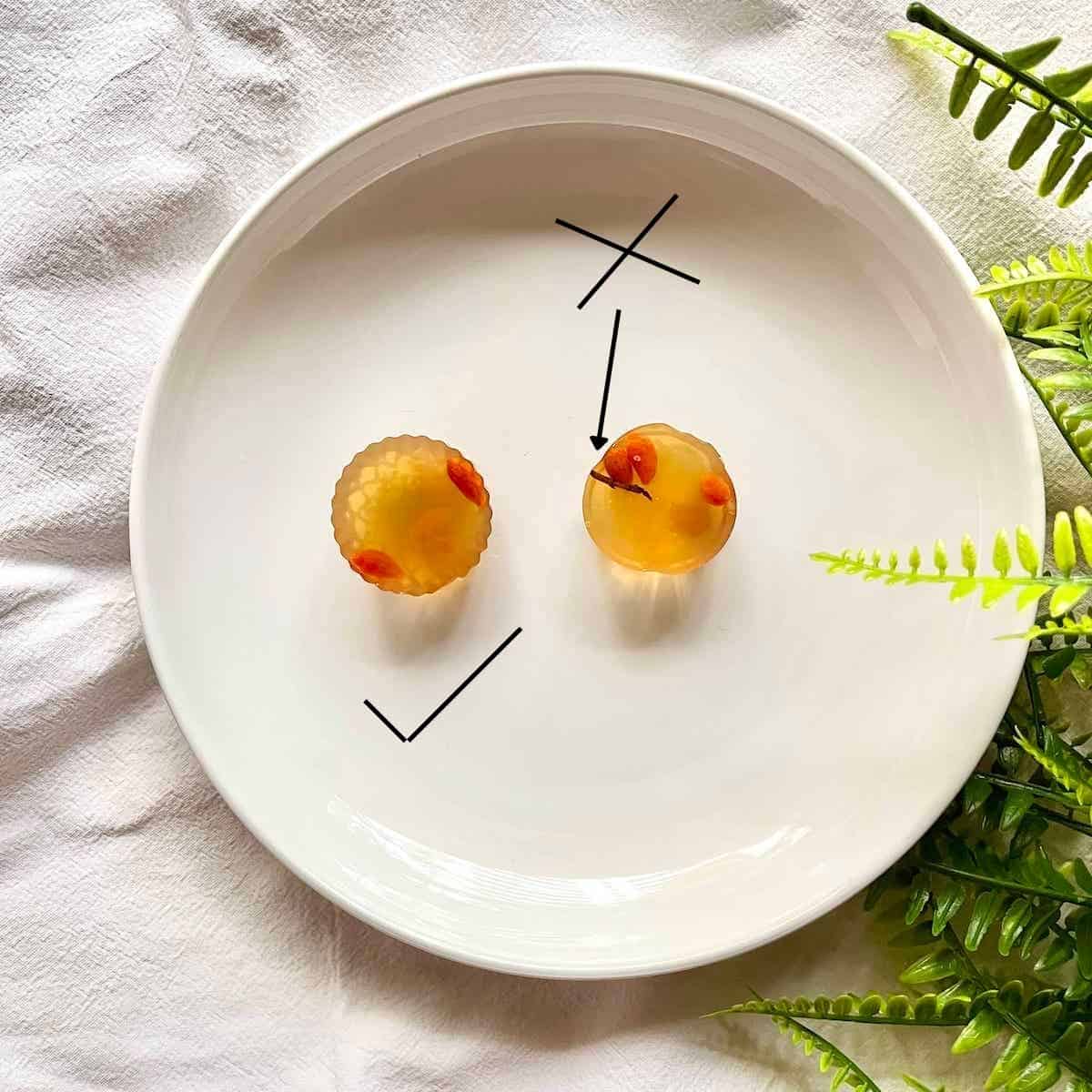 Setting agent: Agar agar vs konnyaku powder
If you want a vegan jelly, gelatine is out but you can use agar agar or konnyaku (my favourite.) (Click on the respective links for more information on each type of vegan jelly powder.)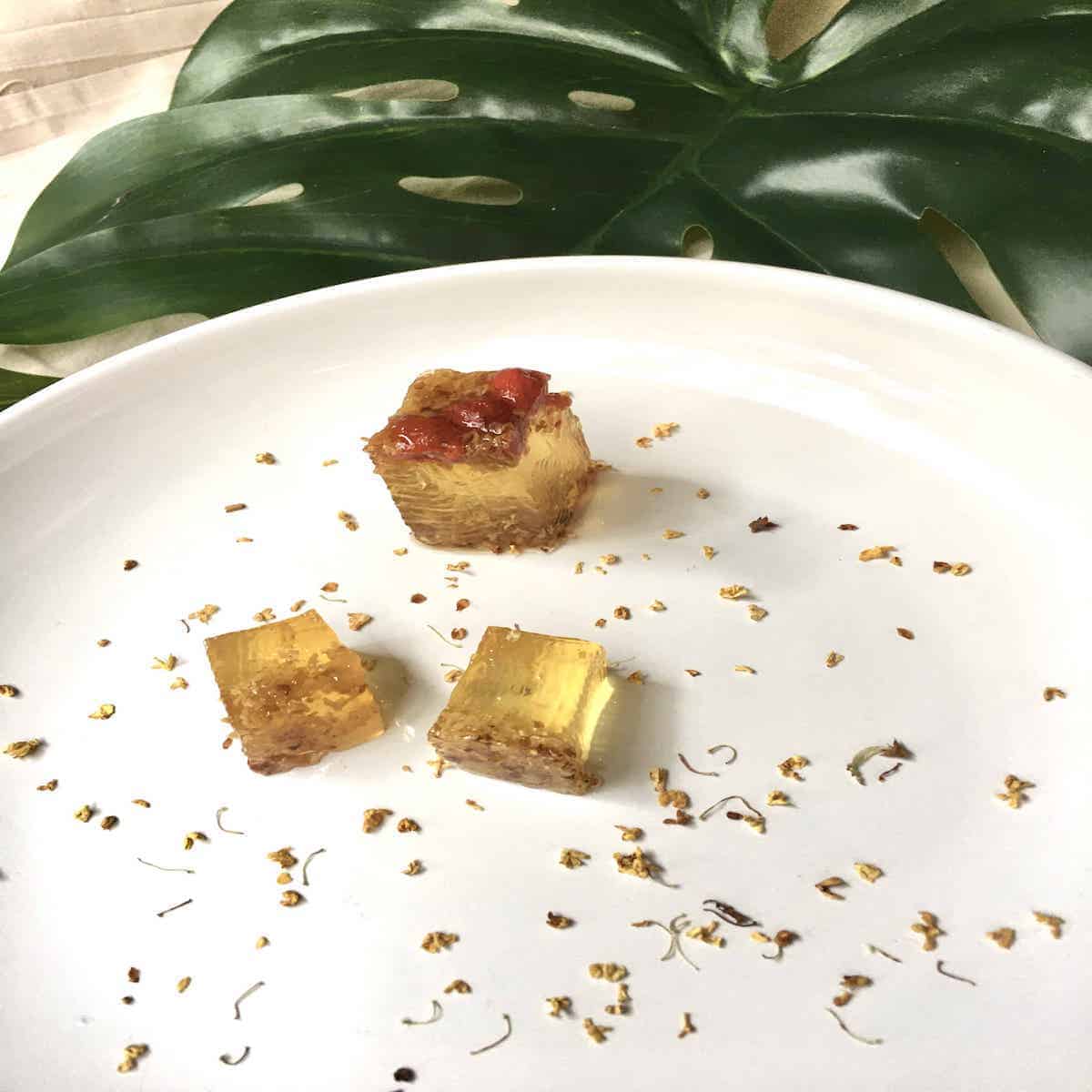 These 3 jellies are made with konnyaku powder. As you can see, the result is a more attractive, jewel-toned osmanthus jelly.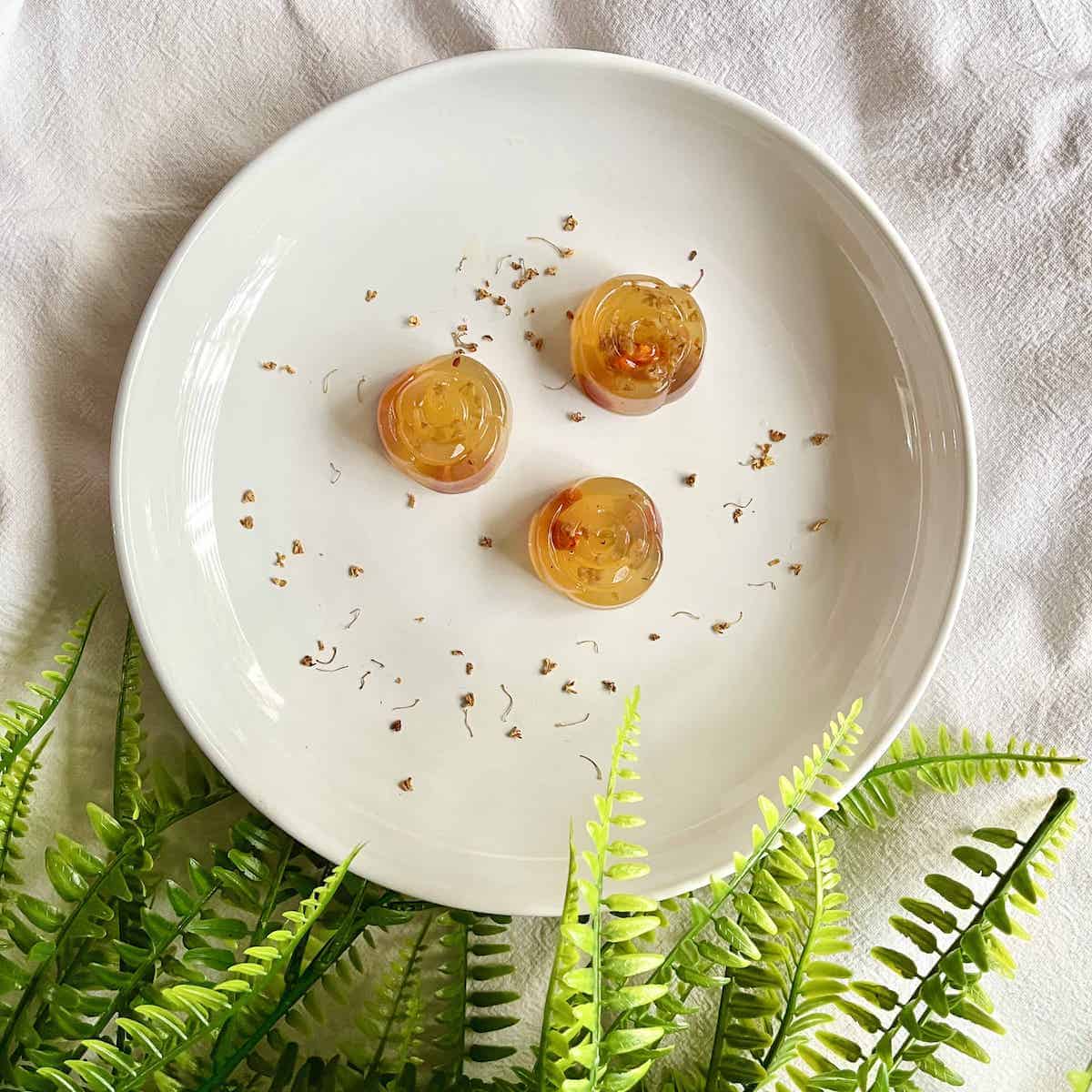 In contrast, these 3 were made with agar agar powder and the result is a slightly cloudy, yellow jelly. Not quite as pretty but still good to eat.
Where to buy
Chinese rock sugar and agar agar/ konnyaku powder are easy to find in an Asian grocery store but not sweet osmanthus flowers or dried wolfberries. Those can be found at Chinese medical halls or online.
Variations
Osmanthus jelly recipe with coconut: Fill the molds with the liquid osmanthus jelly up to the ¾ mark, then fill the rest of the mold with a coconut cream jelly.
Plain osmanthus jelly: the jelly is still delicious without adding goji berries so don't stress if you can't get the latter.
Step-by-step instructions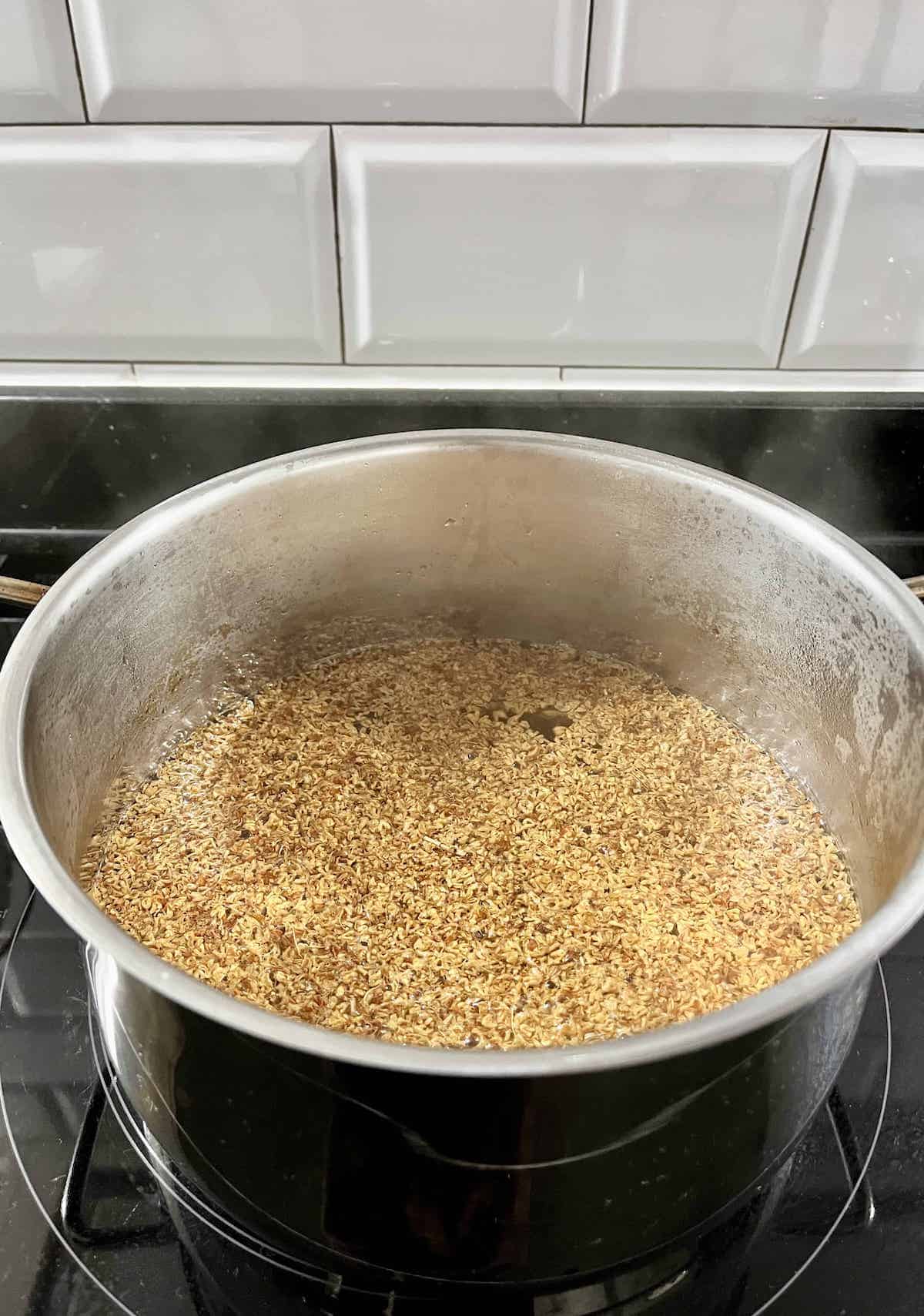 Make the osmanthus tea: bring a pot of water almost to a boil. Before it boils, add the osmanthus flowers (with any twigs/ leaves removed) and let them steep in the simmering water for 5 minutes. The simmering time can be adjusted but it will affect the taste and color of the jelly. Simmering for longer intensifies the osmanthus flavour and creates a more golden jelly. However, if steeped for too long, there may be a bitter taste. Optional: Quickly rinse the osmanthus flowers in a sieve before adding to the water. This is to remove any dust that may have landed whilst they were drying- it's a pain to get the blossoms off the sieve when wet though.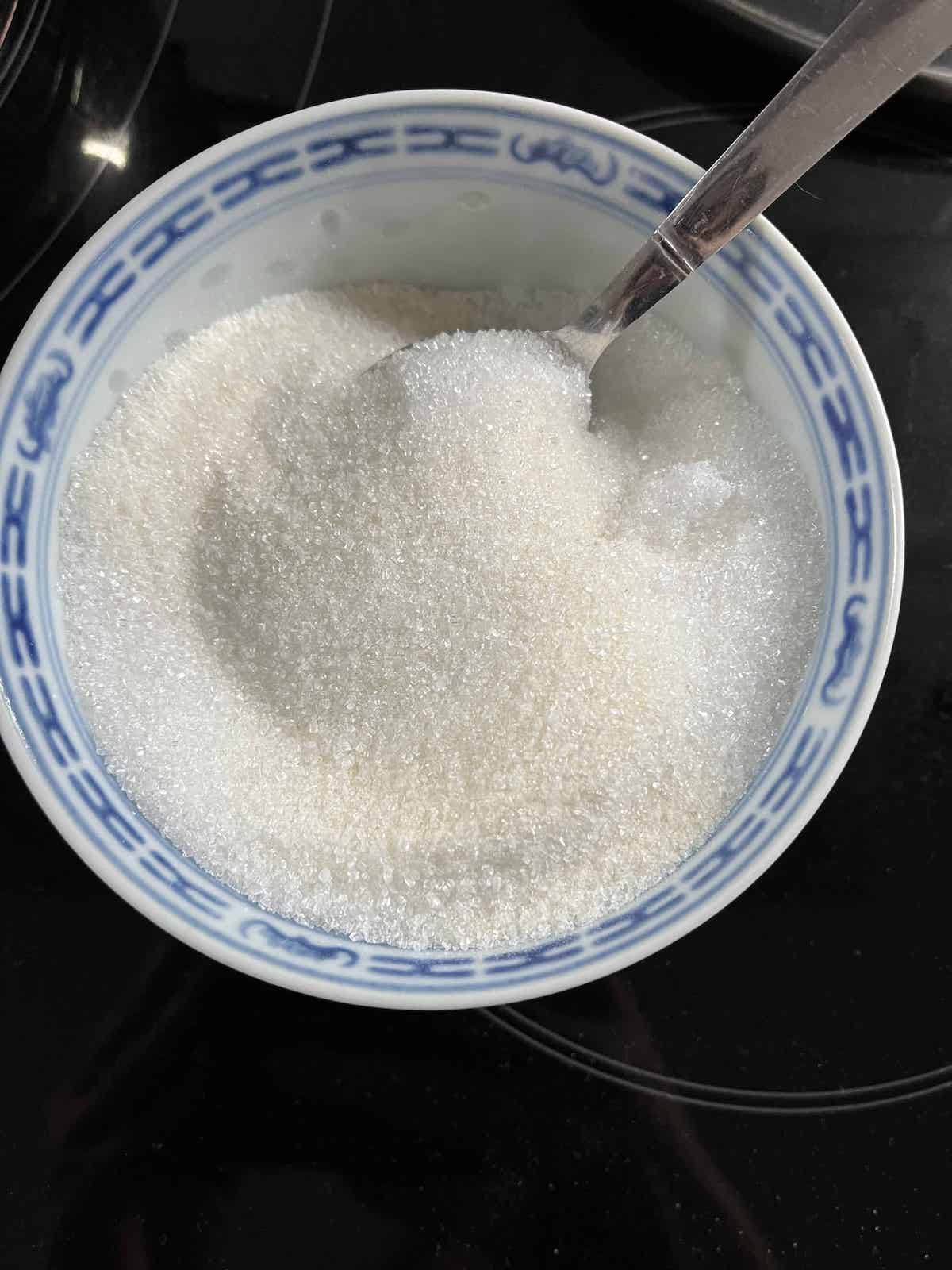 2. Whilst the osmanthus tea is brewing, mix the setting agent (agar agar/ gelatine/ konnnyaku powder) in a bowl with the white sugar. Mix thoroughly as this helps prevent the powder from clumping in the hot tea later i.e. prevents lumpy jelly.
Note: Skip this step if not using sugar. (For example, you can use honey or osmanthus syrup (桂花酱/ 桂花糖) to sweeten the jelly instead of sugar.)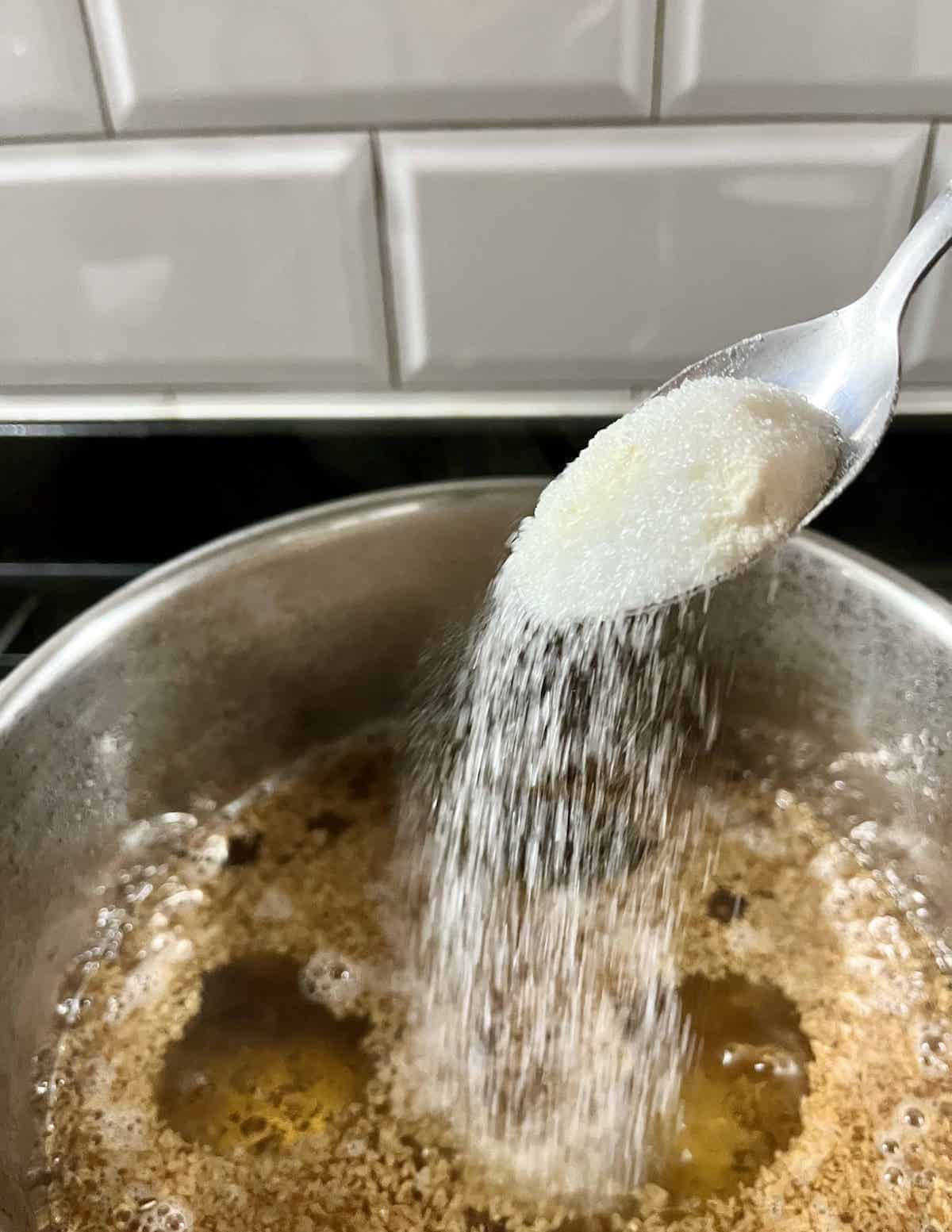 3. Bring the osmanthus tea to a boil again then quickly pour the setting agent-sugar mix (from Step 2) into the hot osmanthus tea. Keep stirring continuously whilst maintaining a boil.
Optional: I leave the osmanthus flowers in as they're edible. However, you can sieve them out before adding the setting powder. Half of my testers like the chewiness imparted by the flowers but some find it gritty and almost dirty tasting. If you remove yours, keep the flowers by the side, then add a few back into the molds in the last step to create a pretty "flowers suspended in crystal" effect. (Note: if you sieve the flowers out, the steeping time will be 8 minutes less than my recipe, so the flavor will be weaker unless you make up for it.)
4. Stir very thoroughly to make sure that all the powder dissolves. (For best results, use a heat-proof whisk.) This will take 1-2 minutes. Wait till after all the powder has dissolved, then reduce the heat. Simmer for another 3-4 minutes. (If not, your jelly will be lumpy and part of it may turn back into liquid after setting.)
Note: you may see foam forming on top of the jelly- that's normal. Just scoop off any foam that doesn't disappear when you stir the pot.
Tip: waste not, want not! If you sieved out the osmanthus flowers in the previous step, you can use them to make tea. Mix them with green or black tea leaves, such as oolong and pu erh, to make blended Chinese tea.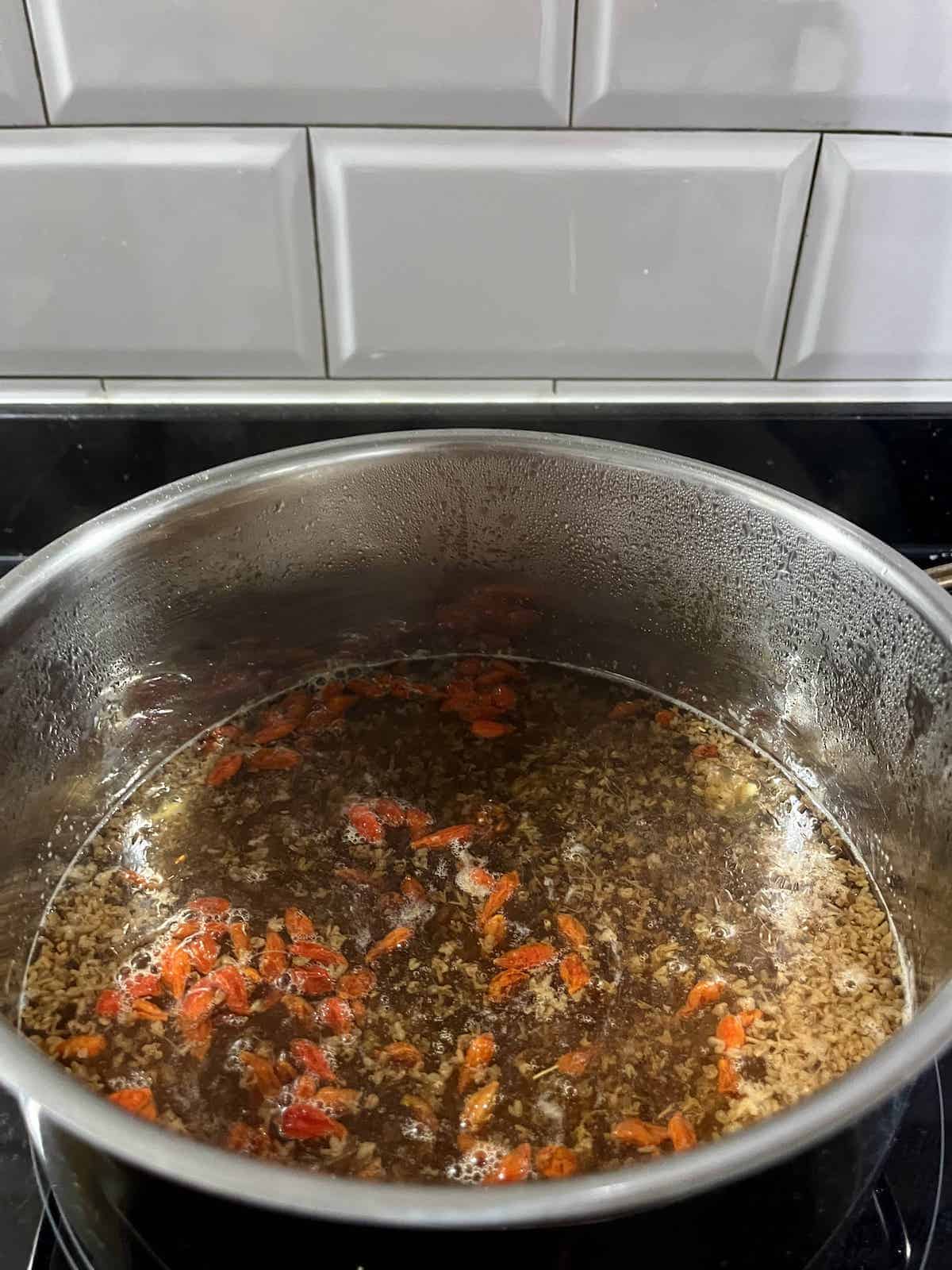 5. Add the goji berries to the pot of osmanthus jelly. Stir to distribute them evenly in the pot then simmer for another 3 minutes before switching off the fire.
Note: you can keep the goji berry soaking water to make tea, soups or stews.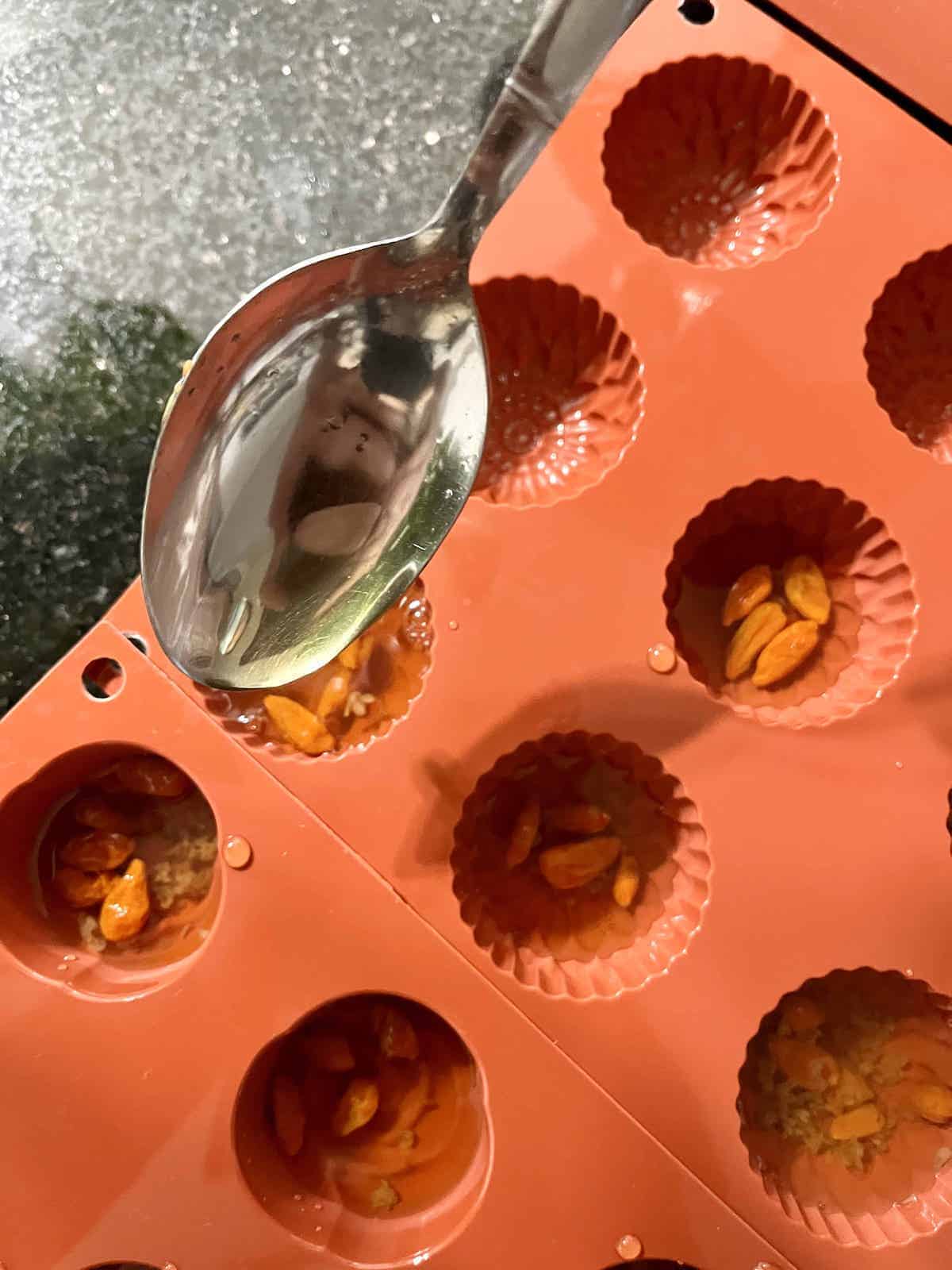 6. Lastly, we set the jelly. You can ladle the liquid jelly into fancy molds and leave for a minimum of 3 hours to set (as shown above.) Ideally set the jellies overnight in the fridge.
To spread the wolfberries and flowers evenly in the jellies, give each mold an occasional stir before the jelly fully solidifies.
Alternatively, pour the jelly into a wide & shallow container. After the jelly has set, cut it into squares with a sharp knife or use a cookie cutter to cut shapes out. (Do note that the second method results in a lot of "wastage"- the bits of jelly around the shape, though still edible, will be very awkwardly shaped.)
Do not use a small and deep container: you will get a thick layer with clumps of osmanthus and wolfberries which tastes fibrous and bitter.
Obviously the 2nd method is quicker. However, you have less control over how many goji berries & osmanthus flowers go into each piece of osmanthus jelly and this will affect the taste.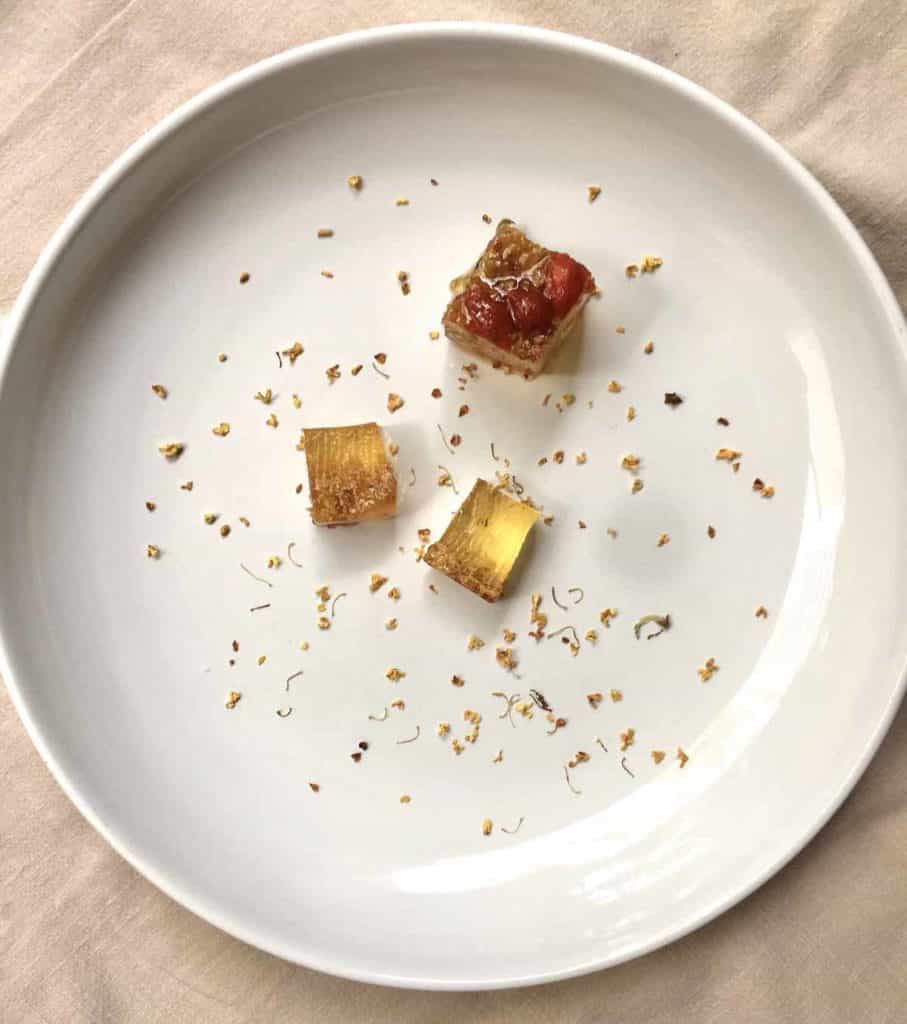 Expert Tips
Tip #1: Before adding sweetener, check your packet of konnyaku powder or agar agar powder. Some already contain sugar and don't need any more! If you can find it, osmanthus syrup or osmanthus sugar is a good way of intensifying the osmanthus flavour of the jelly without increasing the bitterness.
Tip #2: If using white sugar for your jelly, always mix the sugar with the setting agent before adding it to the hot osmanthus tea. Agar agar, konnyaku and even gelatine powder can clump easily in hot water, and mixing the setting agent with sugar first reduces the risk of this happening.
Tip #3: Goji berries are naturally sweet. Hence, if you add more to the osmanthus jelly, you can slightly reduce the amount of sugar. Definitely don't use more than 40g of wolfberries per litre of water as it makes the jelly taste too fibrous. It may also impact the ability of the jelly to set.
Tip #4: If setting the jelly in pretty molds, use pliable silicone ones as it's easy to pop the jellies out after solidifying. If not, you may need to briefly submerge the mold in hot water for 3 seconds to loosen the jellies. (Make sure the hot water does not touch the jellies, or they may "melt"!)
Tip #5: This Osmanthus jelly recipe is extremely popular during Chinese New Year. To make it even more festive, you can use a koi fish mold. (Fish motifs represent abundance and excess in Chinese culture.) For more easy Chinese New Year recipes, click here.
Recipe FAQs
Konnyaku jelly troubleshooting: why does my osmanthus jelly turn back into liquid after setting?
A slight amount of water leakage is normal (about 1-2 mm) but if you see a lot of water, something's wrong. First, always make sure the konnyaku powder fully dissolves in the boiling water- I have detailed instructions on how to do this in my recipe card. Second, check the amount of sugar added. Too much sugar is not just bad for one's health, it's bad for the jelly and may turn it back into liquid.
What does osmanthus jelly taste like?
Osmanthus has a very warm and honeyed fragrance, somewhat like apricot and elderflower. It tastes rich and floral but, if too strong, can have a bitter aftertaste. The dried osmanthus flowers in the jelly are edible FYI.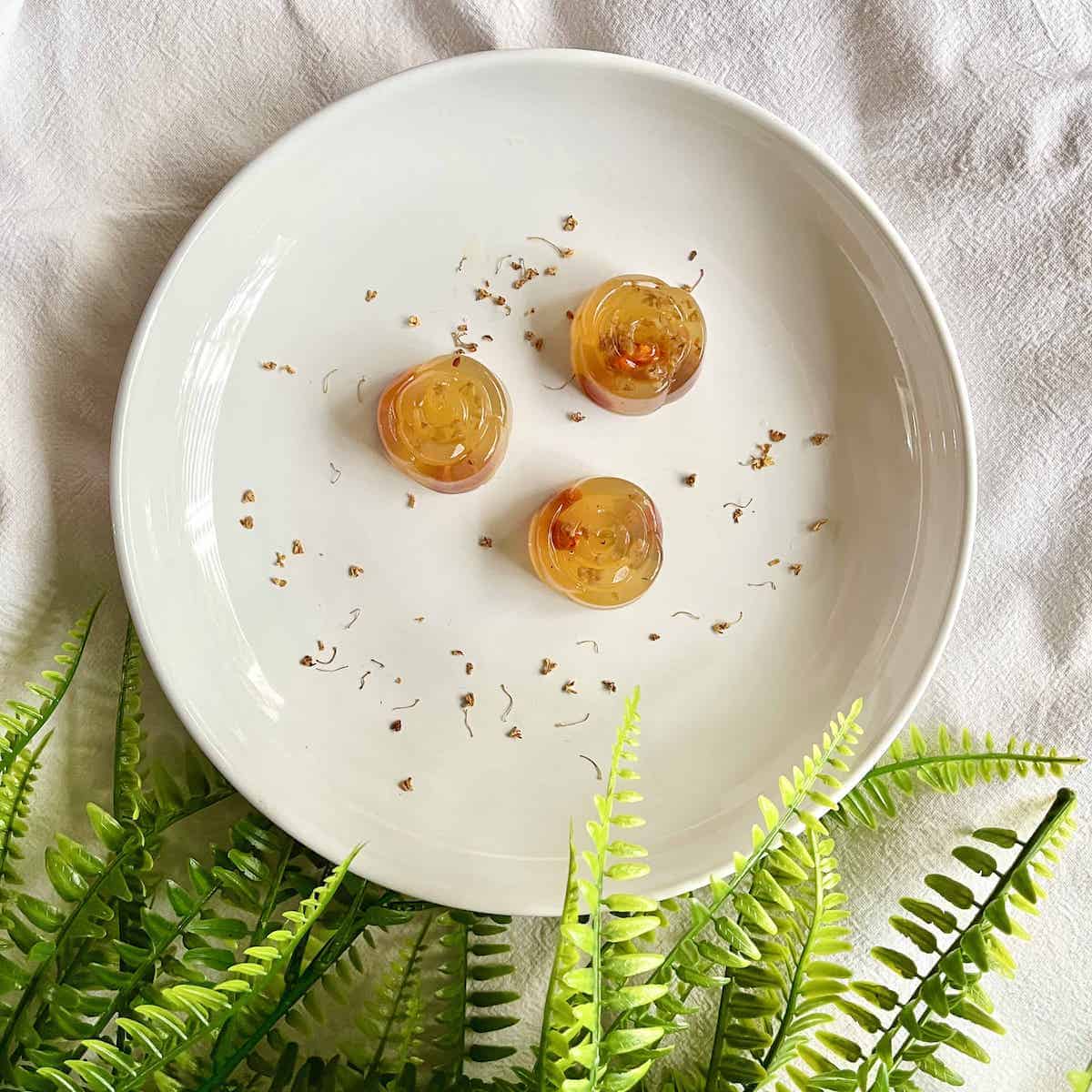 Other traditional Chinese dessert recipes
Enjoyed this osmanthus jelly recipe? Please leave a 5-star 🌟🌟🌟🌟🌟rating in the recipe card below & if you REALLY like it, I'd love a comment. Thank you and have a great day!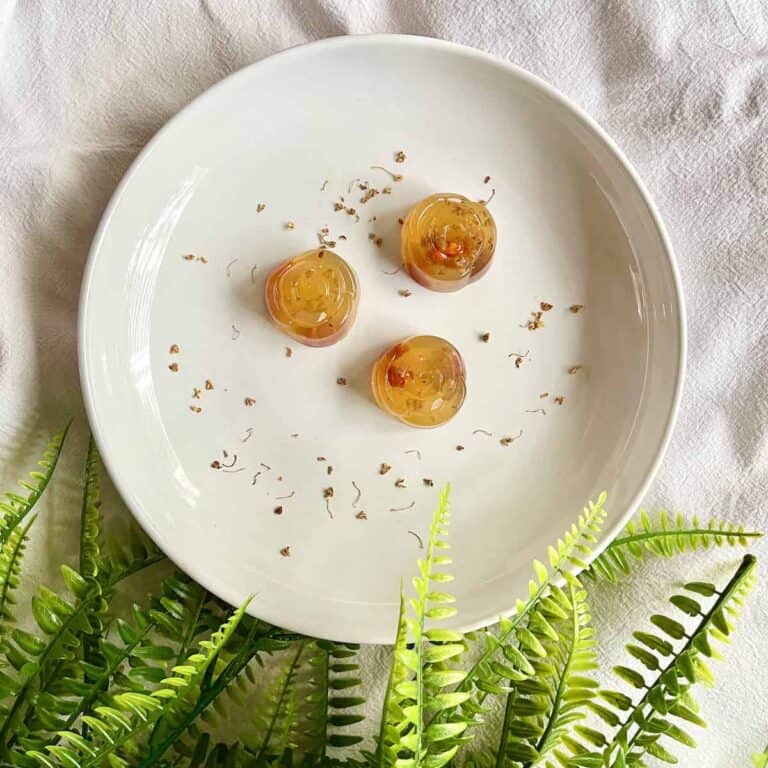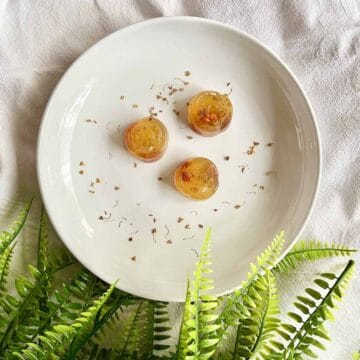 Osmanthus jelly recipe
This osmanthus jelly recipe (Gui Hua Gao) is a refreshing, delicious, quick and easy Chinese dessert made from edible sweet osmanthus flowers. Its shimmering gold color and floral fragrance have kept it popular through the years- you can even find it at Michelin-star Chinese restaurants today!
Equipment
Pot

Whisk

Mold, Optional

You can use a wide and shallow container to set the jelly instead of molds. If so, you will need a sharp knife to cut the jelly later.
Ingredients
Making jelly with 1 litre of water
0.35

oz

Osmanthus Tea Leaves

(10g)

0.7

oz

Wolfberries Also known as goji berries. This is 20g. You can use more if you like, but don't go over 40g or the jelly will be too fibrous.

Konnyaku powder

Substitute: agar agar or gelatine (not vegan.) Amount as per back of your packet. If the amount of water required is not 1 litre, please adjust the rest of the ingredients accordingly. For example, if your packet only requires 500ml, please halve the rest of the ingredients used.)

4

Cups

water

1 litre. Please see above.

5.3

oz

granulated white sugar

(150g, optional- only add if your konnyaku jelly packet does not already include sugar. Substitutes: Osmanthus syrup/ osmanthus sugar/ rock sugar/ a neutral honey
Instructions
Rinse the woflberries then soak them in a bowl of hot water.

Remove any hard and dark bits (leaves/ twigs) from the osmanthus flowers.

Heat 1 litre of water in a pot. Whilst the water is heating, you may want to rinse the osmanthus flowers in a sieve. (This is an optional step as it removes dust but the wet flowers are difficult to get off the sieve!) When the water is almost boiling, add all the osmanthus flowers to the water. Let the osmanthus tea simmer for 5 minutes.

Whilst the pot is simmering, mix the white sugar and konynyaku powder thoroughly. (Skip this step if using honey or rock sugar.)

After 5 minutes, quickly add the konnyaku powder- sugar mixture (from the previous step) to the pot whilst whisking continuously. Bring the pot back to a boil before reducing the heat to a simmer. Whisk continuously and simmer for 3-4 minutes to get rid of any lumps. (This ensures that the jelly does not turn back into water after setting and that you don't have a lumpy jelly.)

After the 3-4 minutes, add the goji berries. Do not pour the soaking water into the pot or it will affect the setting of the jelly- you can keep it for tea, stews or soups. Continue to simmer for 3 minutes.

Pour the jelly into molds and allow to cool. Stir with a toothpick to ensure that the tea and wolfberries are dispersed evenly througout the jelly. When not too hot (you don't want to raise the temperature of your fridge), transfer to fridge to set for at least 3 hours (I usually leave it overnight)

Alternatively: if you don't have fancy molds, just pour the jelly into a wide and shallow heat-proof container to set, then cut with a sharp knife or cookie cutters.
Notes
If you prefer a clear and non- fibrous jelly, increase the amount of time the osmanthus flowers are simmering for before sieveing them out (This is done before adding the konnyaku powder.)
IMPORTANT: just a reminder to take care as several kids have choked to death on konnyaku/ konjac jellies so if serving the very young or old, you may want to use agar agar or gelatine powder instead.
Nutrition
Calories:
58
kcal
Carbohydrates:
15
g
Protein:
0.01
g
Fat:
0.05
g
Sodium:
5
mg
Potassium:
2
mg
Sugar:
15
g
Vitamin A:
19
IU
Vitamin C:
0.3
mg
Calcium:
3
mg
Iron:
0.02
mg
This osmanthus jelly recipe is super versatile as you can always change the osmanthus tea to other flavors, such as earl grey and lavender. If you do decide to switch things up, do tag me on Instagram (@greedygirlgourmet). I would love to see the new flavours people come up with!