A quick Feast Plugin Review and 5 reasons I love it + how it makes my food blog more SEO-optimised and user friendly.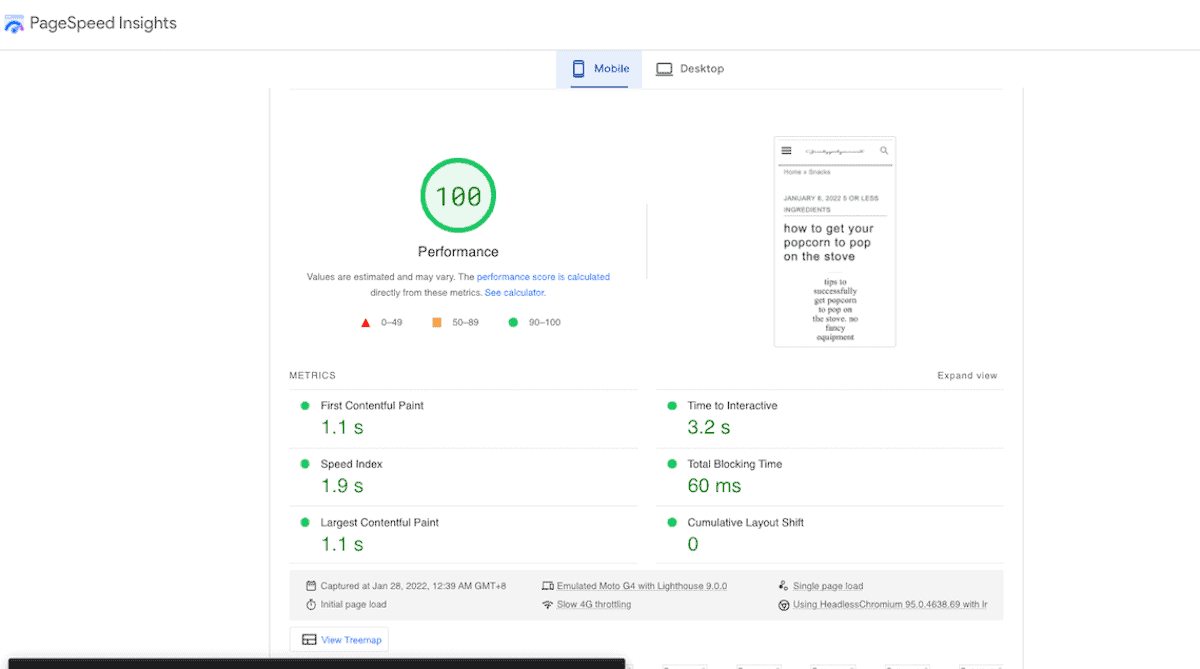 It helps me ace my Google Page Speed Insights, which is great for food bloggers who want their recipe posts to be loved by Google!
What is the Feast plug-in?
At the basic level, the Feast plug-in is a plug-in that helps you to keep your site updated and in-line with Google's best practices, as easily as possible. At the same time, your blog theme remains very easy to edit and customise.
Note: it can be used with your current theme- it won't replace it. However, for new bloggers who don't have a theme yet, you also get free access to the Feast theme library, which has 5 different classic themes when you buy the plugin. (If you're wondering which one I use, I'm on Feast's Cook'd Pro, a genesis child theme on the genesis framework.)
At the time of writing (25 April 2022), Feast costs US$249/ year on a non-refundable basis but I was lucky to have signed up early and got a good deal (you pay the original price even if the annual licensing fee increases after you join.) So far, I've not seen Feast issue any coupon codes but if I do, I'll be sure to update this page!
Why I love it
1. SE0-first: Works wonders for your Core Web Vitals
This was before I set-up the Feast plugin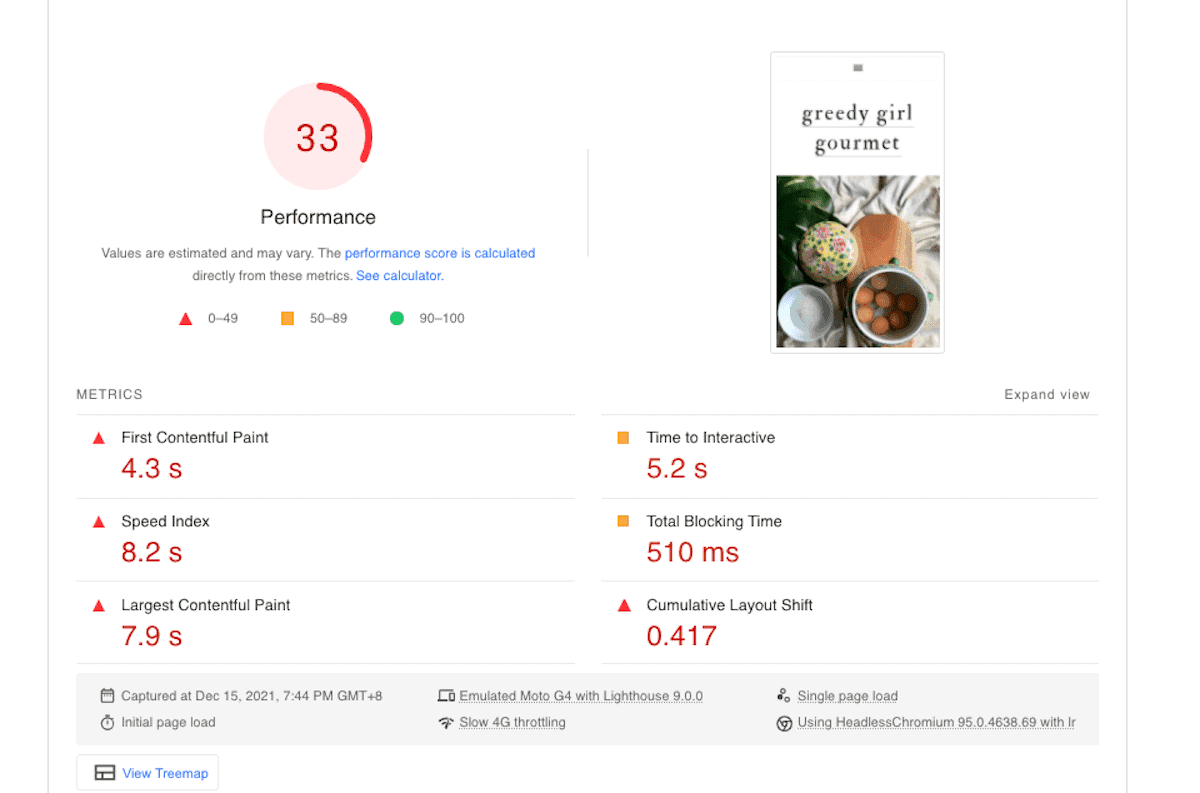 You can see I failed by A LOT.
For the longest time, I had the Feast plug-in (because I bought the Feast theme) but didn't use it as I was a total blogging noob. As a result, I was failing ALL of Google's Core Web Vitals, and my Page Speed was abysmal.
Once I turned on the Feast plugin- something recommended by food blog SEO expert Casey Markee in my pre-audit with him (coming up middle of the year) and that is very easy to do thanks to Feast's Step-by-Step guides (many of which have accompanying videos in their helpful tutorials)- I miraculously started passing everything!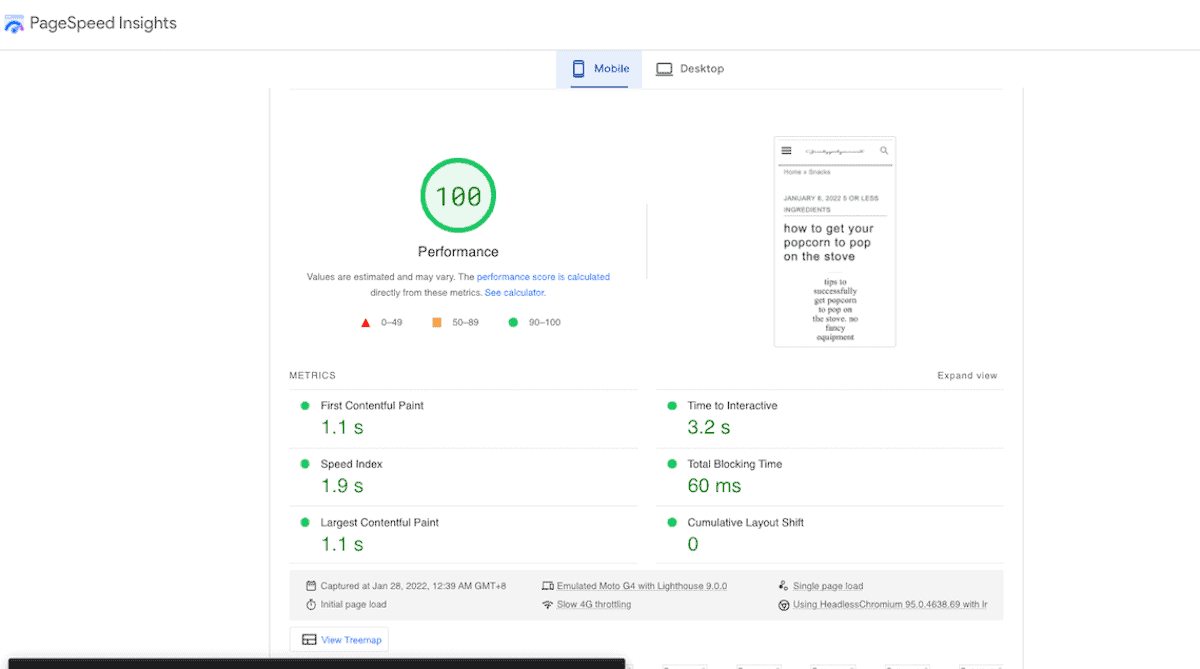 Note: not all your pages will get full marks after using Feast but they should all pass with flying colours!
If you're wondering why Core Web Vitals are important, do listen to the TopHatRank SEO webinar on the topic- they're basically a "tie-breaker" that would help you outperform another blog with content of a similar quality to yours in Google search. (Since food and lifestyle blogging is so competitive- there are SO many food blogs out there- it can make a huge difference to your organic traffic (i.e. traffic from search engines)!)
Something else that I found helped enormously with my SEO and Google traffic was learning keyword research- I invested in the Cooking with Keywords course which Casey Markee recommended and consider it my best blogging investment ever!
Click the link for a review of the course & its keyword research strategies + graphs of how my Google traffic soared.
Saves time
Some bloggers say you don't need Feast to ace your Google Page Speed Insights, which I'm sure is true- but if you're not handy with tech, Feast definitely makes your life much easier, freeing up your time for the more important stuff. (I'm on my 2nd blog and I still don't have a clue how to optimise Core Web Vitals without Feast!)
As all bloggers know, we have a gazillion things to do and only 24 hours a day, so why not make life easier for yourself?
Keeps you informed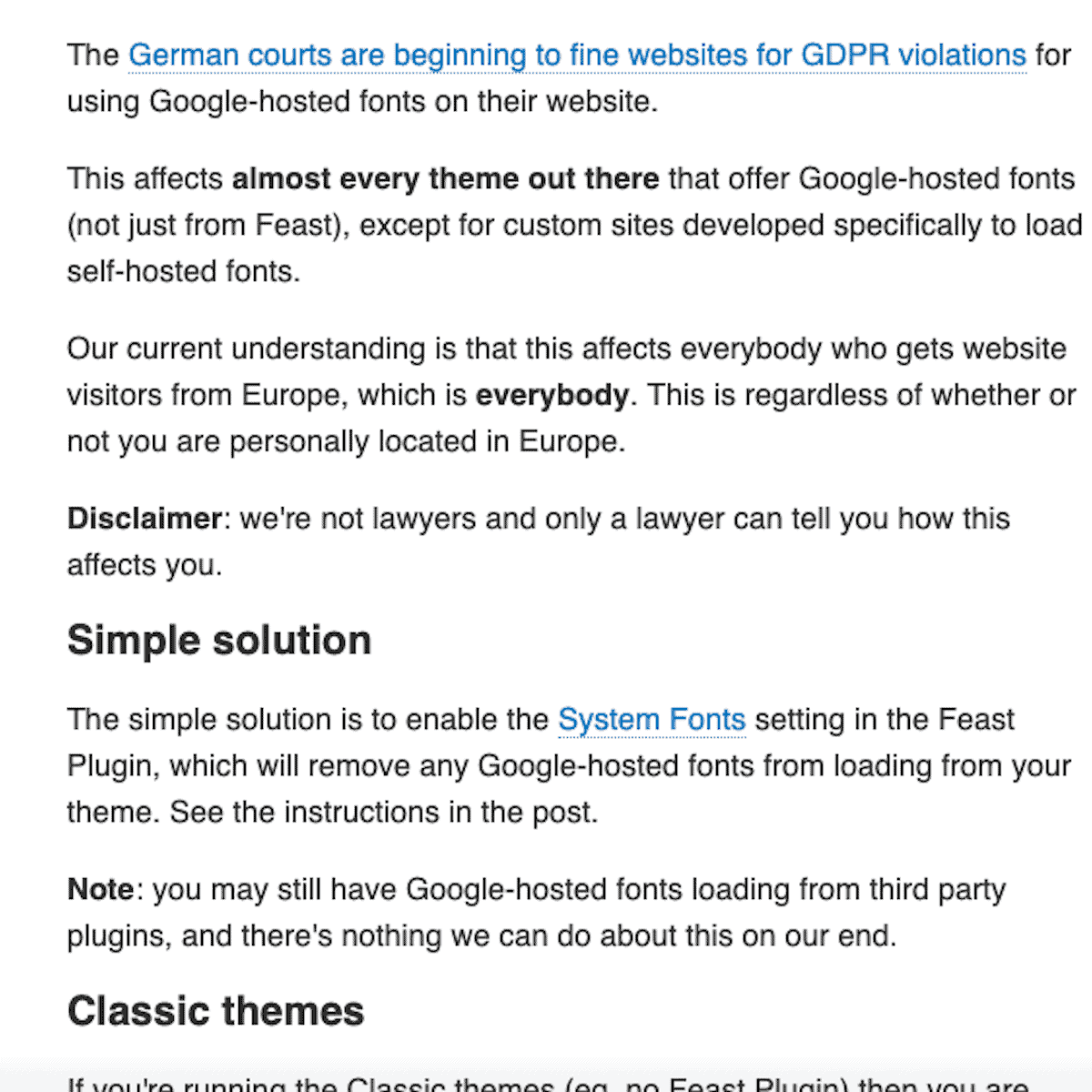 If Skylar had not sent out this email, I would have had no clue that this was happening! Luckily, there's an easy fix using Feast.
Skylar (of Feast) is so focused on SEO that not only is the plug-in SEO-centric, he even kindly sends Feast users updates about developments we should keep abreast of, SEO and otherwise.
1 thing that all bloggers worry about is potential WordPress incompatibility issues cropping up when there's a WordPress update that "break" your site.
Skylar kindly does the testing on his end. For instance, on 24 Feb 22, he emailed to let us know that compatibility testing with WordPress 5.9.0 was completed with no issues. (He does the same when Feast does a theme update.)
2. Simple to set-up
I am such a tech noob that it took me almost 2 years to get Google Analytics up and, even then, it was very easy for me to set up Feast. It was mainly a matter of checking and unchecking boxes on a page, and then pressing save. (There is a page on the Feast website to let you know which settings to check/ uncheck.)
Note: if you really don't want to do anything tech- related, Feast also has white glove services where they optimise the settings for you but that's an extra charge and I've heard it's not cheap.
Moreover, it's so easy to do yourself, you might as well save the money and put it into something else such as a keyword research course for food bloggers!
If you have a question, you can always send in a support ticket and someone from their customer service team will get back to you. (I've sent in several myself.)
3. Simple post organisation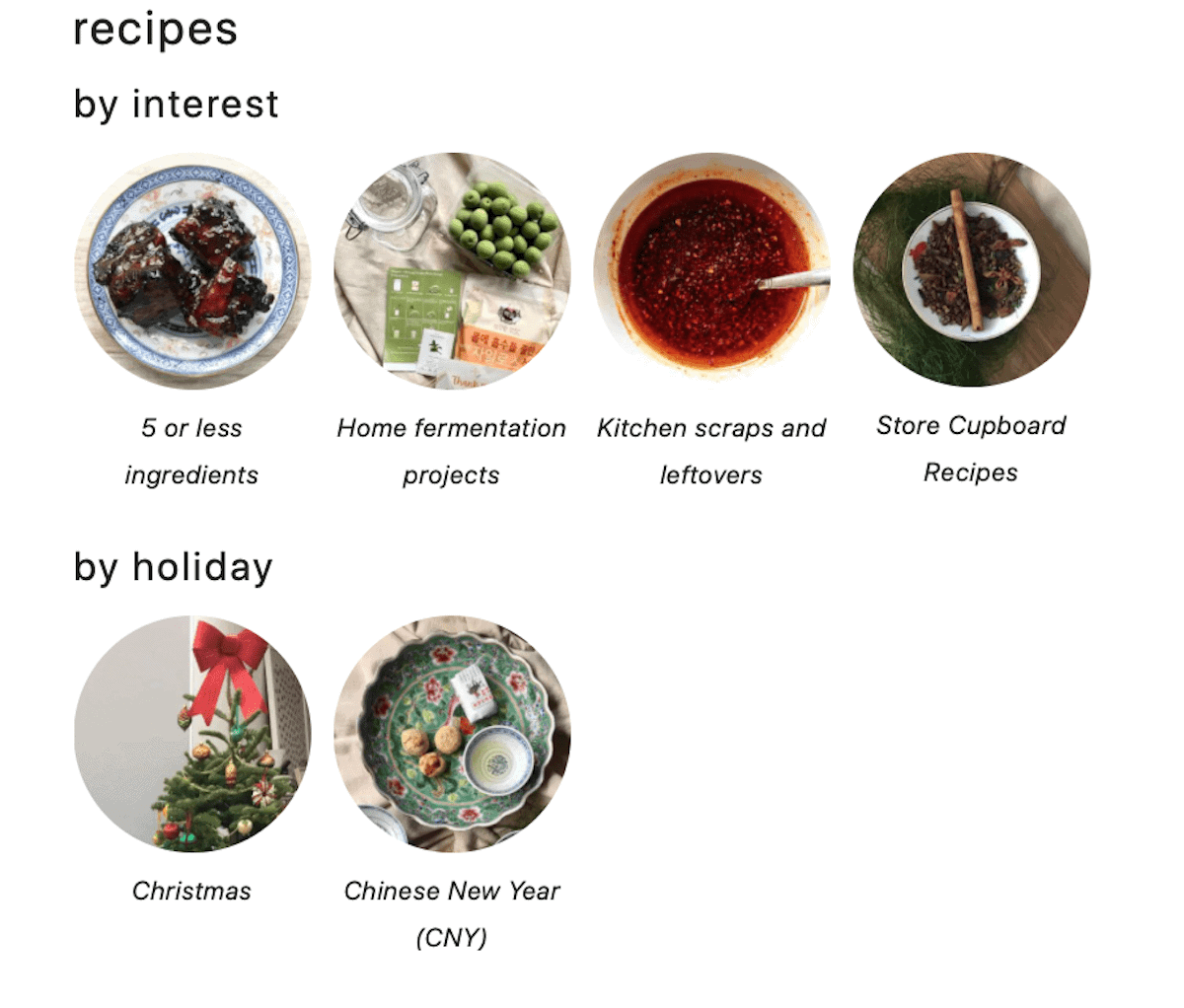 This is how Feast's Categories look like. (You can have square, clickable images if you prefer them to round.)
Something I have always struggled with on all my blogs is organising my posts and presenting them to the reader in easy-to-navigate categories for a better user experience. There are plug-ins that can help you with this, but again, it's a jungle out there. It's difficult to find 1 that is easy to use and that doesn't weigh your site down, in terms of site speed.
Feast has a really easy to use, visual category builder (the FSCI block, or Simple Category Index) that gets rid of all that stress, so you can present your recipe collections as efficiently as possible.
4. Simplifies everything
So Feast isn't compatible with every single plug-in, which may sounds like a negative point, but I find it a plus, as it makes your life so much less complicated. If you're dithering between RankMath and Yoast, for example, there's no issue here as Feast only works with Yoast, a plug-in that other SEO experts also recommend. (In fact, there's even been an entire TopHatRank webinar devoted to Yoast!)
Today, someone in 1 of the Facebook blogging groups that I'm part of asked about which plug-in best allows you to create a Table of Content for your post, but I've never had to worry about it, as Feast has an inbuilt "Advanced Jump To" link that provides on-site navigation.
This has been the case for all the Feast-compatible plug-ins in my experience to date i.e. they've all been the plug-ins that other experts say are good. Click here for a list of Feast-compatible plug-ins.
5. Frequent, user-first updates
1 of my very favourite new Feast developments is the Recipe Post Template that was launched earlier this year.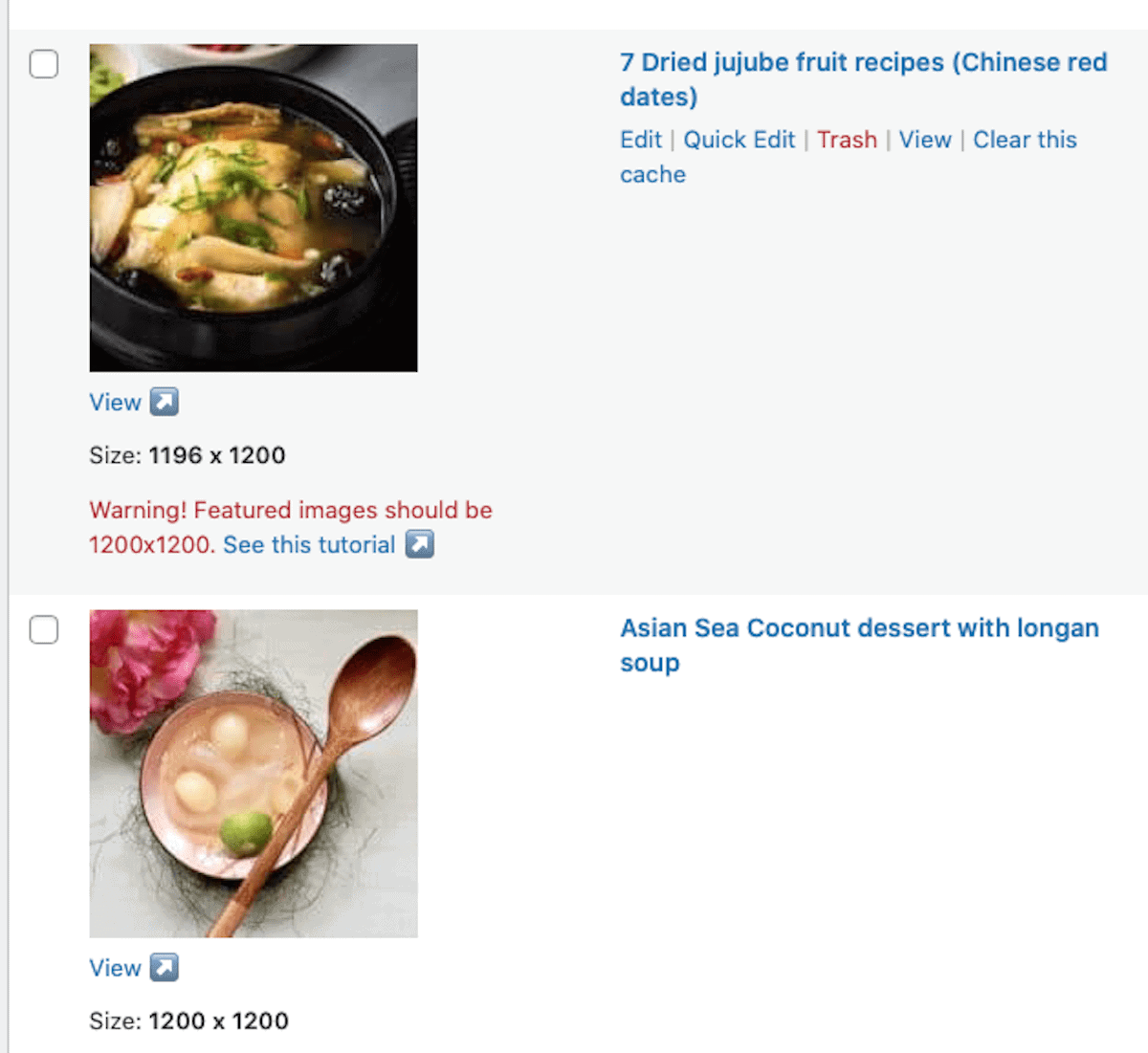 The column on the left is a new update by Feast- it shows you the size of your featured image and warns you when you are not optimising for Google, which is handy as I could have sworn I had saved that chicken image at 1200 by 1200!
Another example of a very helpful update is how the Posts page shows the size of each post's featured image- you need a 1200 x 1200 image for Google Discover and this is a quick & helpful way for me to check which of my old posts have not been updated yet. (Even for new posts, I sometimes make mistakes and it's really annoying to waste my Shortpixel credits when it's just a few pixels off!)
Note: You don't have to re-install the plug-in: every time it updates, you just update it like you do your WordPress by clicking on the "Update" button in your WordPress dashboard.
Say Goodbye to widgets
Previously, we customised our blog using widgets, something that which could be relatively painful if you weren't sure what you were doing. Feast has removed the need for widgets - instead, you use the Block Editor to build your website, something that is very, very simple to do.
What I don't love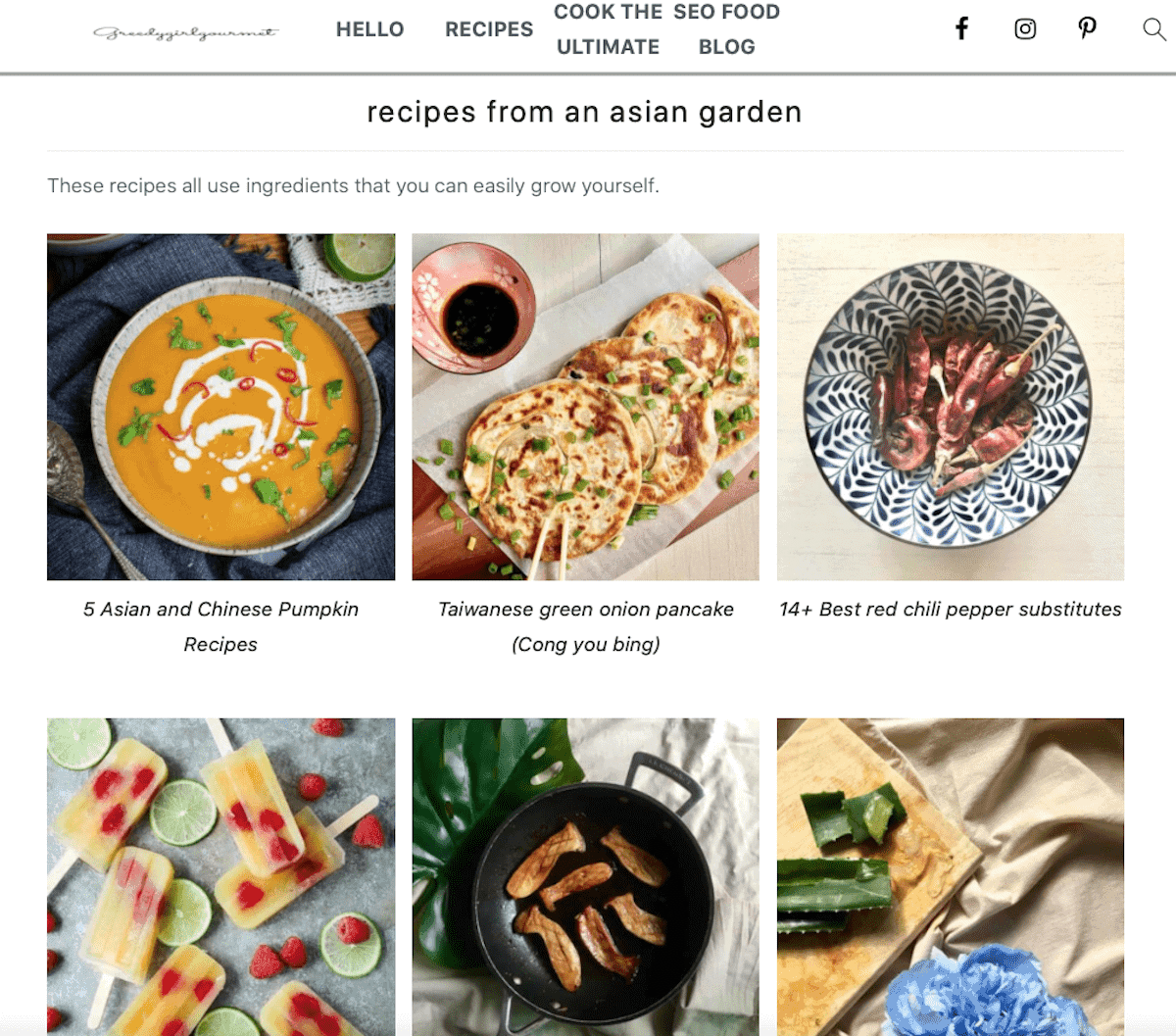 The only thing that I'm not crazy about is the look of the Modern Homepage- it's not bad- rather a minimalist style- but I miss how my old Cook'd Pro homepage (a Feast theme) used to look, with its nice, large photos. (I've heard a few other bloggers say similar things about the design of the Modern Homepage.)
You can customise the Modern Homepage- click on the link to learn how- but I've been too busy to get around to it as my focus is on improving my site's technicals as well as producing more recipes (I need to have a minimum of 75 before my upcoming site audit with Casey Markee.)
Why sign up now
Since I got Feast 2 years ago, they've increased the price more than once. For example, it went up from $199/year to $249/ year on 1 Feb 22. However, I still pay the original bargain price, which is a great deal! Signing up immediately ensures that you lock in the current lower rate (as, the way inflation is going, prices will only ever go up and not down!)
FAQ
Is the Feast plug-in only for food blogs?
No! Although a large number of food blogger use Feast, as it's highly recommended by food blog SEO experts such as Casey Markee, it works for non-food blogs as well. For 10 ways the Feast plug-in makes blogging easier and why I love it, click on to read my review!
Before you go, you may be interested in other food blog SEO articles, such as:
Note: people are visual, and these lovely little images were inserted into the post in just 1 minute thanks to Feast's Simple Recipe Index!