If you've wondered what else you can do with dried sour plums besides snacking on them and making suanmei tang, you can also make this delicious sour plum recipe! These tart, vegan Chinese plum jellies are the perfect Chinese dessert after a filing meal.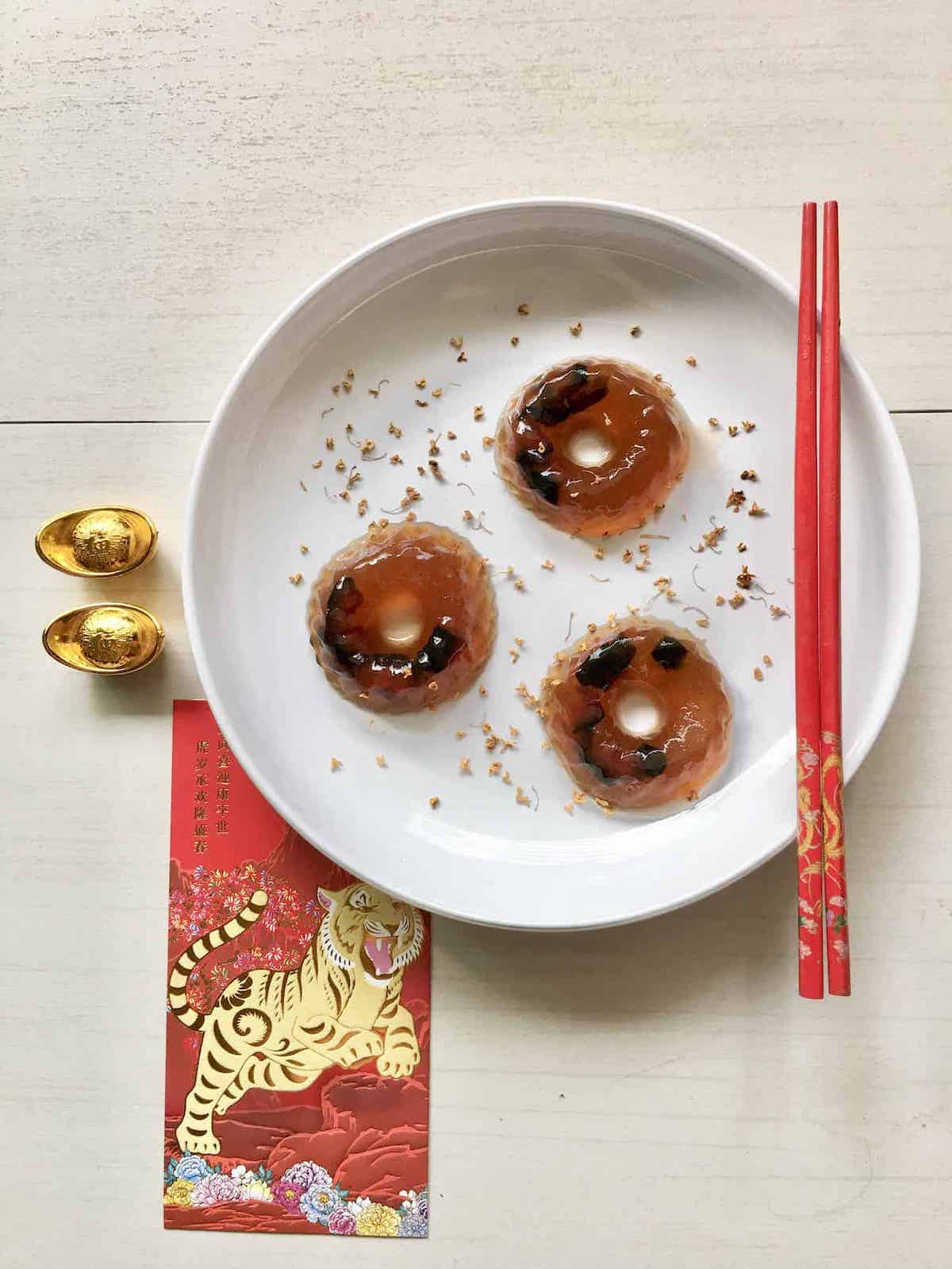 Jump to:
This Chinese sour plum jelly is super easy to make: you simply cook up a batch of suanmei tang (click the italics for the recipe), add the gelling agent, stir and leave the jelly to set in molds.
Once the plum jelly is cool, you'll have a delicious and refreshing dessert for your friends and family- if you use nice molds, the resulting jellies will also be super pretty!
If you're keen on the jelly idea, but not sure about sour plum jellies, why not try this beautiful but easy to make koi fish jelly? It's a favourite every Chinese New Year! You could also make Dim Sum Coconut Pudding Jelly!
Ingredients & Substitutes
What you need to make unsweetened suanmeitang (Chinese sour plum tea):
Chinese preserved wumei
Chinese hawthorns
Optional: Osmanthus flowers (gui hua), tangerine peel, dried Chinese licorice (gan cao) etc
For more information on these ingredients and the different types of Chinese preserved plums as well as where to buy them, click the link in italics.
Note: the suanmei tang for the jelly is a more concentrated version of my drink recipe, as the flavours are a little muted when eaten as jelly- nonetheless, these sweet treats are super refreshing on a sunny day and great for boosting your digestion!
Another traditional Asian dessert good for hot weather is this sea coconut sweet soup with longan or this sea coconut jelly snack.
If you use agar agar or konjac powder, they're also chock-full of fibre!
To turn the plum tea into vegan Chinese plum jellies, you will need:
Concentrated Chinese preserved plum tea (directions given in the recipe card below)
Sugar

I use white granulated or caster sugar as they're convenient but you can also use rock sugar

A plant-based gelling agent

Agar agar or konnyaku
I like konnyaku's bouncy texture the best, but it's not recommended for very young children or the very old (choking concerns)- in that case, agar agar (or gelatine if you're not vegan) can be used instead
If you're not familiar with either agar agar (kanten) or konnyaku (konjac), which are both Japanese jellies, click the respective links
If you're using agar agar (kanten) to make this sour plum jelly, you will need to let the suanmei tang cool before adding it to prevent clumping. For a list of agar agar substitutes, click here.
Note: you add the granulated sugar to the gelling agent powder, and mix thoroughly as this helps to prevent lumps from forming in your jelly- konnyaku reacts with water so quickly, it can be a bit of a pain making sure your jelly is smooth!
Note: you can buy pre-made plum tea in some Chinese medicine stores- if you're using those to make jellies, they're usually sweetened, so skip the sugar in this recipe. You may also want to boil it down to make it more concentrated before adding the gelling agent.
How to Shape
The easiest way is to immediately pour the hot liquid jelly into a heat-proof container, making sure that it's not too thick of a layer, then allowing it to cool and set. (Immediately as agar agar and konnyaku both solidify very fast, even at room temperature, unlike gelatine which needs to go into the fridge.)
After that, you can cut them into squares, or use cookie cutters to get fancy shaped sour plum jellies.
However, I prefer to spoon the jelly liquid into silicone molds or ice cube trays as it makes it really easy to pop them out once formed!
Storage
Some people seem to keep their jellies for a long time but I prefer to finish them within a week.
As these plum jellies are meant to be cooling, I recommend keeping them in the fridge so that they're nice and cold when you eat them- the texture of the jellies is best appreciated when they're served chilled.
Expert Tips
Tip #1: If you've used molds to make the sour plum jellies with some decorations on them, always store them with the decoration facing up - if the pattern faces downwards, the weight of the jelly can sometimes blur out some of the details
Tip #2: If you're trying to reduce your sugar intake, you can lessen the sugar to 2T (25g/ 0.88 oz) but they won't be as tasty unfortunately.
Tip #3: If you have access to osmanthus tea, I highly recommend adding it to the suanmei tang- it's not necessary, but it makes the suanmei tang taste more full-bodied and gives it a sweet aroma even without adding sugar!
Tip #4: You could cut up some Chinese preserved plums and add a few into each jelly as I've done in the photos, but I find that the texture doesn't contrast well with the plum jelly as the heat makes the plum a little softer than usual.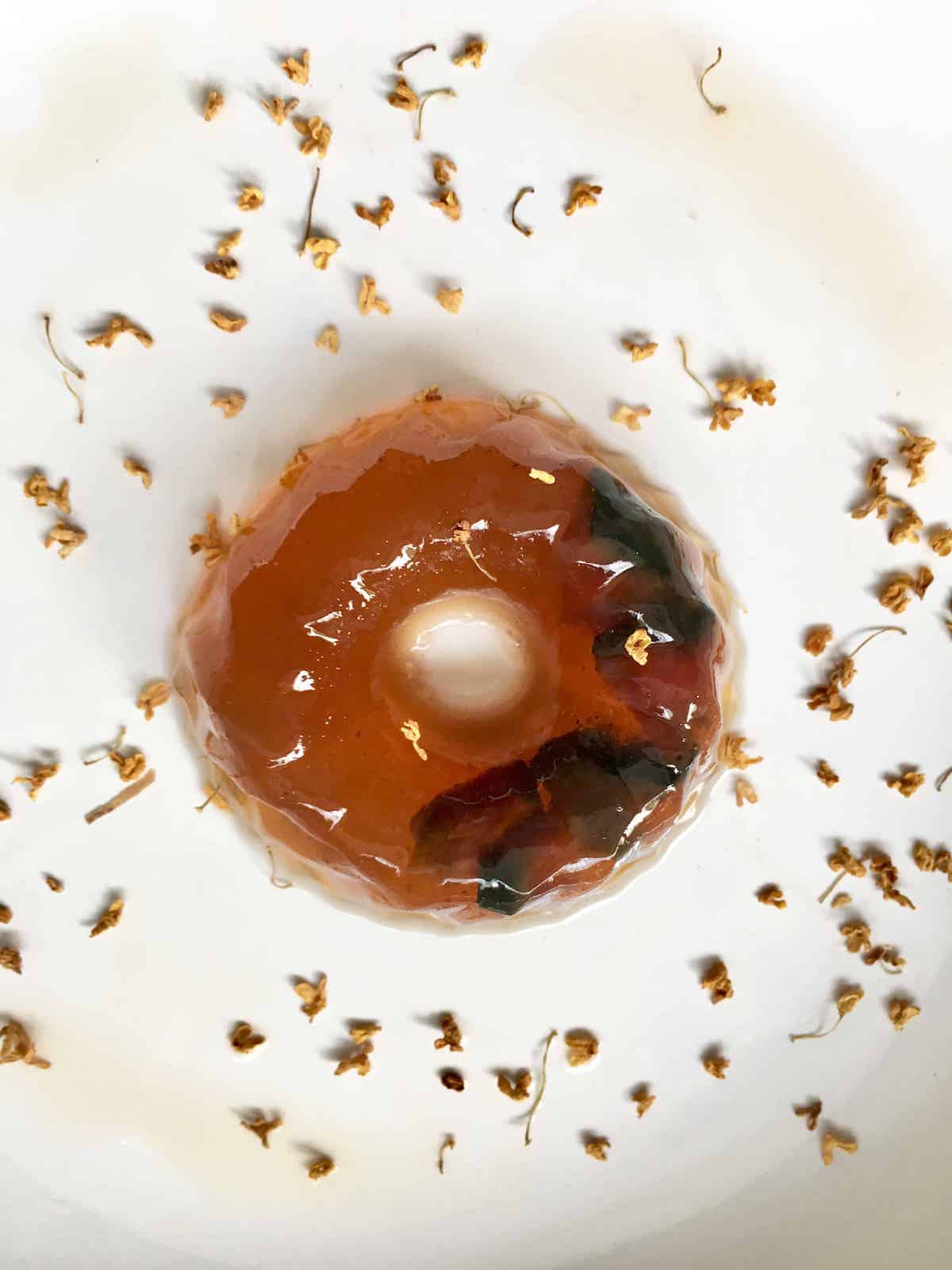 Other Asian plum recipes
Enjoyed this vegan Chinese plum jelly recipe? Please leave a 5-star 🌟🌟🌟🌟🌟rating in the recipe card below & if you REALLY like it, a comment would make my week! Thank you and have a great day!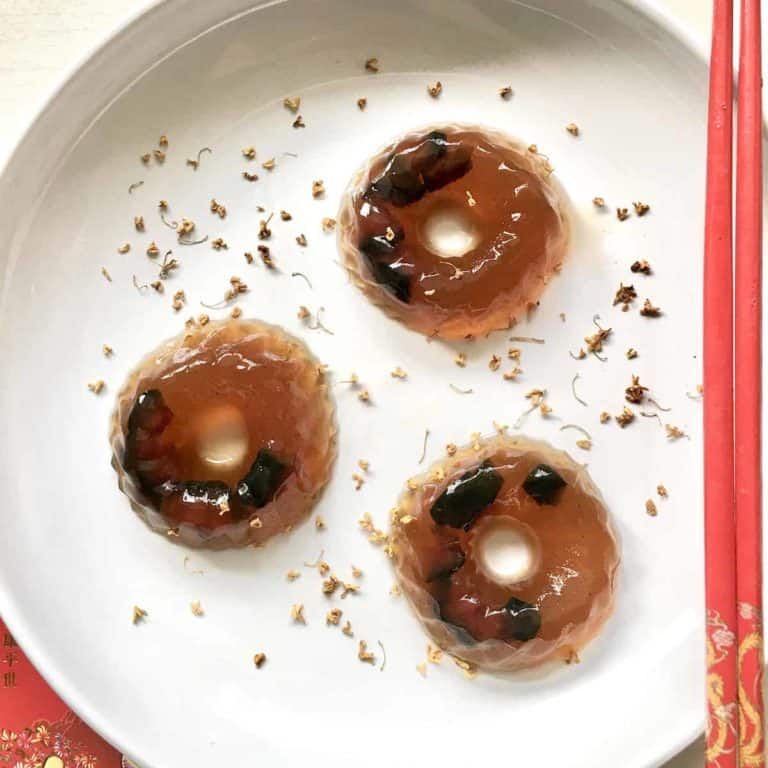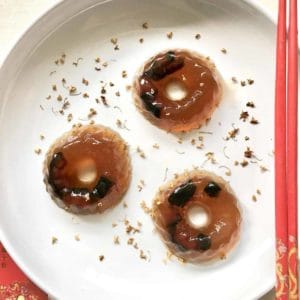 Sour plum recipe: Vegan Chinese plum jelly (suanmei)
A perfect dessert after a heavy meal, or on a hot summer' day!
Equipment
Pot

Heat-resistant whisk

sieve

Silicone molds and cookie cutters

Optional
Ingredients
To make the Asian plum tea
1.4

oz

Black Chinese preserved plum (wumei) (40g)

This was about 3 plums for me- there's no need to worry about cutting the plums to get the exact weight- just round up!

1.4

oz

Dried Chinese hawthorn, briefly rinsed (40g)

Add more of this if you want a tarter drink

4

C

water (1 litre)

Other optional ingredients: Chinese licorice (gan cao), Chinese dried tangerine peel (chen pi- can substitute with orange peel, making sure no white pith remains), hibiscus tea, osmanthus tea, roselle tea etc 

Always check with your doctor before using Traditional Chinese Medicine ingredients, if you're not sure whether you can take them or pregnant. Orange peel can make the drink bitter if not used correctly, so add towards the end of boiling.
To make the jelly
Gelling agent: either konnyaku powder or agar agar powder

For the konnyaku powder, agar agar flakes and agar agar strips, check the packaging to see how much should be used for 1 litre of liquid (For agar agar powder, it would be about 11-13g as the liquid is tart- the acidity of the liquid changes the amount of agar agar required)

1.4

oz

White Granulated sugar, add to the konnyaku or agar agar powder and mix very well (40g)

Substitute: osmanthus sugar (check the notes for a recipe) or rock sugar
Instructions
To make the Asian plum tea
Add the ingredients to the pot, bring to the boil then lower to simmer for 1hour.

After 1 hour of simmering, the ingredients will be soggy but still edible. Strain them out and use them for jam or eat them as they are. Make sure to get all the juice out of them when straining!

Weigh out the remaining liquid - it should be close to 1 litre if you've strained out most of the juice. If it's less than 1 litre, don't add more water as it'll dilute the taste! Simply adjust the amount of gelling agent accordingly.
To make the jelly with konjac powder- Use HOT plum tea
Return the pot (with the sour plum tea) to the fire, and when almost boiling, add the konjac-sugar mixture slowly, whisking continuously as you don't want lumps to form. If they do, the jelly will still be edible but it'll be unpleasantly thick in places

Stir till the bubbles are gone, then switch off the fire, pour the jelly into molds and allow to cool for at least 3h in the fridge.
To make the jelly with agar agar powder- Use COOLED plum tea
Allow the liquid to fully cool before adding the agar agar powder, stirring non-stop to prevent clumping. Check your packet for the recommended quantity of powder to add but it will be about 11-13g for 1 litre as the tea is on the acidic side. (Note: if the clumps are too unsightly, you can always remelt the agar agar!)

Allow to boil for 5 minutes, then pour into the molds and allow to cool for at least 3h in the fridge.
Storage
Once cooled, store in air-tight containers, preferably in the fridge and finish within 5-7 days
Notes
Click here for an easy osmanthus sugar recipe
I highly recommend adding osmanthus flower tea leaves if you can get them, as they round up the flavours very well.
Note: don't use old suanmei tang to make this as the drink goes bad within 2-3 days
Remember to chew carefully when eating konnyaku jelly as it's a choking hazard!