Toyomansi sauce is a classic Filippino dipping sauce (also known as sawsawan), often used for siomai or as a marinade for chicken, fish, pork adobo and even beef, that is deliciously tangy but ever so easy to make. You only need 3-4 main ingredients, and 5 minutes!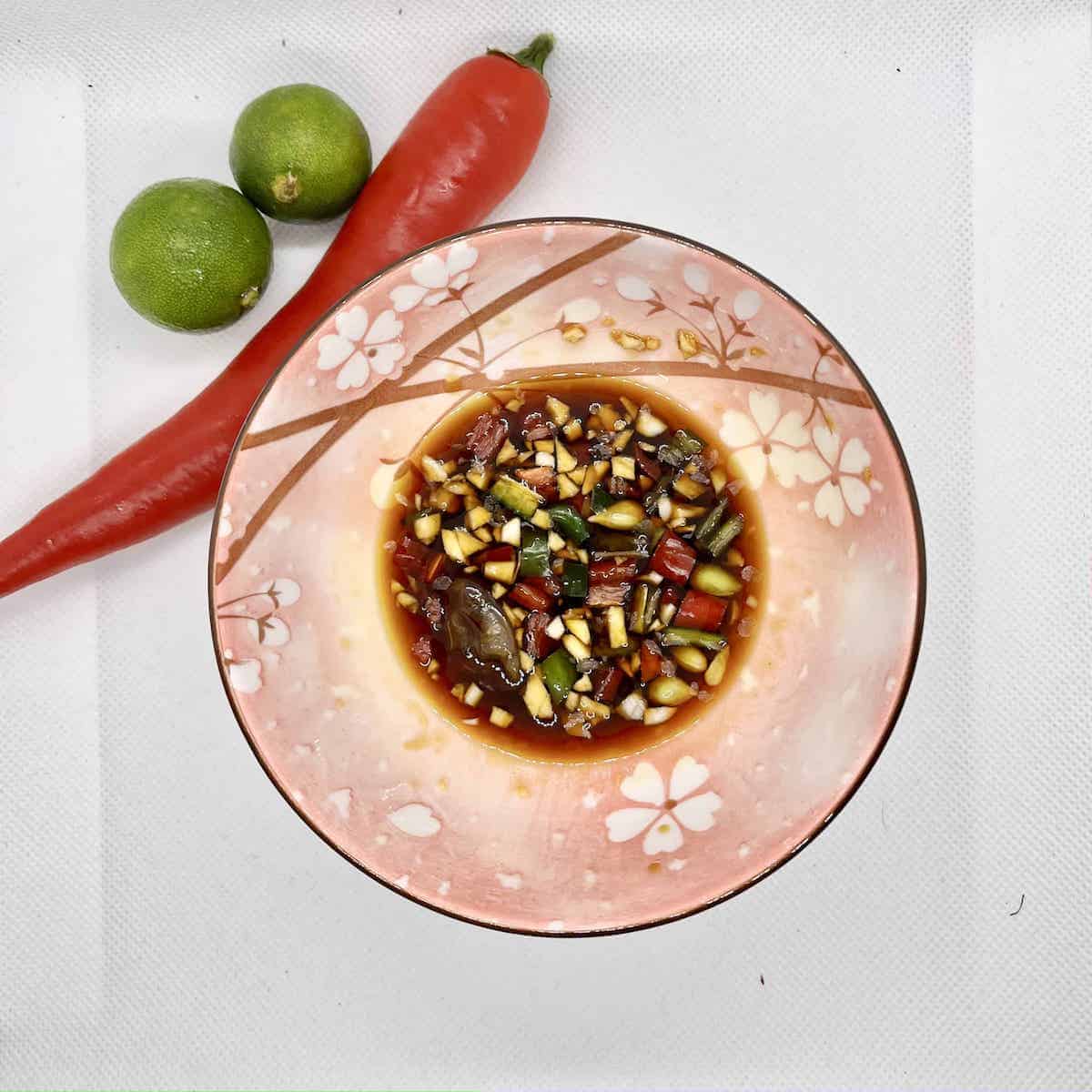 Jump to Recipe
Jump to:

What is toyomansi?
In Tagalog (the Filipino language), toyo means soy sauce, so toyomansi is simply a combination soy sauce with calamansi, a species of lime that is very popular in South East Asian countries like Philippines, Singapore and Malaysia for tis fruity and floral fragrance (toyo + calamansi.)
Uses
Calamansi soy sauce is often eaten:
as a dipping sauce for siomai
as a dipping sauce for fried chicken and fried fish
as a marinade for chicken, pork, beef and fish
with chicken adobo or pork adobo
spooned over white rice
Personally, I love how the tanginess goes with steamed or poached seafood. In fact, last night I used it as seasoning for my coconut water poached prawns.
Ingredients
The main ingredients are:
light soy sauce
calamansi juice

Substitute: lime juice, lemon juice or, worse comes to worse, vinegar
Calamansi is very easy to grow at home - here are some calamansi sweet treat recipes to use up any excess crop you have. For more edible garden, Asian Recipes, click here.
sliced bird's eye chilli

Substitute: other chillies
I like to use a combination of red and green big chillies when I have guests as it makes the sauce look more attractive and the heat level is more tolerable for people who don't eat a lot of spicy food

and aromatics such as sliced shallots and minced garlic
Variations
You can season you calamansi and soy sauce with:
fish sauce

Note: There is a very similar Thai dipping sauce to this type of toyomansi

vinegar
ponzu
Tips
This Filipino soy sauce is so quick and easy to make, people usually make it right at the table, although leaving the aromatics to infuse for a few minutes does give it more flavour.
Save the calamansi seeds and you can grow your own fruit! (It will take a few years from seed- in fact, I have a little seedling in front of me now as I work.)
Related recipes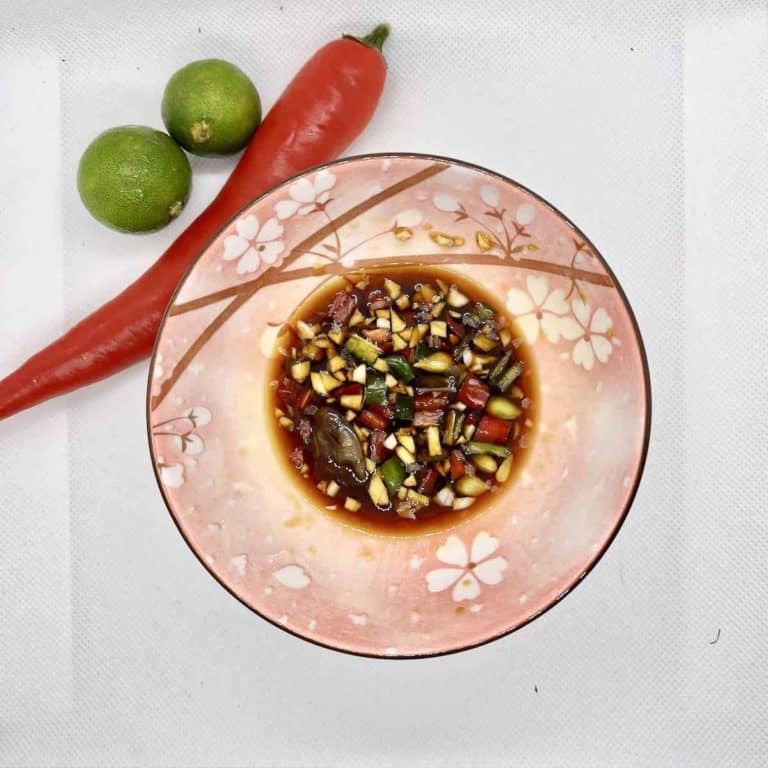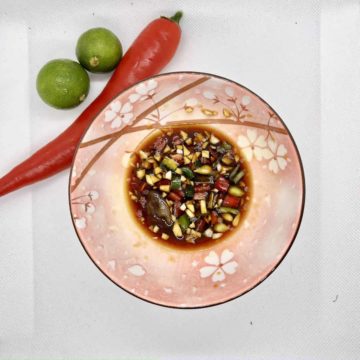 Toyomansi sauce & marinade (Calamansi soy sauce)
A classic and super easy to make Filipinno dipping sauce and marinade, toyomansi is bursting with delicious, tangy flavours. Eat it with steamed seafood or to marinade pork and chicken for your next BBQ!
Equipment
Knife and chopping board

Strainer, optional
Ingredients
4

T

Light soy sauce

4

T

calamansi lime juice, seeds strained out

I usually eyeball it and use 6 small calamansi for 4T of soy sauce. Substitute: key lime, Meyer lime, or other limes if you can't these 2, lemon and, as a last resort, white wine or rice vinegar

2-3

cloves

garlic, peeled and minced

⅛

big red chilli, sliced

Substitute: Bird's eye chilli is traditional but it's spicier so I used something milder to accommodate younger children and the elderly. (Personally I prefer the smaller bird's eye chilli/ chilli padi though!)

⅛

big green chilli, sliced

Added for colour, feel free to omit

sliced onions or shallots, optional
Instructions
Mix all the ingredients together.

You can use it straight away or leave to infuse for 10 minutes first.

You can immediately enjoy calamansi soy sauce with your dumplings etc or pour it over your meat/ fish to marinade.
Notes
Note: you can use more garlic and chilli if you want, but I find it makes the sauce too "full" (there is too much solids and too little liquid) which makes it hard to dip food into it!
The quantities for soy sauce and the acid (calamansi) aren't set in stone- feel free to experiment and use more or less depending on how salty and tangy you want your food.
Keep the calamansi seed and grow your own calamansi tree- you can use this fruit in so many South East Asian dishes!