There are few things more exciting for a homebody than designing and building your own home. Over a decade ago, I was lucky enough to have the opportunity to regut and design a kitchen from scratch. The original kitchen was old and looked it- it probably hadn't been renovated in over 20 years. Worst, it was completely dark and had ZERO natural light. This is what it looked like before:
Not really a space that makes you want to cook and hang out in it, is it? I love light and bright homes, so I decided to hack as many walls as I could, aiming to achieve something along the lines of the following:
But this is what I got- not completely what I had in mind- but still an improvement, in my opinion: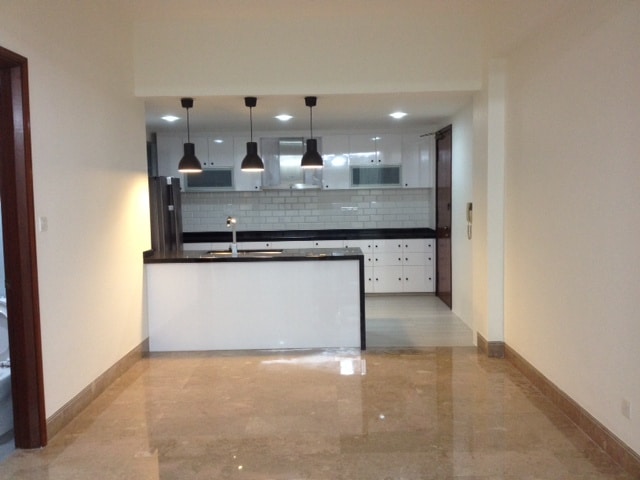 Nonetheless, if I have another chance to re-do things, there are many things I would do differently. These are the 6 main lessons I learnt designing a kitchen from scratch:
1. Visit the renovation works in progress frequently to make sure what is being built is what you asked for
Unfortunately, I was out of the country whilst the renovation was going on, so I wasn't able to supervise the construction and ended up non-too-impressed by the final result. You may think that your directions are super clear, but you'd be surprised how many misunderstandings or shortcuts taken there can be (that results in a result you DON'T want). This can be something as simple as asking for offset/ staggered tiles and getting grid/stacked ones instead. (If you're not familiar with tile patterns, check out this link.)
I'd prepared a powerpoint with photos of the exact kitchen I wanted and walked my contractor through it in person. Since he didn't have further questions and signed off on my design, I thought we were both on the same page but, alas, no. (A warning sign should have been when he repaired the gate to the WRONG house- I'd given him my house number but, for some reason, he decided to repair someone else's gate….!) For example, I'd asked him to hack all the possible walls down (2) to allow more light to enter the kitchen. He did hack the 1st wall completely. Unfortunately, he only hacked 1/2 of the second wall down (I suspect it was to save money as my brief was to replace the hacked wall with glass doors and window) and, by the time I saw the wall, it was too late to re-do things. Not to mention the fact that I'd asked for a clear glass wall with a black metal frame but received a black plastic door with a white plastic frame…
That brings me to my next point.
2. Have the same person who is in charge of the design be responsible for paying the bills
One good question is why did I pay my contractor if his work wasn't up to scratch?
Well, although I was in charge of designing the kitchen, I was doing it on behalf of an elderly relative (who didn't cook and hence had no clue what she wanted in the kitchen). As a result, we had 2 different people responsible for the construction vs the bill-paying. My contractor managed to pass off his shoddy work by going to my relative with a sob story as to why he needed to be paid urgently when I was out of the country (e.g. he installed a cheap plastic door when our contract was for a glass one). By the time I was back in Singapore to check the final work, he'd already received his full payment and wasn't willing to redo anything.
By the way, this post may sound like a long whine, but I'm actually glad I had this experience, as I learnt a lot designing a kitchen from scratch. I just hope that sharing these lessons will help you achieve your dream kitchen without too much drama if you ever do a re-gut and rebuild!
3. Don't think that just because a contractor was referred to you, he'll do a good job
After hearing all my renovation disaster stories, it may seem like I just randomly picked the contractor I used off the Internet. Actually, I asked friends and family for referrals and this contractor was recommended by a relative! In retrospect, I've learnt that just because someone is recommended doesn't mean he can do a good job. (Another classic example is the Doctor who was recommended by a good friend but couldn't diagnose my broken collarbone even though I told him that "Something was sticking out of my shoulder" and "I feel like fainting if I move the arm" – he was more interested in asking me about my horse than actually checking my injury- "No need to X-ray" I was told very decisively. (I broke the bone in a horse-riding accident). Now, normally, you can't get me to shut up about horses, but, seriously, wouldn't the time to talk about horses be AFTER treatment? To cut a long story short, we finally realised the bone was broken when my Aunt insisted on taking me to a specialist after a month had passed because "I was looking more and more deformed" 😛 )
A good way to weed out the good referrals from the bad is to ask exactly what type of work the contractor had done for the referrer, as well as to see photographs of the final product. For example, I later found out that this contractor had only done a painting job for the relative who recommended him! (One of my friends had given me a contact along with these words "He builds exactly what you ask him to"- at that time, I was baffled. Shouldn't the contract be doing what you tell him to?? An expensive lesson later, I understand why she said what she did. (I had not used her contractor as he was 50% more expensive than the one I chose- however, the final bill I received from the contractor I went with miraculously ended up being exactly the same as the more expensive option thanks to the many "incidental" expenses that cropped up along the way!))
4. Always underestimate the amount of light that you'll be getting.
I knew that the kitchen was dark, but I thought the issue would be solved as I'd hacked away 2 walls. Unfortunately, 1.5 walls later (the contractor didn't hack out the entire area I'd asked him to), the kitchen is still dark! In retrospect, I should have gone for an all-white kitchen (including a white quartz countertop) to make the kitchen look brighter. You always hear people ask for "bright and airy" homes- I've yet to meet someone who likes a dark one!- so erring on the side of brighter never hurts.
5. Think about how you would use the kitchen before designing: you can never have too much storage
To be honest, I designed this kitchen when I didn't cook much. I thought that I didn't want a cramped area so I left a lot of empty space in between the island and countertop- in retrospect, it is too much space, as there is no more than 2 people using the kitchen at any 1 time. It would have been better if I had enlarged the kitchen island instead (you can NEVER have too much storage!)
6. The trade-off between open and closed kitchens
As mentioned above, I needed to hack down the kitchen walls to allow more light into the home (it's built like a terrace where it's long and narrow with very little natural light). Moreover, I love entertaining, so an open kitchen and island makes sense. However, 1 thing I had not expected was how noisy an open kitchen is- if the acoustics of your house aren't the best, you'll be able to hear the cling and clang of plates being washed throughout the entire home!
A better design, in my opinion, would be to still hack down the wall- light is essential- but to add a sliding glass partition. This allows you all the benefits of an open kitchen, but gives you the option of closing it when you're doing something noisy (such as pounding your homemade 5 spice powder or blending your pandan juice!)
If any of you have regutted and renovated your kitchens, I'd love to hear about what you learnt designing a kitchen from scratch!