An easy Homemade Cake Flour recipe requiring only 2 ingredients for when you run out!
Unless you're a professional bakery- or just super organised- you've probably run out of one ingredient or another right before you wanted to bake something. (Annoying, isn't it?)
Luckily, you can easily make your own substitute for many common baking ingredients, such as homemade brown sugar (light and dark), self-raising flour substitute, cake flour substitute, buttermilk substitute etc, using common pantry items.
For example, this 2-ingredient homemade cake flour substitute only requires:
Why Use Cake Flour?
Cake flour is a finely milled, low protein flour (7-9% compared to the 10-12% protein content of all-purpose flour).
Because of its low protein content, cake flour forms less gluten when mixed, resulting in a fluffier and featherlight bake. It's great when you want a tender bake such as (American) biscuits and most cakes.
However- despite its name- cake flour isn't ideal for some cakes such as chocolate cake (the cocoa powder in chocolate cake mixed with cake flour may result in too weak a cake as cocoa powder is very fine and very dry.)
In addition, making bread with cake flour is challenging as it may not be able to develop enough gluten for a good bread. (Instead, bread flour is usually used, as it is a high protein flour- the protein is necessary to develop the gluten in bread, which gives bread its characteristic texture.)
Instructions
To make a cake flour substitute, combine all-purpose flour with cornstarch- the cornstarch helps inhibit the formation of gluten, thus mimicking shop bought cake flour.
After that, sieve the mixture 5 times to make sure everything is well-mixed and aerated.
The key to making a good cake flour substitute is patience- you need to sift everything together thoroughly to make sure it's well-aerated and light.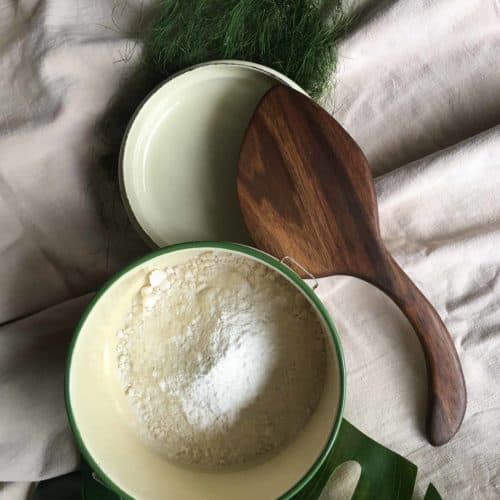 How to make 1 kg of cake flour substitute
Ingredients
850

g

sifted all purpose flour

150

g

corn flour
Instructions
To make 1 kg of cake flour, add 850g of sifted all purpose flour to 150g of cornstarch, mix well with a whisk.

Sift 5 times to ensure everything is mixed well and well-aerated. (With cake flour, the key word is light!)
Have you tried baking with Homemade Cake Flour Substitute before?