Hi! My name is Zhen!
I started this blog because I love creating community and bringing people together.
So when I moved to the UK, I started having friends over for dinner all the time- despite not having been able to cook before that! (I'm originally from a small country, Singapore, most famous for being the setting of the movie "Crazy Rich Asians" and for being a food lover's paradise! The food was so cheap and good, I couldn't even boil water till I first moved to the UK!!!)
Like many Asians, food is my love language and so, to avoid poisoning my friends, I started taking cooking courses at Le Cordon Bleu, volunteering at a 3 Michelin star chef's food charity (Massimo Bottura/ Refettorio Felix) and doing lots more fun food-related stuff!
I even organised a supper club for friends and strangers to raise funds for UNICEF (#cookforsyria)!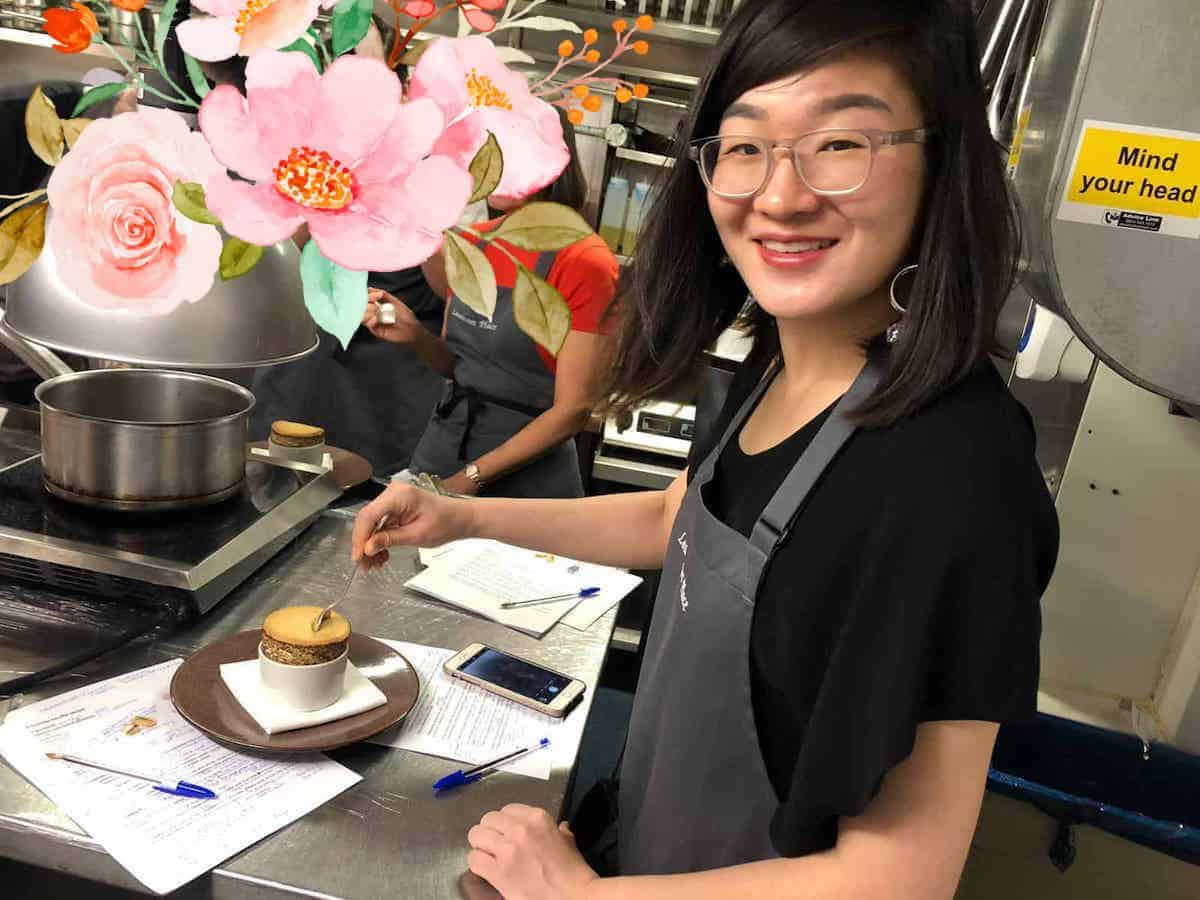 If you're wondering why you should be using a recipe from someone who couldn't boil water till she was 18, that's because "Expertise breeds ignorance." Sage words from my horse-riding instructor.
Because I still remember what it's like to fumble around the kitchen for the 1st time, my recipes are very detailed and written for people not familiar with Asian recipes! (Step-by-step photos and instructions are coming soon to every recipe.)
Life in UK
I spent 11 years in the UK, from my Undergraduate in a small town in Scotland (St. Andrews) to my MBA at London Business School.
In UK, I had the opportunity to participate in a cooking demo by Samin Nosrat- whose cookbook Salt Fat Acid Heat is one of my absolute favourites- and try her cooking!
Volunteering at Luiz Hara's supper club was incredibly fun and rewarding. I bought 1 of his cookbooks, The Japanese Larder, and it's 1 of my faves. It shows people how to use Japanese ingredients in their everyday cooking which I think is such a fantastic idea!
I have lots of friends who have the same problem with not knowing how to use the rest of their Asian condiments. Hopefully, this blog helps to demystify some Asian ingredients, such as mochiko flour, dried jujubes and black chicken.
I would also love to help reduce the amount of food wasted in home kitchens, which is why I have a section of recipes that feature leftovers. If you are into sustainable living too, check out this cookbook about leftovers by Michelin-starred chef Bottura, Bread is Gold.
Fun Facts
Before I had a food blog, I sold Korean beauty products so lucky me got to travel to Korea 8 times in 3 years. Hence, I have so many Korean recipes on this site, such as maesil-cheong (plum syrup) and an introduction to Korean side dishes (banchan.) I now also have an Asian/ Korean travel blog, which offers advice on travelling comfortably in Asia once you're past your backpacking years, like me.
My Father lived in Thailand for 20 years while I was growing up, so you'll see some Thai recipes here too, such as this Thai Basil Fried Rice, pea eggplant curry and Pad Kee Mao Noodles.
Before and after that, he lived in Philippines, which is why you get toyomansi on my blog!
Both my Father & Grandfather were professional bakers. Hence, although I'm not precise enough to be 1 myself- much prefer cooking!- you will sometimes find baking recipes such as these Chinese Peanut Cookies on Greedygirlgourmet.
In fact, coming from a family of bakers, I had a Diploma from the American Institute of Baking before I had my undergraduate degree!
FAQs
Why the blog name "Greedygirlgourmet"?
I used to study French, and my French teacher called me a "gourmand" which I understood to be "Gourmet." Later, I found out it actually means "greedy"!
What kind of recipes will you find on Greedygirlgourmet?
Authentic Asian and fusion recipes. Both MUST be packed with flavor. (No flavor wimps here!) Along with detailed instructions, step-by-step photos as well as information on the history and chemistry of some recipes. (I will try not to geek out too much!) In addition, I am aiming to share 2 versions of each classic Asian recipe: 1 traditional 1 a quick and easy hack!
Favourite Recipes
Keep in touch
If you're interested in working together, or just a reader who would like to get in touch, feel free to drop me an email at greedygirlgourmet (at) gmail (dot) com
You can also sign up for my newsletter here (whilst I work on figuring out how to insert an embedded email sign-up box on this page!)
Or just leave a comment! 🙂
I can also be found on Instagram, Pinterest and Twitter.
Editorial policy
If you would like to link to any of my recipes, you are welcome to use 1 image from my website, along with a do-follow link back to www.greedygirlgourmet.com
Please do not copy any of my recipes for use on any other sites!
Disclaimer
These are all recipes that I make at home- every single recipe has been tried and cooked multiple times.
However, do note that I am not responsible for the results of any recipes that you try from this blog, which you try at your own risk. By voluntarily trying any of the recipes provided on www.greedygirlgourmet.com, you assume the risk of any potential injury.
I am not a trained nutritionist/ dietician/ chef etc and am not offering any professional advice- please do use your own judgment especially when it comes to raw ingredients and the health benefits.
Any nutrition information provided is obtained through a plug-in and for information purposes only - it cannot be taken as a USDA label.
Use of the website
Unless otherwise stated, I own the intellectual property and rights to all the recipes and photos (except for round-up posts) on www.greedygirlgourmet.com.
Please do not reproduce or duplicate any of the information for commercial purposes without my permission.