lychee + champagne + konnyaku jelly = champagne lychee jellies! use vegan champagne (or sparkling wine) to make this decadent, delicious, vegan, asian dessert. Perfect for a party!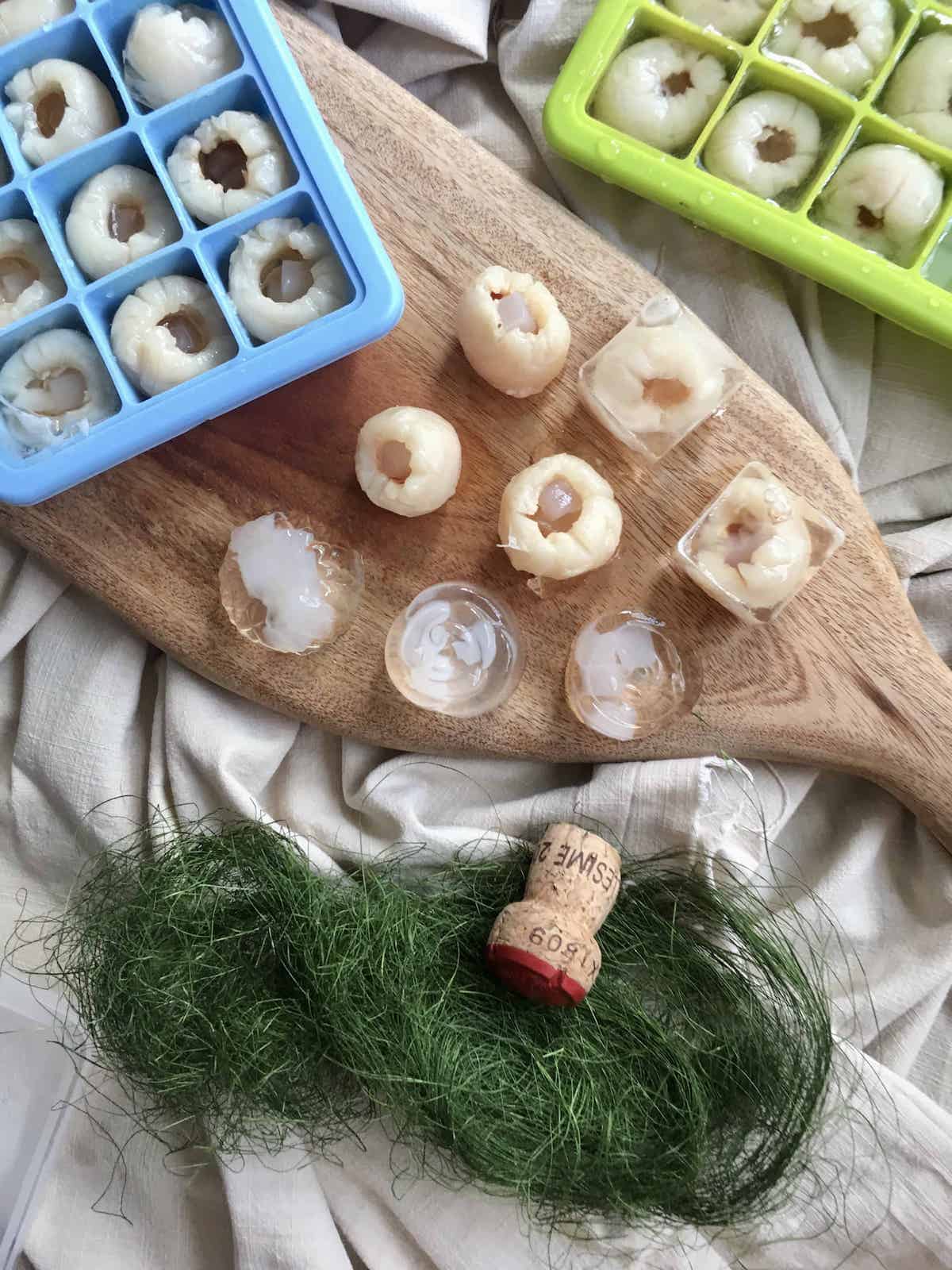 Jump to Recipe
Jump to:
A dear friend from London sent me a bottle of Pierre Gimonnet champagne for Christmas so I decided to be decadent and made some lychee jellies. Lychees and champagne are a perfect marriage, in my opinion- yum! Sort of reminds me of a lychee martini, except that we're using champagne instead of vodka so, lychee bellini jelly, anybody? (For a lychee bellini cocktail recipe, visit Serious Eats, one of my favourite food websites!)
Note: if lychee jelly isn't quite your thing today, check out this fun koi fish shaped jelly which is very pretty but easy to make. If you're looking for traditional Chinese lychee almond jelly, you're in the wrong place, but check back again in the next 1-2 weeks as I will be sharing a recipe for that soon.
Why make this
Lychee jellies are delicious and fun- no one I've made this for has not exclaimed in delight when they hear "champagne lychee jellies"
It's a very simple dessert that you can make perfectly the first time, but sounds impressive
No fancy equipment such as a food processor needed - you only require a small pot!
Easy way to use up leftover champagne!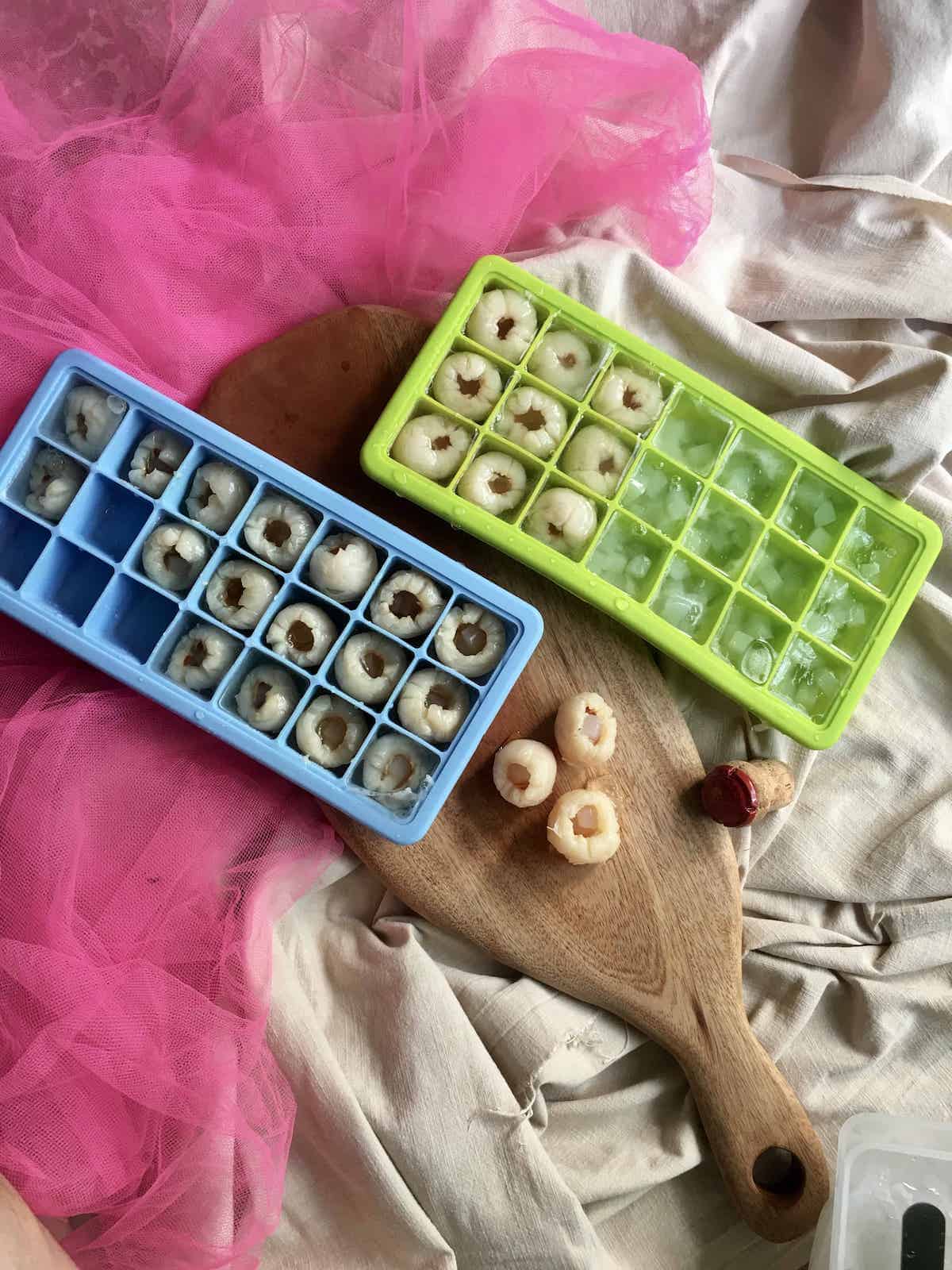 Ingredients
The main ingredients of this lychee dessert are pretty much pantry staples:
lychees

if you can't get the fresh fruit, use a can of lychee as I did in the photo above

champagne

substitute: sparkling wine

a gelling agent

agar-agar powder (made from red algae) and konjac powder are both vegan. (Alternatively, if you are not vegan, you can use unflavoured gelatin sheets, but I don't like its wobbly texture as much. Non-vegans who want a jiggly sweet dessert should use gelatine as agar agar and konjac jellies are on the firm side and have a chewy texture, which we call "qq" in Asia.)

white granulated sugar (optional)

Whether or not to add sugar would depend on whether your gelling agent comes sweetened. A good alternative is chinese rock sugar, which tastes more mellow than regular sugar, and goes very well with this fruity snack. However, do make sure the sugar is bone char free, or this lychee dessert won't be vegan.
Note: do not use brown sugar!

Optional: nata de coco or other fruits
Optional: pink colouring.

I think "pink" when it comes to champagne but you may want to make this dessert in a whole range of colours- if so, separate the lychee jelly into equal portions and mix a different colour into each small saucepan or small pot. (e.g. add yellow colouring to 1 pot, pink to another etc)

Optional: other tropical fruits e.g. shredded dragon fruit etc
Click here for a traditional Japanese jelly fruit salad recipe and a suanmei jelly recipe.
What gelling agent?
There are several gelling agents- gelatine (not vegan), agar agar and konnyaku jelly. I like the texture of konnyaku jelly best so that's what I used for my lychee jellies: the firm texture of the konnayku provides a nice contrast to the soft lychee fruit. If you are not familiar with konnayku , I have a short FAQ section in my yuzu marmalade konnayku jelly post and 1 on agar agar here.
For non-vegans who want a jiggly chinese dessert, use gelatin powder (or sheets) instead. In addition, do note that konnayku jelly is not suitable for young chiildren (and maybe old people) as there have been reports of kids choking (link to article in the yuzu konnyaku jelly post).
How much champagne
To taste the champagne, use a minimum 20% champagne to 80% water when making the lychee jellies- if being decadent, you can go all the way and use 100% champagne. I usually make it with a 50% champagne- 50% water ratio. (If you have pink champagne, even better!)
Note that you can substitute champagne with sparkling wine, which is usually a little cheaper- they're the same thing, just that champagne is sparkling wine from Champagne, France i.e. "designer" sparkling wine so to speak.
Is it vegan?
Lychee jellies made using gelatin isn't vegan but either konnyaku, which is from the konjac plant, or agar agar powder (from seaweed) is a natural vegan substitute. However, not all champagne/ sparkling wine and sugar are vegan, so make sure yours are to make naturally vegan fruit jellies!
Note: Here's a link for more information about the seaweed agar agar- the main difference between agar and konjac is in the texture of the final jellies.
Health
On the plus side, this lychee dessert contains lychee fruit and konnyaku (fibre). (There are actually noodles made out of konnyaku that Japanese people eat when they want to lose weight, because it's high in fibre and almost 0 calories.) On the minus, they have alcohol and sugar in them, which some experts have said to be more addictive than cocaine and not great for one's health. Nonetheless, homemade lychee jellies are usually healthier than shop-bought ones, as you can control the chemicals and what-not that go into them.
At the end of the day, don't forget to consume in moderation to ensure your sugar intake is in-line with the recommended daily values!
Lychee syrup
If you can get fresh lychee fruits, please use those in this simple recipe! However, since fresh lychees are not available year round, I used canned ones to make these lychee konnyaku jellies, which brings us to the question- should the lychee brine (from the can) be used to make lychee jellies?
I'm a little on the fence regarding this so I use the brine sometimes and, other times, not. On one hand, it feels unhealthy as you don't know what preservatives have been added to the lychee syrup. On the other hand, the canned lychees have been sitting in the can for ages, and we're eating them, so it shouldn't be much worse! (Not to mention, the canned lychee syrup smells really good.) Whatever you decide, remember:
If you can, it's always best to use fresh lychee juice instead of the canned lychee syrup
If using the canned syrup, you may still need to add sugar (if your gelling agent has not been pre-mixed with sugar)- mine needed the extra oomph (Hosen brand canned lychees). This would vary from brand to brand, so taste before adding any sugar. However, do use less sugar than you normally would to make jellies as the syrup is already sweet on its own.
There isn't that much brine in 1 can of lychees, so you will either need to dilute with water, make fewer jellies or open more cans! (Obviously the higher the proportion of lychee syrup to water used to make jellies, the more lychee fragrance these bite-sized desserts will have.)
If you don't want to use the lychee brine, you can make your own lychee syrup by boiling the lychees with sugar and water.
Alternatively, you can just use plain water to make these lychee jellies but they won't be as fragrant.
How to serve
As you can see from the photo above, I made the lychee jellies in a variety of shapes:
1: jelly in lychee shell - the amount of champagne jelly in each lychee is quite insignificant, to be honest, but it does look good. If I was having a dinner party, I'd make a couple of these just for the visual effect!
Place the lychee in the ice mold to help hold them stable whilst you pour the jelly mix in. Make sure the lychee opening is facing upwards (and not slanted) to make pouring the lychee jelly in easier. As the lychee cavity is tiny, use a ½t measuring spoon to scoop the jelly in- if you have a syringe, so much the better!
2: champagne jellies with a whole lychee in an ice mold (try to use molds that are at least 1.5x the size of the lychee- the ones in my photo were deemed too small and thus had "too little jelly to lychee" according to my testers.
3: lychee jellies with nata de coco in fancy flower-shaped molds (you can use any shape you want to make jellies- it doesn't have to be flower- shaped. I added the nata de coco for textural contrast but you can also use half lychee fruits and half other tropical fruits such as rambutans, lime, ginger etc.
4: Alternatively, you can copy lychee bubble tea- make these lychee jellies extra small, then pop them in your champagne and you get champagne bubble "tea". If on a budget, you can pour prosecco over the lychee jellies instead. Either way, just be careful not to choke- if you're gonna use them in your drinks, you may want to switch to agar agar instead of using konjac jelly as the gelling agent. (Konnyaku/ konjac jellies have been banned in some countries, such as Australia, as kids have choked to death on them so do be careful!)
5: You can also serve this lychee dessert in a small bowl or champagne flute if going fancy.
Tips
- if setting the lychee mixture in molds, try to use silicone molds as their flexibility makes it so much easier to pop the jellies out!
- if serving at a very fancy party, pour a bit of liquid lychee into individual glasses (heat-proof) to set, add cut up tropical fruits or nata de coco and maybe brush with some gold leaf
- If using agar and you've poured in some excess water, don't panic. The lychee jelly should still set but it'll be a bit less firm. If you find that it really cannot set, simply heat up the mixture again, add a bit more agar agar powder and repeat the lychee jelly making steps in the recipe card.
- A flavour pairing I think would be amazing but haven't had time to explore for thi dessert is rose and lychee.
Other dessert food recipes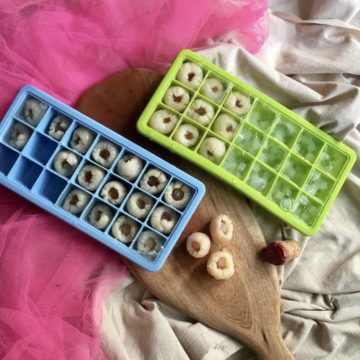 Champagne lychee jellies recipe (Naturally vegan)
Lychee bellini jellies are a delicious and easy recipe to use up leftover champagne and are the perfect crowd pleaser at parties!
Equipment
Weighing machine/ Measuring cups

Pot

Heat-resistant whisk

Silicone molds
Ingredients
Making jelly with 1 litre of liquid (water/ champagne/ lychee syrup)
1

Can

Lychees

My 565g can of lychees yielded 230g of lychees once drained. If you can get them, use fresh lychees instead- the weight should be of the peeled fruits.

Nata de coco, or other tropical fruits, to taste

eg rambutan, dragon fruit...

1

Packet

Konnyaku Jelly Powder

amount as per back of the packet; can be substituted with agar agar or gelatine. If the amount of water required for your jelly packet is not 1 litre, please adjust the rest of the ingredients accordingly. For eg, if your packet only requires 500ml, please halve the amount of lychees etc used

0.22

lb

granulated white sugar (100g)

Only add if your konnyaku jelly packet does not include sugar- you may need to add more/less depending on how much lychee syrup you use (and also depending on how sweet your champagne is). Rock sugar is a good substitute but brown sugar is not. If vegan, make sure the sugar is bone char free

1

litre

liquid

You can use water, lychee syrup, champagne, sparkling or a mix of these liquids to make up 1 litre. Don't use less than 20% champagne (calculated as a percentage of the total liquid ie 200 ml of champagne is the minimum for 1 litre of water), if not you won't be able to taste it! Vegans note that not all brands of champagne are free of animal-products
Instructions
Open the can of lychees and separate the lychees from the liquid. Do not throw away the liquid in the can, unless you do not want to use the lychee brine.

Place the lychees in the molds- I would suggest not more than 1 lychee in each mold. You may want to cut up the lychee if your mold is very small. (Alternatively you can use the lychee as the vessel for the jelly and set the jelly in the lychee (as shown in the photo)- tips on how to do this is in the text above this recipe.)

If using nata de coco or any other fruits (suggestions in the text above), place an appropriate amount in each mold.

Mix the sugar and konnyaku powder together well - this is to reduce clumping when the konnyaku powder is poured into the liquid.

Add the liquids (but not the champagne) to the pot- i.e. water and/ or lychee syrup. The amount of water and/or lychee syrup added would depend on the champagne concentration you want. For example, if you want the jellies to be 50% champagne, add 500 ml of water and/or lychee syrup to the pot.

Heat the liquid in the pot and when almost boiling (you will see small bubbles forming at the bottom of the pot), very slowly add the konnyaku powder- sugar mixture. Keep stirring continuously whilst adding slowly, if not the powder will form unattractive white clumps in your jelly.

Bring the mixture to a boil then reduce to a simmer, stirring continuously for 3 minutes (or till the bubbles disappear).

Switch off the fire then add the champagne to the jelly mix and stir well.

Pour into molds and allow to cool in the fridge for at least 3 hours.

Remove the jellies from the mold just before serving, if not you will sometimes see the liquid leach out of the jellies.
Notes
If your konnyaku jellies ooze out water after solidifying, either the konnyaku powder was not dissolved properly or you've added too much sugar to the jellies.
As these contain alcohol, I'm guessing you won't be giving them to children but just a note to remind you to be very careful when it comes to giving konnyaku/ konjac jellies to kids (or the elderly), as there have been several instances of kids choking to death on them!
Hope you liked these lychee jellies!
For other jelly recipes, try this osmanthus and wolfberries konnyaku jelly, this yuzu marmalade konnyaku jelly, this no-sugar coconut agar agar or this coconut water and nata de coco konnyaku jelly recipe.