Did you know that although aloe juice has health benefits, not every aloe plant is edible? Here are some tips on how to cook aloe vera.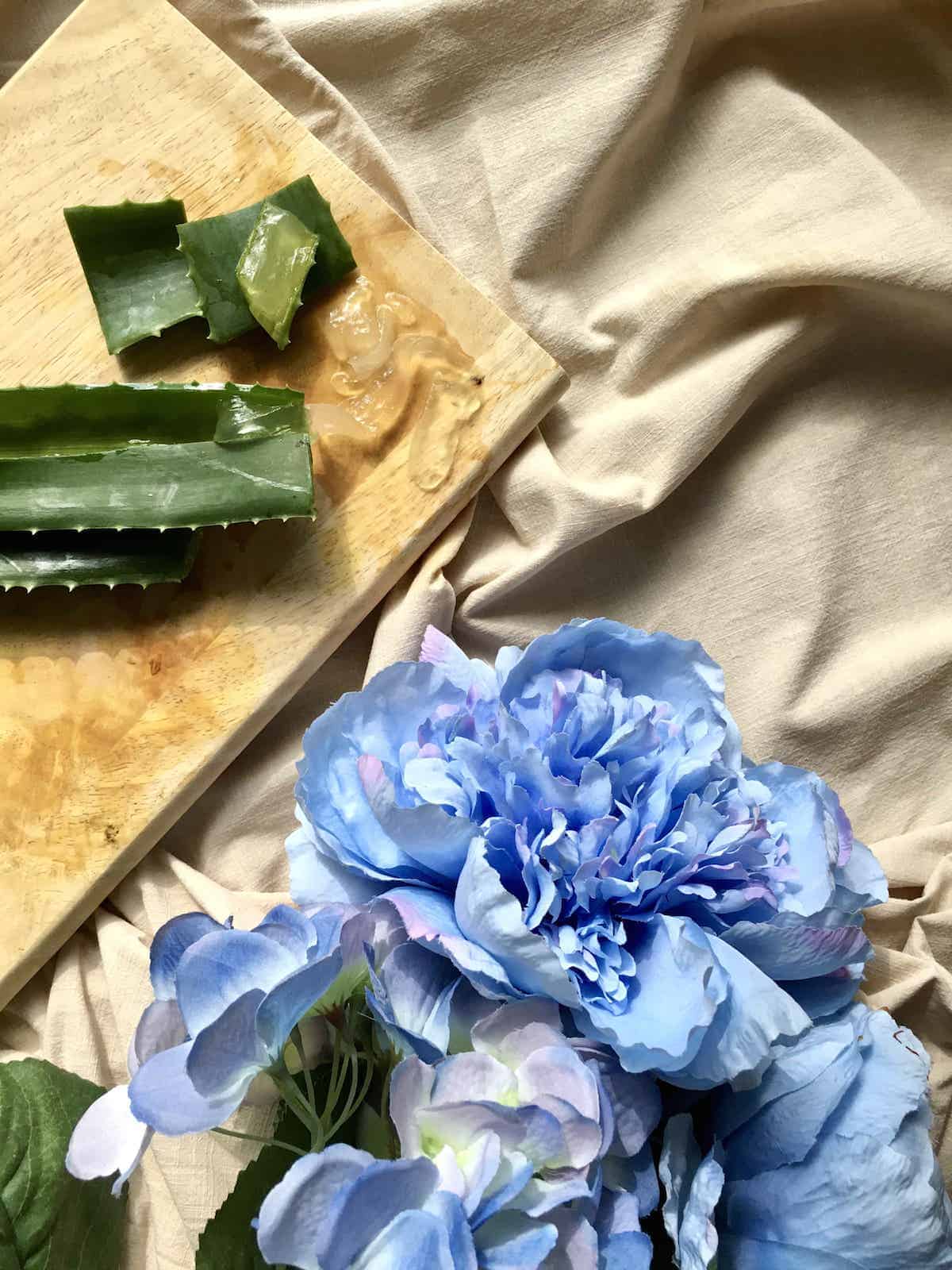 Jump to:
There are few things as satisfying as cooking with produce that you've grown yourself (click here for edible Asian garden recipes), especially if you live in a light-deprived apartment which most plants don't like. Thankfully, there are a few plants which have bucked the trend: chillies, kaffir lime, lemongrass, pandan, a curry plant, spring onions and an aloe vera plant. (My flat is so dark I've given serious thought to growing mushrooms at home.)
Last week, however, it was extraordinarily sunny, and my plants condescended to sprout new leaves so I made a delicious salted egg popcorn with curry leaves, lemongrass chicken soup and then a pea eggplant curry.
If, like me, you are keen on growing your own herbs and vegetables, here is a link to edible garden classes in Singapore(as well as 10 other foodie activities.)
What is aloe vera?
A succulent plant that originated in the Persian Gulf, aloe vera (Aloe vera, Aloe africana, Aloe arborescens, Aloe barbadensis) thrives in hot climates. It resembles a cactus and is grown as an ornamental plant, but also as a traditional medicinal plant used in skincare and food, typically desserts and drinks. (I have heard that aloe vera is added to curries in India- if you can confirm this, please do leave a comment! 🙂 )
In Singapore, we often add it to drinks and jellies, such as this sea coconut jelly.
Is it good for you?
Growing up in Singapore in the 80s, we ate aloe vera straight off the plant and were also taught to rub sunburns, skin rashes and mild burns with pure aloe vera gel (the inside bit of the aloe vera). Topical use of aloe vera is believed to help acne- a clinical trial suggests that applying an aloe-based gel two times a day (along with medical soap and tretinoin gel) may help acne.
However, some people suffer from an allergic reaction and side effects such as burning, eczema or itching. Other scientific research also supports the belief that therapeutic use of aloe vera supports the immune system (National Library of Medicine) and that it helps with acid reflux (GERD).
Do note that not every species of aloe vera is edible so please check before you start using aloe vera for cooking! Moreover, some parts of the aloe plant are laxatives- read "Harvesting" below for more details.
Note: this is for information only and not meant as nutrition, health or medical advice. Please consult a medical professional, especially if on medication, pregnant or breastfeeding as it may be unsafe for pregnant women or people taking certain types of medicines for heart problems to consume aloe, according to the National Institute of Health.
Where to buy
You can get the plant at most nurseries- make sure it's an edible variety! If not, you can get fresh aloe vera leaves at Asian grocery stores. Aloe gel and aloe drinks are often seen at the health food store too.
How to harvest
We've all seen the cute pictures of aloe vera cocktails on Pinterest, in which an aloe leaf is inserted into a glass of margarita. This makes for a very pretty picture but do NOT follow what you see! Part of the aloe vera plant has laxative effects and, in sufficient quantities, poisonous so care should be taken when eating aloe vera. Always make sure the thin layer in between the inner gel and outer skin- the toxic bit- is completely removed. It can be yellow or brown in colour, although sometimes it's so thin you can't quite see it.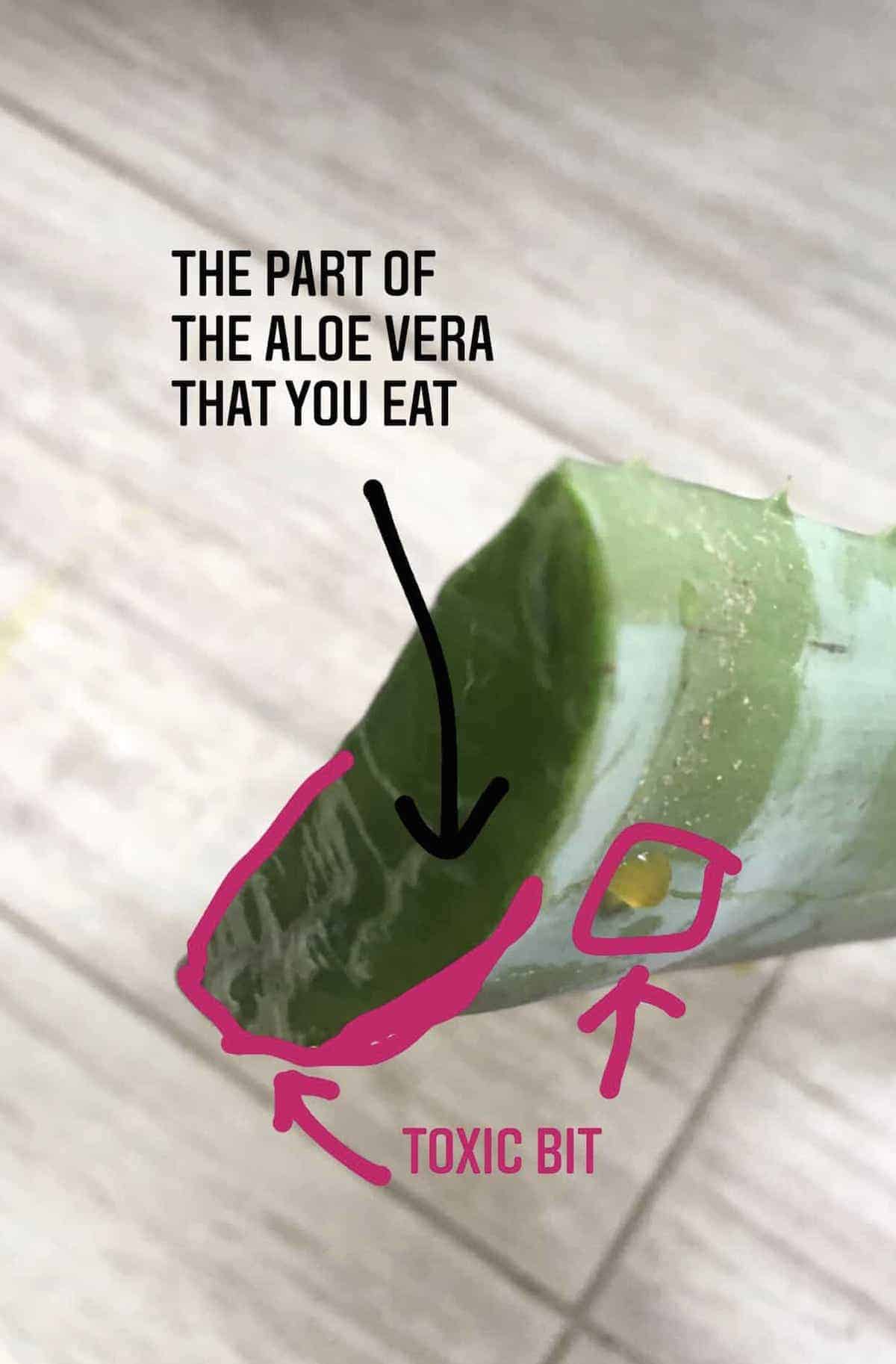 How to prepare
To add aloe vera to your food, wash the large aloe vera leaf under cold water. Then use either a sharp knife or a vegetable peeler to remove the thick dark green outer skin- I suggest you start by cutting off the spiky left and right ends to make handling easier (or you may pierce your skin)- making sure that the toxic yellow or brown layer is removed as well. You will be left with a clear and rather slimy inner gel, which you can then cut up into thin slices or cubes of aloe to use in the kitchen. .
How to cook
In Singapore and Malaysia, aloe vera is commonly used in desserts and drinks. In fact, my favourite dessert at Jiang Nan Chun, a Cantonese restaurant in Four Seasons Singapore, is their aloe vera with lemongrass jelly - the menu has changed substantially in the 22 years I've been going there, but this has been a staple on the menu throughout (since before they got their Michelin star), so you can tell how delicious the combination is!
Some ideas on how to cook aloe vera:
Note: Aloe vera can be eaten raw or cooked. It doesn't have much flavour on its own, so is primarily used for its crunchy texture. It also works well as a thickener to bulk up smoothies to fill you up faster, and thus may help with weight loss. You could, for example, add it to this sugar free agar agar jelly, a yuzu konnyaku jelly or to this Korean iced plum tea to provide a contrasting mouthfeel.
FAQ
What does Aloe vera do for you?
It is full of fibre and helps to fill you up more quickly and thus can help weight loss. (I've outlined some easy ways to cook with it in my post.) Moreover, some scientific studies have shown that it helps acid reflux, the immune system and acne (when applied topically.) However, not all types of aloe are edible and even some parts of the edible variety have a laxative effect. Some people also unfortunately suffer from side effects after eating or applying the plant.
Tag me on social media (@greedygirlgourmet) to show me how you've used aloe vera in your kitchen! Before you go, you may also be interested in these Asian dessert and drink recipes: