A quick and easy Asian Salted Egg Yolk Popcorn Snack Recipe which is creamy, buttery and full of umami! Even better, it takes less than 10 minutes to make this addictive, deliciously sweet & salty popcorn.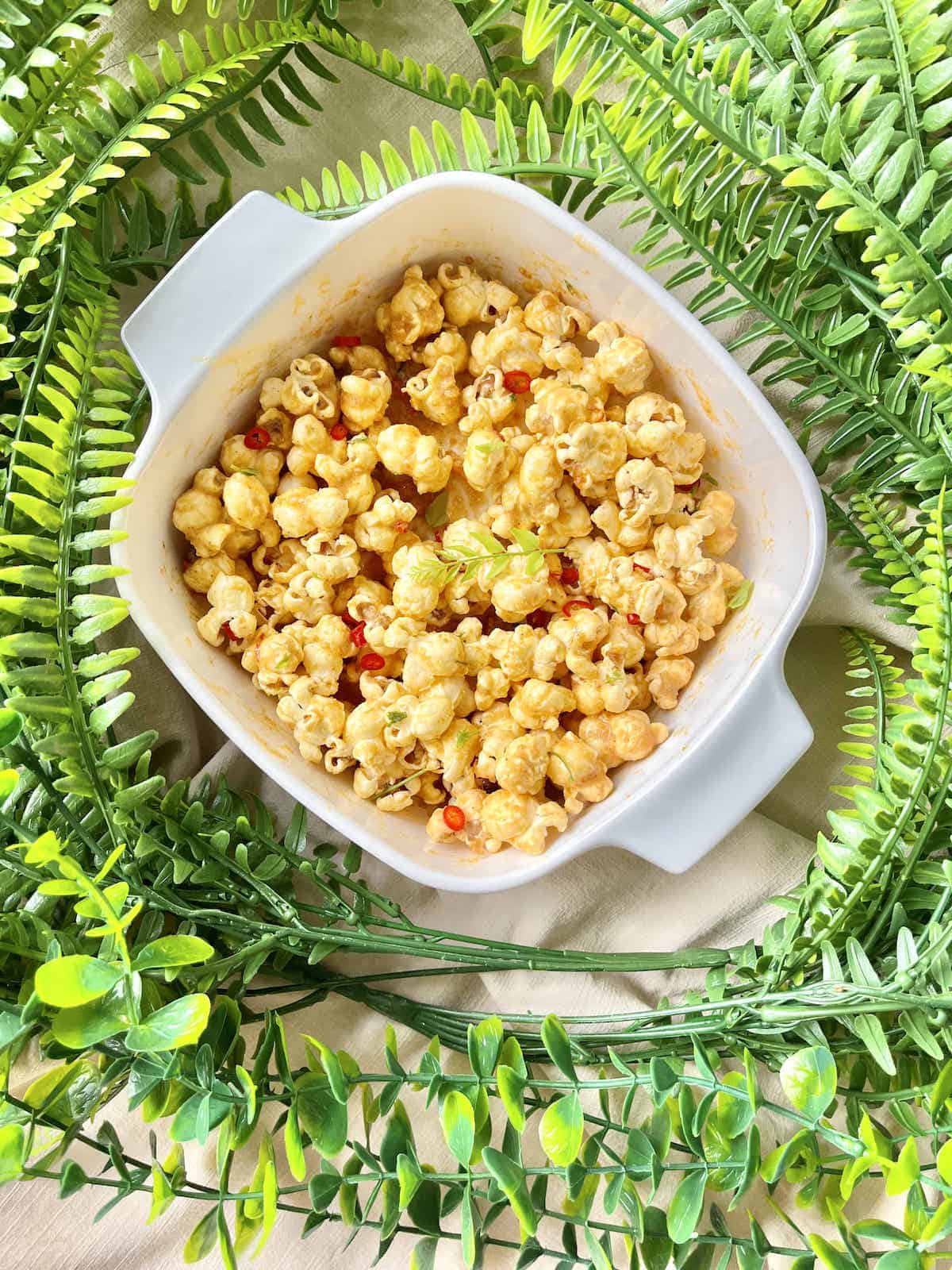 Jump to:
⭐ Why This Recipe is a Winner
Salted egg yolk popcorn is simply scrumptious: full of umami and creamy, buttery flavor, I can't get enough of it! (Much better and healthier than Costco's Salted Egg Yolk cookies, any day!) However, because it's so full of flavor, it is a little like marmite- you either love it, or hate it.
It's quick and easy: using just a handful of simple ingredients, you have a great movie night and Super Bowl snack in under 10 minutes!
You know exactly what goes into it: I used to love salted ducks egg fish skin but after the whole Irvins and the lizard scandal, I've never bought another packet! With homemade salted egg snacks, you know exactly what the ingredients are!
Note: this Asian salted egg popcorn is not crunchy, as there's no caramel in the sauce, but rather a soft popcorn loaded with umami. If you want some crunch, you could try rolling caramel popcorn in the grated (cooked) yolk but note I've not tried it before!
If you're as much a fan of savoury snacks as I am, try these Asian snacks, party foods and canapes or these sweet and savoury Asian nut recipes!
For more Singaporean recipes, click here.
🧂 What are Salted Eggs?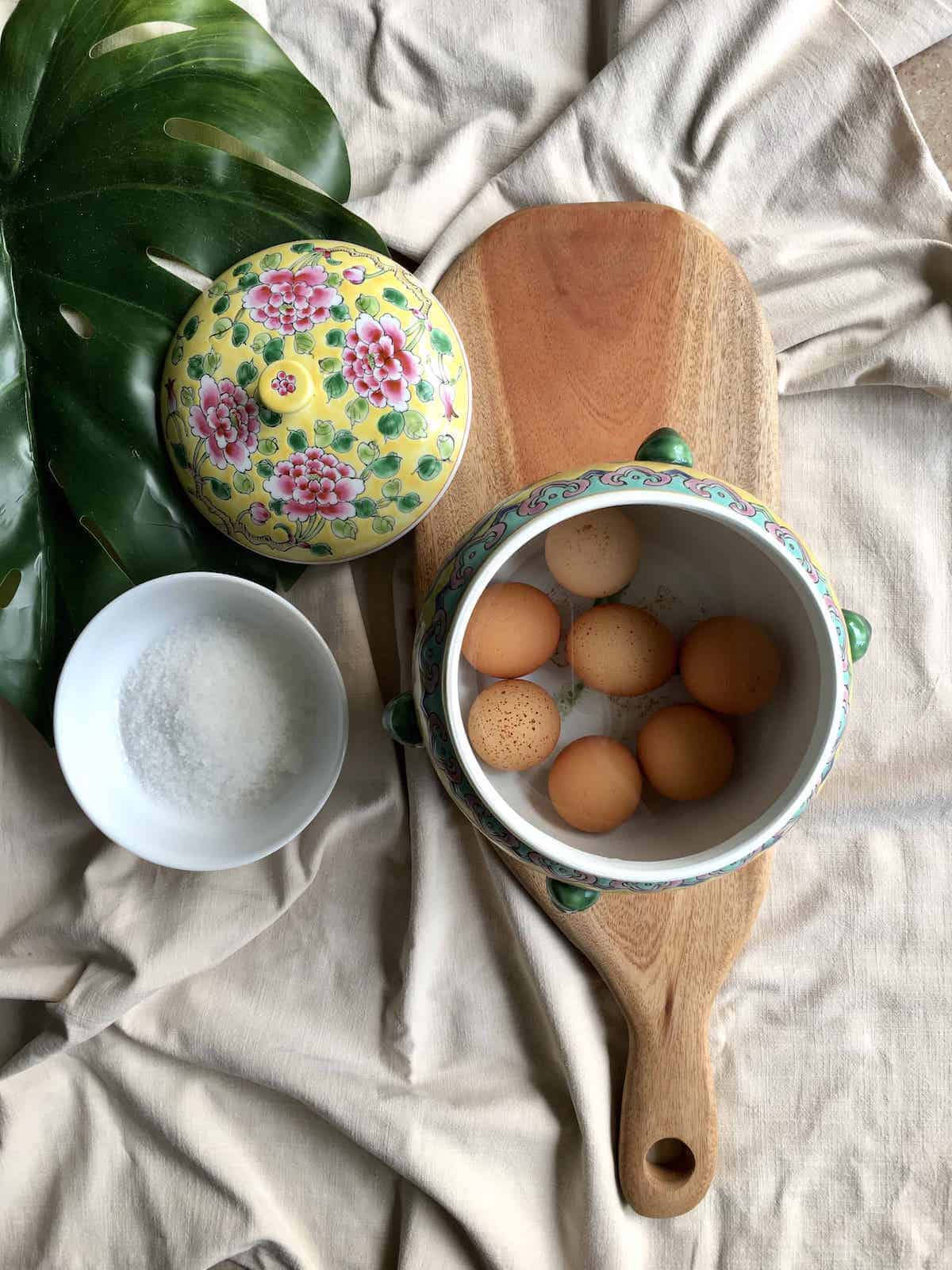 They're basically eggs preserved in salt.
Chinese people have been using this condiment for centuries. They date back to the Qimin Yaoshu in the 5th century!
Traditionally steamed and eaten with rice porridge, in recent years, they have been used to create many delicious modern Chinese and savory fusion dishes from croissants to even ice cream!
Note: For more information on salting eggs, click here.
For more salted egg yolk delicious dishes, try this salted egg cornflakes or this salted chicken egg tofu. Alternatively, learn to make salted ducks egg sauce and you can use it to coat a variety of fried foods!
What do they taste like?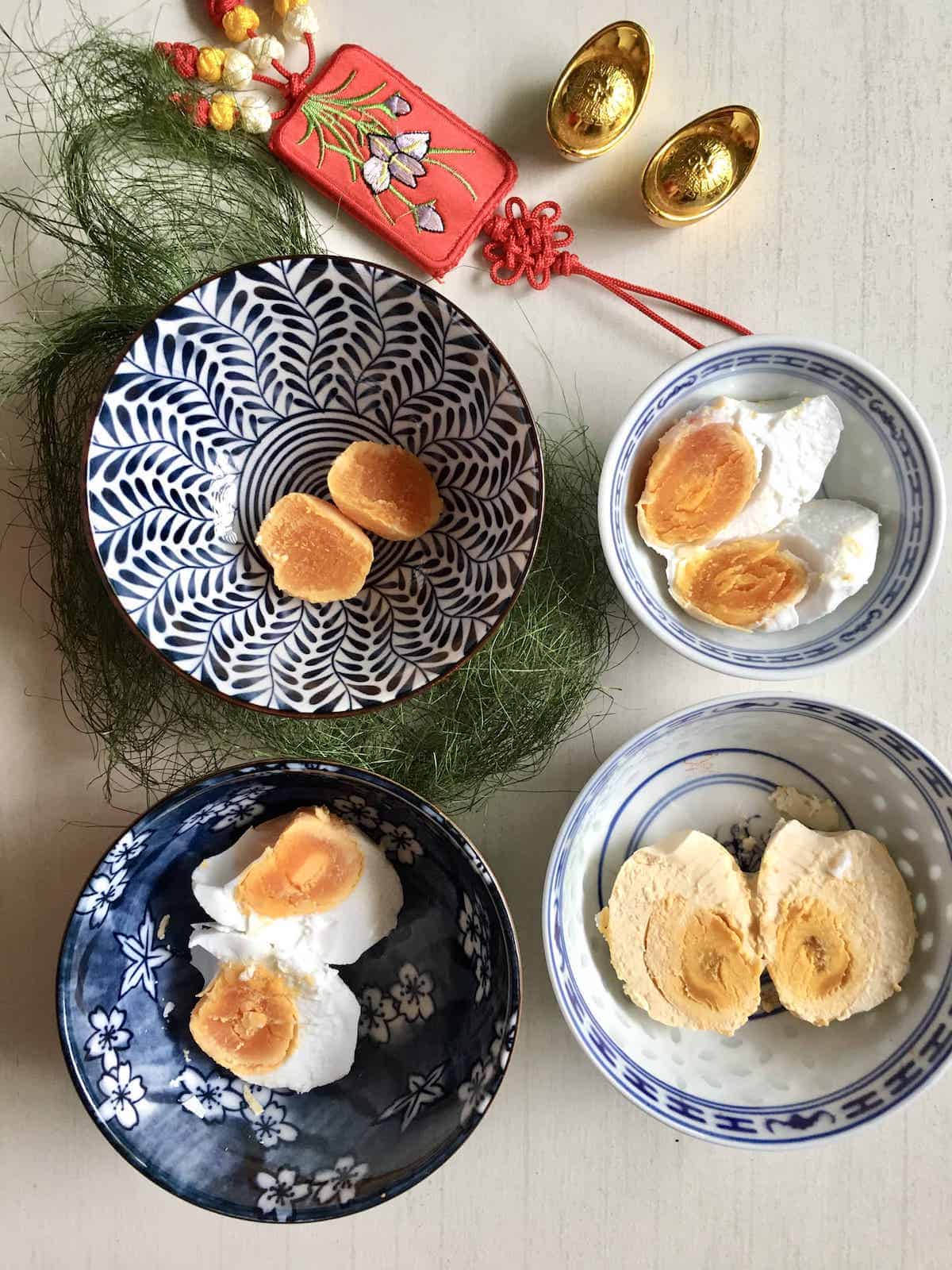 It's hard to describe, but it's quite an intense, in-your-face flavour that's packed with umami and simply scrumptious!
Sort of like an Asian parmesan. Definitely not for people who like mildly flavoured food!
🍿 Ingredients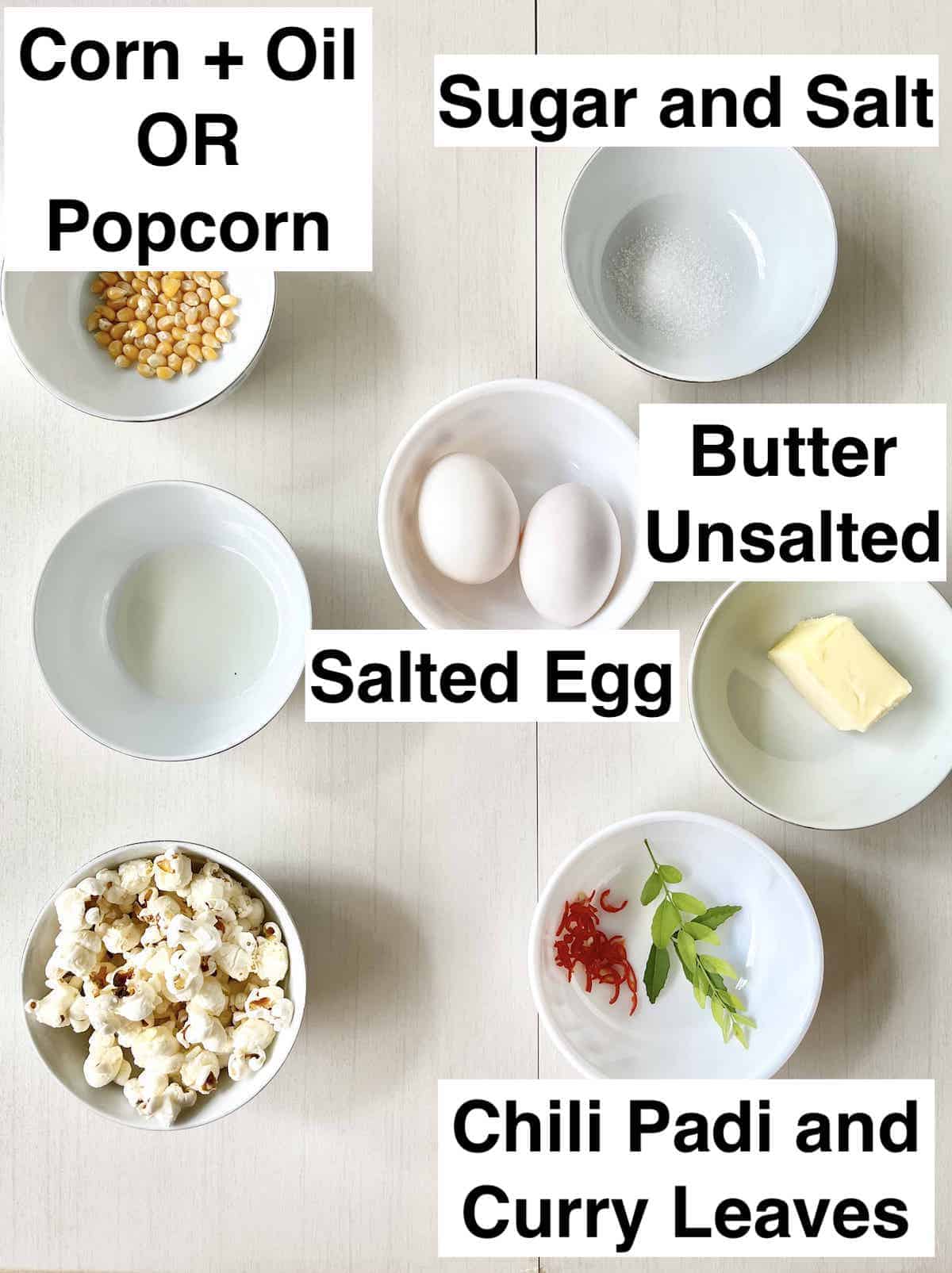 You only need:
salted egg yolks: you can get these at the Asian grocery store but it's really super easy to make your own salted eggs. (You only need 3 ingredients!! If you can't get duck eggs, which are traditional and produce an oilier, more orange yolk, simply substitute with chicken eggs. In Singapore, duck eggs are not sold, so I use chicken. Try to use organic, free range chicken eggs with a deeper coloured yolk - like the ones used to make pasta- as these are more attractive.
popcorn: it's super easy to perfectly pop corn on an induction stove. Click through to my post for tips on how to make popcorn! You only need dry corn kernels and oil.
curry leaves: strictly speaking, curry leaves are optional, like the chili. Even without them, the Salted Egg Yolk Popcorn is super tasty thanks to the umami in the yolk! However, I can guarantee that once you've had salted egg yolk popcorn with the curry leaves as a snack, you won't want to go without! The earthiness and almost bitterness of the curry leaves help to ground the fat of the yolk. (Similar to how a lot of parmesan can be cloying, and needs another ingredient to add complexity.) The herb is readily available in Asian supermarkets, in fresh, frozen or dried forms. You'll only need a sprig or 2 for this snack so here are some easy curry leaf recipes to use up the rest!
butter: use unsalted as the salted ducks eggs vary greatly in their salt levels. Some are super salty (they were brined for too long!) and using a salted butter would be overkill.
sugar and salt: the sugar is not optional! (Unless you're adding condensed milk, which is pretty sweet.) Without the sugar, you don't get the full flavor of the egg yolks! Also, if your eggs weren't brined for long enough, the yolks won't be salty and will need some help from a pinch of salt.
Note: The chili is totally optional- add if you like spicy food, skip if not!
Substitutes
For the salted eggs: You can use pure salted egg powder e.g. Knorr's. (Most other brands contain sugar, milk etc so if you use those, you'll need to recalibrate my recipe a bit.) The substitution is 11.8g of Knorr powder to 1 yolk. It is actually easier to use the powder as you can add it directly to the pan. (In contrast, the yolks need to be steamed then mashed up first.)
For the butter: If you can't get butter, you can also use margarine or oil (obviously not so tasty.) Add a bit of cream or condensed/ evaporated milk to make up for the lack of butter flavor!
📋 Step-by-step Instructions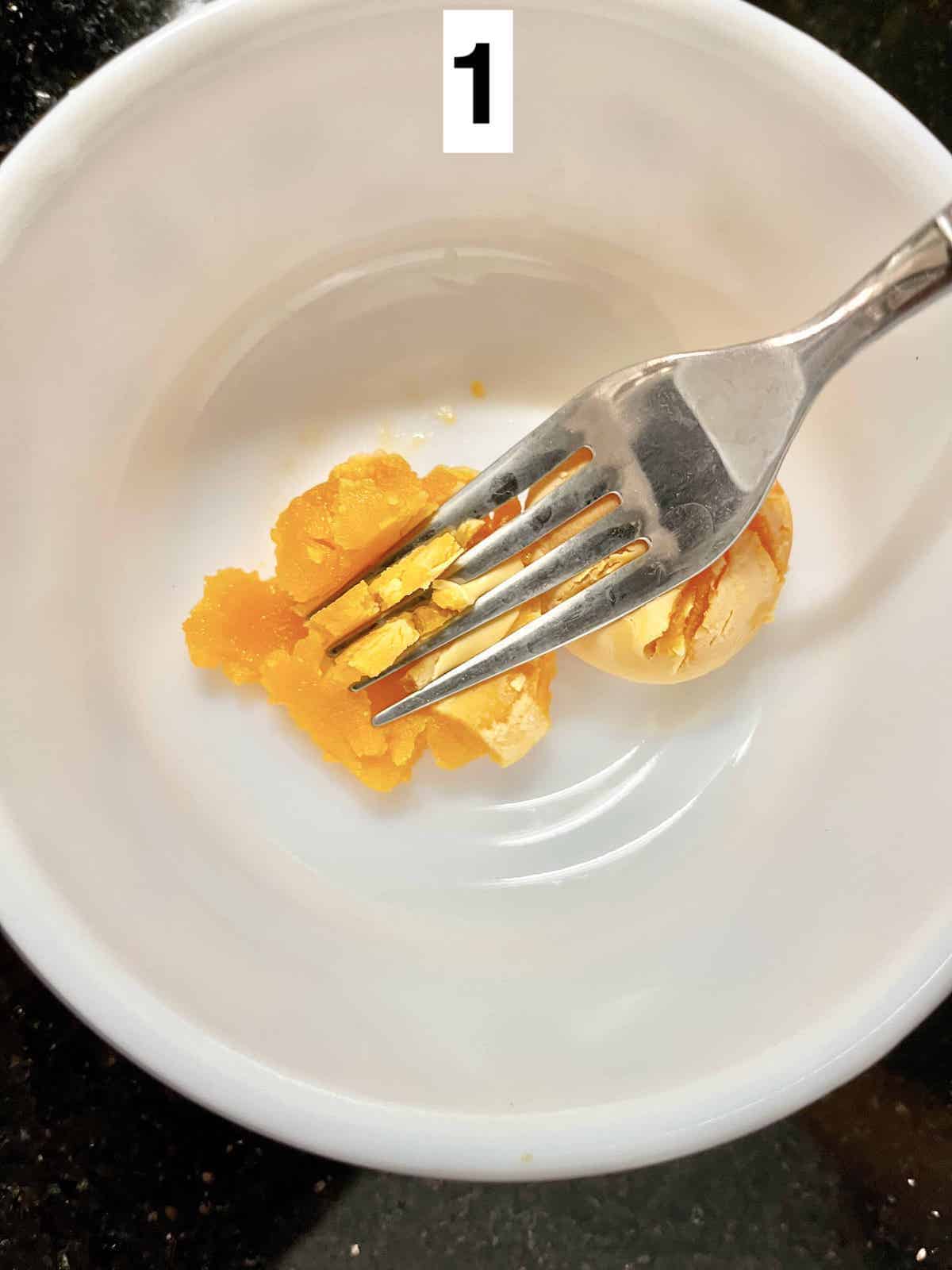 Cook the eggs then separate the yolks out, as you'll be using them.
Traditionally the eggs were cooked by steaming. This is my preferred method as the yolk and white can be separated more cleanly.
However, you can also hard boil. (Some precious yolk may egg up being removed with the white!)
Once you have the yolks separated, mash them up finely using a fork. They should be like crumbs (if not you get a lumpy sauce later.)
Note: see the FAQs for how to use the egg white!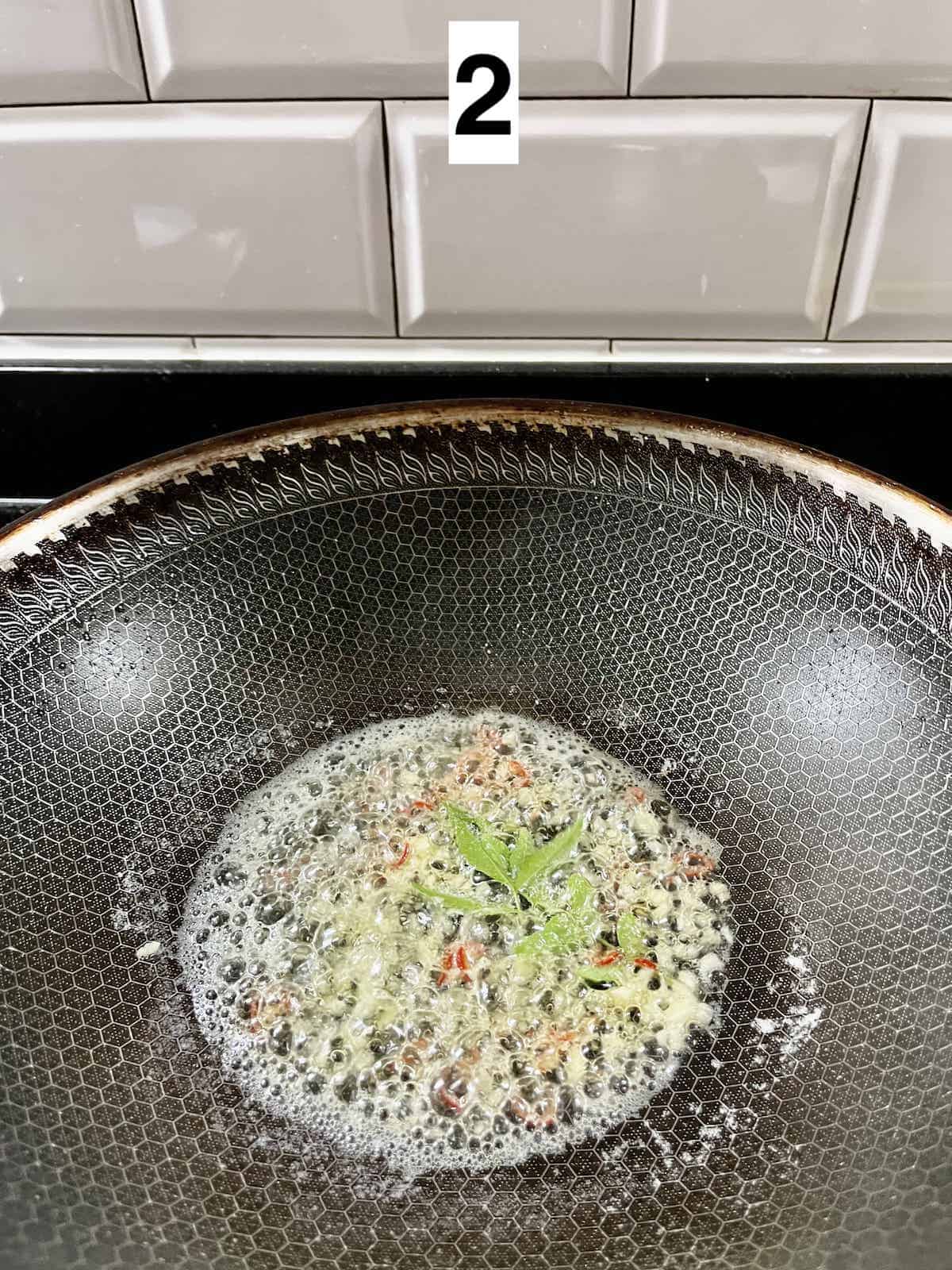 5. Melt the butter on medium-low heat.
6. Saute the chili and curry leaves till fragrant, if using.
Your kitchen will smell so good, I'm envious!
7. Add the mashed up yolks and mix it with the butter sauce.
Note: the sauce will bubble and foam a lot, as shown above, so don't be worried.
It's totally normal!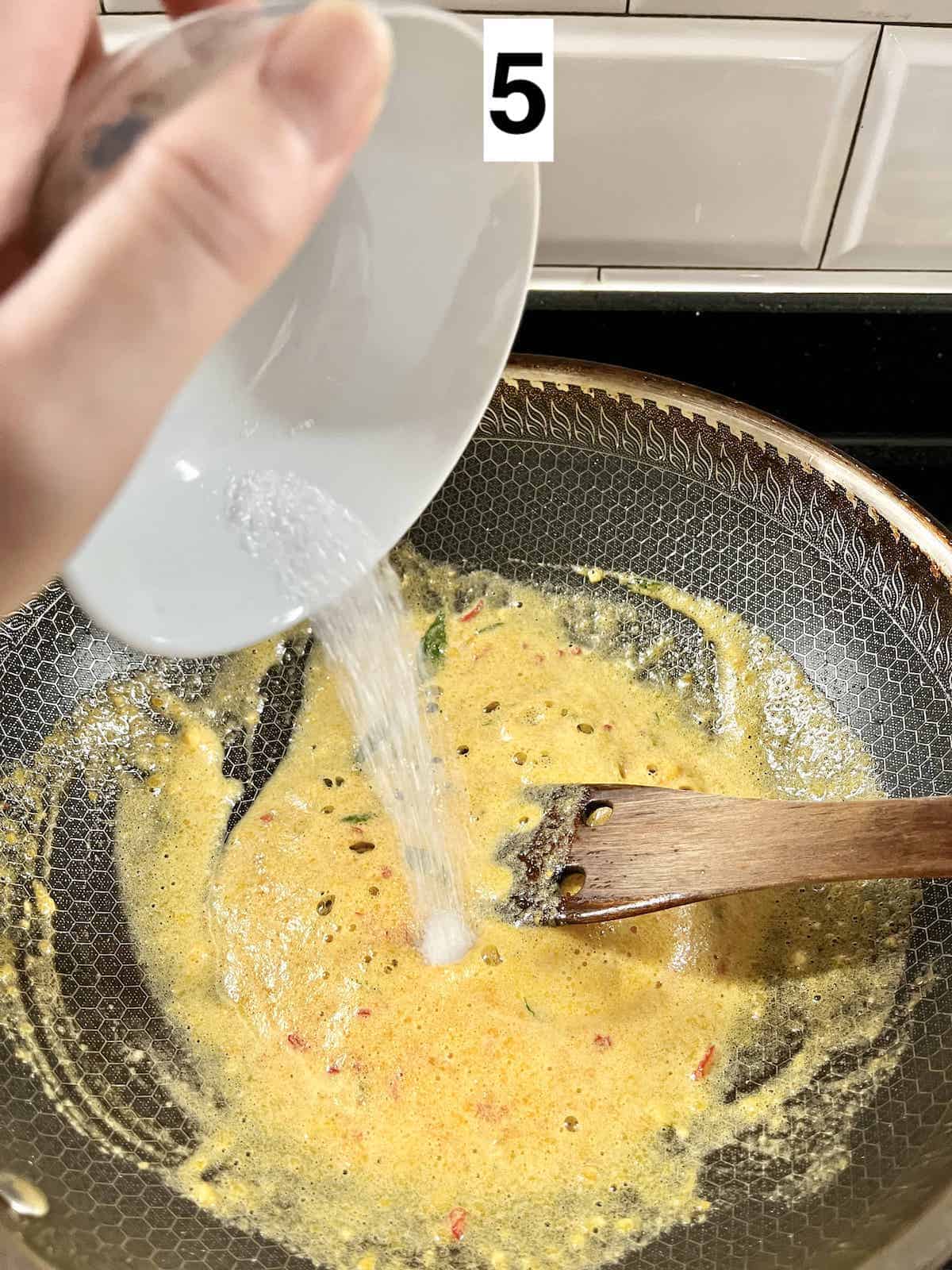 8. Once the amount of foam has decreased, season with sugar and salt, if necessary.
Note: You need to add sugar! I skipped it the 1st time I cooked with salted ducks egg (years ago) and it really didn't taste that good!
The saltiness of the egg depends on how long it was preserved in salt, so every batch will taste different and I can't give you a fixed amount of sugar and salt to add. You'll need to season to taste!
Note: if sugaring later, you may want to add less sugar here.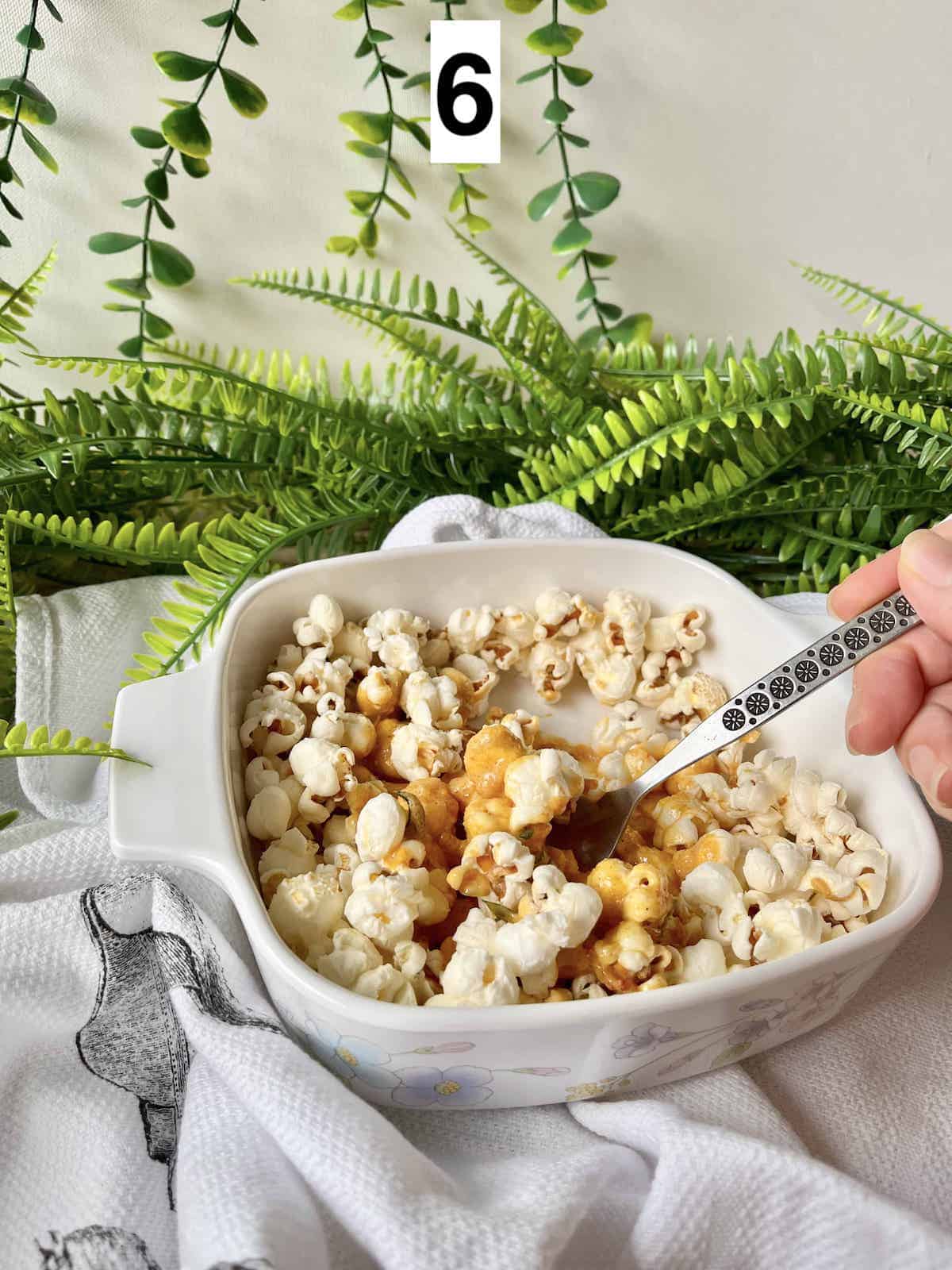 9. Once mixed, switch off the fire and allow to cool.
10. Once totally cooled, pourover the popcorn.
Note: If you pour hot sauce over the popcorn, it'll become soggy.
11. Mix well till everything is well-coated with the scrumptious sauce!
Enjoy!
Tip: you can sprinkle some sugar on top to give the popcorn a light crunch.
👩🏻‍🍳 Expert Tips
Tip #1: This popcorn is best made right before you want to eat it. If you want to make it ahead of time, store the popcorn and sauce separately, only coating before serving. (This is to prevent the popcorn from wilting.) The sauce will need to be kept in the fridge!
💭 Recipe FAQs
What do I do with the salted duck egg white?
Most recipes call for only the yolks and say to throw the egg whites away. Do not toss! It is a terrible waste! Instead, keep the whites and add them to dishes such as omelettes, steamed minced pork, porridge, tofu (coat before frying), fried rice etc
Remember to omit or reduce the salt when cooking with the egg whites as they're naturally salty! (The whites are always saltier than the yolks)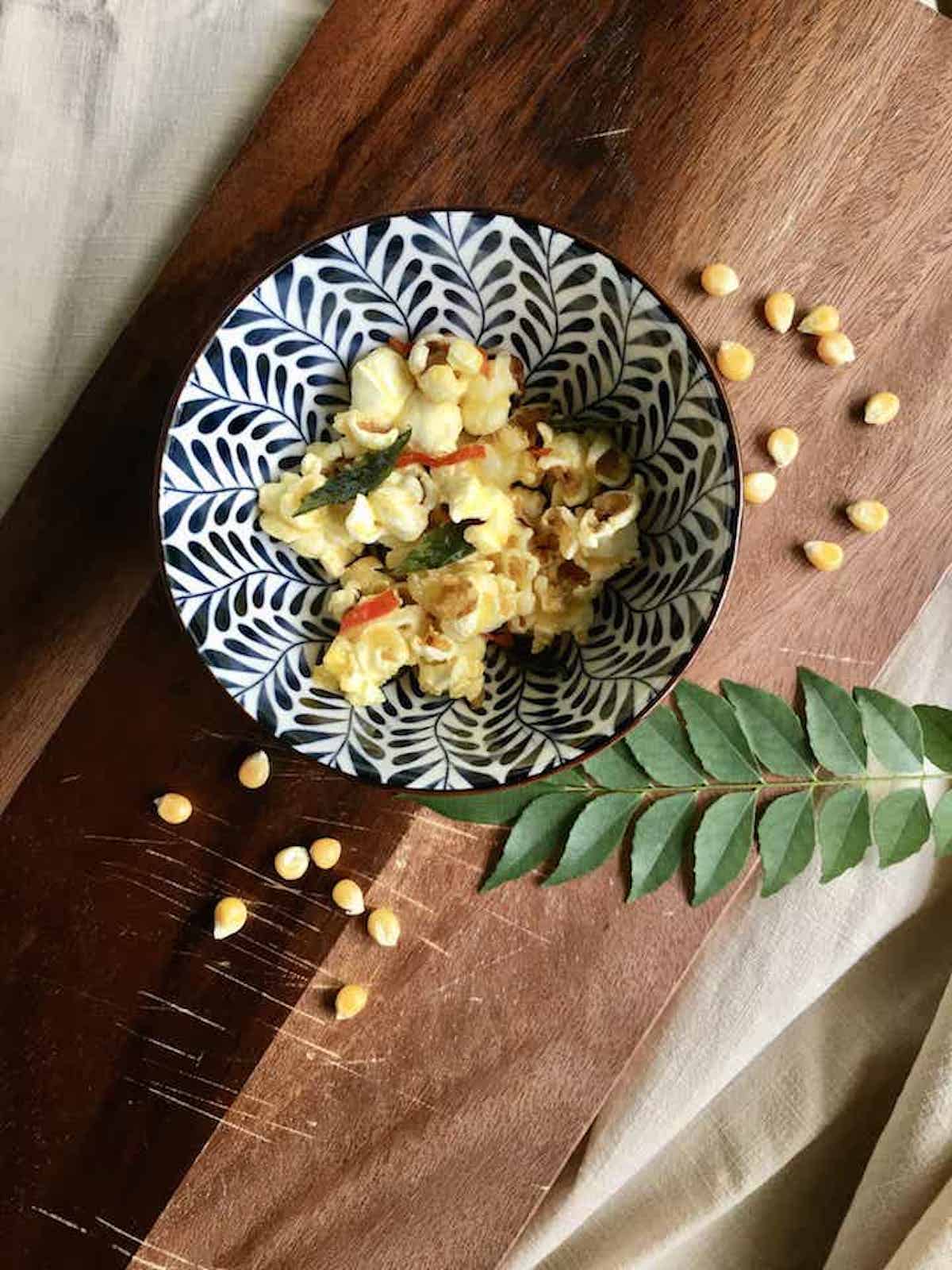 🥗 Other Salted Egg Recipes
Enjoyed this easy Salted Egg Yolk Popcorn Recipe? Please leave a 5-star 🌟🌟🌟🌟🌟rating in the recipe card below! If you REALLY liked this Asian savory treat, please consider supporting it by buying me a coffee! 🙂 (No obligation though!) Thank you and have a great day!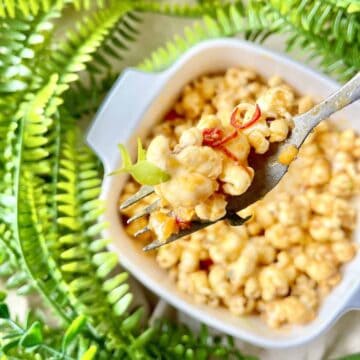 Asian Salted Egg Yolk Popcorn
Loaded with umami, you won't be able to stop snacking on this salted egg popcorn! Chilli and curry leaves are optional but they do add complexity to the popcorn and make it better!
Equipment
Pot or steamer

to cook the eggs

fork and bowl

to mash the yolks

frying pan or wok

heat proof spatula
Ingredients
6

salted egg yolks

Steamed or hard boiled till cooked (about 10-15 minutes depending on the size of the eggs), then mashed finely to avoid clumps in the sauce. If you're extra finicky, sieve the sauce after cooking for the finest possible sauce!

7

Tablespoons

unsalted butter

Works out to be 3.5 oz/ 100g. Don't use salted butter as we don't know how salty the egg yolks are (it varies from batch to batch.)

2-3

sprigs

curry leaf

optional and feel free to add more if you want! These are usually not eaten (like bay leaves.)

1

chilli padi

optional, substitute with big chilli or a pinch of chilli powder if you want some spice but not too much. Always remove the seeds if you can't take the heat!

2

teaspoon

sugar

Or, to taste. The sugar is crucial to balance the saltiness of the egg yolks and bring out the flavour to its fullest so do not skip it! Taste and, if necessary, add more. (Different brands of salted duck eggs have varying levels of saltiness. Homemade ones also taste different depending on how many days the eggs are left in the brine, so will require slightly different amount of sugar to balance the salt. Some may even require you to add a pinch of salt to the sauce, but always taste first to see if this is necessary!)

Pinch

Salt

Often, this is unnecessary, so taste first before adding!

5-6

cups

cooked popcorn

Click here for tips on how to make your own popcorn on an induction stove Use about 3 tablespoons of corn kernels to get approximately 6 cups of popcorn.
Instructions
Cook the eggs, preferably by steaming. Alternatively, you can also hard boil for about 10 minutes.

Note: if steaming, you can separate the egg white and yolk before steaming! This way you won't waste any previous yolk! (If you separate after cooking, they you usually end up with whites in the yolks or yolks in the whites!)

If boiling, peel and separate the yolks from the whites. Mash the egg yolks finely with a fork till they resemble breadcrumbs.

Using medium-low heat, melt the butter then add the curry leaf sprigs and stir fry till fragrant. Add the chilli, if using and give the sauce another stir. (Do not allow the butter to brown.)

Add the mashed yolks and stir till you see the sauce frothing up- this ensures that the sauce will be nice and thick.

If you need a visual guide, scroll up to the Step-by-Step Instructions where I've shown a photo of the frothy, foamy, creamy sauce.

Add the sugar and stir. (Alternatively, if you want the sugar to form a light crunchy layer on the popcorn, add the sugar at the end of the entire process!)

Taste and, if necessary, add salt, stir then remove the pan from the heat (and switch off the fire).

Once cool, pour over the popcorn and stir till well-mixed.
Notes
Don't touch your eyes after handling chilies with your bare hands (it'll burn)
Storage: this salted egg popcorn would taste best eaten immediately after cooking. If you've made too much, store in the fridge. The best way to make this in advance would be to keep the popcorn and sauce separate then combine right before eating (so that the popcorn doesn't become soft.)
For what to do with the egg whites, see the FAQ section above.
Note: the nutritional information is an estimate automatically calculated using the WPRM recipe maker and I am not responsible for its accuracy.
Nutrition
Calories:
329
kcal
Carbohydrates:
15
g
Protein:
7
g
Fat:
28
g
Saturated Fat:
15
g
Polyunsaturated Fat:
2
g
Monounsaturated Fat:
8
g
Trans Fat:
1
g
Cholesterol:
344
mg
Sodium:
18
mg
Potassium:
117
mg
Fiber:
2
g
Sugar:
3
g
Vitamin A:
1173
IU
Vitamin C:
36
mg
Calcium:
47
mg
Iron:
1
mg
If this Asian popcorn recipe was helpful, maybe you'd like to sign up for my newsletter? Would love to keep in touch!