A quick and easy salted egg yolk popcorn snack recipe: it only takes 5 minutes to make this addictive and deliciously sweet & salty popcorn.
Jump to Recipe
Jump to:
Salted egg snacks are like marmite- you either love them, or hate them. (Singapore, as a whole, seems to be a nation who loves them- we have salted egg cornflakes, prawns, fried rice, croissants, cookies and even ice cream!) Lately, I've fallen in love with popping corn on the stove (I've even written a post on how to perfectly pop popcorn on an induction stove) so I thought, why not salted egg yolk popcorn? Salted eggs aren't the healthiest possible condiment and popcorn (sans all the butter and caramel) is a great snack so I figure the 2 balance each other out, calorie-wise! (Note: this does not make a crunchy popcorn, as there's no caramel in the sauce, but rather a soft popcorn loaded with umami.)
If you're a fan of savoury snacks as I am, try these 26 Asian snacks, party foods and canapes or these 9 sweet and savoury Asian nut recipes!
What does it taste like?
It's hard to describe, but it's quite an intense, in-your-face flavour that's packed with umami. Sort of like an Asian parmesan. Definitely not for people who like mildly flavoured food!
What kind should I use?
You can use shop-bought eggs but I always like to cook with homemade ingredients wherever possible (less preservatives and additives!) It's super easy to make your own salted eggs- you just need salt, water, eggs and time. (If you can't get duck eggs, which are traditional and produce an oilier, more orange yolk, simply substitute with chicken eggs. In Singapore, duck eggs are not sold, so I use chicken. Try to use organic, free range chicken eggs with a deeper coloured yolk - like the ones used to make pasta- as these are more attractive.)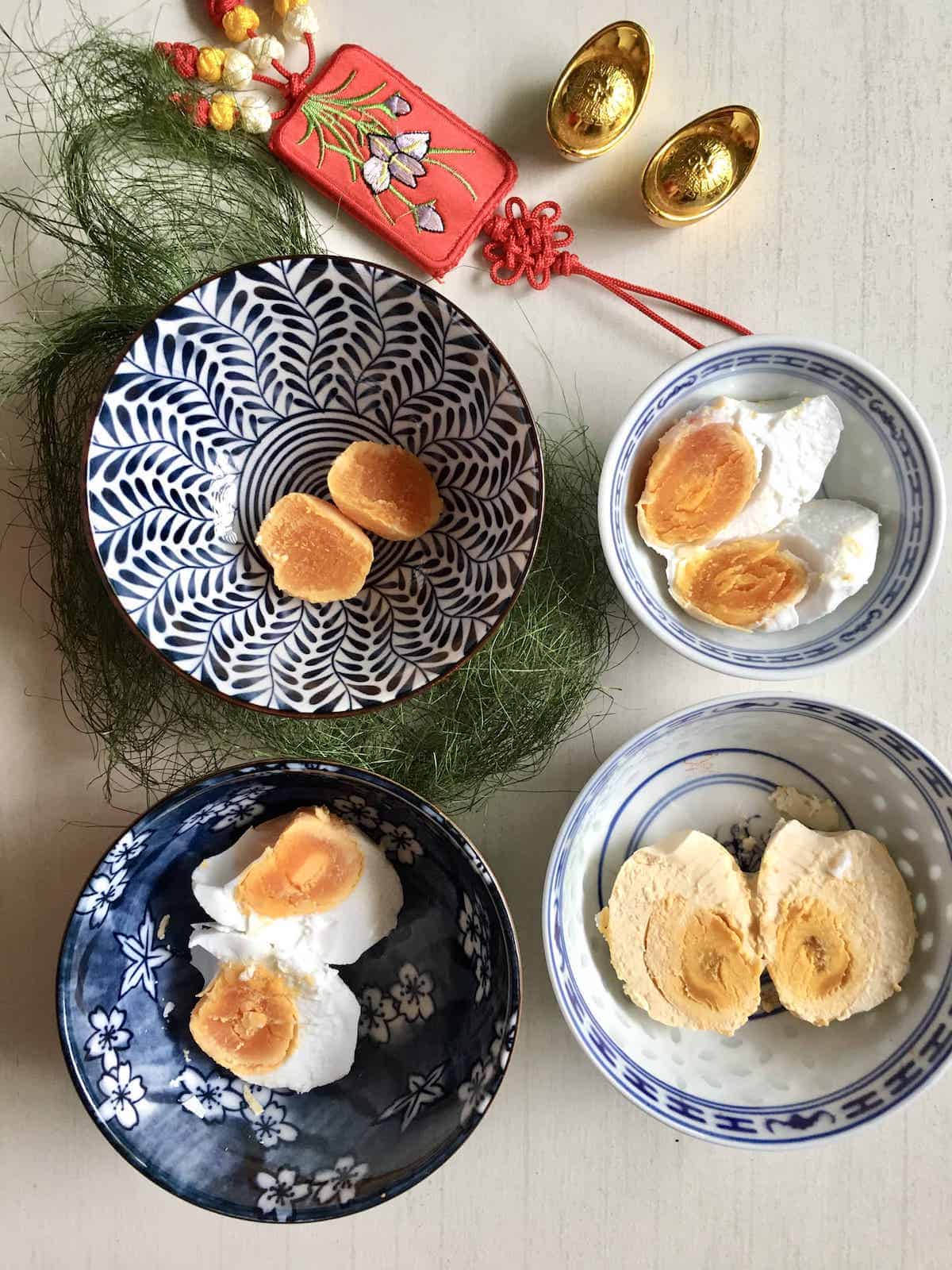 You can also use pure salted egg yolk powder such as Knorr's. (Most other brands contain sugar, milk etc.) The substitution is 11.8g of Knorr powder to 1 yolk. It is actually easier to use the powder as you can add it directly to the pan. (In contrast, the yolks need to be steamed then mashed up first.)
Steaming vs boiling
You can either steam or hard boil them then keep them in the fridge. However, my preference is for separating the yolk from the whites then steaming the yolks as this allows for a cleaner separation of the white from the yolk. (When you hard-boil the eggs first, there is always a bit of precious yolk that is removed with the white (or you get some white mixed in with the yolk.) If you're short of time, microwave the yolks on high for about 2 minutes.
What do you do with the whites?
Most recipes call for only the yolks and say to throw the salted egg whites away, which is a terrible waste! Instead, keep the whites and add them to:
omelettes
steamed minced pork
porridge
tofu (coat before frying)
fried rice
Remember to omit or reduce the salt when adding the salted egg whites as they're naturally salty!
I don't have curry leaves and I don't like chilli, what can I do?
The chilli is definitely optional and, strictly speaking, the curry leaves are too. Even without these 2 ingredients, this popcorn is super tasty thanks to the umami in the yolk. However, I can guarantee that once you've had salted egg yolk popcorn with the curry leaves as a snack, you won't want to go without, as the earthiness and almost bitterness of the curry leaves help to ground the fat of the yolk. (Similar to how a lot of parmesan on its own can be cloying, and needs another ingredient to add complexity.) If you don't have your own curry leaf plant, the herb is readily available in Asian supermarkets, in fresh, frozen or dried forms. You'll only need a sprig or 2 for this recipe so here are some other curry leaf recipes to use up the rest! (If you're lazy to click the link, you can temper the curry leaf in oil to make a tadka for your curry or use it to make a relish.)
Quick and easy salted egg yolk popcorn snack recipe
Loaded with umami, you won't be able to stop snacking on this salted egg popcorn! Chilli and curry leaves are optional but they do add complexity to the popcorn and make it better!
Equipment
potato masher (or fork if you don't have one)

weighing machine

frying pan

heat proof spatula
Ingredients
6

salted egg yolks

Steamed/ hard boiled/ microwaved till cooked, then mashed finely to avoid clumps in the sauce. If you're extra finicky, blend the salted eggs yolks for the finest possible sauce!

100

g

unsalted butter

Works out to be 3.5 oz. The salted egg yolks are salty already so don't use salted butter

3

sprigs

curry leaf

optional

1

chilli padi

optional, substitute with big chilli or a pinch of chilli powder if you want some spice but not too much. Always remove the seeds if you can't take the heat!

2

teaspoon

sugar

Or, to taste. The sugar is crucial to balance the saltiness of the egg yolks and bring out the flavour to its fullest so do not skip it! Taste and, if necessary, add more. (Different brands of salted eggs have varying levels of saltiness. Homemade salted eggs also taste different depending on how many days the eggs are left in the brine, so will require slightly different amount of sugar to balance the salt. Some may even require you to add a pinch of salt to the sauce, but always taste first to see if this is necessary!)

Pinch

Salt

Often, this is unnecessary, so taste first before adding!

5-6

cups

cooked popcorn

If you need tips on how to make your own popcorn on an induction stove, visit https://www.greedygirlgourmet.com/how-to-pop-corn-on-the-stove/ Use about 3 tablespoons of corn kernels to get approximately 6 cups of popcorn.
Instructions
Using medium-low heat, melt the butter then add the curry leaf sprigs and stir fry till fragrant. Add the chilli and give the sauce another stir. (Do not allow the butter to brown.)

Add the mashed salted egg yolks and stir till you see the sauce frothing up- this ensures that the sauce will be nice and thick.

Add the sugar and stir. (Alternatively, if you want the sugar to form a light crunchy layer on the popcorn, add the sugar at the end of the entire process!)

Taste and, if necessary, add salt, stir then remove the pan from the heat (and switch off the fire).

Add the popcorn to the sauce then stir till well-mixed.
Notes
Note: this salted egg popcorn would taste best eaten immediately after cooking. If you've made too much, store in the fridge.
What's your favourite salted egg yolk snack? I used to love fish skin but after the whole Irvins and the lizard scandal, I've never quite felt the same way about it again 😛 (That's why salted egg lovers should make this snack: you'll never confuse the popcorn with a lizard!)