12345 pork ribs are delicious, finger-licking Asian-style pork spare ribs that are as simple to cook as 12345 (a mnemonic device that will also help you recall the recipe, which is adapted from an Irene Kuo recipe ). Using only the pantry staples of wine, dark soy sauce, vinegar and sugar to braise the meat and only a few minutes of active cooking, this is the best easy sticky Chinese spare ribs for when you don't have time to do the grocery.
---
Jump to Recipe
Jump to:
Why make this
So why is this the best easy, sticky, Chinese pork ribs recipe?
It's delicious but effortless!

12345 pork ribs are loaded with umami flavour but very low-effort (by which I mean there's no cutting of aromatics involved- my pet peeve, if I'm honest). If you can mix things together- no rubbing the sauce into the meat necessary so you won't get your hands dirty!- and turn on the stove, you can make this perfectly. The recipe is also very forgiving, so if you leave it on the stove for longer than called for, it will still taste good (just make sure there is enough liquid in the pot so that it doesn't burn). It is so easy to cook that even someone who couldn't boil water till she was 18 (yes, me, honestly) can make them perfectly on the first try.

It doesn't require special ingredients (See more in Ingredients & Substitutes below)

Don't you just hate it when a recipe involves going out to buy 10 new ingredients which you won't use in any other recipe so they just end up taking up precious pantry space till they go bad?! Thankfully, all the components of this recipe are kitchen staples which anyone who has cooked Asian food before would have in their cupboard.

It is easy to remember and can be easily varied (See more in Variations below)

People are often bemoaning how they can only cook from recipes which is why I love ratio recipes like this that can be easily memorised and adapted. Depending on your preference for sweet, tangy or savoury, the proportions of the 1-2-3-4-5 condiments can be changed.

It's a 1 pot braised Chinese pork ribs recipe

One-pot delicious sticky pork ribs: do I need to say more?
Ingredients & substitutes
You only need 5 ingredients for 12345 pork ribs:
pork spare ribs
shoaxing wine
dark soy sauce

Different from light soy sauce

rice vinegar

Substitute: white wine vinegar or Chinkiang vinegar (Chinese black vinegar). Note that if you use black vinegar, the ribs will end up so black they look like you've burnt them, even though it's really just the colour of the sauce, and you'll need to rely on the feel when stirring to tell if it has been sufficiently reduced.

brown sugar
They're used in the ratio of 1 (shaoxing wine)- 2 (dark soy sauce)- 3 (rice vinegar)- 4 (brown sugar)- 5 (water). Super easy to remember!
Variations
Instead of 1 tablespoon of shaoxing and 2 tablespoons of dark soya, for example, you can inverse the amounts and make it 1 tablespoon of soy and 2 tablespoons of shaoxing. The sauce will still be amazing!
The only thing to be mindful of is the sugar and dark soya: if you reduce that too drastically (for example, from 4 tablespoons of sugar to 1 tablespoon), you may not get as thick, sticky and dark a glaze as I did in the photo as sugar is needed for the caramelization of the sauce.
Cooking is meant to be fun so play around with the ratios, see which combination is your favourite and let me know! You can also use aromatics such as ginger, garlic or chilli to add a new dimension to the 12345 pork ribs sauce.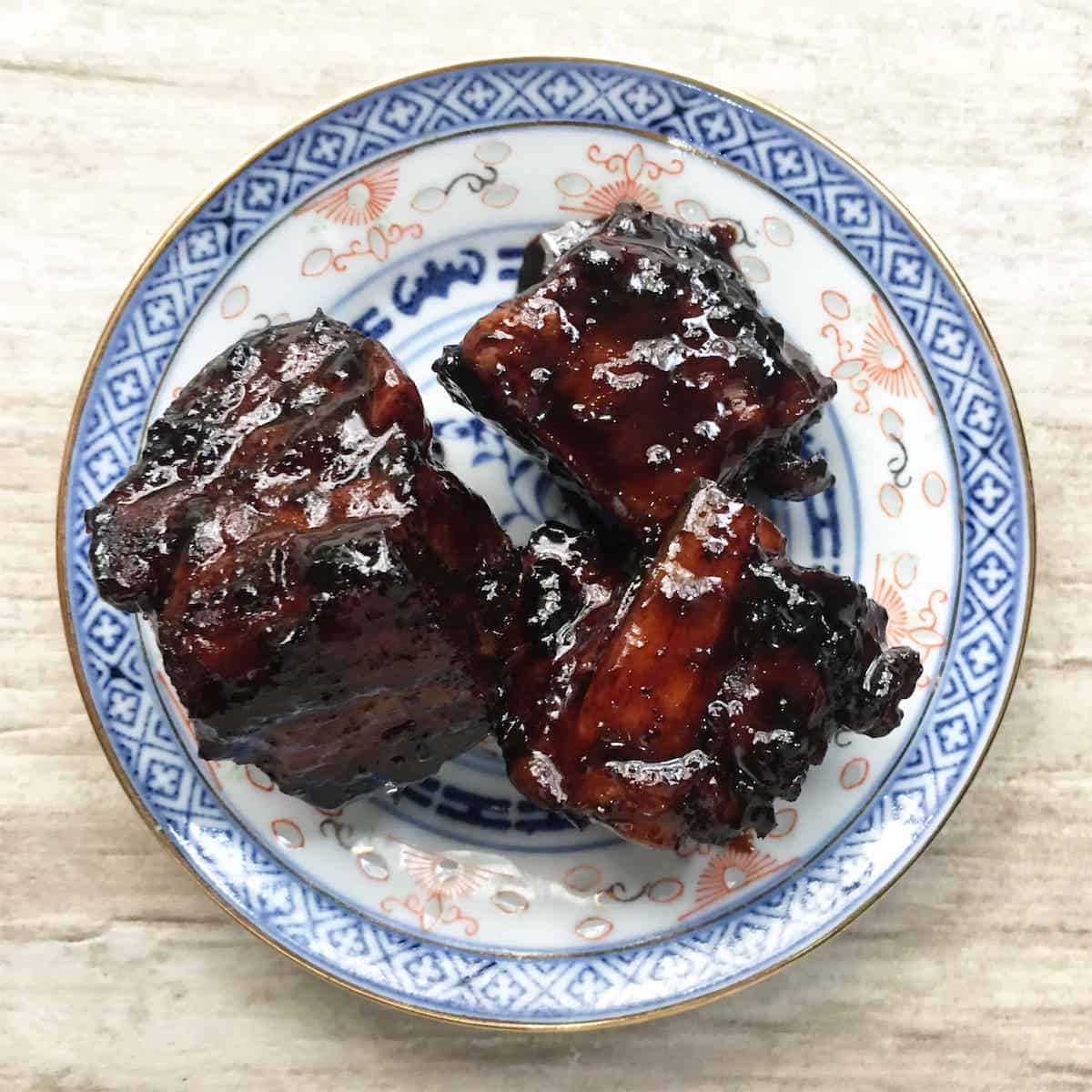 Tips
Chinese people like their meat slightly chewy, and the recipe, as originally shared on Food52, in my opinion, makes a great sauce but not such great meat as the flavour doesn't permeate into the meat. So here are 2 adaptations I've made to the original 12345 pork ribs recipe to solve that!
Brine your meat
You should always, always, alwaaaaaayyyys brine your meat- in fact, do it as soon as you're back from your weekly shop! The original Irene Kuo recipe didn't include brining, and though the ribs were good thanks to the savoury sauce- we never have any leftovers- I felt that the meat itself, sans sauce, lacked flavour. Brining ensures that the flavour goes right into the meat and not just on the surface.
2. Simmer the ribs before adding in the sauce
Confession time: although I've just evangelized for brining meat, I don't always do it myself as my fridge often lacks space! If you want to eat these sticky glazed pork ribs Right Now, but don't have brined meat ready, an alternative is to simmer the ribs in water for 1 hour before adding the sauce in. (Keep the water the pork has simmered in: it's pork stock!) The meat then simmers in the sauce for another 40 minutes, after which it is perfectly juicy, tender and flavourful all the way through to the bone.
3. Use a light- coloured pot
You don't want to over-reduce the sauce or burn it, and using a pot with a light coloured base makes it easier to see how much the sauce has boiled down by. Do make sure you keep it on the fire till it is nice and thick to get a nice, sticky sauce!
4. Get meaty ribs in small pieces
Ask the butcher to chop the ribs up for you. If you don't have a butcher and don't want to mess around with cutting meat, the recipe still works with bigger pieces. However, smaller pieces are easier to coat and stir in the pot when reducing the sauce.
5. Pay attention when reducing the sauce
This reduction is key to caramelizing the meat. The sauce reduces fast so keep close watch on the braised pork ribs during the last few minutes!
Other Asian pork recipes
Easy 12345 pork ribs (5-ingredients)
The ultimate sticky caramelized Chinese pork ribs made in 1 pot- no cutting required!
Equipment
Pot

Use a light coloured one so you can keep a better watch on the sauce (there's sugar so it can burn at the end if you don't watch it on high heat)

Wooden ladle
Ingredients
1

lb

Pork ribs, cut into small pieces

i.e. 454g Ask the butcher to cut it for you to make your life easier!

Salt & Water to brine the meat

Optional

For the sauce

1

tablespoon

Shaoxing wine

Substitute: sherry

2

tablespoons

dark soya sauce

Not to be confused with light soy

3

tablespoons

rice vinegar

Substitute: white wine vinegar or chinkiang vinegar (note the latter will make the ribs very black)

4

tablespoons

brown sugar

Substitute: granulated white sugar

5

tablespoons

water

Optional garnish: sliced green onion/ spring onions

For a list of substitute garnishes, see the notes.
Instructions
Mix the salt and water till the salt has dissolved to make the brine. Place the pork into the brine and refrigerate overnight.

Half an hour before cooking, remove the ribs from the fridge, rinse and pat dry. Leave till the ribs are room temperature/ about 20 minutes.

Put the meat in a pot over high heat. Add the rest of the ingredients and give them a stir to make sure everything is mixed well. Once it's come to a boil, turn down to low heat whilst maintaining a gentle simmer.

Cover and leave it for 40 minutes over low fire. Give it a stir every now and then, making sure there's enough liquid in the pot and that you give the ribs a toss.

After 40 minutes, uncover the pot and increase the heat so that everything comes to a sizzling boil. This is the key step to making the pork caramelised you want a thick, sticky sauce but you don't want it to burn. Keep stirring till most of the sauce has evaporated and is a thick glaze consistency.
Notes
Note: Asian food is usually served with many other dishes- if you are eating Western style (where this dish is the main), the recipe will not serve 4 people! (You will need to increase the portion depending on your appetite- maybe double it for 4 people?)
Optional: brine the pork ribs the night before.
If you're unable to get spring onions, here is a list of good alternative garnishes.
Note: The portion size of these sticky glazed 12345 pork ribs is pretty small. If you want to increase the amount, keep in mind that the time required to reduce the sauce will also increase.
If you try this caramelized pork spare ribs recipe, let me know what you think! And if you feel that your original ribs recipe is a better contender for the title of Best, Easy, Sticky Chinese Ribs Recipe, I'd love to learn how you cook yours!