They say the best gifts are personal, and what can be more personal than homemade Christmas food gifts? Here are some easy edible gifts that you can make for friends and family over the holidays!
Jump to:
Every holiday season, for Christmas and Chinese New Year, I like to make some of my favorite things for my nearest and dearest. Making so many (usually) last-minute gifts can be challenging, so here are some of my tricks and tips!
P.S. If you're still struggling to decide what to cook on Christmas Day, check out these Asian Christmas recipes for an alternative Christmas feast!
Expert Tips for Making Edible Christmas Gifts
Packaging is everything: Fancy jars, nice boxes and printable gift tags will make your gift look like it's just come out of a posh shop!
Make foods that can last for a while: gifting is meant to give joy, but if you give people food that needs to be eaten on the same day, it can give them more stress! So always bake or cook homemade gifts that can last at least a few days (the longer the better really.)
For shipping long distance: Make food gifts with even longer shelf lives and that don't require refrigeration, such as Osmanthus Sugar, Homemade 5-spice Powder and this Dark Chocolate Chai Instant Hot Chocolate Mix. Also, remember to use lightweight packaging (such as plastic rather than glass) to keep the shipping cost down!
For something extra special, make stuff that can't be found easily at the grocery store: for example, if you live in a small town where you can't find Korean condiments, you can easily make your own Tangerine-Cheong Syrup, Plum Syrup or a Gochujang substitute (click through for the recipes)
Always make extra: just in case you suddenly remember someone you need to gift! Plus you don't have to stress if you make a mistake with some of the gifts as you'll have spares on hand.
🍪 Cookies
Cookies are a good edible Christmas gift as they can be stored at room temperature. No taking up precious fridge space!
Brown Sugar Cookies
These caramel-flavored cookies are my favorite Christmas cookies for cookie boxes as it's 1 dough, multiple cookies!
Dip them in dark white chocolate to make chocolate coated treats
Or white chocolate!
Divide the dough into batches and add cinnamon powder to 1
And vanilla flavoring to another
Chocolate chips to the 3rd
Sliced Almonds in the 4th
Chai spices in the next
Etc etc!
Walnut Cookies
Naturally Vegan Peanut Cookies
These homemade treats only require 4 ingredients!
Cranberry & Chocolate Cookies
Icelandic Pepper Cookies
Most people love cookies, especially in fall and winter, so if you need more ideas, here's a round-up of easy Asian cookie recipes.
🍰 Other Sweet Treats
Mochi Muffins
If you need a plant-based muffin, try this recipe. These last for several days but will need re-heating to taste their best!
No Bake Granola Bars
Overnight Oats
Gingerbread Toffee
Refrigerator Chocolate Christmas Tiffin
Microwave Peanut Brittle
🧁 Preserves
Calamansi Curd
Calamansi has a special floral bouquet, but if you can't get them, feel free to use 1 of these calamansi fruit replacements instead.
Or if you have too much, use the extras in these calamansi lime desserts recipes- they also make delicious homemade gifts!
Snowball Eggnog Curd
For something just for the Christmas season, make Eggnog Curd instead of Lime Curd!
Vegan Caramel
For friends on a plant-based diet, they're missing out on all the caramel and butterscotch flavors of the season! Why not gift them with some of this delicious animal-product free Gula Melaka Caramel Sauce?
Note: if you can't get Gula Melaka, regular or homemade brown sugar works too!
Pandan Syrup
Christmas Jam
🍯 Syrups
Chai Syrup
This is ideal for people who can't live without their Chai Lattes. Coffee lovers will find it super easy to make Dirty Chais with this on hand!
Matcha Syrup
It's easy and quick to make big batches of simple syrups. Plus, they last for 1-2 weeks in the fridge!
Matcha syrup is a wonderful homemade holiday gift for people who love matcha lattes, whether regular or mixed with chai spices!
Note: don't forget to send them this link of simple matcha green tea recipes, so that they have plenty of inspiration!
Brown Sugar Syrup
Brown sugar syrup is perfect for sweetening cold drinks, and a great idea for a family member or friend who loves bubble tea! (It's used to make the super caramel-ly and delicious Tiger Milk Tea, shown below!)
Lemongrass Syrup
🍘 Savoury Food Gifts
Homemade Chinese Salted Eggs
Salted eggs are super easy to make, you just need to be organised, as they need time to sit in the brine.
Some people are scared to make their own though, so why not make it for them and save them from the pesky chemicals and preservatives found in the store-bought ones? This is the perfect gift to post actually, as the eggs will require at least 20-30 days to brine!
Make it a complete gift by including a selection of salted egg recipes, such as salted egg popcorn (and maybe a curry leaf plant, as homegrown curry leaves go amazingly with salted egg!).
Tip: I don't recommend gifting salted egg popcorn itself as it tastes best fresh!
Gochujang Mayonnaise Sauce
For new twists on a classic Korean condiment, try this delicious creamy sauce! Perfect for burgers or fries.
Homemade Kimchi (Whole 30/ GAPS/ keto)
Friends with dietary restrictions can be quite challenging to eat with, or to give food gifts to.
However, the more limited their diet, the more grateful they are when you give them a delicious food gift as it can be difficult for them to find stuff!
Trust me, I know, as 1 of my friends is allergic to eggs and dairy and she's always so happy to receive a vegan dessert. I almost cried when I ate the vegan cake I bought for her years ago- it was like sweet cardboard!!
Note: Click here for more easy vegan food gift ideas.
Finishing Salts
Make Ahead Mee Siam Paste
Peranakan food takes a lot of time to make because of the pounding of the spices. Luckily, you can make the spice mix, or rempah, ahead fo time and freeze it!
Make a huge batch of Mee Siam Paste and gift it to friends who love Nyonya food! Can be used for traditional Mee Siam Soup, dry Mee Siam Goreng or to sauce meat and veg!
Sriracha Salt
XO Sauce
Since this is an Asian food blog, how can I not mention XO sauce?
With so much dried scallops and dried shrimps inside, this umamilicious and luxurious gift will please any fan of Chinese cuisine!
Sweet Red Chili Sauce
I'm usually finicky about giving garlic food gifts to people due to the risk of botulism. Although it's rare, the consequences are severe enough that I'd rather be safe than sorry.
If you're not familiar with it- some of my friends had never heard of it and didn't realise that they shouldn't be leaving garlic in olive oil for more than 24 hours!- do click through to the link I attached.
Luckily, Cooks Illustrated did our work for us and checked with the experts: we don't have to worry about the food safety aspect of homemade garlic vinaigrettes thanks to the vinegar, if you use enough of it. (The taste is something else entirely, as the garlic will start tasting "pickled" quite quickly!)
Which is great, because this hot sauce is a crowd pleaser!
🧂 Spice Mixes
Homemade 5 Spice Powder
If you're wondering why your friend can't just buy Chinese 5 spices powder from the supermarket, remember that supermarket spices have been sitting around for ages (whilst in transit from the factory to the supermarket, then on the shelves before making it to your kitchen).
The fresher the spice powder, the more tasty it is, so nothing beats homemade!
At the same time, why not include some recipes so that your friend knows what to do with the gift? Here's a link to some easy recipes which use 5 spice powder- you'd be surprised by how unusual some of them are!
Smoky BBQ Dry Rub
🍱 Freezer-Friendly for Time-Starved Friends
If you have friends who are busy working parents, who don't have the time to cook, these are perfect Christmas gifts as they can be frozen AND cooked from frozen!
Pandan Mantou
Green Tea Buns
Taiwanese Green Onion Pancakes
You can also use 1 of these green onion substitutes as fillings!
Curry Puffs
Drinks
Turmeric Ginger Tea
This antioxidant packed drink is great for keeping the winter flu away, and makes a great DIY gift for loved ones!
Orange Vanilla Bourbon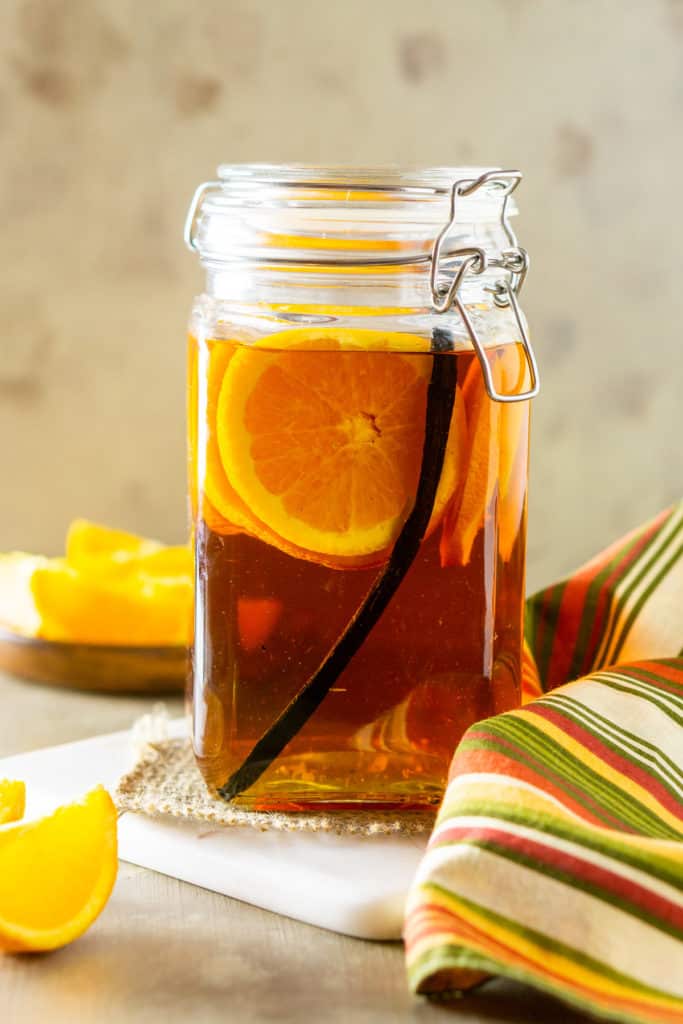 Korean Plum Wine
Best enjoyed with some Korean banchan or side dishes!
Other drink ideas include this homemade Korean tangerine syrup (chung gyul cheong) and homemade plum syrup (maesil cheong)- they can be added to alcohol to make cocktails, to hot water (or sparkling water) to make tea or to salads as part of the dressing. You can even use them when cooking soup and stews!
Which these homemade Christmas food gifts was your favourite? If you try any, do let me know in the comments, or take a photo and tag me on social media (@greedygirlgourmet) In the meantime, happy holidays everyone!
P.S. If you enjoyed these festive treats, why not sign up for my Asian recipes newsletter?