A vegetarian Chinese New Year cookie recipe, hup toh soh or traditional Chinese Walnut Cookies are easily made without a mixer. Traditional hard-to-find ingredients such as ammonia have been replaced with pantry staples without sacrificing taste. The final bake is crispy, crumbly and ever so fragrant!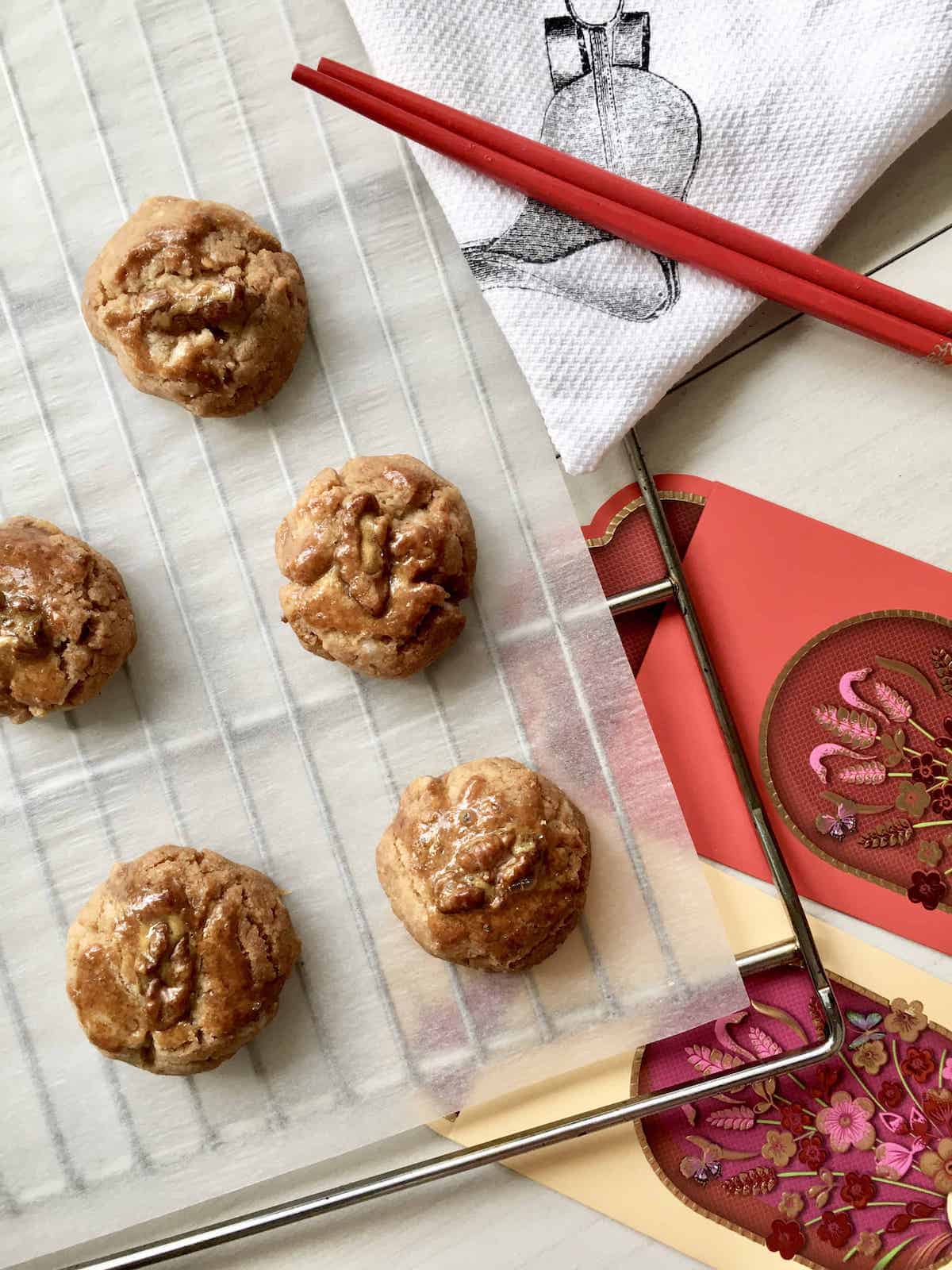 Jump to:
Easy traditional Chinese Walnut Cookies is a Cantonese favourite- "hup toh" (核桃, or he tao in Mandarin Chinese) is the Cantonese word for walnut and "soh" (酥, or su) means crisp.
You can find many shops selling it in Hong Kong and some parts of Malaysia. It's a great traditional sweet snack for vegetarians, and I've included a vegan option in the recipe below too.
For more classic Chinese New Year snacks, try my peanut muah chee (it will ensure wealth sticks to you over the lunar new year!) or my How to make the best Chinese Peanut Cookie Recipe, which I developed after baking over 2000 cookies- it's so good someone once ordered 22 jars of it. Cookie lovers will also enjoy these 6 Asian cookie recipes.
Fun fact: besides being chinese new year cookies, both walnut and peanut cookies are traditional Chinese wedding gifts as they symbolise harmony (和和气气, he he qi qi) and fertility (早生贵子, zao sheng gui zi).
Why make this
Hup Toh Soh is a delicious traditional cookie that transports you back to your childhood (or to another culture, if you didn't grow up eating up!)
My Chinese walnut biscuits are really easy to make:

This hup toh soh recipe uses easy-to-find ingredients: I replace the less common ingredients such as ammonia, alkaline water and lard, used in the old-school recipe whilst retaining the flavour
No need to wonder if the sugar and butter are creamed properly- desserts can fall flat if they're not!
No stand mixer needed- less cleaning!
History
Another name for the hup toh soh biscuit is "Chinese royal walnut cookie" or "Palace walnut cookie."
According to Baidu, during the Ming Dynasty, there was a loyal Chinese minister who was framed, lost everything and survived by exile selling these cookies, hence the noble names!
In Chinese culture & TCM
The earliest use of walnuts date back to 7000BCE in Persia, but they're a popular ingredient in Chinese cuisine as well. In fact, Chinese people equate walnuts with brain food! (Because of the shape)
I'm not a Traditional Chinese Medicine (TCM expert- I don't even eat much TCM foods!- but I thought that this information about walnuts was interesting:
Walnuts, in TCM, are considered to be a herb that is good for the kidneys, which in turn is good for your hair!
They're also associated with the lungs and large intestines - in fact, 1 of the origin stories of this sweet treat is related to this property. Apparently, according to Baidu, during the Tang or Yuan dynasty, a potter used to bake his biscuits on top of his kiln. One day, he was eating walnuts for his cough and decided to add them to the biscuit dough, hence resulting in the original Chinese walnut cookie.
Note: this information is for entertainment only and not meant as nutrition or medical advice- please consult qualified professionals instead!
Health
Unfortunately, Hup Toh Soh Cookies are high in fat and sugar, so they're not the healthiest and pretty high in calories.
I've made this walnut cookie recipe healthier by using a higher walnut:flour ratio but, nonetheless, eat in moderation!
Traditional vs modern
In the past, the Chinese walnut cookies recipe featured lard (giving them a melt-in-the-mouth yet still crunchy texture) and had no walnuts in them!
Some people say that the cookie got its name because its cracked top looked like a walnut.
Back in the days when it wasn't common for households to have ovens, these large, flat cookies were sold in the neighbourhood bakeries and often given out as presents on important festivals.
I guess someone eventually found it weird that hup toh soh had no hup toh (walnuts) in them, so today's version is packed with nuts! (If you've tried both, which do you prefer? I love nuts, so I actually use a higher walnut:flour ratio than other recipes. )
The classic Chinese walnut cookie was quite large, and because it was so crumbly, eating it often resulted in a mess everywhere.
I've scaled down the size of my Chinese walnut cookies to make them cleaner to eat, but you can always bake larger cookies if you are feeling nostalgic! (Each batch will then make fewer than 50 cookies, and will take slightly longer in the oven.)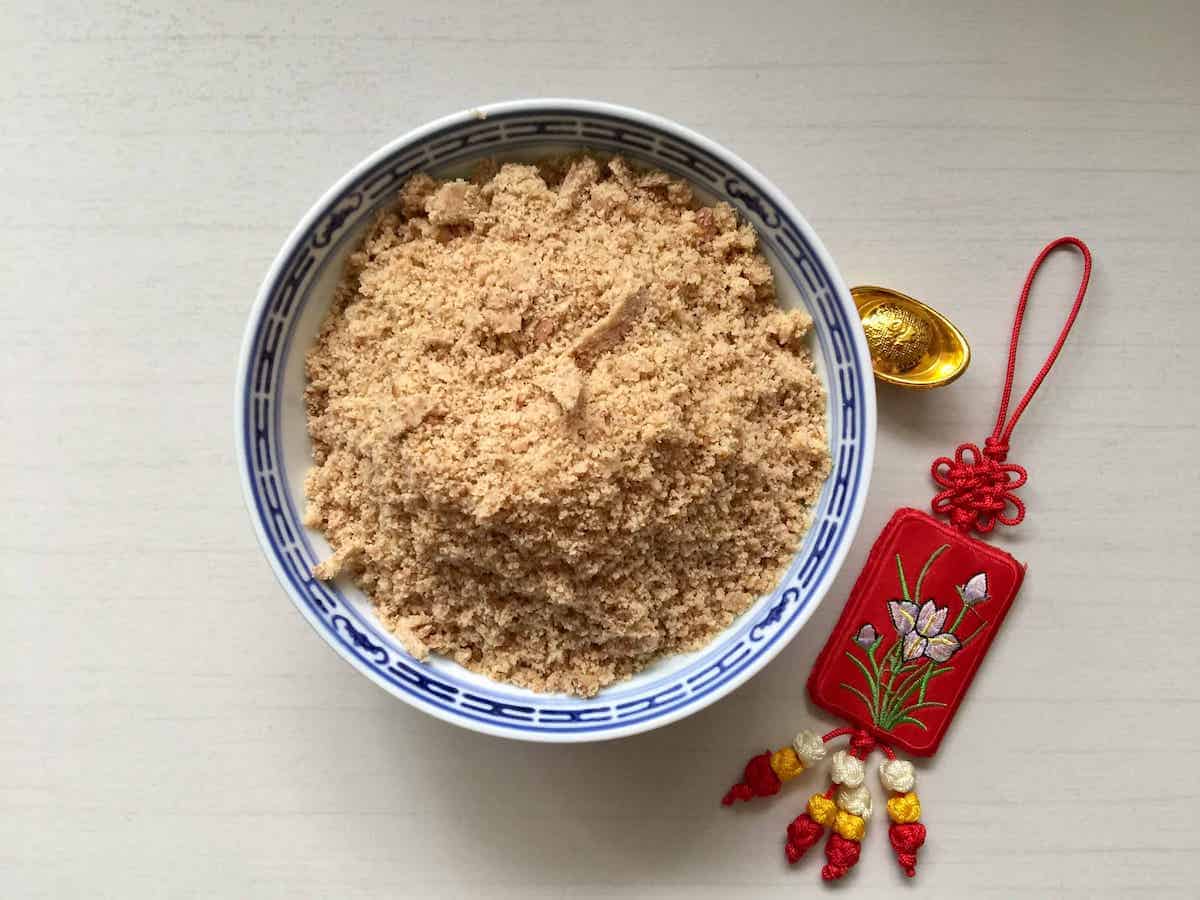 Ingredients & Substitutes
Ground Walnuts

Toast them in the oven or dry fry in a wok if you want to give your oven a rest

The older the ground walnuts, the longer you'll need to toast them to awaken the flavour. You'll know it's done when it's fragrant- don't leave it so long that it burns though!
Stove: Works for small batches. Might not make sense to pre-heat the oven for 20 min if you're going to pop in just 1 tray of nuts! Note that it's hard to dry fry more than 250g of nuts at a time (you'll overcrowd the pan)- it took me about 12 mins on Heat 4 (on a Bosch induction stove with a maximum fire of 9) to get the nuts toasted on the stove.
Oven: my preferred method as it's more efficient- you can toast more walnuts in 1 go so recommended if you're making lots of walnut cookies for Chinese New Year. Place them on parchment paper or on silpat in a single layer and bake for 10-15 minutes at 350F/ 177C/ 157C fan. (Check in at 7 min to make sure nothing is burning and to turn the baking tray around, give the walnuts a stir whilst you're at it!)
Note: toasted walnuts go bad quickly, so toast right before you plan to bake. If something comes up and you have to store the toasted nuts, make sure they smell OK before using them.

In the past, the authentic Chinese walnut cookies recipe used ammonia, and this gave them their crunchy texture. These days, I use the more commonplace baking powder and soda instead of ammonia, so to get that crunch, process 25-35% of the walnuts more roughly (give them fewer whirls in your blender/ processer, rough chop them or roll them under a rolling pin) Note that if there are too many big walnut pieces, it'll be hard for the cookie to stay together.

Nut oil

You can go traditional & use homemade pork lard.
Alternatively, you could use a neutral vegetable cooking oil, shortening, margarine

Cake Flour

Substitutes: all purpose flour or self-raising flour. If using self-raising for these hup toh soh cookies, skip the baking powder and soda.
You can also make your own cake flour with just 2 ingredients- all-purpose flour and cornstarch.

Icing Sugar

Substitute: white caster sugar
For a deeper flavour in your Chinese walnut cookies, you can use half light brown and half white caster sugar.
If your icing sugar is very old, it'll have hard lumps which will be very difficult to break, even if you press down on it, and your Chinese walnut cookies won't be evenly sweet

Eggs (Omit if on a vegan diet)

Whole eggs for the hup toh soh dough and just the yolk for glazing.
Some recipes call for diluting the yolk with a bit of water which will make it easier to glaze the cookies, but I find the colour suffers and isn't as attractive so I use 100% yolk for my wash.
Note: The yolk from 1 Singaporean egg- which is medium sized- covered about 20 cookies.
If making a vegan hup toh soh, don't skip the "egg" wash as the cookie will look a little insipid and not as appetising without it. To make a vegan Chinese walnut cookie, skip the eggs in the dough and use a plant-based milk+maple syrup to glaze the cookies instead.

Baking powder & baking soda

If you're wondering how these 2 ingredients factor in traditional Chinese cooking, they don't! Hup Toh Soh were made with ammonia in the past, but baking powder and soda are so much more convenient. (You can buy ammonia in ammonia powder form, but it's not as commonly used as baking powder and baking soda, and would end up being wasted.)

Optional: Salt

Skip this if you want the sweetness of the cookie to be in the limelight
Decoration
Shape
You can make Chinese walnut cookies in 2 shapes:
flat and large (my preferred shape)

traditional shape
it's not as thick so you can better savour the taste of the cookie

small round balls

easier to eat in 1 bite, so less crumbs fall
You can squeeze more cookies on 1 tray so fewer baking trays needed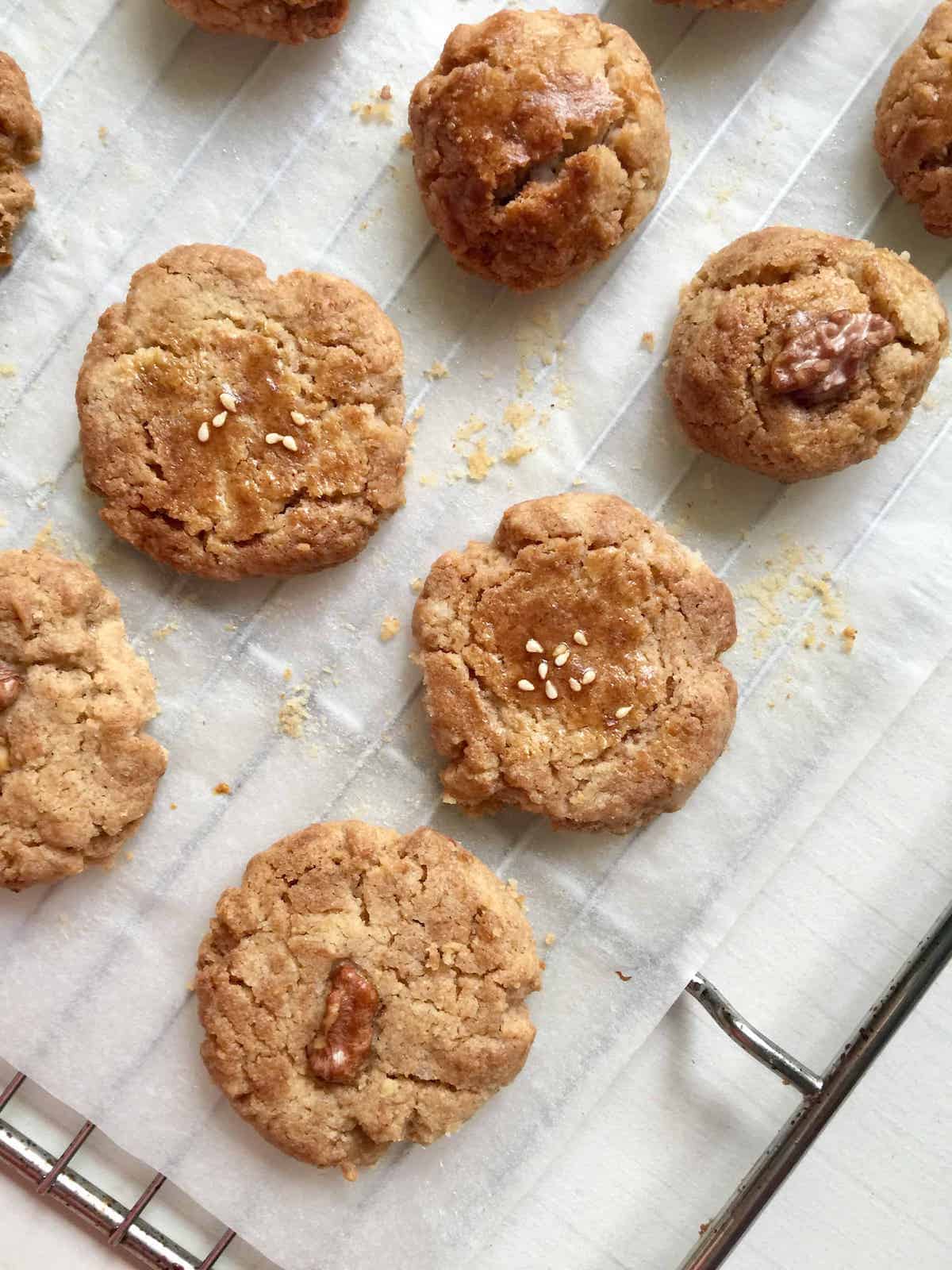 Egg wash
Press half a walnut into each hup toh soh to make it more attractive, then glaze with beaten egg yolk to give a burnished gold colour- a pale cookie doesn't look as appetising! If you want the walnut to be the focus, wash the cookie THEN press the walnut on top.
Vegans can substitute an egg yolk wash with almond milk + maple syrup.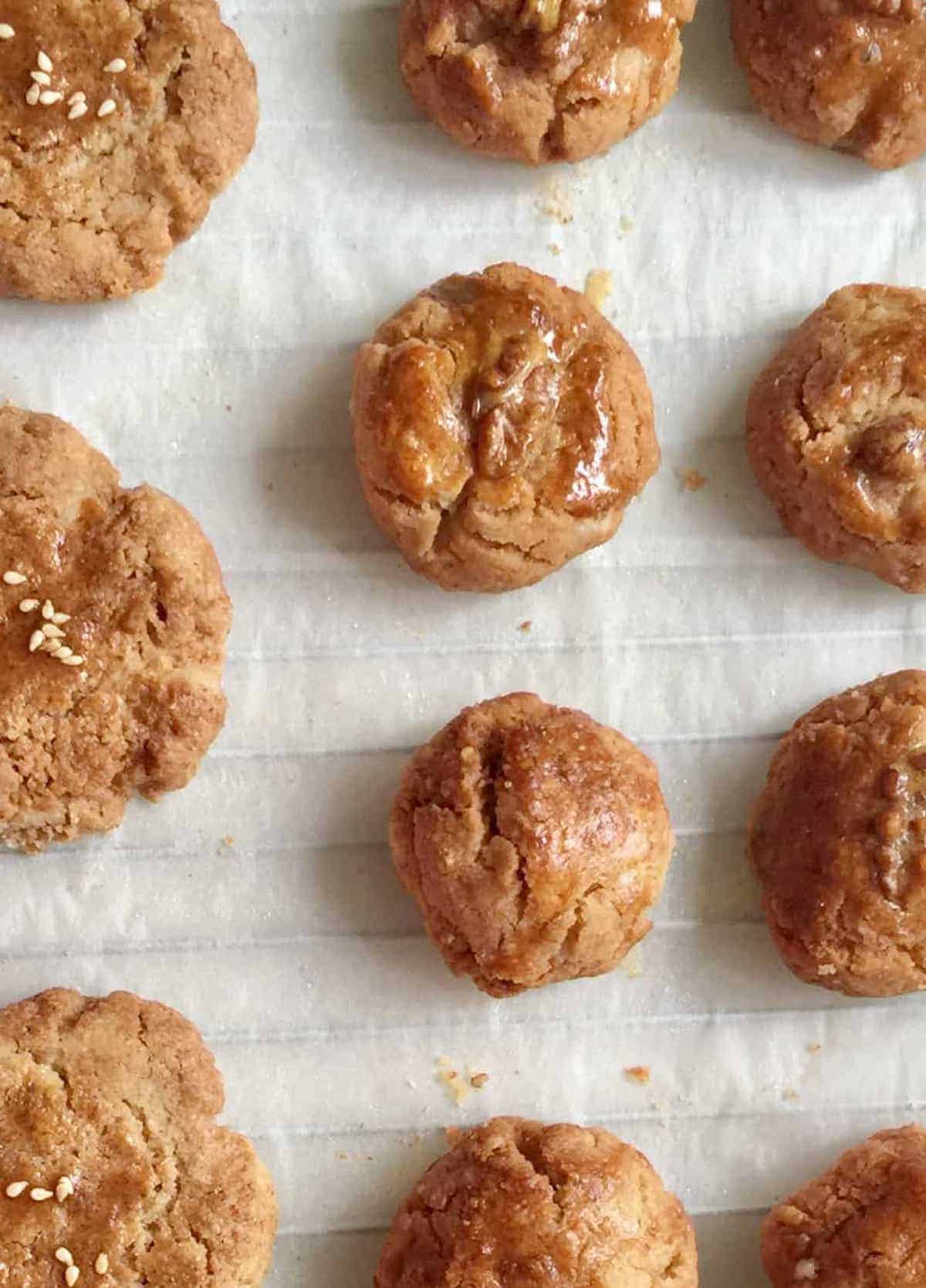 Seasme seeds
If you run out of walnuts, as I sometimes forget to leave some aside, you can sprinkle some sesame seeds (white or black sesame both work) on each cookie instead, then press gently with your finger to make sure the seeds are won't fall off.
Plain
If you're making undecorated Chinese New Year walnut cookies, use a fork, spoon or your finger to give them a flatter, thumbprint cookie shape. Some people like to use the end of a toothpaste or bottle cap to flatten & create a circular imprint!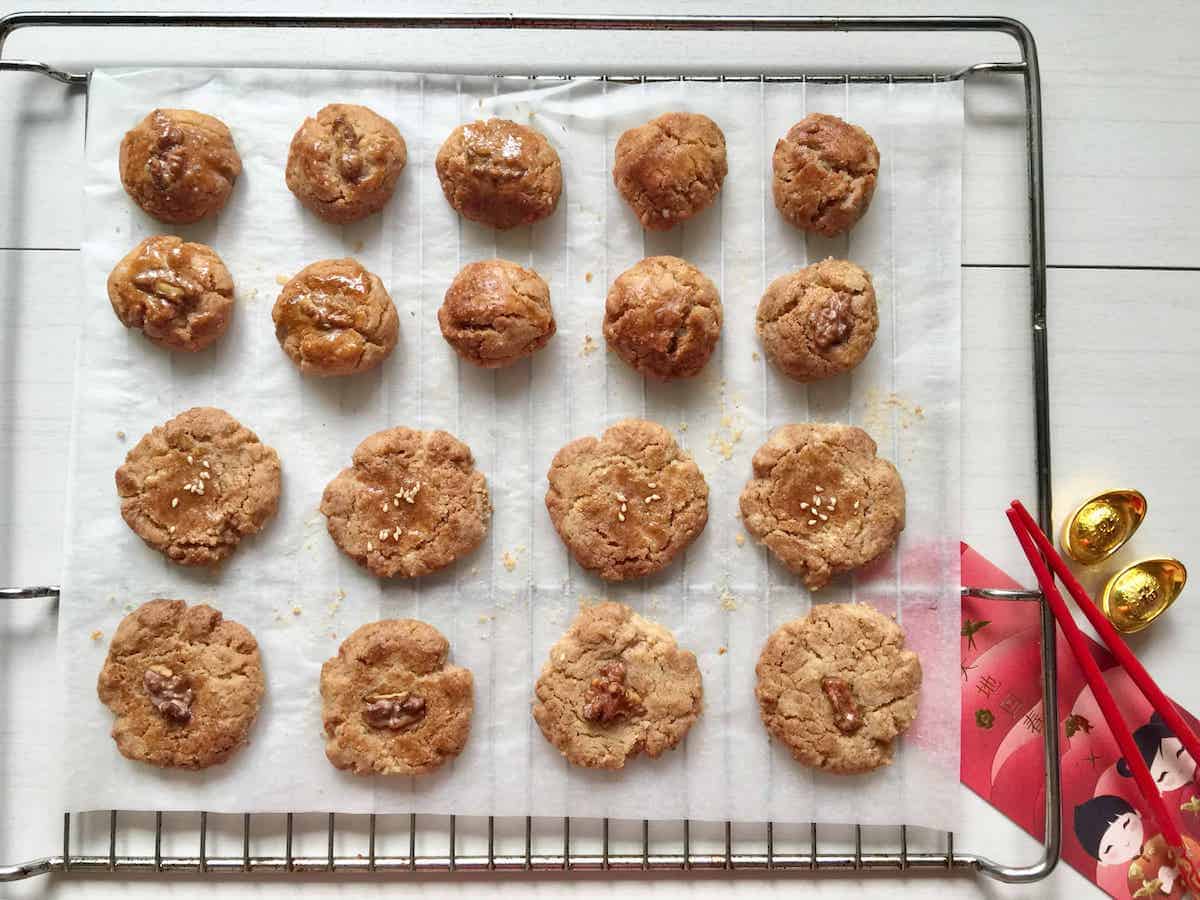 Storage
Once cool, store these homemade chinese new year cookies in an airtight container and it will last for 1-2 weeks.
Alternatively, leave them in the chiller and they'll last even longer.
How to eat
Walnut bakes go very well with coffee yuan yang or milk tea.
Tips
For an authentic extra crumbly and very old-school Chinese walnut cookie, use pork lard
If you want a richer cookie, use butter- the resulting bake will be less crispy though
Since the walnuts are going to be broken up anyway, get a bag of walnut pieces or halves instead of whole walnuts in the store- they're often cheaper!
These sweet treats spread a bit but now as much as say, chocolate chip cookies, so you can place them fairly close to each other on the baking tray (about 1 inch apart)
A quicker way to shape your cookies is to roll the dough into a log, then cut it into pieces approximately the same size, rolling each piece into a round.
Media these days is always telling us that oil is bad, but don't skimp on the oil here- too little oil will result in a dry cookie dough, which won't hold its shape and your cookie will break apart at a touch.
Other Vegetarian Chinese New Year recipes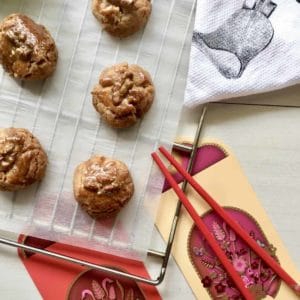 Easy Traditional Chinese Walnut Cookies(Hup Toh Soh) Recipe
Also known as He Tao Su, these classic vegetarian cookies are easy to make at home, using store cupboard ingredients, and can be made vegan as well (info below). Crispy, crumbly and fragrant, they go well with coffee or milk tea!
Equipment
Food processor or blender

Rolling pin, optional

Large bowl

Baking tray and parchment paper
Ingredients
12.3

oz

toasted walnuts, processed into walnut meal (350g + an additional 25-30 pieces for garnishing)

Optional: for a cookie with more texture and crunch, process only 65-75% of the nuts into walnut meal (use a food processor. If you don't have 1, a blender can do too, but you need to scrape the sides quite a bite) & the remaining 25-75% into bigger pieces (use a rolling pin or by rough chop)
Ingredients A: Sift and stir together
3.5

C

cake flour (15.30z or 435g)

Substitute: all-purpose or self-raising (you can omit the baking soda and powder if using self-raising) For a link to making cake flour from all-purpose and cornstarch, check the notes.

2

C + 2½T

icing sugar (9.5oz or 270g)

Substitute: white caster sugar or granulated sugar

2

teaspoon

baking powder

1

baking soda

1-1½

teaspoon

salt, optional

Omit if you want the sweetness of the cookie to be the spotlight
Wet Ingredients
1¼

C

peanut oil (9.5oz or 270g)

Substitute: neutral flavoured oil, lard, margarine, shortening

2

medium eggs, beaten
Cookie design
3-4

yolks for glazing

Please don't skip this as an unwashed cookie isn't as pretty. If you find it too thick, you can add 1-2t of water of oil, but I find the resulting glaze isn't as attractive For a vegan cookie, use plant-based milk + maple syrup

25-30

walnuts for garnishing, broken into halves

You can use white or black sesame seeds instead
Instructions
Toasting the walnuts
Preheat oven for the cookies (350F/175C/155C fan)- note this is the same temperature at which you bake the cookies

Spread the nuts in a single layer on a parchment paper or silpat lined baking tray and toast for 10-15 minutes, or till fragrant. At the 7 minute mark check the nuts, stir, and turn the tray around (as ovens have hot spots). Allow to cool then process into walnut meal, using the food processor or blender. For more crunch in the cookies, leave 25-35% of the walnuts and break those into bigger pieces, using a rolling pin or roughly chopping.
Making the cookie dough
Ingredients A: Sift the dry ingredients and mix them together in a large bowl (1 of those stainless steel baking bowls is good)

Add the beaten egg to the dry ingredients and mix well.

Slowly pour the oil into the above- you may need slightly less than the recipe stipulates as the walnuts have their own oil. Note that it's easier to work with a dough that has slightly more oil than a dough with slightly too little oil, as the latter won't hold together very well.
Shaping the cookies (2 choices)
Separate the dough into equal sized pieces. If you're exacting, you can weigh them so you know they're identical. What I usually do is roll the dough into a log, then cut it into bits that are approximately the same size, before rolling each bit into a ball. If you want small circular cookies like Chinese peanut cookies, you can place these directly on the baking sheet, with about 1 inch between them.

If you want the traditional flat cookie, place the piece of dough on the baking sheet, then use 2 fingers to press down firmly. Use the same 2 fingers to press down again, but this time perpendicular to the original imprint- so you're making a cross basically- to ensure the cookie is spread evenly. Repeat till all the dough is finished, leaving about 1 inch between each cookie.

Whichever shape you've chosen, glaze the cookie with the egg yolk wash (or vegan wash) then press ½ a walnut on each cookie OR sprinkle some sesame seeds in the centre. (You can also garnish then wash if you prefer, but the yolk will cover up some of the details on the nuts/ seeds.) Alternatively, leave them plain- decoration suggestions for plain cookies in the post above.

Bake 20-22 minutes or till fragrant and golden brown.

Leave to cool completely then store in air-tight containers for 1-2 weeks
Notes
If you don't want to use the oven to toast the nuts, dry fry on medium heat in a pan.
Note: if you prefer a cheaper recipe which uses less walnuts, use 250g of walnut meal to 535g of all-purpose flour, keeping the rest of the recipe the same. (You may need about a bit more oil as there are fewer nuts) However, let the dough rest overnight to fully bring out the flavours before baking - the cookies don't taste as good as the ones in this recipe if baked immediately.
Here's a link that shows you how to make cake flour from all-purpose flour.