I baked over 2000 Traditional Chinese Peanut Cookies for CNY using various recipes before I came up with these tips to make the Best 4-ingredients Peanut Cookies, 1 of the most popular Chinese New Year cookies, naturally vegan and 1 of my bestsellers! (Someone ordered over 20 jars last year!)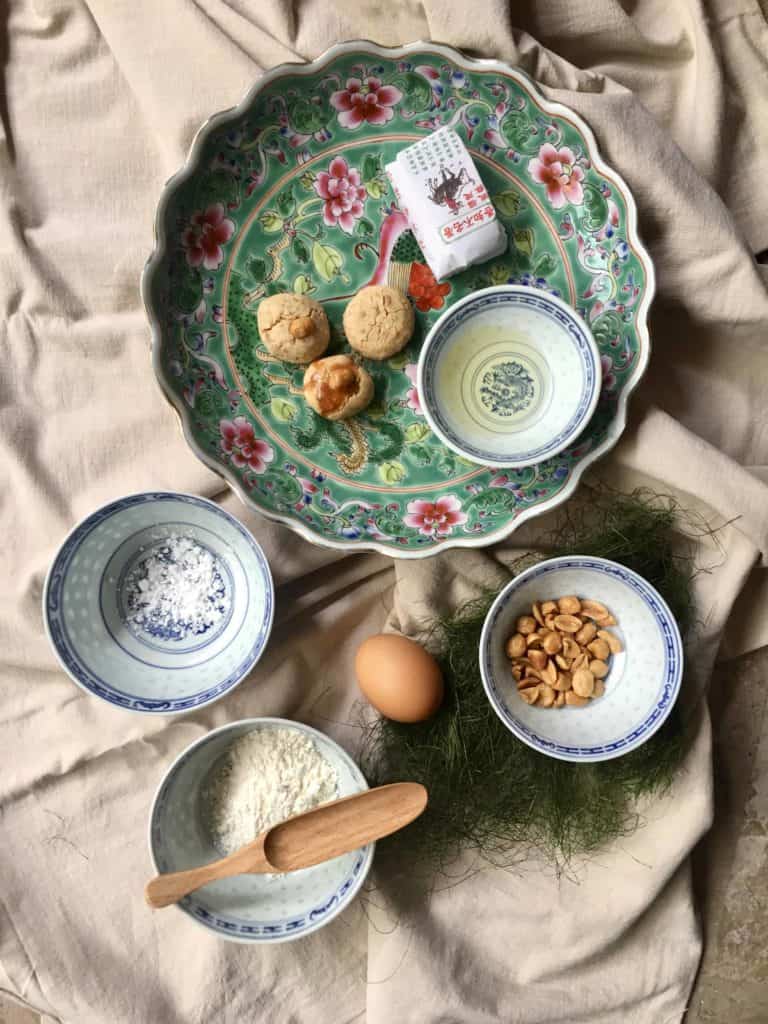 Jump to:
⭐ Why Make This
Chinese peanut cookies are delicious: I've once had someone order order 20 jars from me! (I used to sell homemade traditional cookies during Chinese New Year and these peanut cookies were my bestsellers. I tested several recipes, baking 1000s of cookies, to come up with it!) They have a bit of crunch yet still melt in your mouth.
They're super easy to make: you don't need a stand mixer. If you buy peanut powder from the shop (instead of making your own), you won't need any equipment at all to make them as everything can be mixed by hand.
And they're naturally vegan to boot: make sure you use bone char free sugar! (The egg is only used for egg wash and you can use a vegan wash instead.)
Note: For more Asian-flavors easy cookie recipes, such as Cantonese Hup Toh Soh, American Chinese Almond Cookies and other Chinese New Year cookies, click here.
vs American PB Cookies
In case you're not familiar with Chinese peanut cookies, they're a traditional homemade Chinese cookie, usually seen during Chinese New Year (CNY.) They are not the same as American peanut butter cookies!
Both are easy to make but the latter uses peanut butter whilst the former (traditionally) uses ground peanuts. (These days, there are some "hack" recipes to expedite things by using nut butter.)
Due to the shortening in peanut butter, American peanut cookies are puffy whilst the ideal Chinese Peanut cookie is simultaneously crunchy yet still melts-in-the-mouth. The former usually is flat with a criss-cross pattern (made by the tines of a fork) and the latter is usually a small round ball.
Note: Click here for more traditional Chinese New Year recipes (that 1 person can cook!), including vegetarian Chinese dishes.
🥜 Ingredients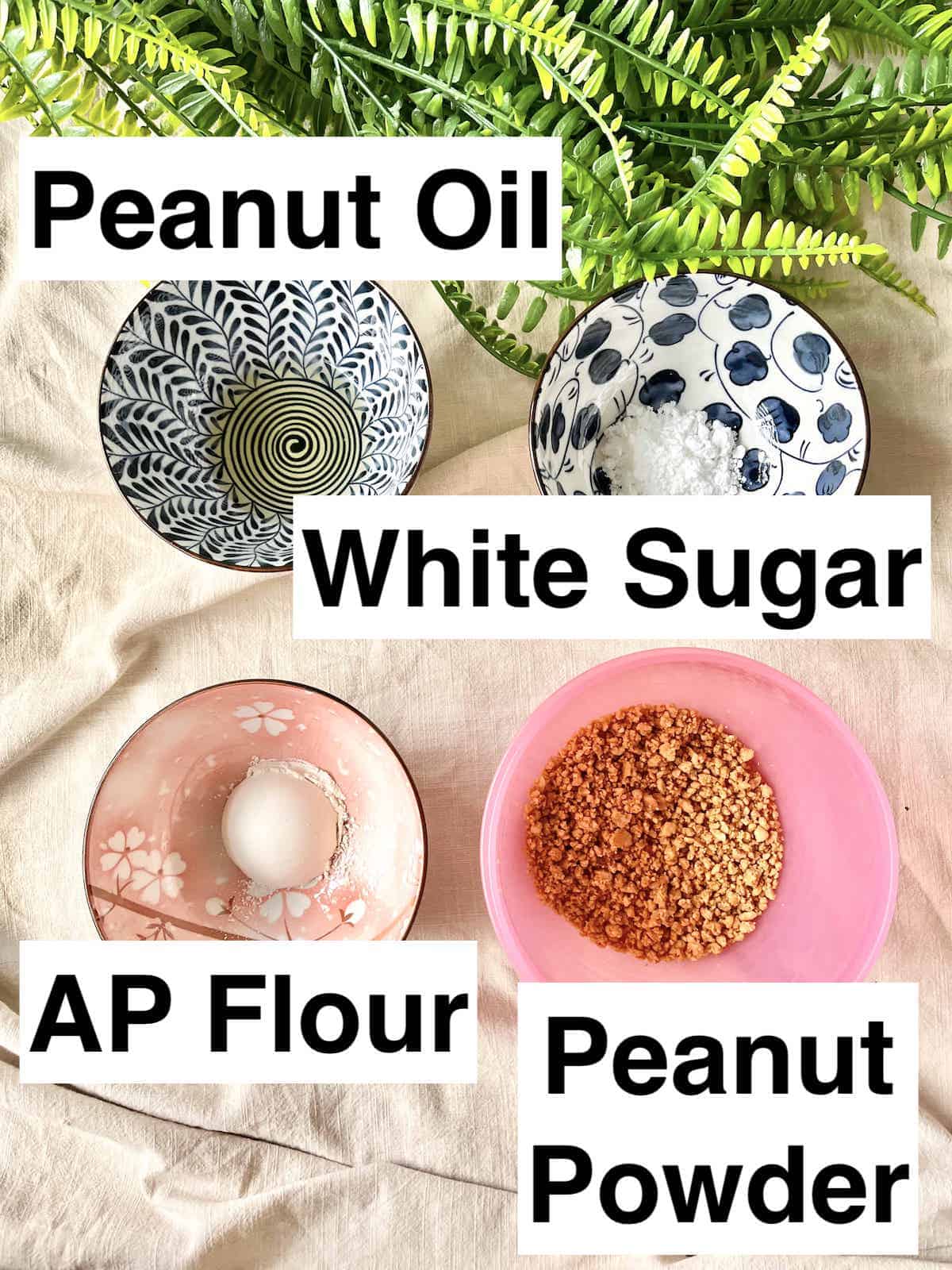 Traditional Chinese peanut cookies only require 4 simple ingredients:
Peanuts: Frying then blending your own peanuts tastes the best but that can be a palaver. If you don't have time, an easier way is to buy peanut powder then dry fry it to make it more fragrant. Remember to blend finely, if not the cookies will crumble. (If you like more bigger peanut pieces in the cookies, I suggest using icing sugar instead of caster sugar.)
Flour: Some recipes say rice flour makes the cookie more melt-in-the-mouth and indeed a rice flour peanut cookie was more crumbly. However, all the tasters preferred the texture of a cookie made with 100% all-purpose flour to a cookie made with 100% rice flour. Nonetheless, if you want a gluten-free cookie, you can substitute the all-purpose flour with the same quantity of rice flour, keeping everything else the same.
Fat: I recommend using pure peanut oil to enhance the nut flavor. The quantity specified is a guide as the amount required depends on how long your peanut powder was ground for and how much oil it contains.
Caster sugar: Cookies made with icing sugar were slightly softer whilst those made with caster sugar had a crunchier taste. Moreover, caster sugar is so much easier to work with as you can not not sift powdered sugar (it clumps like crazy and you'll get lumps of sugar in your dough.) Alternatively, use granulated sugar. I do not recommend substituting white sugar with dark brown sugar, maple syrup or honey as they have strong flavors which impact the taste. It's not that the resulting cookie tastes bad but it just isn't a traditional CNY Chinese Peanut Cookie. (It's also not vegan FYI.)
A pinch of salt: optional but add for the best cookies as it boosts the flavour exponentially- not included in the ingredient count as I've yet to see a kitchen that doesn't have salt!
Tip: If you're not vegan, an egg yolk wash also makes the cookies more attractive.
Note: my Aunt says she used to make peanut cookies for Chinese New Year from sugar, lard and peanuts only in the 70s and 80s (i.e. no flour), making it a 3-ingredients cookie instead of a 4-ingredients cookie! Must be super tasty peanut cookies if expensive!
🧾 Step-by-Step Instructions
(Optional) Making Peanut Flour
Wash the peanuts then sun-dry for 2 hours or till very dry. (You don't want any moisture when you deep fry!)
Heat oil till an inserted wooden chopstick has small bubbles forming around it then carefully add the dry peanut to the oil.
You should see the oil bubbling. Keep stirring till dark brown and fried, about 8 minutes for me.
Carefully remove the nuts from the (very hot) oil using a slotted scoop then allow to cool on paper towels (to absorb the oil.)
Once totally cool, remove the skins then blend the nuts in a blender or food processor into a fine powder.
Tip: the key with a blender is not to add too much peanuts or they'll get stuck around the blades and turn into peanut butter. If you add less than 1Cup of peanuts each time, a few whirls should turn the nuts into powder in seconds.
Alternatively, save yourself the hassle and use store bought peanut flour! Just give it a few stirs in a dry pan over low heat to make it more aromatic.
Making the Cookies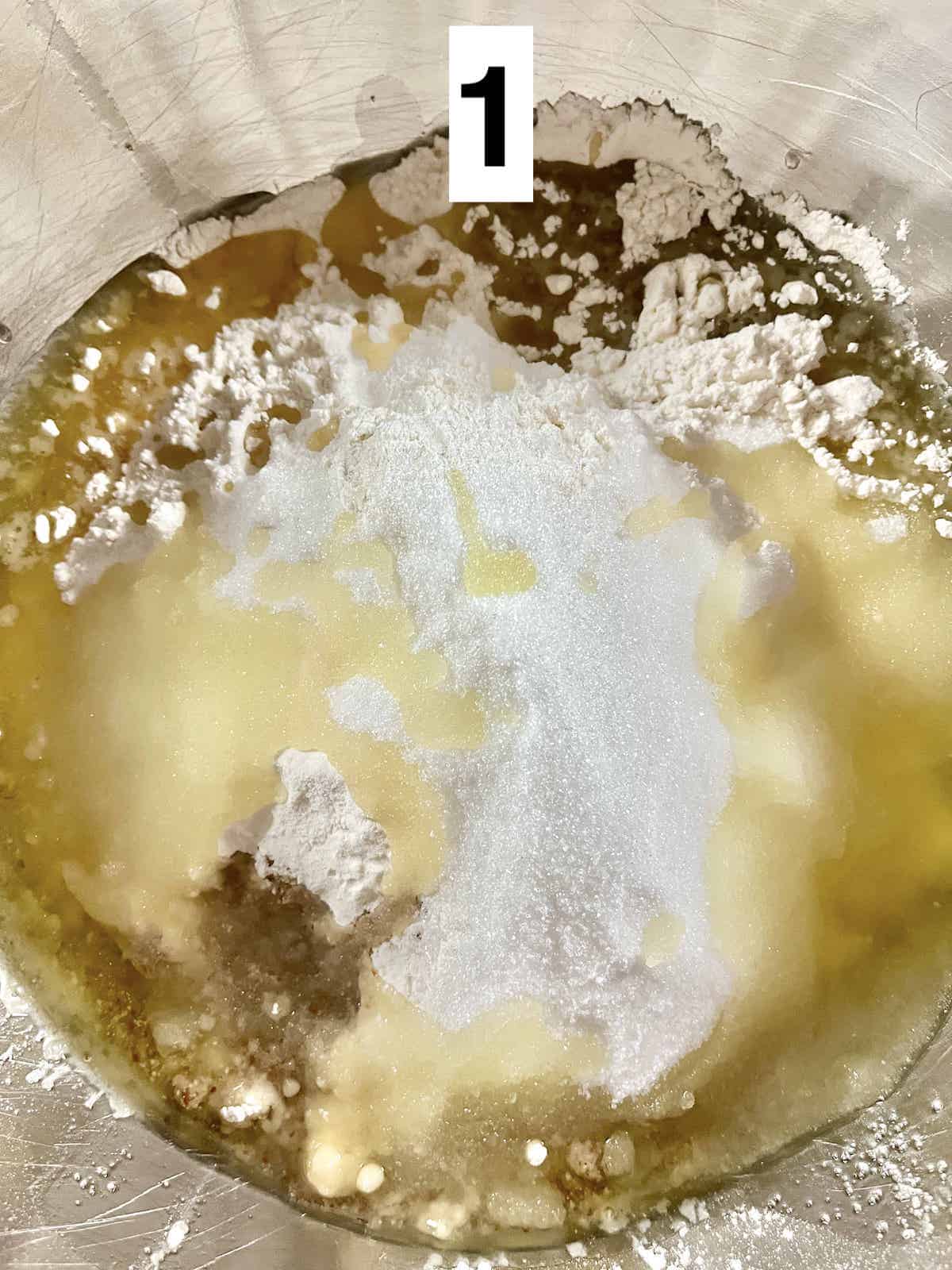 1a. Heat oven at 350F/ 176C.
Add the dry ingredients to a large mixing bowl then whisk everything together before pouring in the oil.
Tip: scatter the salt in a circle, so. it's not concentrated in 1 part of the bowl.
1b. After pouring in 90% of the oil, start adding the oil tablespoon by tablespoon. (The quantity required is just a guideline and varies depending on your ingredients. It's better to have slightly more than less oil though, or the dry dough won't hold its shape.)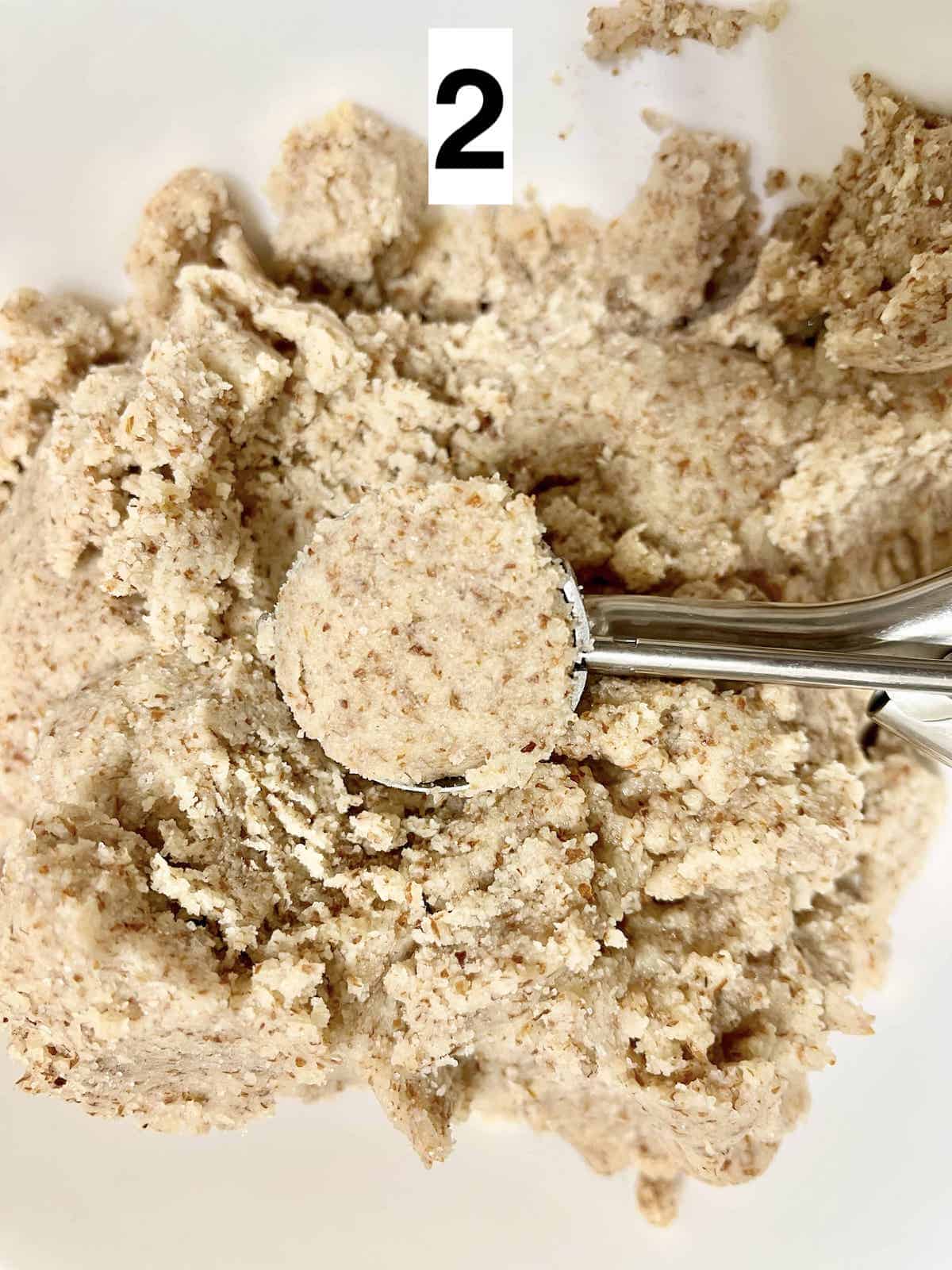 2a. Use your hands to mix the oil into the flour mixture. (This is why you need a large bowl- if not things start spilling!) You can start with a metal or wooden spoon but, eventually, you'll need to get in there with your hands (or you won't be able to feel any dry pockets of flour hidden in the dough.)
2b. Once well-mixed, roll into 1-inch balls and place on parchment paper. (I find that bite sized works best for the peanut cookies, if not crumbs fall everywhere.)
Tip: these cookies don't really spread so you can place the balls of dough fairly close to each other.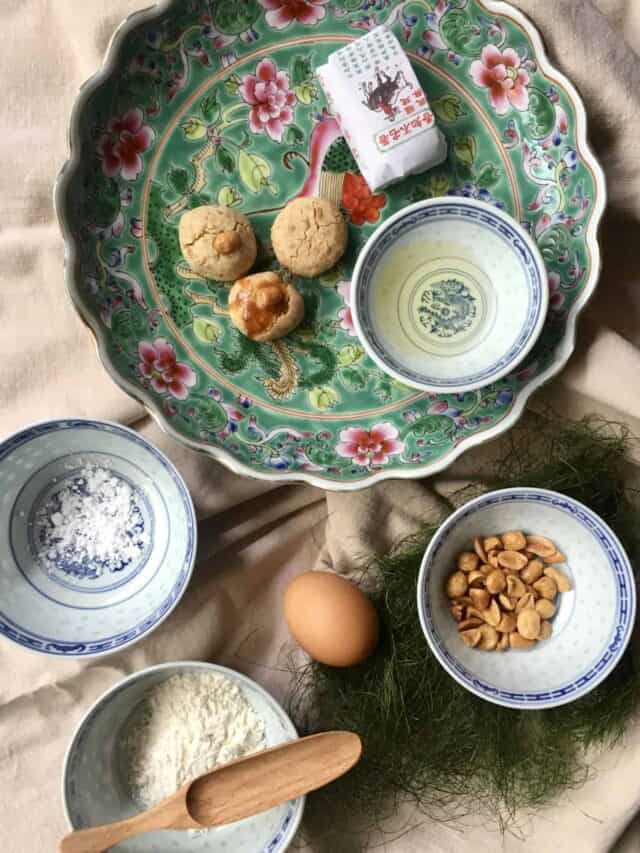 3a. Decorate the cookies as preferred. (See below.)
3b. Bake for 17-20 minutes at 350F/ 176C till golden brown. For best results, rotate the trays in the oven. (Move the top rack to the middle of the oven and, at the same time, turn the front to the back. Repeat for all the trays. This prevents any particular cookie from charring.)
3c. 4. Once golden brown, turn off the oven. Remove the cookies and allow to cool on a wire rack.
📋 What I learnt from Baking Over 2000 Cookies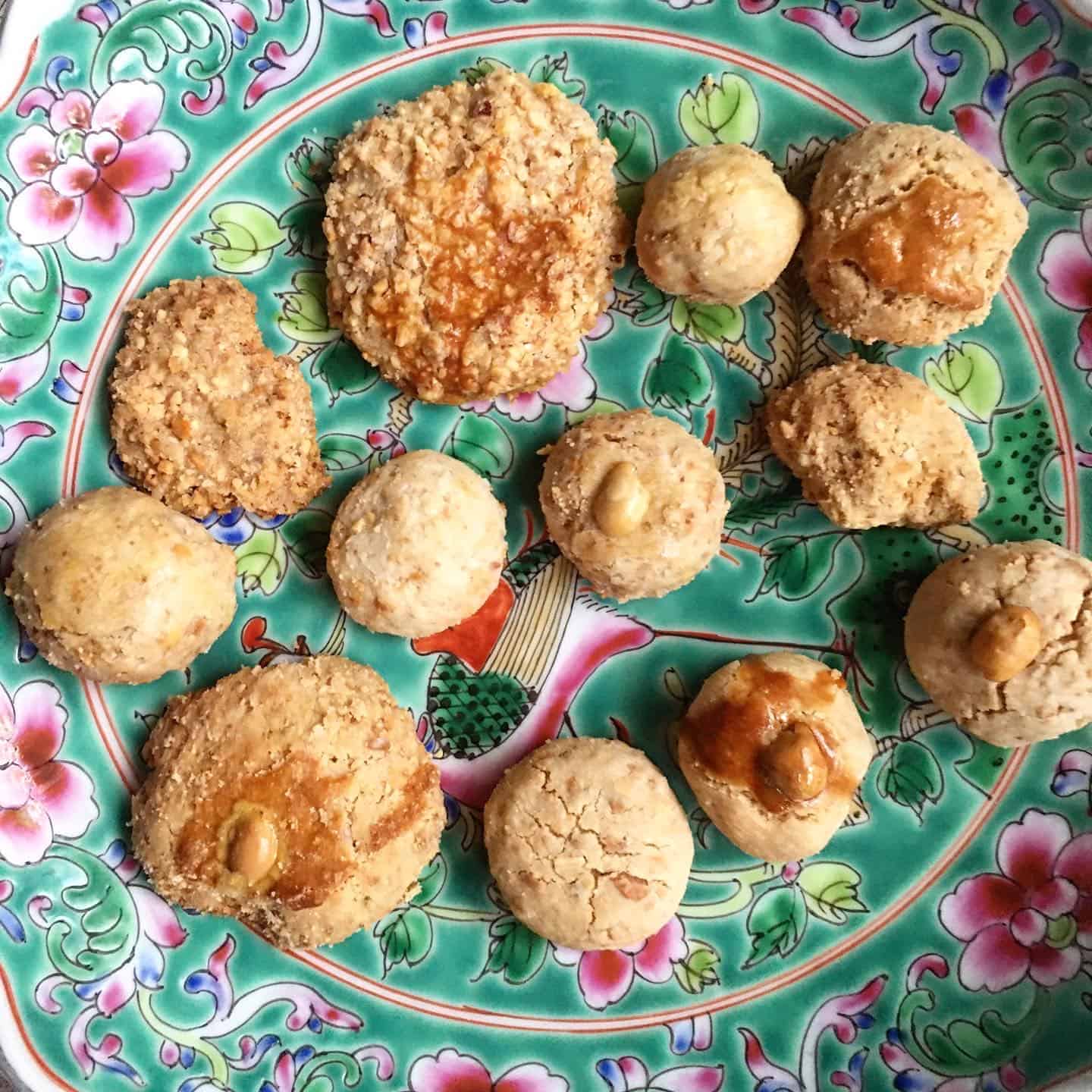 I baked more than 11 variations of these recipes to come up with this best Asian peanut cookie recipe! Here are some of them:
Since there are only 4 ingredients, slight changes in the proportions or ingredient (eg using all-purpose flour versus rice flour) affect the cookie substantially.
Scroll down to find out more!
1. Roasting your own peanuts is worth the effort
Since we are making peanut cookies, I figured I should pay more attention to the peanuts used and experimented with several types (listed from worst to best, as rated by blind taste testers):
grated peanuts from a speciality baking store
grated peanuts from a general supermarket
peanut powder from the store
home baked peanuts
snacking peanuts from the supermarket (Roasted and salted)
home fried peanuts (3 different batches fried for 7, 8 and 9 minutes consecutively)
I did blind taste testing with several testers and the home roasted peanuts won hands-down.
Probably because so few ingredients are involved, everyone could unerringly differentiate which cookies were made with home roasted nuts and which weren't.
Interestingly, the grated peanuts purchased from the baking shop did not taste as good as regular supermarket grated peanuts- so the speciality shop doesn't always offer the best quality products!
2. Fried nuts always taste better
Fried peanuts were tastier than baked (you don't say): when frying, you want to take the nuts to the edge of burnt such that they almost taste burnt when eaten alone, but somehow this only enhances the peanut flavor when baked into a cookie.
I found that frying for 8 minutes worked best for me but this may vary depending on the size and type of your peanuts. (In Chinese cooking, we have peanuts which are meant for cooking and peanuts which are meant for soups!)
I'm sure it's possible to get nice tasting nuts through baking however both the MalaysiaChineseKitchen and Roti&Rice recipes called for baking the nuts at 180C for 12-15 minutes to get light brown nuts. 18 minutes later, my peanuts were still white and soft.
I had to fry them for am extra 4 minutes to get them to crisp up. (Perhaps adding some oil would have helped but neither recipe stipulated the usage of oil.)
Personally, baking peanuts for cookies is not for me (unless I one day become super concerned about my health!)
3. Grind the Peanuts as Finely as Possible (but not till they become peanut butter)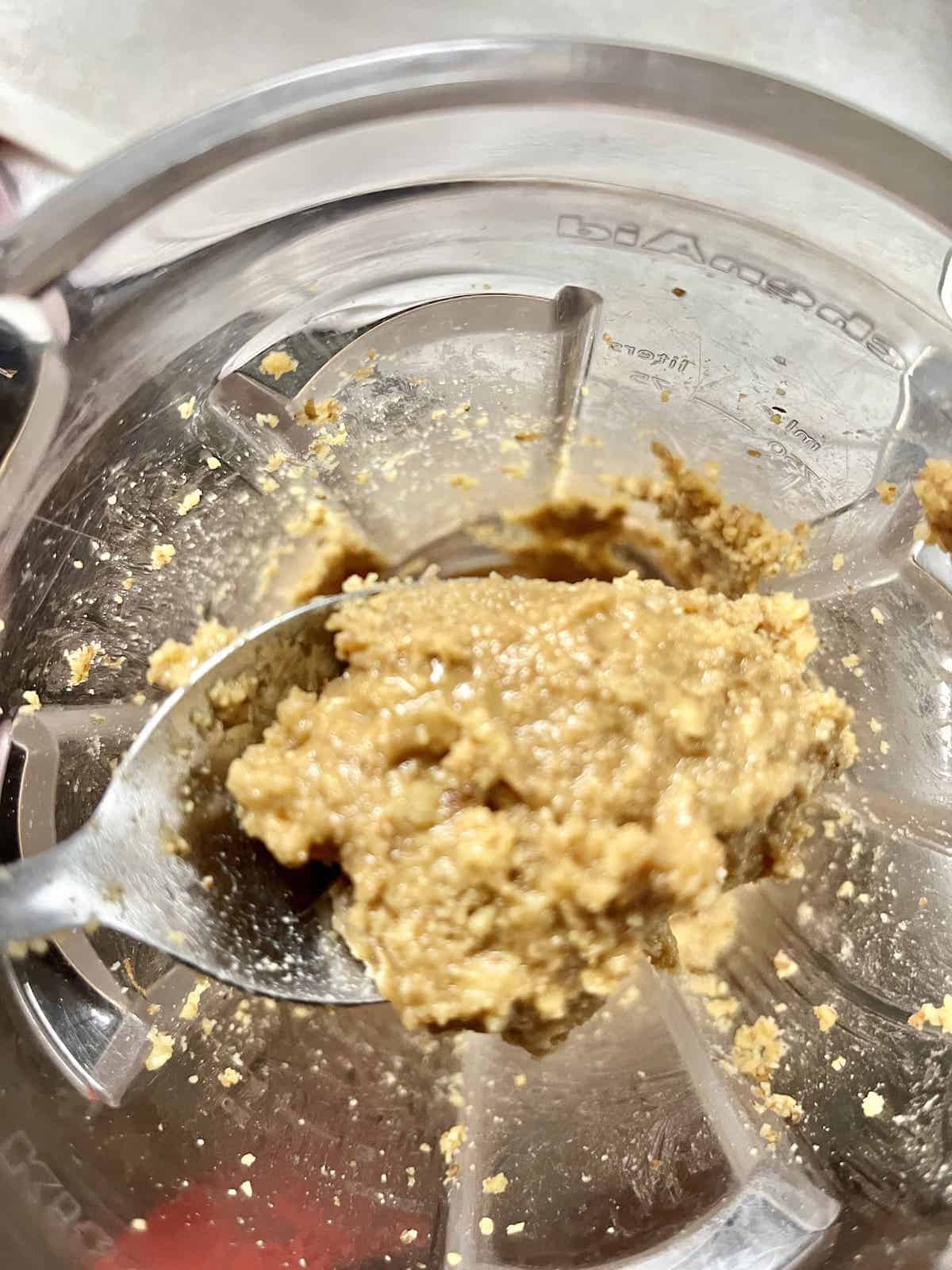 The first recipe I tried merely said to use ground peanuts and didn't specify how finely they should be ground.
I used shop grated nuts and the resulting cookie was way too loose and pretty much crumbled once touched. Not quite the crisp yet melt-in-the-mouth effect that I wanted as they could barely be picked up off the baking mat without disintegrating!
Lesson learnt: you need peanut powder. If you've bought grated peanuts, blitz them in the blender before making these Chinese cookies. However, don't overblend as this will give you peanut butter- blend small batches of nuts at a time to have better control over the fineness of the nuts.
In addition, recipes which used proportionately more peanut were more popular: people can taste the difference when you use more nut than flour in each cookie (in terms of weight).
4. To Add Peanut Butter or Not?
Some recipes call for peanut butter, which I find weird. (Save it for the peanut butter coffee!) You don't really find peanut butter in traditional Chinese recipes!
However, if you really, really must use peanut butter- it's an easy fix but note it will change the texture- make sure it's pure, natural peanut butter and not something like Skippy's (which has shortening etc in it.) If not, the cookie will become puffy. (I also recommend using crunchy peanut butter for more texture.)
The addition of an egg, as called for in the GuaiShuShu recipe, was also not well-received: perhaps the leavening effect of the eggs compromised the baked cookie's texture?
5. What kind of fat to use?
Traditionally, these Chinese New Year cookies were made with pork lard. Interestingly, none of the recipes I referenced used lard in their cookies and I, too, decided to forego lard due to health considerations and hassle.
Moreover, using nut oil enhances the peanut flavour!
Be careful that you're using the right kind of nut oil. Most nut oils in the supermarket are actually nut-scented vegetable oil! I only realised this after my Aunt. who has worked in the edible oil industry for decades and was 1 of my testers, told me- when I checked the fine print on my bottle, lo and behold, it was indeed a nut-flavoured oil.
(You can still make the cookies with nut-scented vegetable oil, sunflower oil, canola etc but the majority of my testers preferred cookies made with 100% pure groundnut oil.)
Rasa Malaysia was the only recipe that called for the addition of shortening (as well as oil) and I was curious as to its purpose so I tried her recipe with shortening and without shortening.
Unanimously, all the testers strongly preferred the version without shortening although they couldn't pinpoint the exact reason why: some said the version without shortening was sweeter and others said it tasted "less peanuty."
🍪 Decorating the cookies
To jazz up the CNY cookies, you could use a straw to poke a whole in the centre of each cookie or, as is my preference, press half a peanut into the top of each cookie.
If you're not vegan, I strongly recommend washing the cookies with egg yolk as they look much more attractive when dark brown. (I tried 6 washes: whole egg wash, egg yolk wash, whole egg with milk wash, whole egg with nut oil wash, whole egg with water wash. An egg yolk wash was voted as the most attractive cookie finish.) For vegans, you use vegan cookie washes instead.
Alternatively, if you want to try something new, you could give these classic Chinese cookies a twist by pressing chocolate chips or a teardrop-shaped milk chocolate candy in the centre a la American peanut butter blossom cookies!
For the less adventurous, you can substitute the chocolate with a dab of peanut butter.
👩 Expert Tips
Tip #1: Not all sized cookies are as good! If you're weighing the cookies individually, don't go above 10g per cookie as you want to keep them bite sized. (The crumbly nature of the cookies makes it challenging to bite them into half without making a total mess.) For an easier method, just use a ½ Tablespoon scoop or a small ice cream/ cookie scoop to create cookie dough balls before rolling it to get the dough more compact. (You want curves on your cookies as straight lines/ hard edges break more easily.)
Tip #2: You can vary the recipe by substituting the peanuts with other nut butters, such as almond butter or cashew butter.
🥡 How to Store
In an airtight container, these can last 1-2 weeks in a humid country like Singapore and stay crunchy. Perfect for Lunar New Year which lasts for 15 days!
I've had a friend keep them in a cookie jar for a month and they were still good! (She bought 10 jars...)
💭 Recipe FAQs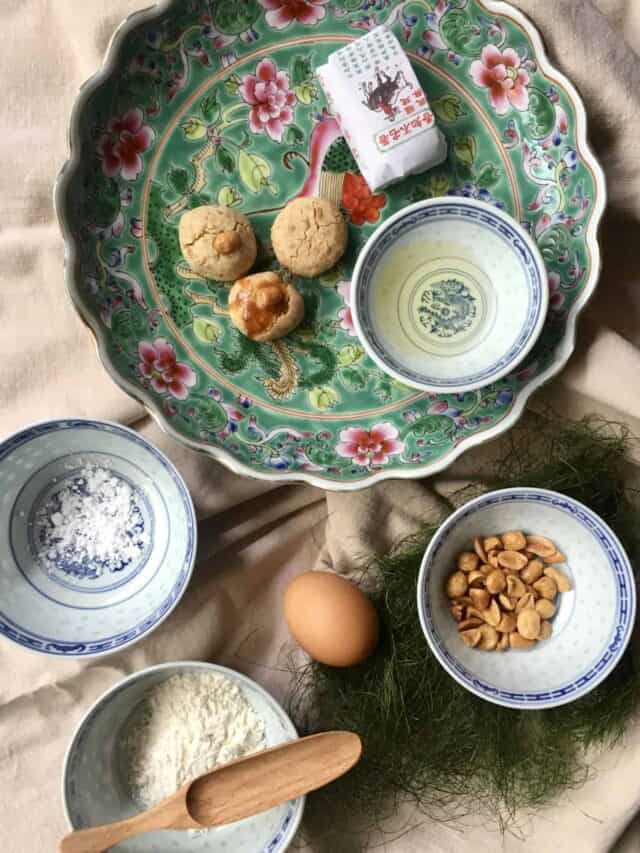 🧧Other Lunar New Year Snacks
Enjoyed this easy 4-ingredients Chinese New Year cookie Recipe? Please leave a 5-star 🌟🌟🌟🌟🌟rating in the recipe card below & if you REALLY liked this Chinese Cookies, a comment would make my week! Thank you and have a great day!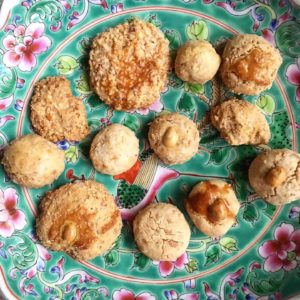 Traditional Chinese Peanut Cookies (CNY 2023)
A recipe developed by baking over 2000 cookies and so good 1 person ordered over 20 jars last year!
Ingredients
320

g

peanuts

(320g/ 0.7 pounds) You will need an additional (approximately) 50 peanuts if you are decorating the top of each peanut cookie with half a peanut

⅘

Cups

pure groundnut oil

(about 180 ml, plus or minus) You will need extra to fry the peanuts. Although a bit more oil is better than too little, don't go overboard or your cookies won't hold their round shape- they'll melt into an oblong "puddle.")

1

teaspoon

salt

You may get very salty pockets in your cookies if your salt isn't fine enough, so blitz the salt with the peanuts to get a more consistent taste.

2⅓

Cups

all-purpose flour

(0.62 pounds/ 280g)

¾

Cup

caster sugar

(150g/0.33 pounds) Can be substituted with granulated sugar or icing sugar (Icing sugar MUST be sifted before using to avoid sweet lumps in the dough. I recommend icing if you're including some bigger peanut pieces in the dough, if not the cookies will be super crumbly.)

2

egg yolks

beat together for egg wash, optional but recommended. Add a few drops of water if the consistency is too thick to brush on smoothly
Instructions
Making peanut powder
Place all the peanuts in a colander and rinse well. Spread them out in a single layer to air dry till they're dry to the touch. (This may take several hours. I tend to wash mine in the morning and fry in the afternoon. Make sure they are super dry as we're frying them!)

Pour enough oil into your wok/ pot to cover your nuts and heat on medium-high. When hot enough, the oil should wave slightly- if it is smoking, it is too hot!

Once the oil is hot enough, add enough peanuts to cover the bottom of the pan- do not overcrowd as this will cause the oil temperature to drop too drastically. (You may have to fry the nuts in several batches.) If the oil is hot enough, the nuts should sizzle and bubble.

Note: beware as the oil may sort of slightly explode with a pop now and then if there's water in the nuts!

Stir the nuts constantly for about 7-8 minutes before removing them from the oil and placing them on kitchen towels to drain the oil. (Note the peanuts will continue darkening once removed from the oil) Repeat the steps till all the nuts have been fried.

Let the peanuts cool and once cool enough to touch, remove the skins.

Note: This is indeed a tedious process so if you can get good quality freshly roasted snacking nuts from the shop, you may want to use those instead. The only negative is that they can cost quite a bit more!

Once the nuts are cooled and skinned, take out 50 peanuts, split them into half and cover. Blend the remaining nuts with the salt in your food processor till it becomes a powder. (Do this in batches so you have better control over the texture. You can leave about 5-10% as bigger pieces for a bit of crunch but not too much or your cookies will break at a touch!)
Making the cookies
Sift the flour then add to the sugar and peanut powder. (If using icing sugar, sift it with the flour.)

The amount of oil you will need varies depending on how much oil is produced after you've blended the nuts so add approximately 90% of the oil to the peanut powder, flour and sugar mixture first. Mix well. If the mixture is too dry, add the rest of the oil and mix till homogenous. (Too dry a dough won't hold together, and too wet a dough will ooze into a flat oblong puddle instead of keeping the round cookie shape.)

Use a ½ tablespoon scoop to scoop out the dough then roll each scoop into a round ball. The cookies don't spread much in the oven and may be placed very close to each other on the baking mat.

Take out the peanuts that you've separated into halves earlier and press half into the centre of each cookie.

Use a brush to brush the egg yolk wash over each cookie, diluting slightly with water if it is too thick.

Bake at 350F/ 176C till golden brown (approximately 17-20 minutes) Turn the baking tray around halfway through baking for a more consistent colour (as ovens have hot spots, usually at the back corners)

Allow to cool then enjoy these crunchy yet melt in the mouth snacks!
Notes
Do not use olive oil to deep fry the nuts as it has a low smoke point. I use nut oil but you can also use grapeseed oil, canola oil or other vegetable oils.
Make sure the cookies are rolled with round edges, if not the crumbly texture will make any straight edges "chip" badly.
Nutrition
Calories:
54
kcal
Carbohydrates:
4
g
Protein:
1
g
Fat:
4
g
Saturated Fat:
1
g
Polyunsaturated Fat:
1
g
Monounsaturated Fat:
2
g
Cholesterol:
4
mg
Sodium:
26
mg
Potassium:
26
mg
Fiber:
1
g
Sugar:
2
g
Vitamin A:
6
IU
Calcium:
6
mg
Iron:
0.3
mg
What are your favorite Chinese New Year cookies? For more easy cookie recipes, why not sign up for my Asian recipes' newsletter?