Unfortunately, there aren't many vegan dishes in typical Chinese cuisine. However, it doesn't mean you can't enjoy Chinese food if you're plant-based! Try these Vegan and Vegetarian Chinese New Year recipes for a delicious 2023 Reunion Dinner!
Jump to:
Chinese New Year cooking- well cooking for any party really- can be a bit stressful, so here's a CNY meal planning guide showing how 1 person can prepare the meal stress free. (Recipe suggestions are, unfortunately, not all vegan.)
Note: If these 30+ vegan and vegetarian dishes are not enough, here's a link to more delicious Vegan Asian recipes to grace your festive table! Or, if you want a different cuisine, try these vegetarian Indian recipes or these vegetarian South East Asian dishes.
🥟 Savoury Snacks
Sometimes, Chinese New Year snacks can feel like sweetness overload, what with sweet glutinous rice balls, walnut cookies, Koi Fish Agar Agar...
If you are more of a savoury person- like me!- try these recipes instead!
Scallion Pancakes
To make this street snack vegan, substitute the lard for regular vegetable oil (tried-and-tested FYI) or just vegan lard instead.
P.S. If you don't have enough spring onions, here are some substitutes!
Singaporean Chinese Curry Puffs
The main ingredients of the filling are potato and onion, but you can also add carrots and peas to bulk it up.
Tip: remember that you need cold water to get a crisp dough!
Braised Nuts
These soft peanuts are often stewed in soy sauce and sesame oil then served at Chinese restaurants as an appetiser.
Note: For more Asian Nut recipes, such as these crunchy yet melt-in-your-mouth Chinese New Year peanut cookies, click here.
Spring Rolls
This is a super easy vegetarian Chinese starter. We used to make this weekly in my house!
Tip: if served not fried, this is a very healthy Chinese food recipe!
You will need
spring roll wrappers (can be substituted with filo pastry if baking/ deep-frying)
If using spring roll wrappers, remember to cover the opened packet with a damp cloth to keep them from hardening (whilst you are wrapping. After wrapping, extras must be put in the fridge or frozen)
A mix of Napa cabbage, carrots, mung bean vermicelli (soaked in hot water till soft), fresh Shiitake mushrooms (for umami, if replacing with dried ones, they need to be soaked in hot water for a few hours to soften) and green onions

Add bean sprouts if you want more crunch

Seasoning: soy sauce, vegetarian oyster sauce/ mushroom sauce, vegetarian chicken bouillon and salt
How to Make
Shred or julinenne the vegetables/ mushrooms till they are all in thin slices whilst soaking the bean thread noodles.
Stir-fry the shredded ingredients then add the seasoning, to taste
Once cooked, allow the filling to cool slightly.
Wrap the spring rolls in the wrappers- you will need to dab a bit of water to seal them well, so that they don't burst when frying.
Deep fry till golden brown and crispy (or air-fry/ bake)
Dumplings
Vegetable dumplings are a popular side dish. This recipe uses mainly Napa cabbage and Shiitake mushrooms, but you can also vary it up with firm tofu and even water chestnuts for crunch!
Note: don't forget the dipping sauce, such as this Toyomansi Soy Sauce!
🍜 Soup & Noodles
A noodle dish is a must on the Chinese New Year table.
Just remember not to cut the noodles or you'll achieve the reverse effect! (And annoy all the Asian elders.)
Note: For other Chinese Long-Life Noodle dishes (such as stir-fried vermicelli, mostly non-vegan), check out this link.
Spicy Sauce Noodles
Note: if you don't have bok choy, you can use replace with Chinese cabbage, green beans or bell peppers.
Vegetable Chow Mein
If you prefer to work with everyday Chinese sauces (instead of having to specially buy Lao Gan Ma) try this Vegetarian Tofu Noodle, which only requires mirin, light and dark soy sauce.
Hot & Sour Soup
This Sour Soup Recipe (酸辣汤 (Suān là tāng)) is easy and delicious. Best of all, this vegan recipe is done in 30 minutes!
🍞 Bao Buns
Who can say no to fluffy baos? (They're delicious served with soy milk!)
The trend in Chinese communities is to make baos that resemble the zodiac of the year, so for 2023 it should be Rabbit mantou buns!
Vegan Stuffed Baos
Spiral Mantous
Note: these can be made weeks before CNY, frozen and steamed from frozen for Reunion Dinner. Much less hassle! (And all your relatives will be super impressed that you made them from scratch!)
Green Tea Buns
🥦 Vegetables
There's more to vegetarian Chinese dishes than just stir-fried leafy greens!
Orange Cauliflower
Lo Han Jai
Also known as Buddha's Delight, this is 1 of the best vegetarian Chinese food recipes cooked during the Spring Festival. Delicious with just a bowl of white rice!
Note: it requires a lot of specialty ingredients that you'll need to hit up the local Chinese grocery to find, such as bamboo shoots, dried beancurd and black fungus. You can also add wheat gluten, although it's not specified in this recipe.
Sichuan Eggplant
🧈 Tofu
Tofu is 1 of the most common vegan and vegetarian ingredients as it takes on flavours very easily and is protein packed.
Chinese people have been making tofu for centuries so we have a LOT of tofu recipes! (I've kept it to just 3 here as many vegans complain about tofu overload.)
Stir Fry Tofu
Vegan Orange "Chicken"
5-spice Tofu
The next time you make this crispy tofu, try using homemade Chinese 5-spice powder mix. It's much more fragrant than shop-bought and makes a ton of difference in the flavor!
Vegan Tofu
If you like your food bold and flavorful, you'll love this Kung Pao Tofu, with its numbing Sichuan peppercorns!
Note: if you really, really can't get Chinese black vinegar, try Balsamic Vinegar or 1 of these Chinkiang vinegar substitutes.
🍰 Desserts
Chinese New Year is all about symbolism.
The foods we eat represent a better year ahead, and dessert recipes are a must as they represent a sweet year ahead! For more symbolic (sadly not vegan) Chinese New Year foods, try these 12 Golden CNY recipes.
Note: for more Chinese New Year dessert recipes for 2023, or if you're looking just for Chinese cookies, click here.
Hup Toh Soh
Agar Agar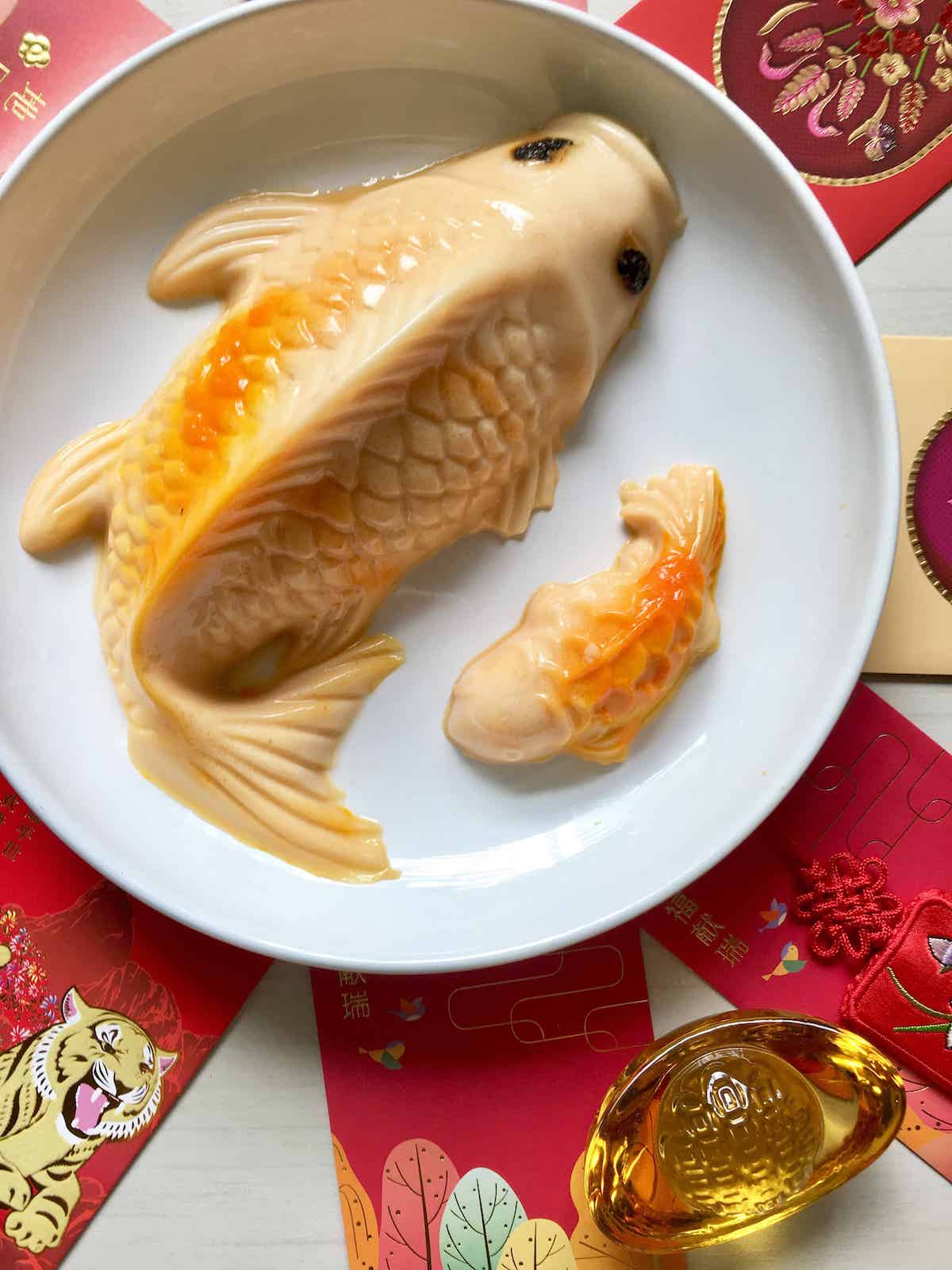 Peanut Cookies
Yuzu Jelly
CNY Cake
Champagne Jelly
Papaya Tong Sui
For more Papaya sweet recipes, click here.
Osmanthus Flower Jelly
Red Bean Soup
🍵 Drinks
These days, most Chinese families stock up on soft drinks for Chinese New Year. Why not make these homemade Chinese drinks for healthier yet easy and tasty alternatives?
Dried Longan Tea
Gui Hua Cha
Suan Mei Cha
The Lunar New Year is the season for overeating, so some of this Chinese preserved plum tea would be great as it promotes digestion!
Plum Tea
Da Mai Cha
If you make any of these Chinese Vegetarian Recipes, don't forget to tag me on social media! (@greedygirlgourmet) If you've enjoyed them, would you like to subscribe to my Asian recipes newsletter?