Jump to:
When I was living in London, I loved to invite people over for a Chinese New Year bash. Unfortunately, it was just me in the kitchen, cooking for 10-15 people- unlike in Asia, there was no hired help, although I did manage to rope in a friend as a kitchen elf once! After several hit and miss attempts- the most memorable of which was when I had to duck out to the supermarket mid-dinner to buy more ingredients as the Thai feast I'd prepared wasn't enough to feed everyone (!!!)- I realised that the trick to successfully solo-cooking for a large group is in the recipe planning. (For inspiration, check out these 70 or so CNY recipes.)
For a Chinese New Year Feast that I person can cook up, you need a mix of recipes:
dishes that everyone can eat- if you're having vegans at your CNY table, here are 23 easy vegan CNY dishes
that can be prepared days before the party
that are prepared on the day of the party itself. As this will be your busiest day, choose dishes

involving hands-off cooking (e.g. dishes that go into the oven), so that you can simultaneously
prepare dishes that require active cooking
For a proper Chinese New Year meal, you also need "auspicious dishes" to usher in a good year. These dishes either have names that are homonyms for good fortune and prosperity or symbolise wealth and longevity. For example, dumplings and noodles are traditionally found on the New Year table because the former look like gold ingots, and the long strands of the latter symbolise longevity.
Here is a menu for an auspicious Chinese New Year feast that 1 person can cook up:

Food to prepare the week before Chinese New Year
In the week leading up to Chinese New Year, buy your mandarin oranges and pomelos - the Cantonese names are homonyms for gold and prosperity respectively. (I have been known to substitute regular oranges for mandarins in a pinch, when living in a non-Asian country.) A Chinese custom is to make sure that your oranges are piled up high in the bowl- you want your luck to be overflowing in the year ahead!
In the same trip to the supermarket, buy your sweets and gold-wrapped chocolates: you want the year ahead to be as sweet as honey! If you hope to have kids (or grandchildren), stock up on some melon seeds too. Nuts and seeds are Chinese symbols of fertility and traditionally placed in the centre of an octagonal plate (with the sweets and chocolates all around) as the number 8 is a homonym for "striking it rich."
2-3 days before Chinese New Year: make your CNY snacks
Traditional Chinese New Year snacks include:
Cantonese walnut cookies or hup toh soh: these are almost exclusively made for Chinese New Year now!
Pineapple tarts (will take you at least a day to make if you are preparing your own pineapple jam- in Asia, they sell ready made pineapple paste but I like to make my own from scratch as you get a better texture and have more control over the level of sweetness.)
Chinese nut cookies, such as peanut cookies or walnut cookies. (If deep frying your own nuts, the peanut cookies will take you over half a day to roast and skin- I made 1500 peanut cookies last year and have baked another 40 bottles in the last 2 weeks to come up with The Ultimate Chinese Peanut Cookies recipe.)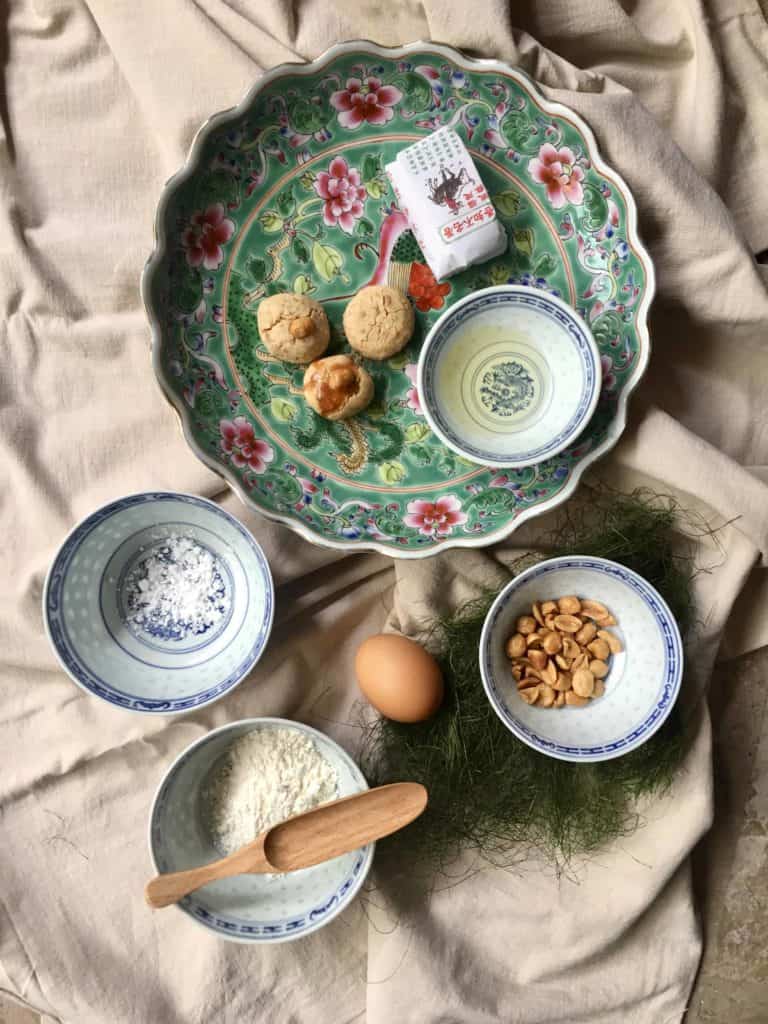 Sesame or peanut-filled tang yuan (chewy round rice dumplings) to wish for friends and family to be reunited every year. These can actually be frozen so you can actually make them waaaay in advance if you want. Remember to serve them only in even numbers- you can't reunite if there's only 1 of you!
Although not very traditional, I also like to make Golden Crispy Salted Egg Cornflakes and Osmanthus konnyaku jelly for the Lunar New Year. The latter is a pretty sweet that can be prepared a few days in advance and the yellow osmanthus tea flowers look like gold.
Another traditional dish is Nian Gao but my family never had the habit of eating it and it's quite an acquired taste so I'm not including it in this list. If you do want to make it, here's a good recipe.
1-2 days before Chinese New Year: make ba kwa (or Chinese pork jerky)
Some people feel the ba kwa tastes better after resting for a day or 2 so ba kwa is the perfect dish to make in the days leading up to your Chinese New Year feast. The deep red colour is considered lucky so even if you don't want to use artificial red colouring, don't forget to use tomato paste, beetroot extract or red yeast to give your ba kwa a nice colour!
Tip: if you really can't live without the smoky flavour of ba kwa but aren't able to grill your own ba kwa over charcoal, use a blowtorch to char it OR add a pinch of liquid smoke to your ba kwa mixture. Note that there are some health concerns over using liquid smoke but the general consensus seems to be that using it in small amounts is OK.
Braised abalone with mushrooms- generally Chinese people love abalones and they're even more beloved on the Chinese New Year table because abalones are a homonym for abundance and symbolise prosperity. Braised dishes usually taste better made the day before eating as the flavours have had time to meld together so this is the perfect Chinese New Year recipe to make beforehand.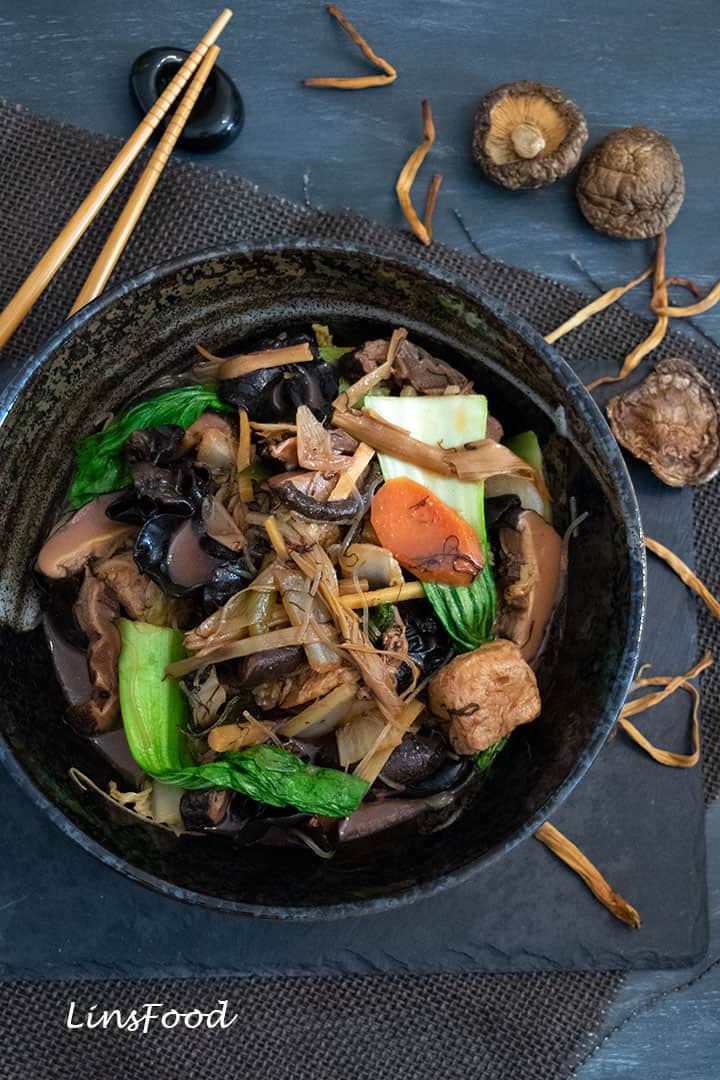 On the day of your Chinese New Year party
Traditionally we celebrate reunion dinner the night before Chinese New Year, but it's common to have gatherings throughout the 15 days of New Year. 3 hours before guests arrive, prepare your vegetable dish Buddha's Delight (Lo Han Zhai) which contains fatt choy, a seaweed that is both delicious and lucky- its name sounds like the phrase "make it rich!"
2h 30 minutes before the party: poach a whole chicken
Chicken is a homonym for luck in Chinese and it is customary to serve your chicken (and fish) whole, so heads and feet (tail) still attached please. I always get praised when I serve this Chinatown Soy Sauce Chicken at dinner parties- it's better than takeout, and mostly passive cooking! If soy sauce isn't your thing, here are 5 other whole chicken recipes for CNY!
If not: roast one 1 hour 20 minutes before
I like to slather my chicken in mayonnaise and then roast it at 425F/ 220C for 20 minutes before lowering to 400F/ 200C for approximately another 40 minutes- give or take depending on the size of your chicken (Make sure the chicken is at room temperature before popping into the oven and don't forget to rest it before carving!)
A great tip from Samin Nosrat - you may have seen her show on Netflix Salt Fat Acid Heat- is to have the legs pointing at the back corners of the oven as they take the longest to cook (and the back corners are usually the hotspots of the oven)- switch oven corners the legs are pointing at midway through roasting.
Note: If you're really expecting hordes of people, bulk up your meal by popping some vegetables to roast at the same time. To get a crispy chicken skin, I usually place the vegetables on a different roasting tray from the chicken.
Whole Fish
We often steam fish - a homonym for abundance- for Chinese New Year but cold fish does not taste good cold and my guests are infamous for arriving whenever they want. A classic example would be someone who'd messaged me 2 hours after dinner was scheduled to start to say they were no longer coming! Moreover, after all the appetisers, snacks, noodles, dumplings and a whole chicken, a whole big fish may be too much so I usually serve my whole fish small: either oven baked shishamo or fried ikan bilis.
Whilst the chicken is in the oven, stir fry your noodles and make your dumplings- these daikon potstickers are paleo, low carb and whole30. (Using daikon as a wrapper is not traditional but it's nice to have something lighter on the menu after so many snacks and heavy foods.
Whilst everyone is eating, have a pot of Chinese sour plum tea simmering on the stove, to help everyone digest this heavy meal!
So, you've now single-handedly cooked a Chinese New Year feast that consists of ba kwa, roast chicken, braised abalones and mushrooms, dumplings, noodles, Buddha's Delight, peanut cookies, osmanthus cookies and tang yuan- give yourself a pat on the back and take a well-deserved rest before the next Chinese New Year rolls around again and I share another list of recipes for a Chinese New Year feast that 1 person can cook!
Other Chinese New Year recipes you may be keen on include: