The best Abalone Recipes for 2023 to bring you prosperity in the year of the Rabbit, from Chinese cuisine to Korean, Japanese and Italian!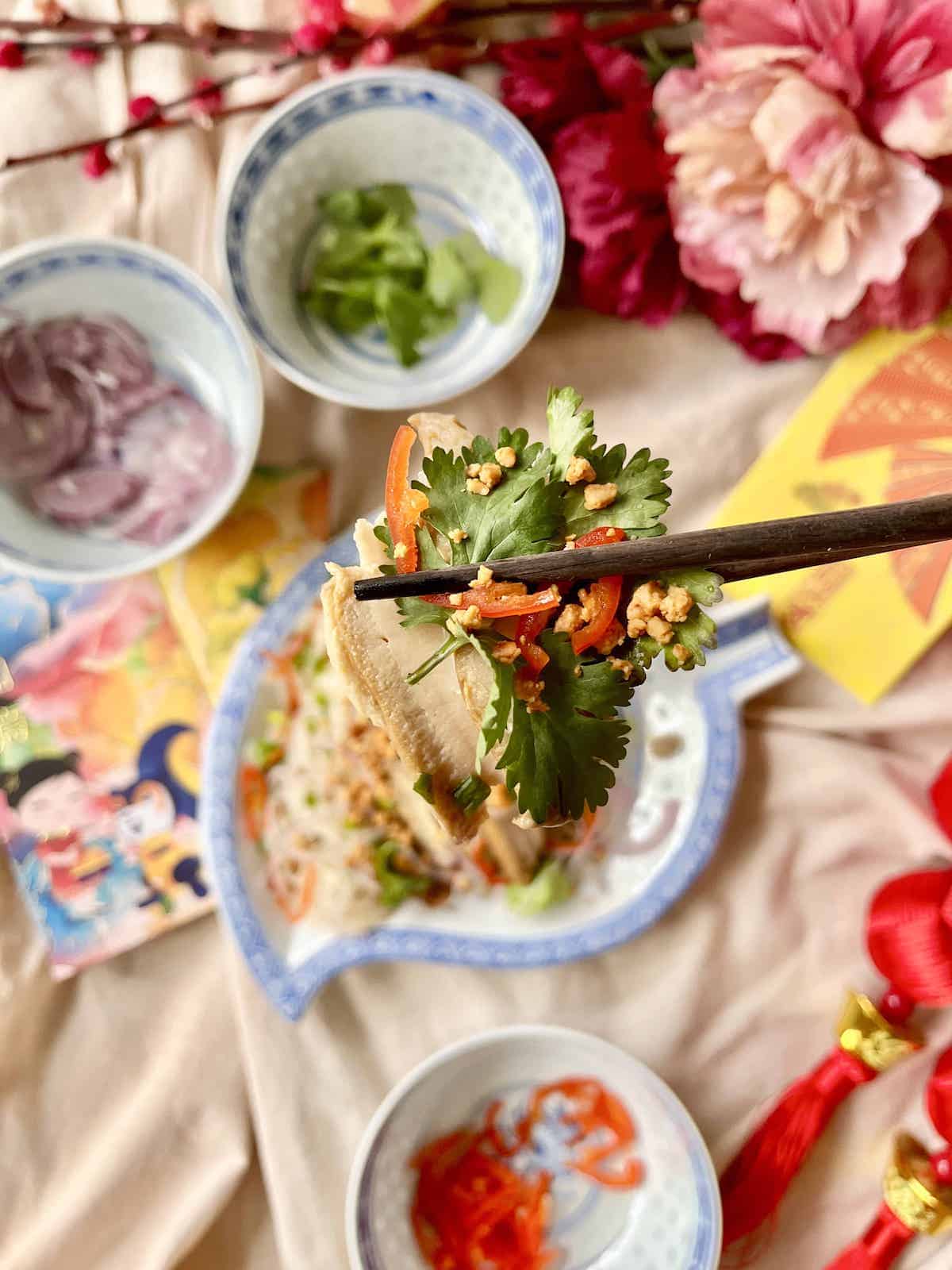 Jump to:
🦪 What is Abalone?
Abalone, or 鮑魚 Bao Yu in Chinese, is a gastropod mollusk that is considered a delicacy in Asian cuisine, so abalone dishes are often seen at special occasions. Abalones can get very pricey! (At Blossoms restaurant at Marina Bay Sands Hotel in Singapore, they even sell them at over $500 per sea snail!)
You can find it in cold waters, usually that of Australia, New Zealand, Australia, Japan, South Africa and North America (the west coast.) 
They have a sweet and salty taste as well as a chewy but tender at the same time texture. You can eat them cooked (often braised or in soups in Chinese cooking) or even raw! (Only if they're sashimi-grade that is.)
Another reason Asians love this sea snail is because the name, Bao Yu in Mandarin, sounds like "An explosion of abundance" so they represent good luck and fortune.
An abalone dish is almost mandatory during the Lunar New Year, which is also known as Chinese New Year and Tet (in Vietnam) as are whole chicken and shrimp recipes, to represent togetherness and laughter respectively.
Types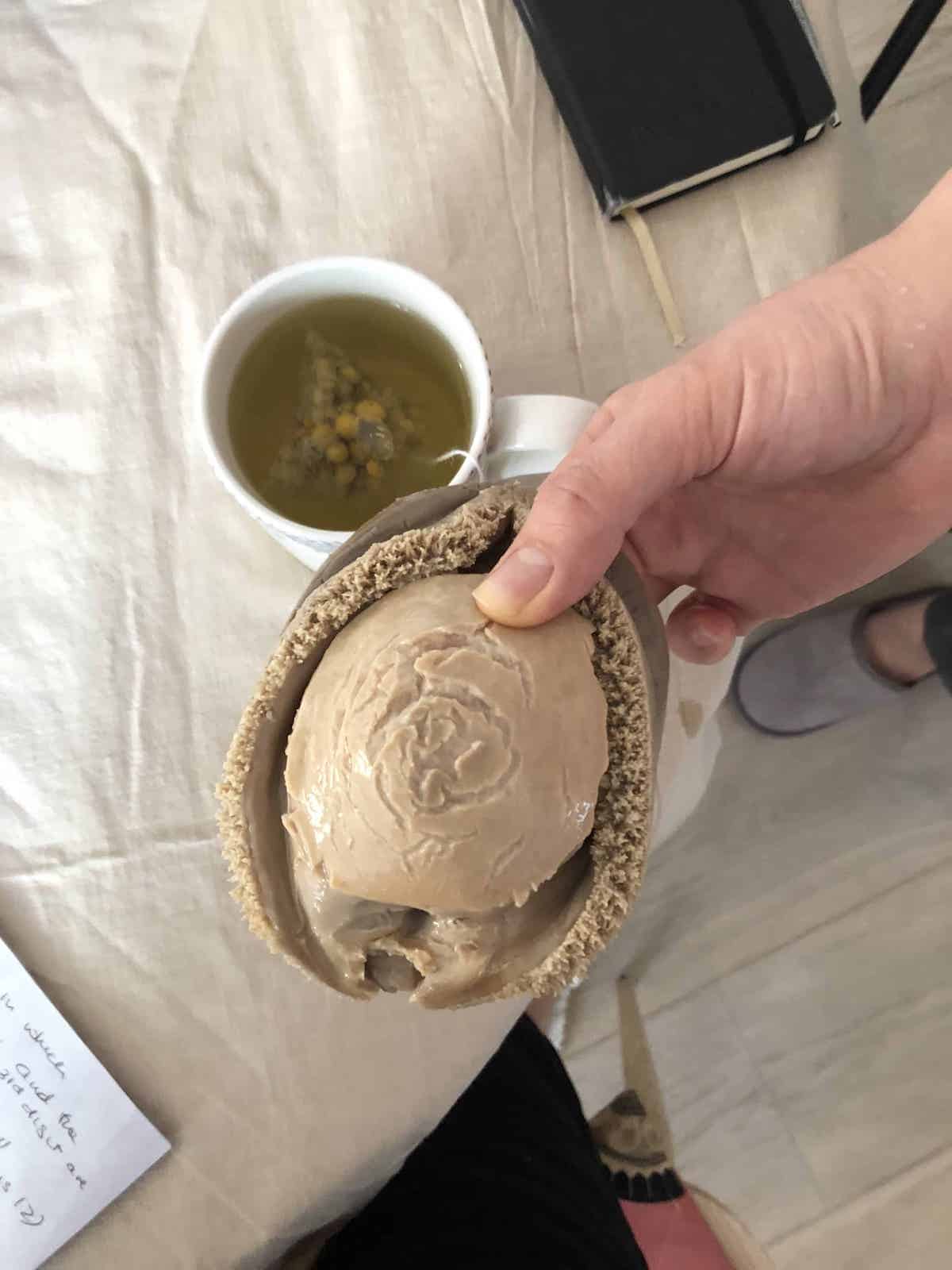 They come fresh/ raw, frozen, canned and dried. Canned abalone is the most convenient (and easiest to cook) whilst dried abalone is the most difficult and the most expensive!
Frozen abalone prices vary a lot- sometimes high, sometimes cheap, depending on the supply. Once year, they were going at $1 apiece in Singapore!
Even canned abalone can vary greatly in price- there are super cheap tins going for S$1, whilst my preferred brand, Calmex, is about S$212-258. The large one in the photo above is so rare that it retails for over S$1000 and is only imported once a year (for the Lunar New Year!)
Note: the Californian black and white abalone are endangered so don't eat those!
Where to Buy
You can find the canned ones at most Chinese supermakets and the fresh/ frozen ones, which is a little harder to find, at some Korean grocery stores.
👩 Expert Tips
Tip #1: Save the abalone brine in the can to cook with. You can add a few tablespoons to your soups, stews and braising liquid. I like mixing it with oyster sauce, fish sauce and some corn starch slurry to make a thick, golden brown sauce for balanced broccoli
Tip #3: If you're vegan or vegetarian but don't want to miss out on the CNY fun, there is mock abalone!
💭 FAQs
Can you eat abalone from the can?
Most abalones are cooked before canning so, yet, you are able to eat it from the can without cooking, like you do with canned tuna.
What is the best brand for canned abalone?
There are many different ones and I usually use Calmex, New Moon or Eu Yan Sang.
Canned Abalone Recipes
Asian Seafood Salad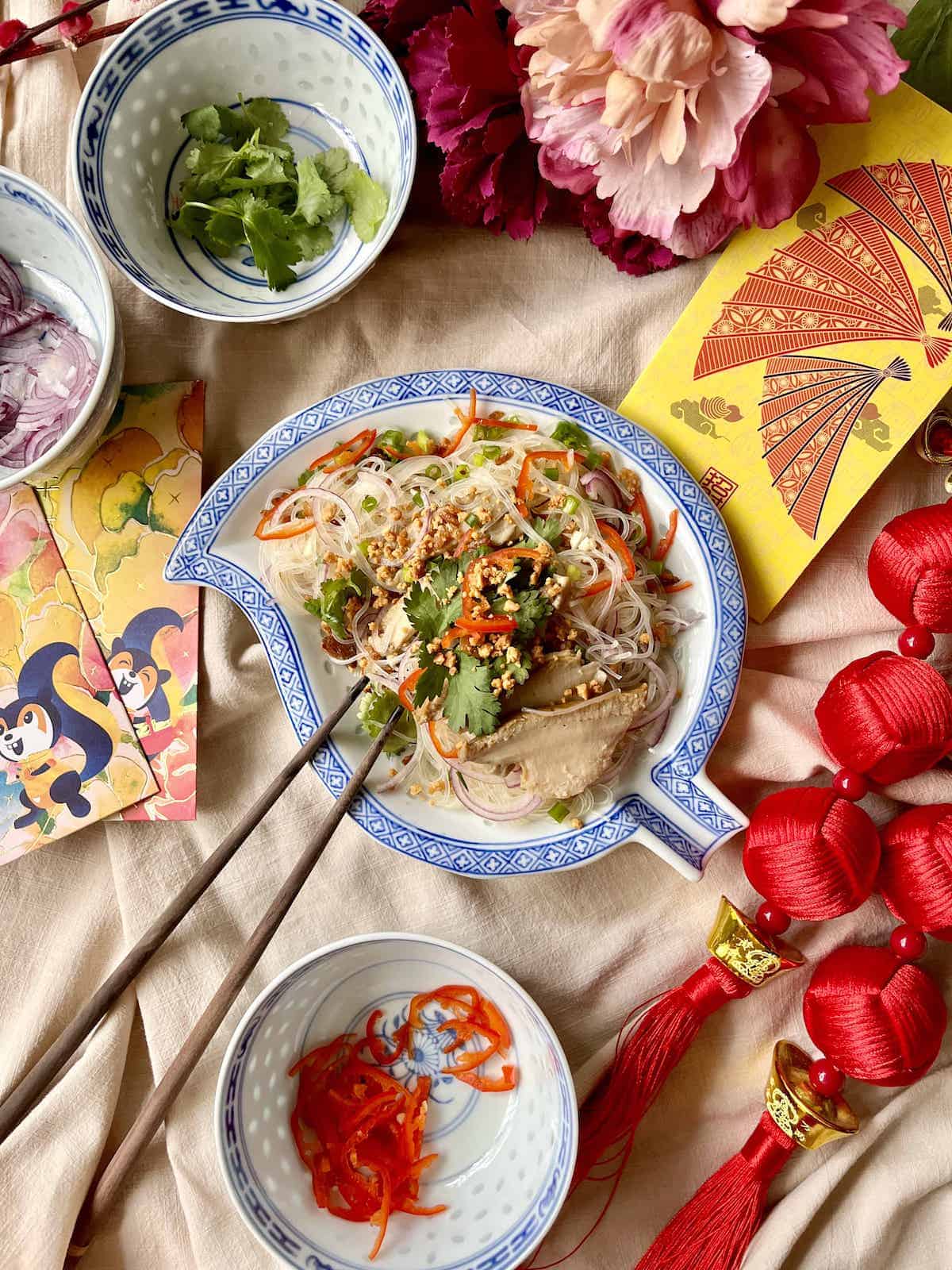 Thai Vermicelli Noodle Salad with Abalone
Tangy, sweet, spicy, and savory, this light Thai Vermicelli with Abalone Salad is a great make-ahead recipe for your Chinese New Year 2023 celebration dinner. It can even be a no-cook recipe, and is the perfect dish for beginner home chefs!
Click here for the refreshing Abalone Noodles recipe.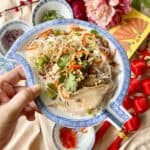 Blanched veggies aren't the tastiest, but serving them with abalone in an abalone sauce makes even the most limp vegetables taste good!
Fish Maw Soup
Chinese people love our soup, and fish maw and abalone is a classic combination. Although dried abalone in soup is best, it is a real palaver to cook dried abalone (hours of soaking and changing the water), so using canned abalone makes it easier but still delicious!
Moreover, dried abalone creates a darker soup color, but not as dark as this black chicken soup, so canned abalone is a better choice if you want to create a clearer, consommé type soup.
Note: abalone soups often have a chicken stock base.
Braised with Shiitake Mushrooms
Abalone is often combined with other premium ingredients such as fish maw, dried shiitake mushrooms and sea cucumbers. This braised mushroom dish is a classic Chinese New Year celebration food.
Spinach
Blanched veggies aren't the tastiest, but serving them with abalone in an abalone sauce makes even the most limp vegetables taste good!
Cold Abalone
This cold seafood dish is serve with a spicy toyomansi sauce!
Claypot Rice
The abalones in the recipe elevate this street food dish to another level, with the Chinese sausage adding umami to every bite. Best of all, it's made in 1 pot!
Note: if you can't get caramel soy sauce, use Chinese dark soy sauce (preferred) or Indonesian sweet soy sauce.
Fresh Abalone Recipes
Fresh abalone need a bit of skill as you have to shuck them, clean them (with a clean toothbrush) and tenderise them. (If not they're much too chewy!)
Tip: the guts and back parts are edible but not everyone likes them. Korean abalone porridge uses these bits for incredible flavor!
Steamed with Oyster Sauce
When your ingredients are fresh and flavorful, you'll be surprised how little you need to do to them, as in this 4-ingredient fresh abalone dish!
Alternatively, you can do a milder seasoning of light soy sauce, sesame oil, ginger and green onions!
P.S. For more 5 ingredients (or less) Asian recipes, click here!
Sesame Salad
Fresh abalone tastes superb after being tenderised (by hitting with a meat mallet a few times) and served in a master stock made with fish broth.
Other Cuisines
Korean
Besides Chinese people, Koreans also love their abalone (they get super fresh ones from Wando.) I love their marinated abalone, but it may be too much for some people (it's raw.)
For something more universally acceptable, try this Pan-Fried Abalone recipe, that's a simplified version of Jeonbokcho!
Note: alternatively you can cut into thick slices and pan-fry to make abalone steaks!
Italian
Risotto
White wine, fish stock, squid ink, vermouth and more go together deliciously in this risotto recipe. (Yes, this dish is a bit more complicated than the other 2 in this list!)
Pasta
Like the Korean recipe, this abalone pasta uses a few simple ingredients only- really allows the briny flavor of the shellfish to shine through!
Tempura
Slice, coat in tempura batter and fry!
These fried abalone slices would taste pretty good on top of Yu Sheng or Chinese New Year Prosperity Salad!
Now that we've come to the end of our list of Chinese New Year abalone recipes, will we be seeing any at your family reunion dinner?
P.S. If you found them helpful, maybe you'd like to sign up for my Asian food newsletter?