Chinese Black chicken (Silkie Chicken) soup recipe is a traditional soup that is delicious, nutritious AND only calls for 5 ingredients! I've made this easy Black Chicken soup recipe non-herbal, as many younger Asians find it hard to accept the strong flavours of herbal soup, but it's still very good for you!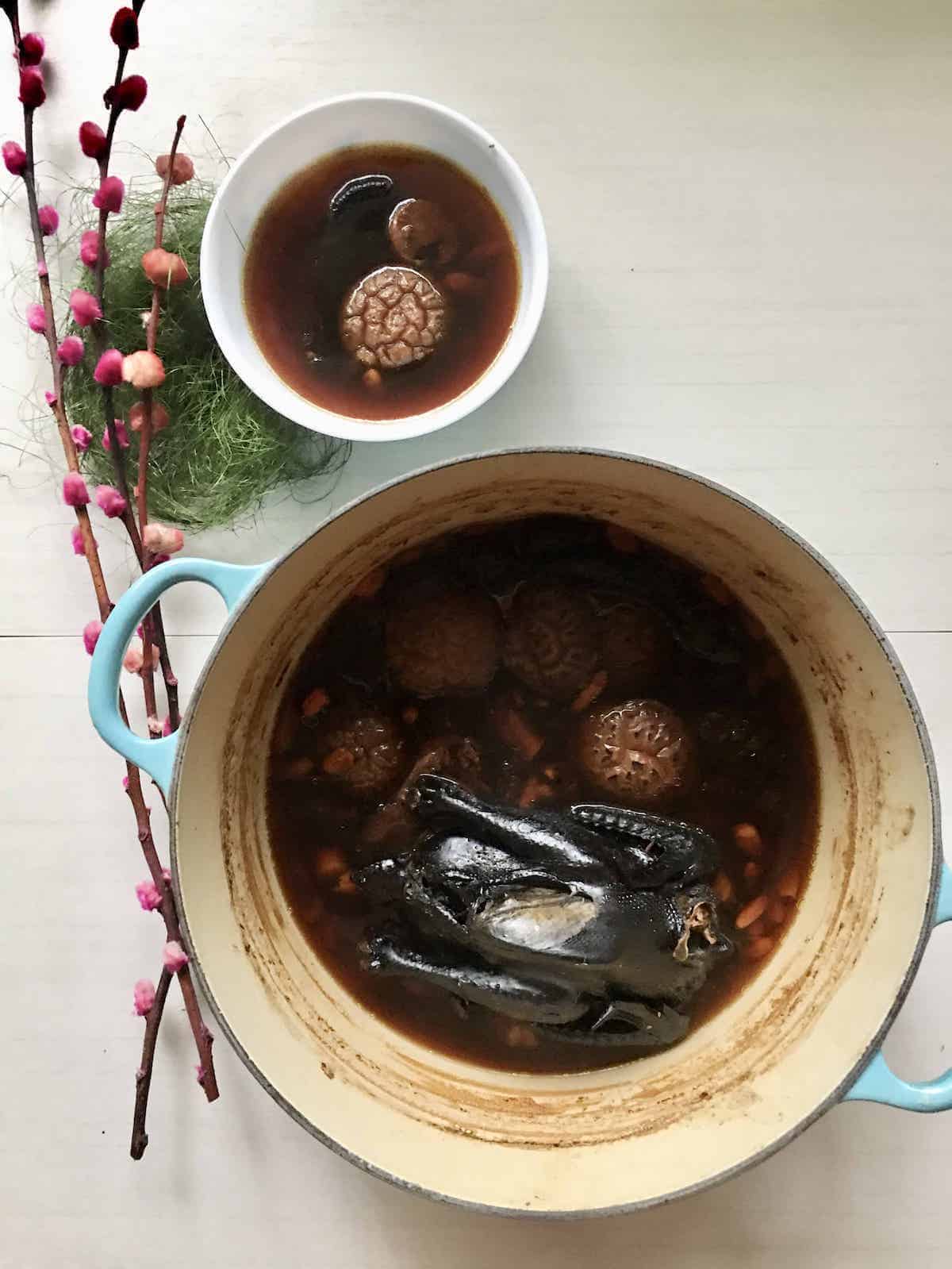 Jump to:
What is black chicken?
Black chicken, also known as Silkie chicken, is often used in Chinese cooking to make soups, especially herbal ones. These are not black feathered chickens by the way- in fact, ironically, they have white, very fluffy feathers.
To be honest, every time I see a photo of them, I feel bad to eat black chicken as they look so cute and cuddly! I've never spent time with a live black chicken, but Silkie chickens are supposed to be quite mild-mannered and make good pets.
Instead of black feathers, Silkie chickens are black all the way down to their bones: the skin is pure black and the meat as well as bones a grey-dish black. (The earlobes are blue though!) Although we're not 100% sure where they originated, most ancient documents indicate China- the earliest Western record is by Marco Polo, who mentioned a "furry chicken" that he saw on his travels.
Fun fact: the name "silkie chicken" comes from the fact that the plumage is supposed to feel very silky and nice to the touch!
Note: silkie chicken is different from the Ayam cemani chicken, which is common in Indonesia.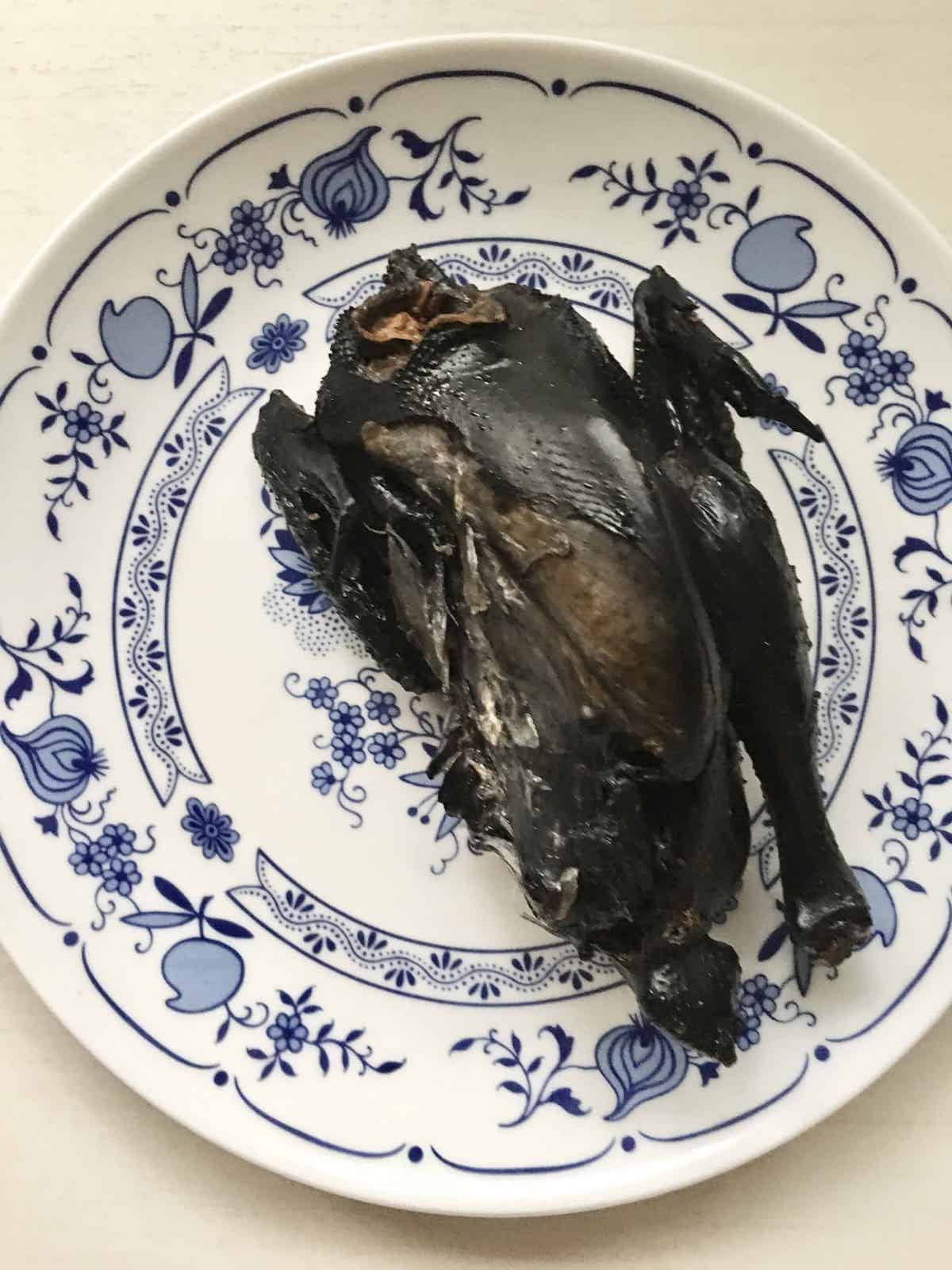 vs Regular Chickens
Black chicken tends to be much smaller than regular chicken- it is more like French poussin. (They weigh 1.4-1.8 kg on average, but the American Standard of perfection prefers silkie chicken to be 900g-1kg.) They don't have much meat, so they're usually not used for chicken dishes but in Chinese soups instead. To be honest, I could probably eat an entire Silkie black chicken by myself!
Unlike regular chicken, Silkie chicken is typically not factory-farmed on an industrial scale, so most tend to be free-range (and better for your health!) As a result, although the meat still tastes very much like regular chicken, the flavour is a little more intense, which makes it perfect for stewing in soups! (Regular chicken is often so bland and tasteless because of intensive farming practices.)
Having said that, black chicken is also usually more expensive, so if you're on a budget, you may have to save it for special occasions such as Chinese New Year & Christmas.
Trivia: Silkie chicken have 5 toes whilst regular ones have 4.
Eggs
Silkie chickens lay about 3 eggs a week, but the eggs are tiny! You can also use them to hatch eggs by other chicken breeds, as they're broody in nature.
Fun fact: the bird that Marco Polo described as having the best eggs sounds very much like a silkie.
Why eat it?
As mentioned, as black chicken is usually free-range and not a product of intensive farming, it's :
Besides Chinese food, black chicken is also used in Japanese, Korean and some other Asian cuisines. In fact, in Vietnam, black chicken soup is known as " 'ga ac tiem thuoc bac' or evil chicken of Chinese medicine! I assure you, this soup tastes good and not like medicine at all!
Where to buy
I've never seen black chicken in a mainstream supermarket outside of Asia, but you could probably find it in an Asian market- try to go to a Chinese grocery store if you can.
Why make this recipe?
It's delicious!
And healthy!

Traditional Chinese Medicine has promoted these black chickens as having a curative effect since as early as the 7th century (I couldn't find scientific studies to back this up but I'm sure we all know free-range meat is better for you!)

As well as super easy to cook: you basically bring the ingredients to the boil, lower the fire, then leave it to simmer (occasionally checking if you need to top up the water level)

If you use a gas fire, please keep an eye on the fire!
Ingredients & Substitutes
This easy Chinese soup recipe only requires 5 main ingredients:
Black chicken (Silkie chicken)

Substitute: regular chicken if you can't get black chicken but the taste will be slightly different.

Dried Scallops

Substitute: dried conch or dried squid (For more dried scallop replacements, click here)
If you're feeling flush, you can even use dried abalone, but those are pretty expensive (and time consuming to cook- it will take MUCH longer than 2-3 hours)
These add umami as well as some salt to the soup.

Dried Shiitake Mushrooms (soaked in hot water)

Remove the stem but don't throw it away! Add the stock back into the soup, along with the soaking water, to boil, as it will add to the flavour
If you're a fan of mushrooms, you may be keen on these easy Asian recipes which use mushrooms.

Red dates (Jujubes)

Make sure you remove the seeds, as red dates are supposedly very heaty when cooked with the seeds in them. (I have to confess I don't always do so though!)
The warming effects of red dates is why it's added to longan tea, and great for women during their periods. (Click here for the red date & longan tea recipe.)
Substitute: 2 honey dates (has a seed in the middle FYI) OR a handful of dried longans

Goji berries (Wolfberries)

These red berries are very common in Chinese cuisine- Asian grandmothers will tell you how good they are for your eyes, something that has recently been confirmed by a University of California, Davis study according to SCMP- and can also be added to:

Water & Salt

I start with 11 cups of water (10 cups + the 1 cup of hot water that was used to soak the shiitake, scallops and goji berries) then top up towards the end if necessary.
Don't add too much or the flavour will be overly diluted. You should end up with only enough soup for around 3 Chinese soup bowls.
Note: including the 1 bowl of water I add at the end, I use a total of 12 bowls of water to 1 small black Silkie chicken.
For more Asian recipes which can be made with 5 ingredients (or fewer), click this link.
How to store
Keep any leftover soup in an airtight container in the fridge (or freezer). To be honest, as you only end up with about 3 bowls of soup, there really shouldn't be any problem finishing it!
Tips
You can also make black chicken & red dates soup in a slow cooker or double boiler.

Cantonese people, who are widely known to be the best at making soups, swear by double boiling soups (and they are indeed super delicious.)

If you're hardworking, blanch the chicken first, then wash it, before bringing it to the boil with the rest of the ingredients. If you're lazy like me, just boil the chicken with the ingredients directly and use a scoop to spoon off the scum that surfaces later. You will have to repeat the skimming 3-4 times during the simmering process to get a clear soup at the end.
This recipe is only good for 2-3 people (it makes 2-3 Chinese bowls of soup after all the simmering which, to be honest, I can finish all by myself!)
If you want to make it for more people, please increase the number of black chickens and water accordingly- if you just add more water, the taste will be too diluted.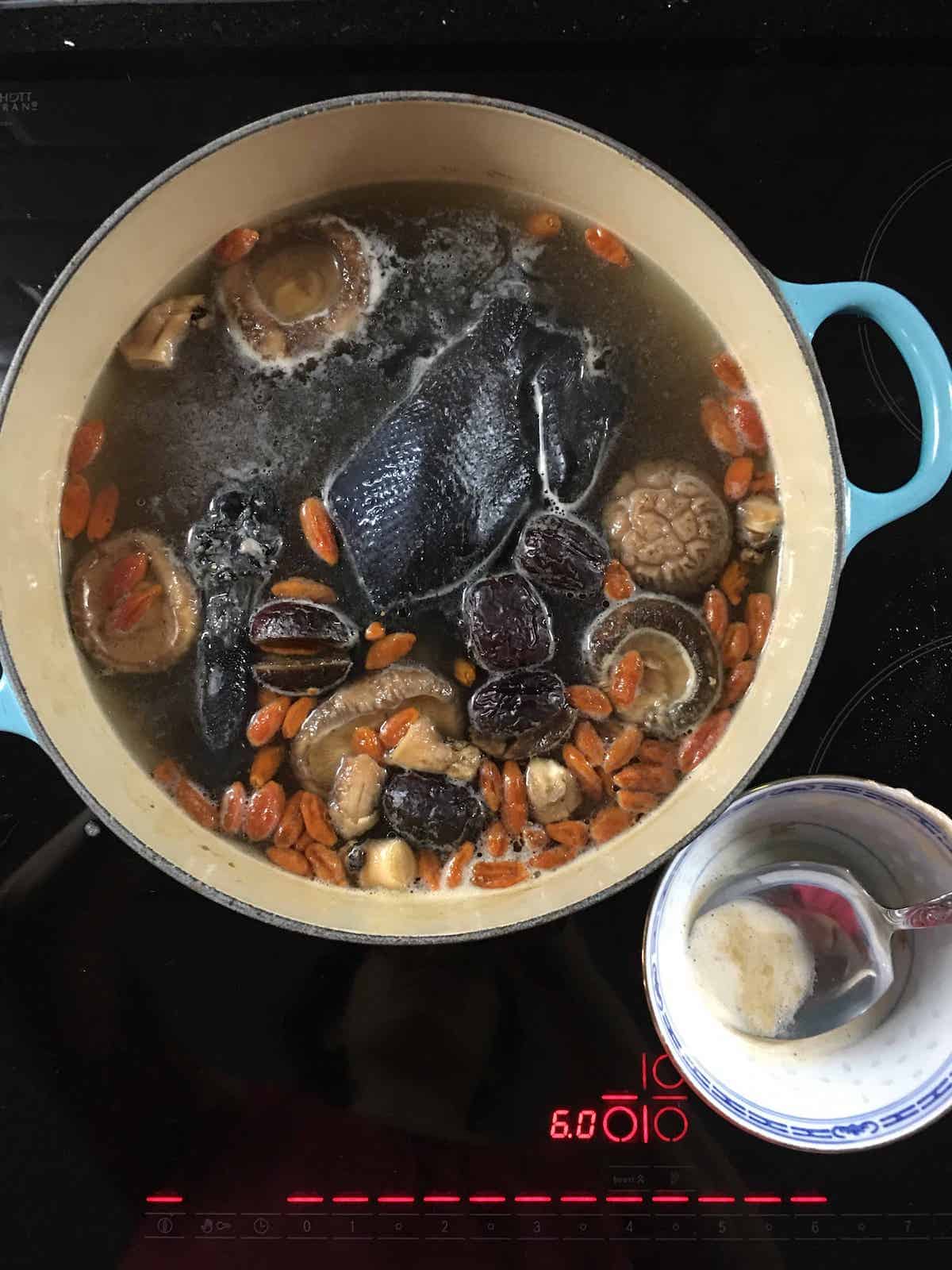 Other Soup recipes
You may also enjoy these Asian soups: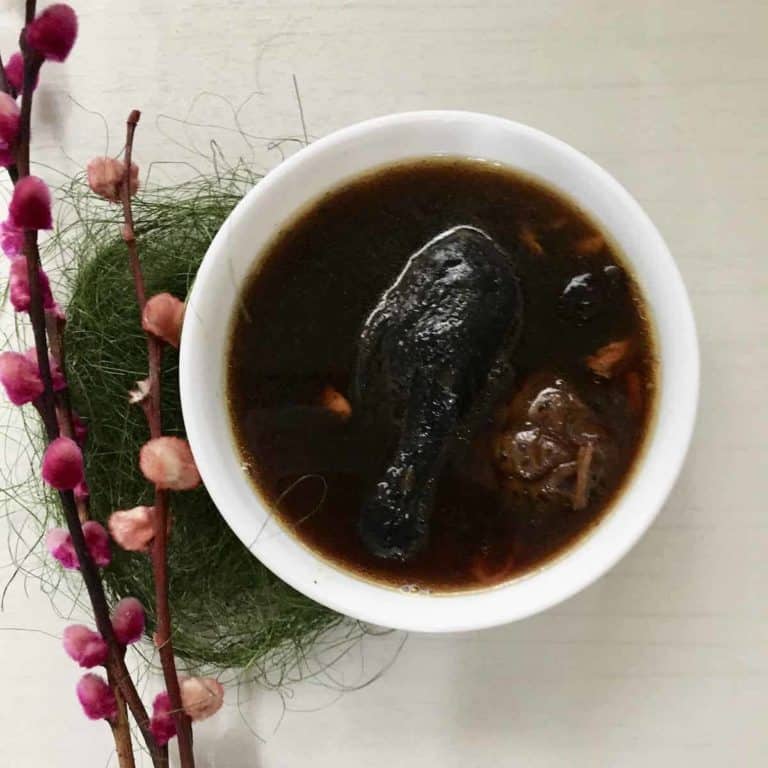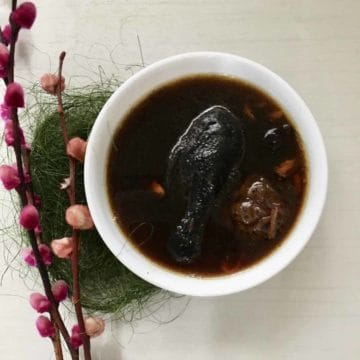 Easy Chinese black chicken & red date soup recipe (Silkie Chicken)
This easy Chinese Silkie chicken soup requires only 5-ingredients and is mostly passive cooking.
Ingredients
1

Black chicken (Silkie Chicken)

Asians usually like to give their chicken a salt rub before washing it off. The USDA however advises against washing meat before cooking. (See notes about blanching)

6

dried shiitake mushrooms

Soaked for 30 minutes in hot water before cooking. After soaking, remove the stems but add them & the mushroom caps to the pot of soup along with the soaking water.

5

dried scallops

Soak for 30 minutes in hot water first- add to pot of soup along with the soaking water. Substitute: dried conch or dried squid

3

jujubes or red dates, seeds removed

Substitute: 2 honey dates

2-3

Tablespoons

goji berries (wolf berries)

Rinsed then soaked for 5 minutes.

10 + 1

Cups

Water

Salt, to taste

Add it towards the end of the boiling process, if not the soup will become too salty after the liquid evaporates off. I added about ¼teaspoon but add as per your tastebuds. (Note that the dried scallops also add sodium to the soup.)
Instructions
Add the black chicken, red dates (deseeded) and 10 cups of water to the pot and bring to the boil on high.

Whilst waiting for the water to boil, soak the scallops, goji berries and shiitake in hot water. (If you started early, you can do this 30 minutes earlier then bring it to the boil with the chicken and dates, but I tend to work more last-minute.)

Once the soup has started boiling, lower the heat to medium. (I turn it down from 9, which is the max on a Bosch induction stove, to 6.) The water should now be simmering and not boiling. Whilst boiling extracts more flavour from the soup, I prefer to simmer the chicken to keep the meat tender as I find it wasteful to throw it away after stewing!

After 30 minutes, add the goji berries, scallops and shiitake to the soup and allow to keep simmering for the next 2-3 hours. (The longer the better, but after 2 hours the soup is already quite tasty.) DO NOT ADD SALT TILL THE END or the salty taste may become super concentrated later.

After 45 minutes or so have passed, check that the soup is not at a full boil (as the water evaporates, the simmer may turn into a boil- in that case, either turn down the heat or add more water.)

How quickly the water evaporates depends on the width of the pot (I used a le Creuset standard Dutch oven), the heat of your stove etc, so if you find the water level going very low, please add some more. Using a fire of 5-6, I only needed to add 1 extra bowl of water to the pot, at the end of the boil (i.e. in total I used 12 cups of water to 1 black chicken) but, as mentioned, this may vary for you.

After 2-3 hours have passed, add a bit of salt to the soup, then taste. The scallops are naturally salty so start with a sprinkle and, if not sufficient, add a bit more.

Once to your taste, scoop and serve. You should have enough to fill 2-3 Chinese bowls.
Notes
Note: (Optional) you can use a scissors to cut the neck and feet off the chicken carcass. Add these to the soup to boil too. Cutting them exposes the bone which helps to make the soup a little more gelatinous (gives it a better texture.)
Chinese people usually blanch their meat before braising or making soup. I would definitely do that for pork but, for chicken, I cheat and just skim the scum off with a ladle as the soup boils. (See above for photos- the end result is pretty clear despite not being pre-blanched!)