A delicate and nourishing drink, goji berry tea or wolfberry tea is easy to make and good for your eyesight. You can have it alone, or add other ingredients to make Ginger Goji Berry tea or Red Date Goji Berry Tea.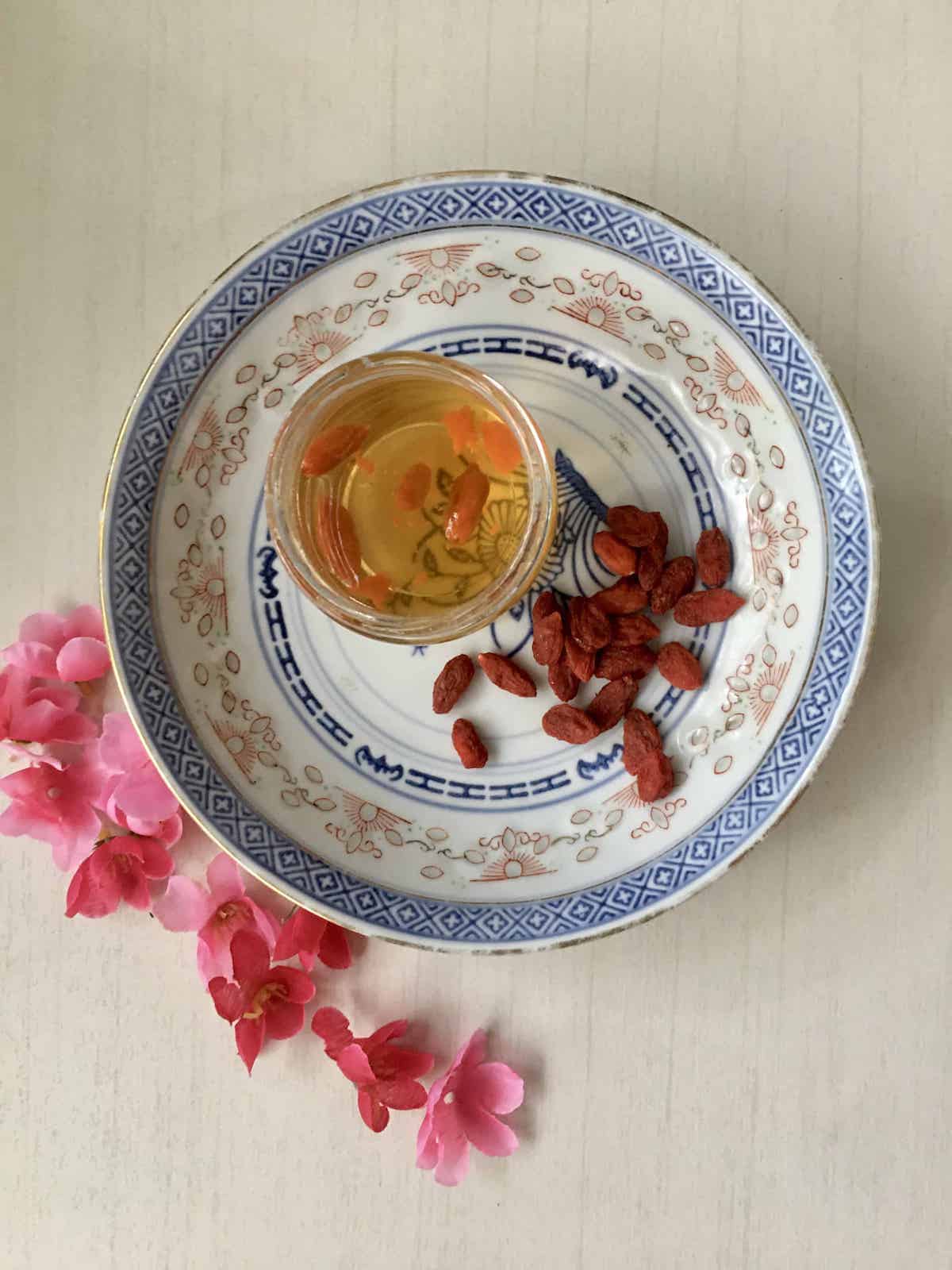 Jump to Recipe
Jump to:
What are goji berries?
Also known as wolf berries, goji berries (枸杞 gou qi in Chinese) are from the Lycium barbarum or Lycium chinensefamily. Usually sold in a red, dried form, you can also find black goji berries although those are much harder to get.
This raisin-sized ingredient can be eaten or steeped in hot water to make a herbal infusion (gugija-cha 구기자차; gou qi zi cha 枸杞子茶.)) They're a common traditional chinese medicine (TCM) component so they're a big part of the chinese diet (used in herbal soups and what not.)
If you like herbal tea blends, you may be interested to hear that, besides the berries, the leaves are also consumed by some, and there is a version of Goji Berry tea that uses only the leaves (Goji Berry Leaf Tea, gugiyeop-cha 구기엽차 or gou qi ye cha 枸杞葉茶).
What do they taste like?
I've heard people say they taste a bit like cranberry, a sour cherry or raisin- I'm not sure if that's what the flavour reminds me of, to be honest, as I find that it has a bit of a sweet taste, is sometimes a little tart, with a slight herbal aftertaste.
Note: the dried berries taste better than the fresh ones, which are a bit bitter.
Health benefits
Chinese people have long hailed the benefits of this red fruit but there hasn't been a lot of scientific research done in this area. As such, I'm not going to list out all its superfood powers/ how it builds up your immune system, unless there has been research done to support it.
One recent finding is a scientific study which has shown that goji berries are good for the eye health of the middle-aged (published by SCMP in February 2022 but which Chinese mammas and grandmamas have been telling us since we were young.)
In addition, the Goji Berry fruit is a relatively healthy food as it is a good source of vitamin a, vitamin c and has antioxidant properties.
Note: this is for information only and not meant as health, medical or nutrition advice. Moreover, people on certain medications (e.g. blood pressure or blood circulation medicine) may need to consult a professional medical practitioner before incorporating it in their diet.
Where to buy
These wolfberries are usually sold dried. You can get them at Whole Foods, health shops, Asian supermarkets and Traditional Chinese Medicine shops. If not, an online store like Amazon also stocks this item. People even sell Goji Berry tea bags but honestly, as long as you can get your hands on the dried goji berries, it is SO easy to DIY.
How to grow
You can plant the seeds in the dried goji berries or grow it from cuttings. Other easy-to-grow edible recipes can be found here.
How to use
It is really easy to use goji berries in the kitchen- I've a collection of sweet and savory wolfberry recipes here.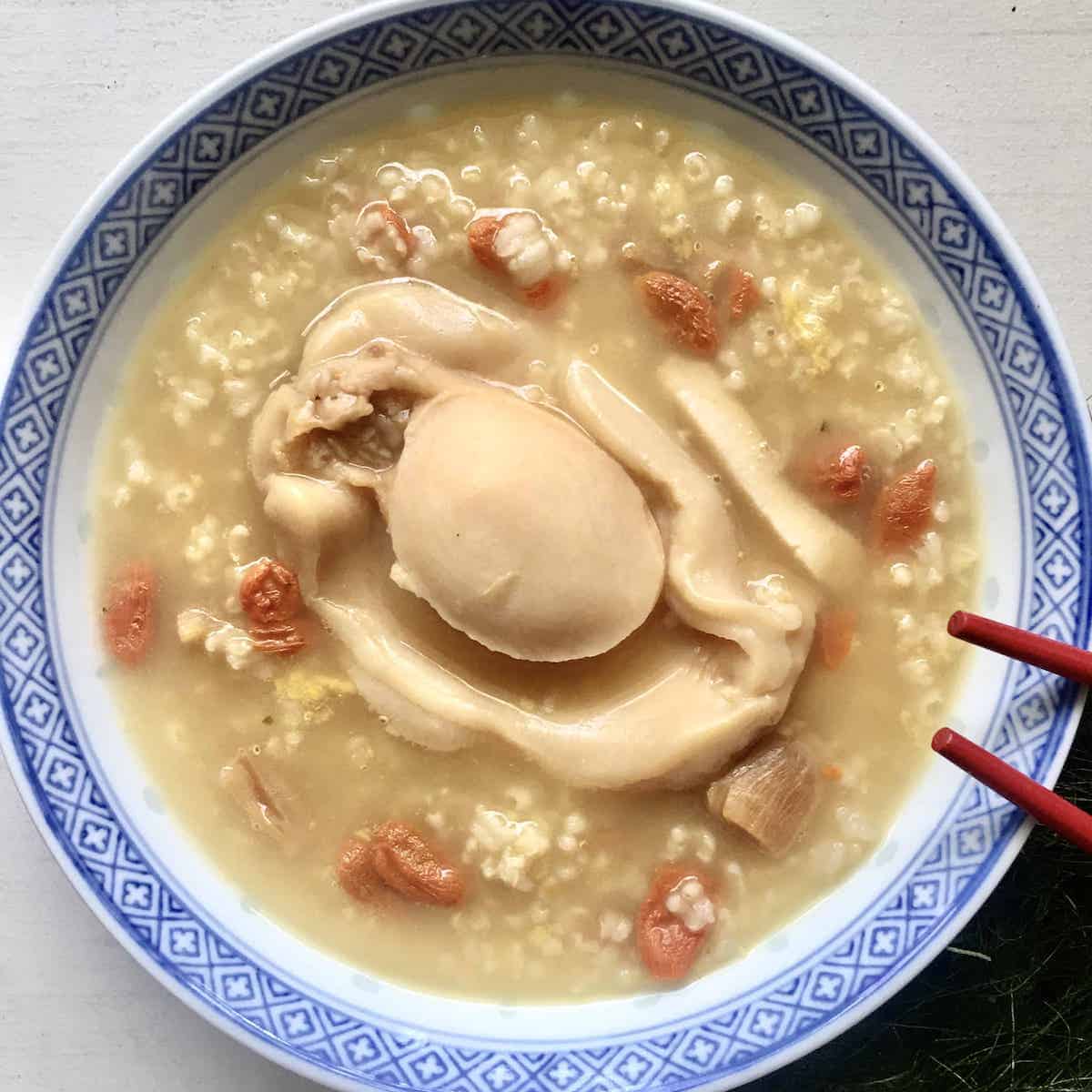 Chinese cuisine has many dishes which include goji berries
You can use them in these savoury popular recipes: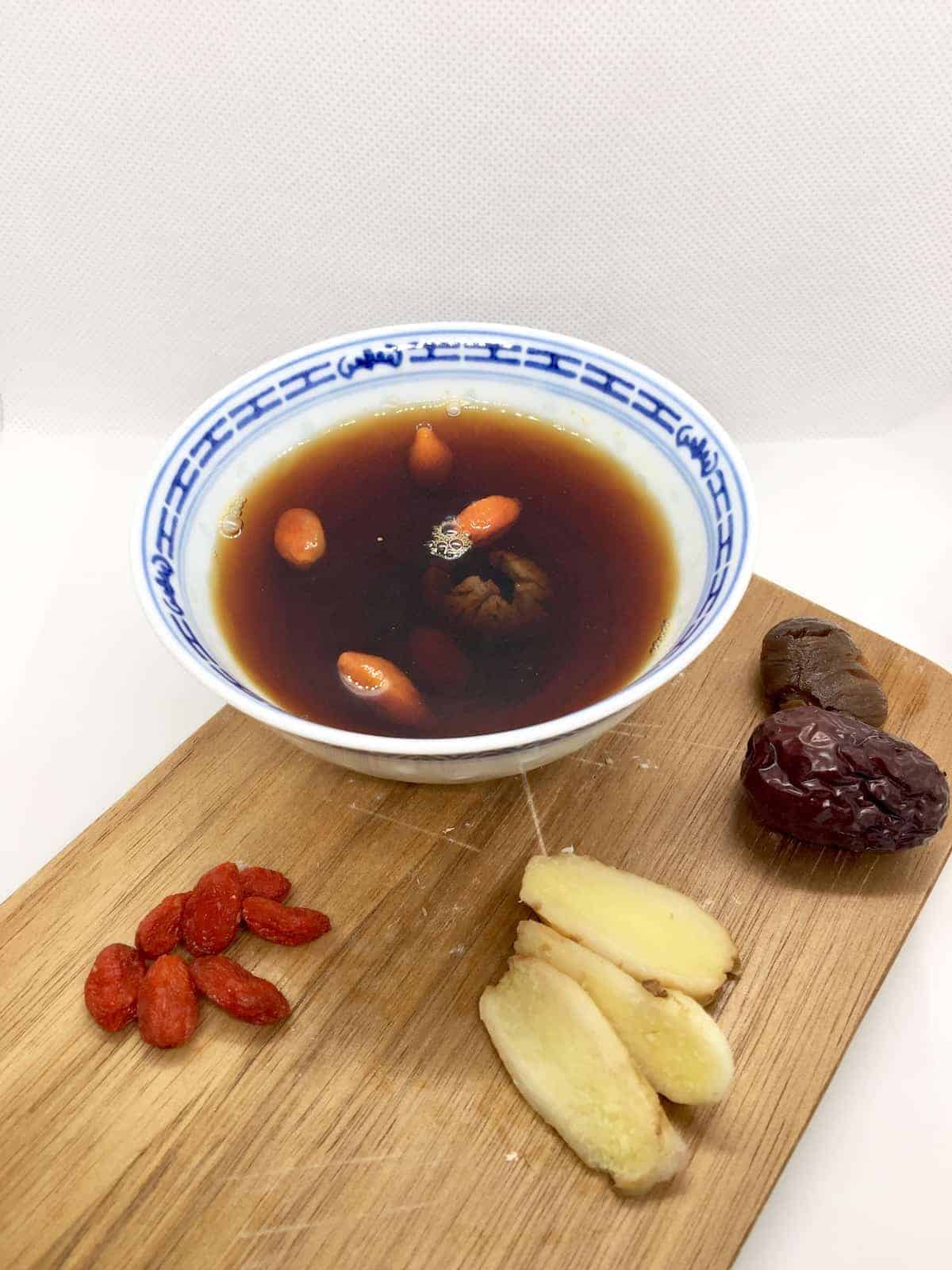 Goji berries are a great addition to jujubes, longan & ginger tea!
Or these drinks:
If you're a tea lover, they can be added to your usual delicious tea (such as chrysanthemum flowers tea, goji berry osmanthus tea, goji berry oolong or goji berry green tea)
in smoothies
added to lemon juice (with a lemon slice or orange wedge on the side)
to make goji berry juice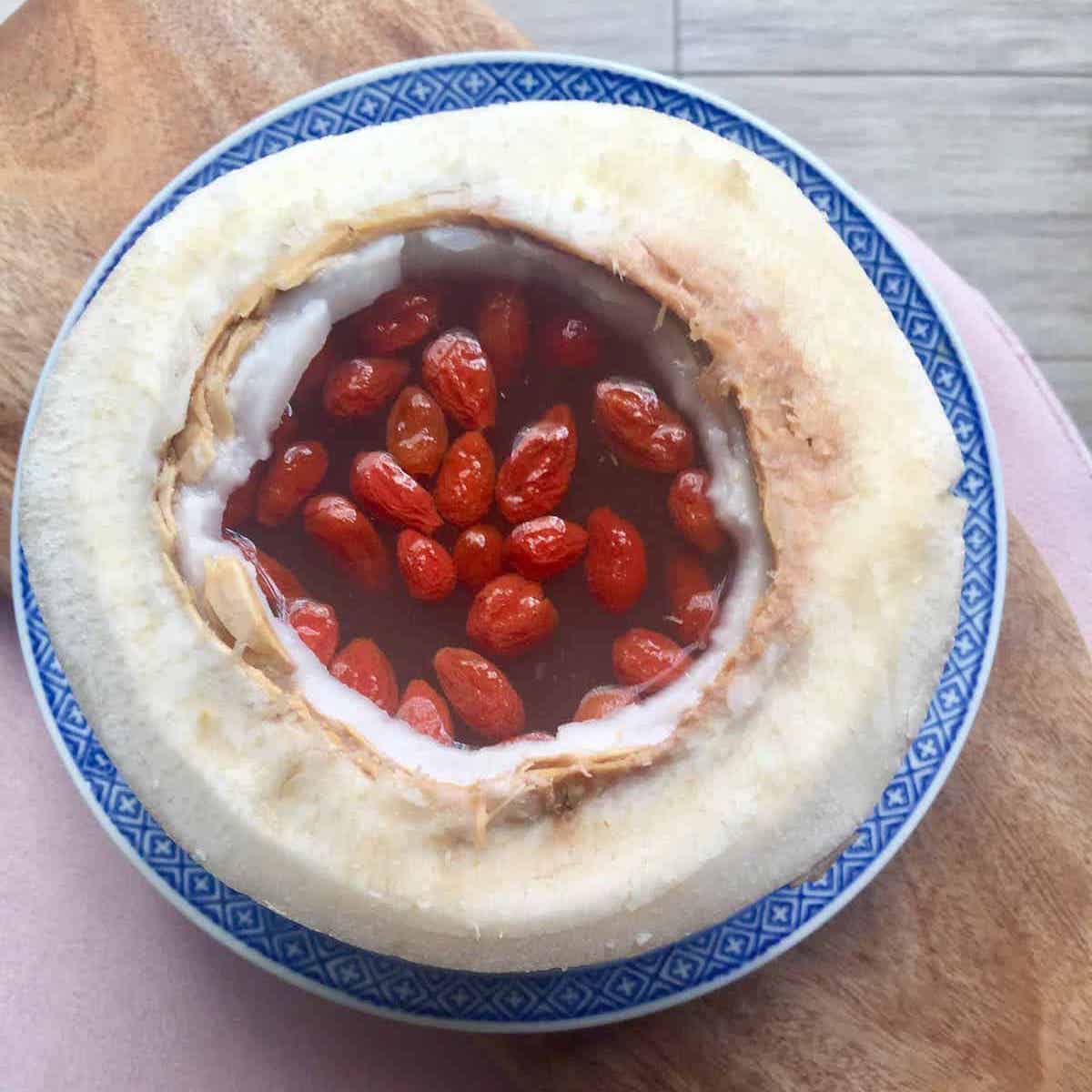 The bright red colour of the wolf berries makes Chinese desserts more appetising.
Or these desserts:
steamed with bird's nest & coconut
Chinese sweet treats such as this goji berry osmanthus dessert
granola & bakes e.g. goji berry oatmeal cookies
in jam
Some people also like to eat them like raisins, but my family never has: as they've been dried in the sun, we like to rinse them first to get rid of dust and what now.
Ingredients
You only need 2 things to make pure goji berry tea:
goji berries (wolfberries)
hot water
However, it is very common to also include the following ingredients in the tea, as Traditional Chinese Medicine (TCM) views them as complementary:
fresh ginger slices

I won't bore you with another Goji Berry ginger tea recipe, as it's honestly super easy to make; just add a few slices of fresh ginger to the tablespoon of goji berries (I prefer 2 actually), pour boiling water over, allow to steep, and you have your cup of goji tea.

red dates or jujubes (seed removed)
Goji berries are naturally sweet, but if you have a sweet tooth, you can add some honey, brown sugar, rock sugar, osmanthus sugar or jujube syrup.
How to serve
It can be drunk as a hot tea (drink right after steeping) or cold tea (chill a large pitcher of this flavorful tea in the fridge to make iced tea.) Don't forget to include a few berries in each glass, as the goji berry water itself is very light- the flavour comes when you bite on a berry.
Other wolfberry recipes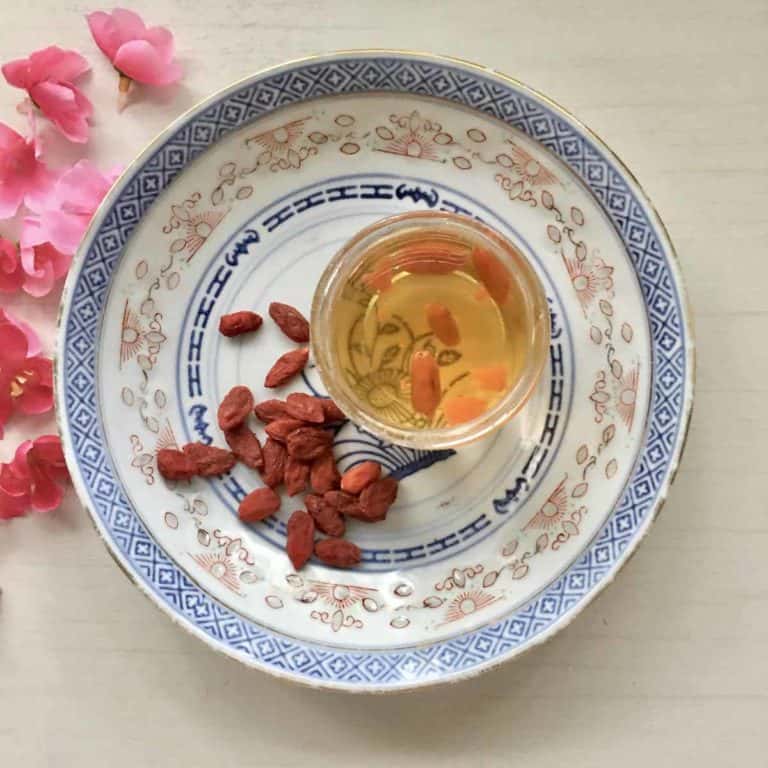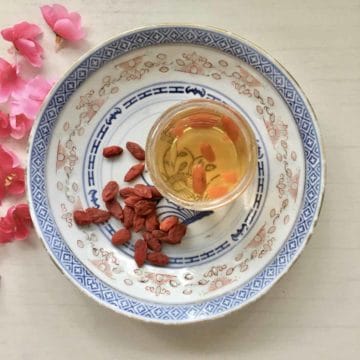 How to make Goji Berry tea drink (Wolfberry tea)
A delicate and nourishing drink, goji berry tea or wolfberry tea is easy to make and good for your eyesight. You can have it alone, or add other ingredients to make Ginger Goji Berry tea or Red Date Goji Berry Tea.
Ingredients
6-8

tablespoons

dried goji berries

Rinse first (the traditional Chinese way to make tea is to pour boiling over, then throw the water away- the berries will then have been "washed").

4

Cups

Hot Water
Optional ingredients
brown sugar, rock sugar, osmanthus sugar, jujube syrup or honey

To sweeten, to taste

fresh ginger slices, ginseng, jujube red dates (seed removed as it is heaty)

Complementary ingredients- these should be mixed with the goji berries from the start (i.e. steeped for the same amount of time)
Instructions
Bring the water to the boil, then pour it over the goji berries.

Leave to steep for at least 20 minutes.

Optional: sweeten with brown sugar, rock sugar, osmanthus sugar, jujube syrup or honey. If using sugar, you will need to add this with the boiling water so the heat can dissolve it.

Scoop into cups, ensuring each cup has some fruits.
Notes
This makes exactly 2 mugs full (some water will be absorbed by the fruit the hydrate the berries.)
What's your favourite tea blend recipe? Let me know how Goji Berry tea measures up to it! Before you go, you may also be interested in these Asian drinks: