A no-caffeine tea with a nutty flavor, roasted Korean barley tea (boricha/ mugicha/ damaicha) needs only 2 ingredients. This refreshing drink can be drunk hot or cold- iced boricha is the perfect summer drink!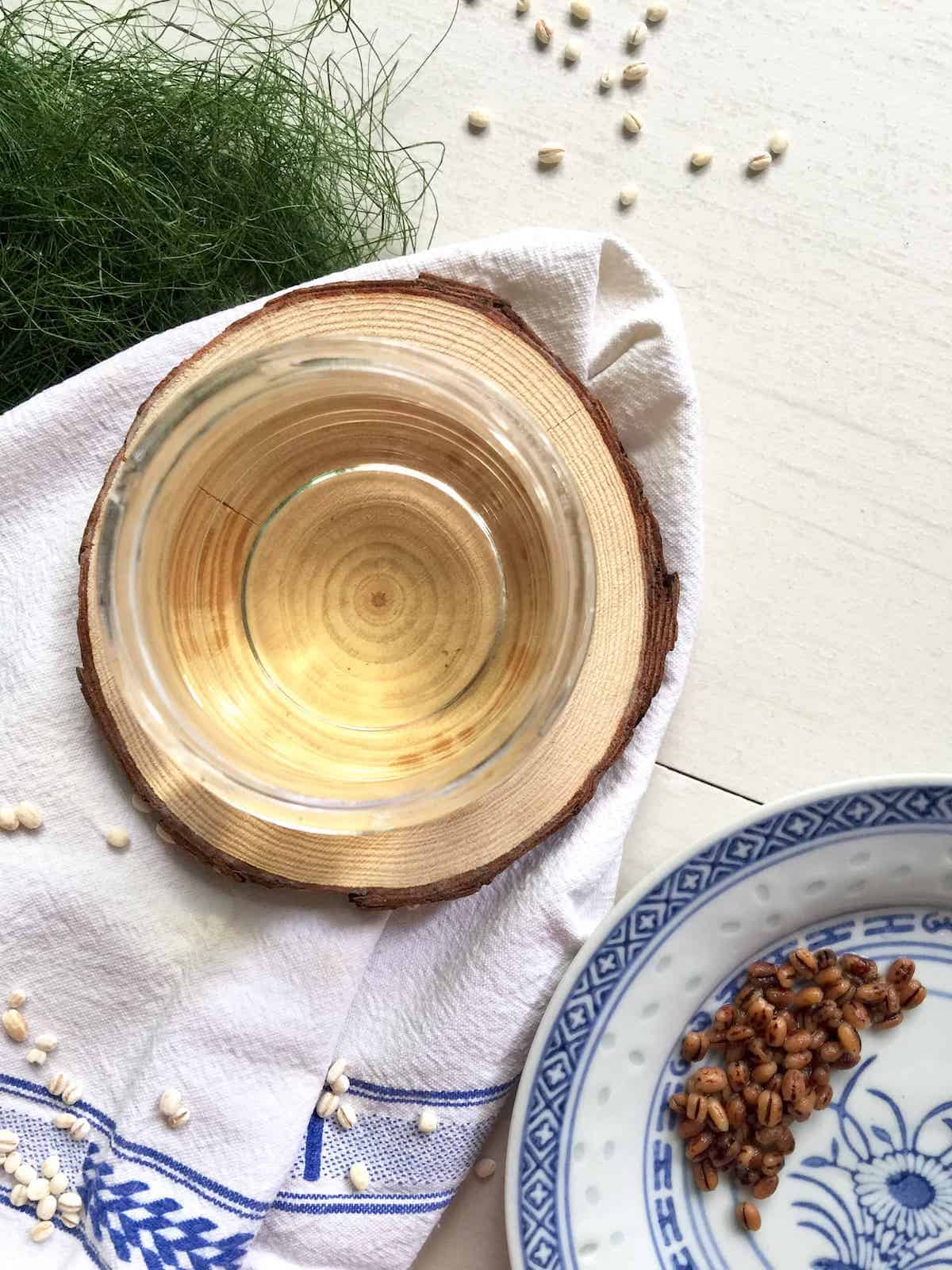 Jump to:
What is Korean Barley Tea?
It's a tea made from roasted barley (boricha 보리차) found all over South Korea and often served at casual restaurants. A very similar drink is found in other East Asian countries: in China, it's called DaMaiCha (大麦茶) and in Japan, Mugicha (麦茶.) Chilled barley tea is a must-have popular drink in the hot summer and goes really well with sashimi and many other dishes.
You can buy this barley drink in 2 forms: unhulled barley (whole grain) or pre-ground into powder (packed in a tea bag). However, it's really easy (and cheaper) to roast the barley yourself and goes really well with Korean foods such as this Gimbap Sandwich!
Why Make It
Korean Barley tea is delicious: the toasted flavor makes it a perfect grown-up drink, perfect for serving with savory dishes such as kimchi bokkeumbap!
And good for you: in Chinese Traditional Medicine, barley tea is used for diarrhoea and inflammation. For more information, go to the "Health benefits" section below.
My recipe is faster and cheaper: I make this drink a lot so I've streamlined the process for efficiency. Some recipes advise you to wash the whole barley grains then roast the grains to store --> this is a waste of time, electricity and money! Do you know how much longer it'll take to roast the grains once they're wet? (However, dirt and dust on the grains are an issue, and I'll show you how to deal with that later.)
It's flexible, not prescriptive: There are lots of different ways to brew boricha and mugicha out there. The amount of barley used and steeping time vary wildly. Ultimately, it really depends on how toasted your grains are- which varies from brand to brand- and your tastebuds. Instead of giving a prescriptive recipe, I show photos of how concentrated the tea will be when you change the time/ ingredients ratio etc. This way, you can adjust to your liking.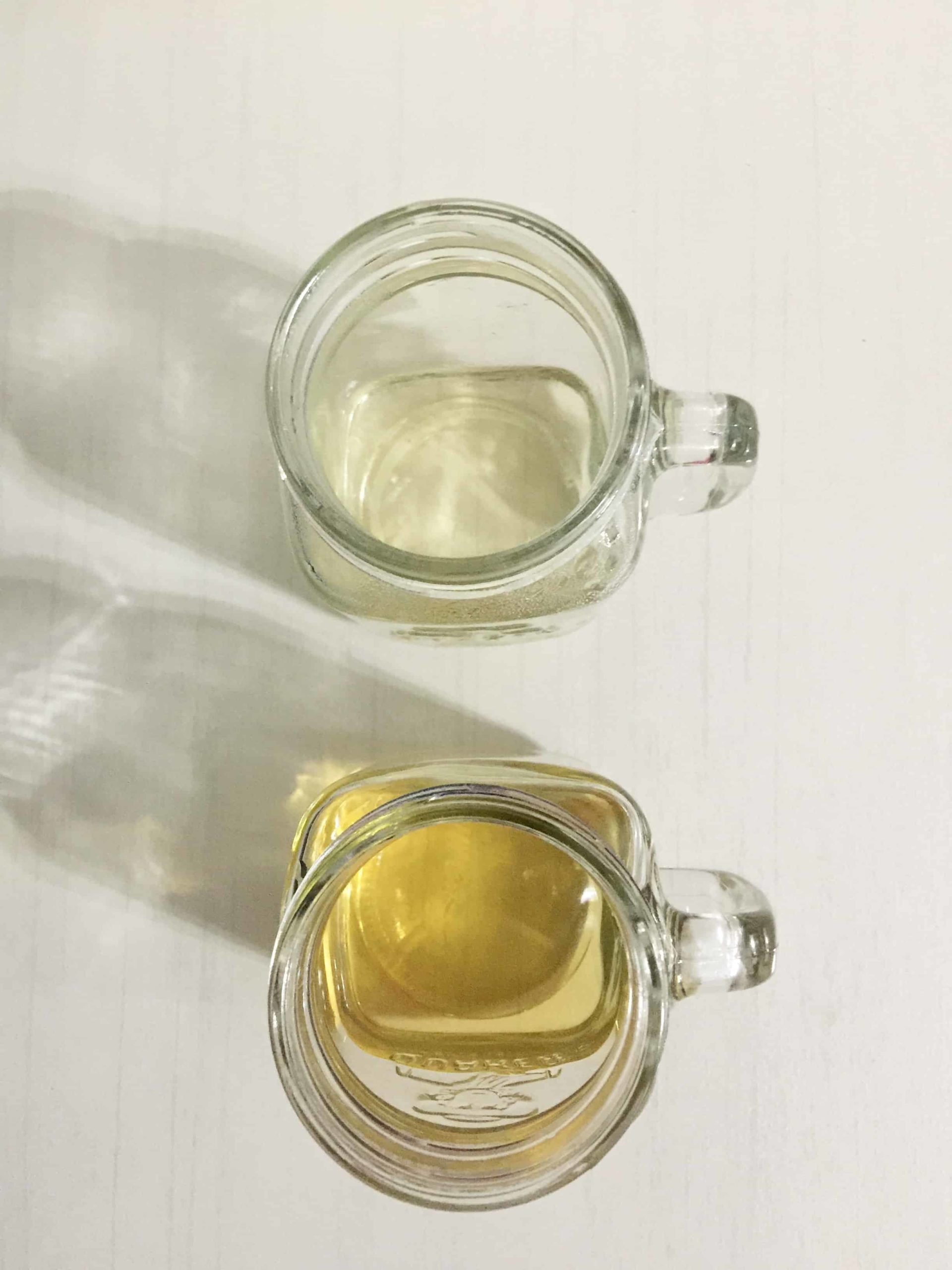 Taste
The naturally caffeine free Korean barley tea has a nutty toasted flavour. It's usually delicious and goes very well with Korean food. However, when overly concentrated can be a little sour and bitter.
The higher a ratio of roasted barley to water you use, or the browner your grains (i.e. the longer they've been toasted), the more concentrated the flavour will be.
I totally miscalculated the 1st time I made this at home 12 years ago- thanks to a blog post that told me to use ⅓C of roasted grains (WAY too much.) The pearl barley tea was super strong and reminded me of coffee!
Tip: If your tea is too concentrated, it's easy to dilute it- just add more water.
Health benefits
Barley tea is said to have a lot of nutritional value. Unfortunately, not much research has been done on this. However, it is likely that drinking the tea will have some of the positive effects on healthy ageing that eating barley does.
Rich in antioxidants: In fact, barley has the highest antioxidant properties among cereal crops! Antioxidants protect against cancer and promotes heart health.
Reduces risk of diseases: Did you know that barley played a vital role in the health of human migration from Africa to Asia? Scientific research has shown that barley and its extracts have 30 components which help fight over 20 chronic diseases.
Good for brain health: It contains quercetin, a flavonoid linked to a healthy brain and heart (National Center for Biotechnology Information).
Good for your sleep: Not only is the drink caffeine-free, it contains melatonin (which promotes sleep.)
Healthy teeth: 1 of the few studies done showed that consuming barley tea can help reduce plaque.
Side effects: Barley tea contains trace amounts of acrylamide, a potentially cancer-causing anti-nutrient. However, research has not produced conclusive results.
Note: Other Asian teas that have no caffeine include jujube tea, longan red date tea, osmanthus tea and plum tea.
Note: I am not a qualified medical professional and this is not meant as diet/ health/ medical advice!
Ingredients
You only need barley and water for this recipe! The barley can come in the form of tea bags, store-bought roasted barley grains or home-roasted barley.
Home toasted grains vs tea bags
Shop bought comes in bags or as loose kernels

tea bags (often it's crushed barley in the bags and not the whole kernels)
loose pre-roasted grains (usually hulled)
Note: Some are for steeping in cold water (cold brew- this is what my Korean friend does) and others for hot brew, so check before buying
The Japanese tea bags are usually good for a huge pot of tea whilst the Koreans sell ones that work like Twinings (good for just a cup of 2.) Check the instructions on the packet before you brew your tea!
In Singapore, mugicha is a LOT more affordable than boricha.

Homemade: Toast your own barley grains

if you can't get hulled grains, pearl barley works fine too
see below for directions

if you can find empty disposable tea bags, packing your home roasted kernels in bags make a great gift for friends!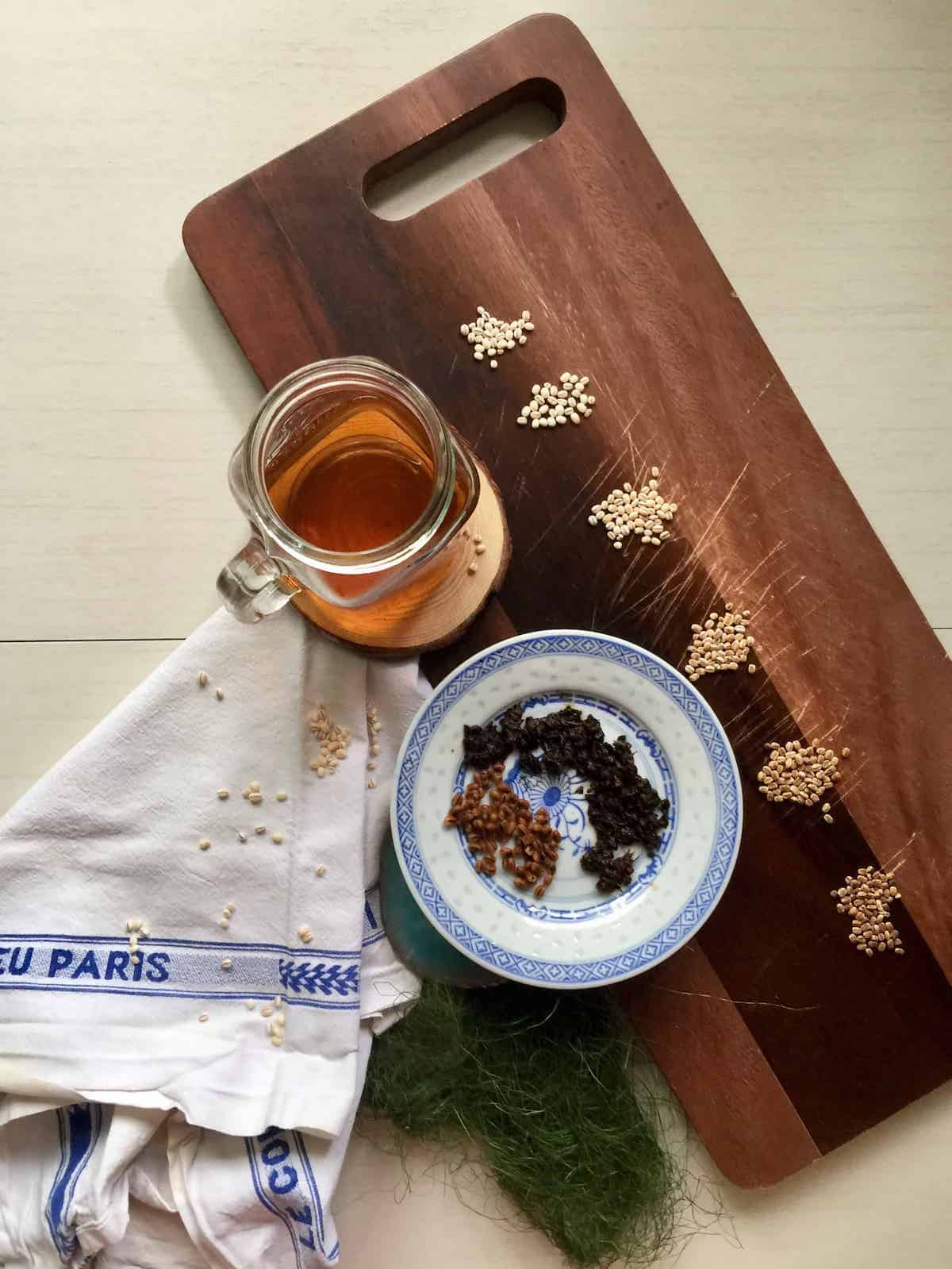 Depending on whether the kernel is hulled or unhulled, in powder or whole form etc, the concentration will differ. Thus, you'll need to adjust the simmering/ steeping time accordingly. Generally:
broken barley bits: this is the most common type of store-bought Japanese mugicha and is quicker to brew
whole kernels: take longer to steep. Alternatively, you can simmer them to make it stronger tasting.
Usually, my home toasted kernels are less roasted than the store bought ones as I get tired of standing at the stove after 30 minutes! (So I simmer them for longer)
Step by step instructions
Roasting the barley grains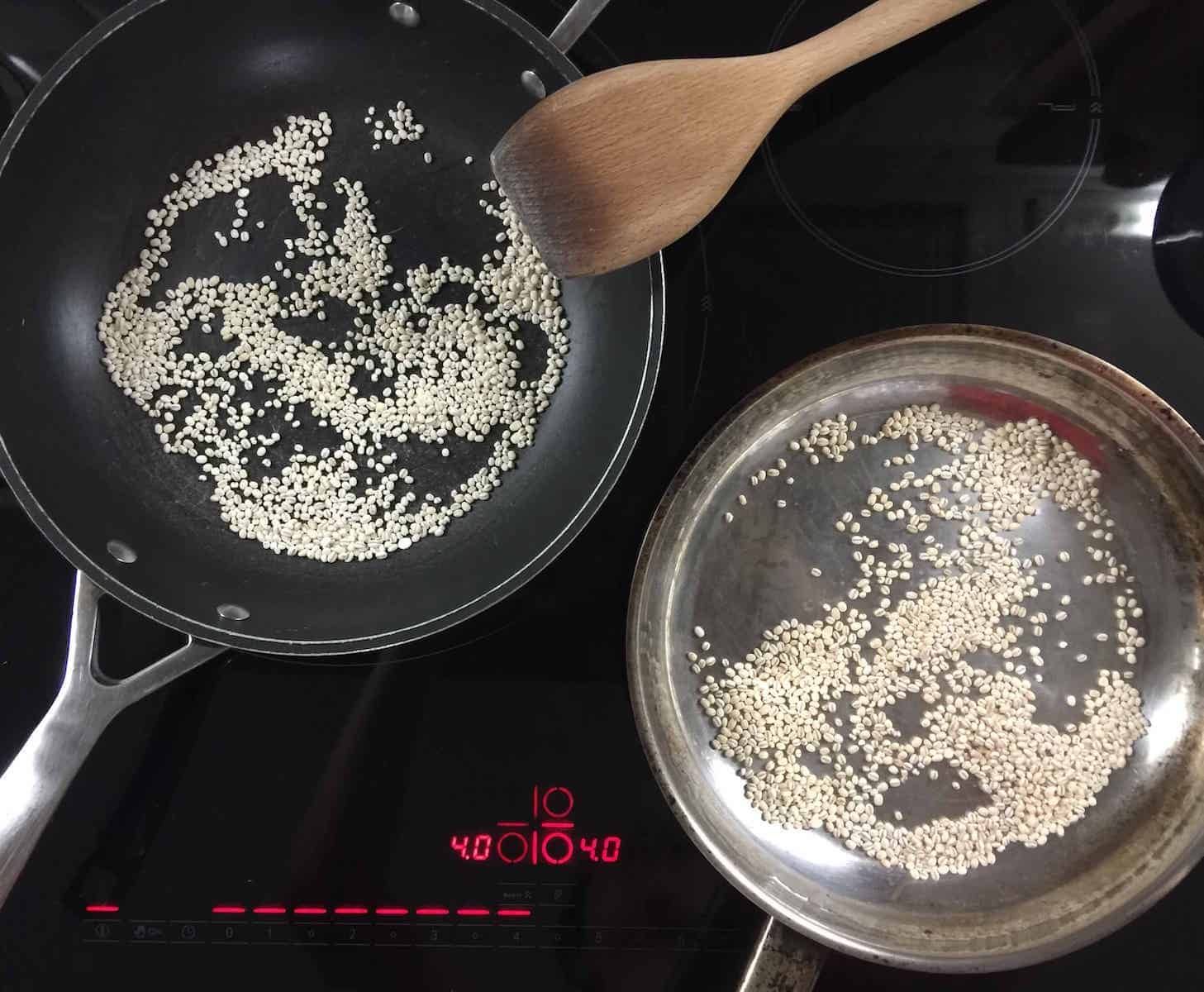 To roast your own toasted barley grains: Toast the barley in a Skip the heavy bottom pans in a regular thinner bottom skillet.
Roasting the grains should take about 20-30 minutes on medium heat. (A slower roast creates a deeper flavour but you don't want to spend all day at the stove, so medium is a good compromise.)
If you're using a gas stove, it's hotter than an induction so the process will be faster. Either way, don't use high heat!
After the barley has been toasted, separate out 1-1.5 tablespoons of barley for every litre of tea you want to make. (Use more if you want a stronger tea.)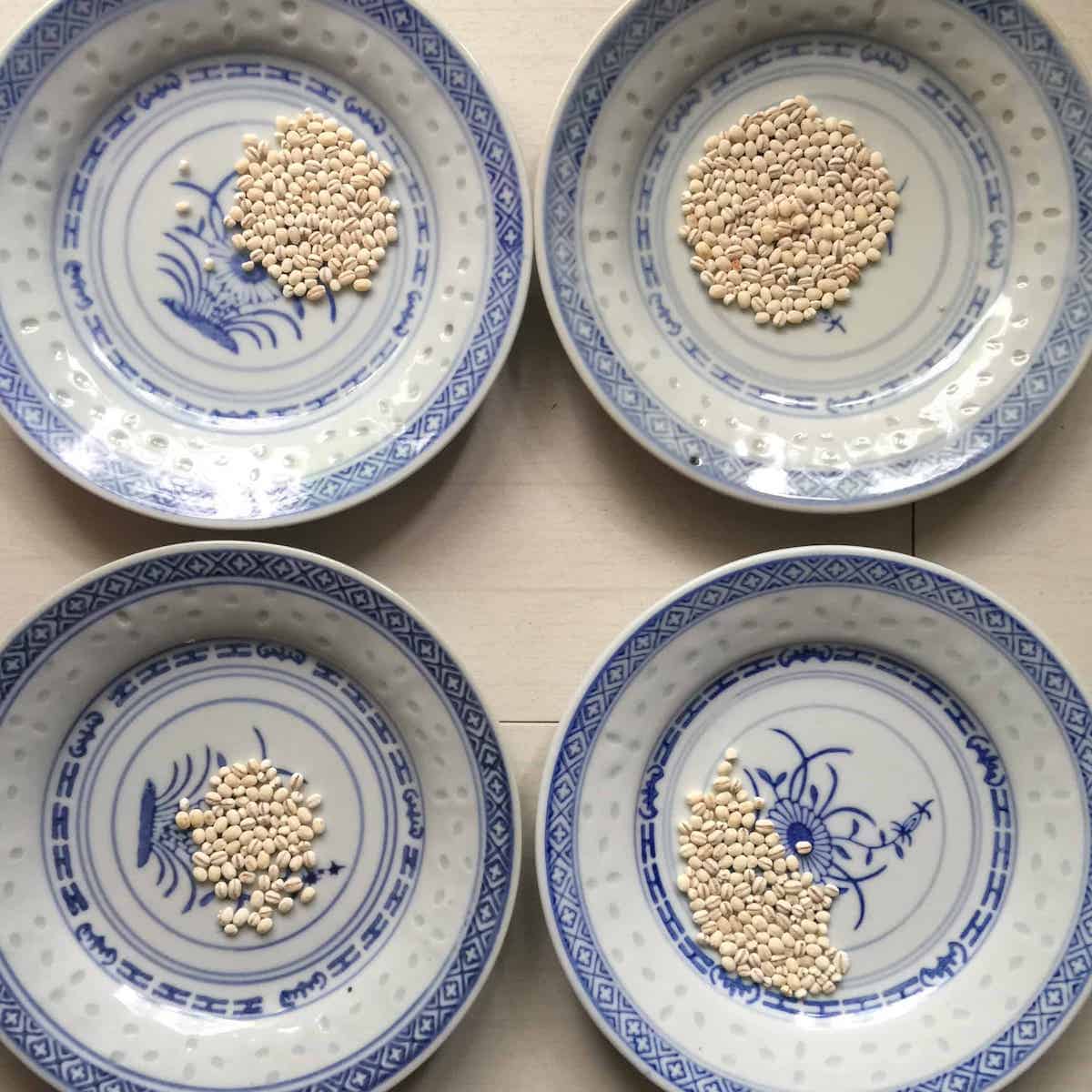 5. Allow the extra barley to cool then store it in an air-tight container.
Note: Don't get me wrong. I love my heavy-bottomed Le Creuset and lugged it back from London to Singapore. However, testament to the quality and thickness of the pan, it took me over 1 hour to toast barley kernels using it!
Photo guide for roasting barley
This photo shows home toasted barley, comparing the difference in 5 minute intervals.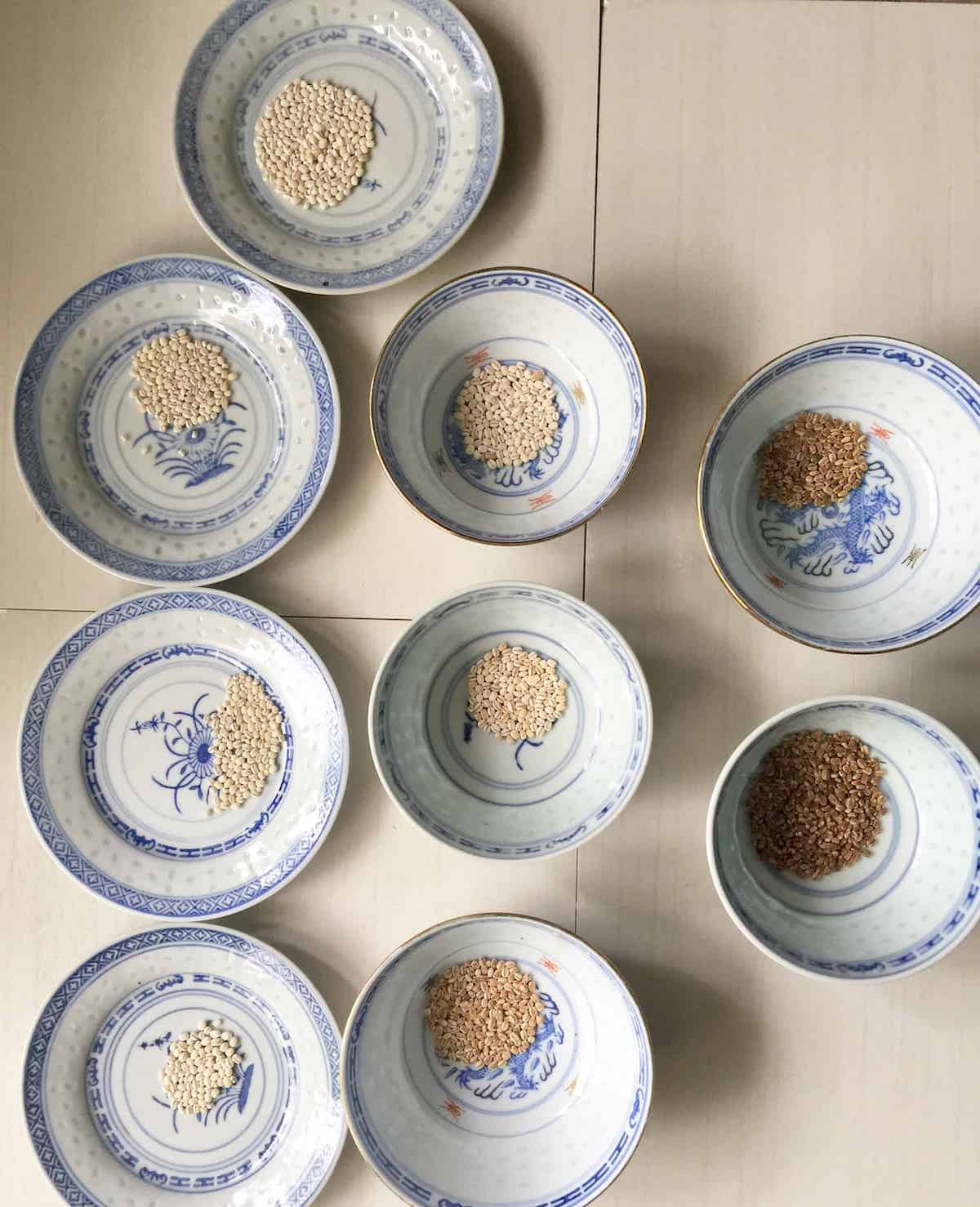 Top plate, after 5 minutes: no difference between the Le Creuset heavy skillet and WMF thin bottom pan so I've put them on the same plate
2nd row on left, after 10 minutes: the grains on plate is the Le Creuset/ heavy pan and the bowl WMF/ thin pan)
3rd row on left, after 15 minutes: as above
4th/ bottom row on left, after 20 minute: as above. As you can see, after 20 minutes, the Le Creuset grains are barely golden so I gave up on them and concentrated on the WMF pan
Rightmost bowl, top, after 25 minutes: barley toasted in a WMF/ thin bottom pan
Rightmost bowl, bottom, after 30 minutes: barley heated in a thin WMF pan. I was happy with this degree of roasting. However, you can always continue if you want a deeper flavour. Just make sure you stir and watch the grains more carefully from now on as you don't want them burnt!
Making barley tea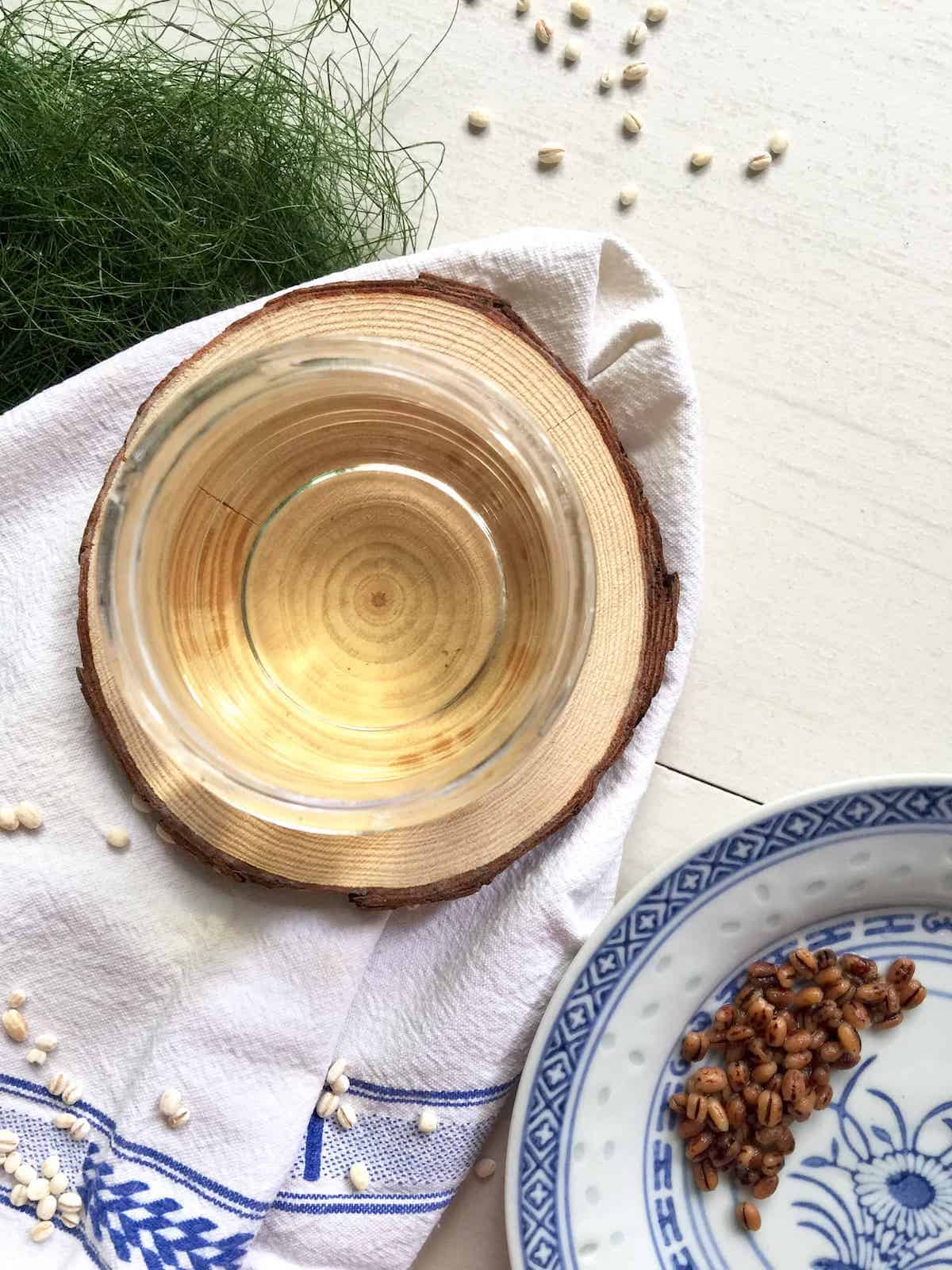 4. "Wash" the tea: Pour hot water over the tea bag/ roasted grains, then throw the water away- this is to "wash the tea" and get rid of any dust and dirt on the grains.
Keep the barley for your herbal tea, which can be hot brew (See Step 5a) or cold brew (See Step 5b.)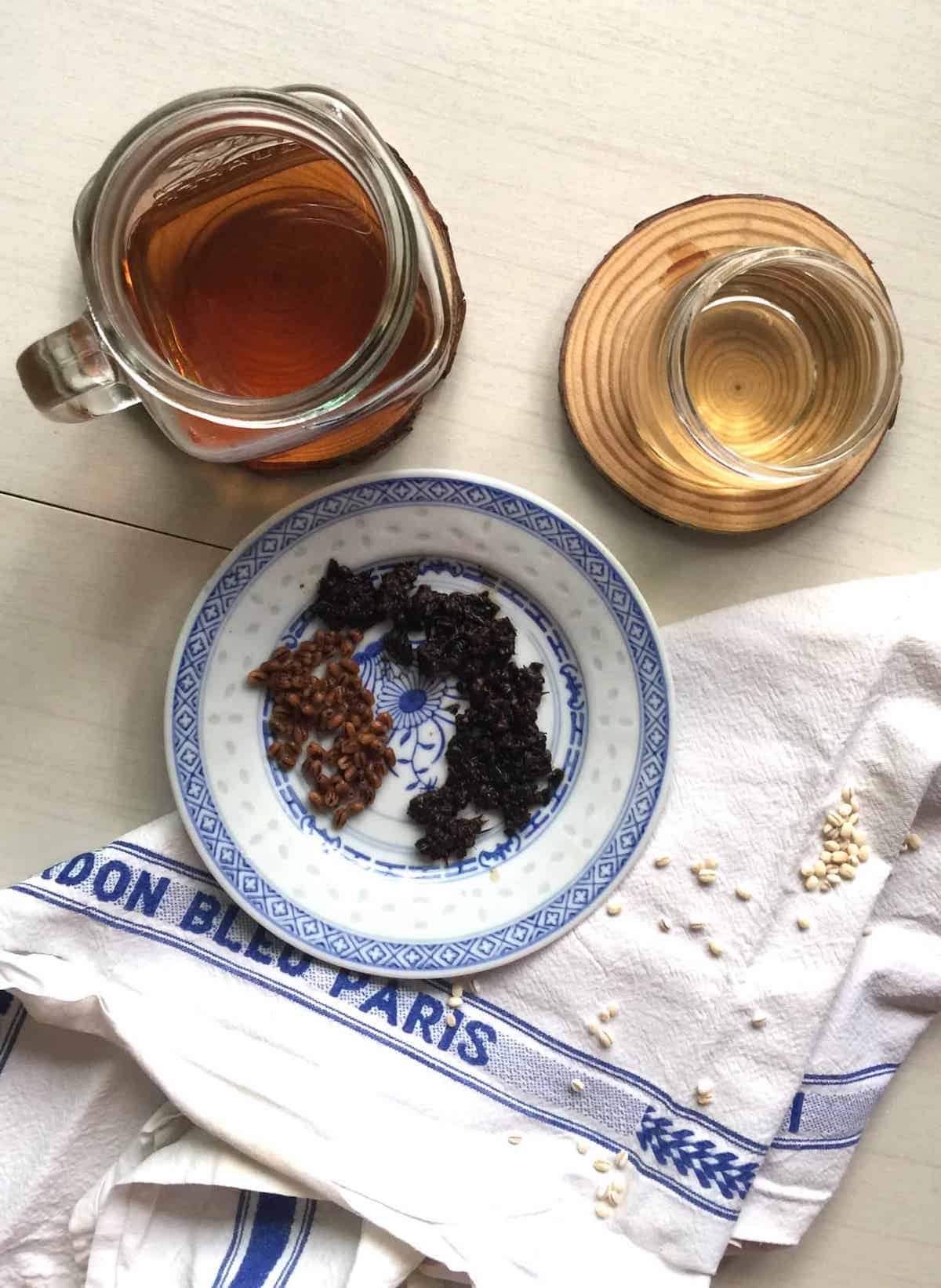 5a. To make hot brew barley tea: Bring 1 litre of water to a boil then pour it over the same tea bag/ grains from Step 4. Allow to simmer for 10-20 minutes, depending on how strong you want the taste to be.
Remove the tea bag, or strain/ sieve out the grains. Cool the tea then store it in the chiller.
Note: Coffee drinkers may enjoy the more concentrated version as it shares similar flavour notes.
Tip: If you've made the tea too strong, just add more water to dilute it!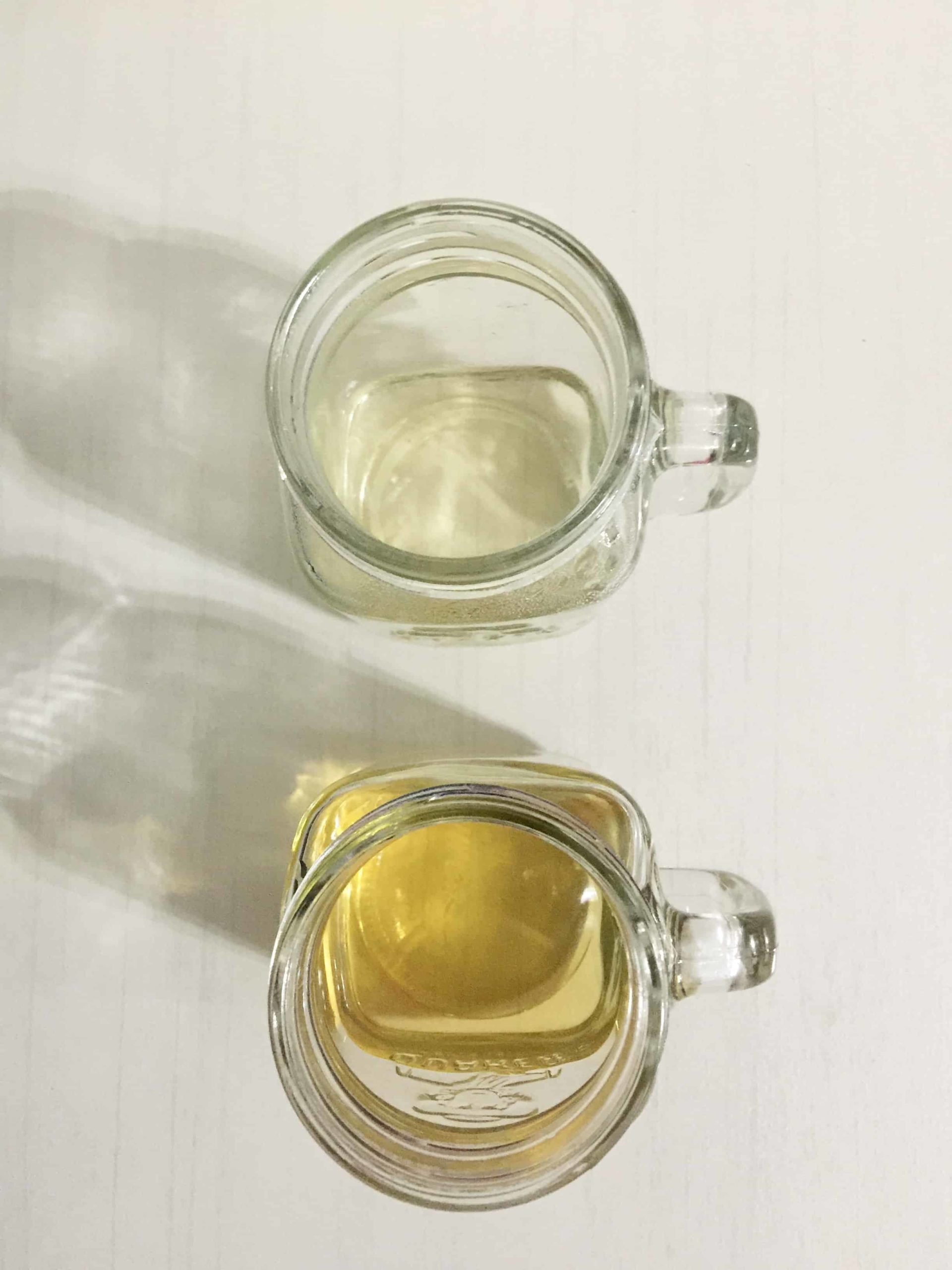 5b. To make cold brew barley tea: Steep the tea bag/ toasted barley grains in room temperature water then leave it in the fridge. It will need at least a few hours, but ideally leave overnight.
If you're using this cold brew method and want a very strong flavour, you'll need more kernels as there's no heat to bring the flavour out of the toasted grains.
Iced damaicha/ boricha/ mugicha is particularly refreshing on hot summer days (so everyday in Singapore, really!) It's best to make a large jar of boricha/ mugicha and store it in the fridge for the day.
Note: barley goes bad easily so I don't recommend keeping it for more than 1-2 days.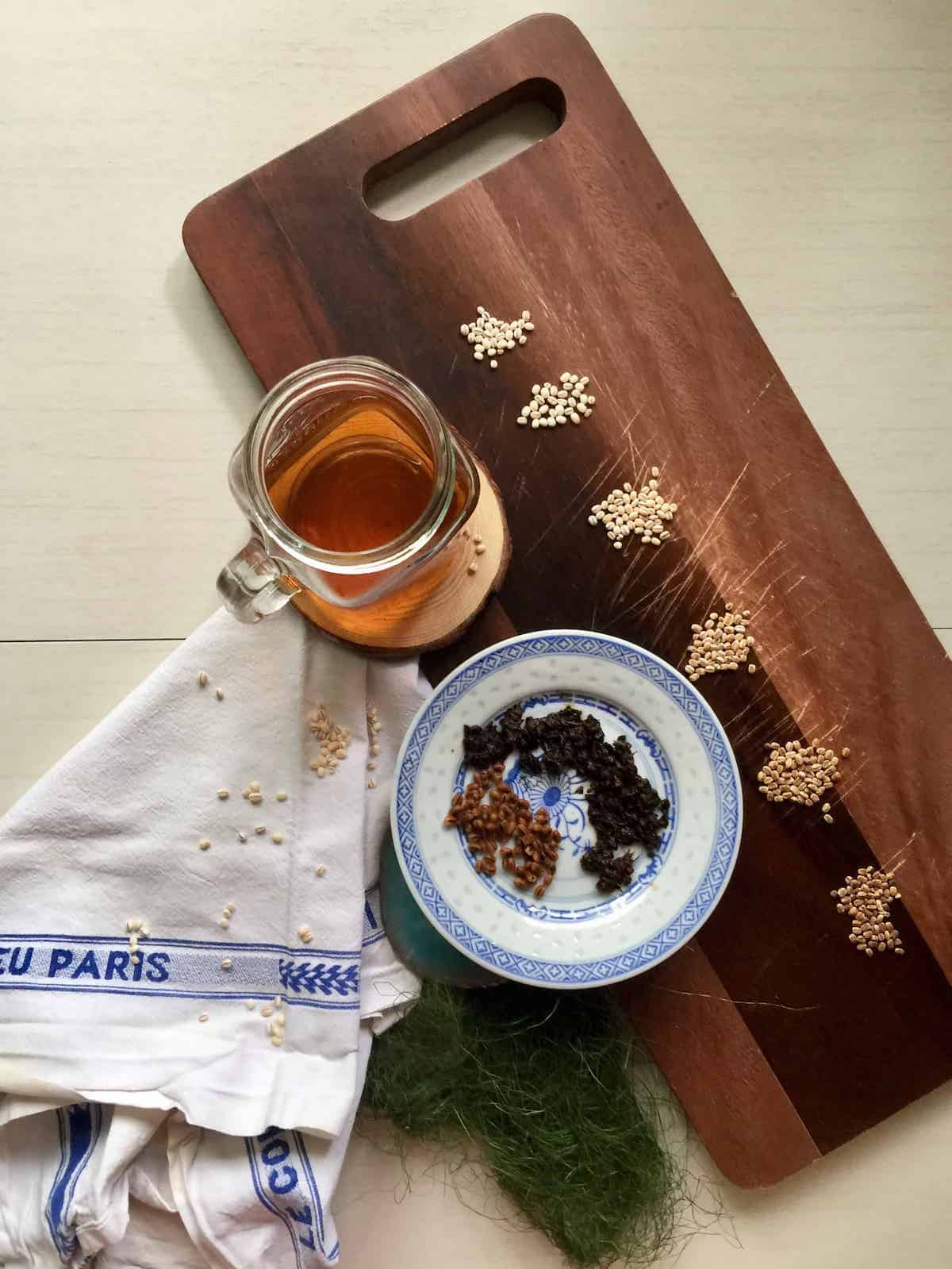 6. To sweeten or not: Traditionally, Korean boricha is not sweetened.
However, recently people have taken to adding other ingredients such as milk, sugar and even tapioca pearls to make barley milk tea.
Tip: For naturally sweeter tea, include toasted corn grains to make Korean oksusu bori cha (Korean barley & corn tea.)
Where to buy
Raw Barley Grains: You'll find untoasted pearl barley in almost all supermarkets. If not, it's readily available online: you can, for example, get Bob's Red Mill pearl barley and even hulled barley (which is a little harder to find) on Amazon.
Pre-roasted kernels: you'll need to go to the Asian grocery store- Korean ones are your best bet!
Pre-made Tea Bags: commonly available in most Asian markets
Bottled tea: These days, Asian food is now so ubiquitous that you can even find bottled Korean barley tea at places like Trader Joe's. The reviews don't seem great though, so why not make your own since it's so easy?
How to store
Your home toasted barley kernels can be kept in an air-tight container (after they've cooled) and kept in the fridge for 2-3 weeks.
Korean barley tea (the liquid) goes bad so keep it in the refrigerator too- I try to finish mine within 24hours.
Expert tips
Tip #1: Dry fry the barley grains without any oil. You don't want an oily tea!
Tip #2: The easiest way to make this drink is to directly add the toasted kernels into your kettle. Bring the water to the boil, let it steep and, voila, you get roasted barley tea!
Tip #3: If you're making iced barley tea using the hot brew method, cool down the hot tea by placing the pot in a basin of ice. This is important when it's hot as barley can go bad quickly.
Tip #4: You only need 2 ingredients- water and barley- for this caffeine-free beverage. However, you can jazz it up with honey and lemon. If you don't have time to roast the pearl barley, you can boil it with water and (optional) pandan leaves to make barley water. (This South East Asia also comes with lemon and is believed to be very cooling.)
Tip #5: After making your tea, don't throw the grains away. They can be eaten! (Just make sure your grains have been sufficiently toasted so they're cooked.) Add them to the rice cooker, your pot of porridge, tossed into salads bakes, stews, yoghurt or cereal.
If you're into living more sustainably, here's a link to more recipes which use other kitchen scraps and leftovers.
Recipe FAQs
Is Korean barley tea healthy?
Barley can help fight over 20 chronic diseases and has a lot of antioxidants. Bottled tea may contain sugar or other preservatives and additives, but homemade is good for you. For more about the benefits, read the section "Health Benefits" in this post!
Is Korean barley tea gluten-free?
Unfortunately, barley is not gluten-free so it's not suitable if you have celiac disease. If you are looking for a gluten-free tea for summer, try this lychee tea or this creamy matcha pineapple tea.
How many calories does boricha barley tea have?
Roasted Korean barley tea has negligible calories- there are only trace amounts of calories per cup!
Are boricha and mugicha teas?
If we're going to be super specific, they're actually tisanes made from steeping roasted barley grains. ("Real" teas are made from tea leaves i.e. the leaves of Camellia sinensis.) However, in Asia, everyone refers to boricha and mugicha as barley tea!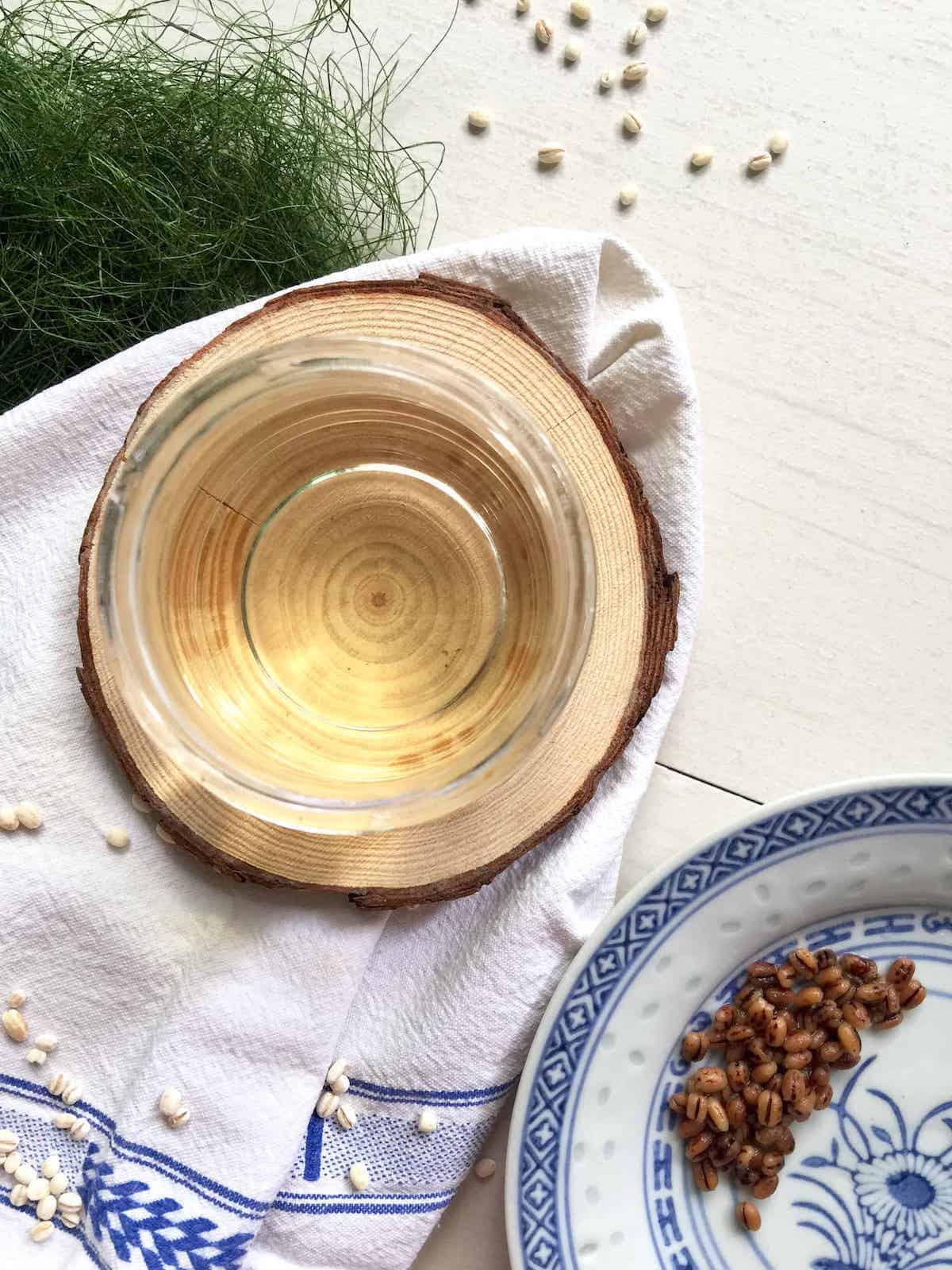 Other Korean recipes
Enjoyed this boricha/ mugicha recipe? Please leave a 5-star 🌟🌟🌟🌟🌟rating in the recipe card below & if you REALLY liked this popular beverage, a comment would make my week! Thank you and have a great day!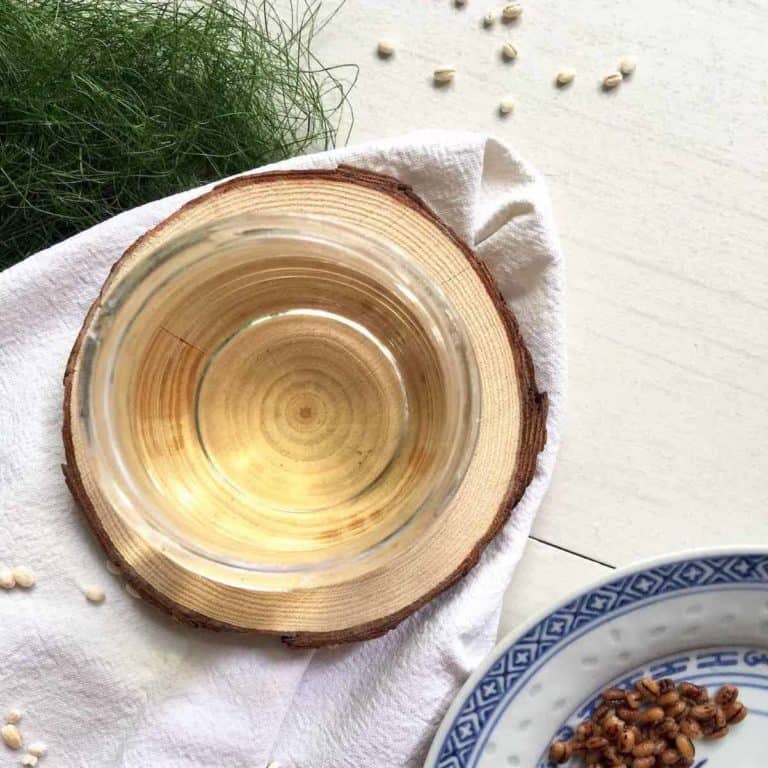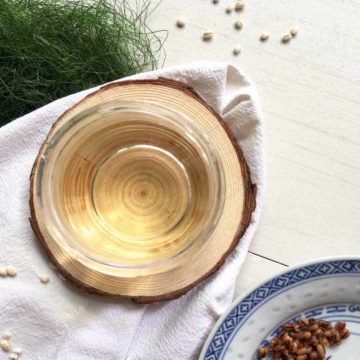 Korean Barley Tea Recipe (Boricha) (Mugicha)
A deliciously nutty and aromatic no-caffeine tea that can be drunk both hot and cold. Ice barley tea is great on a hot day!
Equipment
Thin bottom skillet

heat proof spatula

Pot/ Kettle

Jar
Ingredients
Using shopbought pre-roasted kernels/ home toasted kernels
1- 1½

Tablespoon

roasted barley kernels

Depending on how toasted the grains are and how deep a flavour you want

1

Litres

Water
Using a store bought tea bag
Water

Usually either 1 Cup or 2 Litres of water per bag- check the back of the packet for instructions

1

Tea Bag
Instructions
Roasting the barley grains
Using a thin bottom skillet, heat the barley grains on medium (Heat level: I recommend 5 on a Bosch induction stove with a maximum of 9. My pan is from WMF.) I usually roasting ½-1 Cup of roasted barley at a time- if you crowd the skillet, it'll take longer to dry fry.

Stir every now and then- you'll have to stir more as the grains get browner. This will take 20-30 minutes depending on how brown you want your grains and how thick your pan is.

Do not use a heavy pan like Le Creuset if you don't want to be at the stove for an hour! Scroll back up the post for photos of how brown the kernels get every 5 minutes.

Once the barley has cooled, you can store them in an airtight container in the fridge for 3-4 weeks.

Optional: get empty disposable tea bags and pack tea bags for friends.
Barley tea from toasted whole kernels (shopbought/ home toasted)
Add 1-2 Tablespoons of the toasted grains into a tea strainer, pour in some hot water, swirl it around the grains then toss the water out.

With the same tea strainer, add 1 litres of water. (If you don't have a strainer, use a sieve) Bring the water to a boil, then reduce the fire and allow it to simmer for 10-20 minutes. Alternatively, you can switch off the fire and steep the barley till it's at your desired strength.

After the tea is at your desired strength, take out the kernels. You can drink it rightaway or cool and store it in the fridge for 1-2 days. (To cool it quickly, put the pot in a basin of ice)
Barley tea from a store-bought tea bag (Single-use, usually Korean)
Make it the way you do your regular tea: Put the tea bag in a mug, add some hot water to wash the tea bag then throw it away. Add approximately 1 Cup of hot water to the same mug and tea bag, allow to steep then drink and enjoy.

You can top up the water in the mug once done, but successive cups tend to be quite diluted.
Japanese Barley tea from a store-bought tea bag (mugicha)
Your packet should have instructions at the back but, if not, Japanese mugicha usually calls for bringing 1.5-2 litres of water to the boil, adding the tea bag, then turning off the fire to steep the tea for 10-20 minutes. Note some tea bags are for use with cold/ room temperature water so check first!

Remove the tea bag (optional- depending on how strong a flavour you want) and after the tea has cooled, store in the fridge. (Mugicha is usually drunk cold during summer. You can expedite the cooling process by placing the pot in cold water.) Finish within 1-2 days.
Notes
Warning: The barley grains and pan get very hot so be careful!
Note: the serving size is for the drink and not toasting your own grains! As this tea can't be kept for very long, I've given quantities to make 1 litre only. If you want more, just multiply the ingredients accordingly.
Optional, non-traditional variations
Sweet barley tea: stir in some honey or sugar. You can also add roasted corn kernels for a naturally sweet toaste
With a twist:
 adding a squeeze of lemon and sugar is delicious
Barley milk tea: 
Add some milk and sugar and (optional) cooked tapioca pearls for bubble tea
Cold brew:
steep the grains/ tea bag in room temperature water for a few hours- overnight
Note: the nutritional information is an estimate automatically calculated using the WPRM recipe maker and I am not responsible for its veracity.
Nutrition
Calories:
131
kcal
Carbohydrates:
27
g
Protein:
5
g
Fat:
1
g
Saturated Fat:
0.2
g
Polyunsaturated Fat:
0.4
g
Monounsaturated Fat:
0.1
g
Sodium:
54
mg
Potassium:
167
mg
Fiber:
6
g
Sugar:
0.3
g
Vitamin A:
8
IU
Calcium:
42
mg
Iron:
1
mg
If you've enjoyed this Korean barley tea recipe, do let me know on social media or in the comments!