Jump to Recipe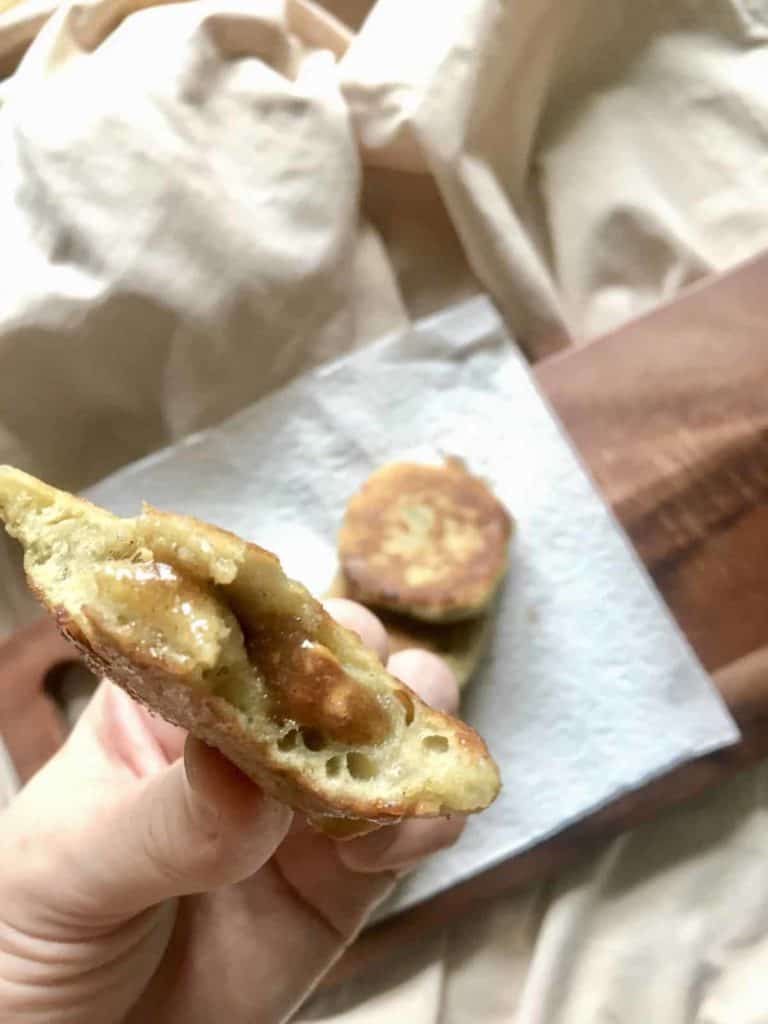 What does your hotteok premix contain?
Each hotteok box mix usually contains 3 packets:
a small packet of dry yeast
a packet of hotteok premix
a packet of hotteok jam filling
You will also need the following which is not included in the box mix:
warm water (about 40-45C). My packet asked for 180ml but every packet would require a different amount of water- just look at the back of your box and look for the numbers next to the word "ml" 🙂
lots and lots of oil (I used peanut oil to up the nuttiness of the hotteok)
glass or metal bowl
shallow pan
wooden or heat-proof spatula
kitchen towels
optional: dough scraper in case the dough sticks to your hands/ bowl
Why use hotteok box mix instead of making it from scratch?
Box mixes usually contain a ton of chemicals and preservatives so I prefer making things the old-fashioned way if I can. However, after trying the hotteok box mix, I can recommend using the box mix when:
you need the hotteok urgently, such as when guests show up at your house uninvited. (The box mix is instantaneous so you don't have to wait hours for the dough to rise. You just mix the yeast with water and the dough mix, knead for 5-10 minutes and it's ready. All in all, it took me about 30-40 minutes to make 8 hotteok using the Beksul box mix.)
you don't make bread a lot at home- you need yeast to make hotteok and, if you don't make bread a lot, the rest of the yeast will probably go to waste. (Don't throw out-of-date yeast away- test it first by mixing it with some warm water and sugar. If it bubbles up and smells yeasty, it's still alive and can still be used. If not, toss it.) The hotteok box mix comes with a small packet of yeast, so it's perfect for people who don't have any at home.
you want to try random hotteok flavours. The box I got was a Green Tea Hotteok which I thought sounded interesting as I wouldn't normally pair cinnamon, nuts and green tea. To be honest, after trying it, I still prefer the regular hotteok flavour! (And I still find my made-from-scratch hotteok tastier than the box mix!)
How to make your box-mix hotteok healthier and tastier?
I like to use the hotteok box mix dough with my own filling. The box mix filling is primarily sugar with very little nuts. When you make your own filling, you can increase the proportion of nuts to make it less unhealthy and more satisfying! The filling is usually a combination of brown sugar, cinnamon and chopped up nuts – play around with walnuts, peanuts, sunflower seeds etc to see what you like best!
Note: you can also mix it up using savoury fillings such as kimchi and cheese.
Tips for making hotteok with a box mix
You'd think making anything from a box mix would be idiot-proof but I find it still benefits from some pre-planning, especially if you've never worked with bread dough before. (Hotteok is basically like fried bread, with a syrup filling inside!)
Prepare everything in advance
I know cooks always stress the importance of mise-en-place but I tend to be a cook on the fly kind of person. However, as you'll be oiling your hands to make hotteok (if not the dough will stick terribly to your hands), it's best to put everything you need in bowls so that you don't get grease all over the kitchen. So, before you do anything else:
pour a generous amount of oil into a bowl, for you to grease your hands as you go/ cook with
put the filling mix in a bowl and make sure you have a spoon to ladle it with
prepare either a silpat or an oiled surface to roll your hotteok out on
prepare a plate and kitchen towels to hold the cooked hotteok (and absorb excess oil)
oil your hands GENEROUSLY
Even if you think you've oiled them enough, oil some more! Too little oil and the dough sticks like crazy, making shaping the hotteok a pain! Frankly, sticky hands are the reason why there was a 2 year gap between my 1st and 2nd times making hotteok 😛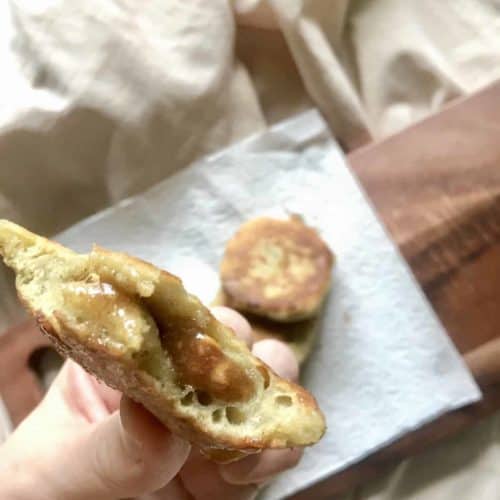 How to make hotteok using a box mix
Hotteok is a sweet Korean pancake that is perfect for anyone who likes cinnamon bread and donuts!
Equipment
Glass or metal bowl

Wooden or heat-proof spatula

Shallow pan
Ingredients
1

Hotteok box mix

Please see above for a breakdown of what comes in the box

Lots of oil

Don't use olive oil! Ideally use peanut oil, if not, canola, sunflower or any neutral vegetable oil
Instructions
Pour the jam filling mix into a bowl and prepare a spoon for it. Pour a generous amount of oil into another bowl. Oil the spatula (but not the handle!) and your working surface or place a silpat on your table.

Prepare a plate for the cooked hotteoks, along with some kitchen towels to absorb the excess oil.,

Pour the yeast (the smallest of the 3 packets) into the glass/ metal bowl along with 180ml warm water and mix well (40-45 degrees. 180ml just about fills a paper cup. Alternatively you can use a weighing machine. I didn't have a thermometer so I just mixed tap and boiling water till it felt hot.) Note your box mix may require a different amount of water so check the back of the box first!

Add the hotteok premix to the bowl (this will be the biggest of the 3 packets), then mix with the oiled spatula. Don't use your hands straightaway as the dough is very sticky at this stage. Once everything's come together into a ball, oil your hands very, very generously then knead the dough for 5-10 minutes till springy. You don't have to let the dough rest, but I find letting the dough sit for a minute makes it less of a pain to shape (less sticky).

Tear off a piece of dough that is about the size of a golf ball, roll into a bowl and place it on the silpat or working surface then flatten it with the palm of your hand. (If you like your pancakes to be of the same size, divide the dough into 8 balls before proceeding. To make sure each ball is the same size, first halve the dough, then halve each half again. You now have 4 pieces of dough, halve all the pieces (basically you repeat the process of halving the dough 3 times) and you get 8 hopefully equally sized balls.)

Scoop some filling into the centre of the flattened ball. Try to leave a border of at least 1 cm around the filling (maybe more if you've never wrapped bao or dumplings before) then stretch out the ends of the dough and pinch together to form a ball. Make sure the ends are sealed tight, if not your precious filling will ooze out and burn. Repeat this till you have 8 balls of dough with filling inside. (You may have some filling leftover, I did! Don't toss it, you can use it in place of sugar when you bake other desserts)

Heat your pan over medium-low heat, then add a generous amount of oil. You're pretty much frying the pancakes, so you want to make sure tha pan is well coated with oil. When the oil is shimmering, slowly place 2-3 balls on it- you don't want the oil to splatter on you!- away from each other (so that they don't stick). Use the back of your (oiled) spatula to press down on each ball till they become flat, like pancakes. Leave for a few minutes till the base is nice and brown then flip to brown the other side of the pancake. Once done, place on kitchen towel to absorb the oil.

Repeat till all the pancakes have been browned on both sides. You will probably need to add oil after frying a few hotteoks.

Enjoy when hot – taking care not to let the hot syrup inside burn you!- then wash down with a nice cup of tea!
Notes
The hotteok tastes best when consumed hot right after making. (Be careful that the syrup inside doesn't burn you though!) If not, either finish them within 24 hours (refrigerate and microwave for 30 seconds/ heat up in a pan before eating) or freeze them for later consumption. 
Note: cook the hotteok on low-medium heat and not high because if you use the latter, the hotteoks will brown very quickly but the inside won't be cooked and it's rather unpleasant to eat uncooked bread dough!
If you're a fan of Korean food, do check out this post on fermenting maesil-cheong (Korean plum syrup) at home!