Easy Asian Glutinous rice flour recipes that go beyond Asian desserts such as Chinese Nian Gao and Japanese Mochi. We also have Filipino Kalamay and savoury recipes such as Dumplings and Korean kimchi!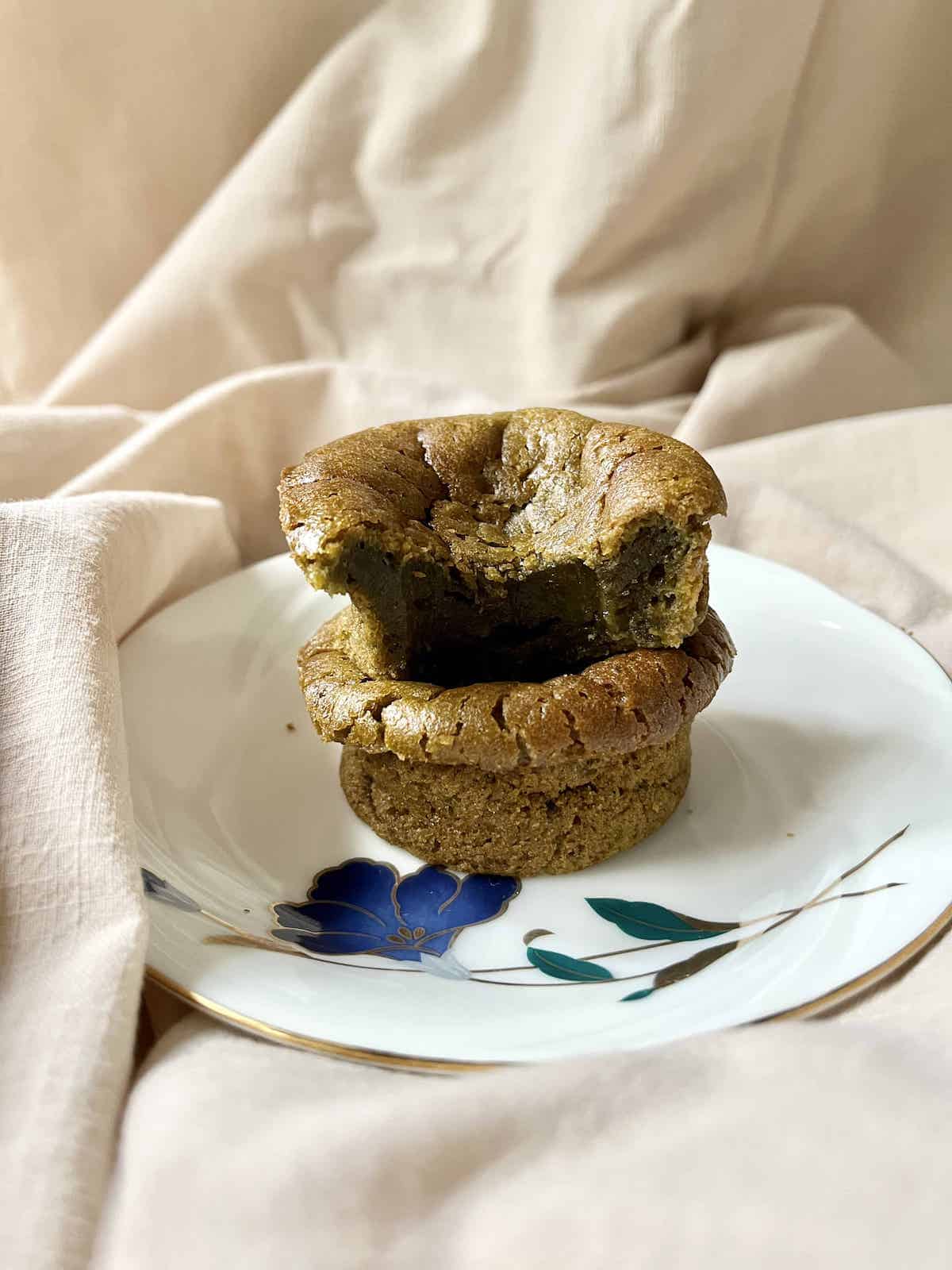 Jump to:
First things first, glutinous rice flour, also known as sweet rice flour, is not the same as regular rice flour!
Although both are white fine powder with a powdery texture, they cannot be used interchangeably. The 2 types of flour are made from different varieties of rice (long grain rice grains vs glutinous rice which comes in both long and short grain sticky rice) and have different textures after cooking/ baking.
If you're looking for substitutes for glutinous rice flour, such as tapioca starch and potato starch, click here. (I'll go into which substitutes can produce a similar chewy texture and which are only good as a thickening agent.)
Note: There are also specific types of glutinous rice flour such as Mochiko flour もち粉 and shiratamako.
How to Use
Also known as sweet rice flour, glutinous rice isn't actually sweet.
Rather, it is used for the chewy texture it produces (after being mixed with a liquid.) (It's called glutinous rice flour in China and South East Asia, whilst Korea and Japan use the term sweet rice flour.)
This fine flour is most commonly used in Asian cuisine desserts but I also have some savoury glutinous rice flour recipes below. In addition, it is 1 of the most popular gluten-free flours for bakers with celiac disease. You can also use it as a gluten-free option when thickening foods such as stews, sauces and soups.
Note: the snacks made with glutinous rice flour are so sticky, if they're not chewed properly, they can get stuck in the throat and suffocate you so CHEW CAREFULLY.
In Japan, a few people die each year from seemingly innocuous mochi so care should be taken when glutinous snacks are served to the very young or old.
Where to Buy
Glutinous rice flour has become quite widely available.
It used to only be available in Asian markets (typically the Thai brand Erawan) but, with its popularity in gluten-free baking, you can now find it in some mainstream supermarkets under the Bob's Red Mill brand (labelled as sweet white rice flour.) Another popular sweet rice flour brand is Blue Star from Koda Farms.
Tip: you can use the Erawan brand of glutinous rice flour if you're on a budget. It's cheaper but note that the texture of this type of flour is slightly coarser.
Just be careful you pick up the right bag as both rice flour and glutinous rice flour have the same packaging under Erawan, just marked with different colours!
Savory Snacks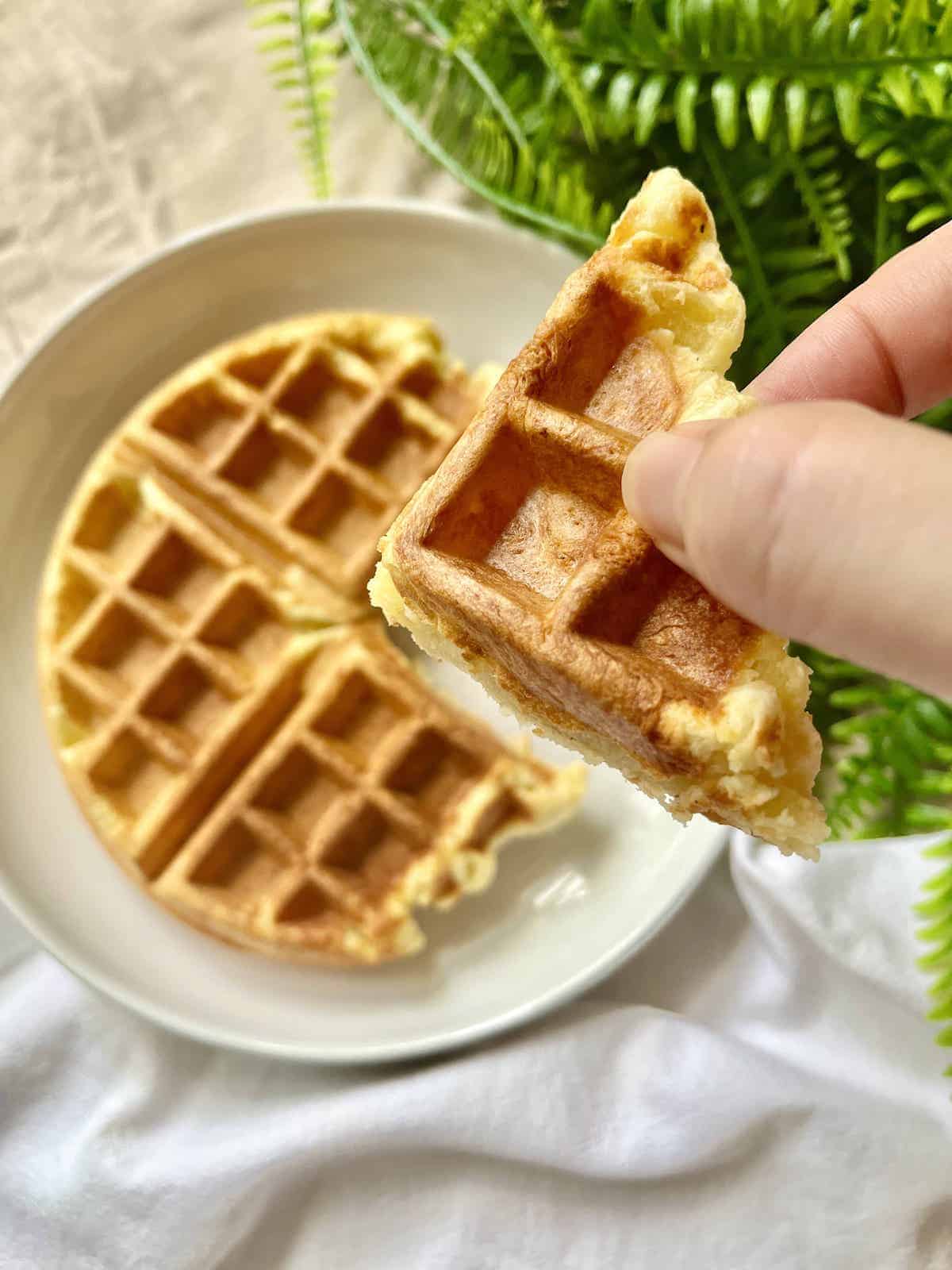 Cheese Mochi Waffles Recipe
This delicious Cheese Mochi Waffles Recipe- also known as Moffles!- is crisp on the outside and soft and oozy on the inside! Thanks to the glutinous rice flour, these waffles stay crispy and don't become soggy as easily. On the table in 15-20 minutes, they're perfect for breakfast or brunch! (This recipe works with both a traditional and vertical waffle maker. It is NOT just putting a mochi in a waffle machine!) (Gluten-Free)
Click here for the savory mochi waffles.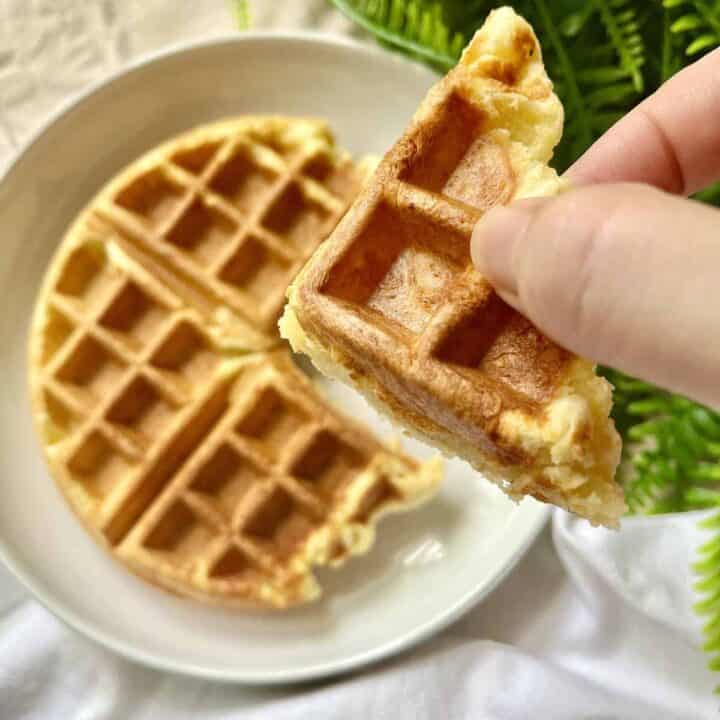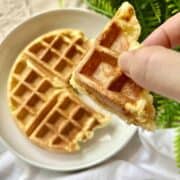 Chewy Desserts
Pumpkin Cake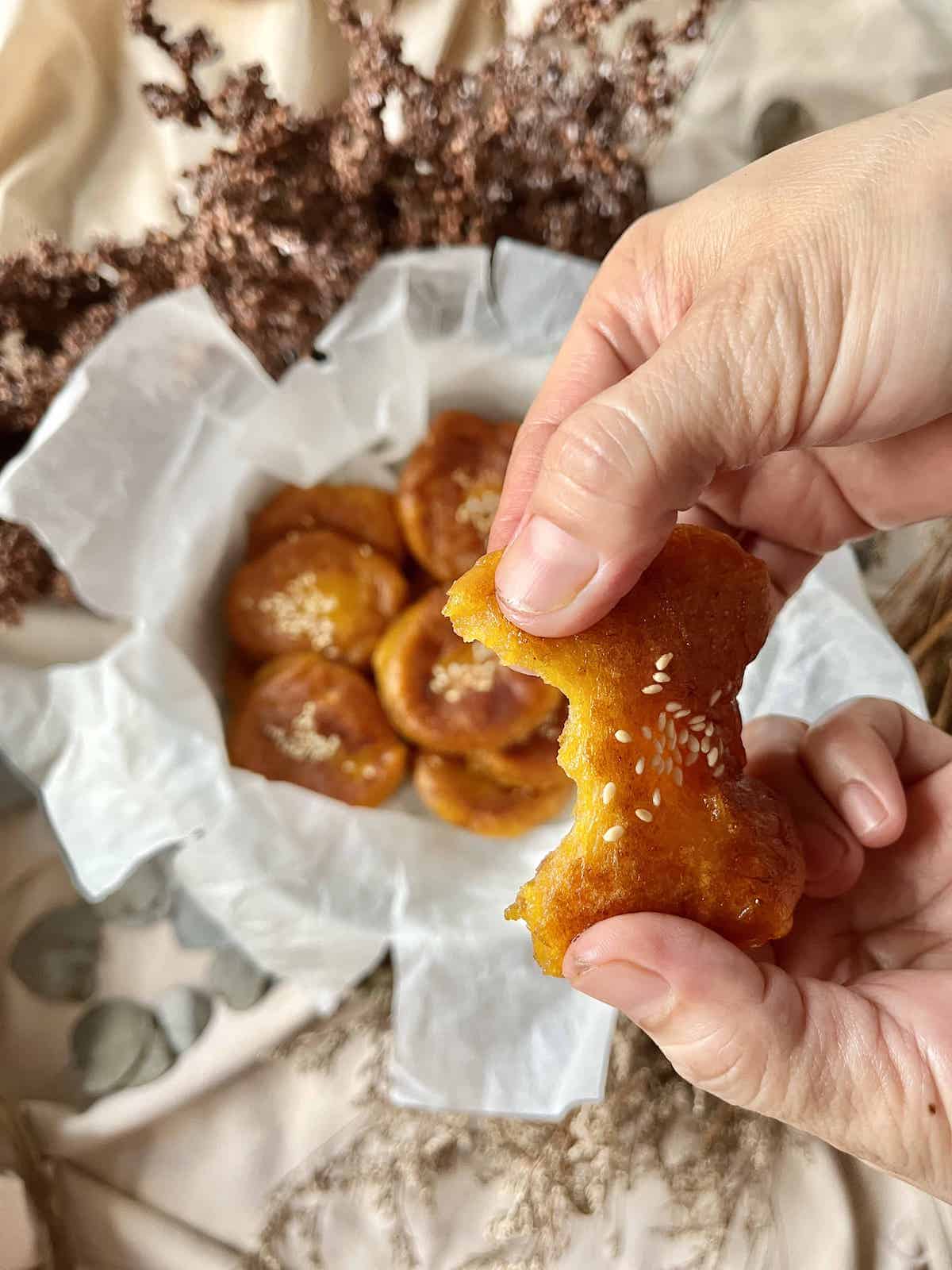 These Chinese pumpkin rice cakes are a perfect way to use up pumpkin in fall!
They have a similar chewy texture to mochi but are much simpler to make!
Note: store them in an airtight container at room temperature. (When refrigerated, the glutinous dough will harden.)
Chinese Pumpkin Cake
Crisp on the outside but soft, gooey and chewy on the inside, Chinese Pumpkin Cake or Nan Gua Bing is a must-make dessert in fall! If you've ever felt intimidated by the thought of making your own Asian street snacks, try this easy Chinese recipe to give you confidence! It's simple enough to make perfectly the very 1st time!
Click here a delicious Chinese Pumpkin Pancake recipe!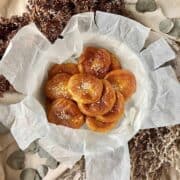 Mochi Muffins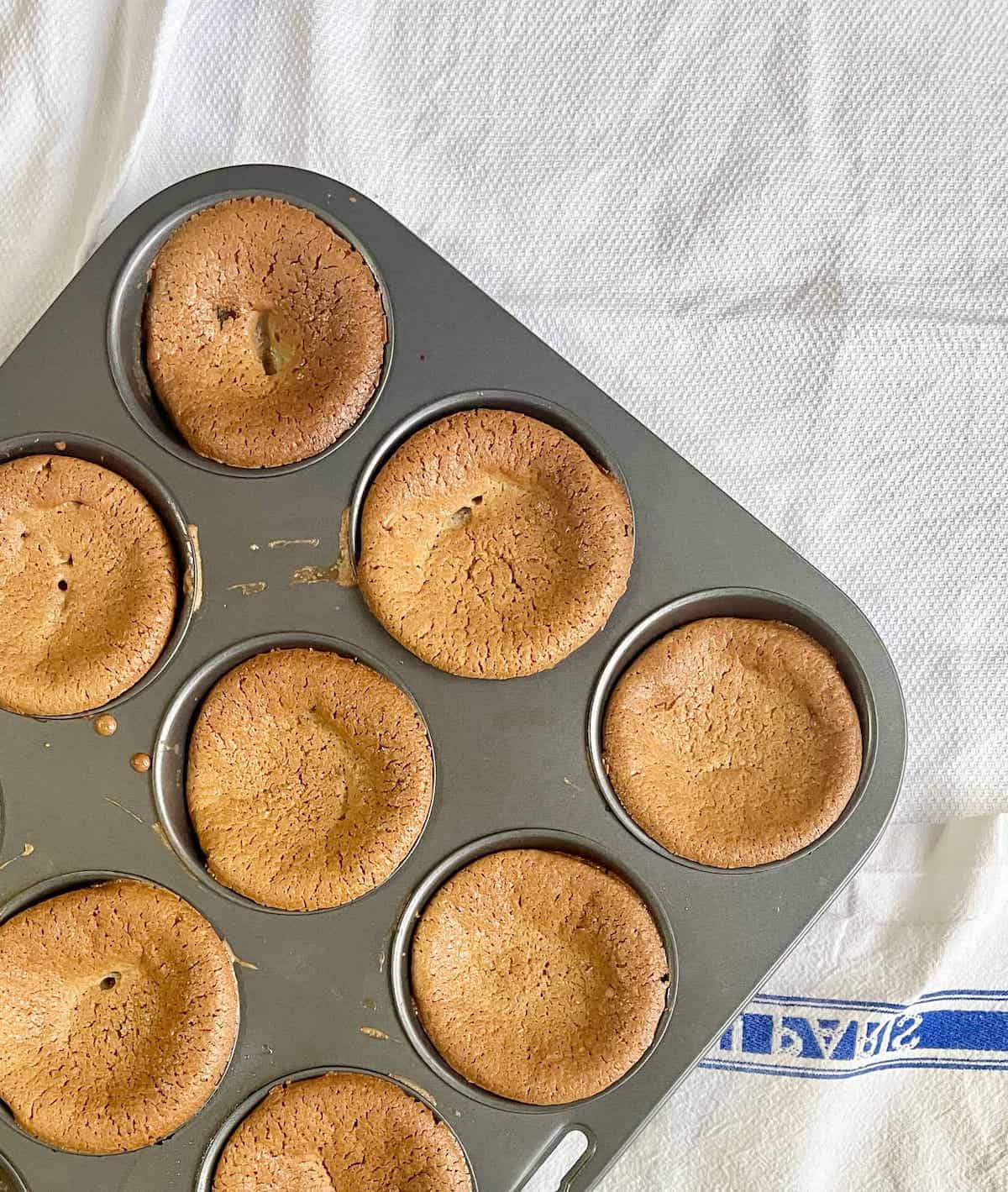 Based on the Third Bakery mochi cupcakes in California, this is a delightful dessert with a crisp exterior and soft chewy interior.
I used Matcha Powder but you can substitute with Green Tea Powder if on a budget, Hojicha, Thai Tea powder etc!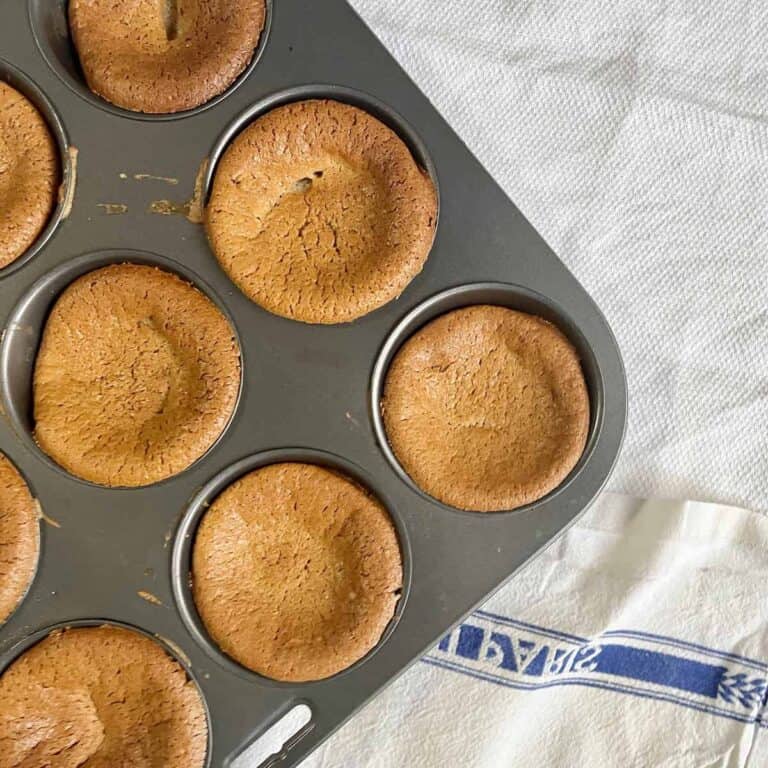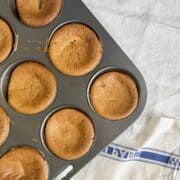 Black Sesame Mochi Cupcakes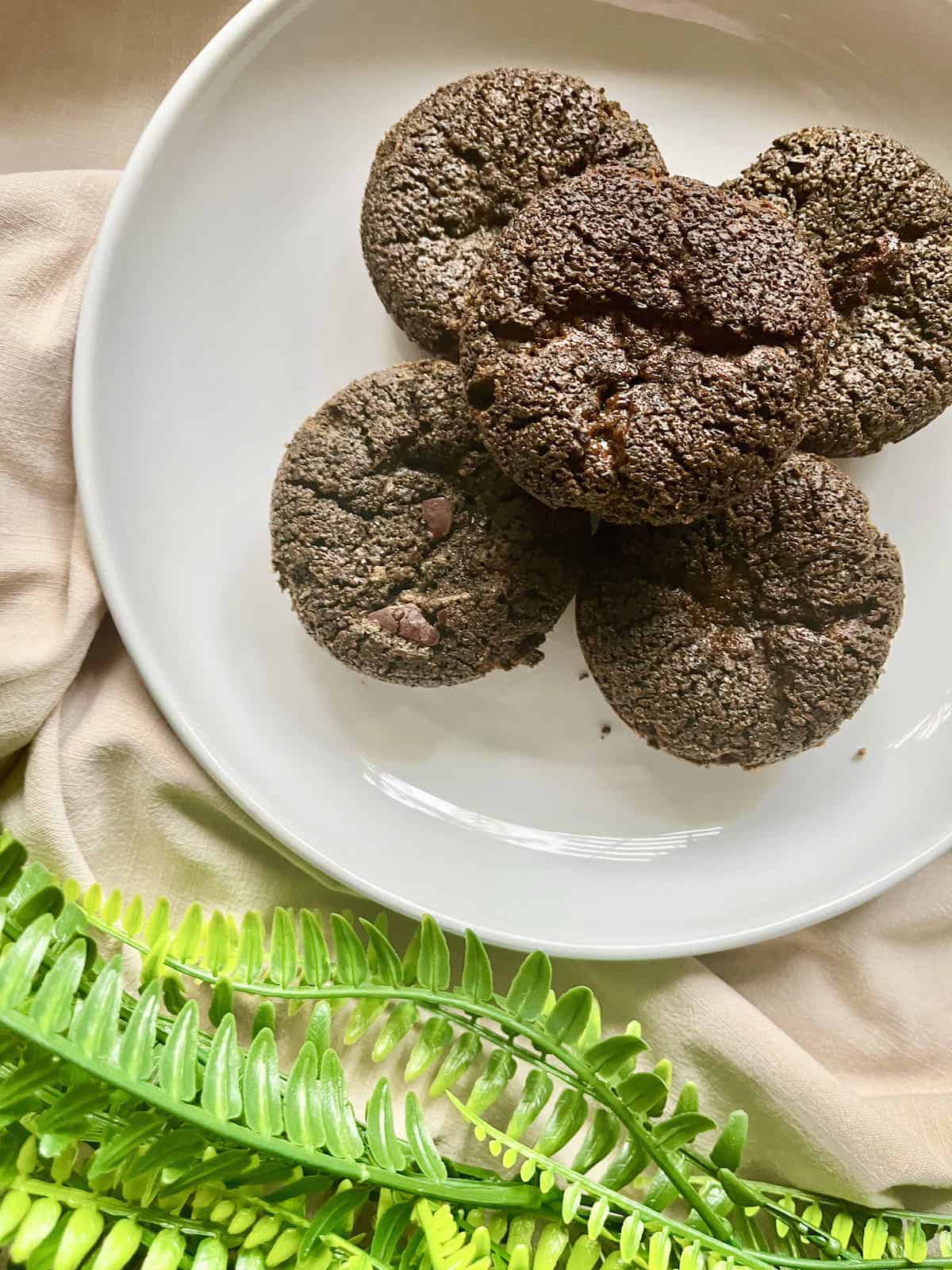 Black Sesame Mochi Muffin (NO MIXER)
This easy Black Sesame Mochi Cupcake recipe is naturally gluten-free and requires no special equipment, not even a mixer! With its crisp exterior and soft chewy interior, it's a great mini cake recipe for those with celiac disease. (Vegan version included.)
Click here for the black sesame mochi cakes.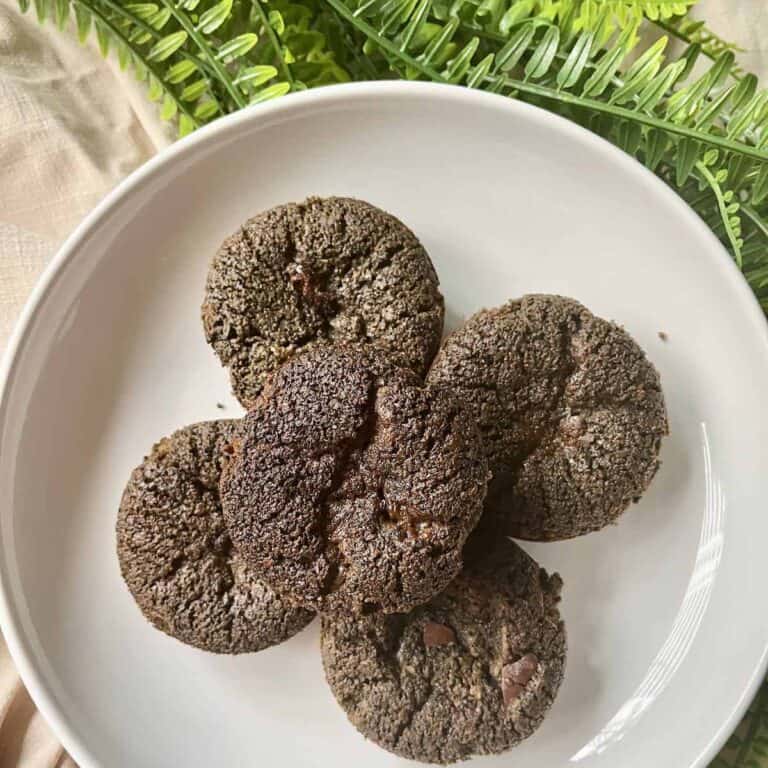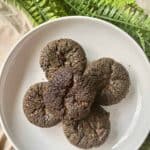 Glutinous Rice Balls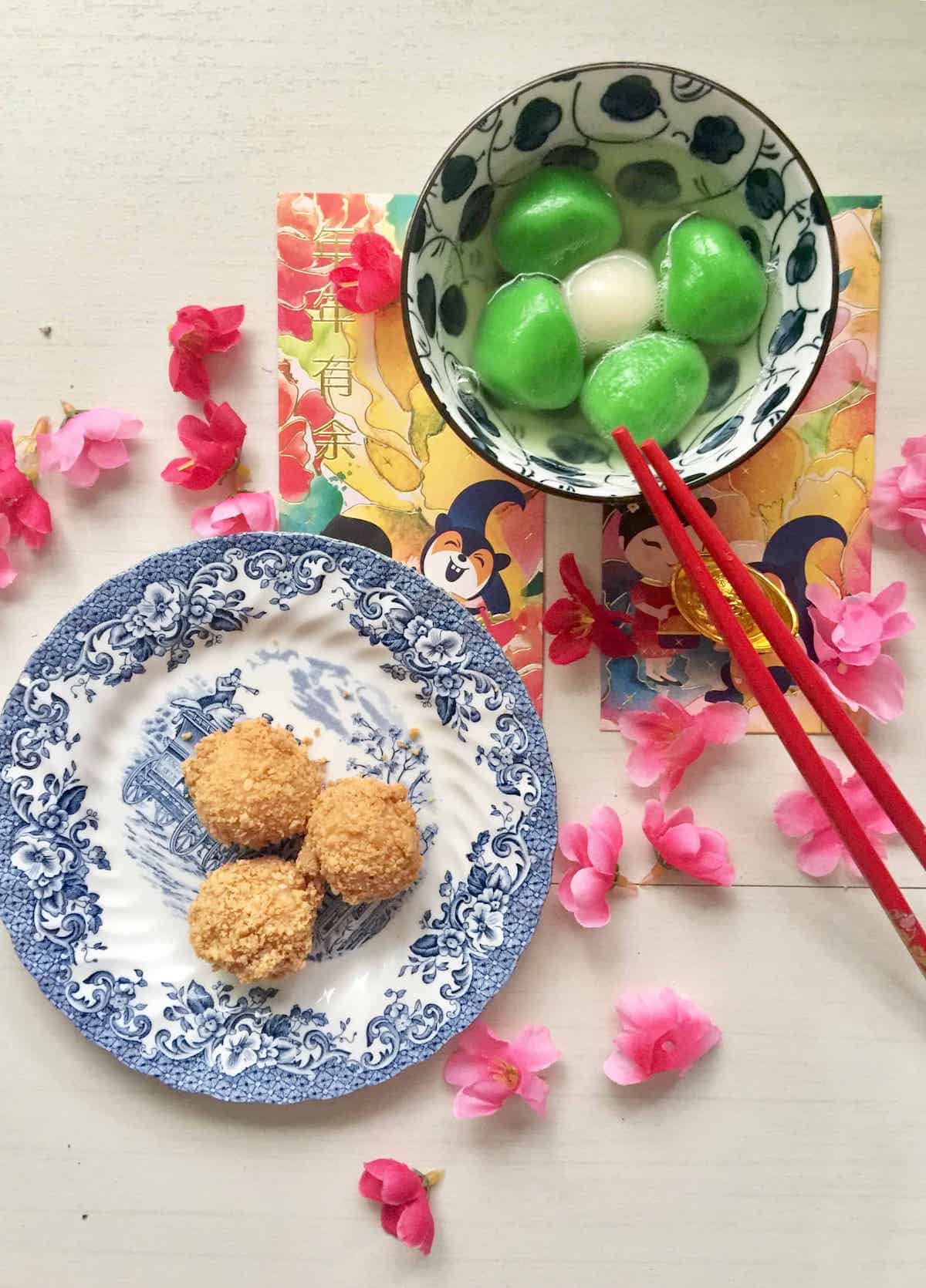 Sweet rice flour is the main ingredient in Chinese Mochi, or Tang Yuan. Some tang yuan don't even have fillings inside and are basically lumps of glutinous rice flour dough!
Tang Yuan (With Filling and Plain)
Tang yuan, or Chinese glutinous rice balls, are a 2 to 3-ingredient chewy snack that can be served in soup (sweet or savoury) or fried. Served at Chinese family gatherings, especially the Winter Solstice, they also come plain or with filling inside so, as you can see, this is a very versatile and easy dish! 
Click here to learn to make tang yuan.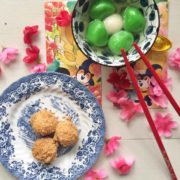 Vegan Mochi Cakes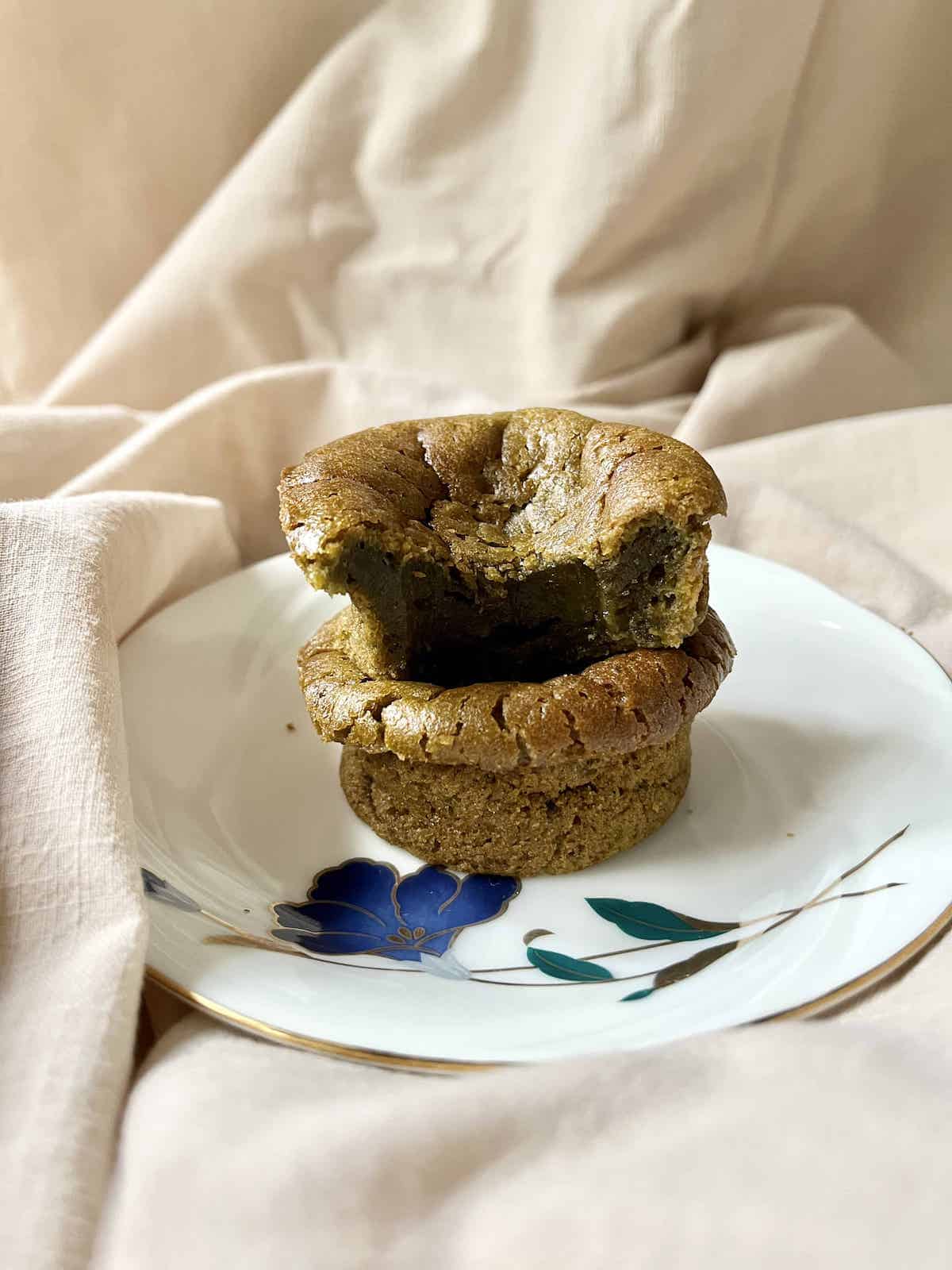 The previous Matcha Mochi Cupcakes used butter and milk. If you're on a plant-based diet, here's a vegan version for you that uses coconut milk!
Vegan Mochi Muffins (Hojicha)
A super easy, no-mixer Vegan Mochi Muffins recipe that is naturally gluten-free. These Hojicha Mochi Bites are the perfect sweet-but-not-too-sweet treat for those on a plant-based diet or GF diet. Once you've had them fresh from the oven, the crisp exterior and the soft, stretchy, chewy dough will leave you wanting more!
Click here for a vegan version of mochi muffins!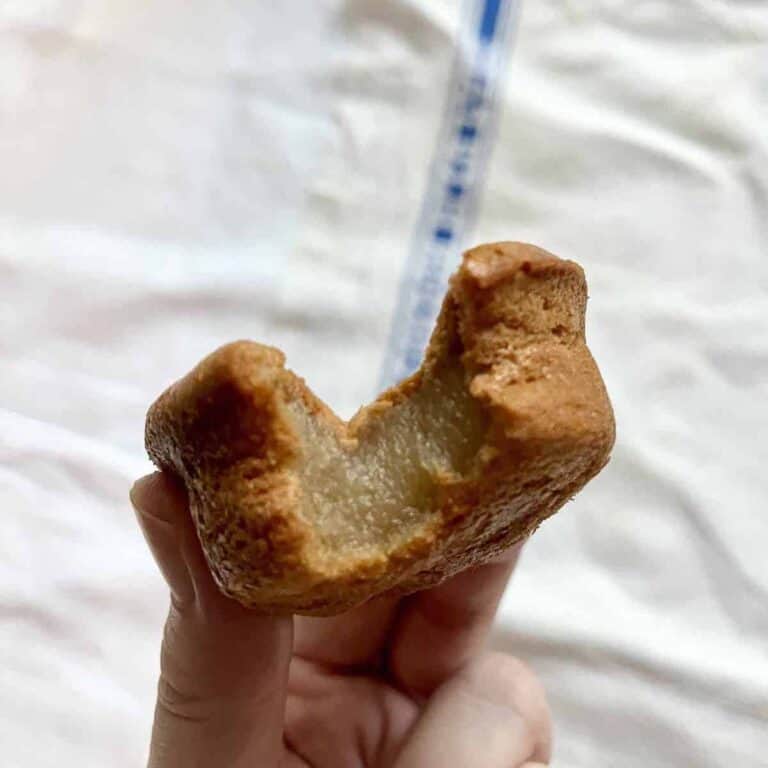 Muah Chee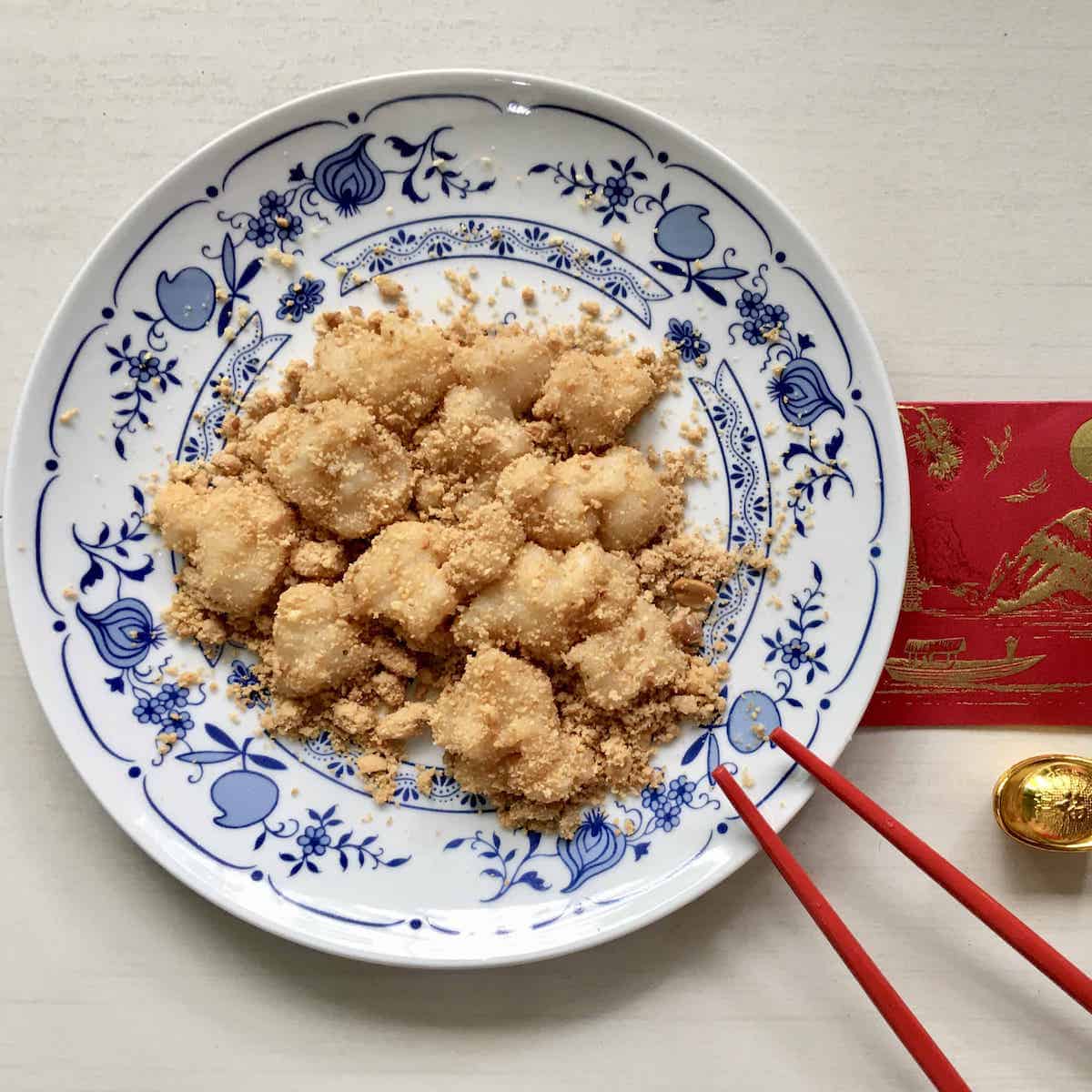 Glutinous rice flour is the key ingredient when making Muah Chee, a popular traditional Chinese street snack. It is basically just glutinous dough coated in ground sesame seeds or peanut powder!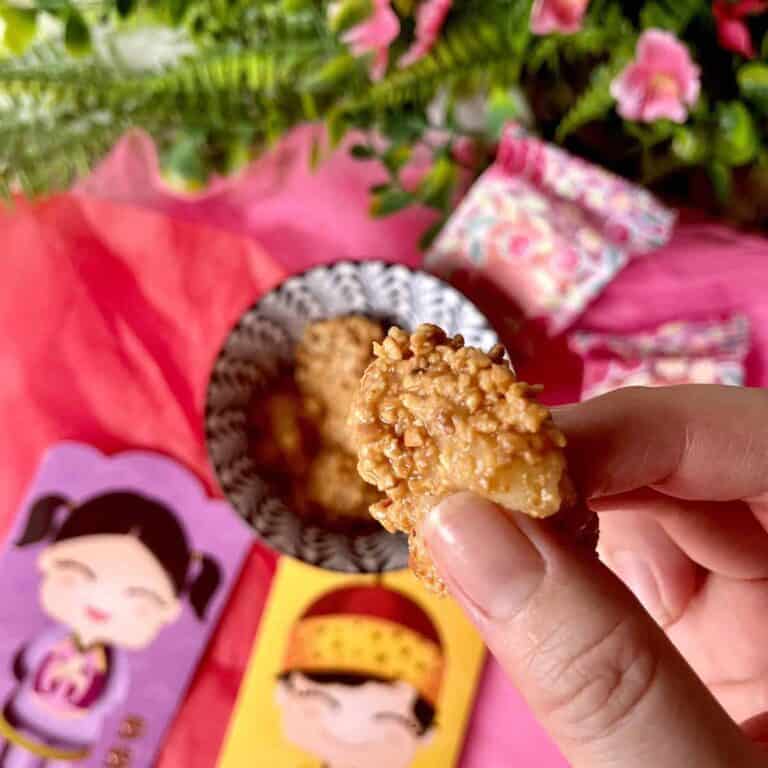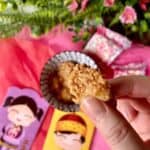 Snowskin Mooncakes
Unlike traditional mooncakes, these are not covered by a golden brown layer but instead a translucent, thin skin made from glutinous rice. They come with various fillings but Lychee Mooncakes 荔枝冰皮月饼 are 1 of my favourites!
If you like lychees as much as I do, you'll love these canned lychee recipes, such as lychee jelly and litchi tea!
Yeongyang-chaltteok 영양찰떡
These Korean rice cakes are made from Korean sweet rice flour, chapasal garu. Traditionally, jujubes were added but you can make modern versions with nuts and seeds!
Nian Gao
Nian Gao 年糕 is a traditional Chinese New Year dish eaten to symbolising moving upwards in life in the New Year!
Mochi Cookies
These chocolate chip cookies are delicious but not gluten-free as the sweet rice flour is mixed with all purpose!
Butter Mochi
This soft and chewy Hawaiian cake has a tropical coconut flavour and is GF.
Kalamay Sa Latik
In Philippines, glutinous rice flour is used to make Kalamay sa Latik, a popular coconut and jackfruit dessert in brown sugar.
Mochi
These 5-ingredient mango mochi are sweet and chewy!
You can also replace the mango with black sesame paste or even ice cream for more variety!
Mochi Pancakes
These gluten-free pancakes are naturally purple from the Ube and perfect for brunch!
Mochi Donuts
Asians love the sticky texture of sweet rice flour so much, we've made them into Mochi Muffins, Mochi Bread, Mochi Pancakes and even Mochi Doughnuts!
Sauces
Thick Soy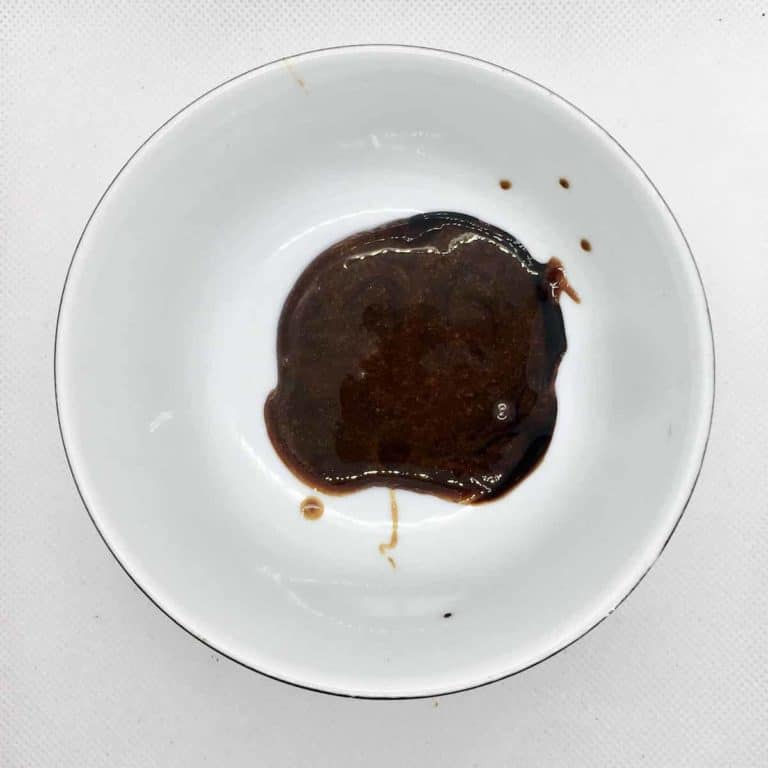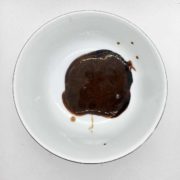 Savoury Dishes
Kimchi
Did you know that glutinous rice flour is used to make a "porridge" in traditional kimchi making?
When I took a professional Kimchi course in Seoul, the instructor said we can substitute with wheat flour but sweet rice flour is the original!
Mochi Bread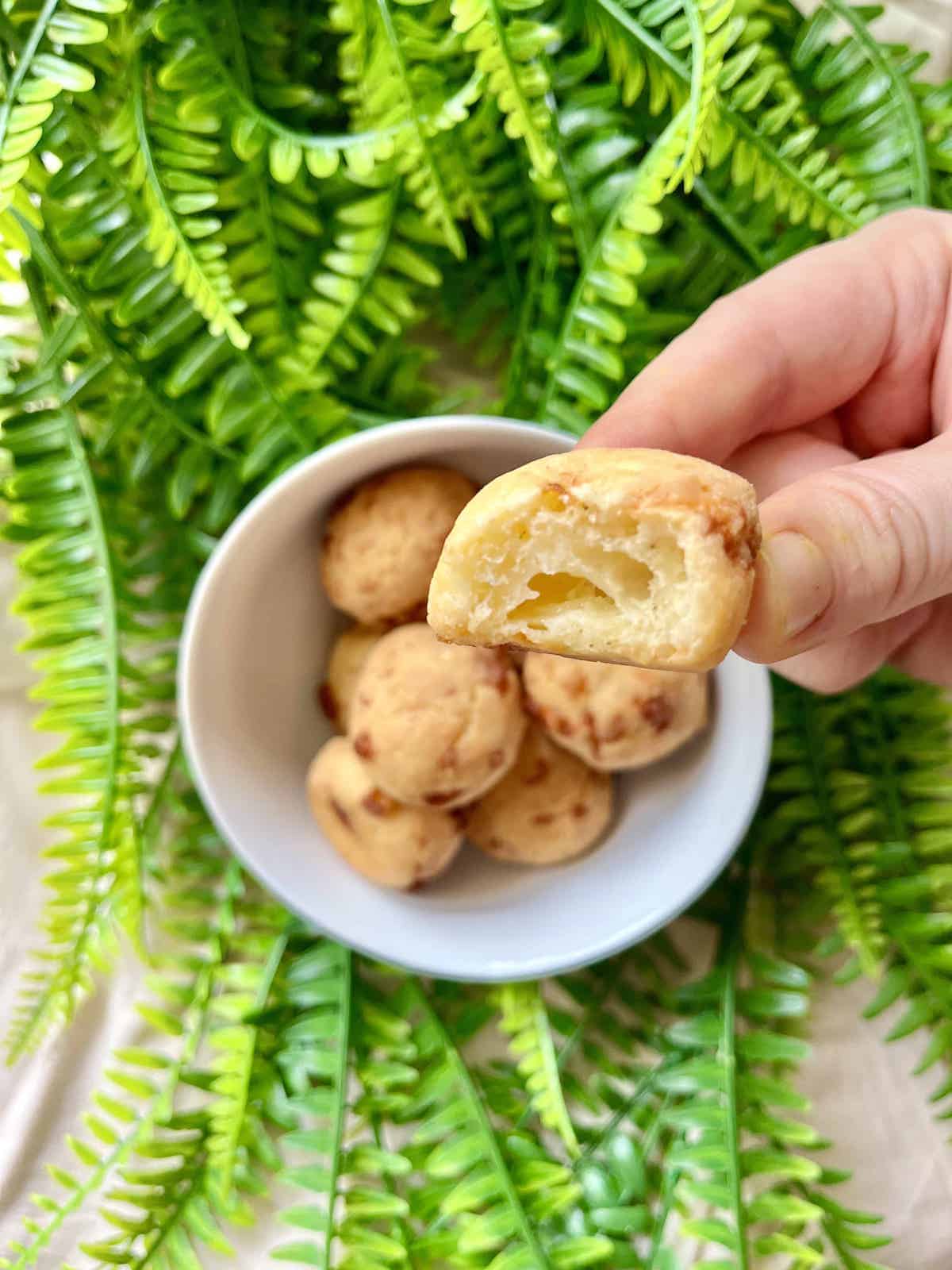 Similar to Brazilian Pão de queijo, this Mochi Cheesebread is a delicious Asian appetiser! I first tried them at Luiz Hara's supper clubs and never forgot the taste!
They're crispy outside and soft inside. Remember to serve warm!
Cheese Mochi Bread
This delicious Cheese Mochi Bread Recipe is crisp on the outside and soft and oozy on the inside! It's also a super easy recipe: you just mix everything and bake. Plus no sugar is used so you don't have to feel guilty about snacking! (Baked) (Air Fried)
Click here for the light and fluffy cheese bread.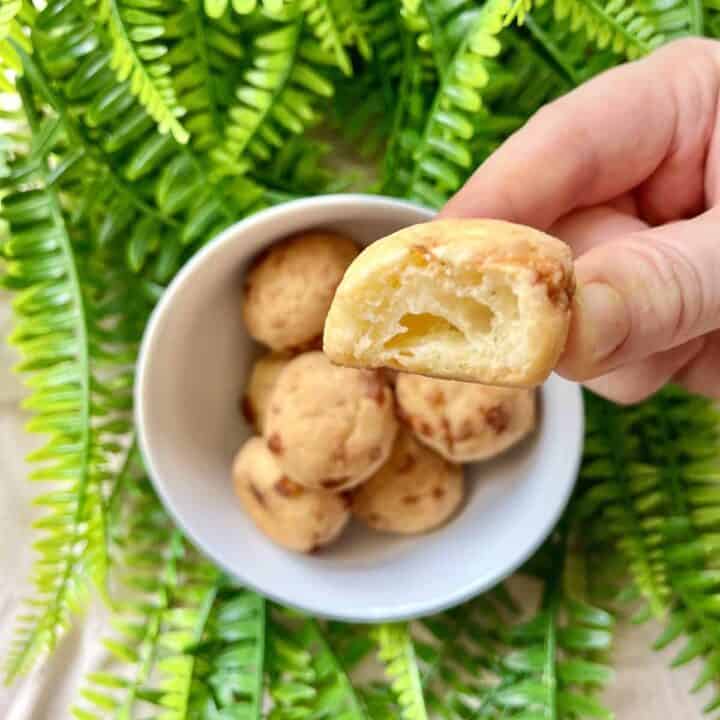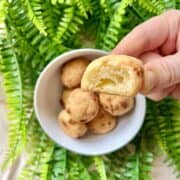 Ham Sui Gok 咸水角
Whilst glutinous rice flour is most commonly associated with Asian sweets such as tang yuan and mochi, did you know that it is also used to make dim sum such as Ham Sui Gok dumplings? (Some people use wheat starch but glutinous rice flour, which is easier to get hold of, works too.)
This crispy fried snack, filled with juicy pork and shrimp, is a very unique Chinese treat thanks to its texture and a must try!
Mochiko Chicken
This Hawaiian chicken recipe was brought to Hawaii by the Japanese and is delicious tender and crisp.
Mochi Dumplings
These pan-fried mochi dumplings are chewy thanks to the sticky rice flour used, with a crisp exterior.
Soups
Black Sesame Tong Sui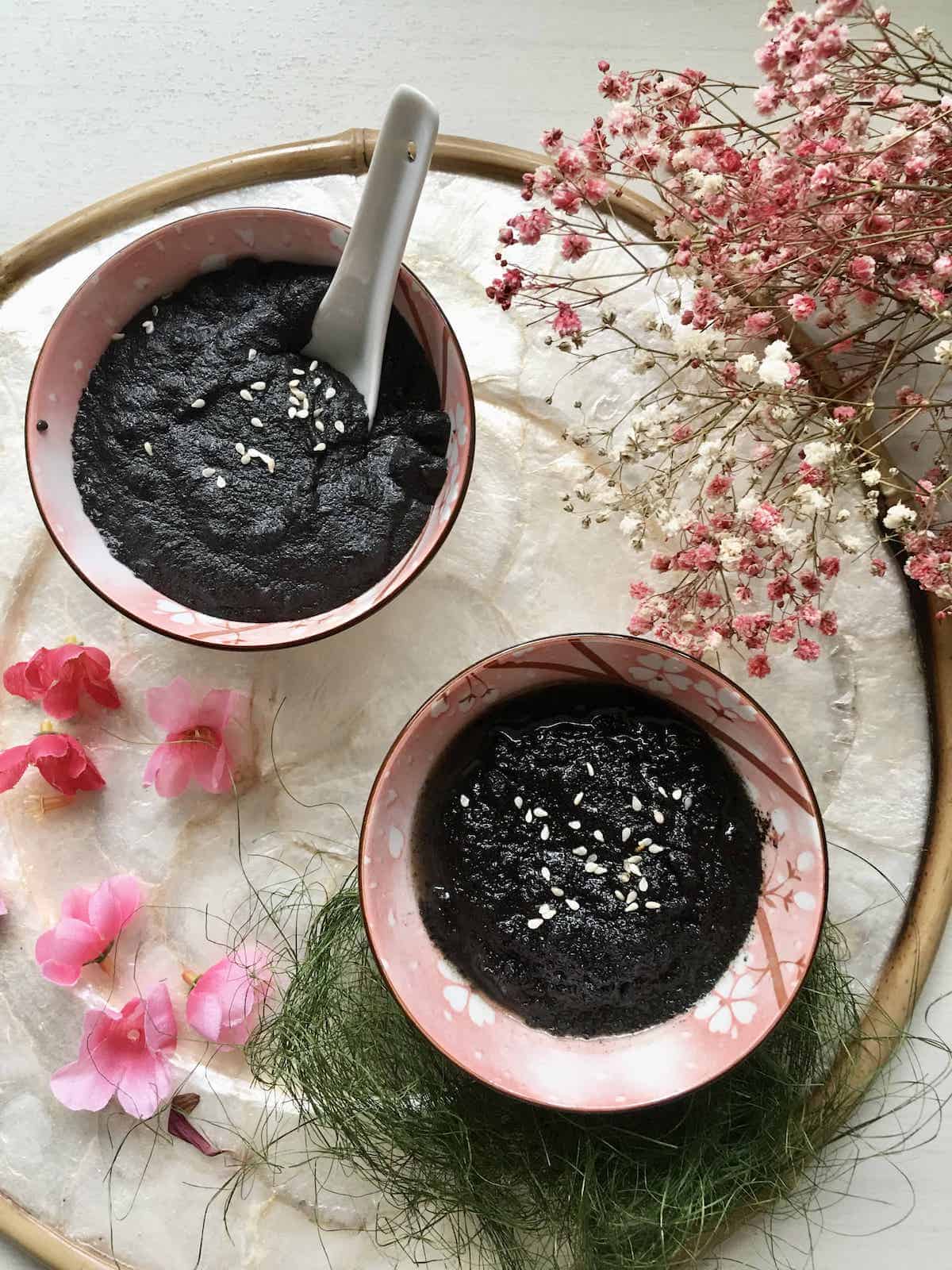 Easy Black Sesame Soup Dessert
A sweet and creamy Chinese recipe, with nutty overtones giving this easy black sesame soup dessert a complex depth of flavour. Moreover, this 3-ingredient traditional Chinese Tong Sui is naturally vegan, gluten-free, delicious & very nutritious!
Click here for the sesame tong sui recipe.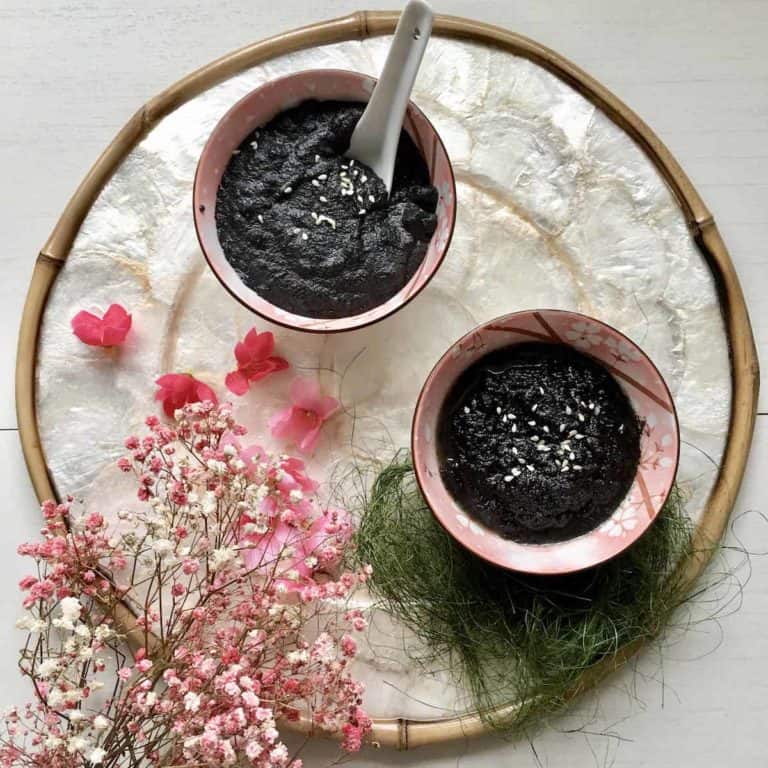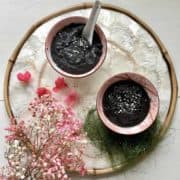 What is your favourite Asian sweet rice flour recipe?