Jump to:
Blogging Host
I use Cloudways and I'm very happy with them, namely because I can always get live support when I have a question. I find it pretty difficult to talk to bots as they never manage to answer my queries! If you are keen to sign up with Cloudways, please do use my referral link and you'll get $15 hosting credits:)
Image Optimization
I did some research and tried both Imagify and Shortpixel (both of which were mentioned in the TopHatRank webinars)- had some issues with Imagify so went with Shortpixel in the end (worked out cheaper too). Use my Shortpixel link to get 100 free credits!
Food Blogging SEO
Update: since implementing what I've learnt on CwK and THR, I've x5 traffic in 1-2 months! Here's an example of a post from before (to be updated soon) and a post that (partially) applied what I've learnt. The latter post became my top traffic post (for a 28-day period) ONE DAY after publishing!

Cooking with Keywords: food blogging keywords SEO course
For the longest time, I struggled with keywords as there are so many different tools out there, and so much different advice! I finally decided to sign up for Cooking with Keywords- Click my affiliate link to get to the course page- and learnt a ton!
TopHatRank SEO webinars
Technology and I do not make the best of bedfellows- it took me more than 5 attempts before my Google Analytics would even load properly!- so SEO doesn't come naturally to me. Thanks to the TopHatRank Blogging SEO webinars, I managed to increase my blog traffic by 20% after just 2 weeks! Here's a summary of the tips and action points that I've taken away from each webinar. I'll be updating this page regularly as I listen to more of the webinars (as of date, there are 18 published), with a goal to finish them all by the end of 2021!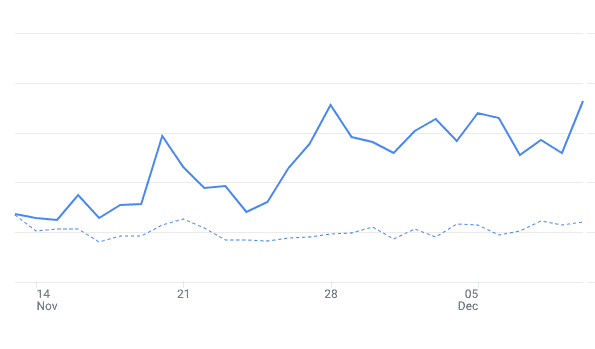 Panelists: Andrew Wilder of NerdPress, Arsen Rabinovich of TopHatRank and Casey Markee Of MediaWyse
Hosted by Ashley Segura of TopHatRank
The #1 Mistake is forgetting the holidays

Get content out 2 weeks in advance
Look at old content to see what you can republish, feature or send to mailing list
NEVER CHANGE THE URL even if you republish
Do not touch post that ranks well

#2 Mistake: forgetting to thank subscribers
#3 Mistake: increasing ads
Affiliates in gift guides:

You're legally required to reveal affiliate in proximity to link (near or before link which must be no-follow)
TBC
Images improve user experience by contextualising content and also:
help with Discoverability (Image Search, which is different from Google Organic Search- you can track this in Google)
Pinterest, Facebook, Instagram etc
Is there an optimal number of images for food blogging SEO?
Use as many as you need but be aware of the balance between speed (more images, slower site) and improving the users' experience. Suggested number on call 7-10, with the types of images outlined below.
The food blogger on the call and founder of the Tastemaker Conference, Abbey Rodriguez, uses the following in her posts:
featured image of finished dish
ingredients
step by step photos
final finished image at bottom of post
Things to note about images:
Have the images been resized correctly?

At least 1 1200 x 1200 photo for Google Discover etc

Is the image in the right format?
Has the image been compressed?

Aim for under 250kb or the smallest size possible whilst still looking good

Have you only uploaded images you are going to use in the post?

Don't upload all your images then choose as this takes up space
Note: uploading the image in post editor ties to image to that post

Are you using an image optimisation plug-in for further optimisation after uploading?
Does image have alt-tag?

It's an accessibility tool not SEO tool: contextualises image (Plug-ins: ALT TEXT TOOLS and BLOGFIXER)
Can have legal implications
TBC
Note: Besides Ashley, Andrew Arsen and Casey, there was a food blogger on the call but I didn't get her name or blog and it's not under the "Meet the Experts" section so wasn't able to link to her.
What is over-optimising?
It's when you're writing your post for Google and not your readers. There are some things to look out for which I've mentioned below
How do you know you're doing it?
You'll have seen a traffic loss. Also, your content would sound weird.
Check for over-optimising:

Usage of keywords

Is your keyword in every heading? AVOID. It should be in the title (H1) and recipe card (H2) but not every heading!
In every alt-tag? AVOID

SEO Quake (FREE): What's your Keyword Density?

There's no rule of thumb as it always depends but generally aim for 1-1.5% and avoid above 2%. Check what the competition is doing though!
What's the keyword with the highest density? If it's something totally unrelated like "click here" something may be wrong (under-optimising?)
Note: you can pin SEOQuake if you use Chrome/ Firefox but not Safari

Are you chasing the Yoast green light (PREMIUM VERSION= $)? AVOID That way lies over-optimisation

What do I do with an over-optimised post?

Is your post ranking (content unicorn)? Don't touch it even if over-optimised/ you've made mistakes
For a non-ranking post, deoptimise, then republish
Check for content doubling: avoid repeating content (e.g. listing out the ingredients) in both the post and card just to beef up post. (Note: this is not content duplication though, as that is between posts and not within a post)

Is your site backed up? (Just in case there ever is an issue with the recipe card plug-in)
Survey your readers every 6m/ 1 year:

E.g. step-by-step photos: How complicated is your recipe? Would your photos find step by step photos useful?
E.g. Guided Recipes- should you be doing them? Ask your reader!
Use your email list/ link in post/ facebook page to survey

Where's your recipe card?

It should be at the end of the post, followed by nothing else except a call to action.

Do you have How To and Recipe schema on the same page? AVOID

Recipe + FAQ is OK

Is your post very long? In-post jump links (do not code them yourself!) are a good idea (Google may crawl them too!)

Random: I took the tip and used my Feast Jump Links ($) for the 1st time in this post, as you can see! 🙂 Much easier than I had expected, really only took me 1 click!
Jump To Recipe buttons are also great for readers
Google has over 200 ranking factors from a content perspective, such as relevance of overall page content, keyword matching, backlink quality, mobile friendliness, page speed (impacted by web hosting and images (number, size etc) Top 3 tips by the panelists to grow organic content:
Casey: do an audit ($) and make sure you write a complete post so that reader has all the information he or she would need to make the dish
Andrew: focus on what you are most passionate about
Arsen: build an experience
The following to-do list is based on the tips mentioned during the webinar to help optimise for SEO and build a better experience for the users of your food blog!
Check the speed and reliability of my webhost

Bigscoots is recommended ($), BlueHost not

Are any of my linkbuilding practices penalizable by Google?

E.g. buying expired domains and linking from them
E.g. Autosubmissions
Instead, if you have cash, you can hire a publicist to do outreach to pitch your site ($)
If not, participate in Facebook round-up threads, submit to FoodGawker and local food blogging groups etc
Install brokenlinkchecker to check for broken links (FREE)

Install WP-rocket for caching images to increase site speed ($49/year)
Are images 1200W?
Does every image have an alt-tag, even decorative images? (It may seem insignificant but there have actually been lawsuits about alt-tags!) There's a plug-ing for this: alt text tools (FREE)

Does the alt-tag describe the image? Don't keyword stuff!

Plug-in audit ($): Are there any inactive plug-ins? Remove them for security.
Is content up to date?

Republish those not doing well (e.g. post rank is slipping) DO NOT TOUCH RANKING POSTS! It will take 1-2 days to see changes in rankings (You may need the Limited Modified Date plug-in to minimise recrawls in some cases)
Make sure seasonal post is republished in time for the holidays
Delete posts that are actually hurting your website

Install SEOQuake to check for heading and keyword over-optimisation
Is my information architecture (e.g. categories) done well? (Helps to show Google topical depth and is an opportunity to rank)
If I have affiliates, are the disclaimers clear, conspicuous and before the text?