A RankIQ Review from a niche food blogger (Asian recipes with a test kitchen approach) in 2023, and its impact on my Google traffic & rankings.
Jump to:
Note: I am an affiliate of Cooking with Keywords SEO keyword research for food bloggers and RankIQ: I receive a commission when people sign-up through my link but at NO COST to you- please do use it (if you think it will be useful for you after reading my review) so that I can turn my blog from an expense into an income 😛
Thank you for using my affiliate links, if you do!
I heard about RankIQ from a fellow food blogger- she has 200,000-300,000 monthly visitors and highly recommended RankIQ, crediting it with helping her to find low competition keywords and build traffic very quickly.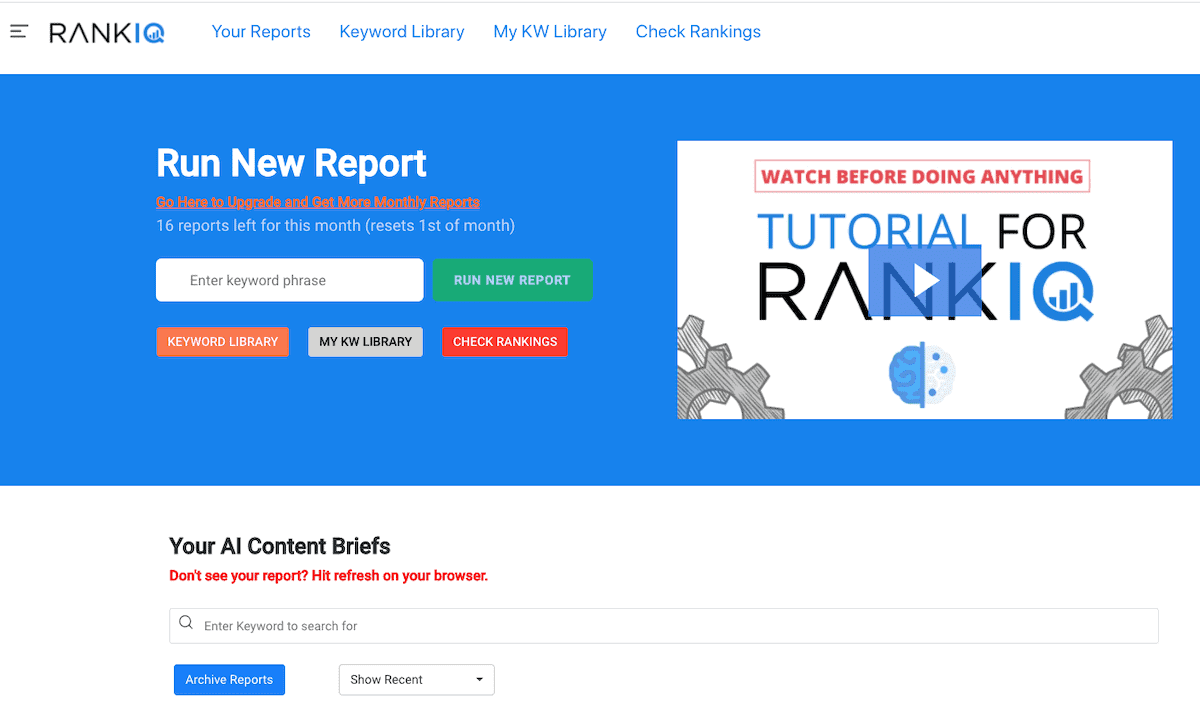 After seeing the surge in traffic I got after signing up for Cooking with Keywords and learning how to do proper keyword research, I realised that some programs are worth investing in, so took the plunge with RankIQ. Scroll down to see how it worked for me!
For a full review of the Cooking with Keywords course, along with Google Analytics graphs showing how my user stats changed, click the link.
Update: as of September 2022, thanks to RankIQ and Cooking with Keywords, I managed to hit the 50,000 monthly session requirement necessary to join Mediavine!!!!!
What is RankIQ?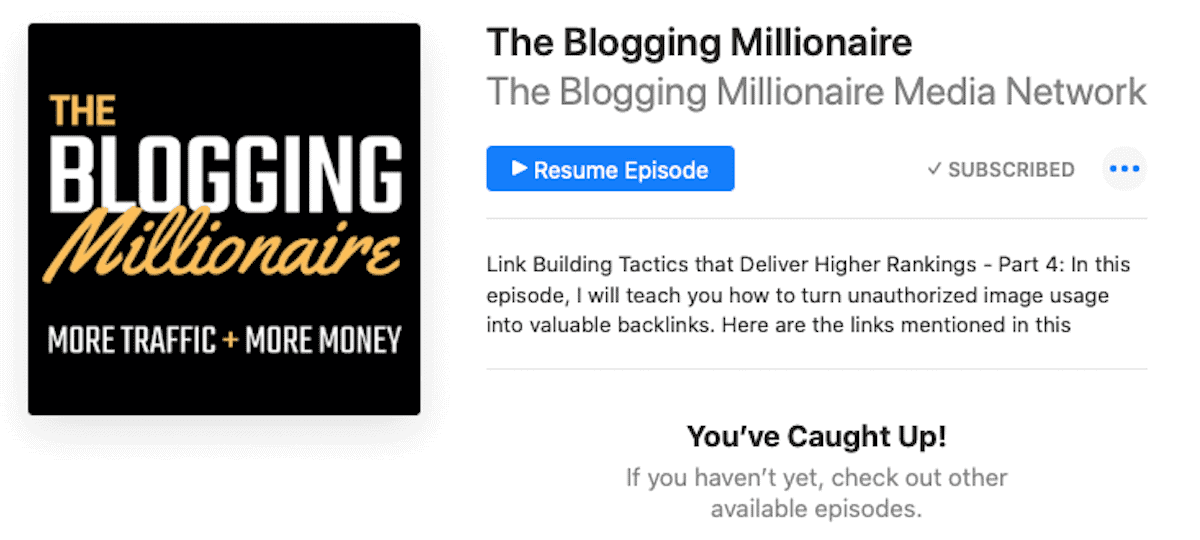 AI tool
If you're not familiar with RankIQ, it is an Artificial Intelligence (AI)-powered "SEO (search engine optimisation) tool made just for bloggers" by Brandon Gaille. According to him, it will "help your blog post rank on the 1st page of Google." (I'll cover how this works below in my RankIQ review.)
For Bloggers
RankIQ's blogger-focus is opposed to other tools, such as SEMRush and AhRefs, which are very comprehensive, but more expensive, full-suite tools that may be better suited to marketers/ SEO professionals than bloggers on limited budgets. (You pay more and get more with SEMRush & AhRefs.)
Note: I previously invested in KeySearch after taking the Cooking with Keywords course, as it is 1 of the most affordable keyword research tools around (click the link for a full Keysearch 2022 review) but cancelled my subscription after subscribing for Rank IQ, to ensure that there was no overlap with my RankIQreview.
Click here for my Keysearch vs RankIQ review comparing the 2 tools' effectiveness. (Keysearch is a more affordable alternative to RankIQ, SEMRush and Ahrefs.)
All the words in " " are directly taken from RankIQ's video and so Google rankings & clicks will be the metrics by which I measure the effectiveness of RankIQ.
What Is SEO?
If you're familiar with SEO, or search engine optimisation, feel free to skip this section.
But the basic gist is that SEO is about what website owners & bloggers can do for their websites so that search engines (by which we almost always mean Google) like them and thus send them lots of traffic.
I don't claim to be a SEO expert- which is exactly the point of this RankIQ review! Can RankIQ help a new blogger who isn't well-versed in SEO to rank on Google?
Note: For more food blogging SEO resources that I've found useful, click here!
Brandon's Credentials
Before I start my RankIQ review, let's discuss Brandon's background first. I mean, who is this person and why should we trust him with our money?!
Well, Brandon:
hosts the most downloaded podcast on Apple (very catchy name, I must say)- The Blogging Millionaire.
is a blogger whose blogs have, over the last 3 months, had 16.6 million sessions from 123,000 1st page Google rankings
managed to build traffic to the coveted million figure in under 2 years from his 1st blog post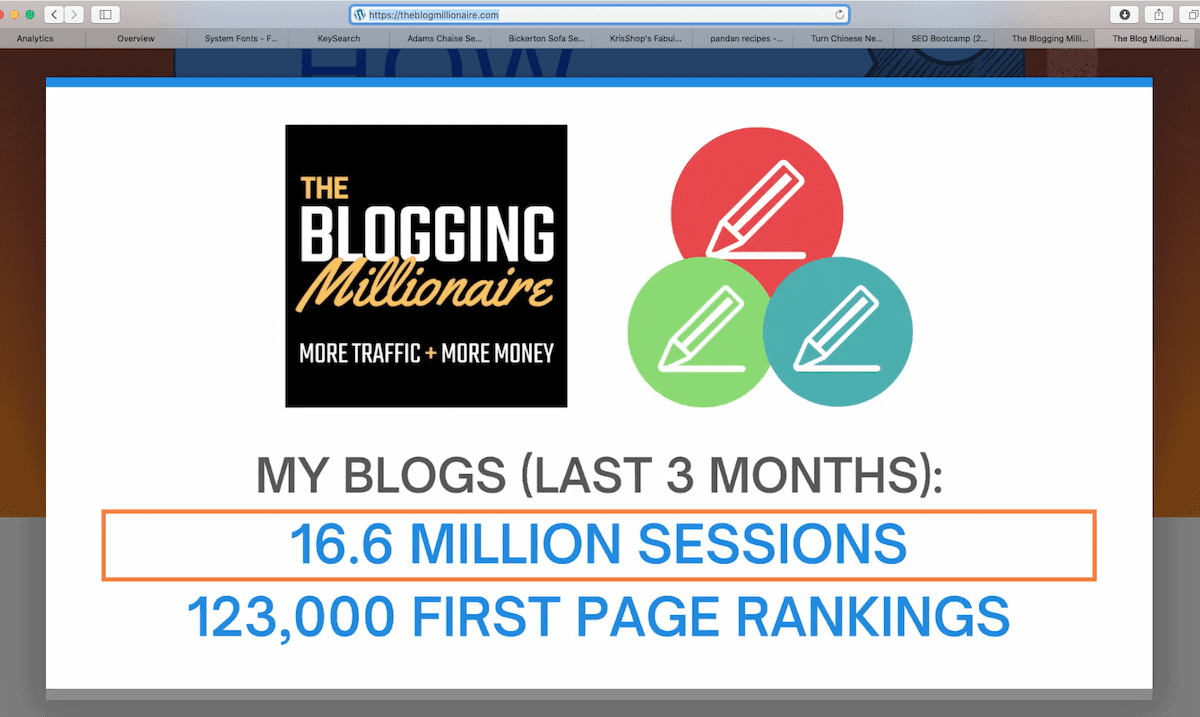 What to expect from this review
The reason I decided to create my own RankIQ review specifically for food bloggers is because:
When I read other RankIQ reviews, they focused on what they liked/ not about RankIQ.

While that's interesting, to me it's not the most important. As an aspiring full-time blogger, the main KPI (key performance indicator) of any SEO tool is: "What impact has using it had on my visitor traffic and Google SERP?" (I will be addressing this question using data from my Google Analytics and Google Search Console.)

Most of the RankIQ reviews are for generic blogs.

As an Asian food blogger, I am not only blogging in 1 of the most competitive blog niches (food) but am also considered to be non-mainstream. "Would RankIQ be relevant for a minority blogger such as myself?"
For example, would there be anything for me to write about in RankIQ's list of keywords?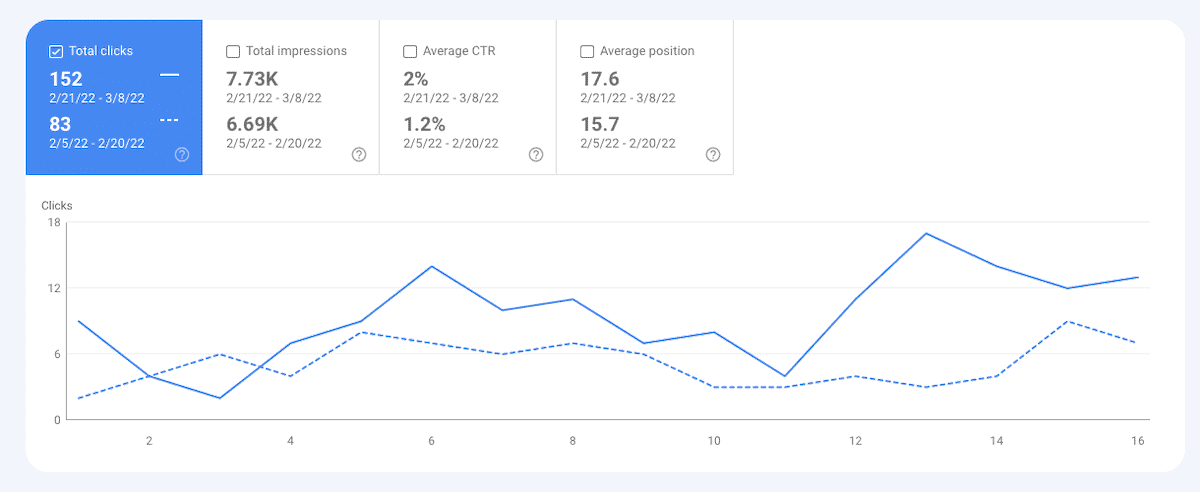 Cost
At the time of writing, RankIQ was $99/month BUT if you watch a short introductory video, the price reduces to $49/month, which gives you:
access to the keyword library (which has low-competition keywords for your blog niche. If your niche is not covered, Brandon will personally do the keyword research for you.)
the ability to run 16 keyword reports per month (this would cover ANY keyword phrase, even if it's not in the library)
and to run your posts through the Content Optimizer (it will do a content analysis then tell you what the suggested word count is as well as what important topics you should cover/ have missed out.)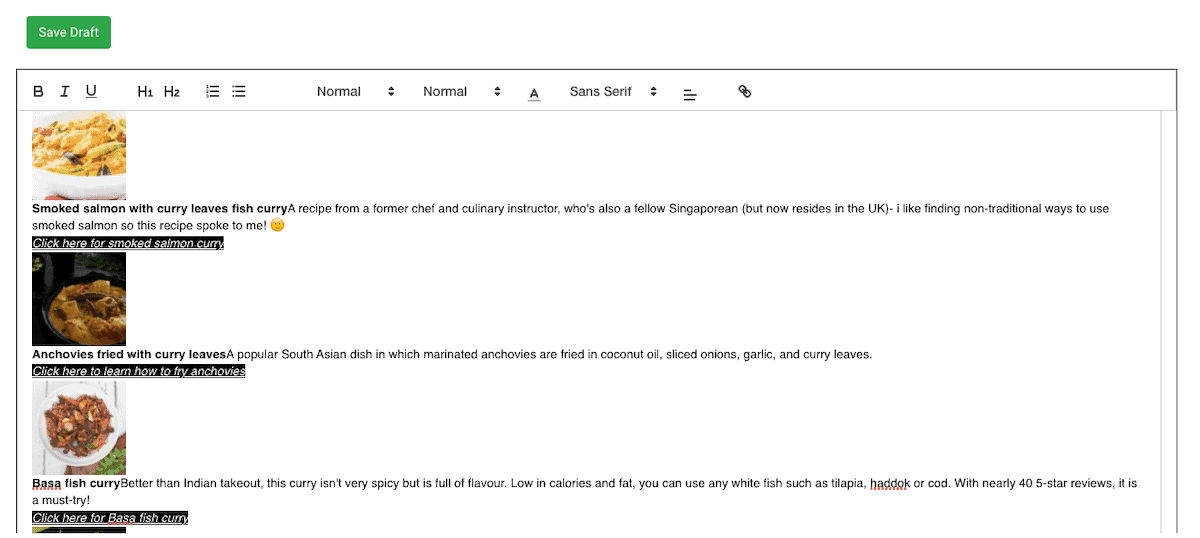 access to the Rank Tracker (which gets its info from your Google Search Console (GSC). I LOVE this function as it's more concise than GSC.)
membership in the RankIQ Mastermind Facebook group, where you can ask Brandon questions (and he replies.)
Note: If you don't need to run so many reports, you can "downgrade" to 8 reports a month which will cost $29/month.
RankIQ Facebook Group
Personally I've found this personalised access to Brandon helpful. There are tons of questions that have been asked but I've selected 2 that I've seen in the FB group, to give you an idea of the support you can expect.
- "I wanted to write a post on X but X and all its variations appear too competitive after checking Google. Any insights?" (Brandon personally found a low-competition keyword from the keyword library for this user)
- "How do we optimise our best performing posts for ads?" (Brandon directed the blogger to a Mediavine resource.)
If you want to know how RankIQ works, I'll cover this in a separate post- I used to talk about it here but it made my RankIQ review waaaay too long.
RankIQ's Impact on My Traffic
I usually look at traffic (Google clicks) more than I do rankings, as traffic is what brings me closer to my target of blogging full-time.
However, for now, I'll be focusing more on the speed of ranking for the new posts created using RankIQ's high traffic keywords, because they've only been up for a week or so.
Update: as of Sep 2022, 4 of my Top 10 traffic keywords in the last 28 days were from RankIQ.
As for how effectively RankIQ can be used to update old underperforming posts, the key metric will be Google clicks (as optimising an old blog post can mean no longer ranking for irrelevant keywords/ keywords with no search volume. Hence I don't focus on rankings in this RankIQ review.)
Note: as of 1 Jan 2023, according to Google Insights, 11 of my top 15 posts for the last 28 days are from RankIQ. (1 of the remaining 4 is the homepage!)
New posts: how quickly do I rank?
Honestly some of the keywords don't look like they'd be easy to rank for, but let's see!
So far, I've created a few new posts using suggestions from the keyword library. Both ranked on Google's Page 1 within 24 hours. (They were ultra fast, very fast and fast posts.) Obviously, a few is not a huge data set so I will update this post as I go along but I'm already very encouraged!
1 of these 2 new posts is amongst my Top 10 posts (with the most traffic) so that's a great sign! As for the traffic these 2 posts have brought me, currently it's about 700-800 views per week.
However, 1 thing to note is that these keywords are very specific ones. So, for example, if you wanted to write a Christmas recipe, you may not be able to find a relevant keyword in the library as Christmas recipes can be quite competitive (I've not checked for this but am just giving it as an example!)
If your focus is on targeting more competitive keywords with higher search volume, I would recommend the Cooking with Keywords course instead.
Note: according to Brandon: "while many RankIQ users have received a first page Google ranking in 30 days... it typically takes between 61 and 182 days for a new blog post to rank on the 1st page of Google when choosing a word from the keyword library...As a point of comparison, Ahrefs did a study last year and found that 94.3% of pages/ posts currently ranking on the first page of Google took over a year to get there."
Before taking the Cooking with Keywords keyword research course, I had ranked for many #1 keywords that nobody was searching for, which is obviously no help!
Updating old posts: increase in traffic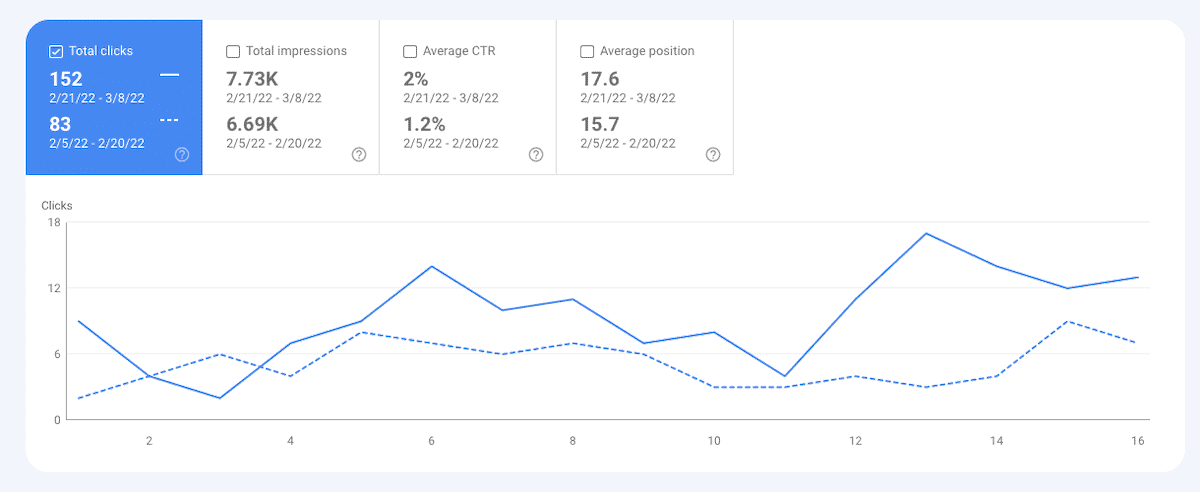 Overall, I'm very impressed with the RankIQ content optimizer's effect on my old posts and I think this is where RankIQ truly shines!
Just look at this incredible 26,900% increase in Google traffic after I used it to update ONE post!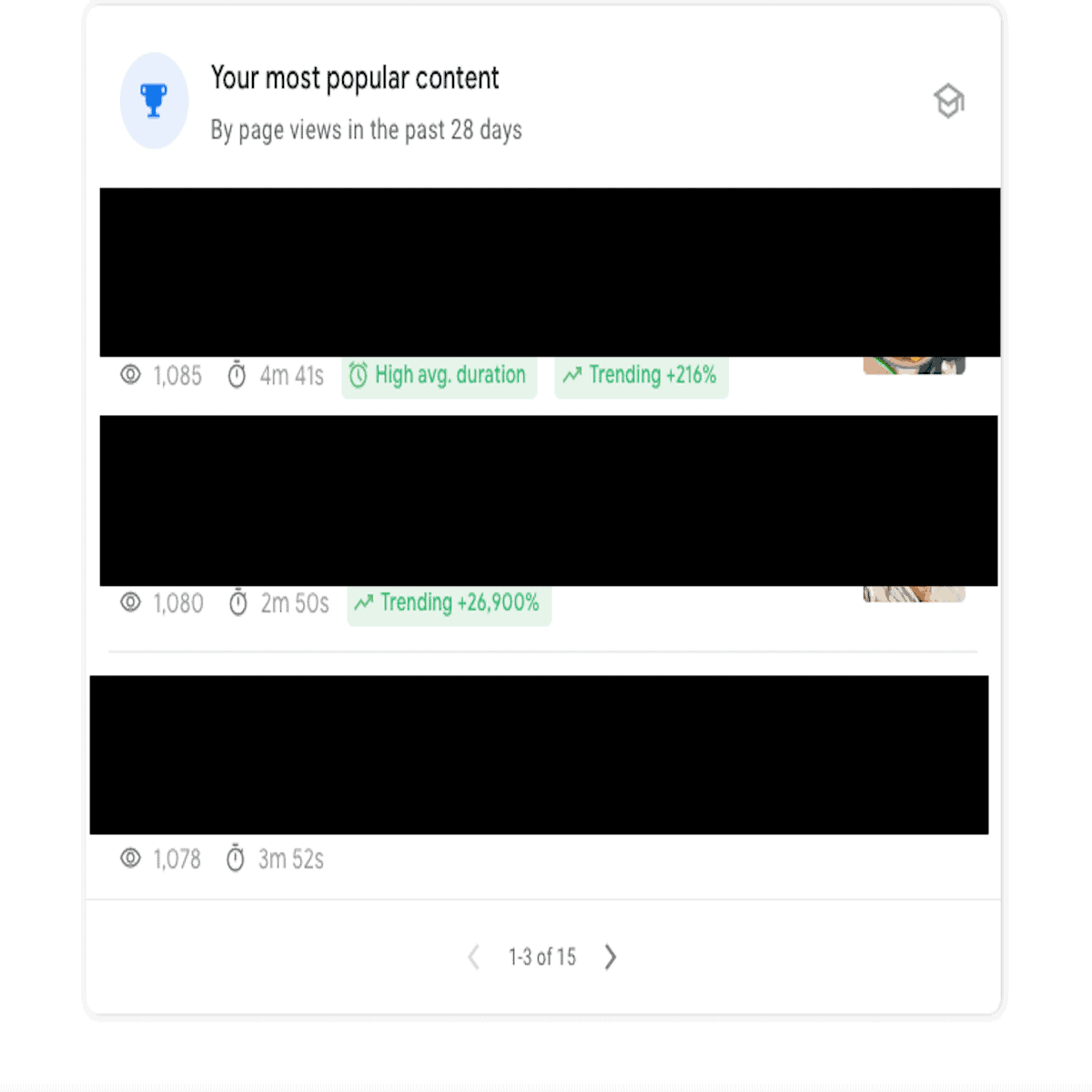 In the last week of February, I updated 13 of my old posts and:
10 of them increased in rankings & traffic
2 remained constant - these were among the last posts to be updated so the impact may not have kicked in yet. Or perhaps they were too low down in the SERP for the update to be useful (they weren't even in the Top 5 Google pages before being updated!)
1 decreased by 6 clicks - I believe this is because the search intent of the target keyword doesn't actually fit my post very well.
These results are based on comparing the number of Google clicks for the same time period before and after the post was updated with RankIQ (i.e. if I updated the post on Feb 28, I would calculate the total number of clicks it received after being updated (March 1-9 I.e. 9 days) vs before being updated (Feb 20-28 i.e. 9 days).
As each post was updated on a different date, the time range for each comparison differs.
All in all, the 13 RankIQ posts increased in Google clicks by a whopping 89% and 3 of these posts are now in my Top 10 posts (based on overall visits). (They didn't rank before being updated.)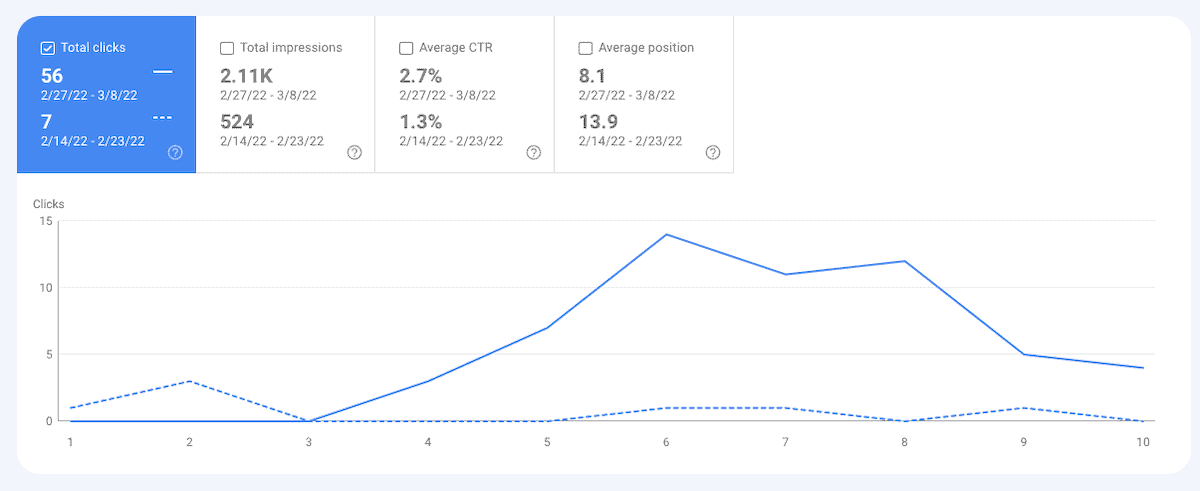 Time to write RankIQ posts
As all bloggers know, there's just not enough time in the day to do everything you need to do for your blog!
If RankIQ really makes it easier to find low-competition keywords, then I should be able to produce more posts a month than I did before.
Well, I used all 16 credits in a mere few days (mostly updating old posts)- and this was despite spending more time playing Worddle than working on my blog! (I was burnt out from the least 6 weeks of frantically producing Chinese New Year recipes & Super Bowl dishes.)
What I don't Iike

1 hiccup I did notice is that the same keyword sometimes appear in the keyword library with slightly different statistics.

I messaged RankIQ about this and Brandon's wife, Natalie, explained that sometimes when the library is being updated, the old keyword doesn't get replaced. In this instance, if you click the "Help" button on the page, they'll direct you to the more recent statistic.
FYI: Natalie replied in less than 12 hours and the difference between the 2 stats was marginal.

In addition, your 16 (or 8 reports) are for the calendar month. So if you sign up on 27 March, you will only have 3-4 days to use your 16 reports, which could be a bit intense if you want to create high-quality content!
FAQ
Does RankIQ work for food bloggers?
Personally, as an Asian food blogger who's been using RankIQ for 1 month, I've found it very helpful and can't imagine creating new content or updating old posts without it. You can see the change in my Google traffic JUST from using this tool in my RankIQ review.
Does RankIQ have good customer service?
Unlike Keysearch, you get "live" support with RankIQ. There is not only a Facebook Group for RankIQ in which you can post your questions (and Brandon will reply- more on this in my post) but also a "Click for Help" button within the tool itself. When I asked a question, I received a reply within 24 hours.
Who I don't recommend it for
If you are a very successful blogger, with a high DA, and thus no longer need to go after low-competition keywords, I am not sure if RankIQ would work for you.

Bigger bloggers tend to go after keywords with much more search volume. For example, "roast chicken" is a very competitive search term, and I'm not sure how RankIQ would work for it.
If you're going after keywords which are very competitive, but need help with how to do keyword research, I highly recommend Cooking with Keywords which I've personally found super useful for finding the right keywords. (Click here to read my review of this SEO keyword research for food blogger course.)

If you have a very fixed idea of posts that you want to write and will not consider writing any other types of posts.

Again, this is where Cooking with Keywords can show you how to work with what you have in mind.
For example, maybe you want to document your family's historical recipes which are extremely niche- I don't know if you would be able to fully benefit from RankIQ in this case, and you'd be better off emailing Brandon with the kind of posts you have in mind & checking with him directly.

People who ONLY work off a mobile phone

RankIQ is not meant to be used on the mobile (I've not tried, but that's what the introductory message says.) Actually, it also says that it's meant to be used with a Google Chrome Browser, but I've used it on Safari with no issues.

Anyone who has just started blogging and expects to make it to Mediavine (50,000 monthly sessions) within a month or so.

Everything takes time! RankIQ is an amazing tool to help you build your Google traffic but it - and Cooking with Keywords- won't be overnight!
Update: it took me about 5-7 months to get to Mediavine
Who I recommend it for
A new blogger

It can be so hard to rank when your blog has a low DA (although DA is not a ranking factor!) and RankIQ definitely gives your new blog posts an edge!

Any blogger that wants to work more efficiently and free up time for other stuff

By this, I mean spend less time on writing new posts that also rank on Google's Page 1 more quickly
To quickly recap, the 2 posts I've written based on RankIQ's keyword library suggestions for "ultra fast" keywords ranked on the 1st page of Google within 24 hours.

Any blogger that values value over cost

Keysearch is cheaper but I personally find it less cost-effective. Ideally, I'd like to have both tools but, if push came to shove, I'd keep RankIQ and not Keysearch.
Think about it: how many blog posts do you actually write a month? If you're like most of us, 8 posts per month is more than you normally can manage, so the $29/month RankIQ plan should be sufficient and that's only $12-$15ish more than Keysearch. However, you save SO much time and energy. With Keysearch, it took me a good 2 days+ to write a post, but now I can finish 1 or more within a day, depending on how hardworking I feel.

Content creators that have a lot of old posts to update that are not currently in Google's Top 3 search results (most SEO experts say you shouldn't touch posts ranking in the Top 3):

Updating 13 of my old posts has increased my Google clicks by 88%.
As of September 2022, 4 of my Top 10 traffic posts (for the last 28 days) were created using RankIQ.
Note: not every RankIQ keyword list post will hit it out of the ballpark but, looking at the impact of all my RankIQ posts as a whole, it's a super useful tool for gaining Google traffic!
Why Sign Up Now
If you plan to sign up for RankIQ, sooner is better than later as the keywords will only keep getting more competitive as more and more bloggers write posts on them! (I believe the keywords are removed from the library after 3 reports have been run.)
Moreover, posts take a while to start ranking/ reach their peak ranking!
I hope my 2022 RankIQ review, specifically for food bloggers, has helped you!
Personally, I find RankIQ to be 1 of my best blog investments and just regret not using it earlier to update old posts! (Also sad that I have so few posts to update with it :P)
If you do decide to go for it, I'd be super grateful if you would use my RankIQ affiliate link 🙂
If you have further questions, please feel free to leave a comment below and I'll do my best to help you out!