An overview of how my food blog has performed after I invested in a food blog SEO keyword research tool, specifically, KeySearch. With Google Analytics graphs and all to show how my traffic has changed, in this keysearch review, now that I know how to pick the right keywords.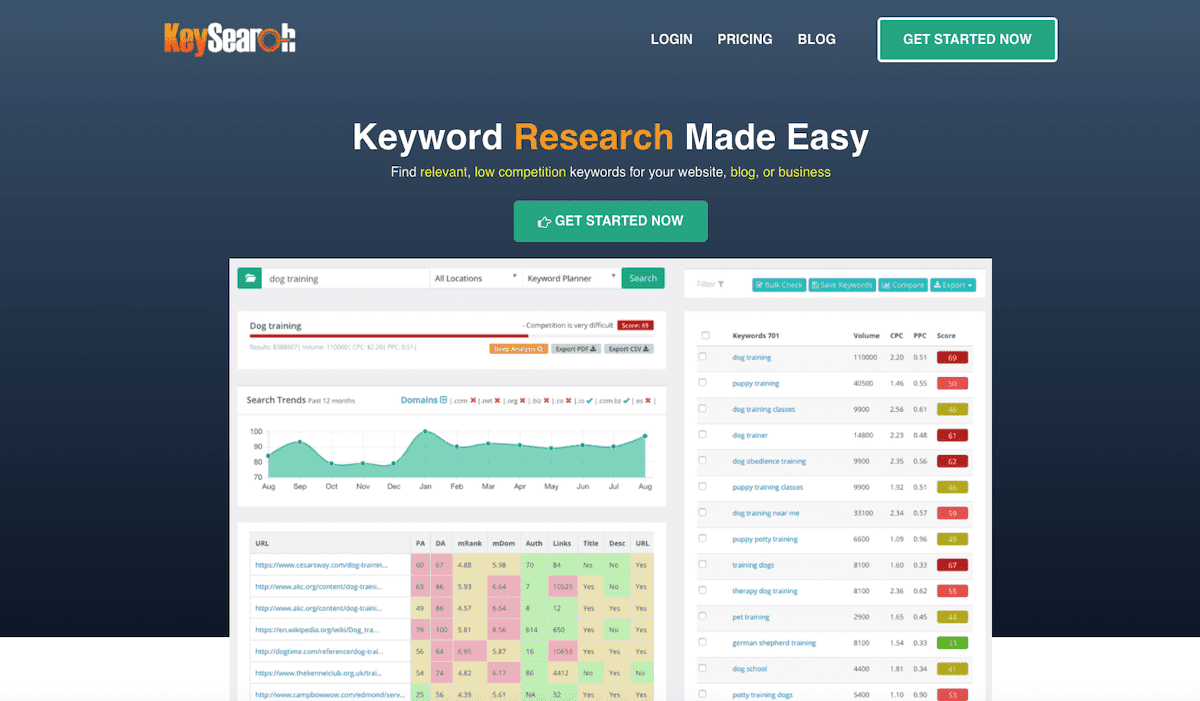 Jump to:
Note: I am not a Keysearch affiliate but you get 20% off Keysearch if you use the code "KSDISC" (I am, however, an affiliate of Cooking with Keywords- through which I learned how to do proper keyword research- and a few other programmes and hope to receive commissions (at no extra cost to you) through them :P)
To learn how to set up a blog, click here.
For many bloggers, keyword research can be super confusing. How does one choose the best keywords? How can you tell how much traffic ranking for a particular keyword will bring you? Personally, I chose to start with Keysearch for keyword research and search engine optimization (SEO) because it is cheap (new blogger here, don't judge)- it stands out amongst the sea of more expensive tools such as AhRefs and SEMRush.
Update: in April 2022, I decided to try SEMRush and so far am loving it! Will write a longer review once I've tried all the features. For more on the (free + paid) tools and resources I used to 8x my Google traffic in under 6 months, click here. I've also compiled some blogging advice by the highest income food bloggers here.
What is KeySearch?
It is a tool that uses Google API to help you build traffic and rank well in the Google search results.
According to its website, "Keysearch is not just a keyword research tool it's a full-fledged SEO powerhouse. Giving you all the tools you need to spy on your competitors and track your SEO efforts."
I like Keysearch for keyword research for my blog posts but not for many other SEO functions (more on this below). If I really needed a "full-fledged SEO powerhouse" (not all bloggers do, especially new bloggers like myself), I would go for something like SEMRush and AhRefs instead.
Note: Icancelled my Keysearch subscription and focused on RankIQ for a good part of 2022- click here for a full review of this AI-powered SEO tool and how RankIQ works for niche food blogs like myself. (FYI: it increased my Google clicks by 88%!) I also have a compare & contrast post on RankIQ and Keysearch here, looking at how easy it was to find good keywords through each tool, and how much each SEO tool increased my traffic by.
Other food blogging resources that I find super helpful are the Feast plug-in (click for review) and the free TopHatRank online SEO sessions.
How much does it cost?
There are 3 different plans:
A 1 month free trial (you get only 5 daily searches and some of the other functions are not enabled)
Basic Plan ($17/ month- $13.60 with my 20% discount code- or $169 for the annual plan)

You get 200 keyword searches and can rank track 50 keywords
I am on this basic keysearch starter plan which gives you 200 credits i.e. I can check up to 200 keywords a day- I have never run out of credits checking keywords alone.
However, if you use some of the other features on Keysearch, these can take more credits and you'll be surprised by how quickly you run out- it's quite annoying when you're in a research groove (you can upgrade but I'm poor :P)

Pro Plan ($34/ month or 1 year for $279)

You get 500 keyword searches and can rank track 150 keywords
All other functions are the same as the Basic plan I believe
I can see how 500 daily keyword searches is necessary if you have a TEAM of people working but if it's a 1-man show than myself, 200 daily searches is usually more than enough.
Being able to rank track 50- or even 150!- keywords is nowhere sufficient though! As mentioned, I find the Rank Tracker on KeySearch horrendous. RankIQ's newly launched version is MUCH better- I fell in love with it the 1st time I used it because it saves you SO MUCH TIME.
Note: your unused daily credit "expires" so it doesn't runover to the next day, which I find annoying.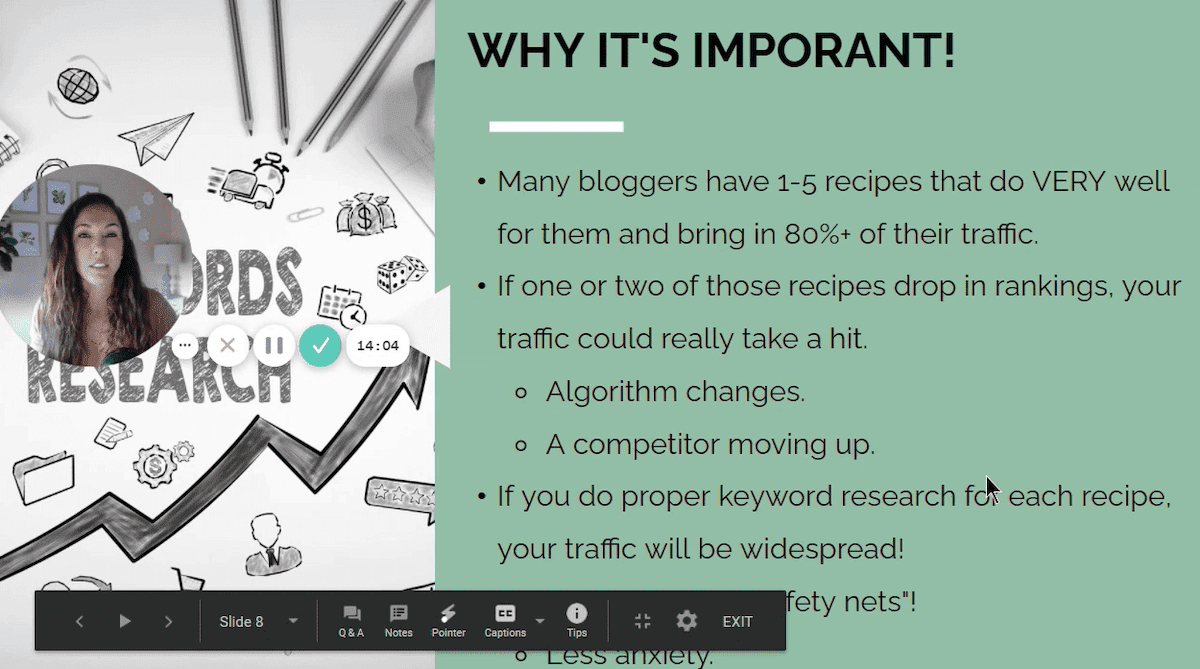 Why I invested
In a nutshell, Keysearch was recommended to me as a good tool for new bloggers with lower DA by 2 people whom I trust for food blogging SEO:
Casey Markee, whose SEO tips on the TopHatRank webinars have helped me build Google traffic (and with whom I have signed up for an SEO audit later in the year)- I have linked to the SEO webinars as well as my summaries in the previous link
Aleka Shunk, who teaches a SEO Keyword Research for food bloggers course, Cooking with Keywords (CwK). I signed up for Cooking with Keywords- it was recommended to me by Casey- and it's been the SINGLE most effective traffic builder for my food blog. (Click the previous link to read my full review.)

Functions
1. Keyword Research - I use this almost daily
This is by far the function I use the most out of all of the Keysearch features and, using it alone, I have managed to select good keywords with a decent search volume for my blog (i.e. the posts ranked in Google SERP, and my traffic climbed.) (I say using this function alone as I have only started using the Content Assistant function very recently, so the traffic increase shown in the graphs below is not from using Content Assistant. I will update this Keysearch review again in a few weeks to show my traffic statistics post- Content Assistant!)
Update: there are tons of keyword tools- even free ones like Google Trends- so you may be able to find good keywords to rank on Google and build traffic cheaply even without Keysearch. Another full-time food blogger has just recommended a 100% free way of investigating keywords, so my next post will be on how effective that method (once I've had time to try it, and given the posts time to rank). If it works, I may delete my Keysearch subscription as I don't find its other functions as helpful.
Anyway, bear with the lengthy explanation below- since I find this tool the most important, I figure I should include more info about it in my Keysearch review.
It focuses on Keyword Analysis and allows you to check a keyword's important metrics:
monthly search volume (how many people are looking for that specific keyword- you won't get much search engine traffic if you write a post about a topic no one is searching for!)

you can get this information for a specific country or world-wide
This should help with monetisation as some countries' RPMs are higher than others (Can't give evidence as my blog doesn't qualify for Mediavine yet)
However, note that the search volume is also available on free tools such as Keyword Surfer. Even though I pay for Keysearch, I still need to use Keyword Surfer, so it's not a "1-stop shop"
Also, regardless of whether you use Keysearch, Keyword Surfer, Ahrefs, SEMRush etc, they all give you different numbers!
Conclusion: the monthly search volume is a guide only and not set in stone

competition score (how easy it is to rank for the given keyword)

SUPER unimpressed by this to be honest- i basically do my own analysis and ignore this
Although I have managed to build traffic using Keysearch, I find it's better when I analyse the top SERP myself to see whether there's a chance of ranking. The times that I've trusted Keysearch's competition score, I have not done well AT ALL.
For example, for 1 recipe, I had a choice between Keyword A and Keyword B. Keyword A has a much higher volume and difficulty (43) than Keyword B (29) whose difficulty is within the range Keysearch recommends for my blog (29) so I decided to build my post around Keyword B. (When I check the Google rankings, Keyword B doesn't seem less competitive as the top posts are by the likes of SeriousEats and more but I thought I should give Keysearch a chance.) Lo and behold, after posting, I rank HIGHER for the supposedly more difficult keyword- last I checked (using RankIQ's rank tracker which took me under a minute!) it was position 50 in comparison to position 15 for the more difficult keyword. Now I need to go back to update my post to optimize for Keyword A, which is quite a time waster! (I have other such examples but I don't want to make this post any longer than it really is.)

What I do I like about this metric is how you can filter/ sort the suggested keywords by this score- as well as by other metrics- so you don't have to "waste time" with the impossible to rank for ones. (Although I say this score has been inaccurate for me, the information is generally accurate for very difficult to rank for keywords.) As all bloggers know, there is not enough time for us to do everything we need to do!

Moreover, I like how this tool is colour-coded so it's easy to see what search term to go for (ignore red/ go for blue or green for new bloggers)- assuming you trust Keysearch's competition score, that is

My blog's Domain Authority (DA) is low so it can be VERY hard to find a keyword with an appropriate keyword difficulty score (based on the score Keysearch recommends I target). Although I have managed to gain quite a bit of traffic using keyword research despite this, it took me a lot of time. I devoted over 6 weeks to searching for keywords on Keysearch FULL-TIME (i.e. not working on any other jobs, and I have no kids) and found very few keywords that were within my competition score and relevant to my blog. (The next time I update this post, I will include the actual number of keywords. Note: 1 of the reason I just signed up for RankIQ is to see if it can cut down the amount of time it takes me to write new posts.)
However, keep in mind that your blog will be much stronger in a year's time, so even if you target keywords that are "out of your league" now, that may not be the case in 12 months! (If you haven't realised by now, I basically choose keywords ignoring Keysearch's competition score.)

search trends (how the search volume has changed over the past 12 months)

helps with content calendar planning. However, I wish it also included the average of the past (say) 5 years, instead of just last year's, as last year could have been an anomaly.
I've found that after I started focusing on seasonal posts, my traffic was given a jumpstart, so a content calendar is high on my to do list

SERP analysis (who is currently ranking for the keyword)

this includes information such as the number of backlinks, page authority etc
the info is colour-coded again to make it visually easy for you to see whether the keyword is competitive for you
helps you to make your own judgment about whether or not to try for that keyword - I do this instead of relying on Keysearch's competition score, but doing your own analysis takes time.
there is also a "hidden" URLs tab which is useful for checking what keywords the top SERP results are also ranking for - you can compare this with your own post to see if you can target some of them
I like that when you save this information, the live link is brought over to the PDF so you can just click on it to be brought to the website!
Note: I haven't had time to compare the SERP results in Keysearch directly with what is shown in Google, but a keyword research expert told me that these results are sometimes inaccurate (!!)

CPC
PPC
Note: the keyword analysis tool also has a bulk keyword difficulty checker, which I find is a helpful feature that can save time.
When you run a search on a seed keyword, a keyword list of up to 700 related terms also pops up on the side to inspire you with new keyword ideas.
The full details aren't revealed for all these keyword suggestions.

For example, some may have their competition score blanked out, and you will need to run another report if you want to access it
Note that this competition score can be DIFFERENT from the 1 given when you run an individual report on that word, even if they're run back to back within seconds. This is because some of the scores shown are older than 30 days and not up to date- they're presented in a slightly lighter shade, but it's not very obvious. (For example, if I search for the keyword "agar agar", "japanese jelly" may pop up on this list, with a competition score of 40 (I'm making up the number here FYI). However, when I immediately search for "japanese jelly" the competition score shown can change to 45. However, I don't strictly stick to the competition score recommended for my blog by Keysearch, so this isn't a deal-breaker for me. More annoying.

You can filter this list of keywords by words you want to include or omit to make them more relevant (note on this below)
You can also specify the number of words in the keyword phrase, which can help with targeting long-tail keywords (long tail keywords are so important for newer bloggers!)
There is also a Brainstorm function here that some Keysearch reviews have said can help you create a writing strategy. So far, I've checked it on this section a few times and not found it useful for this as the topics are unrelated to my niche- it would be great if we could filter for the trends in our niche!
Explorer - I use this quite often
Explorer is basically an overall audit of a website- you can use it to analyse your own or to do a competitor analysis- and gives you a high level overview of the site's:
Domain Strength (like Moz's DA, this is subjective)

KeySearch also suggests an appropriate keyword score to target if you're that blog
Note: you can also get information about DA for free using Moz

Keywords that the site ranks for

I like to use this to keep an eye on whether my keyword and backlink strategies are competitive (i.e. has my blog started ranking for more keywords and backlinks). In addition, I find these sections, in general, potentially useful for generating low competition keywords, although I have not found the time yet. (I tried previously and after running searches for 1 day, only found 1-2 keywords, so have put it on the backburner for now. I will update again on the changes in my blog's visitors after making time to do so. (The Cooking with Keywords course teaches more on how to do this.)

top competitors

instead of top competitors, which we can easily find if we do Google searches for recipes in our niche, I wish Keysearch would provide a list of competitors in your niche whose websites are as "strong" as yours.

top referring domains
backlinks

tells you the number of links from other sites to that site (backlinks are very important if you want to rank on the 1st page of Google)

anchors
Competitive Analysis- also used often
For a deeper dive into some of the above information, you can then go to "Competitive Analysis." For example, you can use the backlink checker tool to see how a site similar to yours is getting its backlinks.
Another helpful function is "Competitor Gap"- it allows you to see which keywords your competitor(s) are ranking for that you aren't.
--> I have not had time to try the Competitor Gap function yet, so I can't vouch for its effectiveness wrt increasing your Google traffic.
Note: some people use this function to generate ideas for guest posting.
Content Assistant
This is similar to RankIQ's Content Optimizer.
Update: I have since had time to use both functions so will review their ease of use today. However, it takes a while for posts to rank and build traffic so will reviewing their effectiveness in a later post.
I find Content Assistant to be 1 of the most important tools in KeySearch so it's an important section of any Keysearch review post (by important, I mean POTENTIALLY useful to bloggers- I cannot say whether it is useful or not till I have had time to review the results of using it.)
Basically, if you run the keyword you are interested in, Content Assistant will pull up 3 keyword lists for you:
Must keywords (LSI keywords) - the most used phrases and words on the 1st page of Google which KeySearch recommends that you use. However, some are irrelevant words such as "great way" or "nice." You need to use your own judgment regarding which of the "must keywords" must be included.
Related keywords- Google's most suggested topics that you may want to include in your article
Top URL keywords- top traffic getting keywords for the top result on Google
However:
The formatting of the section is not great. As far as I can tell, you need to toggle between sections to access the information. In addition, you cannot download all the information in 1 go so you need to toggle between pages to save the information and it all takes up more of your time.
as well as
suggests popular questions on the topic

This can be super iffy for Asian food recipes.
For example, I searched for a Korean drink, and KeySearch suggested this question: "What is the history behind Japanese rice cracker shapes?" Erm, I hope Keysearch realises that Japan and Korea are 2 different countries and that many times, they don't even like each other that much?

gives related snippets that may be useful when writing the article

Personally, I don't find this that helpful at all. It's just a chunk of text presented in a way that is VERY hard to digest individually, let alone compare between sites. (I think this is related to the lack of formatting.) If I needed more info, I'd rather just Google and it's much easier to read the info in the Google post.(You can click on the snippet to get to the article though, so I guess it saves you the trouble of Googling and makes research more of a 1-step process?)

lists out who is on the 1st page of Google, along with their word count

the average word count of the posts on Google's Page 1 is also given (in the main section)
After writing your article, you can copy it over and run it through Content Assistant which will then let you know what words you've missed out. Unfortunately, it is not clearly indicated which words are the missing ones and which ones are the included ones, unlike RankIQ. I often find that I have included the wrong words when updating my post as I get confused between the 2.
Note: suggestion to KeySearch- please make it easier to download the information here! Right now, you have to toggle between the different topics- it would be much easier to have everything on 1 page.
Fun fact: I actually wrote this Keysearch review with the help of RankIQ's Content Optimizer- let's see how effective it is as apparently I am a "A++" student.
Keysearch vs RankIQ- ease of use
RankIQ wins hands down. For how much easier it is to use, I can see why RankIQ is more expensive:
it is VERY clear in RankIQ which words you need to add to your post to "improve" it unlike Keysearch where I often mix the 2 categories up and have to waste time rewriting my post
In RankIQ, the formatting of the post (e.g. headings) carries over, so you can "cut and paste." As of Feb 2022, Content Assistant does not keep the formatting so you need to reformat everything if updating old posts.
1 of my favourite things about RankIQ is how you have a grade (and word count comparison.) Hence, your writing process is made much simpler and quicker because you know when the content is considered the best it can be, and when you've written enough (in comparison to the top Google results). In Keysearch, there is currently no way to tell when you can stop editing your post- you will need to judge for yourself.
Keysearch vs RankIQ- effectiveness
To be updated once I've had time to finish my experiment.
Rank Tracking - for fun only
A section in which you can choose specific keywords and see how your site's rankings for those words change over time. I enjoy this and do update it almost daily but I find it to be more of an entertaining function than a helpful function because:
the presentation of the information here sucks. No lie.

For example, as far as I can tell, I need to update each keyword that I am tracking MANUALLY which means pressing 50 buttons. (Shouldn't there be an "update all" option?!)
Also every time a word is updated, a pop-up appears and disrupts your clicking.

I'm more concerned about traffic than rankings. Yes I want to rank in the search engines, because a good SERP rank leads to more organic traffic. However, at the end of the day, rankings move up and down all the time. The key test of whether my keyword research strategy is working is, in my opinion, whether my traffic has increased or not.
A post can rank for multiple keywords so I find it more useful to use the average rank position on Google Search Console (for a URL) than to use this rank tracker/ individual keyword rank tracking.

i.e. if I have a post titled "Asian pumpkin pie for thanksgiving with no sugar", I could use KeySearch to track "Asian pumpkin pie", "thanksgiving recipe" and so on. But the post could also rank for "pie with no sugar", "Asian thanksgiving recipe" etc and the latter keywords could be the ones that bring me more traffic, so it is quite a convoluted process determining which to track. (You say track all, but note how easily it is to run out of your "tracking budget" with just 1 or 2 recipes!)

There is an extra $7 charge to track 50 more keywords, $12 for 100 more and $19 for 200 more but using Keysearch for rank tracking is so slow that I would not pay for this.
All in all, I visit this section of KeySearch almost daily but if Keysearch just offered this function, I wouldn't keep my subscription. For rank tracking ALONE, I believe using Google Search Console (if you want something free) or RankIQ (if you value your time and don't mind paying for sometime effective) would be better.
YouTube Research - not relevant for me
I have not used this as I don't have a Youtube Channel and don't do videos (yet) so no comment for now. Will update this section of the Keysearch review in about 6 months time (if I still have my Keysearch subscription)- the plan is to have video up by then!
Competitors
Other keyword research tools include:
SEMRush

The plans range from $119.95-$449.95 per month
You can track from 500-5000 keywords
You get 17% off if you pay annually
There's a 7 day free trial, so you can always cancel if you find it's not for you.

AhRefs

The monthly plans range from $99-$999!
As you can see Keysearch is much cheaper!

RankIQ (note: I get an affiliate payout if you sign up through this link but note that I only just signed up for RankIQ and have not done a full review of it yet.)

Usually $99/month but currently $49/m (you need to listen to a video after clicking through to get the discount)

Keywords Everywhere

I used to use the free version of this but data is limited when you are on the free plan

UberSuggest
etc
The 1st 3 on the list are more expensive but also have more capabilities and may be more difficult to use if you're new to keyword research. For bloggers on a limited budget who JUST want to do keyword research AND don't mind devoting more time to the keyword search process, I recommend Keysearch.
Why I recommend it
KeySearch is easy to use- I didn't read or watch any keysearch tutorials/ guides and have not had major problems using it so I highly recommend it for other keyword research beginners (to be fair, I probably learnt a fair bit through the Cooking with Keywords course, as Aleka demonstrates her keyword research process using Keysearch.)
It is effective when paired with proper keyword research - see the improvement in my Google Analytics stats below (note I am not saying it is more effective the other tools out there but, amongst paid tools, it's affordable.)
It uses Google API so it's going direct to the source
It has a very affordable price- perfect for new bloggers like myself who aren't earning and don't have much to spend.
Note: Keysearch can help you choose good keywords with the right level of difficulty for your blog BUT, alone, it cannot improve your bounce rate, increase your click-through rate, or the time people spend on your site. (It can help you write a more relevant article, which is linked to these factors though.)

Who I don't recommend it for
People who are not interested in gaining organic search engine traffic
Those who want a rank tracker and to keep an eye on 1000s of Google rankings (Keysearch's Pro plan only allows for 500- some tools have unlimited rank tracking but that comes at an extra cost. Moreover, the Keysearch rank tracker is much slower and not as effective to use compared to RankIQ. I have only used the RankIQ rank tracker once today and I have fallen in love with it! As far as I can see, RankIQ does not seem to limit the number you can track AND it makes everything SUPER fast and easy. (For example, it shows on the dashboard which of my posts had loss Google traffic in the last 28 days, so I know which posts may need updating.)
People not willing to invest time in keyword research- the best tool is only as effective as the person using it and Keysearch is a tool that needs a LOT of time.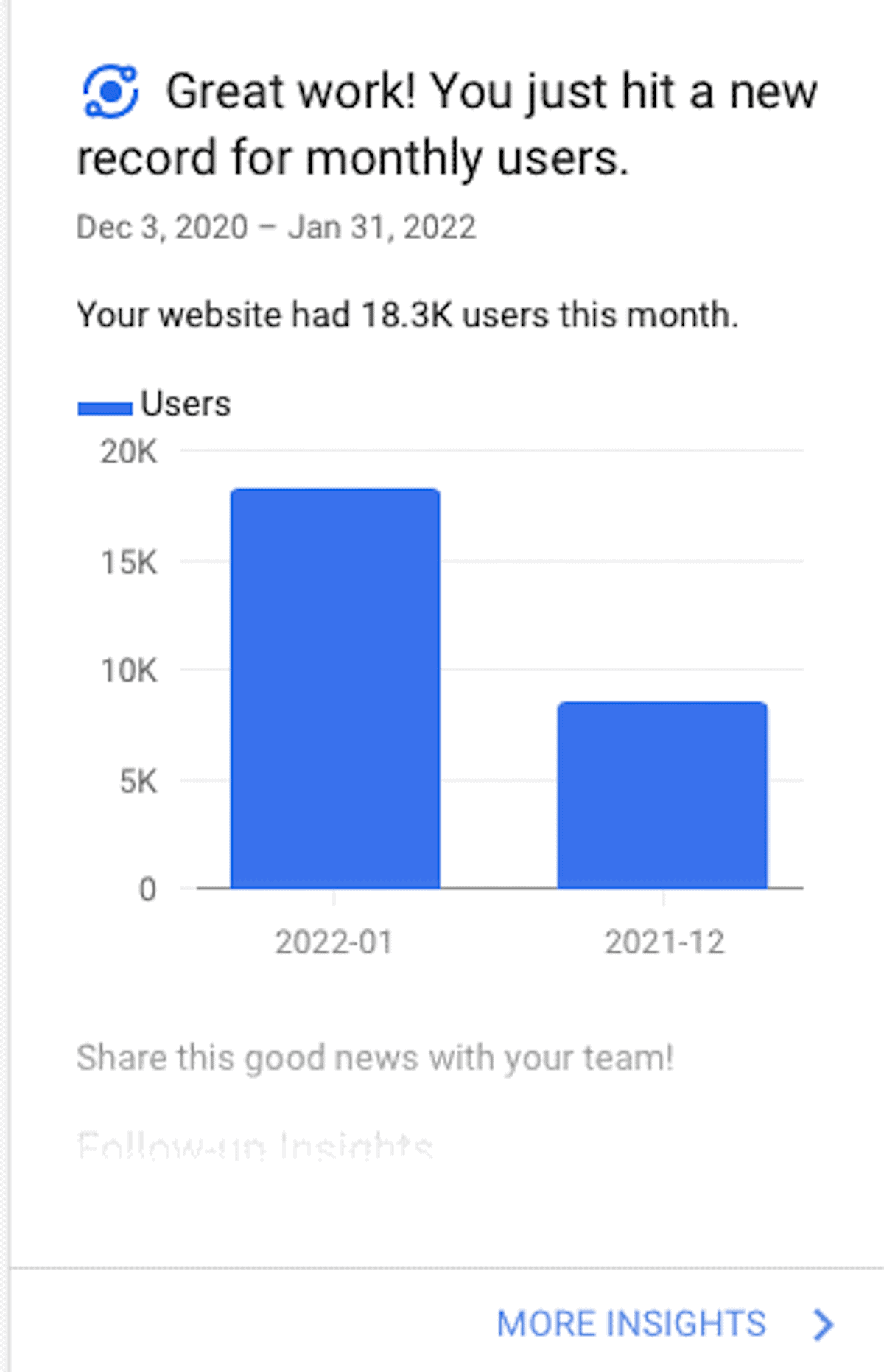 Impact on Google Traffic
This chart shows how my traffic has risen steadily after starting to use KeySearch as well as what I learnt through Cooking with Keywords. (The date of my 1st created post after signing up for KeySearch & Cooking with Keywords is 31 December- which you can see is when my traffic started to rise, so I compare the stats for the period after 31 December (-14 Feb) and before 31 December in this Keysearch review.)
If you want a more detailed break down of how my traffic changed, check out my Cooking with Keywords review, in which I break down the data in more detail.
However, note that you could probably achieve the same results using a different keyword research tool. I will experiment and update!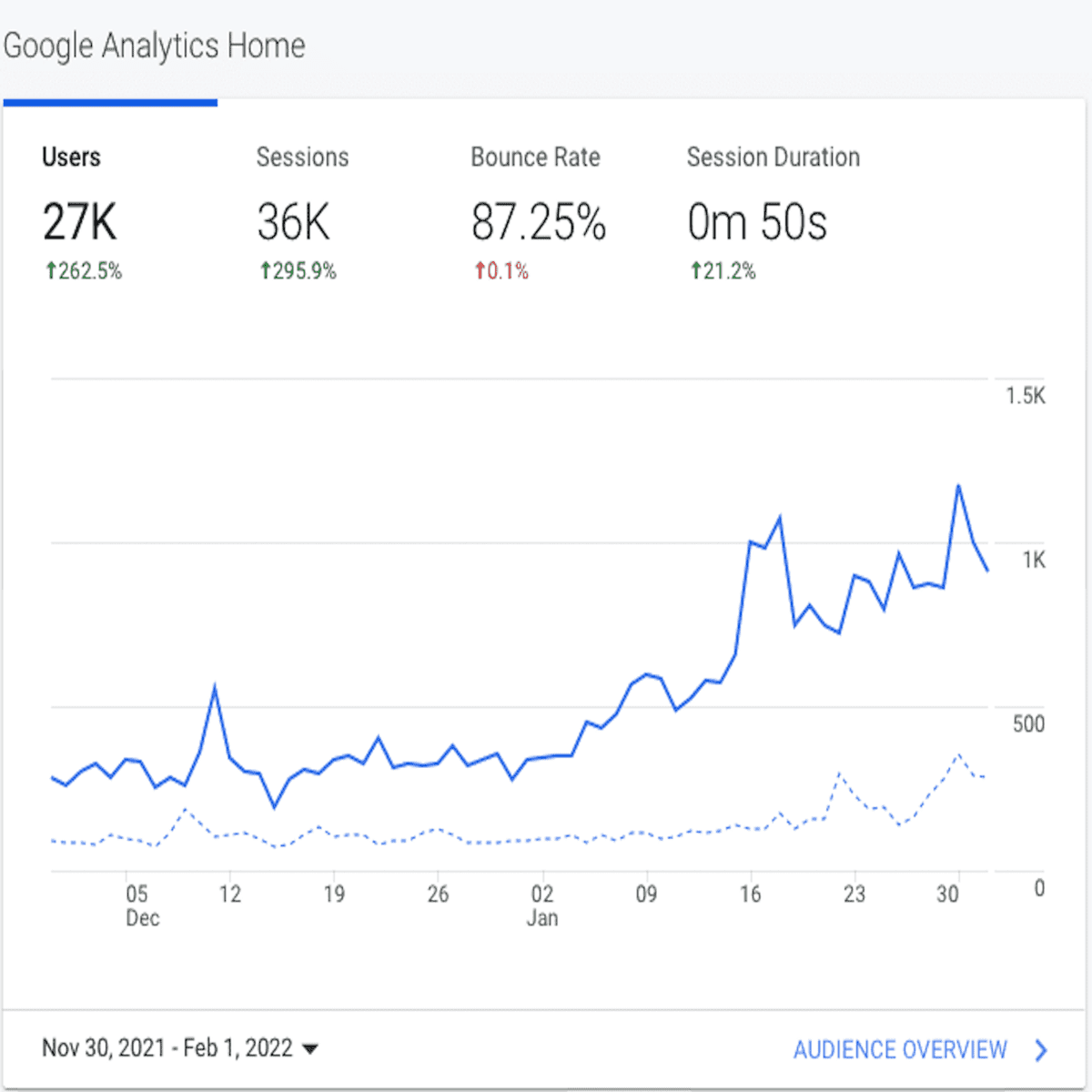 Impact on Google rankings
After using Keysearch to do keyword research, along with what I've learnt through Cooking with Keywords, I've successfully managed to land on the first page of Google for a few posts!
I looked at my Google Search Console Insights, which shows you the stats of 15 of your newest posts- out of these 15, I only did Keyword Research for 8 and, of the 8, 5 were in the Google Top 5 rankings.
(For more information on why I only did keyword research for 8 posts etc, check the Cooking with Keywords review- not trying to make you click more pages on my site, but simply trying not to have too much duplicate content in this Keysearch review.)
Note: these top 5 rankings may not be bringing me the most traffic/ may not be my focus keywords, but they were all relevant to my post.
What could be improved
Any impartial Keysearch review should include stuff they don't like (always be a bit skeptical if someone says everything is perfect- then you know they just want the affiliate $$ LOL):
The Competition Score

I wish it could make finding low-competition keywords more efficient
I wish it was actually accurate and effective!! Right now, I find it so iffy I ignore it most of the time. (I explain more about this in the above Keyword Research section.)

The suggested/related keywords for non-Western recipe keywords

If you include non-western recipes on your food blog, you'll know that most have a non-English name that is written in the English alphabet. For example, Chinese glutinous rice dumplings is also called "tang yuan." Keysearch helpfully suggests related keywords when you search for "tang yuan" but, unfortunately, it does not seem to realise that the words "tang" and "yuan" on their own have little to do with "tang yuan" so you get quite a few unrelated suggestions such as "1 aud to yuan." I believe the latter is related to the RenMinBi and Australian Dollar exchange rate- which has nothing to do with the recipe for "tang yuan" unless you are an Australian company importing Chinese "tang yuan"? (If you want to make tang yuan, which is like a Chinese mochi, click the link for my recipe! I plan to use this post for my "Content Assistant" experiment- let's see if Google rankings and traffic change after using it.)
Having said that, there is a filter function that helps you to remove the unrelated keywords in bulk. For example, when I search the "tang yuan" suggested keywords list, I would set to filter such that every suggested keyword must have the entire "tang yuan" in it, so the irrelevant stuff is removed. This leaves me with 136 keywords (out of the original 700), so a fairly sizeable amount.

You can lose track of how quickly you are consuming your daily credits, particularly if you are doing a lot of analysis of competitor's websites- this has happened to me more than once. This isn't a deal-breaker by far, but I wish the credit balance and usage was more prominently displayed.
Content Assistant could be MUCH easier to use

If you're looking just for a content optimising function, I recommend RankIQ instead based on ease of use. (I have not compared the 2 tool's effectiveness so no comment on that.)

Rank Tracking could also be MUCH easier to use

After struggling with rank tracking on Keysearch, I LOVE LOVE LOVE RankIQ's (new) rank tracking system. Unfortunately RankIQ is pricier- more than twice the price- if you want to rank track for free, you can use Google Search Console, but it takes even longer than Keysearch.
Unlike RankIQ which can be used as a standalone, Keysearch rank tracking alone isn't very effective (or maybe the word is efficient) in my opinion.
If you don't want to pay for RankIQ, you could use Google Search Console to figure out which keywords to use your precious 50 Keysearch function on THEN track those on Keysearch. (Or you could use the Explorer function in Keysearch to narrow down the keysearch then toggle to Rank Tracker to track those words. Either way, they're not the quickest.) (RankIQ makes this entire process 1-click!!)

Support function

There is no quick way to get help. Although I say Keysearch is easy to use (when running search volumes), it can also be confusing at times.
For example, I saw an "Opportunity Finder" in another Keysearch review- it sounded great so I wanted to try it, but I can't find it on my dashboard. (There is no search function that I can see for you to search the tool.) So I google and found the Keysearch page about the Opportunity Finder but, likewise, it does not say how to access this function?? I then sent an email support ticket 24 hours ago (on Feb 15) and have not heard back. (I will update when I finally hear back.)
PS If anyone can figure out from the Keysearch Opportunity Finder page how to actually find Opportunity Finder, please enlighten me!!!

See above sections for other buggy features
Recommendation
As you can see from the images above, I've managed to significantly increase the amount of traffic to my blog thanks to Keysearch SEO tool. However, it is not the only tool that could help you build traffic- some of the other tools are even free!
However, I do recommend Keysearch (over the others) if you:
are a new blogger, have a limited budget, are looking for an affordable keyword research tool and don't want to fiddle around with the free tools
want a (relatively) easy to use keyword research tool that uses Google API
have a lot of time to invest in keyword researching (as Keysearch doesn't make the process the most efficient.)
(Scroll back up to see whom I don't recommend Keysearch for)
For those looking for a tool with a ton of functions that go beyond keyword research - those are more costly than Keysearch- you may find Keysearch limited.
To be honest, after using Keysearch for about 2 months and getting an introduction to keyword research, I decided to cancel my subscription and went for RankIQ and SEMRush instead. (Yet to try Ahrefs.)
Although I have been tracking how effective my keyword research is- no use doing keyword research if I am doing it wrongly!!- it currently is very time consuming to do so and I would like to see if there is another tool that can free up more of my time.
At the end of the day, Keysearch is a TOOL- it gives you information but, if you don't know how to use that information, you won't achieve the results you want. If you are looking to learn more about keyword research for recipes and food blogs, Cooking with Keywords is awesome- click the link for my impartial review, along with the data on how taking it and applying what I've learnt has changed my traffic.
If you already know you want to sign up for the course, I would be super grateful if you use my affiliate Cooking with Keywords link (through which I get a commission) to help cover the cost of running this income-draining blog 😛
I hope that you found this Keysearch review useful and that you're all enjoying the blogging journey as much as I am 🙂
P.S. if you have a question that I have not answered in this keysearch review, do let me know in the comments.