What I've learnt about how to write a recipe round-up after creating over 20 of them, 2 of which are amongst the top 10 posts that brought me the most traffic in 2021.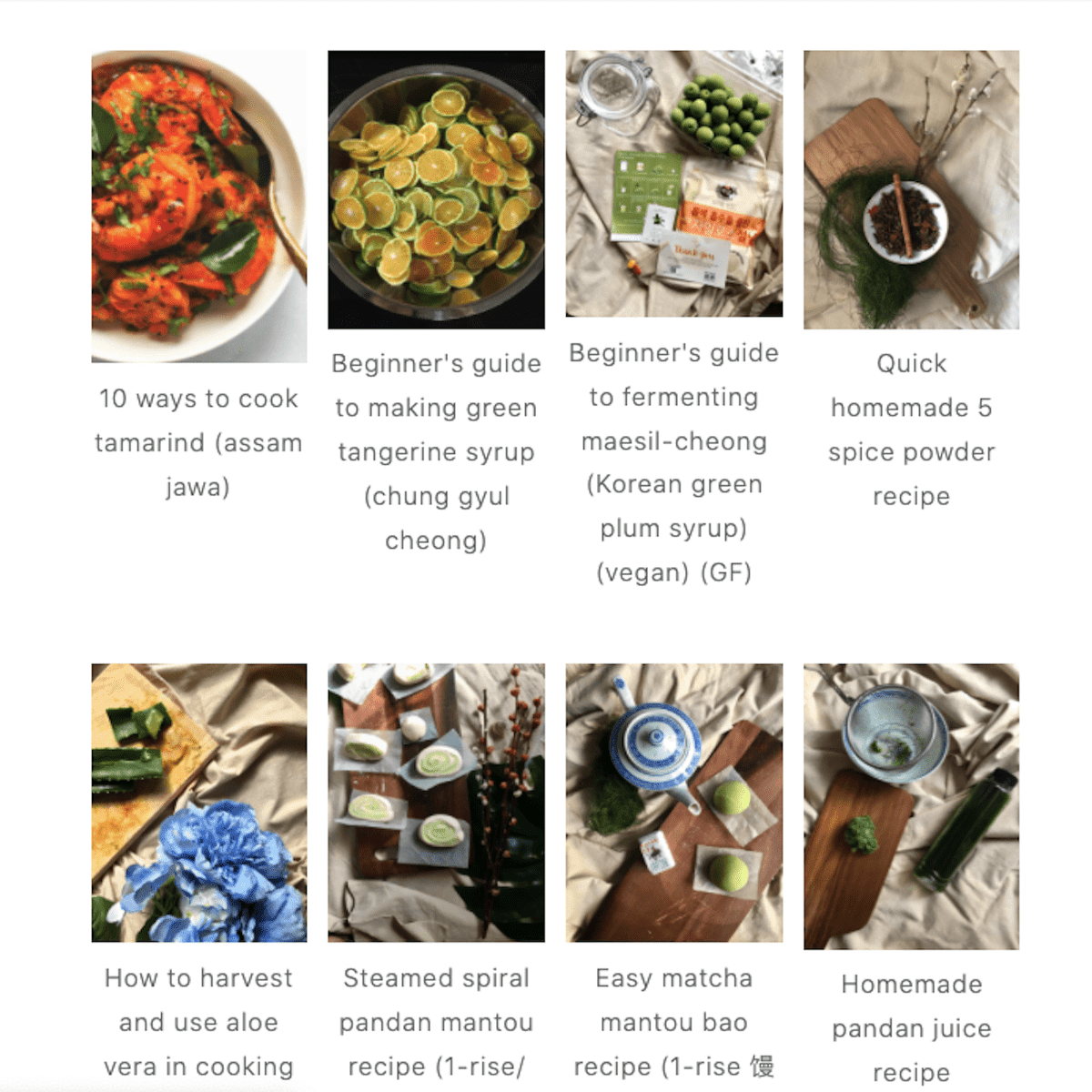 Jump to:
What are round-ups?
They are basically lists of recipes centred around a certain theme such as:
etc etc!
You can basically make any kind of round-up you want and they aren't only for recipes. This "tips on how to write a recipe round-up" post is itself a kind of round-up actually! To find out more why round-ups are good for your blog, click this link.
Tips
Anyway, without further ado, here are my top 10 tips.
If you've any to share, please feel free to leave a comment in the box and I will link back to you (do-follow) if I add your tip to this list.
Images
If you want to use an image from the recipe you are including in your round-up, you MUST get permission from the blogger first. (The images help tell a story so it is highly recommended that you use them, although do note that too many images can slow down your site speed.)

You can write in to the blogger to ask, but they may not see your email. An easier way is to participate in Facebook round-up groups, which bloggers join specifically to submit and find posts for their round-ups.

If you are looking for contributions to your recipe round-up in these FB groups, you need to:

state what site you will be using the image & post on (usually your blog)
the date by which you need the post for your round-up
indicate if it is a Do Follow or No Follow link (most bloggers offer follow links- there is not much benefit to the other blogger if the link is a no follow one!)
indicate how you will be using an image from their site, including

the number of images you will use (usually 1 photo)
how you will be using it/ them (e.g. if you plan to share the image on social media or create a collage, mention that)
if you may use 1 of the photos as the featured image for the post, do indicate it in you write-up as well, as some bloggers aren't happy for you to do so. (I only realised this after "getting into trouble" so to speak.)

Don't forget to check if the photos have already been optimized for SEO. If not, you should do that on your end to help your post get love from Google

e.g. compress the image sizes, rename them etc
For image compression, I've tried Imagify and Shortpixel- I recommend the latter. Click the link (note it is an affiliate link) to sign-up and we both get credits at no cost to you 🙂

if you do a lot of round-ups, you may want to ask for "blanket permission" i.e. approval to use the blogger's other recipes and image(s) in future round-ups. It helps to track these in a spreadsheet so that you have a lot of resources to draw from whenever you do a round-up.

You can also create a custom Google search engine that will only search the sites you've specified- which is a great way to check if the "blanket sites" on your list have any recipes relevant to whatever round-up you are currently working on

To do this, you need to be logged into your Google account
Visit the site: https://cse.google.com/cse/create/new
Enter the URLs of the food blogs that have given you permission to use any of their recipes
Once you've added all the sites, scroll down "Name of the search engine" & name your custom search
IMPORTANT: Make sure you've checked the box "include all pages whose address contains this URL" and that you're using the blog's main address! (i.e. not the URL for 1 recipe from said blog)
Scroll to the bottom, click "Create" and, congratulations, you have your very own search engine!
You're not done yet though: you will be given 3 choices- "add it to your site", "modify your search engine" and "view it on the web." Click "view it on the web" then bookmark the URL that pops up- this is where you go to do searches for future round-ups.
When you have more websites to add to your search engine, log back in to your Google account, revisit https://cse.google.com/cse/create/new then add the new URLs under "Modify search engine"

When using an image from another blogger's site, you can credit the blogger in the photo caption- this is something that I didn't realise previously but plan to start doing going forward/ when I update my old Asian recipe round-ups.
Recipes
Include as many quality recipes as you can

Try to include as many of your own posts as possible- internal linking is a key reason to do recipe round-ups!
Of course, do make sure that the recipes featured are not repeats of each other and that they're of use to your readers, but having a larger number of recipes serves 2 purposes:

People are more likely to click on the round-up with the most recipes and a higher Click-Through-Rate (CTR) is good for your Google ranking.
A longer round-up (within reason and with quality recipes) equates to more time spent on your page, which is also good for your site! The "time spent on page" for my "45 Gluten Free Super Bowl Appetisers" post is double that of my "6 Asian cookies to make for Galentines Day" post.

Don't give away the blogger's entire recipe in your round-up: you want to encourage your readers to click through to the post!

I do sometimes share a little tip the blogger has included but this is to show the reader that the blogger is an expert when it comes to this dish and hopefully get them to click through- what is shared should not allow your reader to cook the dish without clicking through.
If the recipe has an incredible number of 5-star ratings, I like to mention that in the write-up, as people are more likely to visit well-reviewed recipes.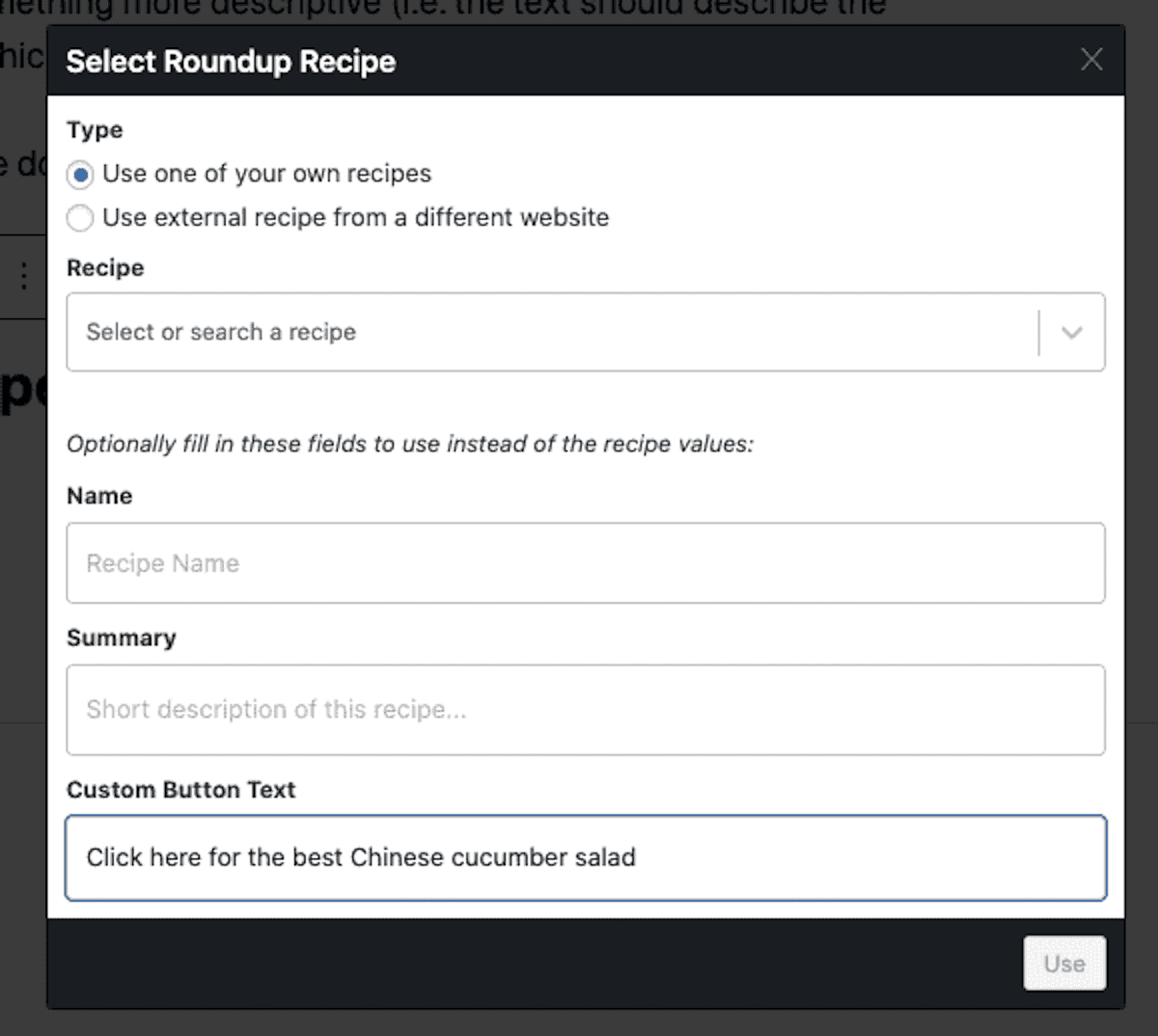 Others
If using either the WPRM or Create recipe card, there is a round-up feature. You can use that instead of simply listing out the recipes.

For WPRM, it is "WPRM Recipe Roundup Item." (It is available in the free version.)
The default button that brings you to each link in the round-up reads "Check out this recipe" - for accessibility, it is better to rewrite this and make it something more descriptive (i.e. the text should describe the recipe to which the visitor will be redirected (something like the recipe name etc))
This can be done at the bottom of the "WPRM Recipe Roundup Item" Box: edit the field "Custom Button Text."
Click this link to see how I've customised the links for my curry leaves recipes round-up.

Round-up posts are a Pinterest favourite, so you may want to create a collage of the different recipe images that people can Pin.

Do remember to check with the bloggers in question if it is OK to crop their images (if you plan to do so for the collage)

If you used recipes that you obtained from a FB group, do go back to your original post and update it with the link to your round-up so that the other bloggers now the round-up is live.

If you can, mention the bloggers whose recipes you've used in the round-up. Some of them may drop by your post to comment or share it on social media!

Do not use a recipe card in a recipe round-up post- whilst using a recipe card generates the sought after rich snippets, Google has specifically called this out as bad practice so you'll be doing so at your own risk (i.e. run the risk of being penalised.)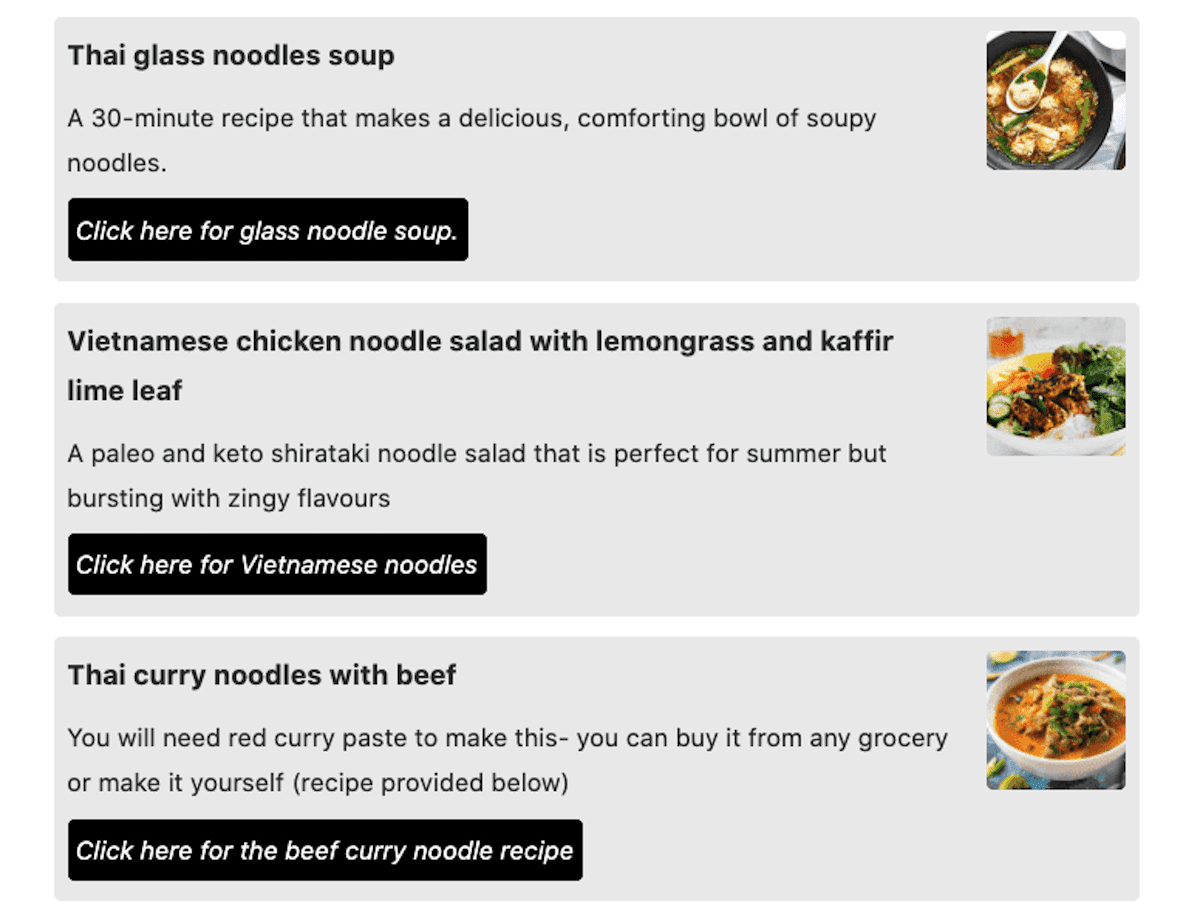 I hope this list of round-up tips has been helpful! For food blog SEO tips, click here- I have reviews of food blog products and services such as the food blog keyword research course Cooking with Keywords, Keysearch (a keyword research tool that is relatively inexpensive), RankIQ (a library of high volume, low-competition keywords for bloggers) etc.