You often see curry leaves at an Indian restaurant, but they're used in so many other cuisines too! Here's a collection of international curry leaf recipes, as well as an introduction to the herb with tips on how to grow and preserve it.
Jump to:
I've always been interested in growing my own food. However, ever since we moved from a compound with over 20,000 sf of land to an apartment with a tiny balcony and little sunlight, urban gardening has been challenging.
Thankfully, there are 3 "bomb proof" plants which have survived: aloe vera, chilli and curry leaf. Moreover, chilies and curry leaves go well together and I love both! Scroll down for some of my favorite uses of curry leaves.
Note: aloe vera is delicious in yuzu marmalade konnyaku jelly or chilled Asian drinks!
🌿What are Curry Leaves?
Also known as Murraya koenigii (scientific name), sweet neem leaves, Daun Kari (Malay), Curry Bush, Karapincha, Karwa Pale, Garupillai, Kerupulai, 咖哩叶, 调料九里香, 麻绞叶 or kariveppilai (Tamil), fresh curry leaves are a very fragrant herb.
These pinnate leaves are a key ingredient in Indian dishes, Sri Lankan cooking and many South East Asian recipes, used to add a depth of flavour to food!
Native to India, Sri Lanka and other parts of South Asia, they are pointy, dark green leaves with a fragrance that is delicious but hard to describe. They look something like this, but darker: 🌿!
It's not the strongest flavour around, but it has an almost nutty aroma definitely adds something indescribable to food.
As the curry tree is from the citrus family, some people say this herb is citrusy. However, I find the flavour much more earthy, almost bitter. I often crush a few leaves in between my fingers for a pick-me-up whenever I visit my herb balcony garden!
Note: Click here for more recipes that use herbs and vegetables one can easily grow at home.
VS Curry Powder
Curry leaves shouldn't be confused with curry powder, as they are 2 different things.
In other words, curry powder is NOT a powder made of curry leaves.
Note that curries, however, may contain curry leaves, especially in South Indian cooking. For example, the leaves can be sauteed in ghee or hot oil with other Indian spices (e.g. cumin seeds, black mustard seeds, black pepper etc) to form a tadka which is then poured over the curry.
I use curry leaves myself when cooking potato curry for my Singapore Curry Puffs!
The tadka can also be used at the beginning of cooking a curry. For more information on tadkas, check out this link. If you're already confused, note there are curry leaf plants (which is the focus of this post) as well as curry plants- the 2 are NOT the same thing!
Fun fact: curry powder was invented by the British!
💭 Where to Buy
In Asia, these dark green leaves are commonly found in wet markets and even grocery stores.
In Western countries, this aromatic herb is unfortunately not the most mainstream ingredient. Thankfully, more supermarkets are starting to stock the dried version.
Your best bet for fresh leaves would be Indian grocery stores or online.
🍳 How to Cook
Ubiquitous in South Indian cooking, these leaves are often tempered with mustard seeds, and maybe some chillies, in ghee or coconut oil. Frying the leaves in oil helps to develop the rich depth of flavor.
In South East Asian Chinese cooking, on the other hand, curry leaves are seen as the perfect partner for the rich and savoury flavour of salted eggs, such as in this salted egg popcorn recipe. It helps to ground the umami-ness of the salted eggs.
(Salted eggs, on their own, are great but can be a bit overpowering- add in some of these green leaves and chillies, and the fragrance helps to "cut" the richness of the salted egg.)
Curry leaves are edible. However some recipes suggest that they be removed after cooking, as the old leaves can be quite tough to chew.
They are also used in chutneys, relishes and salads. Just pick the younger, more tender leaves and slice them as finely as you can (or process them to make a relish). Make sure the tough sprig stem is removed!
Note: in India, this fresh herb is used for cooking and health purposes, but in South East Asia, they are predominantly used in culinary applications.
🥡 How to Store
If you're not lucky enough to have your own curry leaf plant, the leaves can be purchased in either fresh or dried form.
For fresh leaves, wash and pat them dry before storing in the:
fridge
freezer
drying them
In the Fridge
Make sure the leaves are dried, wrapped in a paper tower and put in an airtight container.
If moisture forms, wipe it off, to ensure the leaves last for as long as possible (up to about 2 weeks). The leaves will curl a bit as they age in the fridge.
Note: Toss any leaves that develop black spots!
In the Freezer
Placed in a ziplock bag, the colour of the leaves may change with time, but they're still good for cooking. There's no need to defrost before using and this is the easiest way to keep curry leaves for a long time.
In the Pantry (Dried)
Tropical climates have the tradition of air drying food under the sun. (Just pat the leaves dry, spread and leave under direct sunlight till nice and sort of crisp.)
This can be a challenge if you live in a colder climate or if your house doesn't get enough light/ is too humid, even if you live in the tropics, as I do. (If so, you will need to dry the leaves in the oven or in a dehydrator.)
Once dried, keep in an airtight container in a dark place.
Tip: You can even process the dried curry leaves into a fine powder and add the DIY spice blend to your spice rack! (The herb can also be ground with other aromatic herbs and spices to make an Indian spice mix with a unique flavor.)
📋 Substitutes
The Internet offers all sorts of suggestions- such as lemongrass, asafoetida, basil, lemon balm and anise.
Personally, I've never found a goodsubstitute for that I'm satisfied with. I think the closest I've found is bay leaves (which, unlike curry leaves, is not edible) or to mix the various substitutes together.
👩 Expert Tips
Crush the leaves to bruise them before cooking, to help them release their flavour.
Choose bright, glossy green leaves that have no brown spots and are not bruised
If you've exhausted all the curry leaf recipes on this list, try using them in your cocktails!

How to Grow
I find curry leaves to be 1 of the easiest herbs to grow, if you live in a warm climate!
(If you live in a colder place, make sure the plant potted so that it can winter indoors- I have successfully grown it even in rainy London! For more tips on how to grow curry leaves in a cold country like the UK, click here.)
It is pretty much the oldest plant on my balcony and is currently in the form of a small tree (despite being grown in a small pot, too!) It can even grow into a towering curry leaf tree if planted in the ground!
Other than requiring a well-draining soil, this plant isn't delicate. It is semi-drought tolerant and doesn't need very good soil. In fact, I can't remember the last time I fertilised mine and it's still growing well.
Note that pruning is essential to encourage more growth. They can be grown from seed (difficult) or cuttings (easy.) If your friend has a plant, just get a cutting off them and pop it into a rooting mix.
📖 FAQs
International Recipes
There are a gazillion South Asian curry leaves recipes- dals, curries, soups...
I enjoy South Asian food but I wanted to feature a more diverse collection that goes beyond Indian cuisine. So, here is a collection of international curry leaf recipes spanning from South Asia to Singapore, Malaysia, Vietnam, which are easy enough for the average home cook!
🥟 Snacks
Curry Puff
The first is this karipap (curry puff), a South East Asian "empanada" which is ubiquitous in Singapore, Malaysia and Indonesia.
I like how the dough is not sticky and doesn't require much kneading. Moreover, it's the perfect Asian snack to batch make and store in the freezer, ready for any unexpected guests, as it can be fried from frozen!
Note: For recipes of other Asian snack foods and other Singaporean dishes, click here.
🧈 Tofu
Salted Egg Tofu
Actually, once you have the recipe for salted egg sauce, you can use it for anything from fried rice to chicken wings!
🍤 Seafood
Masala Prawns
Prawn 65
Durban Shrimp
Malaysian Fish Curry
Smoked Salmon Curry
Anchovy Curry
Note: in a pinch, anchovies can be used as a substitute for dried shrimp, a typical Cantonese condiment.
Basa Curry
Note: For more flavourful Asian seafood recipes, such as this coconut fish curry, click here.
🐓 Chicken
Vietnamese Curry
Chicken 65
P.S. It may seem like there are a lot of Indian chicken curry leaves recipes here but I've checked each one to make sure they all bring something different to this round-up.
Mango Curry
Pickled Curry
Chicken Chukka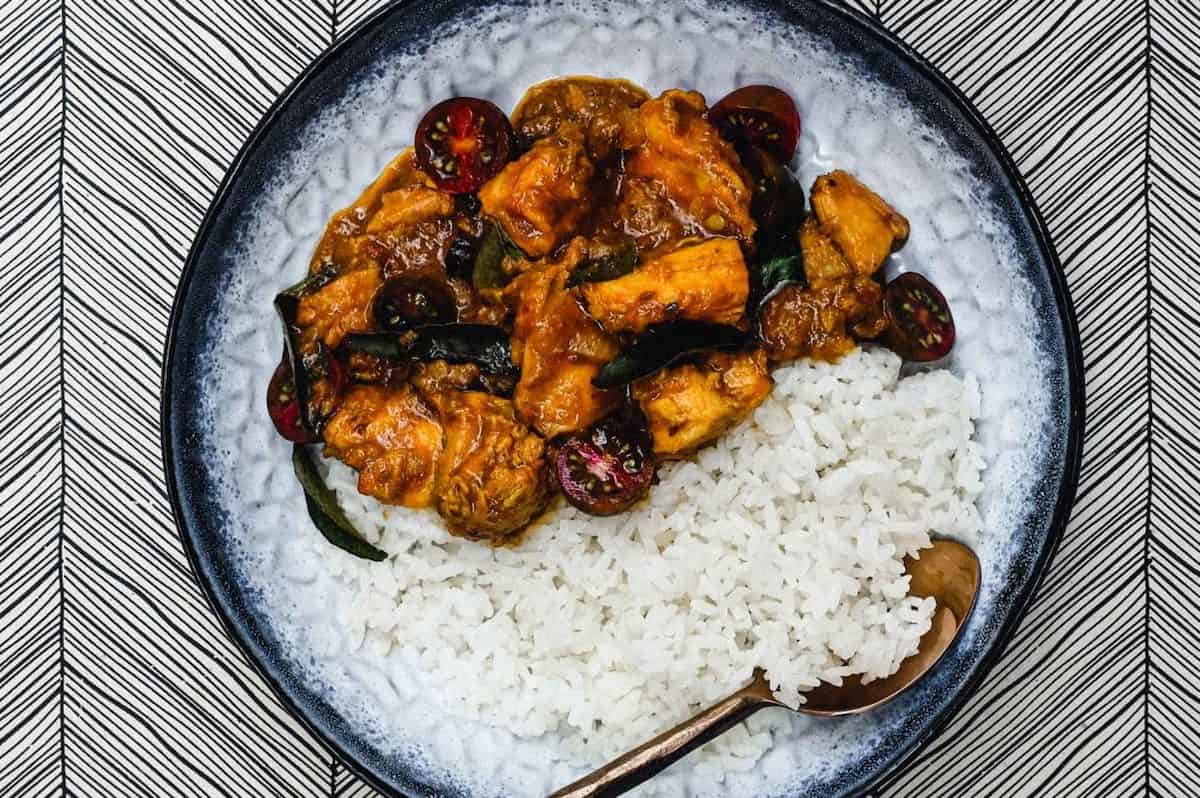 Chettinad Curry
Note: For more Asian recipes with chicken, click here.
🥚 Eggs
Salted Egg Popcorn
Salted egg and curry leaves are another match made in heaven.
The herb adds a depth to the umami-ness of the salted egg! Once you try it, you'll love it so here are more salted egg recipes for you.
If you can't get these eggs at your grocery, you can make your own salted eggs at home- it's super easy! (In fact, salted eggs are readily available living in Singapore, but I still make my own nonetheless!)
Chinese New Year Cornflake Crunch
Salted Egg Chips
Egg Curry
🐑 Lamb
Lamb Curry
🍚 Rice Dishes
If you cook too much rice, here are some ways to use it up!
Lentil Rice
Curry Leaves Rice
Poha
🥬 Vegetarian
Bean Curry
Chutneys
Dried Coconut Chutney
Green Tomato Relish
Red Tomato Chutney
P.S. If you're wondering what a Pachadi is, it's a South Indian fresh pickle side dish, usually made from seasonal vegetables.
Okra Side Dish
Fried Fritters
As for kadhis, they're common to India and Pakistan, and consist of veggie fritters in thick gravy of gram flour and curd.
Pakora
Dal
Given how common the herb is in Indian food, how can any list of curry leaf recipes miss out on dal/ Dahl?
Vegan
If you're vegan or looking to increase your intake of plant-based foods, you may also enjoy these vegan Asian recipes.
Sri Lankan Curry
Indian-inspired Curry
Aloo Gobi
Pumpkin Curry
If you prefer chicken curry, I have a chicken pumpkin curry here and more Asian-inspired pumpkin recipes here.
Cucumber Salad
For a Chinese-style cucumber salad, click here! (3-ingredients only and super refreshing!)
Which of these curry leaf recipes was your favourite? Tag me on social media @greedygirlgourmet if you make any of them! If you've found something you like, maybe you'd like to subscribe to my Asian recipes neweletter here?