A vegetarian curry puff recipe with a potato filling- vegan actually- that uses cupboard staples and doesn't leave you with sticky hands: delicious, easy to make and perfect for meal prep!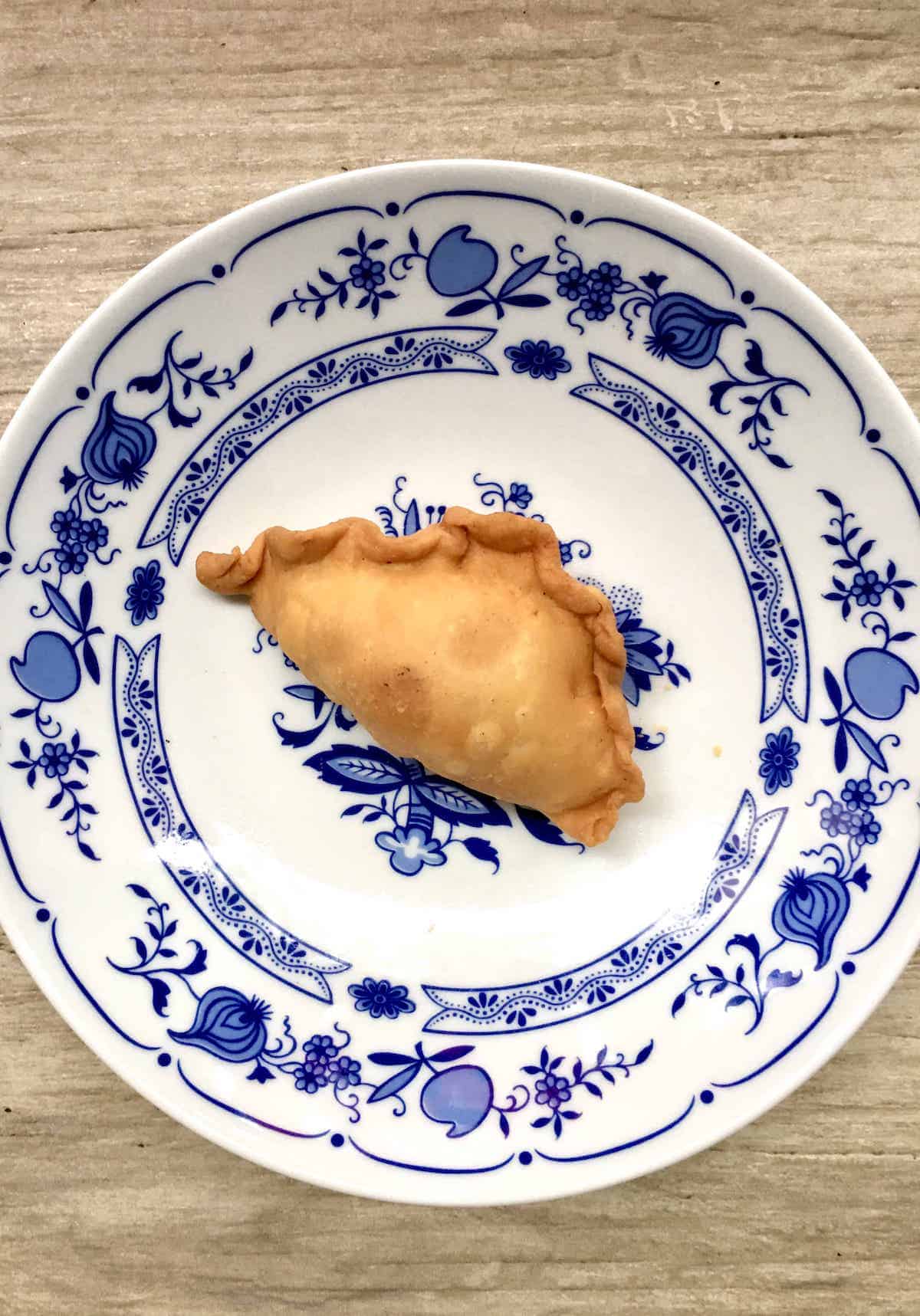 Jump to Recipe
Jump to:
A spicy South East Asian cousin of Empanadas, Samosas and Cornish Pasties, these vegetarian curry puffs are delicious and freezer friendly. It's super easy to make a big batch so I always have this easy potato karipaps in my freezer, ready to fry for when unexpected guests pop by or when I have sudden hunger pangs.
If you like traditional Asian food, you may also be interested in my vegetarian/ vegan muah chee recipe. Alternatively, click here for more savoury vegetarian recipes.
What are curry puffs?
Also known as karipap, curry puffs are a popular snack in many South East Asian countries such as Singapore, Malaysia, Thailand and Indonesia. They're traditionally deep fried till golden and crispy and come with an assortment of fillings, ranging from vegetarian potato to chicken and beef. For more information about the history of curry puffs in Singapore, click here.

Trivia: Despite the "curry" in the name, coconut milk is not used to make curry puffs!
Vs epok epok
Although the 2 words are now used interchangeably, they were originally not the same thing. Many people today think epok epok is just a Malay curry puff, but here are some ways the 2 differ:
The crust is different, with curry puffs being more buttery and flaky
Epok Epok doesn't contain curry whilst karipaps do!
Epok Epok usually comes with a chilli dip but curry puffs hardly ever do.
Why make this
Curry puffs are delicious!
These vegetarian curry puffs taste exactly like the original and are halal, so can be eaten by almost everyone! (Except people with food allergies or celiacs since they're not gluten-free)
The dough is very easy to work with and hardly sticks to one's hands- I seldom make bread because of sticky dough, but it's a non-issue with these potato curry puffs.
They taste great both right after cooking or when cooled down, so this is a perfect dish to make in advance for a party
Vegetarian curry puffs are also very easy to batch make, so they're perfect for meal prepping and/or freezing! (Another freezer friendly Asian snack is cong you bing.)
Dough
There are many recipes for karipap dough but this is my favourite as it is fast, easy and tasty - best of all, no kneading necessary and the dough does not really stick to one's hands!
Other curry puff doughs include:
a 2-dough flaky, spiral karipap- this is for when you really want to impress as you need to make a water and oil dough- so definitely a weekend project and not for weekday dinners after work!
To save time, you can even skip making the skin yourself and:

use roti prata
use puff pastry (you can skip the frying and bake or air fry these)
Fillings
Traditionally, karipaps aren't vegan but 1 of my good friends is allergic to dairy and eggs, so I often try to figure out how to make local Singaporean food that she can eat. Hence, in this post, I'll be sharing an easy vegetarian curry puff recipe that is also vegan.
The dough contains no butter and have a potato filling - if you're not vegan, other traditional fillings include:
Vegetarian: potatoes and hard boiled egg (I've skipped it in this recipe but the egg adds a pleasant variation in the texture)
Chicken and hard boiled egg
Sardines in tomato sauce
Beef/ lamb (This filling is the most difficult to find amongst commercially sold curry puffs- I'm guessing it's because beef and lamb are more expensive?)
If you've tried karipaps before, which filling is your favourite?
Ingredients & Substitutes
All purpose flour 

I have tested these vegetarian curry puffs with cake flour successfully but the skin will be more delicate and may tear a little when folding the puffs. They fry up just as well though!
To make your own cake flour using 2 pantry staples, click here for a recipe.


Rice flour 
Corn flour 
Vegetable oil 

Don't use olive oil as it has a strong taste and low smoke point

Margarine

If you're not vegan, butter works too
Don't substitute with shortening: if you use the same ratio, the dough is WAAAAAY too soft to shape up

Curry leaves

Note: Fresh curry leaf imports are actually banned in some countries due to concerns about citrus greening disease. However, you can try to grow your own (seeds and seedlings available online but not easy to grow in cool climates) or buy dried ones online (UK) and in the US.

Onion
Potato
Curry powder
Optional: Stock (liquid/ powder)
Water

Cold and room temperature/ hot

Pinch of salt
You can also add frozen carrots, peas and corn to these vegetarian curry puffs for variety.
Wrapping
If you don't remove the curry leaves before folding, make sure they are not sticking out, as the stalks may pierce your vegetarian curry puff dough. Alternatively, you could pluck the leaves off (and ditch the stalks) or slice the entire sprig thinly before stir-frying the filling to avoid this problem. (If you end up with more curry leaves than needed for these vegetarian curry puffs, here is a list of recipes that use curry leaves.)
There are several ways to wrap the curry puffs:
pinch and fold the edges to form pleats
press the edges down then use the tines of a fork to create a pattern
use pastry or pasta crimpers (available here.)
How to freeze
These vegetarian curry puffs can be frozen after wrapping. Place the karipaps on a tray with gaps in between each puff, then cover with plastic wrap before putting in the freezer. Once frozen, they will no longer stick to each other and can be transferred to ziplock bags for easier storage.
When you want to eat these potato curry puffs, there is no need to defrost- just fry from frozen (it will take 5-7 minutes longer than frying freshly made vegetable curry puffs.) In fact, they're actually easier to fry from frozen- if your wrapping skills aren't amazing and a little filling is oozing out, the frozen puffs retain the filling and shape better than the fresh ones (during the frying process).
How to heat up
Curry puffs are like fried chicken- you want to heat them up in a way that retains the crisp golden skin. I recommend microwaving or, if you're like me and don't have a microwave, heating them up in the oven till the inside is piping hot. (The time will depend on how big your veggie curry puffs are!)
Note: curry puffs actually taste good at room temperature. In Singapore and Malaysia, these deep-fried snacks are usually pre-made so when you buy them from a street stall, you eat them cold!
Tips
If the edges of the karipap dough aren't sticking well, use a little water
I would not recommend baking or air frying this veggie puff recipe as the dough just doesn't taste as good and isn't as crispy. If you want an air fried or baked curry puff, I recommend using puff pastry instead. Simply make the potato filling as per the recipe card, roll and cut the puff pastry to size, then spoon a few tablespoons of the vegetable filling into each puff pastry, seal and cook.
Other vegan Asian snacks recipes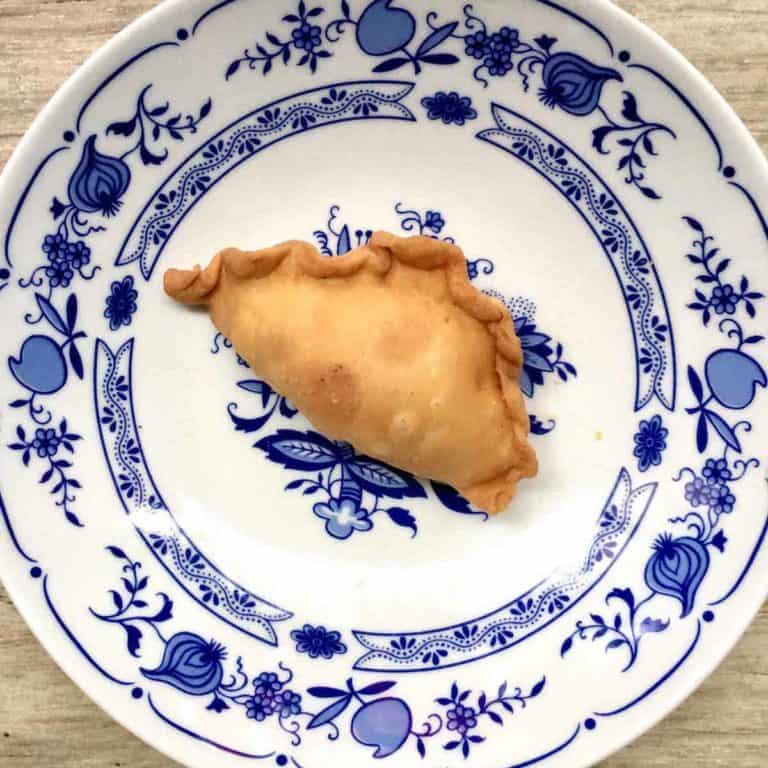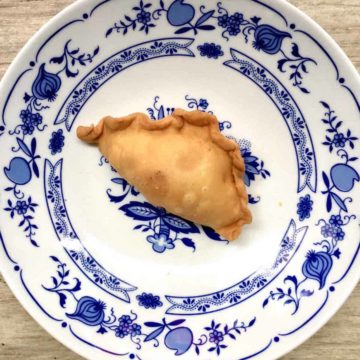 Vegetarian curry puff potato filling recipe (karipap)
An easy, vegan curry puff recipe- one of the most popular snacks in Singapore- that tastes good both hot and at room temperature.
Equipment
Metal (or other heat-proof) bowl

Wooden spoon

Rolling Pin

Wooden chopstick

Wire mesh

Kitchen towels
Ingredients
For the vegetarian curry puff dough
0.55

lb

All purpose flour (250g)

Substitute: cake flour

0.11

lb

Rice flour (50g)

0.11

lb

Corn flour (50g)

Substitute: tapioca flour

0.11

lb

Neutral vegetable oil (50g)

Don't use olive or peanut oil as they're strongly flavoured

0.11

lb

Margarine (50g)

Substitute: butter

4.59

oz

cold water (130g)

It needs to be cold to react with the hot melted margarine later
For the potato filling
Neutral vegetable oil for frying

Don't use olive oil as it's for deep frying or peanut as it has a strong taste

2

stalks

curry leaves

Before portioning out the potato filling later when wrapping the puffs, remove the stems so that they don't poke through the dough

1

onion, diced small

Red or yellow will do but red is sweeter Substitute: shallots

1.32

lb

potato, diced (600g)

2

Tablespoons

curry powder

1

Teaspoon

vegetable stock powder, optional

Substitute: liquid stock or msg. If you're not vegetarian or vegan, chicken or ikan bilis stock powder/ liquid stock works well too.

Water to cover the potatoes

If you used liquid stock above, decrease the water here accordingly

Salt, to taste
Instructions
Mix the 3 flours in a heat-proof bowl and put aside

Heat up the oil and margarine in a pan and when the mixture has all melted and is very hot, pour it into the flours and use a wooden spoon to mix thoroughly. (If you use a metal bowl, note that the parts of the bowl in contact with the mixture will also heat up)

Add cold water and mix with a wooden spoon till a soft dough forms. If you decide to finish the kneading by hand (the dough doesn't stick), make sure the dough is cool enough to be touched first!

Cover the dough and rest for a minimum of 15 minutes. (Making the filling will take more than 15 minutes after accounting for the time needed for the mixture to cool down )

Whilst the dough is resting, prepare the filling. Heat vegetable oil in a pan then fry the onion and curry leaves till the onion turns translucent. Add the diced potatoes and cook till golden. Add the curry powder and saute for 1 minute,

Add enough water to cover the potatoes. If using, add the stock powder (for liquid stock, the amount of water should then be decreased correspondingly) and stir to mix thoroughly. Taste and add salt as required, then allow mixture to come to a boil.

Simmer till the potatoes are slightly pasty and allow to cool

Whilst the mixture is cooling, return to working on rolling out the dough. Make sure the rolling pin and surface you work on is floured or oiled to prevent the mixture from sticking. Divide the dough into 4 equal balls, leave 3 balls in the bowl and cover again.

Roll the 1 ball of dough that you have taken out into a cylindrical log, then cut (using a dough scraper or knife) into 6 approximately equal pieces. You can also use your hands to pinch out the 6 smaller pieces but this may result in more variation in the size of the dough.

Roll out each piece of dough into a circle of about 9 cm diameter (approximately 2mm thick). It will take practice to make the dough circular, but the more circular the dough is, the easier it is to wrap the curry puffs. Place approximately 1 tablespoon of filling in the centre of the dough then fold the dough into half (to form a semi circle)

Pinch the edges of the potato puff together in your preferred style. I like the pinch and fold method where you pinch the very end of the border, then fold it down. The dough here will be thicker (as there are now 2 layers) so pinch the dough and fold again. Repeat till you've reached the other end of the dough then plate.

Once you've rolled and wrapped the 6 pieces of dough, repeat steps 9-11 with the other pieces of dough in the covered bowl.

The karipaps can be frozen at this stage for future use. If you want to eat them now, prepare for deep frying by heating up a deep pot or wok half-filled with oil. Make sure the oil is hot enough before adding the curry puffs- to check, place a wooden chopstick into the oil. If many bubbles form around the chopstick, you can start deep frying. Don't add too many curry puffs at a time, or the temperature of the oil will drop.

Once the curry puffs turn light brown, use a wire mesh to remove them from the oil and place them on a plate lined with kitchen towels to absorb any excess oil.
Notes
The filling can be made the day before the dough. You want the filling to be cool before you start wrapping these vegetarian potato puffs so making them on different days is good. Moreover, curries always taste better when made the day before! 
If you are lazy to pinch the edges of the curry puffs together, there are also curry puff crimps to hasten the process up, but the resulting curry puff is nowhere as pretty!
I like to add hard boiled eggs (cut into quarters) to the filling to create variations in the texture. If you plan on doing so, you will need larger curry puffs (so you roll out larger circles, which would mean the resulting yield from this recipe will be less than 24 curry puffs). Alternatively, you could cut the eggs into smaller pieces, but I find smaller pieces too fiddly to work with.
When plating the vegetable curry puffs (pre-frying), make sure there is space in between so that the dough does not stick to each other and tear.
The karipaps can be fried from frozen (ie without defrosting) but you will need to add 5-7 minutes to the frying time of each puff.
If you make this, do let me know what you think of this easy vegetarian potato curry puff recipe! Why not follow this with 1 of the vegan Asian desserts below:
If you've enjoyed this vegetarian karipap recipe, please do share it on Social Media!