A vegan version of a beloved Singapore Peranakan snack: kueh dadar pandan coconut pancake. If you like jaggery, you'll love kueh dadar!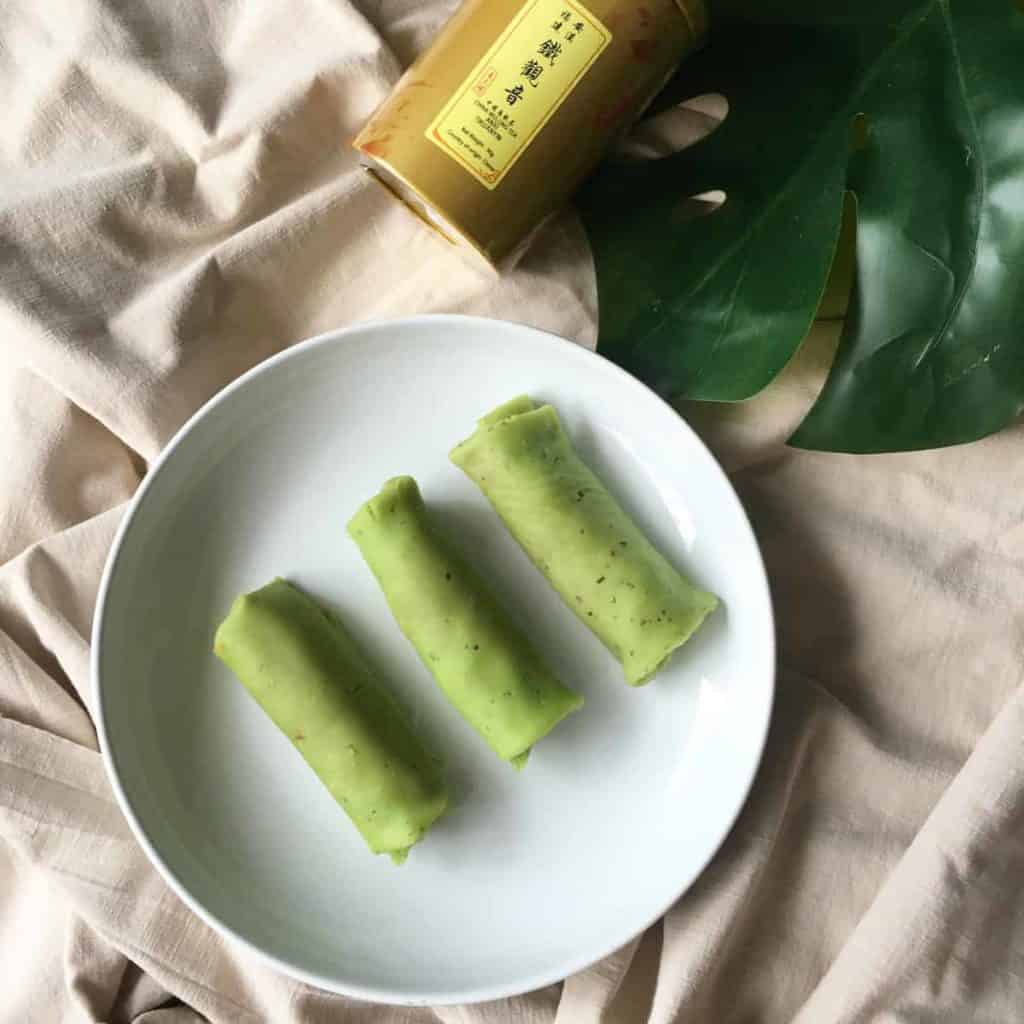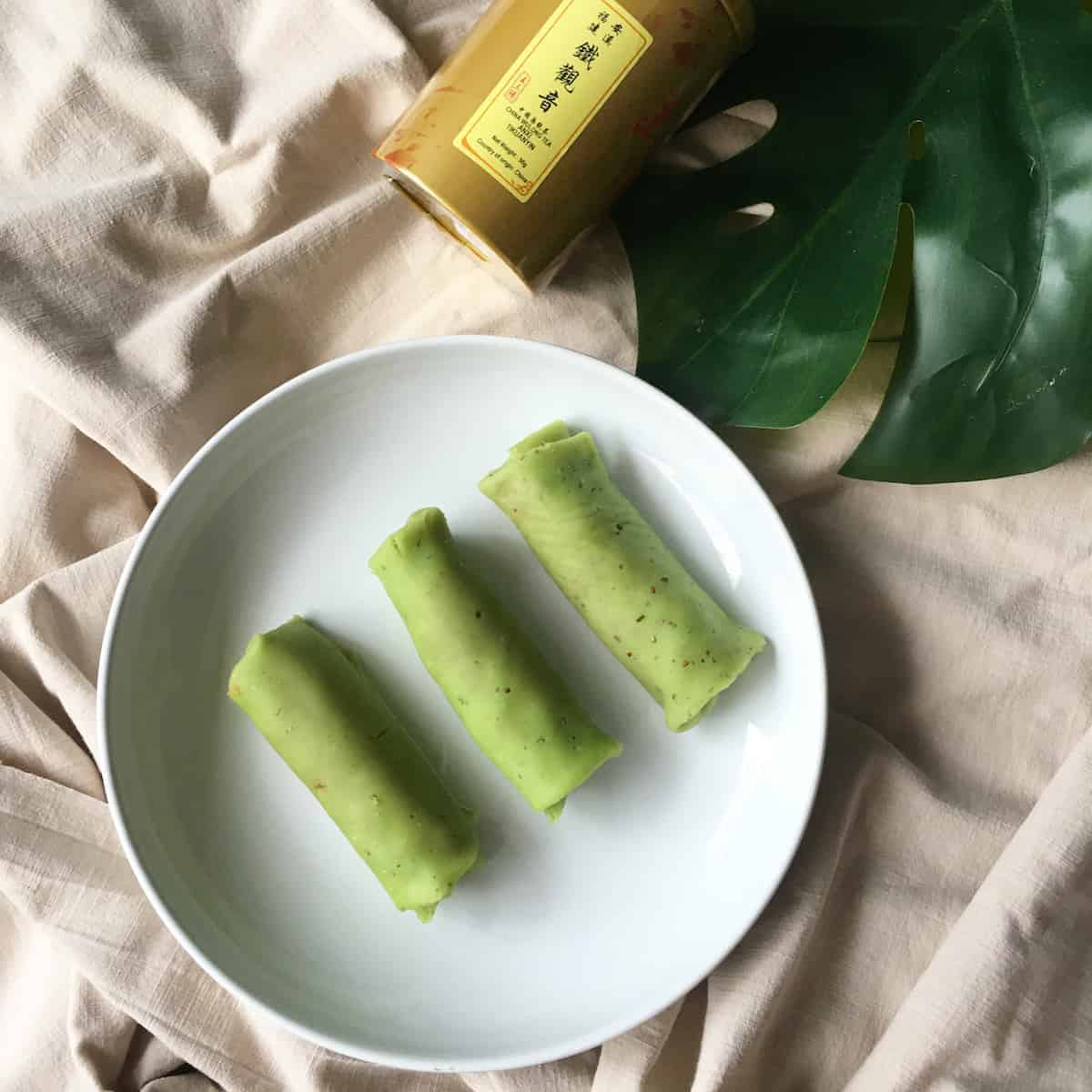 Jump to Recipe
Jump to:
Kueh dadar is a green Nyonya/ Peranakan kueh that is the favourite of both my parents, and thus was the 1st kueh that I learnt to make! (Also the one I make the most often.) Thanks to the pandan, coconut and gula melaka, it is super fragrant, making it hard to stop after just 1 piece. My Father can eat 6 in a go!
As my friend who is allergic to eggs couldn't find a vegan version in the Singaporean stores, I specially developed this vegan kueh dadar pandan coconut pancake recipe for her using only pantry ingredients (so that there's no need to hunt for freshly grated vegan coconut anymore!).
Whilst this kueh is a relatively simple recipe, it is not as easy as it seems, especially if you don't usually make crepes- the crepe can stick to the pan or break- which is why I decided to write this post. (Previously, I'd shared the recipe on Instagram, but it's hard to go into detail there!)
What is kueh dadar?
Also known as kueh dada, kuih da da, kue dadar, kueh tayap and kuih ketayap, kueh dadar is a South East Asian sweet snack similar to a sweet spring roll: the wrapper is similar to a green crepe (pandan & coconut-flavoured) and the filling is grated coconut that has been cooked with gula melaka (and sometimes pandan).
It can be found in Singapore, Malaysia and Indonesia, and is common in Peranakan/ Nyonya and Malay households. Personally, I think it's a great breakfast side dish, though some may find it too sweet a start to the day!
For other Singaporean snacks, click here.
Ingredients & Substitutes
For the kueh dadar skin, you traditionally use:
wheat flour -> I used Hong Kong flour but all-purpose flour is good too
coconut milk -> NOT to be confused with coconut cream which will result in a batter that is way too thick! (To make coconut milk from coconut cream, mix with water in the ratio 1 (coco cream): 2 (water)
pandan juice: note that I followed the recipe in the link but blended the pulp 3x
salt
egg -> replaced with flax eggs in my vegan version
oil
Depending on whether you use homemade natural pandan juice or artificial pandan (essence/ extract/ paste), the intensity of the colour will differ. The former tends to be a more muted green, so some people add a bit of green colouring or pandan paste to intensify it. Personally, I find that the hue that comes from the artificial flavouring can be scarily bright- a friend said "fluorescent"- though the resulting kueh dadar is still very aromatic! For another Asian pandan dessert, try these green pandan glutinous rice balls.
The filling is usually made of:
freshly grated coconut -> Gone are the days when every household grates their own coconut and freshly grated coconut goes bad quickly (even in the fridge), so I decided to make this Peranakan Kuih more accessible by substituting with dessicated coconut instead.
Note: if you do decide to buy fresh coconuts to grate, here are some ideas for how to use up the coconut water.
salt
pandan leaves (if you have any)
Steps required to make kueh dadar
Start by making the pandan crepe batter, as it needs to rest for at least 30 minutes (this ensures that the flours are well hydrated).
Whilst the pandan coconut batter is resting, make the filling - note that you can't roll the crepe if the filling is hot so you want to do this before cooking the kueh dadar skins, to give the filling time to cool.
Whilst the filling is cooling, take the batter out of the fridge and cook the pandan crepe wraps- place them on parchment paper to cool
Fill and fold the crepes
Eat and enjoy! Take a photo of the kueh dadar and IG your hard work! (Don't forget to tag me: @greedygirlgourmet)

The 2 photos below sum up the importance of sieving your batter (even though you've already sifted the flour!)- they're both from the same batch of battter!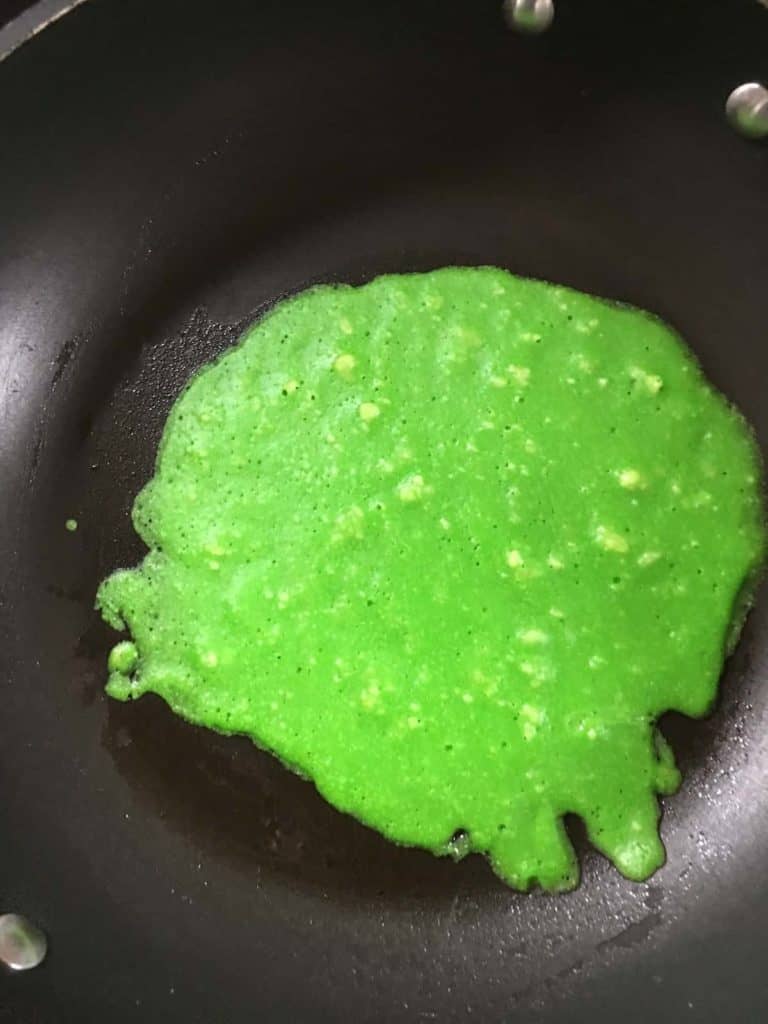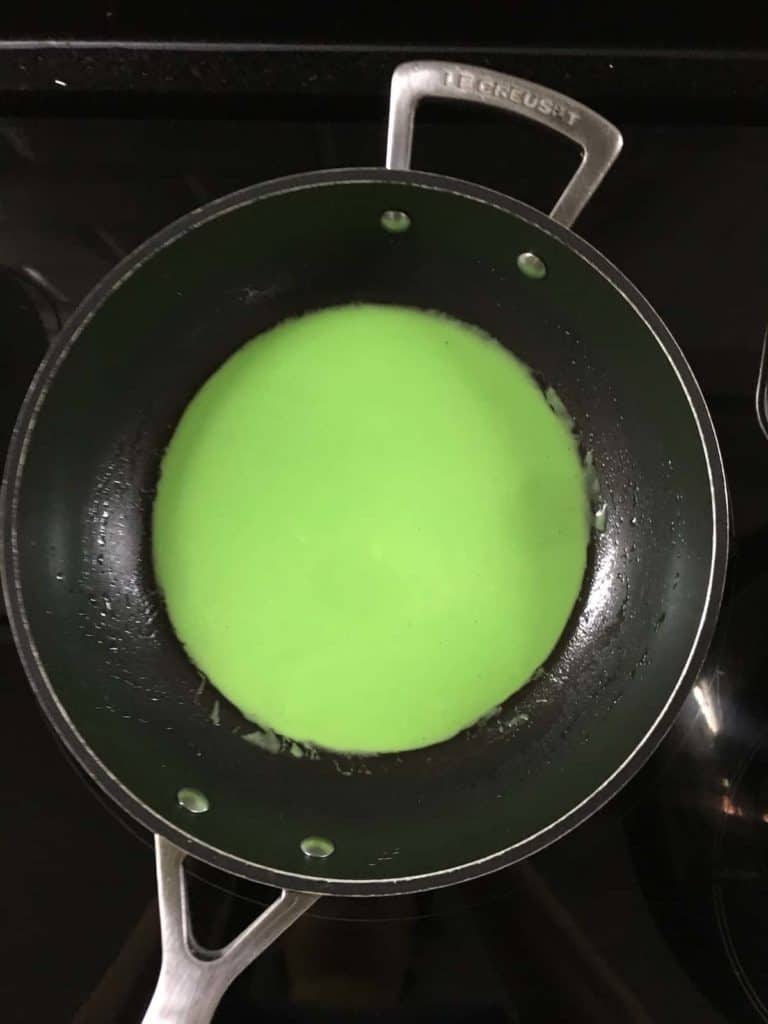 How to fold
You fold the kueh like a spring roll, so place the gula melaka-grated coconut mixture near the bottom centre of the round wrapper, fold the left and right sides in, then fold the bottom part up and roll towards the top. (I think I really need to do step-by-step photos for this process- here's a link to someone else's step-by-step photos - he/she does it by folding the bottom before the left and right (which works too))
Fun fact: the Indonesian name for this kuih is Dadar Gulung- "Dadar" is pancake and Gulung "to roll" in Bahasa Indonesia!
Storage
If you're using freshly grated coconut, please do not keep them for more than a day as the coconut goes bad very quickly (it'll smell sour). Dessicated coconut has more of a leeway- I personally won't recommend leaving these pandan rolled pancakes overnight (even in the fridge), but I know people who have done so 😛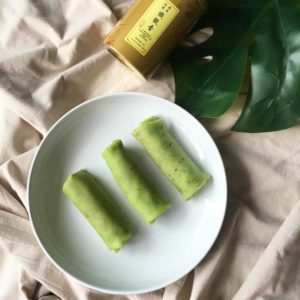 Singapore kueh dadar pandan coconut pancake recipe (Vegan)
An easy kueh dadar recipe which doesn't require you to hunt down freshly grated coconut! Also my recipe for this Perankaan kueh has no eggs so perfect for vegans!
Equipment
Pestle and mortar (or grater)

Spice grinder (or pestle and mortar)

Deep pot

Whisk

sieve

Heavy flat bottomed non-stick pan or crepe pan if you have one

A heavy pan heats up more evenly

Ladle

Kitchen towel

Parchment paper lined baking tray
Ingredients
For the filling- make sure this is cool before rolling the kuih
250

g

dessicated coconut

Soak in 75g of coconut milk to rehydrate. Alternatively if you can get fresh, use 250g of freshly grated coconut

75

g

coconut milk

Not to be confused with coconut cream. If you only have coconut cream, add water in the ratio of 2 (water): 1 (coconut cream) and whisk to make coconut milk (i.e. for 10g of coconut cream, whisk with 20g of water)

100

g

Gula Melaka (palm sugar)

I used 2 blocks. If you have the time, grate the gula melaka. If you're in a hurry, pound into chunks which should dissolve in the coconut milk/ water

⅓

Cup

water (or 79g)

A few pandan leaves, bruised and knotted (Optional)

½

teaspoon

Salt
For the pandan crepe
2

Tablespoons

flax seed powder

Alternatively, if you only have whole flax seeds, grind or pound the 2T then mix with 6T of water for 15 minutes till it forms a flax egg. If you're pounding, there may be larger bits of the flax seed that you didn't quite break down, so make sure to sieve the mixture to remove those bigger pieces.

6

Tablespoons

water

for the flax egg, as above

2½

Cups

flour (300g)

Hong Kong or all-purpose

1

Tablespoon

tapioca flour

2⅓

Cup

Pandan Juice (550ml)

100

ml

coconut milk

see above for making coconut milk from coconut cream

¼

teaspoon

salt

Neutral vegetable oil, a few tablespoons
Instructions
For the flax egg: mix the ground flax seed/ flax seed powder with the 6 tablespoons of water and leave for 15 minutes to form a flax egg. (Make sure you stir well.)

Sift the tapioca starch and wheat flour. Add the salt and mix well. Slowly mix with the pandan juice and coconut milk- do it in stages, if not the batter will be lumpy which is not good (i.e. pour ⅓ the liquid in, mix, another ⅓, mix again etc)

Add the flax egg and whisk well.

Leave to rest in the fridge for 30-60 minutes
For the filling
Add the 75g of coconut milk to the dried grated/ dessicated coconut to rehydrate it as much as possible and stir. Skip this step if you're using freshly grated coconut.

Grate, roughly chop or pound the gula melaka. Basically you want to break the block down into smaller chunks so it will dissolve into the coconut more easily later.

Add gula melaka, water, salt and pandan (knotted if using) into a pot. Bring to a boil and stir.

Once boiling remove the pandan and add the rehydrated coconut (Make sure you scrape all the coconut milk into the pot too.) Keep stirring till slightly dry. It will take a while to cook off the water so don't be lazy. People can tell when the filling is too wet and the kueh isn't as nice. Once it's at your desired consistency, turn off the heat, give it another stir, and leave to cool
Cooking the pandan wrappers
Take the batter out of the fridge and sieve it. This helps to remove any lumps in the mixture. If you think it's overkill, check above for a photo of a wrapper made with sifted flour but unsieved batter.

Turn the heat on to low-medium and heat the pan. It may take a while for the pan to heat up if the bottom is quite thick.

Pour some oil into a bowl and use a kitchen towel to oil the surface of the pan. (You don't want the crepe to stick!)

Once hot enough, use the ladle to stir the batter- it needs to be stirred before each crepe- then pour 1 ladle-full of batter into the pan. At the same time, use your other hand to swirl the pan so that the batter forms a nice thin circle. If you find this challenging, you can use your ladle to move the batter on the pan to form a circle (make sure your ladle is heat-proof.)

Let the crepe cook- it will take about 2 minutes for the first side. When the batter has changed colour and when the edges start peeling off the pan, flip it and cook the other side for 30 seconds. Put the cooked wrapper on the parchment-paper lined baking tray. If it looks like crap, don't be discouraged- the first 1 or 2 crepes are usually sacrifices to test whether the pan is hot enough etc. If they can't be used to wrap the filling, you can always dip them in this gula melaka coconut caramel sauce!

If necessary, use the kitchen paper to oil the pan again and repeat the above steps till all the batter has been used up. Don't forget to stir the batter before ladling each crepe! Place the subsequent crepes next to the previous crepe (and not on top of)- when you've run out of space, place another sheet of parchment paper on top of the bottom crepes, and start again. (If you put the crepes on top of each other they may steam, stick and tear.) (You may need to lower the heat after you've made a few crepes.)
Folding
After the wraps and filling are cooled, it's time to fold the kuehs! Place some filling in the centre of the wrap, towards the bottom, then fold the left and right edges in. Next, fold the bottom edge up- it's kind of like folding an envelope- before rolling the wrap to the top. You should get a cylindrical shaped green snack.
Notes
Don't keep these kuehs overnight, especially if you're using freshly grated coconut which goes bad super fast.
Have you tried any other Peranakan kuehs? Which are your favourites?
Some other South East Asian Nyonya recipes you may be interested in include: