Cooking with coconut water makes food even more delicious than usual, by giving it a hint of natural, subtle sweetness. For inspiration, check out this list of 21 easy coconut water recipes.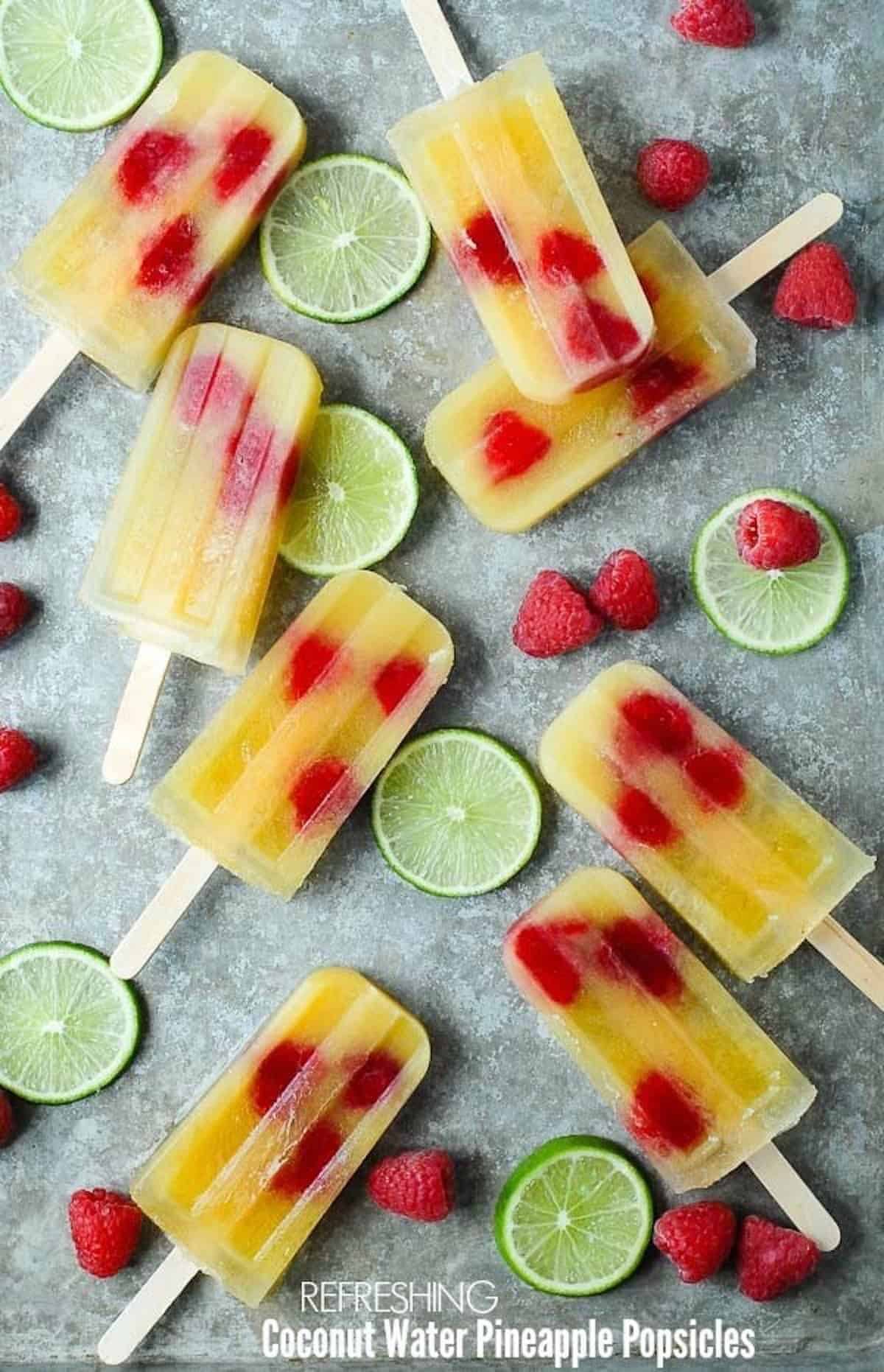 Jump to:
What is it
Coconut water, also known as buko juice, is the clear, slightly grey-ish water found inside of coconuts. A type of fruit juice, it's been a popular drink in South East Asia for centuries, but has recently entered the Western mainstream, where it was pronounced a "miracle drink."
The water of young coconuts tends to be tastier and more plentiful than that of mature coconuts, but it varies from country to country. It's also a cooling, refreshing and delicious drink, making it a popular choice in countries with tropical climates.
I've always loved coconut water, whether as a drink or when used to cook food. Before my Grandmother moved to Singapore, our family had a coconut plantation just off Ipoh in Malaysia. The coconuts would naturally fall to the ground when ripe, so when I visit, my relatives will just walk around and pick 1 up for me!
Note: coconut water is not the same as coconut milk or coconut cream. The US FDA disallows some of the marketing claims and some companies have even faced lawsuits over false advertising claims in 2012.
Why use it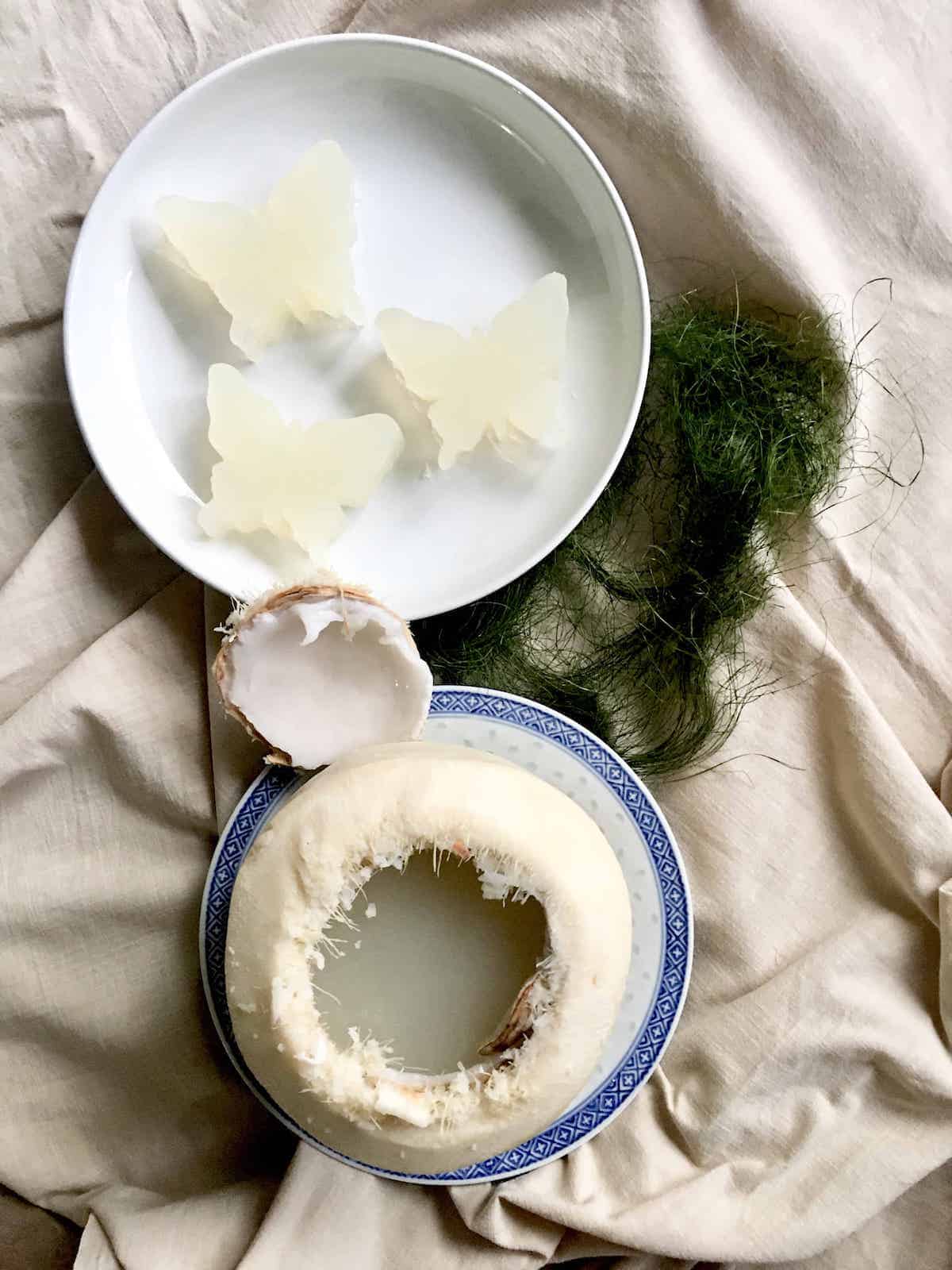 Coconut shells also make for great presentation- assuming they're better cut than mine- and you can serve anything from curry noodles to fruit salad in them.
Coconut water has a natural sweetness to it (100ml of coconut water contains 18Kcal, 0g of fat and 4.1g of sugar) and thus you can add less sugar to your food when you use it in place of plain water.
This is particularly common in Vietnamese cuisine, especially in "kho" cooking which is stewing or braising a protein (e.g. pork) till tender in sugar, water, aromatics and fish or soy sauce.
Nutrition
Moreover, coconut water has vitamin C as well as electrolytes such as potassium, sodium and manganese, which makes it popular with some people who want to rehydrate, so some take it in place of sports drinks after exercise. (People with renal failure or who are diabetic should check with their doctors before consuming large quantities of coconut water.)
Note: this is FYI only and not meant as health, medical or nutritional advice.
Fresh vs Bottled
Personally, I feel that fresh coconut water always tastes the best and some bottled versions have funky aftertastes. However, I have a friend who swears by Coco Loco, 1 of the most expensive brands of coconut water made from Thai Nam Hom coconuts which I've never tried- long story short, it varies from brand to brand and some taste better than others.
Despite my preference for fresh, I still use more packaged coconut juice because it has a much longer shelf life and I don't have to go through the trouble of hacking it.
P.S. If you're wondering which brand I use, I go for UFC coconut water as it tastes decent and isn't that expensive. If I want something better, I buy the green coconuts.
How to store
An unopened coconut can last for more than a few days, but don't forget that it may have been harvested quite early on, so the shelf life will really depend on when it was picked.
Once opened, coconuts go bad pretty quickly so I try to use them within 1-2 days. (Freshly grated coconut flesh goes bad in what can seem like mere hours sometimes!)
Where to buy
Bottled coconut water is found in most regular supermarkets these days but for fresh coconuts, you may have to check out the asian markets.
Expert Tips
Different brands of coconut water- and even fresh coconuts from different countries or species- will have varying tastes.

Some will be sweeter than others- so always taste and season accordingly.

You can pretty much use coconut water to replace tap water in almost all your recipes, in a 1:1 ratio. 
There are coconut corers these days, which could help you access the liquid without having to hack the top off. I

've never tried 1 myself though, as you won't be able to get to the coconut meat if you don't slice the top off, which seems a waste.
Anyway, now that we've gone over the basics, here are some easy recipes that use coconut water for you:
Soups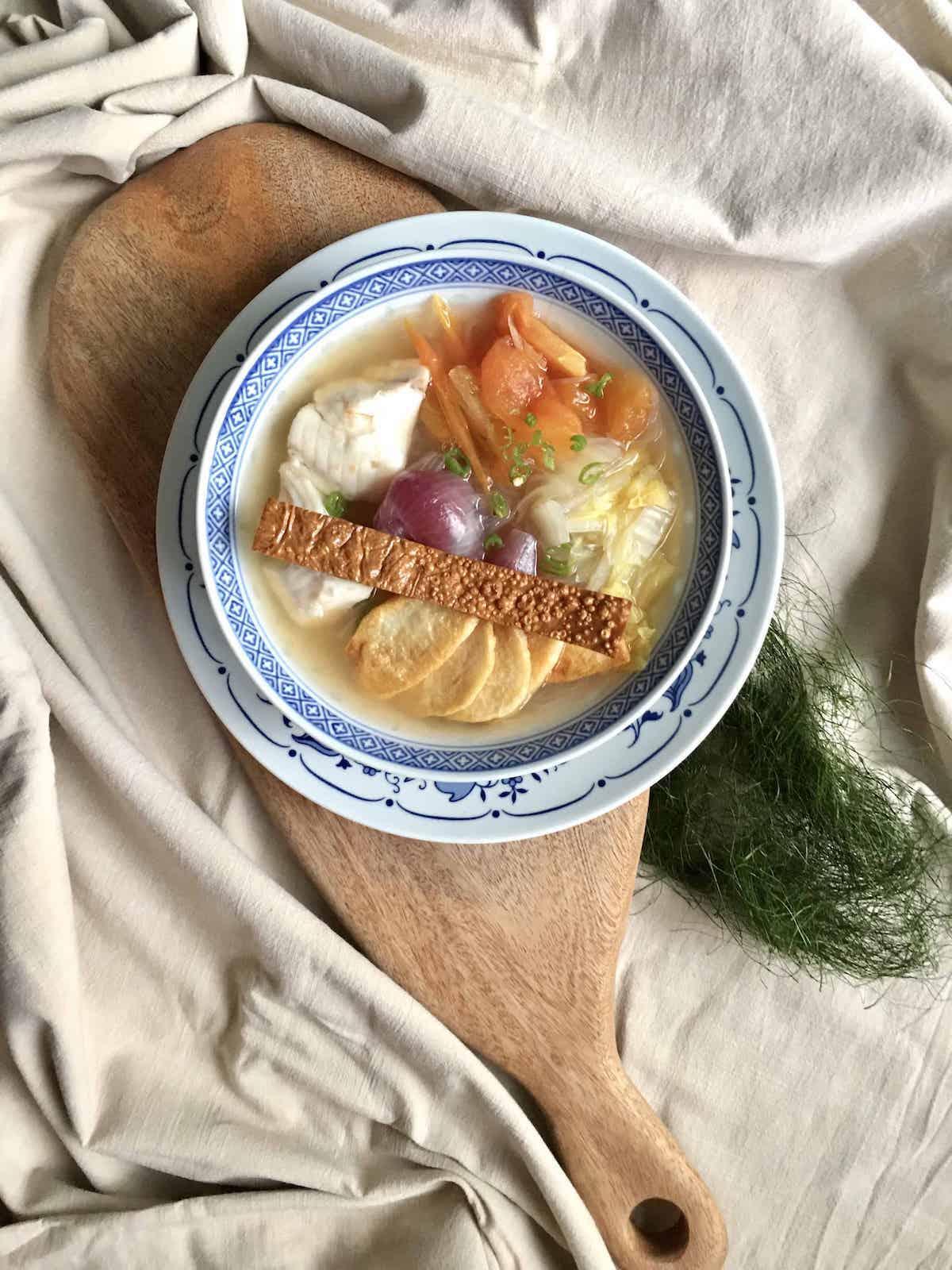 Coconut, ginger and chicken soup
EASY Lemongrass Soup (25 min)
A light but warming lemongrass soup, or coconut water chicken soup, that makes one feel warm and cozy in fall and winter. No sugar needed thanks to the natural sweetness of the young coconut. Plus, it's on the table in under 30 minutes, so perfect for a quick weeknight dinner!
Click here for the ginger chicken soup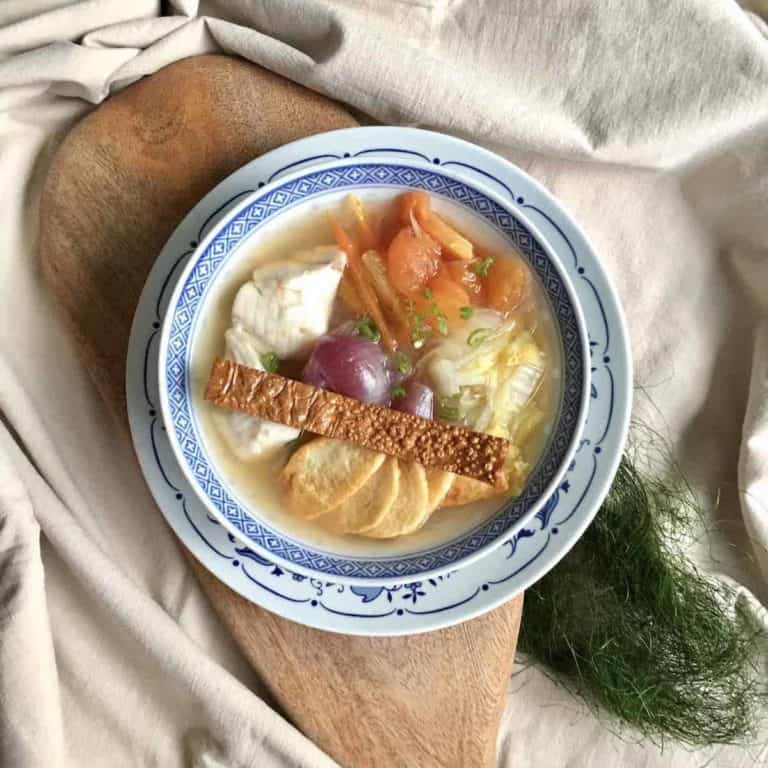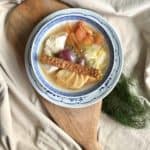 Chinese silkie chicken soup
The recipe uses regular water, but Chinese people often cook their chicken in coconut water, so feel free to switch around.
For more Chinese chicken recipes, click here.
Easy Chinese Black Chicken Soup (Silkie Chicken)
This easy Chinese Black Chicken Soup, also known as Silkie Chicken, is a traditional Chinese soup recipe that is delicious, nutritious AND only calls for 5 ingredients! I've made this Black Chicken soup recipe non-herbal, as many younger Asians find it hard to accept the strong flavours of herbal soup, but it's still very good for you!
Click here for the healthy soup recipe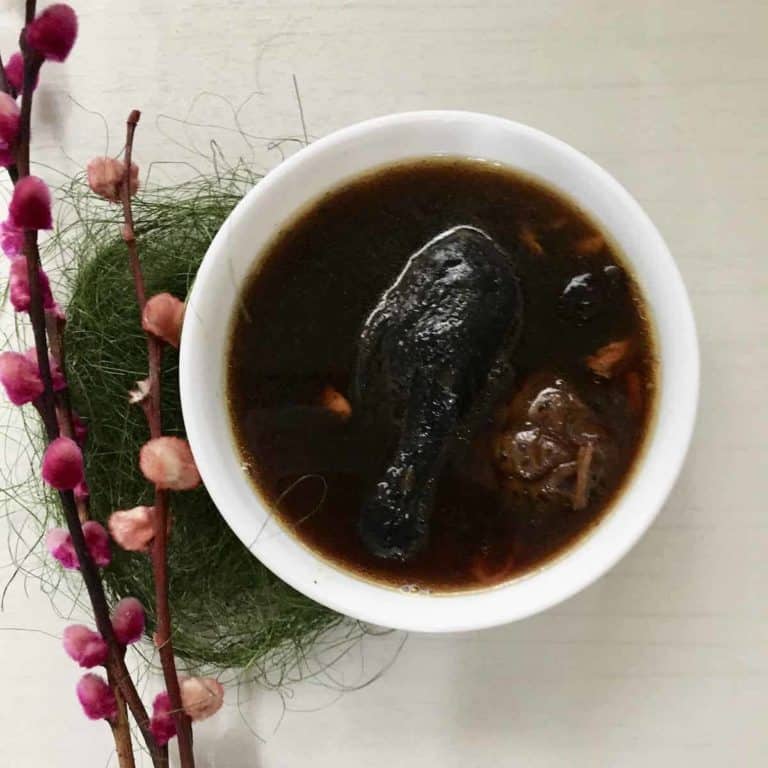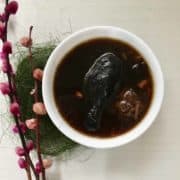 Meat
Thịt kho trứng (Vietnamese braised pork)
This braised pork dish is 1 of my favourite Vietnamese dishes and popular during Tết, the Vietnamese Lunar New Year festival. It goes really well with a bowl of fluffy rice, as down the tau yew bak recipe below.
Singapore soy braised pork
Tau yew bak is the Singaporean version of Thit Kho and it's often eaten with the local chilli paste (sambal belacan)- replace the water in the recipe with coconut water to give this family favourite recipe a delicious twist! For more Chinese pork recipes, click here.
Note: here are some substitutes for dark soy sauce if you don't keep it in your pantry.
Tau Yew Bak (Braised Pork in Soy Sauce)
A super easy recipe to make for a weekday dinner after work, this braised pork dish is a delicious comfort food that doesn't require much prep time.
Click here for the braised pork recipe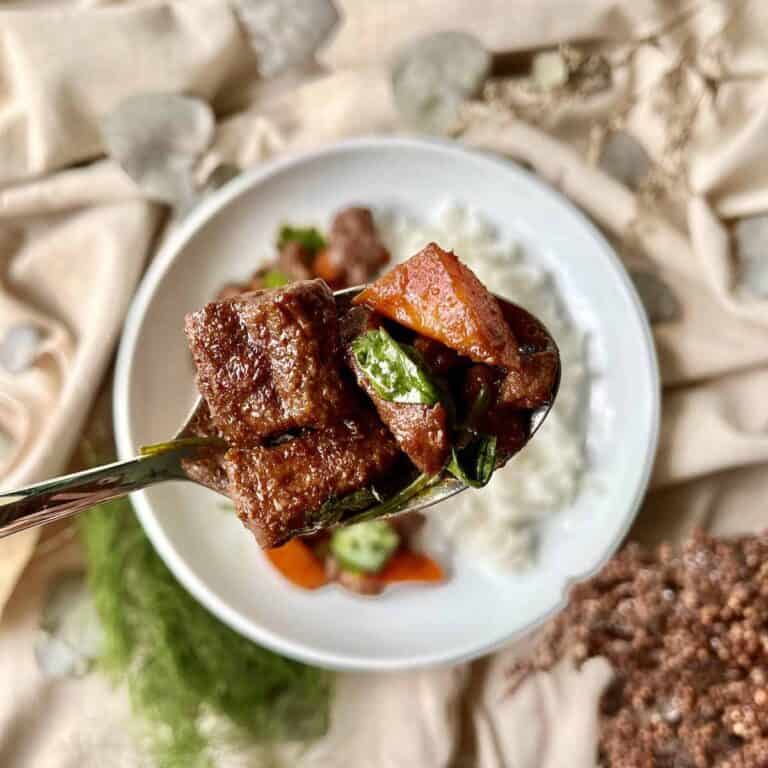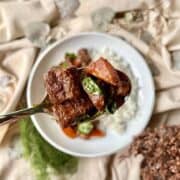 Poached chicken
Instead of poaching chicken in water, simply replace with coconut water (everything else follows the original poaching process.) Once the chicken is cooked, strain the liquid and you can use it as a simple chicken stock.
Seafood
Vietnamese poached prawns (tôm hấp dừa)
This is 1 of the simplest recipes ever, as you simply poach prawns in coconut water. Traditionally live prawns were used, but taking pity on the home cook (and prawns!), you can just use your regular shrimp. Simply bring the lightly salted coconut water to a boil, add the prawns and poach till cooked- about 5 minutes but this will, of course, vary depending on the size of the prawns!
Nuoc cham (Vietnamese dipping sauce)
You can eat the prawns with nuoc Cham dipping sauce, or use them in other recipes, such as Vietnamese spring rolls. To use less refined sugar in your sauce, use coconut water instead of regular water.
Asian-inspired Mussels
Similarly, mussels taste fantastic when cooked in coconut water, ginger, chillies, lemongrass and fish sauce. Add a tomato or two if you want to add more sweetness to the broth.
Rice & Noodles
Nasi Lemak
For a lighter and healthier version of nasi lemak, replace some of the coconut milk with coconut water when cooking the rice - don't switch it out 100% percent, if you want something that still tastes like the original dish, as you'll need some of the fat to create the right texture for the coconut rice. (If you cook the rice in pure coconut water, you get coconut water rice , which is light, fluffy, a little sweet and tasty.)
Note: Similarly, you can use coconut water to reduce the amount of coconut milk or coconut cream used in curries such as this Assam fish recipe.
Mee Siam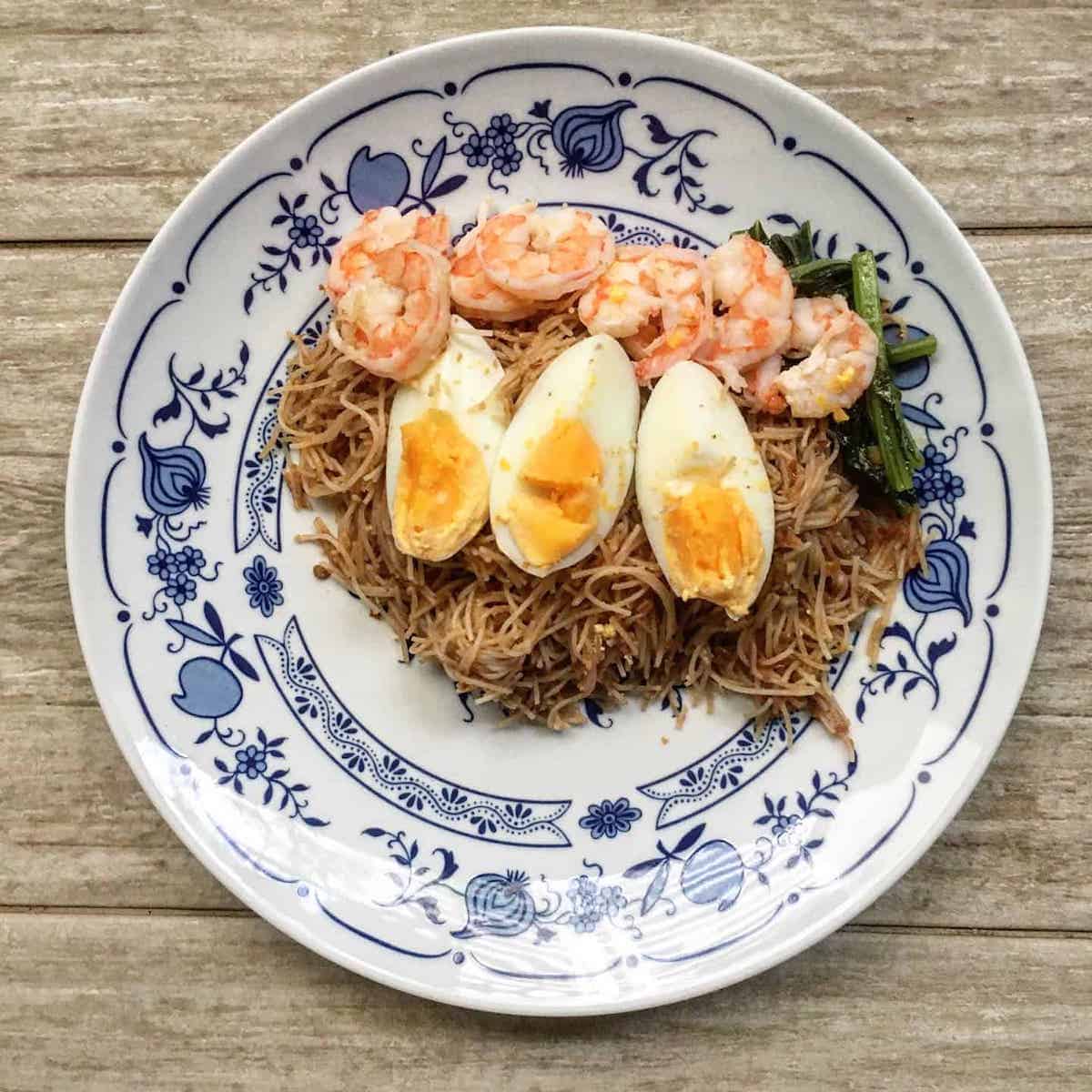 You can also use coconut water when making Mee Siam kuah- if you're thinking this would be a weird combination, there actually is a version of Mee Siam that uses coconut milk (it seems to have disappeared from the Singapore street food scene in recent years) so the resulting dish will be slightly similar to that.
Singapore Mee Siam Recipe (with Soup)
This Singapore Mee Siam Recipe (with Soup) is sweet, spicy, tangy and altogether delicious! No wonder it is such a popular noodle dish in Singapore and Malaysia!
Click here for the Singaporean noodle recipe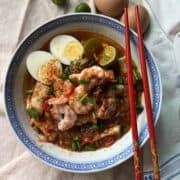 Laksa
Although laksa is 1 of the most beloved local dishes in Singapore, a common complaint is that the soup can be too heavy (jelat, in the local lingo) due to the coconut milk used. I like to thin out the broth with some refreshing coconut water, which keeps the flavour but also makes sure it is nice and light.
Drinks
Chocolate smoothie
Coconut water, cherry & chocolate beverage
This 3-ingredient drink, or Black Forest Cake in a cup, is an unusual combination of ingredients, but as it has 4.78 stars, I figure they work together!
Click here for the chocolate smoothie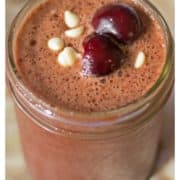 Pandan tea
Simmer pandan leaves in coconut water to get a modern version of pandan tea- if you have a sweet tooth, add a pinch of Gula Melaka as these 3 flavours go together particularly well.
Daiquiri
Coconut water cocktail (5-ingredients)
This Coconut Daiquiri merges the subtly sweet and tropical flavor of coconut with tangy and fresh citrus for a super refreshing sip.
Click here for the cocktail recipe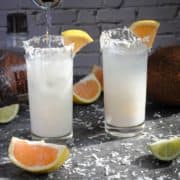 Aloe vera drink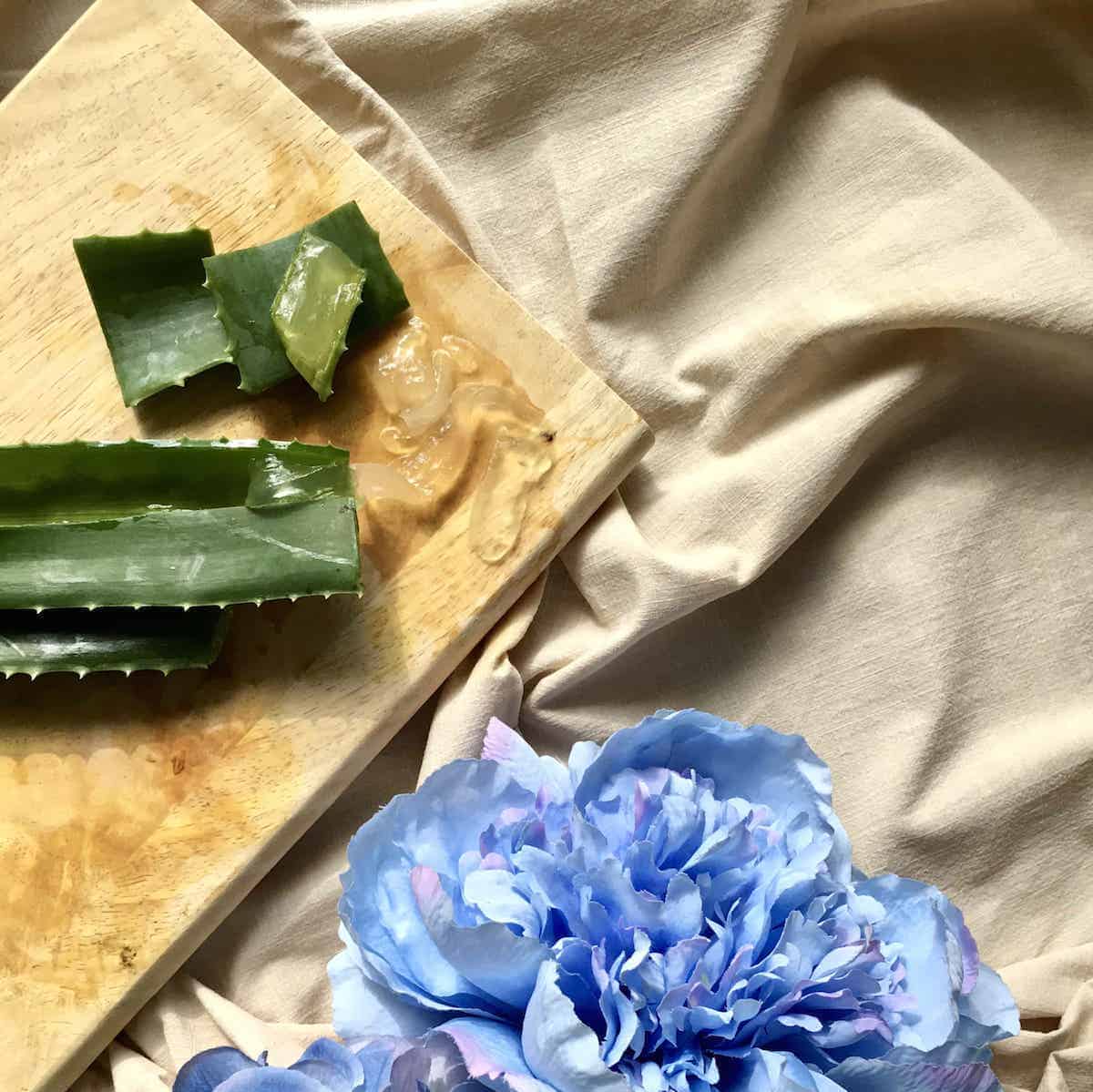 Mix coconut water with ice and cubes of aloe vera for a filling, healthy and refreshing drink on a hot day.
Iced Coffee
Some people like to add coconut water to their coffee, for a boost of sweetness.
Detox drink
Green smoothie
This Easy Detox Smoothie is filled with ingredients to boost immunity, promote healthy digestion, and keep you hydrated. (The original recipe uses coconut milk but coconut water is also suggested as a subsitute.)
Click here for the smoothie recipe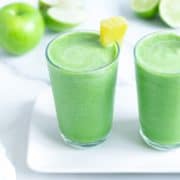 Summer Drink
Squeeze a Calamansi Lime into your cup of coconut water to give it a nice tang. (Substitute: fresh lemon juice)
Sweet treats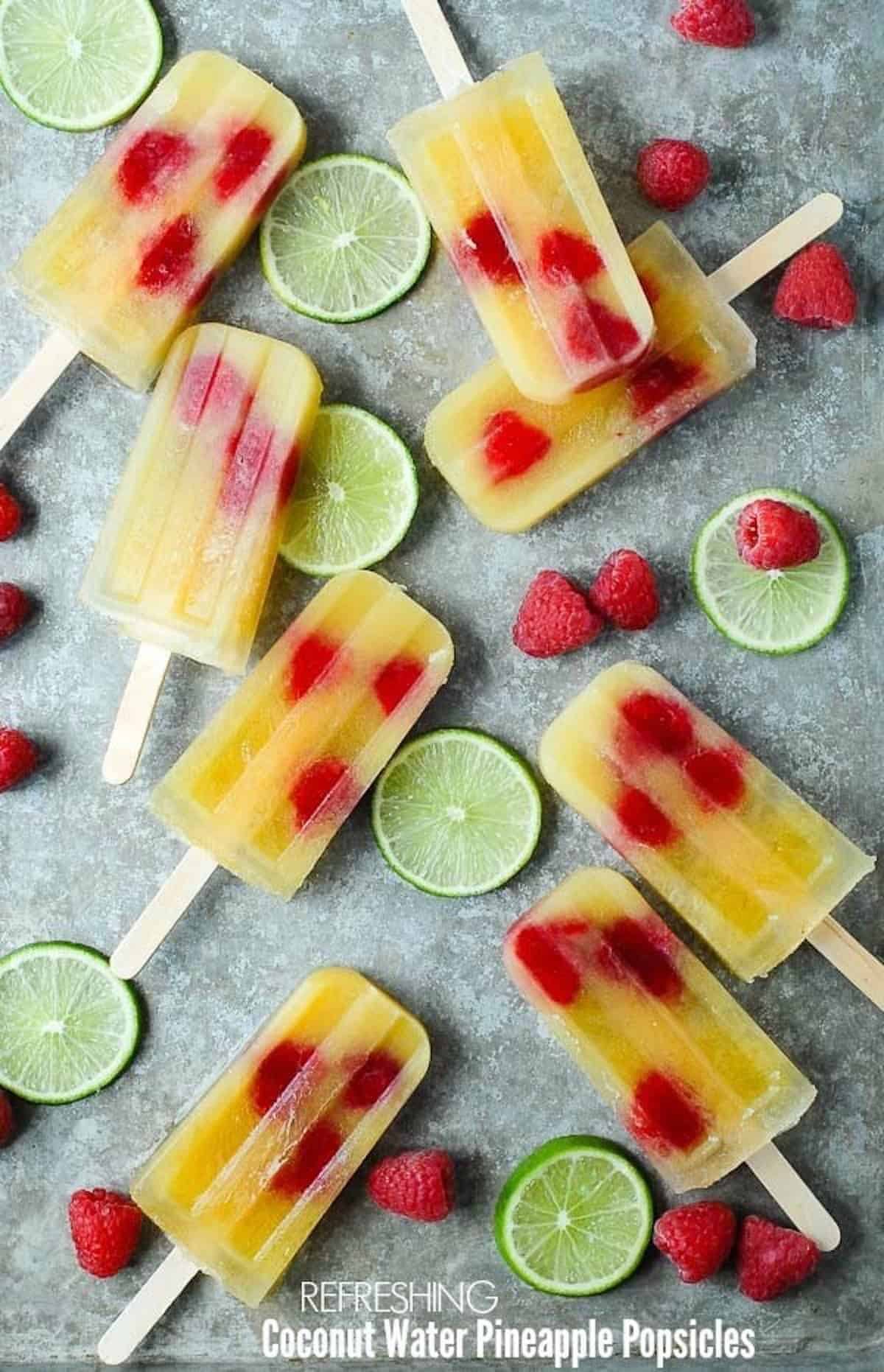 Fruit popsicles
Coconut water & pineapple ices
Light and refreshing popsicles to quench summer's heat. Unlike traditional 100% juice popsicles the use of coconut water adds light flavor and thirst quenching effects.
Click here for the ice pop recipe
Chinese Bird's nest soup
If you don't know what to do with the rest of your goji berries, here is a list of dried goji berry recipes.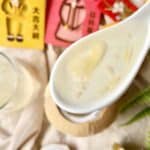 Agar Jelly
Put some cubes of fresh fruit in the jelly to add a burst of colour.
This no sugar jelly is a healthy dessert- put some cubes of fresh fruit in it to add a burst of colour, like in this Japanese jelly & fruit salad.
For more Asian jelly recipes, click this link.
No sugar agar agar
Coconut water gives this jelly sweetness and freshness and the fibre helps to fill you up, making it great for those who want to eat more healthily.
Click here for the jelly recipe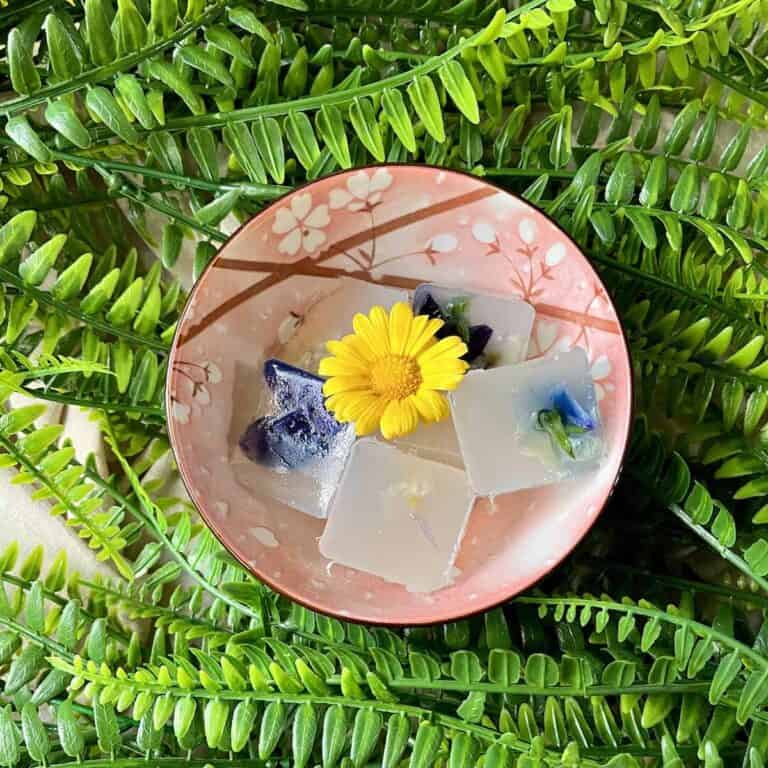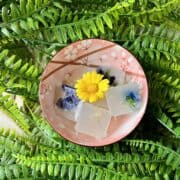 Which of these easy coconut water recipes is your favourite? If you've always cooked with coconut water, I'd love to hear how you use it!