Lemongrass is amazingly easy to grow, so you usually end up with more than you need: here are nearly 40 tasty Asian lemongrass recipes to help you use up any excess you may have. Recipes that are easy enough for busy weeknight dinners!
Jump to:
What is lemongrass?
Lemongrass, also known as serai in Malay, is a common herb traditionally used in many South East Asian cuisines (it is native to the region), especially Thai and Vietnamese food.
It has citrus notes that help uplift dishes, giving them a tangy and aromatic taste that can't quite be replicated with lemon or lime, although some find the flavor similar to that of lemon juice. Lemongrass is commonly mixed with soy sauce, lime juice, coconut milk, brown sugar, ginger and/or kaffir lime leaf (among other Asian herbs and sauces) to create a delicious, tangy flavor in Asian Recipes.
Trivia: lemongrass is even used in beekeeping to attract bees!
How to regrow
I like to store my lemongrass in a bottle of water instead of in a fridge- the stalk will keep growing longer, roots will appear and there herb won't go bad. Makes a great table display too! (Make sure you change the water regularly, or it will rot.)
When you want to cook with it, just cut off 1-2 inches above the root end, then plant the root end in soil (or place it back in water) and it will grow you a new stalk.
If you're more detail-oriented and feel like you need more information than I've given you, here are some tips on growing lemongrass, complete with video and all.
If, like me, you're keen to grow your own food, here are recipes which use easy to grow at home garden produce, such as curry leaf and kaffir lime leaf.
How to store
You can keep lemongrass in the fridge, where it stays good for quite a while (a few weeks). Alternatively, it also freezes well- you can even use a food processor to make it into lemongrass paste before freezing. The more adventurous can also dehydrate it but that is my least favourite way to preserve lemongrass! (Gas bills)
How to cook
Lemongrass is a very fibrous plant, so we typically only use the tender inner stem- the white part- in Asian cooking. Don't discard the tough outer layers of the stalk though- they can be added to soups, tempered in oil or used to make tea!
A great example of how to use the leftover husks is this lemongrass recipe from the Guardian- waste not, want not. (For more ideas on how to reuse kitchen scraps in cooking, click here.)
If adding the entire stalk to your cooking (for example to curries, stews or soups), first bash the lemongrass with the back of a knife or a rolling pin to help release its aroma. After you've finished cooking, you can then remove and toss it (it is too tough to chew as it is).
Note: If can't get fresh lemongrass, there are also the paste, dried and powdered versions, but they aren't quite as fragrant.
Where to buy
In Asia, lemongrass is widely available at any grocery store and this is becoming the case in the UK and US as well (usually it is sold in the dried version though). If you can't find the herb at your local store, check out the closest asian market or order online.
Soups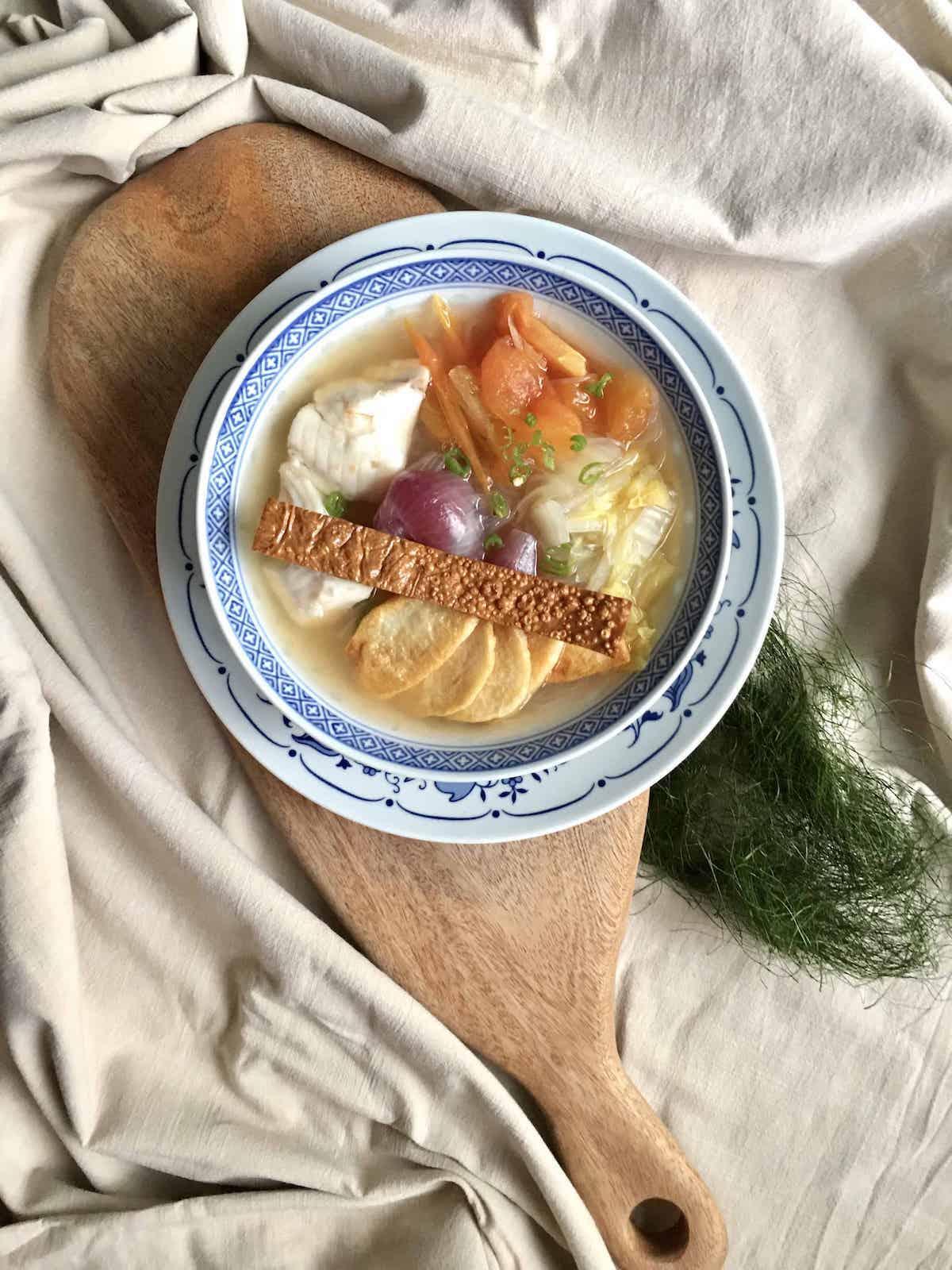 Lemongrass and chicken broth are a match made in heaven. This fragrant lemongrass ginger chicken soup is wonderfully aromatic and naturally sweet thanks to the use of coconut water- whilst it's nice to have fresh coconuts on hand, I usually use packet coconut water as I always have some in my pantry.
If you're using water from an actual coconut, don't toss the shell away- it makes for a fun way to serve this soup or to shape jellies! If you like jazzing up your food presentation, here is another dessert recipe that uses coconut water and can be served in a coconut shell. (I usually use packaged coconut water though.)
Lemongrass is also a key ingredient in the Thai spicy soup, tom yum goong (as well as galangal and Kaffir Lime Leaves) but as that is such a classic dish, I figure everyone already has a go to easy recipe of their own and have not included 1 here.
Chicken
If you don't happen to have fresh lemongrass stalks on hand, another delicious South East Asian chicken recipe is sticky fish sauce chicken wings. There are also more Asian chicken recipes here.
Tip: if having Asian friends over for a meal, avoid serving chicken breasts . We usually find it dry and prefer the fatter, more flavourful dark thigh meat.
Roast chicken isn't the first thing that comes to mind when I think of Thai cuisine, but I love the flavours in this recipe. My Dad actually spent over 20 years in Thailand so I've been there many, many, many times (but never had Thai roast chicken, that was made in the oven at least!).
Tip: 1 thing I look out for in Thai recipes is the use of coriander root- coriander root is integral to Thai cooking so you know the flavour should be authentic when you see that it's used!
If you have made too much of this lemongrass chicken, why not shred the excess and serve with rice noodles or jasmine rice the next day?
Note: the chicken is roasted in the oven, and after baking so much- someone ordered over 20 jars of my Chinese peanut cookies!- I've realised how important it is for the oven to be at the right height (counter-level) so that you can easily keep an eye on what's inside. For more tips that I've shared after redesigning my kitchen from scratch, click here.
Pork
Beef & Lamb
Seafood
Many lemongrass recipes are curries as they add citrus notes to lift up the heavy coconut flavour.
Noodles & Rice
Sauce
First time I read about Vietnamese Sa Te Sauce, I thought it would be similar to Singaporean Satay sauce, but it's actually very different. For one, this Vietnamese lemongrass sauce doesn't contain peanuts!
If anything, it's really more like a sambal- it's extremely fragrant and brings a real depth to your food! I wonder how it would taste if used to replace sambal in sambal mayo? Will try and update!
Vegetarian & Vegan
I'm always trying to include more vegetables in my diet but I'll be honest, it can be hard. If you need some veggie inspiration, here are some vegan Asian recipe ideas for you!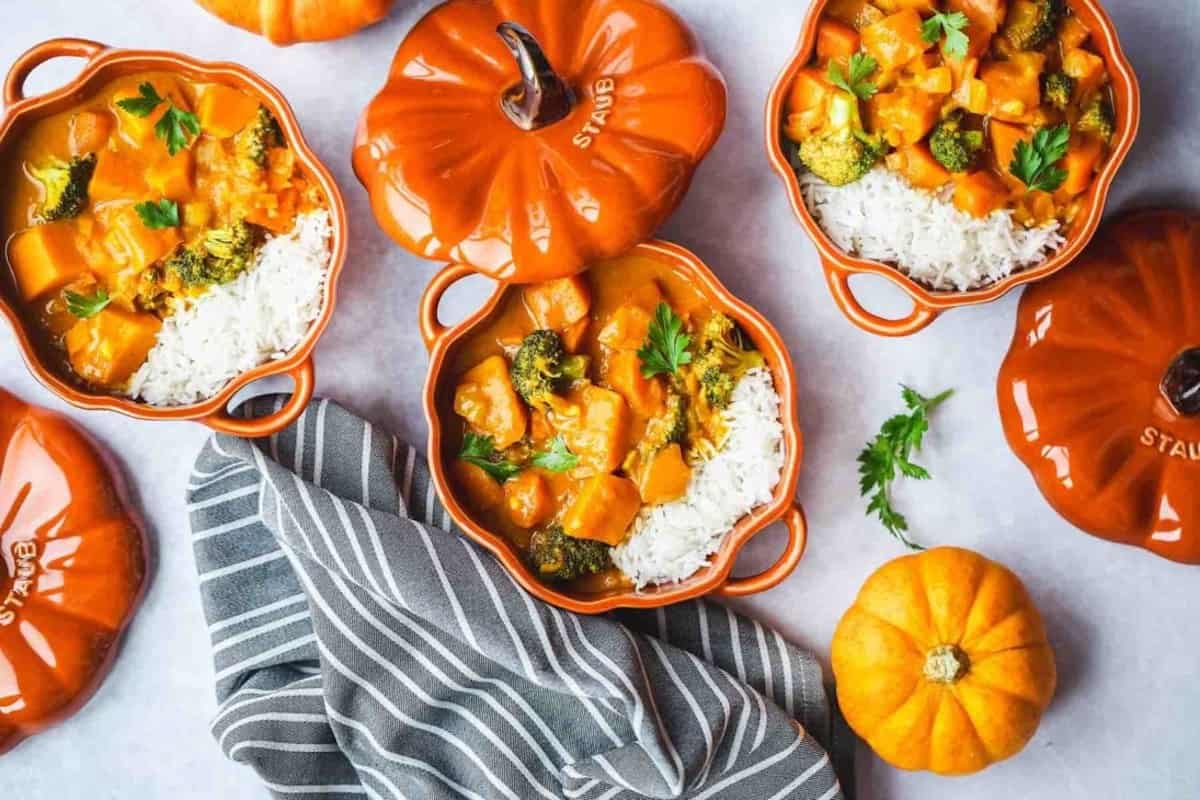 Dessert, drinks & cocktails
Boiling lemongrass and ginger makes for a caffeine-free tea which helps to warm up the body. Add some honey or red dates (the red dates should be boiled with the lemongrass and ginger) if you like your tea sweet, and remember that the longer you boil the ginger, the spicier the drink will be! For other Asian drink ideas, do check out this page.
What are some of your favourite Asian lemongrass recipes? Do tag me on social media or leave a comment below if you try any of these! Before you leave, you may also be interested in these dishes: