Instead of chicken pot pie, why not try these easy Asian Leftover Roast Chicken or Turkey Recipes. They all use up leftover rotisserie chicken, making a delicious meal perfect for busy weeknights!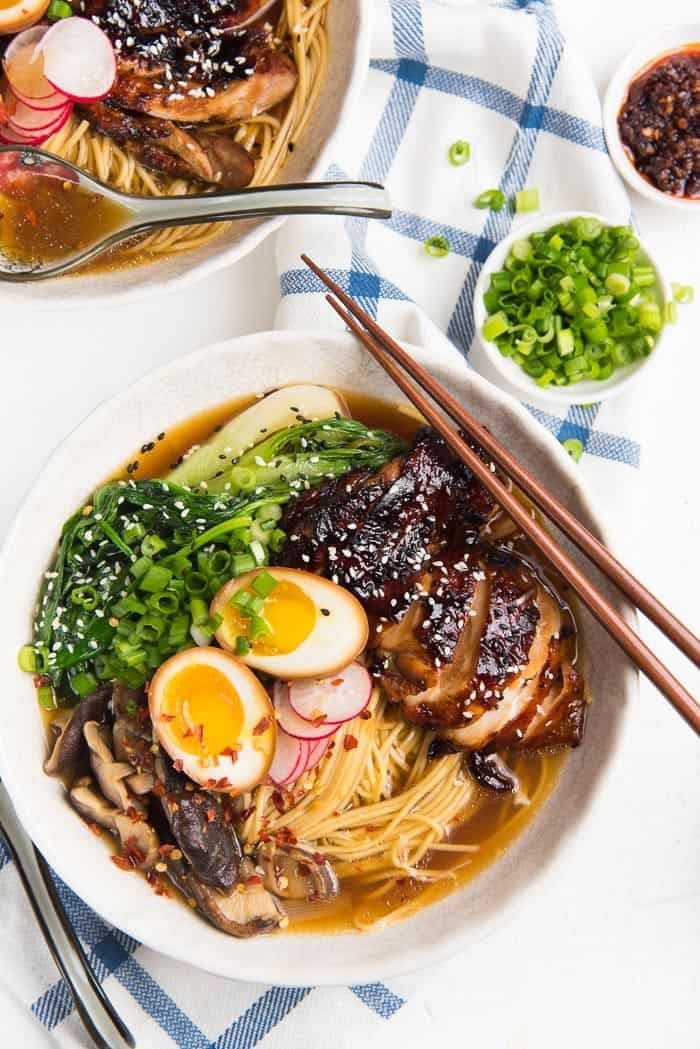 Jump to:
Growing up in my I-lived-through-the-Japanese-occupation Grandma's house meant that the 1st rule I was taught is to Never Waste Food (or you'll be sent down to the 12th level of Hell, where you'll be pounded with the other food wasters.)
OK, that's an exaggeration- we were Chinese Christians so I wasn't taught about Chinese myths and legends- but my Grandma did take food waste very seriously. So, whenever I make roast whole chicken, I scrape off the leftover meat to cook with, and use the bones to make stock.
For years, being thrifty was deemed uncool - you'd be considered an "Aunty", which is NOT a compliment in Asian culture- but it seems like people are finally learning that it's important not to waste food. (I even have a cookbook by a 3-star Michelin chef all about the topic: Bread is Gold by Massimo Bottura!)
Anyway, back to the subject on hand. Here are 11 easy recipes, Asian-inspired, which include leftover roast chicken or turkey- just in time to use up Thanksgiving or Christmas leftovers!
🐓 Uncooked Meat vs Leftovers
Sometimes when you ask for recipes to use up leftover chicken or turkey, what you get is actually a collection of recipes that have uncooked meat as an ingredient.
However, the cooking times for uncooked chicken and turkey are totally different from cooked ones (where you may just need to cook it long enough to heat it up)!
I've checked all these shredded chicken recipes to make sure they actually do use leftover cooked meat or, at least, can be made with leftovers without affecting the taste of the dish.
👩 Expert Tips
Tip #1: Try to save the dark meat instead of chicken breast- the former has more fat so is less likely to dry out when cooked a 2nd time compared to the latter!
Tip #2: if all you have left is the white meat, make sure to pair it with a rich and creamy sauce or soup to make it juicier.
💬 FAQs
How long can a rotisserie chicken be kept for?
Properly stored in an airtight container in the fridge (below 40F), you can keep the chicken for 2-4 days. Make sure not to leave it at room temperature for more than 2 hours to avoid food-borne illness! If storing as a whole chicken, wrap it well in cling film or aluminium wrap before refrigerating.
How long can turkey be kept for?
The U.S. Department of Health & Human Services recommends finishing turkey within 3-4 days (so Monday if it's your leftover Thanksgiving turkey!) If not, you can freeze the meat for a few months. To keep the leftover meat moist, add some gravy or chicken stock and butter to the meat before sealing in an airtight container.
🥗 Salads
Macaroni and Chicken Salad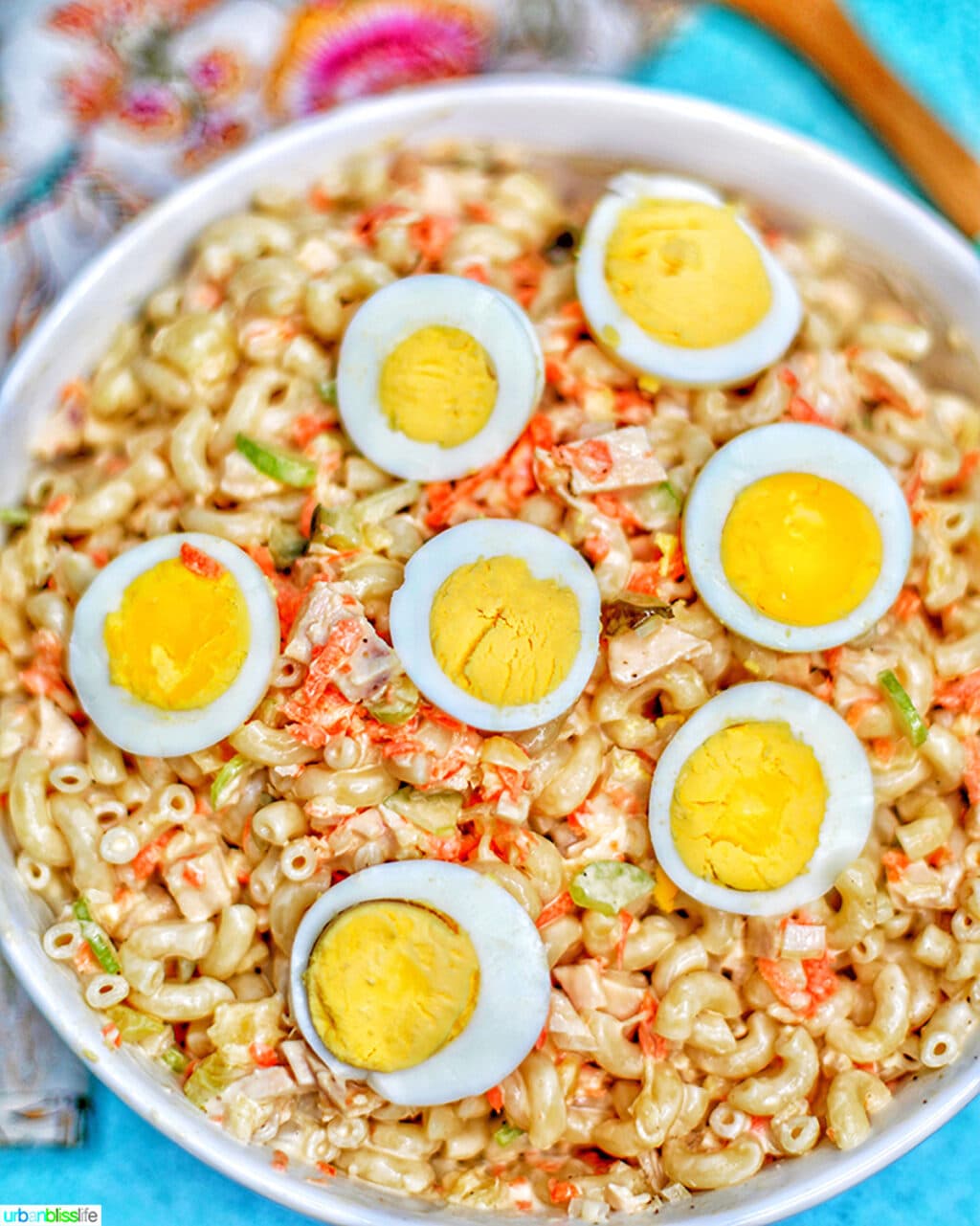 Filipino Marcaroni Salad - a Christmas favourite!
Filipino Marcaroni Salad is very popular in Philippines and a staple at the Christmas table. In fact, it's so beloved, our helper has asked for this dish to be made on Christmas day (in Singapore, we're lucky enough to have helpers, usually from countries such as Philippines, Indonesia, Myanmar and Sri Lanka.) However, I must say I much prefer this UrbanBlisslife version to my helper's (as the latter is very, very, very unhealthy calling for 250ml of condensed milk, 250g of cheddar cheese AND 250g of mayonnaise!!!) Instead of specially buying a rotisserie chicken, you can use your roast chicken leftovers in this dish!
Click here for the creamy leftover roast chicken macaroni dish.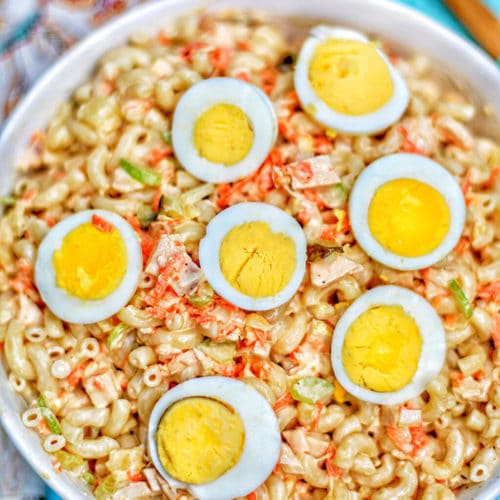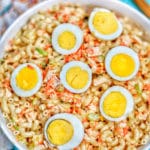 Sesame and Avocado Salad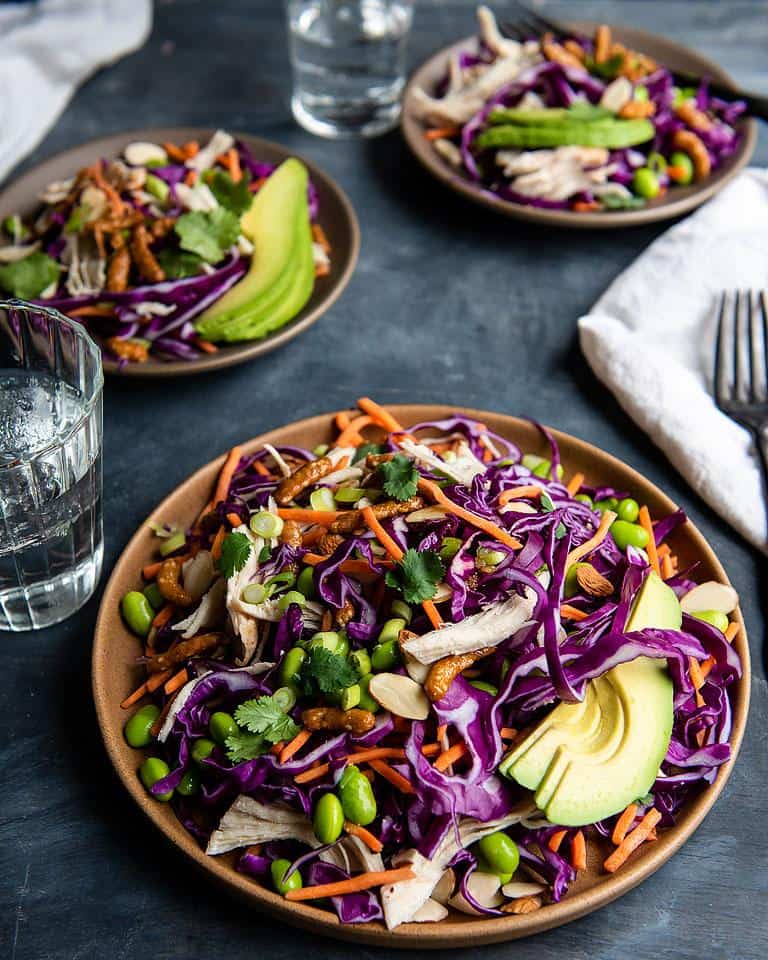 This Asian rotisserie chicken salad recipe is great for days when you want a flavorful but not creamy sauce.
Asian-inspired leftover chicken or turkey salad with sesame and avocado
Leftover chicken and turkey is made for salads, so you're gonna find a couple of Asian-inspired salads on this list, such as this Xoxobella one. I've checked them all out, so they're all different (but all tasty!)
Click here for the Asian roast meat salad recipe.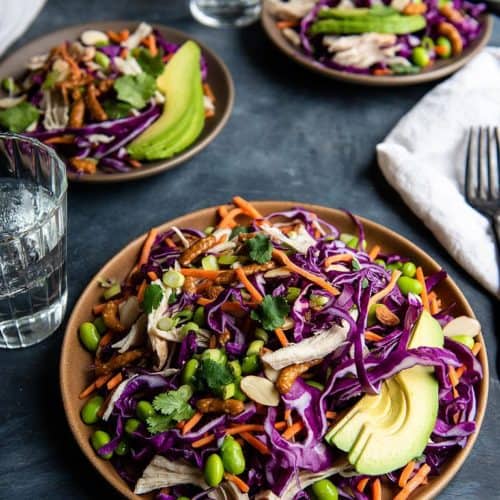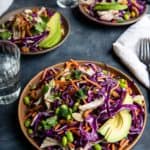 Vietnamese Chicken Salad
For a flavourful but light and crunchy salad, try this Vietnamese-inspired recipe which is made with Nuoc Cham sauce.
Chinese-inspired Salad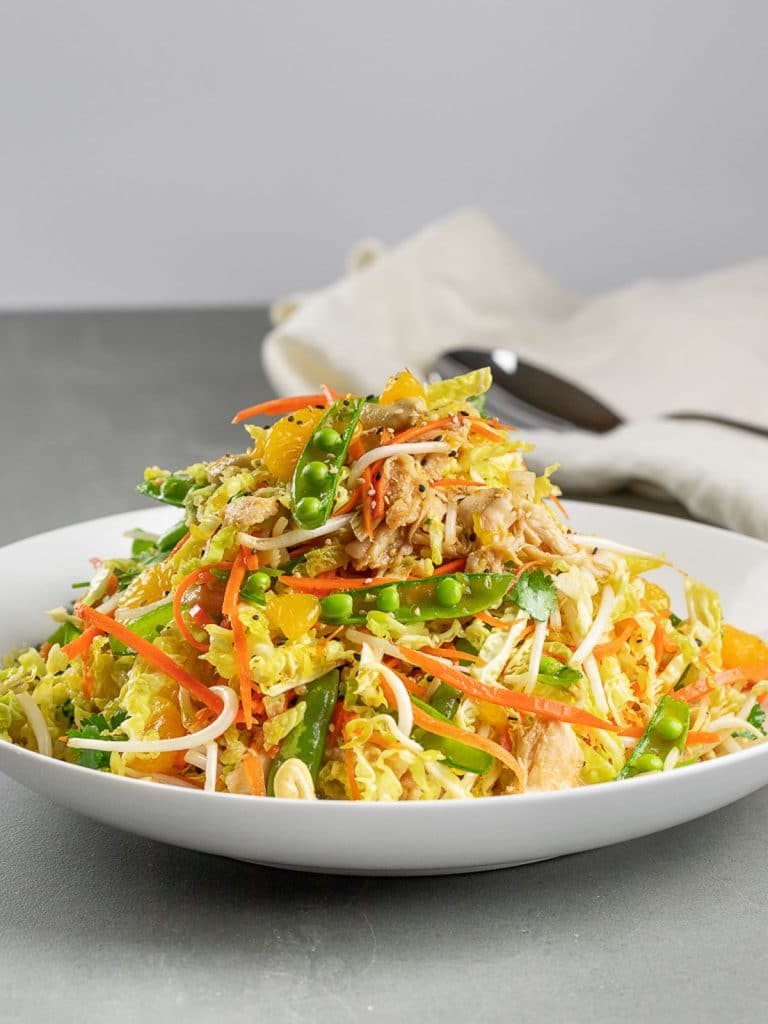 Chinese-inspired leftover chicken salad
Another Drivemehungry recipe written specifically for leftover chicken (or turkey!) - when I asked for leftover chicken contributions, a lot of people sent it recipes that used raw chicken, which I didn't include in this round-up, as substituting leftover chicken (cooked) with raw can result in stringy, tough and overcooked meat!
Click here for the easy leftover rotisserie chicken salad recipe.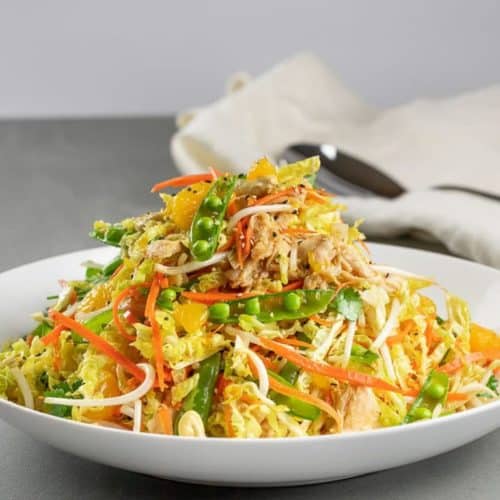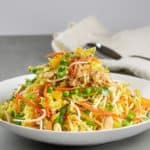 Curry Chicken Salad
If your leftover meat is mostly chicken breast, try this curried creamy chicken salad, as the sauce will balance out the dryness of the meat!
🍳 Sides
Veggie Stir-fry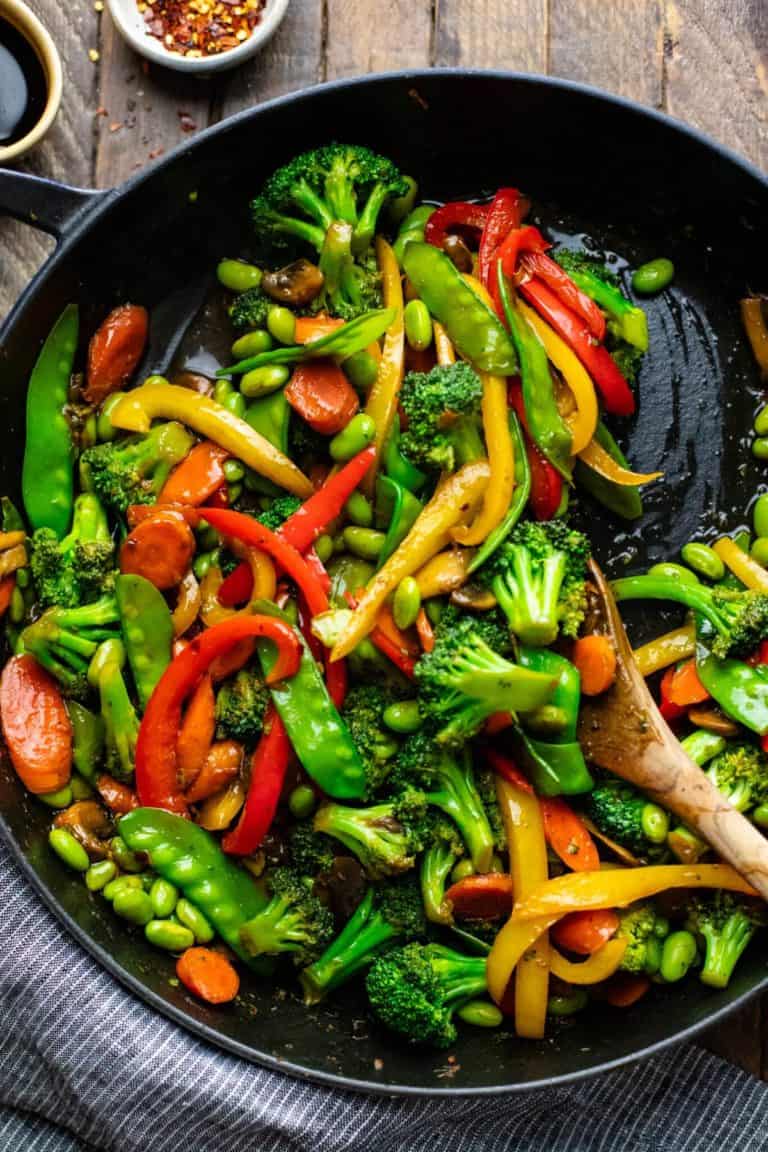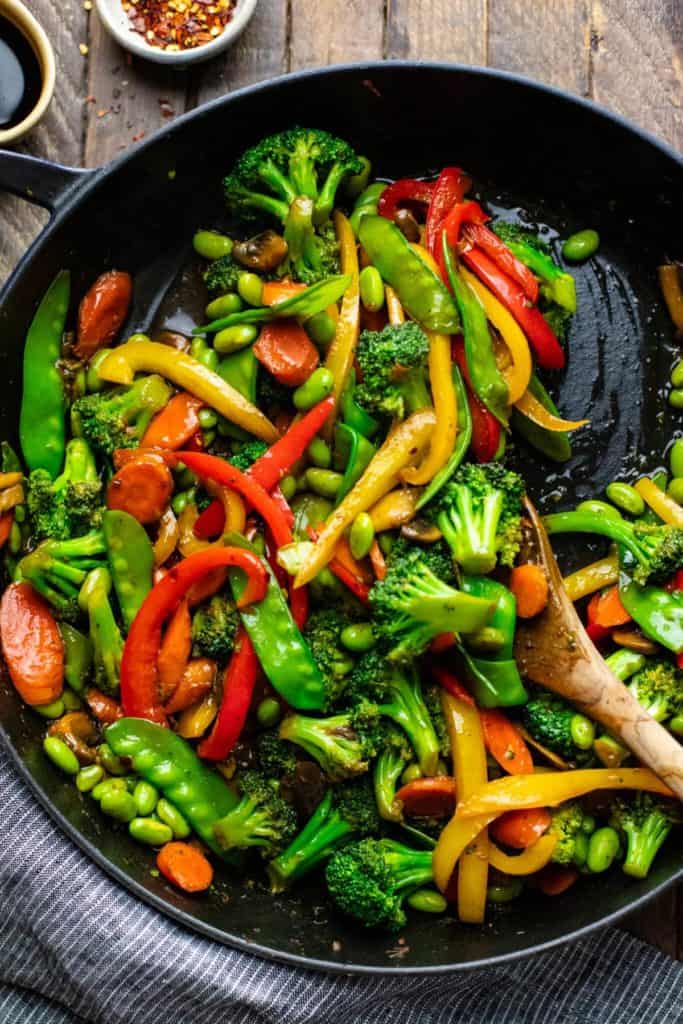 30 minute vegetable stir fry
The recipe is for a veggie stir-fry, but the author has thoughtfully suggested ways to bulk up the dish, by adding protein such as tofu or cooked chicken.
Click here for the stir fry veggie recipe.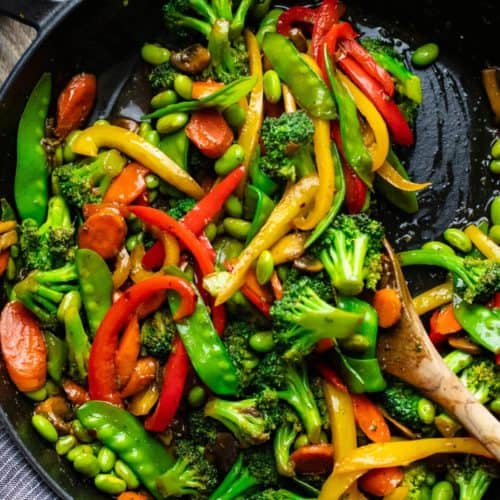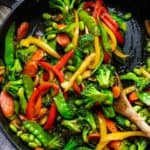 Chicken Soup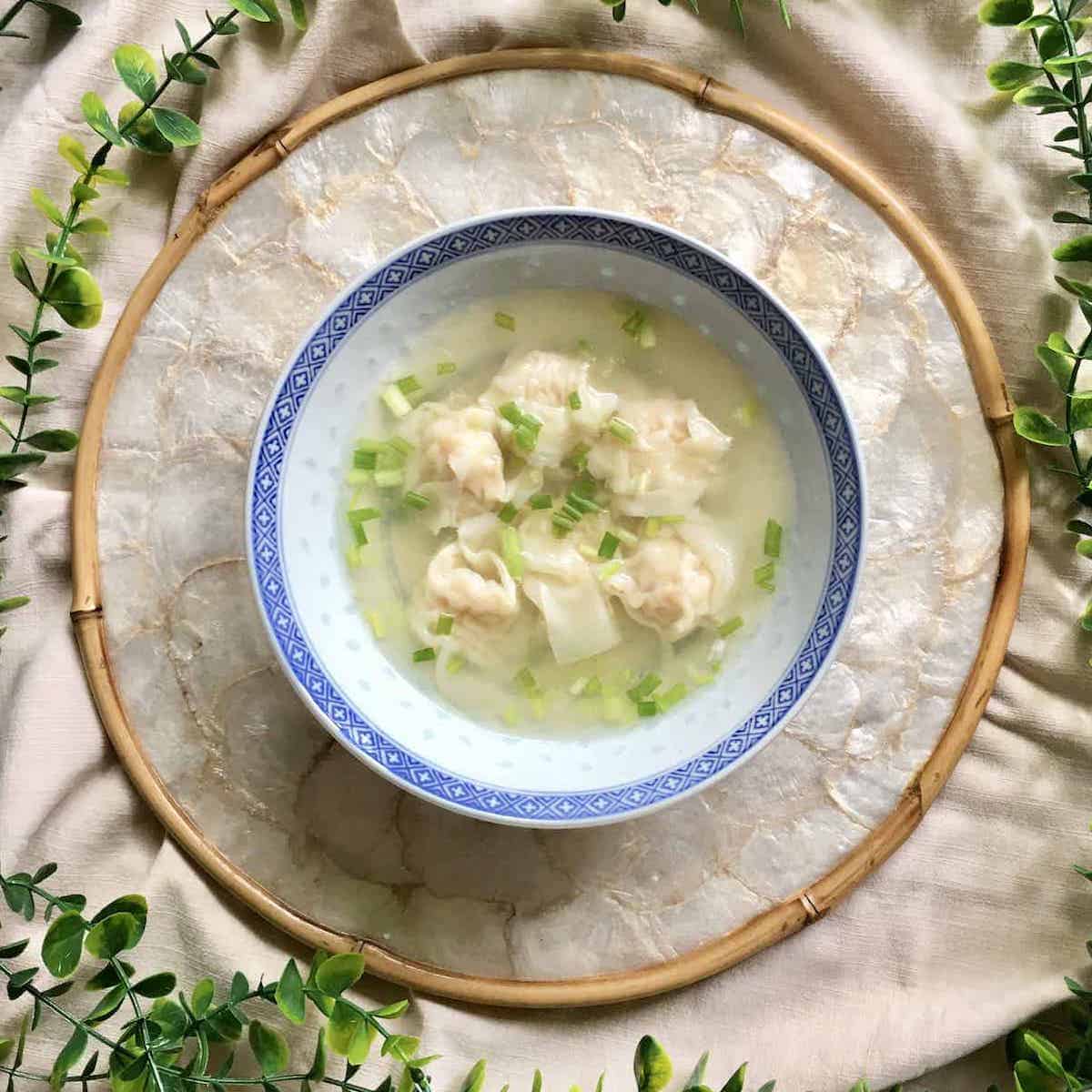 You can also heat the leftover rotisserie chicken or leftover turkey in chicken broth to make a nourishing and warming soup for a quick meal in winter or fall. Alternatively, use either of the following soup recipes as a base!
Tip: Add red onion to the soup base for sweetness!
Chinese Coconut water chicken soup with lemongrass & ginger recipe
A light but warming chicken soup that makes one feel better when sick or when it's raining. No sugar necessary thanks to the natural sweetness of the young coconut.
Click here for the coconut chicken soup recipe.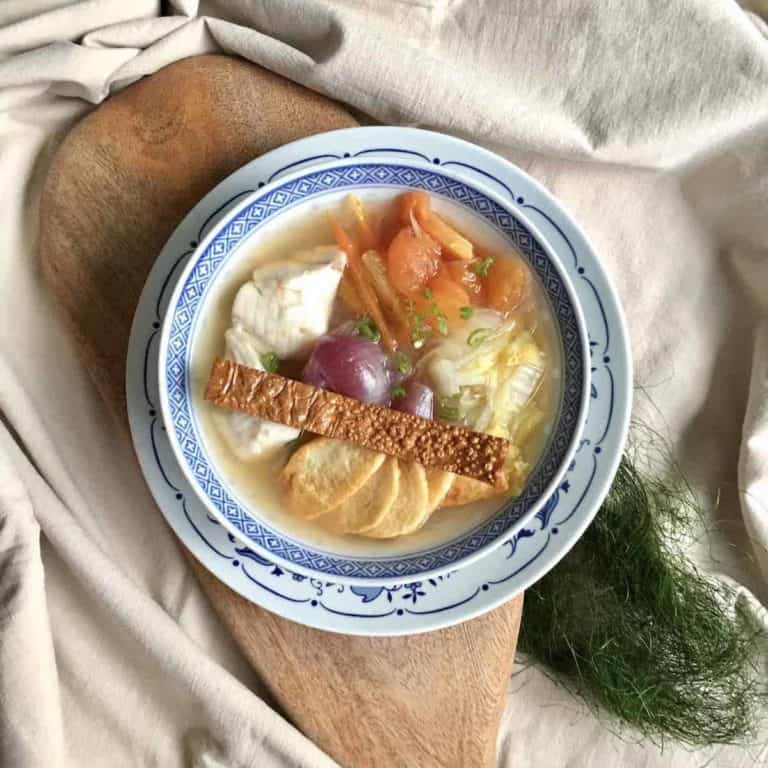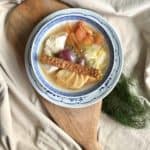 Easy Vegan Wonton Soup for Colds
Done in 20 minute vegan Chinese wonton soup that tastes as good as the traditional version. Gluten-free and made without commercially bought stock/ bouillon cube OR hours of making homemade stock! A great flu fighter thanks to the ginger and garlic!
Click here for the under 30 minute Chinese soup recipe.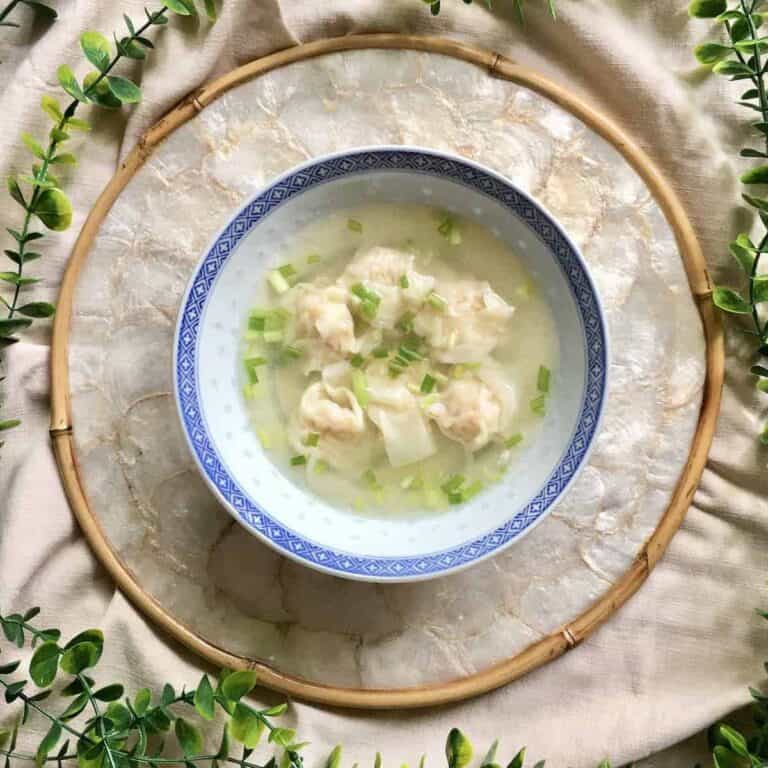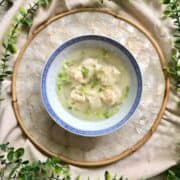 🍲 Mains
Chicken Fried Rice
If you have celiac disease, try this GF chicken fried rice recipe. Using leftover cooked chicken means it's done in 10 minutes, it uses ghee, which is unconventional but does give the dish a ton of flavor!
Casserole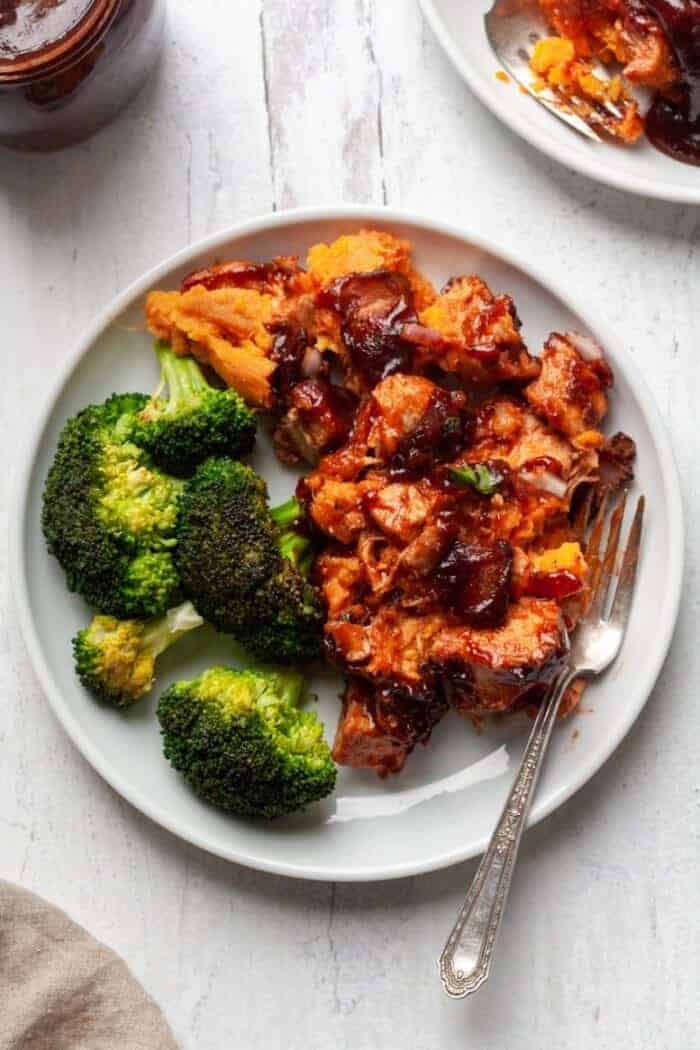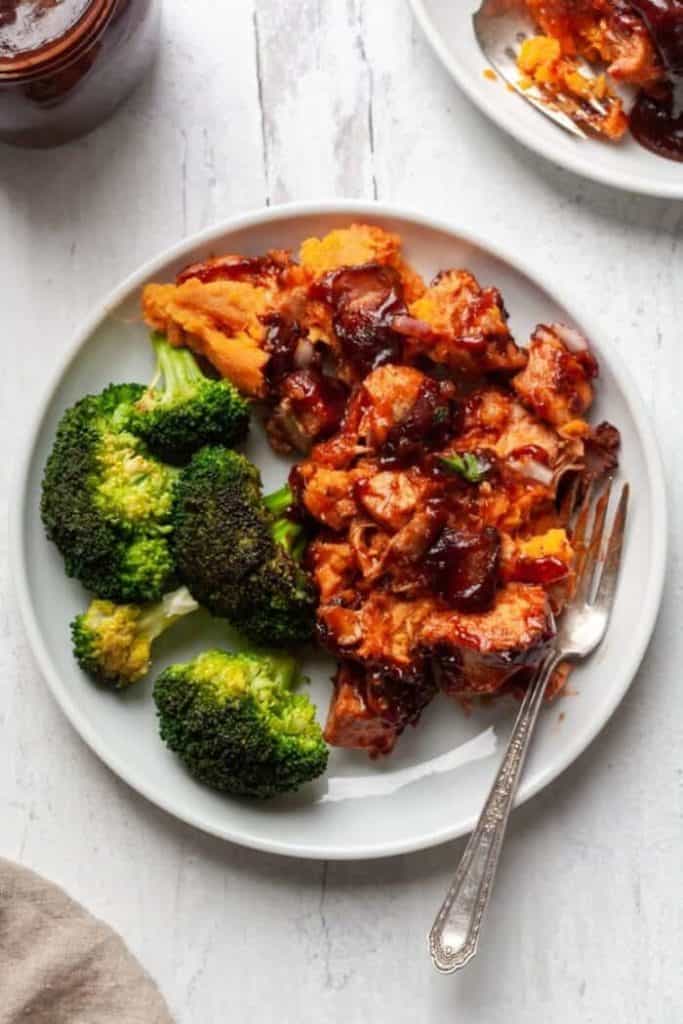 For an easy dinner that only requires 5 basic ingredients, try this chicken and rice comforting casserole, which is a great way to use up leftover rice on days when you don't have time to go to the grocery store!
Whole30 BBQ leftover chicken casserole
As your chicken has already been cooked, skip Step 5 of this recipe, and just add the chicken leftovers directly to the casserole!
Check out this recipe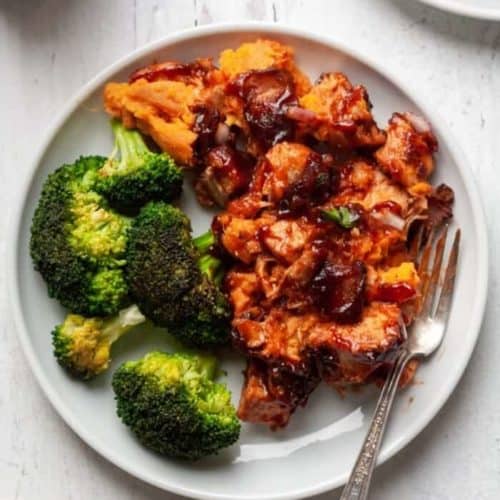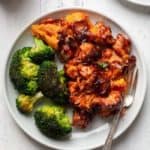 Congee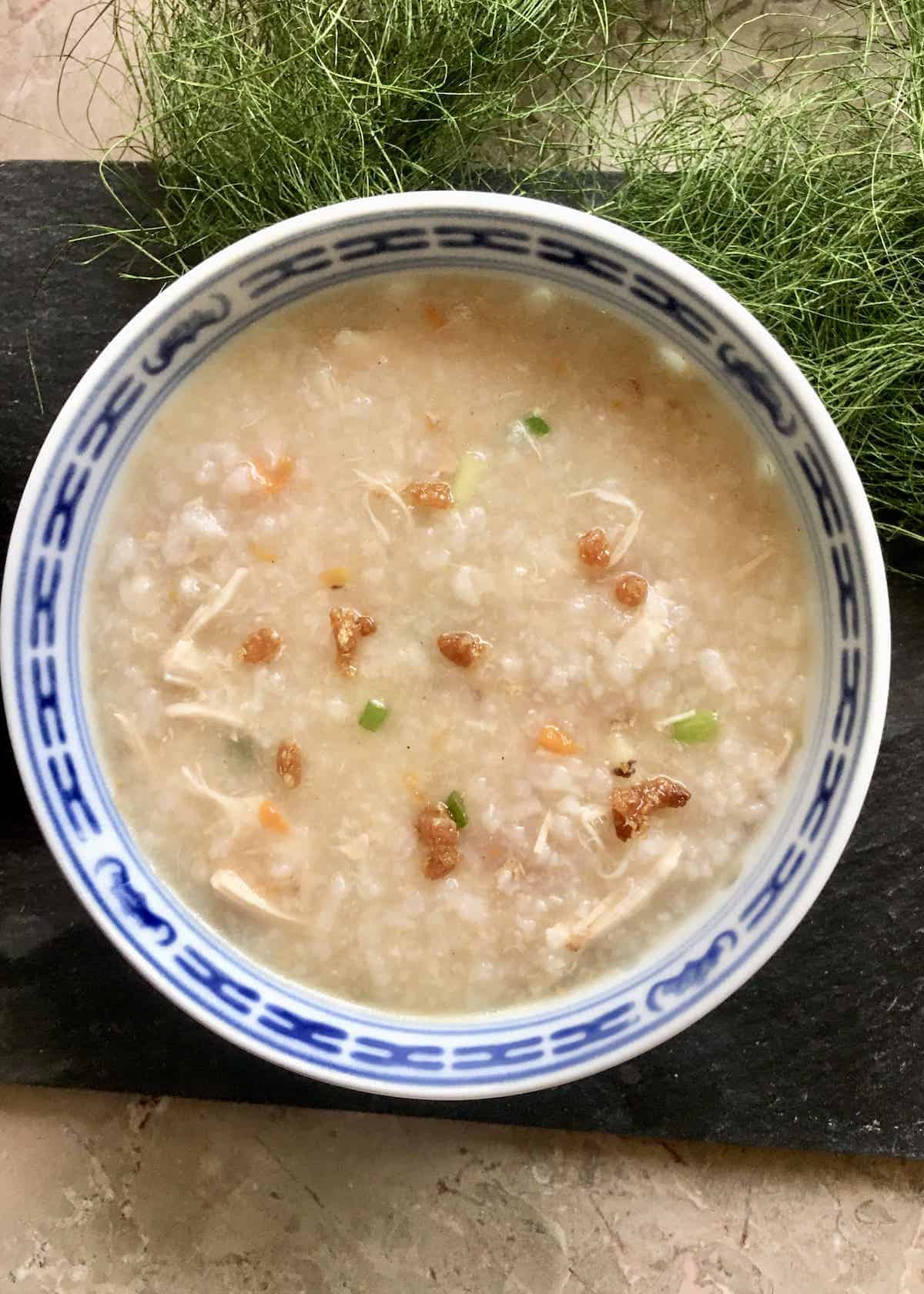 This is my favourite easy leftover rotisserie chicken recipe- we make it every time we roast chicken or turkey!
If not in the mood for porridge, I sometimes toss leftover meat into noodle soups or fried noodles such as mee siam (I poach it in the soup for a few minutes to warm it up) and fried rice vermicelli for an easy weeknight meal.
Note: this porridge is also perfect with next day shredded soy sauce chicken and paired with these rice congee side dishes and toppings.
Leftover roast chicken congee (jook)
A great way to use up your roast chicken leftovers is to make rice porridge (jook)
Check out this recipe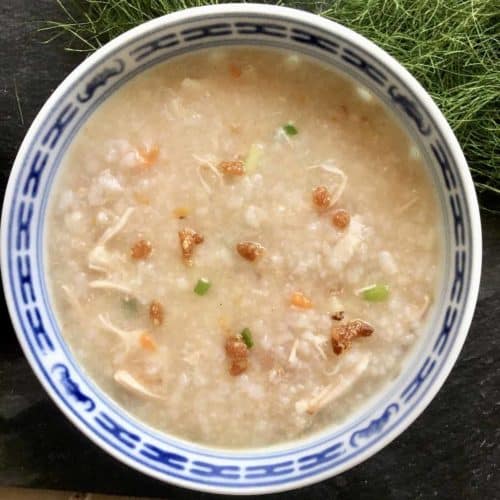 Noodles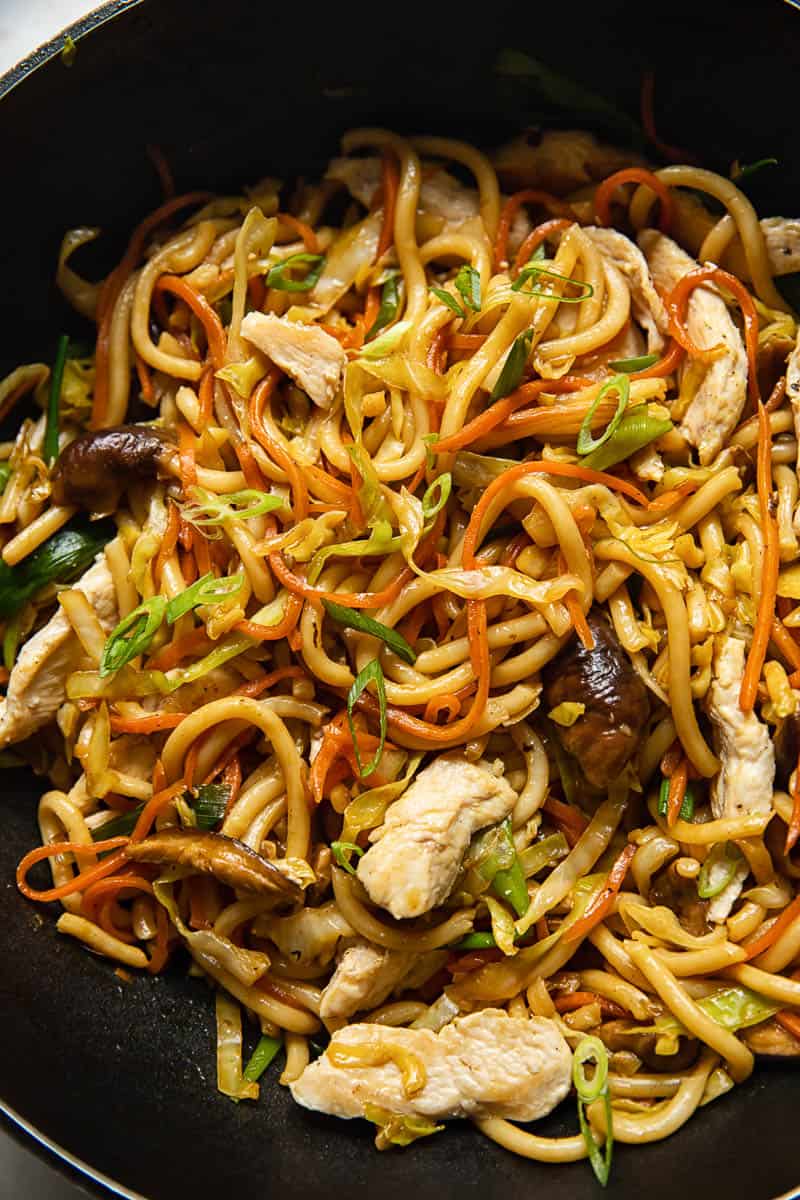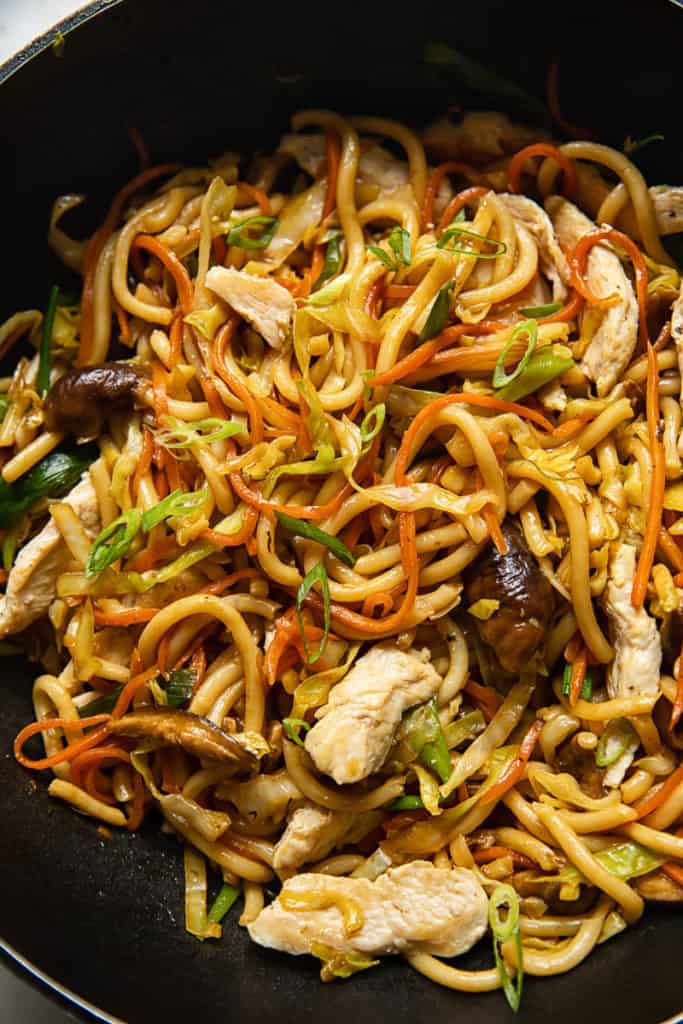 Tip: next time, you can also add some bell peppers for crunch!
Japanese inspired yaki udon noodles
The recipe calls for raw chicken, but you can substitute with leftover chicken. As the chicken is already cooked, you just add it at the same time as the vegetables, instead of before.
Click here for the leftover roast yaki udon recipe.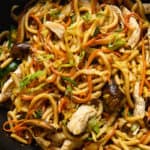 Pho
For a recipe that uses an entire rotisserie chicken, try this Pho Ga recipe which uses the carcass for soup and the meat to bulk up the rice noodles!
Ramen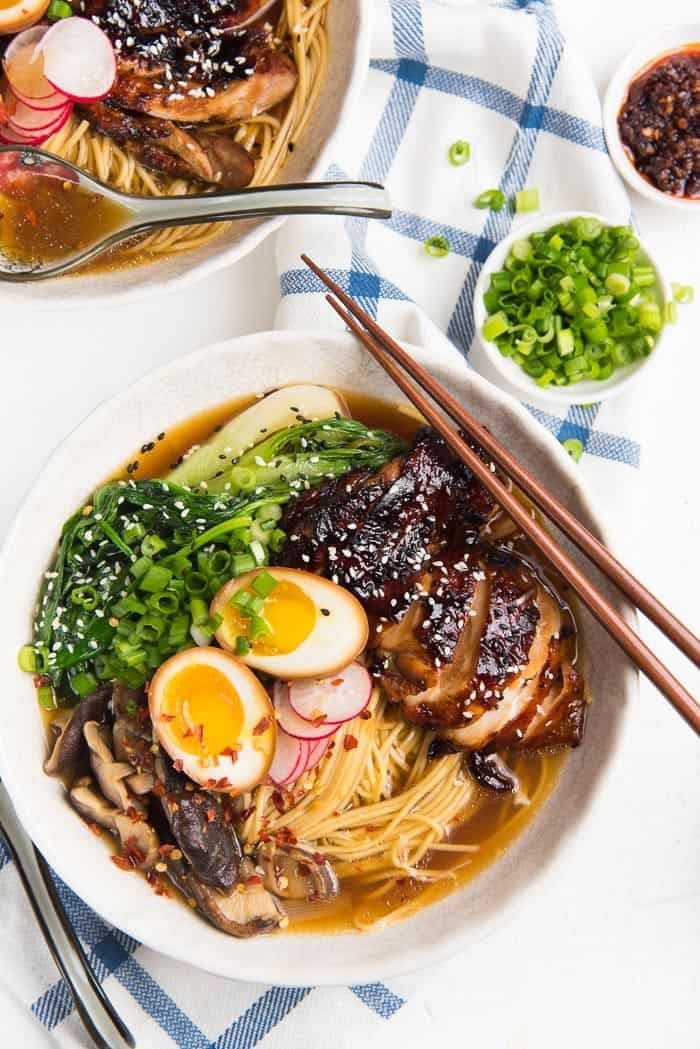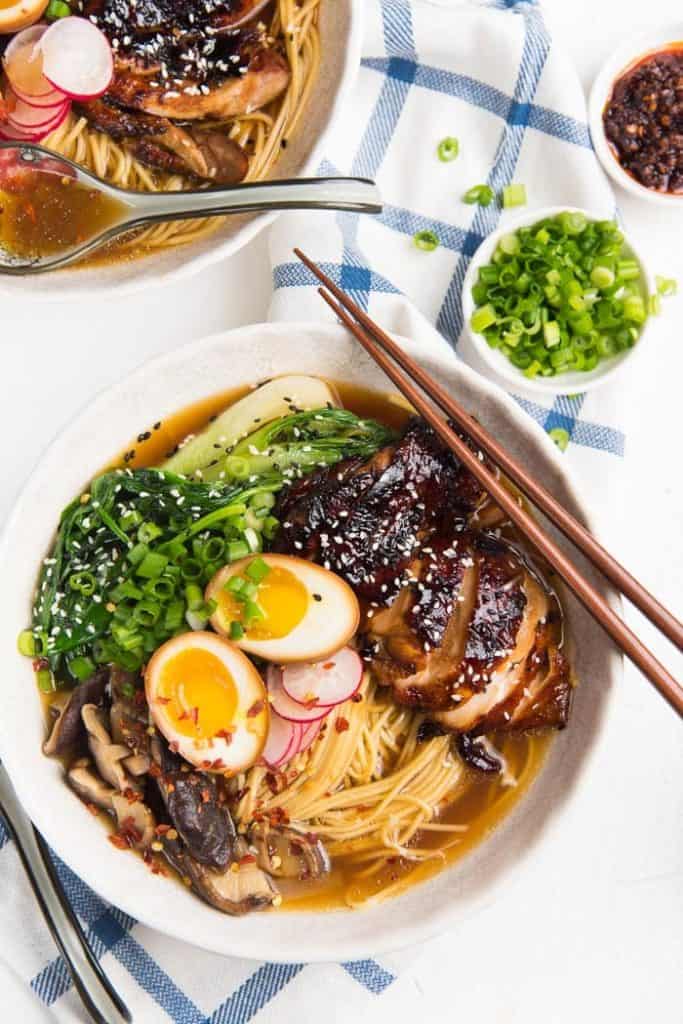 Another easy chicken ramen dish
Since we're using leftover roast chicken, half the work is done and you can skip the 1st set of instructions which tells you how to marinate and cook the chicken!
Click here for the chicken ramen recipe.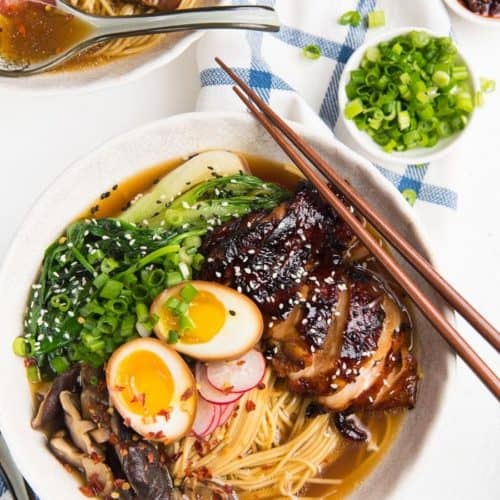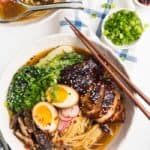 Sesame Noodles
Noodles with leftover chicken or turkey in a sesame-peanut sauce
If you've never tried sesame-peanut noodles, you're missing out! It's so easy to make, yet delicious too!
Check out this recipe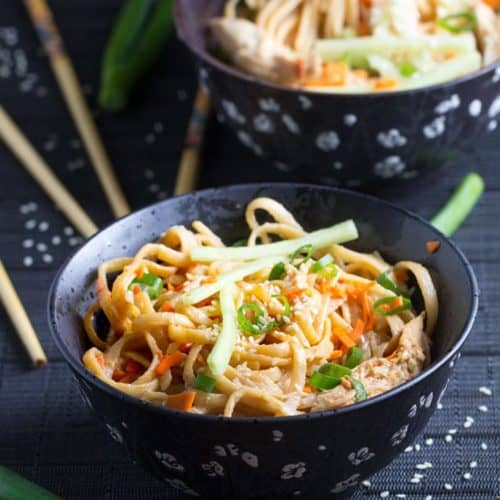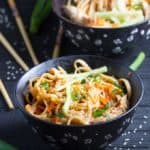 Korean Wraps
Shredded rotisserie chicken is a great addition to wraps- since it's Korean-inspired, don't forget the green onion!
Tip: you could also use Gochujang Aioli, Greek yoghurt, shredded cheese, parmesan cheese and/or sour cream for the sauce!
(Click here for good Gochujang replacements if you can't get the original.)
Korean-inspired leftover chicken or turkey wraps
Wraps are a great way to use leftover protein, such as chicken and turkey. (Or canned tuna if you don't have any leftovers!) The flavour is primarily from the kimchi and gochujang sauce, so don't skip on those!
Click here for the Korean leftover rotisserie wrap recipe.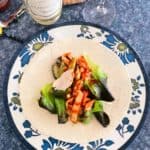 Chinese Wraps
If you're in the mood for Chinese, try this Hoisin-sauce wrap which uses leftover chicken breast instead. For something more filling, use Taiwanese green onions as the wrapper!
Pizza
Pizza is 1 of the best leftover chicken recipes for family meals: it's popular with the young and old alike!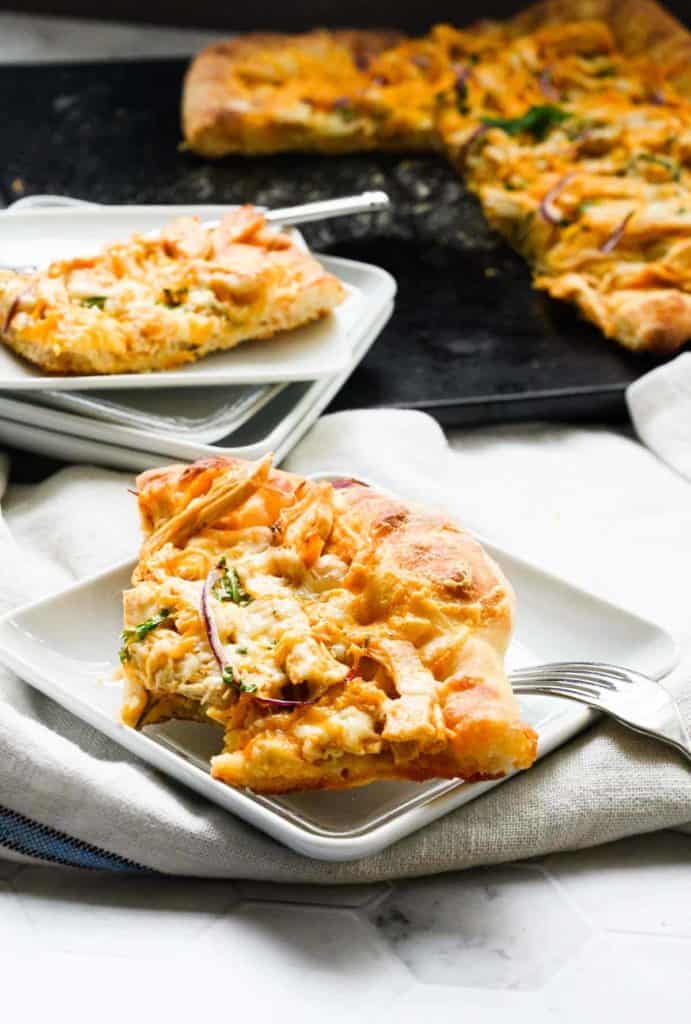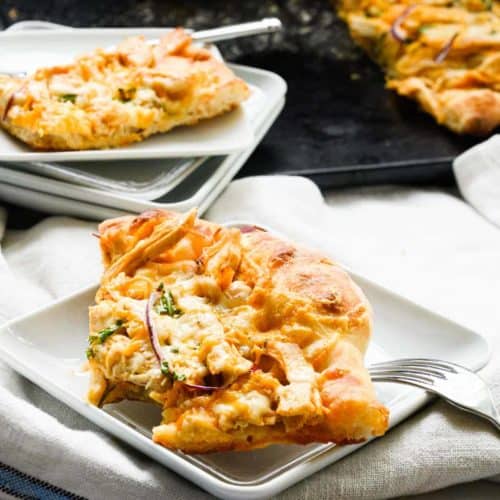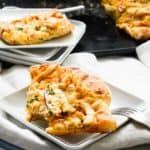 Note: for a Thai-style roast chicken pizza, click here!
If you liked these leftover rotisserie chicken recipes, why not sign up for my newsletter?