Jump to Recipe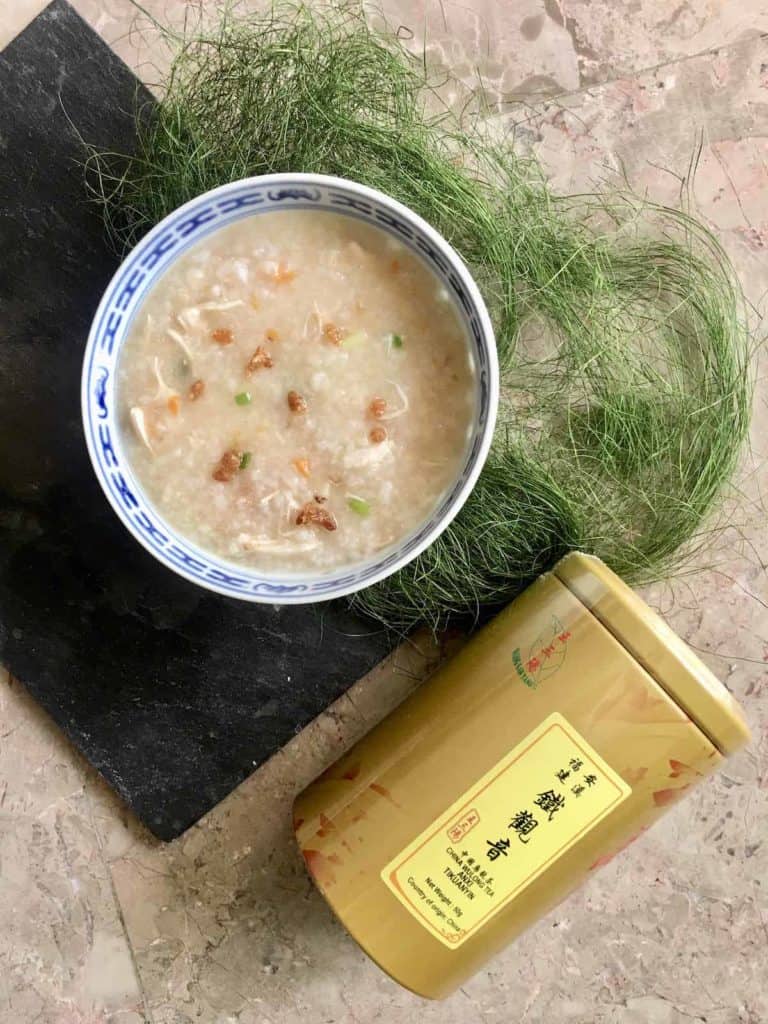 On busy days, I like to make roast chicken- it's an easy 1-pot meal as I just chop root vegetables and pop them into the oven at the same time as the chicken. (Usually I put the veggies under the chicken so that they get the benefit of the delicious chicken juices.) Actually, it's a 3-meals-in-1-pot dish as:
I have the roast chicken and vegetables for that meal
Scrape off the remaining chicken bits off the bones and any leftover vegetables to make this leftover roast chicken congee (jook)
Boil the chicken bones with some aromatics for noodle soup stock
Note: the congee will take on the flavours of whatever marinade you used in your roast chicken! Some might be quite... interesting... in a rice porridge! I find this works best with more traditional Asian flavours, such as soya sauce chicken, char siu chicken, sesame chicken etc. (I once made Diana Henry's roasted chicken with pomegranate molasses and cumin - not sure those flavours would translate well to rice porridge!)
What is congee?
Congee is a type of rice porridge but it's always thick, creamy and silky. (Some versions of rice porridge are very watery- pretty much just cooked rice in water- that is not congee!). It's a typically Cantoneses dish- called jook in Cantonese- and quite similar to the Korean Juk. (Indonesians have their own rice porridge known as Bubur, Japanese have okayu etc but, to my mind, the texture of bubur, okayu etc are different (thinner).)
How do you achieve the classic congee texture?
For your rice porridge to have the thick and creamy congee consistency:
Use the right type of starchy rice grains: jasmine or japonica (see more in the Recipe Notes)
Do not overwash the rice or you'll lose all that essential starch!
Freeze the rice grains for a minimum of 6 hours (cook straight from frozen)- this helps the starch to break down faster, meaning your congee cooks more quickly and will be nice and silky
Some people advocate soaking the rice but I've not found this very effective.
A chef at Four Seasons Hotel Singapore once told me to blend the rice and use some oil when cooking congee to get the classic congee texture- does anyone do this at home?
How to wash rice
Put the rice in a bowl, add enough water to cover, swirl with your hand 2-3 times then drain. Professional home cooks can drain this through their fingers but if you're new to washing rice, you may want to use a sieve or risk losing your grains. Typically when washing rice, you will repeat this 2-3 times or till the water is no longer white as you want to remove excess starch. (Zojirushi has a whole blog post on how to wash rice before putting it in the rice cooker.) However, for congee, you do the exact opposite (you want starch to create the thick, gooey feel of congee), so wash as briefly as possible whilst still removing all the impurities.
How much water to use for leftover roast chicken congee?
If you're making congee in a rice cooker or instant pot, you need to be quite precise about the ratio of water: rice that you use to achieve your desired thickness. The minimum would be about 7:1 or 7 times the amount of water versus rice- this creates a thicker rice porridge.
However, as I'm making this leftover roast chicken jook over the stove, the water: rice ratio isn't so rigid- you just need to make sure that, at all times, there's enough water in the pot that the rice doesn't burn. (If you like a thicker consistency, adding more water will mean you need to take longer to cook down the congee.)
Note: this can be made in the rice cooker too, just add the leftover roast chicken during the last 10 minutes of cooking.

What other kinds of congee can I make besides leftover roast chicken congee?
One great thing about congee is that it's so versatile. There's chicken congee, fish congee, abalone congee etc. Some of the ones we make at home include:
Salted eggs are a traditional side-dish that goes well with porridge, particularly the blander ones. (I've linked to a recipe to make salted eggs at home.)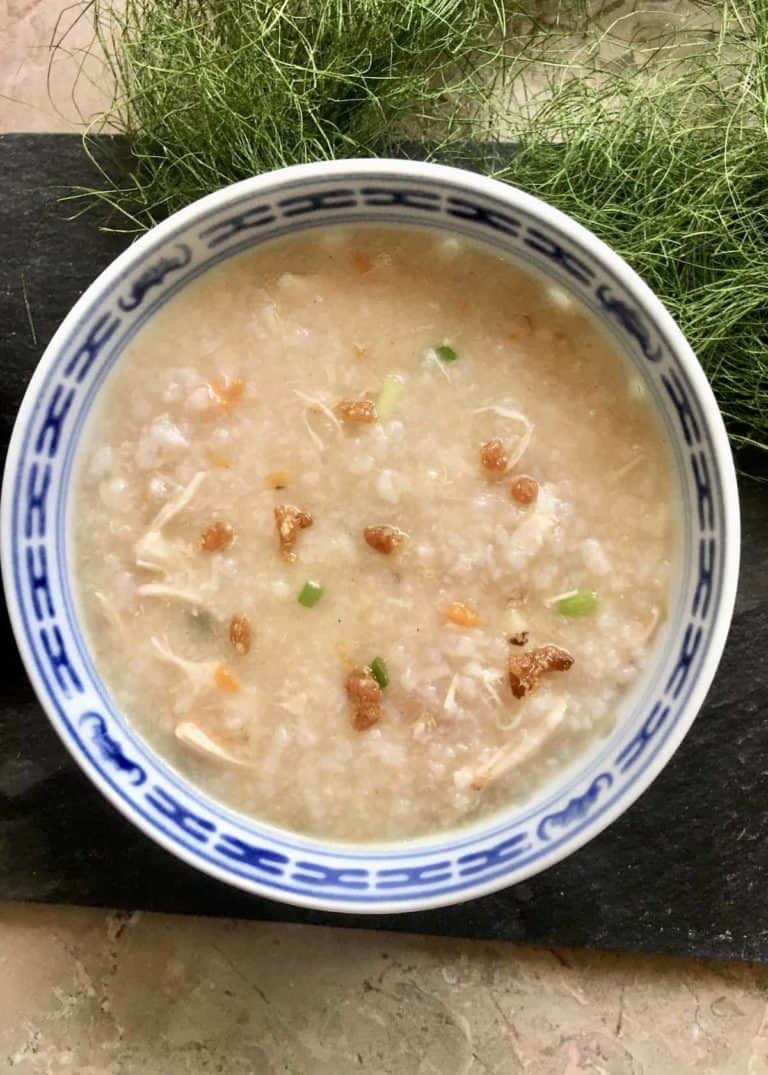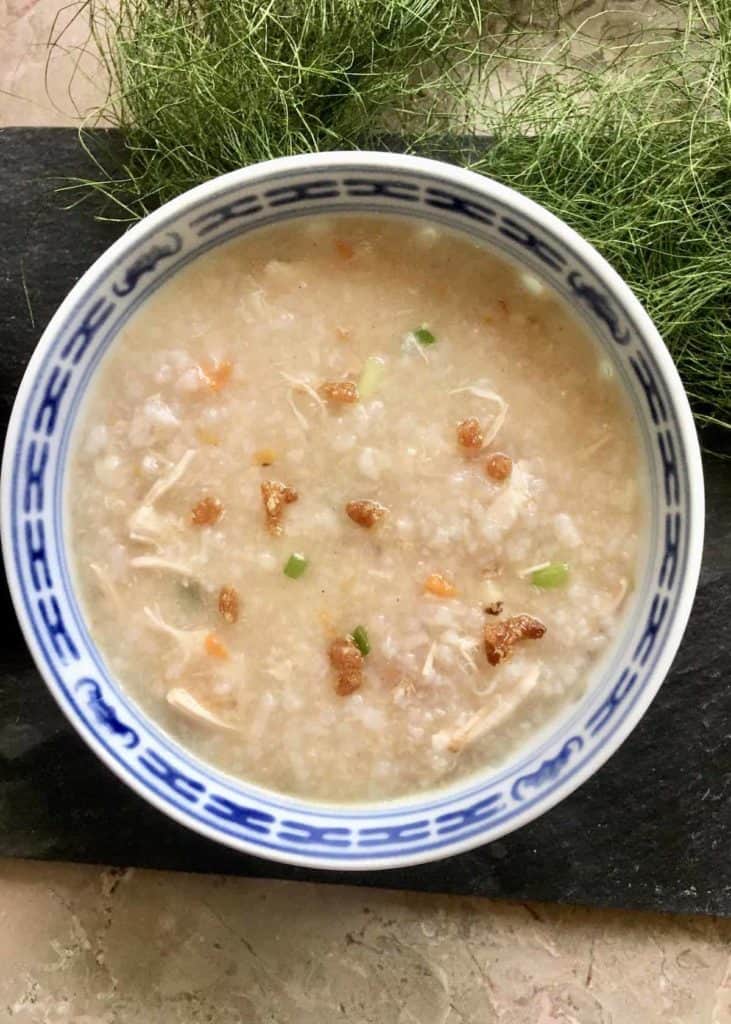 What kind of toppings can I add to congee?
There are so many to choose from!
you cha kueh, or fried Chinese dough fritters
pork or fish floss
fried garlic
fried shallots
coriander
Chinese chives
spring onions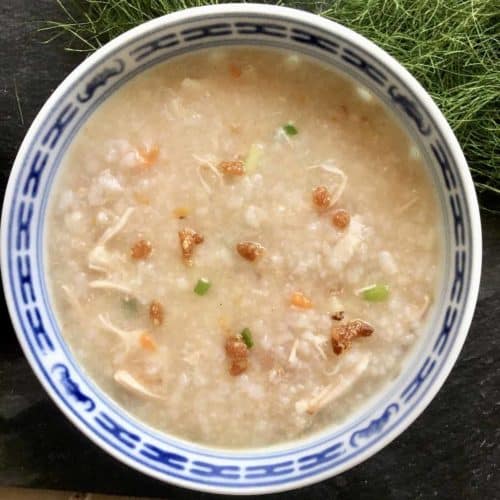 Leftover roast chicken congee (jook)
A great way to use up your roast chicken leftovers is to make rice porridge (jook)
Equipment
Knife and cutting board

Pot and wooden spatula
Ingredients
Leftover roast chicken

I roasted my chicken with carrots, so will be using both in this recipe

¾

rice cup

jasmine white rice, washed (slightly over ½ (9/16) a standard cup)

The water leftover from washing the rice can be used to water plants! A fellow blogger assures me it is indispensable for making aubergines fruit! Note: 1 rice cup is approximately ¾ of a standard cup so fret not if you don't actually have one!

3

cloves

Garlic, minced

5

slices

ginger

2

Tablespoon

Oil

Water

If you have chicken or vegetable stock, feel free to use that

Dash of white pepper (ground)

White and black pepper are not interchangeable!

1

teaspoon

fish sauce

Salt, to taste

Drizzle of sesame oil

Optional, spring onion, chopped
Instructions
Remove all the chicken bits from the leftover roast chicken bones as well as any leftover roasted vegetables. If the vegetables are large, make sure to cut them into smaller pieces. Keep the bones to make chicken stock.

Wash the white rice briefly but making sure all impurities are moved, drain then set aside.

Heat the pan over high heat (I used 9 on a Bosch induction cooker), add the oil and when the oil is simmering, add the ginger and garlic and stir-fry briefly till fragrant (note it will sizzle so be prepared!)

Add the rice, give everything in the pan a toss then add enough water to cover the rice by more than ½ inch. Once boiling, reduce the fire to medium (I used 6 on the induction.) Leave to boil for 20-30 minutes till the rice is almost cooked, stirring every now and then so that the rice does not burn the bottom of the pot. You may need to keep topping up with water as you go along.

Add the leftover roast chicken and vegetables and simmer for another 10 minutes on medium-low heat (i used 4 on an induction) till the chicken is warm and the rice cooked.

Add the fish sauce and pepper then salt to taste (I left this for the last step as your roast chicken may already have a very salty marinade).

When satisfied with the taste, switch off the fire, drizzle with sesame oil and sprinkle the spring onions. Serve and enjoy!
Notes
Jasmine and japonica rice are best for creating the thick texture of congee as they're quite starchy. Avoid using basmati for congee unless you have no choice as you won't get the right mouthfeel- if you must use basmati rice, break it down a bit (you can give it a few whirls in the blender) so that it will release more starch during cooking.