It only takes 3 store cupboard ingredients- and time- to make salted eggs at home. So good but so easy!
Jump to Recipe
Jump to:
If you've never had salted eggs before, you're in luck. You're about to discover one of the most delicious, most savoury, sweet and umami-packed ingredients possible. YUM. They can be used in anything, from a sauce for prawns to snacks such as this salted egg popcorn. If you're bemoaning your lack of access to an Asian grocery store, fret not, as making your own salted eggs is as easy as pie. (Easier than pie, really, as I don't find making pie crust easy at all!)
How are homemade salted eggs made?
There are several methods such as rolling the eggs in Chinese wine before covering them in salt but I find brining the eggs in salt water the easiest. (I'll be doing another "How to make your own salted eggs" post comparing the results of the various ways soon- as soon as the eggs have finished brining as I will need them for photographs!) You only need 3 ingredients that every non-vegan household would have: water, salt and eggs.
Do extra ingredients in the brine make a difference?
Some recipes call for shaoxing wine, sugar and spices but these are all optional. (These add-ons are said to speed up brining, to make the resulting salted eggs more beautiful and more fragrant but friends who've added them aren't sure they made much difference!) I once brined 2 batches of eggs- 1 plain and another with shaoxing wine- to do a side-by-side comparison but there wasn't much difference in the final eggs to be honest. (You can see the photo of the uncooked eggs below.) The one with the shaoxing wine did start forming a weird white film on top of the brine but the actual eggs tasted similar so the only impact seems to have been on my stress levels 😛 (As I was worried something had gone wrong with the brining- but we all ate it and all good.)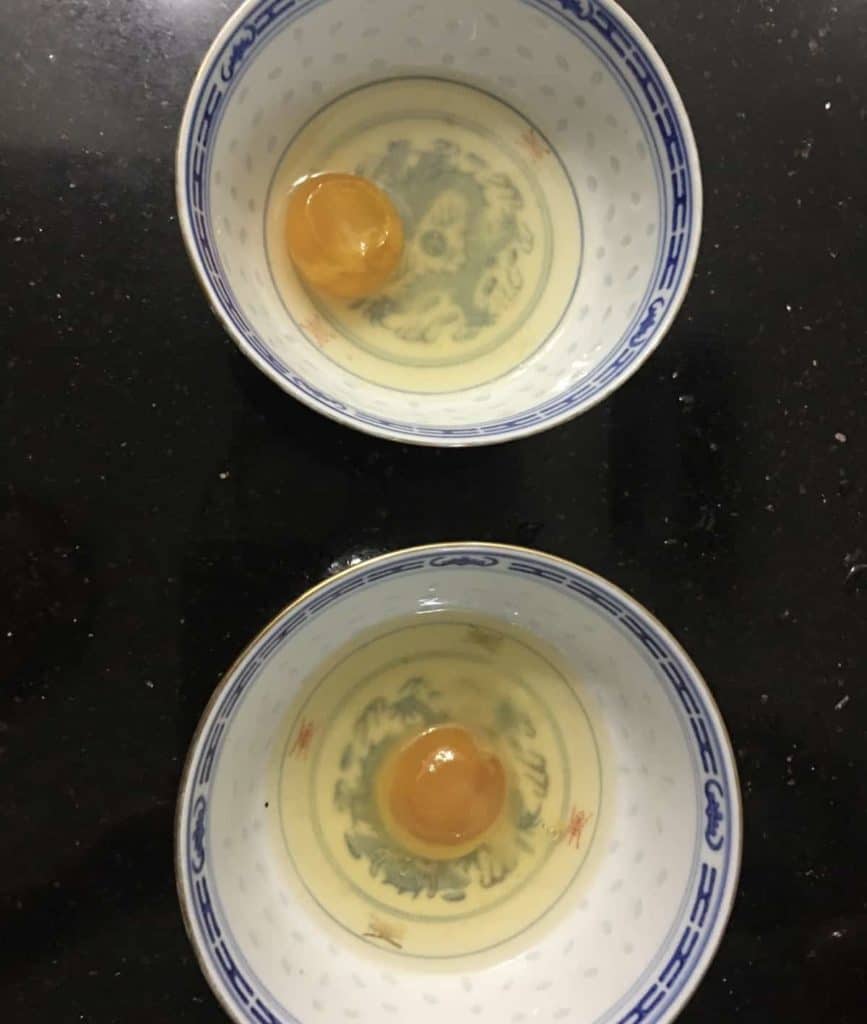 What temperature do I keep the brined eggs at?
I'm always a little uncertain when I see "room temperature" in recipes as different countries have vastly different ambient temperatures. However, rest assured that I've made these salted eggs in both UK and Singapore where the room temperature differs considerably and it's worked well in both countries. (My homemade salted egg recipe is tried, tested and vouched for by a friend from Hong Kong and we know how fastidious the Cantonese are about their food!)
How are the eggs stored once removed from the brine?
Once your homemade salted eggs are ready to be removed from the brine, store them in the fridge (sans brine). I keep mine for about 20 days (in the fridge) but I've seen other bloggers advocate keeping them for up to 2 months.
DO NOT LEAVE THEM IN THE BRINE FOR TOO LONG AS THEY WILL BECOME UNBEARABLY SALTY (especially the whites).
Note: commercially made salted eggs may have different storage instructions
How can I use them?
There are soooooo many ways to use homemade salted eggs although, sadly, most recipes focus on the yolk and a lot of people end up throwing the white away. (Don't! The salted egg whites can be boiled or steamed and go very well with vegetables, steamed crab, minced pork and porridge. You could even have them with my Singapore Hainanese Chicken Rice Porridge or any of my other rice porridge recipes!) Other uses include:
We even have salted egg yolk ice cream and salted egg yolk instant noodles in Singapore!
Cheat's guide
If you don't have the 20-30 days that this homemade salted eggs recipe requires, you can always buy salted eggs from an Asian grocer or order salted egg powder off Amazon (do note I've never tried this brand as I usually use Knorr Salted Egg powder (which is pure salted egg) or Oki Salted Egg Seasoning (a pre-blended mix of salted egg and other seasonings).
How to make salted eggs
Equipment
Pot

Glass or plastic jar

Zip lock bag half filled with water
Ingredients
12

eggs

traditionally duck eggs but you can substitute with chicken (I use chicken as duck eggs are not sold in Singapore). Note chicken eggs will result in a slightly less flavourful salted egg and may brine faster than duck eggs due to the difference in their shells

1

litre

water

I use tap water in the UK and in Singapore but the safety of tap water may vary from country to country.

250

grams

salt
Instructions
Clean the eggs well, checking for any cracks in the shells. (Do not use eggs with broken shells) Dry the eggs then place them in a glass (or plastic) jar.

Combine the water and salt in a pot and bring to the boil. Stir to make sure all the salt is dissolved. Turn the heat off and allow the brine to cool to room temperature. (If you are adding shaoxing wine, now would be the time to add it.)

Pour the cooled brine into the jar and make sure it is sufficient to fully cover the eggs. Place the half-filled zip-lock bag on top of the eggs to make sure the eggs are totally submerged.

Cover the container and store at room temperature for a month. (I place mine under the kitchen sink).

From day 18 onwards (or day 20 if using duck eggs), take 1 egg out of the brine. Boil it and eat it. If it tastes salty enough for you, remove all the eggs from the solution, rinse them with water and store them in the fridge. If you'd like a saltier egg, allow the eggs to continue brining. Keep tasting every day or so till you are satisfied with the eggs. (Eggs are then washed and refrigerated)

Do note the egg whites may become too unpleasantly salty to be consumed if you brine the eggs past 20 days. (Most recipes only call for the salted egg yolk but it's rather wasteful to throw the whites out! The whites go well with rice or porridge.)
Notes
Some recipes call for sugar, spices (such as Szechuan pepper and star anise) and shaoxing wine to be added to the brine. These are not necessary to produce salted eggs but supposedly make the eggs more attractive (resulting a more vibrantly orange yolk) and more fragrant. I will be testing eggs brined with these various add-ons to see if the claims are true!
I'd love to see how you use your homemade salted eggs in your cooking, so do leave a comment or tag me on Instagram @greedygirlgourmet