It only takes 3 store cupboard ingredients- and time- to make Chinese salted egg yolks at home using brine solution. So good but so easy. My homemade salted egg yolk recipe is tried, tested and vouched for by a friend from Hong Kong and we know how fastidious the Cantonese are about their food!
Jump to Recipe
Jump to:
If you've never had salted eggs before, you're in luck. You're about to discover one of the most delicious, most savoury and umami-packed ingredients possible. YUM. This popular Chinese ingredient can be used in soo many dishes: as a topping for rice or in a sauce for stir-fried prawns, crispy golden tofu, golden cornflake crunch or popcorn.
It's been used in Chinese cooking for centuries but in recent years, this versatile ingredient has swept across Southeast Asia in the form of anything from salted egg fish skin to salted egg ice cream. For more ideas on what to do with salted egg yolks, click here.
If you're bemoaning your lack of access to Asian supermarkets, fret not, as making your own salted duck egg yolks is so easy, it's a perfect recipe for new cooks. Even my Mom who can't cook rice made her own salted eggs when she moved to Australia in the 70s!
History
Salted eggs were 1st mentioned in Qimin Yaoshu, a Chinese text dating to the 5AD. They originated in China centuries ago as a way to extend the shelf life of eggs and are basically ducks eggs that have been preserved in a salt mixture brine or salted charcoal. (Philippines has its own production method called Pateros which uses clay from ant hills and termite mounds.)
Today, we have refrigerators but preserved salted eggs are still very remain popular.
Taste
The salt brining creates round and bright orange, salted egg yolks, which have incredible flavour. The firm yolk is also full of natural umami. I actually think of it as Chinese Parmesan- it even has a similar slight graininess.
If you prefer a more delicate flavor, salted eggs aren't for you. But for everyone else, you're in for a treat!
Health
I love them but do eat in moderation- apparently, 1 salted egg has 10g of sodium! Note the FDA recommends that adults eat under 2300mg of sodium a day (i.e. 1 t of table salt) Children under 14 should eat even less.
Duck vs Chicken Eggs
Commercially made salted eggs are made from fresh ducks eggs as they have richer yolks (makes it oilier, more flavourful and prettier.) They also have thicker shells so are easier to work with (if an egg breaks during preservation, you can't use the entire batch anymore.)
However, it's not always possible to get ducks eggs so feel free to use chicken eggs instead.
What's with the colour?
Some commercial salted eggs come with the salted charcoal still around them and so are black in colour. This needs to be washed off before using the egg. In the US, it's common for the eggs to sold washed, so they'll look white. Meanwhile, in Philippines, the white egg shells are dyed into a bright fuschia colour so you get pink salted eggs.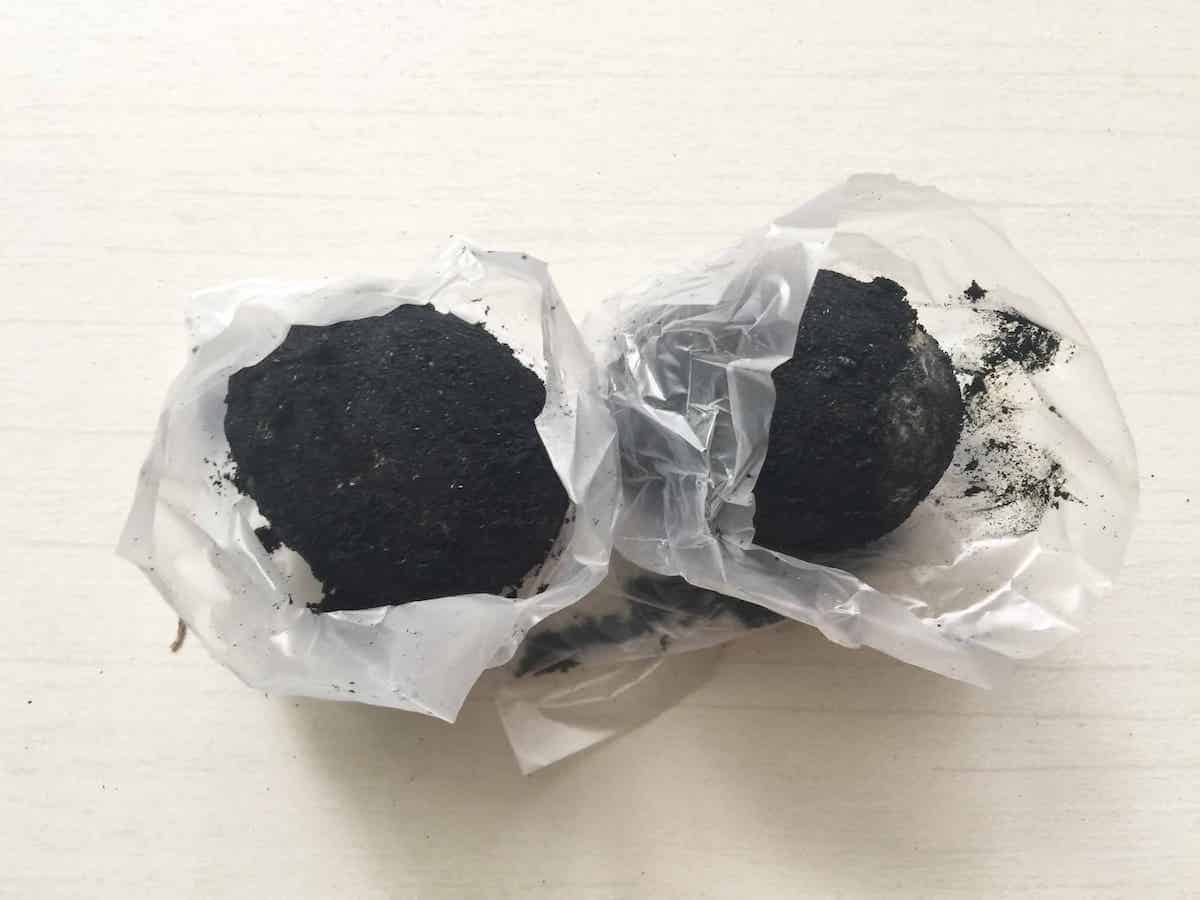 A bit of the black salted charcoal paste has been removed from the egg on the right so you can see the white shell peeping through. (Some duck eggs have bluer shells.) If you leave the eggs in the salted charcoal for too long, they'll slowly get more and more salty as the curing process continues.
Variations
In Malaysia, they have a spicy version, ginger version that goes really well with soy sauce.
How to make
There are several methods to make salted eggs at home:
rolling the eggs in Chinese wine before covering them in salt
dry curing the yolks only in a salt cure -> done in a matter of hours but you get a flat yolk and not the typical round shape
brining the eggs in salt water -> We're focusing on this traditional way as I find it the easiest
You only need 3 ingredients that every non-vegan household would have: water, salt and eggs.
Extra ingredients in the brine
Some recipes call for shaoxing wine, sugar and spices, such as star anise and even tea, but these are all optional. You really only need salt and raw whole eggs to create salted eggs (yes even the water is optional as you can dry cure the yolks. I'll update this post to share more on that process soon.)
These additional ingredients are said to speed up brining, to make the resulting salted eggs more beautiful as well as more fragrant but friends who've added them aren't sure they made much difference! I once brined 2 batches of eggs- 1 plain and another with rice wine- to do a side-by-side comparison but there wasn't much difference in the final eggs to be honest.
The one with the shaoxing wine did start forming a weird white film on top of the brine but the actual salted chicken eggs tasted similar so the only impact seems to have been on my stress levels 😛 (As I was worried something had gone wrong with the brining- but we all ate it and all good.)
What temperature do I keep the brined eggs at?
I'm always a little uncertain when I see "room temperature" in recipes as different countries have vastly different ambient temperatures. However, rest assured that I've made these salted eggs in both UK and Singapore where the room temperature differs considerably and it's worked well in both countries. Just remember to leave them in a cool and dark place.
How long to cure
This really is a matter of personal preference and also varies with the size of the eggs as well as the thickness of the shells. (The longer you leave them, the saltier the egg, particularly the whites. The whites salt faster than than the yolks do.)
Larger eggs need more time.
Chicken eggs are usually smaller with thinner shells, so will be done more quickly than ducks eggs.
I recommend removing an egg after 2 weeks, boiling it and tasting the yolk to see if it's flavourful enough. If yes, store as per the instructions. If not, let the eggs continue brining and test again the next week.
I'd say 30 days is the absolute maximum for chicken eggs as they become super salty, almost inedible.
How to store
The brined eggs should be left in a cool dark place- I live in tropical Singapore and stored mine under the kitchen sink, where there's barely any sunlight. When in London, I kept them in any of my kitchen cupboards.
Once your homemade salted eggs are ready to be removed from the brine:
store them raw in the fridge for 1 week
immediately boil them, and they'll last for up to 1 month in the fridge
If left for too long, they'll start leaking a light yellow liquid
Also, don't leave them unbrined in the jar out of the fridge or they'll go bad.
Note: commercially made salted eggs may have different storage instructions and usually have much longer shelf lives- I bought one in December that will last till April.
How to cook
There are soooooo many ways to use homemade salted eggs although, sadly, the emphasis has traditionally been on the yolk so a lot of people end up throwing the white away. (Don't! Tips on using the whites below.)
People always say to either boil or steam for 10-15 minutes and I was curious if there was a difference, so did the following experiment. As far as I could tell, the only slight change was that the longer-cooked eggs were easier to peel- which is a bit of a palaver as you can see from the photos below. (Always soak them in cold water after cooking to make peeling easier!)
Salted Eggs can be:
added to rice dumplings and moon cakes (traditional)
hard boiled or steamed
eaten with jook for breakfast
added to cookie batter
to flavour ice cream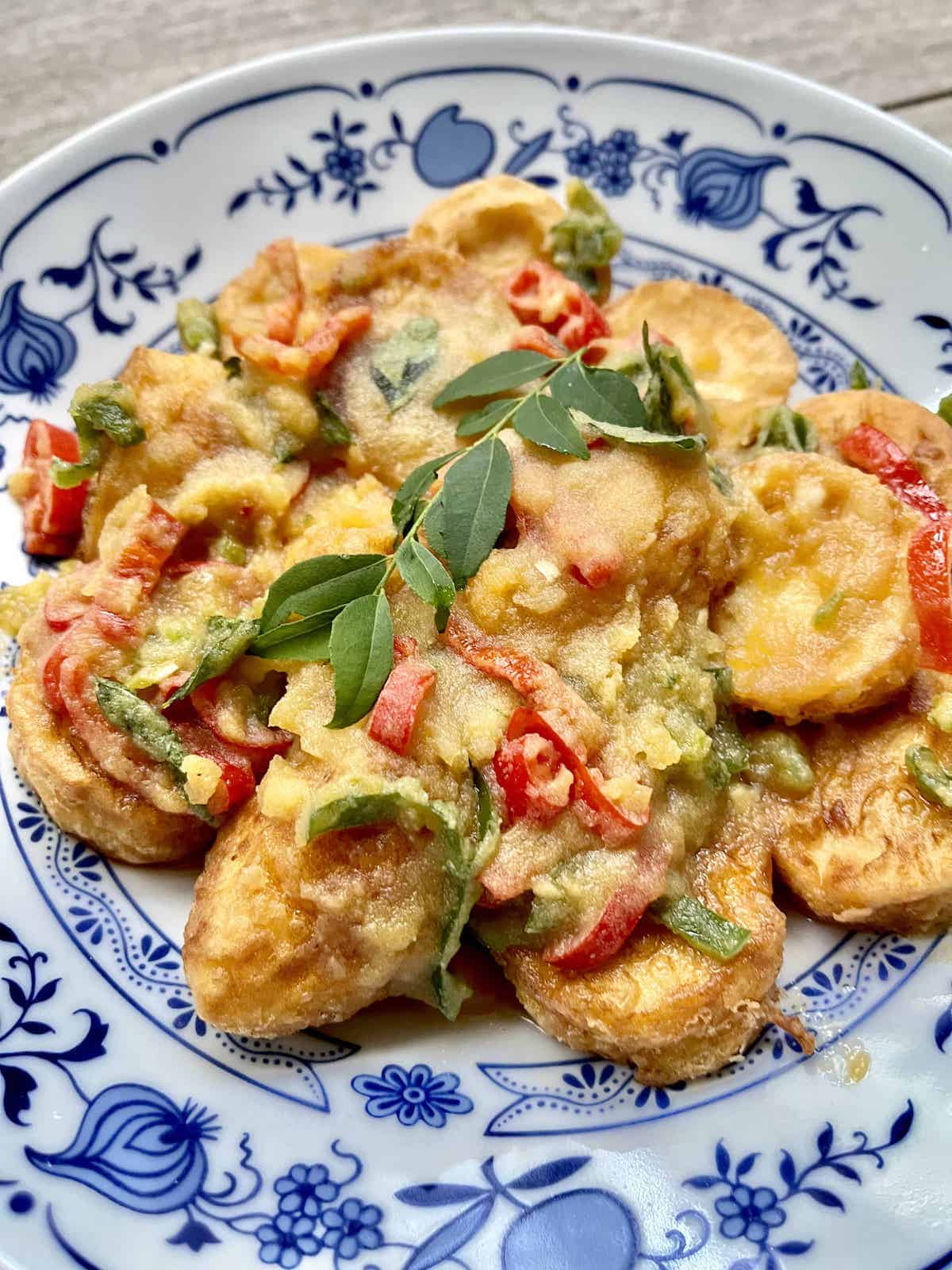 made into a savoury salted egg yolk sauce
or a sweet custard for Liu sha bao
used to take French toast to the next level
fried (sunny side) and eaten with rice (This is more common in Thai cuisine vs Chinese food)
How to use the whites
The salted egg whites can be:
added to fried rice
steamed/ boiled, minced and tossed over regular steamed egg
added to vegetable sauce
boiled and eaten with porridge such as
plain congee/ jook
leftover roast chicken jook (make sure your roast chicken isn't a very salty one though!)
Tips
If you're coming up with your own recipe to use salted egg yolks, they go super well with butter and need a bit of sugar to balance out the richness. If you have access to curry leaves and can take spice, some curry leaves and chilli help to add complexity that cuts through the fat and prevents it from being cloying.
Make sure the salt solution brine is completely cooled before adding the eggs
If 1 egg is cracked, the entire batch has to be tossed, so don't add too many and be gentle with them. (Examine for cracks before brining.)
If you've used too much salt, some of the the sodium may recrystallise around the edges of your container- don't worry too much.
You can keep the eggs submerged by putting a ziplock bag filled with water on top of the eggs or by using parchment paper.
Cheat's guide
If you don't have the 20-30 days that this homemade salted eggs recipe requires, you can always buy salted eggs from an Asian grocer or order salted egg yolk powder off Amazon (do note I've never tried this brand as I usually use Knorr Salted Egg powder (which is pure salted egg).

FAQ
How to boil salted eggs?
The exact same way you do regular eggs- in a pot of boiling water- but for a longer period of time. (See the photo in the post showing how the salted duck eggs look after 10 vs 15 minutes of boiling.)
Are salted eggs cooked already?
It depends on the seller- traditionally, they were sold uncooked but some packets are pre-cooked, so always read the label first.
How to make salted eggs without water?
There are 2 other methods, namely rolling the whole eggs in salt or curing only the yolk.
Other traditional Chinese recipes
How to make chinese salted eggs at home using brine solution
Quick, easy and simple traditional Chinese salted eggs preparation method, passed down my great Grandmother (who probably learnt it from her Grandmother!)
Equipment
Pot

Glass or plastic jar

Zip lock bag half filled with water
Ingredients
12

eggs

traditionally duck eggs but you can substitute with chicken (I use chicken as duck eggs are not sold in Singapore). Note chicken eggs will result in a slightly less flavourful salted egg and may brine faster than duck eggs due to the difference in their shells

1

litre

water

I use tap water in the UK and in Singapore but the safety of tap water may vary from country to country.

250

grams

salt
Instructions
Clean the eggs well, checking for any cracks in the shells. (Do not use eggs with broken shells) Dry the eggs then place them in a glass (or plastic) jar.

Combine the water and salt in a pot and bring to the boil. Stir to make sure all the salt is dissolved. Turn the heat off and allow the brine to cool to room temperature. (If you are adding shaoxing wine, now would be the time to add it. Don't rush this process- the salted water needs to cool completely.)

Pour the cooled brine into the jar and make sure it is sufficient to fully cover the eggs. Place the half-filled zip-lock bag on top of the eggs to make sure the eggs are totally submerged.

Cover the container and store at room temperature for a month. (I place mine under the kitchen sink).

From day 18 onwards (or day 20 if using duck eggs), take 1 egg out of the brine. Boil it and eat it. If it tastes salty enough for you, remove all the eggs from the solution, rinse them with water and store them in the fridge. If you'd like a saltier egg, allow the eggs to continue brining. Keep tasting every day or so till you are satisfied with the eggs. (Eggs are then washed and refrigerated)

Do note the egg whites may become too unpleasantly salty to be consumed if you brine the eggs past 20 days. (Most recipes only call for the salted egg yolk but it's rather wasteful to throw the whites out! The whites go well with rice or porridge.)
Notes
Some recipes call for sugar, spices (such as Szechuan pepper and star anise) and shaoxing wine to be added to the brine. These are not necessary to produce salted eggs but supposedly make the eggs more attractive (resulting a more vibrantly orange yolk) and more fragrant. Personally, I didn't notice a difference- see above post for photo comparing salted eggs made in brines with and without spices.
If your container is small, reduce the number of eggs- if 1 cracks, the whole lot needs to be tossed out so let's err on the side of caution!
I'd love to see how you use your homemade salted egg yolks in your cooking, so do leave a comment or tag me on Instagram @greedygirlgourmet