One of the quickest and easiest Chinese New Year (CNY) snacks to make at home, golden Salted Egg Yolk Cornflakes is also 1 of the most addictive! It only requires 4-6 ingredients but is savoury, sweet, salty, crunchy and sometimes spicy! Read through for how to get them really crispy!
Jump to:
⭐Why Make This
Crispy Salted Egg Cornflakes Crunch are delicious: They're a very popular Lunar New Year snack in Singapore and Kuala Lumpur, Malaysia. Once you start, you can't stop! (As both countries love food with bold, strong flavours, it's no surprise that salted egg anything is so popular!)
Great way to use up old cornflakes: if you have some cornflakes that have become soft, this recipe is a great way to use them, as they'll firm up in the oven. Waste not, want not! (Click here for more of my Asian recipes which use leftovers.)
Budget-friendly: salted egg snacks are not cheap (and sometimes you even have to queue for them!) Making your own at home will help to keep the cost down for your Chinese New Year celebrations, as will these money-saving cooking tips!
🥚What are Salted Eggs?
They're duck eggs that have been soaked in a salt-brine or packed in salt charcoal. This preservation method dates back to ancient China and the eggs are popular all over Asia today.
You can use them as a topping for congee, or in 1 of these savory recipes!
Note: For more information on salted eggs, such as its history, healthiness etc, click the link.
Taste
It's a very savoury, in-your-face flavour, not for the faint-hearted. I think of it as Asian Parmesan. The texture of the cooked yolk is quite grainy.
Most sources say to boil or steam the eggs for 10 or 15 minutes. I was wondering if there was a difference so I tried boiling and steaming for 10 and 15 minutes.
The yolks were cooked at 10 minutes, whether they were steamed or boiled, but it seemed slightly easier to peel the eggs that had been cooked for longer. (Peeling was a pain as you can see from the eggs below- leave the eggs in cold water once cooked before peeling, to make the shell come off more easily.)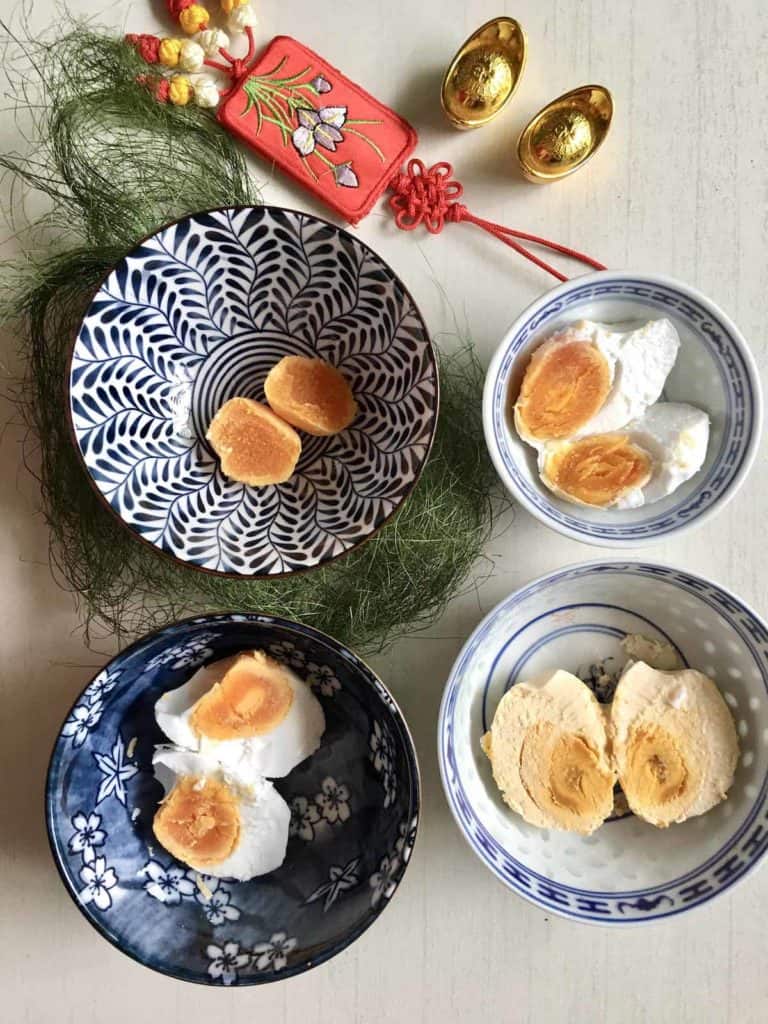 🥘 Ingredients
You only need 4-6 ingredients to make this crunchy, savoury Chinese New Year snack:
Salted Ducks Eggs: you can make your own salted eggs, buy them, or use the commercially-made powder. (See below for how to make salted eggs in 1 night!) I recommend Knorr salted egg yolk powder if you can get it because, with actual egg yolks, you need to sieve the mashed yolk if you don't want lumps in the sauce. No such problem with the powder! (Not sponsored FYI.) An 800g packet is equivalent to 68 salted egg yolks, so use 11.8g of powder for every 1 yolk.
Unsweetened Cornflakes: If you only have sweetened cornflakes, you can try making a small batch first, using the salted egg sauce sauce sands sugar, then adjust the seasoning accordingly.
Unsalted Butter: you can substitute with salted butter but note that the salt level differs from brand to brand, so it'll be more difficult to gauge the seasoning level
Curry leaves: these are available fresh, dried or frozen and help to lift the umamilicious-but-heavy flavor of salted eggs. If you're using homegrown leaves, make sure to wash them carefully, especially the undersides, as they attract pests who lay eggs on them. If you see little black dots, wash them all off! For ideas on how to use up extra curry leaves, click the link
White Sugar: Granulated or caster is fine. I've never tested this recipe with brown sugar.
Chili, optional: I love spicy salted duck egg yolk cornflakes so I add chili powder or chili flakes. (As they're dried, you don't have to worry about the impact on the shelf life- Chinese New Year snacks are usually made a few weeks in advance!) I find that, like curry leaves, the chili lifts the heaviness of the salted egg yolk sauce. Fresh chilies, such as bird egg chili (small red chilies or chili padi), are less ideal in my opinion as they introduce moisture to the recipe.
Variations
Shortcut for salted eggs without using the powder: cure regular egg yolks (preferably duck, but chicken is OK too) directly in salt, leaving in for 4-8 hours in the chiller.
For extra savory flakes: add a pinch of chicken bouillon powder to the salted egg cereal (and a bit less salt and sugar.)
For extra crunchy salted egg cereal: You could toss in some roasted peanuts and stir-fry with the cornflakes
For cornflake cluster nests: you will need 1 more ingredient, a neutral flavoured honey, to get the cornflakes to stick. Don't use something strongly flavoured with herbs, as it will clash with the salted egg flavor. Also remember to add less sugar- or none at all- otherwise the snack will be too sweet!
Salted Egg anything: the same sauce can be used for deep-fried chicken, prawns, squid (sotong), crab, bitter gourd, fish, pork, tofu and even fried rice!
📋 Step-by-step Instructions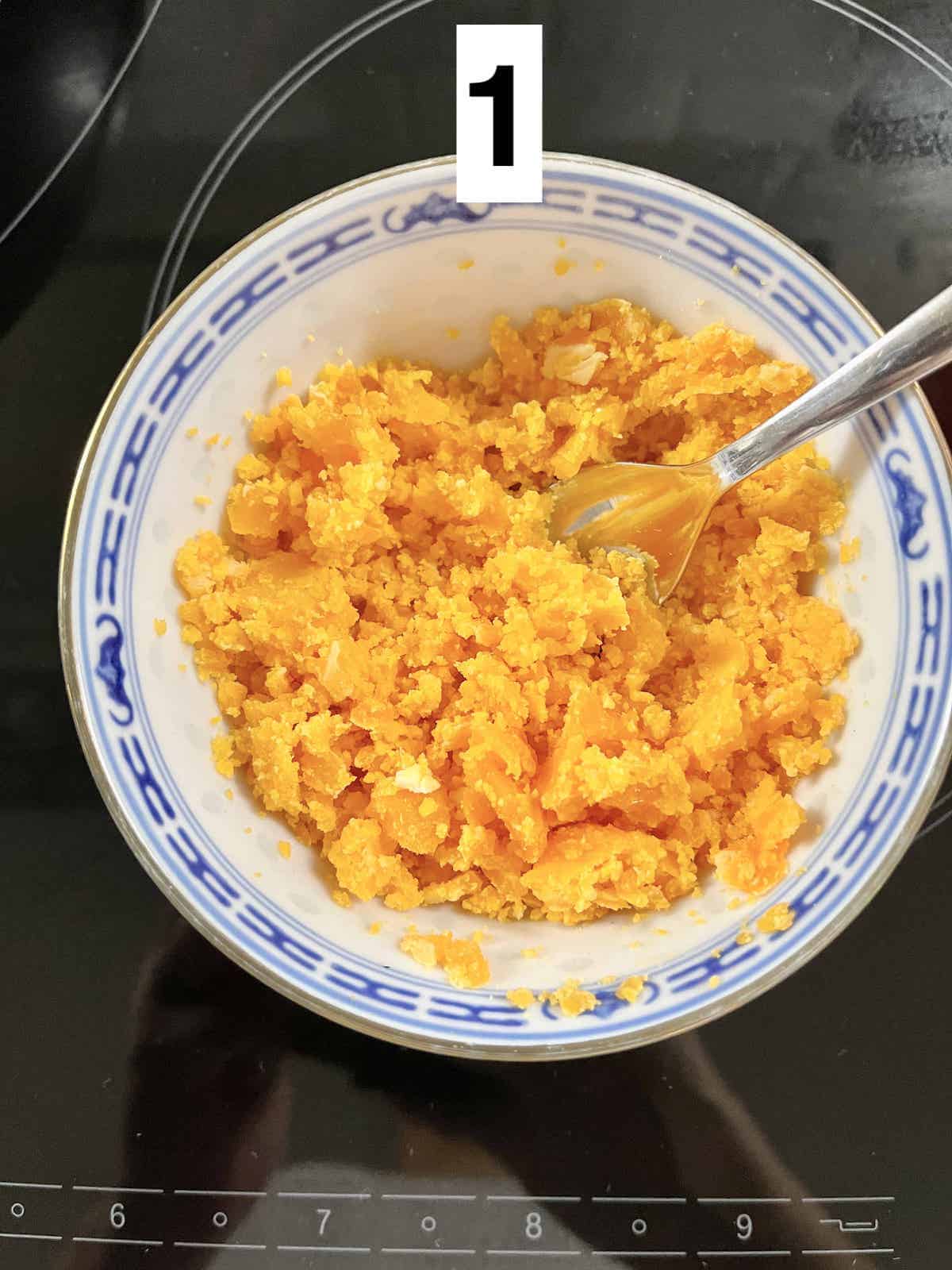 Prepare the Salted Egg Yolks
1a. Steam the eggs for 15-20 minutes (or boil them for 10-12 minutes.)
Note: chicken eggs will cook up a little faster than duck as they're smaller.
1b. Separate the whites and yolks- keep the whites for fried rice etc.
1c. Mash up the yolks as finely as possible. This will, however, still result in small clumps that will give you a slightly lumpy sauce.
Note: if you can't live with lumpy sauce, use either salted egg powder or grate the egg yolks. This will give you a smooth sauce!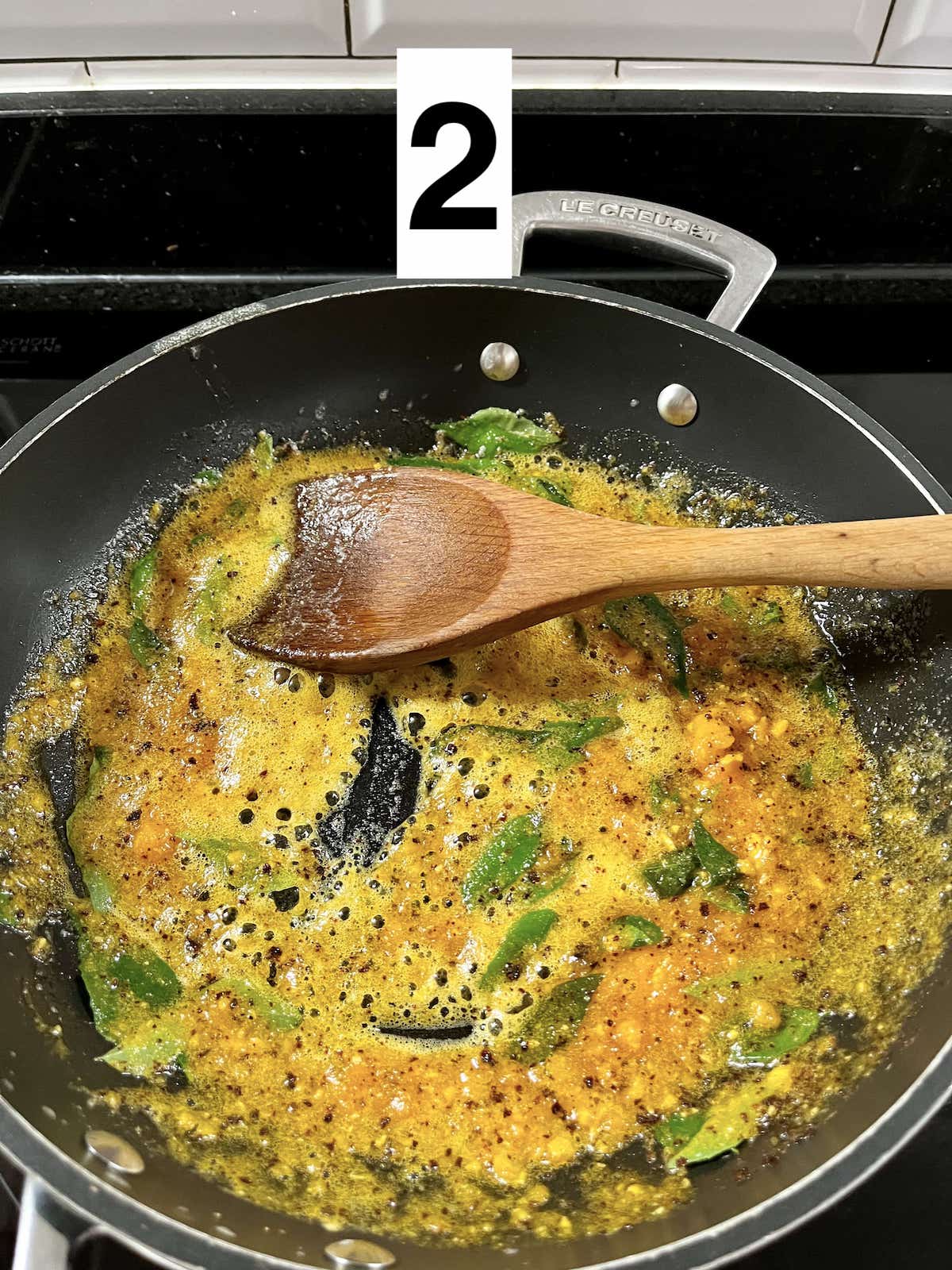 Making the Salted Egg Sauce
2a. Melt the butter over medium heat then add the curry leaves and chili powder. Chili burns easily so keep a watch on the fire!
2b. Once fragrant, add in the salted egg yolks and turn up the heat to medium-high. Keep stirring and you'll see the sauce foam and bubble.
2c. Add the sugar, taste, and season more if necessary.
Note: We season AFTER adding the yolks as they have different levels of salt! (It depends on how long they've been brined, how thick the shells were, how big the egg etc.)
3. Reduce the heat to low, then add the cornflakes to the sauce. Stir gently with your spatula to coat all the cereal without breaking any of them.
Note: some people like to stir fry on low till the cornflakes are dry but I find the oven is necessary for really crispy cornflakes!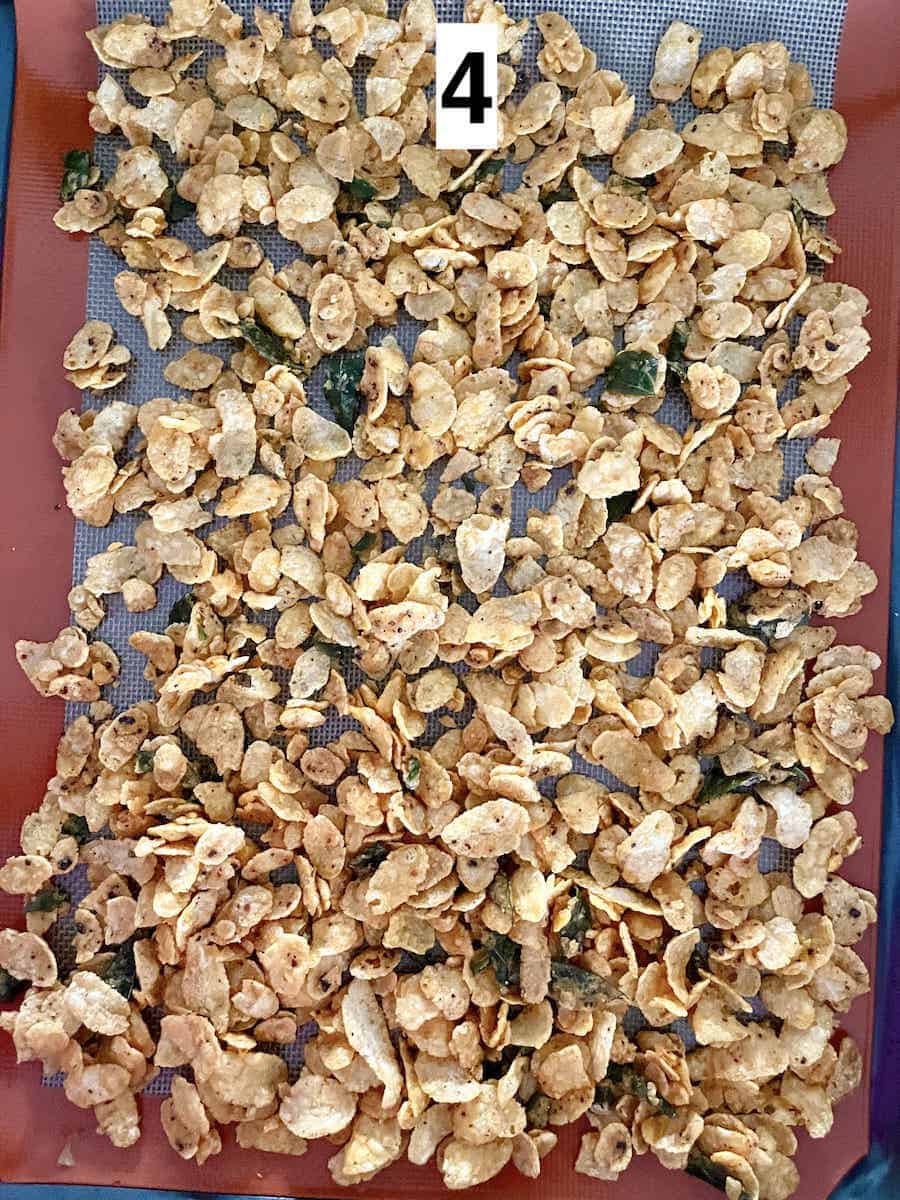 For Crispy Cornflakes
4a. Place the cornflakes on Silpat or parchment paper but don't overcrowd. Leave some gaps, so that the cornflakes don't steam. (The above shows all the cornflakes on 1 tray- 2 trays would work better.)
4b. Bake till golden brown and crispy. Keep an eye on them towards the end of black spots may form!
The cornflakes may not be 100% crisp when they come out of the oven, but they will turn crunchy once they cool down. They'll be even crunchier than they were eaten out of the box!
👩 Expert Tips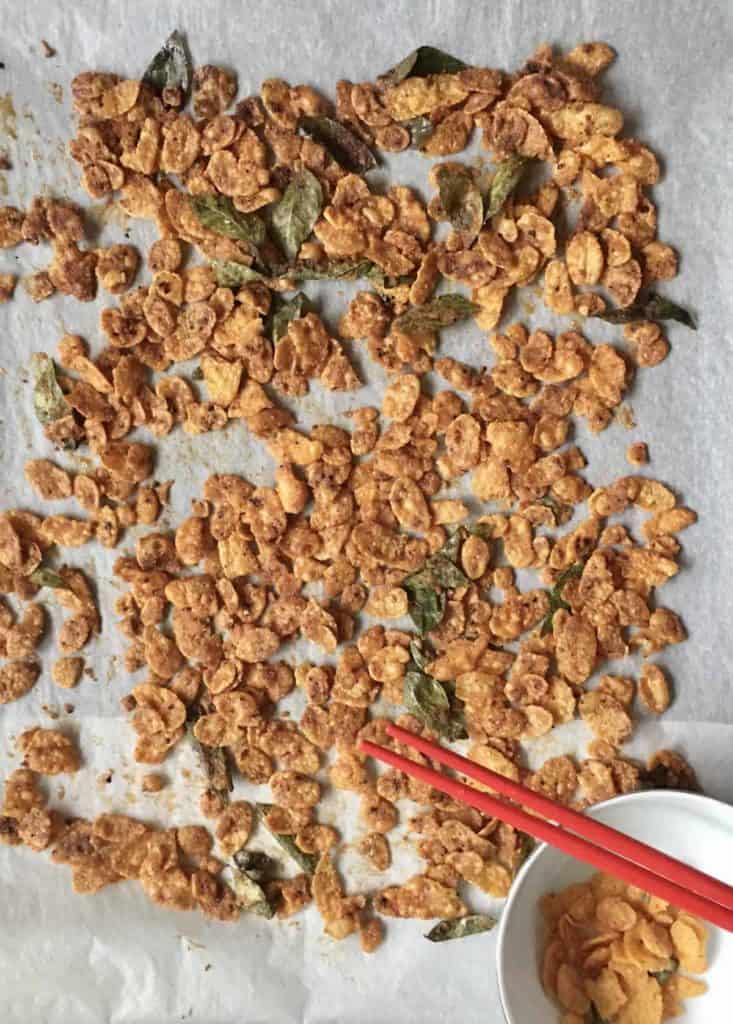 Tip #1: If using another brand of salted egg powder, check the ingredient list. There are other brands besides Knorrs, but many come pre-seasoned. If using those, there are usually instructions at the back on how to make the sauce. (Typically, it should be the same as my recipe below, just sans sugar)
Tip #2: If your egg comes uncooked, separate the whites and yolks, then steam the yolks alone for 10 minutes on high heat. (As it can be difficult to get a clean separation of white and egg if you steam/ boil the entire egg first.)
Tip #3: If you want a creamier sauce, add milk powder (preferred)or 1-2T of evaporated milk (you will need to bake the cornflakes for a bit longer, till golden brown.)
🥡 How to Store
Make sure the cornflakes are 100% cool before storing in an air-tight container, or they'll lose the crunch.
Depending on where you live, and how well you dried the cornflakes in the oven, they'll last for about 5 days in the air-tight jar at room temperature. They're usually gone in a day in my house though!
Don't keep for too long or the fat will go rancid.
🍲 More Recipes
How to Use Up Salted Egg
For Chinese New Year Recipes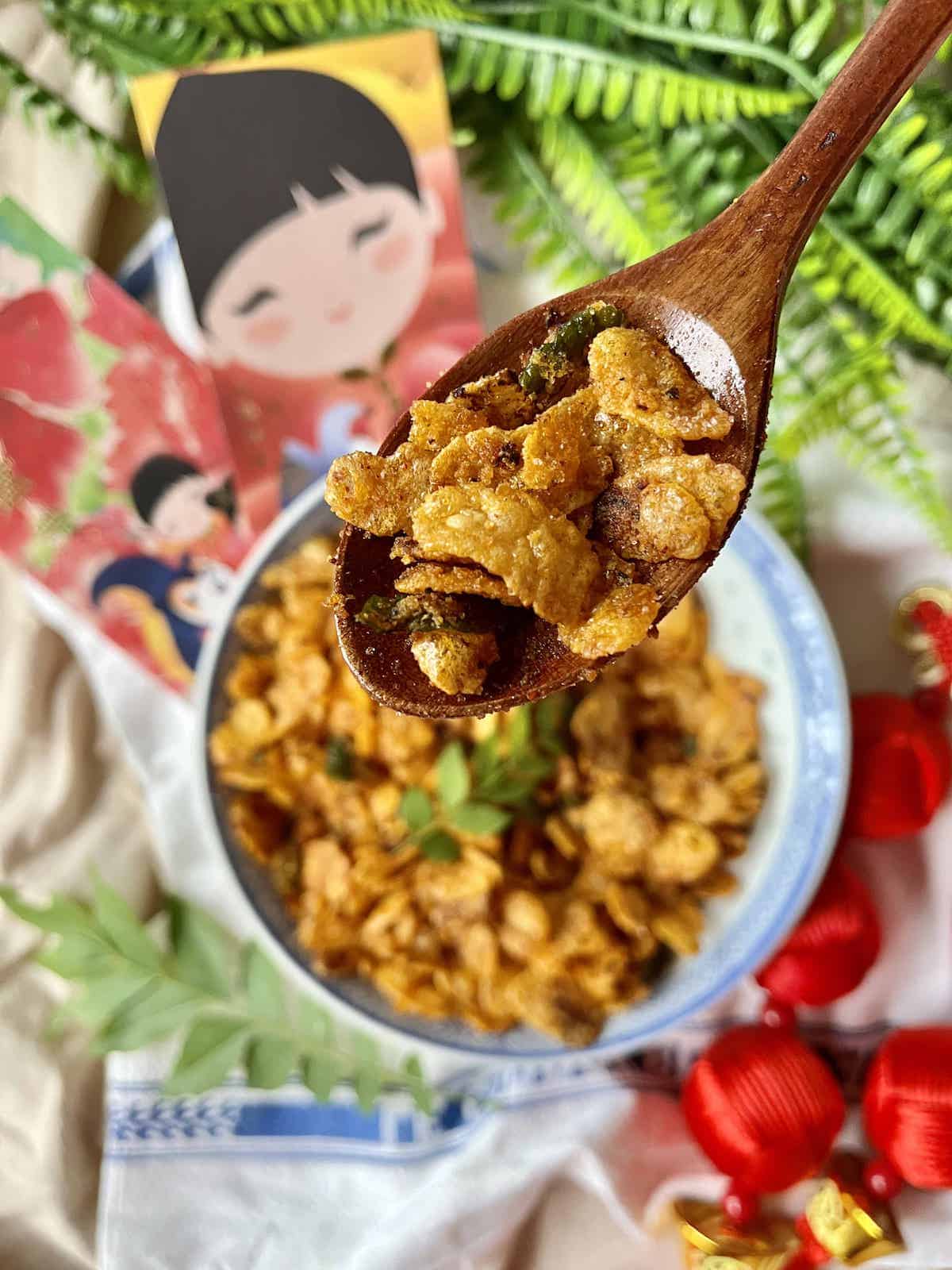 Enjoyed this easy Spicy Salted Egg Cornflakes Recipe? Please leave a 5-star 🌟🌟🌟🌟🌟rating in the recipe card below! If you REALLY liked this crispy Chinese New Year snack, please consider supporting it by buying me a coffee! 🙂 (No obligation though!) Thank you and have a great day!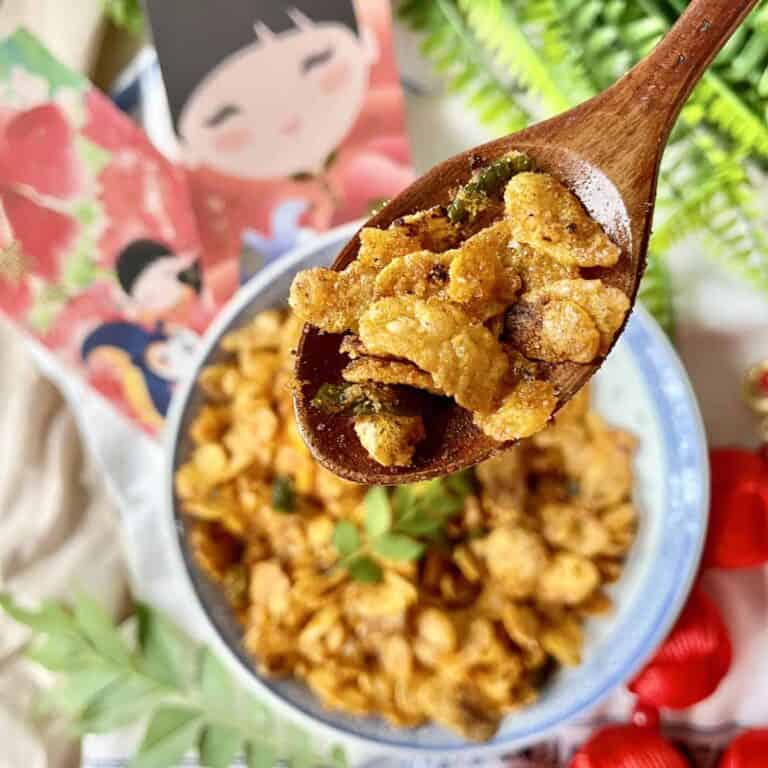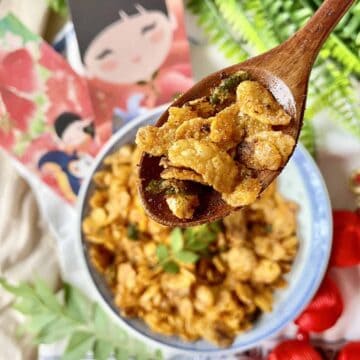 Salted Egg Yolk Cornflakes (CRISPY)
1 of the most popular Chinese New Year snacks in Singapore, it is also 1 of the easiest and quickest to make, requiring only 4-6 ingredients.
Equipment
Fork or grater

Not needed if you use salted egg powder

Frying pan and heat proof spatula

Baking tray and parchment paper or Silpat

If baking the cornflakes to a crisp
Ingredients
For the Salted Egg Sauce
3½

Tablespoons

unsalted butter

(50g or 1.8 oz) You can use salted butter as an alternative, just don't add any salt later. However, keep in mind every brand adds different amounts of salt so it's difficult to control the salt level in that case

5

sprigs

curry leaves

washed well and plucked off the stem. I didn't dry my leaves but, if you don't, there may be some splatter when you add them to the butter

1

teaspoon

chilli flakes/ powder

or to taste. I didn't make them super spicy as a lot of kids like to eat this. You may want to add more if you like chilli. If you don't have chilli powder/ flakes, slice up a few small red chillies (chilli padi/ bird's eye chilli) instead but make sure you cook off the moisture- remember to remove the seeds if you don't want it super hot. Also, don't touch your eyes after handling the chillies!

1-1½

Tablespoons

white caster sugar

or to taste. If you change the amount of chilli, you will need to change the amount of sugar as well, for the sauce to be balanced. Substitute: white granulated sugar

3

salted egg yolks

preferably steamed, if not boiled works. For conscientious cooks, grate the yolks to get them super fine. I just mash mine well with a fork but it's almost impossible to get a smooth sauce as there will be yolky lumps. An easier way is to substitute with 36g/ 1.27oz of Knorr's salted egg powder- no more lumpy sauce!

½-¾

teaspoons

salt

or to taste. Some yolks are saltier than others- it depends on how long they've been brined for- so taste the sauce before adding the salt.
Crispy Salted Egg Yolk Cornflakes
2½

C

cornflakes, unsweetened

If you use sweetened cornflakes, don't add the sugar! Note the weight of cornflakes per cup may vary depending on their shape so feel free to add more or less.
Instructions
Preparing the eggs
Pre-heat your oven to 350F/177C/160C fan

If your eggs come cooked, separate the yolks and whites.

Note: Keep the yolks and use the whites for other recipes (suggestions on how to use salted egg whites in this link)

If uncooked, crack the egg and steam only the yolks for 10 minutes. (If you steam/ boil the entire thing, it can be difficult to separate the 2 cleanly and some precious yolk is wasted.)

Either grate or mash the yolks finely with a fork then set aside. Grating gives you a smoother sauce.

Note: If you don't have salted eggs, you can use the powder instead. My recommendation is Knorrs salted egg powder (they're not paying me FYI) as it comes unseasoned and is made with real eggs- use 36g/ 1.27oz to substitute for 3 yolks) Alternatively, the quickest way is to DIY salted eggs is to cover raw egg yolk (duck or chicken) with salt and cure for 4-8 hours in the fridge, then treat it like a regular salted egg yolk.
Cooking the Salted Egg Sauce
Wash the curry leaves well and pluck the leaves off the stem. Don't discard the stems. Dry the leaves to avoid oil splatter later.

Heat the pan on medium, then add the unsalted butter. When melted, add the curry leaves and chilli powder. Stir-fry till aromatic, about 30 seconds. (Be careful not to let the chili burn!)

Increase the heat to medium-high a,dd the mashed salted egg yolks, stirring continuously. The sauce will froth and bubble.

Add the sugar and taste. If it's not salty enough, add the salt.

Once frothy, add the cornflakes and gently stir, trying not to crush any of the cereal. Stir till well-mixed. Some people like to stir fry till the sauce is a bit drier but I prefer to pop mine in the oven as it's more efficient (see below.)
Drying the cornflakes in the oven
Put parchment paper or Silpat on a baking tray and spread out the cornflakes and curry leaves. I used 2 as I don't like to crowd the cornflakes- this helps them to crisp up faster and avoid steaming.

Leave the cornflakes in the oven for 5 minutes, then turn the tray around and stir the cornflakes. This is to avoid any burning as ovens have hot spots. Leave the cornflakes in for another 3 minutes before checking the colour. They can take anything from 8-12 minutes (total time) to dry out- you will know they're done when the colour turns an amber brown. If you want to skip the turning and stirring, that's fine too but some cornflakes will be browner than others and not as presentable.

Note: to save energy, I sometimes pop the cereal in to dry when baking other stuff. You can also dry them for 7-8 minutes on 425F/ 218C but the cereal will burn quickly so you need to watch it!

When done, take the trays out, and allow to cool completely before storing in an air-tight container. (It is still a bit soft when hot but very crisp when cool!) Best to eat within 1 week but it may keep for longer.
Notes
If you like an extra creamy sauce you can add in milk powder (preferred) or 1-2 Tablespoons of evaporated milk (sub-optimal as it'll take slightly longer to crisp up the cornflakes in an oven.)
Different egg yolks have different weights- my 3 yolks came up to 53g FYI. Make sure the shells aren't cracked- toss any cracked ones.
Note: the nutritional information is an estimate automatically calculated using the WPRM recipe maker and I am not responsible for its accuracy.
Nutrition
Calories:
214
kcal
Carbohydrates:
20
g
Protein:
4
g
Fat:
14
g
Saturated Fat:
8
g
Polyunsaturated Fat:
1
g
Monounsaturated Fat:
4
g
Trans Fat:
0.4
g
Cholesterol:
172
mg
Sodium:
434
mg
Potassium:
57
mg
Fiber:
1
g
Sugar:
6
g
Vitamin A:
1056
IU
Vitamin C:
54
mg
Calcium:
33
mg
Iron:
6
mg
If this Singaporean Snack recipe was helpful, maybe you'd like to sign up for my Asian food newsletter?