One of the quickest and easiest Chinese New Year (CNY) snacks to make at home, golden salted egg yolk cornflakes crunch is also 1 of the most addictive and only requires 4-6 ingredients. It's savoury, sweet, salty, crunchy and sometimes spicy!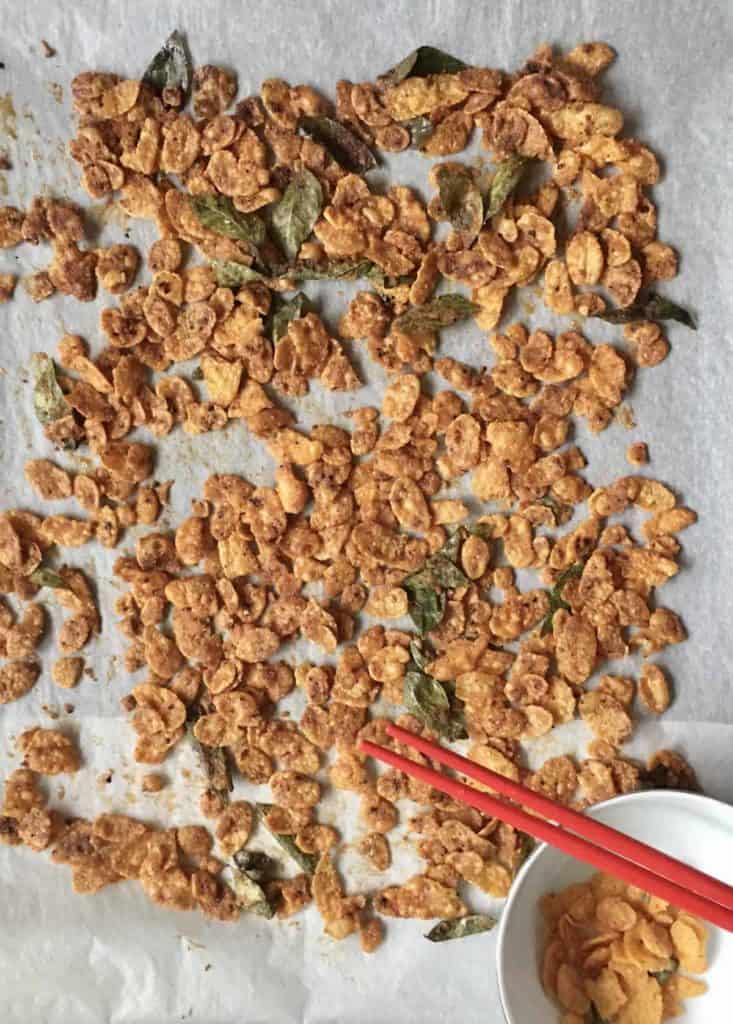 Jump to Recipe
Jump to:
Salted Egg Yolk Cornflakes Crunch have been very popular in Singapore and Malaysia, especially during Chinese New Year, for quite a few years now. As both countries love food with bold, strong flavours, it's no surprise that salted egg- anything is so popular!
What are salted eggs?
They're duck eggs that have been soaked in a salt-brine or packed in salt charcoal. This preservation method dates back to ancient China and they are popular all over Asia today. For more information on salted eggs, such as its history, healthiness etc, click the link.
What does it taste like?
It's a very savoury, in-your-face flavour, not for the faint-hearted. I think of it as Asian Parmesan. The texture of the cooked yolk is quite grainy.
Most sources say to boil or steam the eggs for 10 or 15 minutes. I was wondering if there was a difference so I tried boiling and steaming for 10 and 15 minutes. The yolks were cooked at 10 minutes, whether they were steamed or boiled, but it seemed slightly easier to peel the eggs that had been cooked for longer. (Peeling was a pain as you can see from the eggs below- leave the eggs in cold water once cooked before peeling, to make the shell come off more easily.)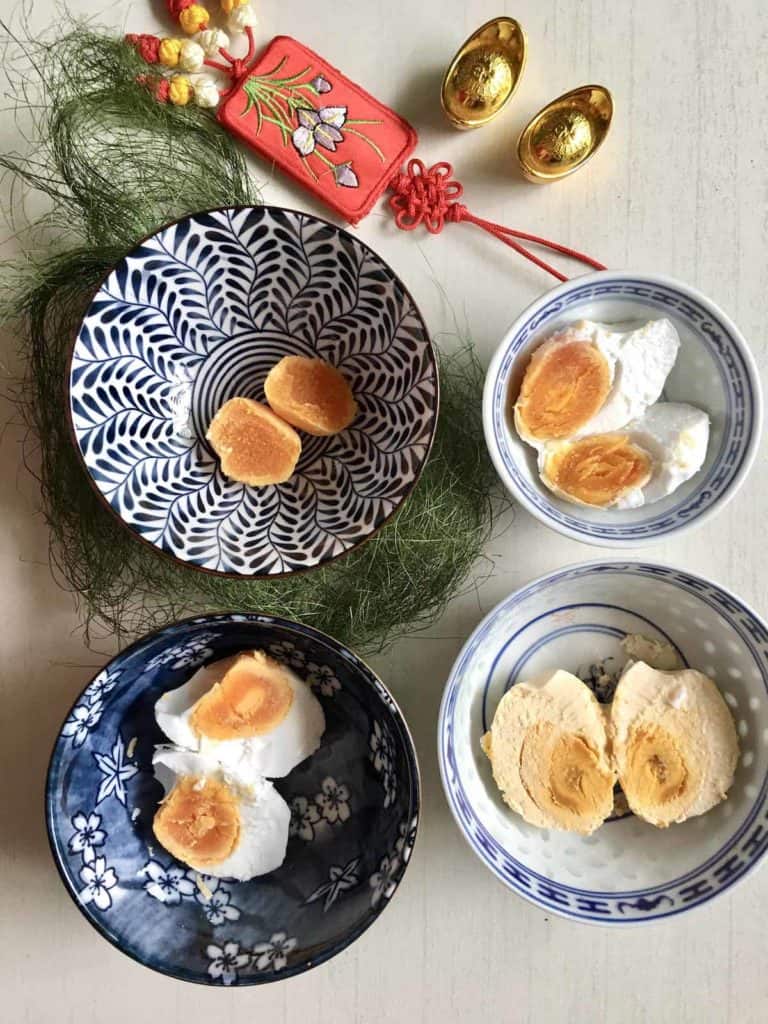 Ingredients & Substitutes
You only need 4-6 ingredients to make this crunchy, savoury CNY snack:
Salted Eggs

I usually use Knorr salted egg powder. An 800g packet is equivalent to 68 salted egg yolks, so use 11.8g of powder for every 1 yolk.
If using another brand, check the ingredient list: there are other brands as well, but many come pre-seasoned. If using those, there are usually instructions at the back on how to make the sauce (typically, it should be the same as my recipe below, just sans sugar)

Cornflakes
Unsalted Butter

You can substitute with salted butter but note that the salt level differs from brand to brand, so it'll be more difficult to gauge the seasoning level

Curry leaves

For ideas on how to use curry leaves, click the link
You can buy these fresh, dried or frozen
If you're using homegrown leaves, make sure to wash them carefully, especially the undersides, as they attract pests who lay eggs on them- if you see little black dots, wash them all off!

White Sugar

Granulated or caster is fine

Optional:

For those who prefer spicy salted egg yolk cornflakes: use chilli powder/flakes or sliced small red chillies/ bird eye chilli/ chilli padi
I recommend the powder or flakes as these are dried and you won't have to worry about the impact on the snack's shelf life

You could also toss in some roasted peanuts and stir-fry with the cornflakes
If you're making cornflake crunch cluster nests instead, you will need 1 more ingredient:
a neutral flavoured honey

don't use something strongly flavoured with herbs, as it will clash with the salted egg flavoue
add less sugar- or none at all- to the cornflakes otherwise it'll be too sweet (we need the honey for the flakes to stick together.)
What kind of cornflakes?
Use unsweetened cornflakes.
If you only have sweetened cornflakes, you can try making a small batch first: make the sauce without any sugar, taste the final product and adjust accordingly the next time you make it.
Can I make this quickly without salted eggs or salted egg powder? YES
The shortcut is to directly cure regular egg yolks- preferably duck, but chicken works too- directly in salt. After 4-8 hours in the chiller, you'll get the equivalent of a salted egg yolk, which you can then use to make this recipe!
Tips
Add the sugar to the sauce BEFORE you add the yolks- if not, it's hard to distribute it in the sauce evenly without breaking the cornflakes. But add the salt AFTER adding the yolks as they have different levels of salt! (It depends on how long they've been brined, how thick the shells were, how big the egg etc)
If your egg comes uncooked, separate the whites and yolks, then steam the yolks alone for 10 minutes on high heat. (As it can be difficult to get a clean separation of white and egg if you steam/ boil the entire egg first.)
If you want a creamier sauce, add 1-2T of evaporated milk and bake the cornflakes for a bit longer (till golden brown.)
For more savouriness, add a pinch of chicken bouillon powder (and maybe a bit less salt and sugar.)
Don't overcrowd the cornflakes on the parchment paper- leave some gaps, so that the cornflakes don't steam.
The cornflakes may not be 100% crisp when they come out of the oven, but they will turn crunchy once they cool down- they'll be even crunchier than they were eaten out of the box!

How to store
Make sure the cornflakes are 100% cool before storing in an air-tight container, or they'll lose the crunch. They're much crispier post-baking as compared to when eaten right out of the packet, so that would be a shame!
Depending on where you live, and how well you dried the cornflakes in the oven, they'll last for 1-3 weeks in the air-tight jar. They're usually gone in a day in my house though! Don't keep for too long or the fat will go rancid.
More Recipes
Other salted egg recipes include:
For more Chinese New Year recipes, check out:
You can also use a similar sauce to stir-fry:
chicken
prawns
pork
fried rice
squid (called sotong in Singapore and Malaysia)
crab
bittergourd
fish
tofu
Golden Salted Egg Yolk Cornflakes Crunch (Easy CNY Snack)
1 of the most popular Chinese New Year snacks in Singapore, it is also 1 of the easiest and quickest to make, requiring only 4-6 ingredients.
Equipment
Pot or steamer

Fork or grater

frying pan

Wooden spatula
Ingredients
For the sauce
3.6

Tablespoons

unsalted butter (50g or 1.8 oz)

You can use salted butter as an alternative- don't add any salt later then- but keep in mind every brand adds different amounts of salt so it's difficult to control the salt level in that case

60

pieces

curry leaves, washed well and plucked off the stem

I didn't dry my leaves but, if you don't, there may be some splatter when you add them to the butter

1

teaspoon

chilli flakes/ powder, or to taste

I didn't make them super spicy as a lot of kids like to eat this. You may want to add more if you like chilli. If you don't have chilli powder/ flakes, slice up a few small red chillies (chilli padi/ bird's eye chilli) instead- remember to remove the seeds if you don't want it super hot. Also, don't touch your eyes after handling the chillies!

1-1½

Tablespoons

white caster sugar, or to taste

If you change the amount of chilli, you may need to change the amount of sugar as well, for the sauce to be balanced. Substitute: white granulated sugar

3

salted egg yolks, boiled or steamed

For conscientious cooks, grate the yolks to get them super fine, but I just mash mine well with a fork. Substitute: 36g/ 1.27oz of Knorr's salted egg powder

½-¾

teaspoons

salt, or to taste

Some yolks are saltier than others- it depends on how long they've been brined for- so taste the sauce before adding the salt.
Golden Salted Egg Yolk Cornflakes Crunch
3

C

cornflakes, unsweetened (100g or 3.5 oz)

If you use sweetened cornflakes, don't add the sugar! Note the weight of cornflakes per cup may vary depending on their shape.)
Instructions
Preparing the eggs
Pre-heat your oven to 350F/177C/160C fan

If your eggs come cooked, separate the yolks and whites. Keep the yolks and use the whites for other recipes (suggestions on how to use salted egg whites in this link)

If uncooked, crack the egg and steam only the yolks for 10 minutes. (If you steam/ boil the entire thing, it can be difficult to separate the 2 cleanly and some precious yolk is wasted.)

Either grate or mash the yolks finely with a fork then set aside

If you don't have salted eggs, you can use the powder instead. My recommendation is Knorrs salted egg powder (they're not paying me FYI) as it comes unseasoned and is made with real eggs- use 36g/ 1.27oz to substitute for 3 yolks)

Alternatively, the quickest way is to cover raw egg yolk (duck or chicken) with salt and cure for 4-8 hours in the fridge, then treat it like a regular salted egg yolk.
Cooking the Sauce
Wash the curry leaves well and pluck the leaves off the stem. Don't discard the stems.

Heat the pan on medium, then add the unsalted butter. When melted, add the curry leaves and chilli powder. Stir-fry till aromatic, about 30 seconds.

Add the mashed salted egg yolks, stirring continuously. The sauce will froth and bubble

Add the sugar and taste. If it's not salty enough, add the salt.

Take the pan of the fire, add the cornflakes and gently stir, trying not to crush any. Stir till well-mixed.
Drying the cornflakes in the oven
Put parchment paper or Silpat on a baking tray and spread out the cornflakes and curry leaves. I used 2 as I don't like to crowd the cornflakes- this helps them to crisp up faster and avoid steaming.

Leave the cornflakes in the oven for 5minutes, then turn the tray around and stir the cornflakes. This is to avoid any burning as ovens have hot spots. Leave the cornflakes in for another 3 minutes before checking the colour. They can take anything from 8-12 minutes (total time) to dry out- you will know they're done when the colour turns an amber brown. If you want to skip the turning and stirring, that's fine too but some cornflakes will be browner than others and not as presentable.

When done, take the trays out, and allow to cool completely before storing in an air-tight container. Best to eat within 1 week but it may keep for longer.
Notes
If you like an extra creamy sauce you can add in 1-2Tablespoons of evaporated milk- note that it'll take slightly longer to crisp up the cornflakes in an oven
Different egg yolks have different weights- my 3 yolks came up to 53g
Other Singaporean recipes that may interest you include: