A comprehensive list of scrumptious Chinese New Year Recipes: from savoury snacks to drinks, vegan to paleo to meat - we've got you covered!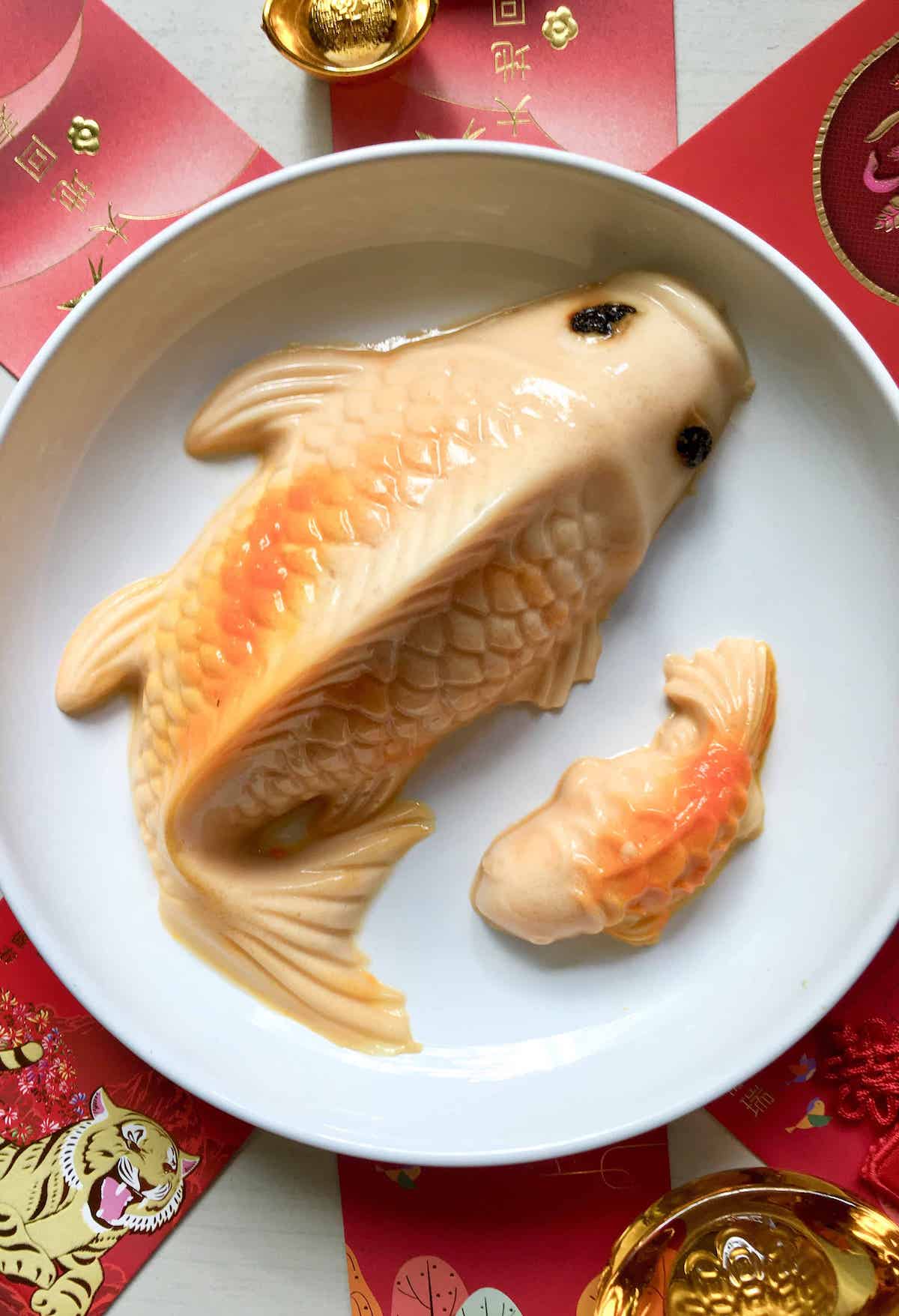 Jump to:
If it's just you in the kitchen and you're feeling overwhelmed, check out our CNY menu planning guide that 1 person can easily handle.
Savoury Snacks
Chinese New Year is infamous for its sweets. Every year, local newspapers and magazines publish infographics showing how many calories each sweet treat has! For those without a sweet tooth, try 1 of these savoury snacks or some of these sweet and savoury Asian nut recipes.
You can even make your own salted egg for this sauce! For those who love salted egg as much as I do, here's another snack you can make.
For more Asian snack recipes, check out these 40+ Asian party foods round-up that I created for Super Bowl!
CNY speciality recipes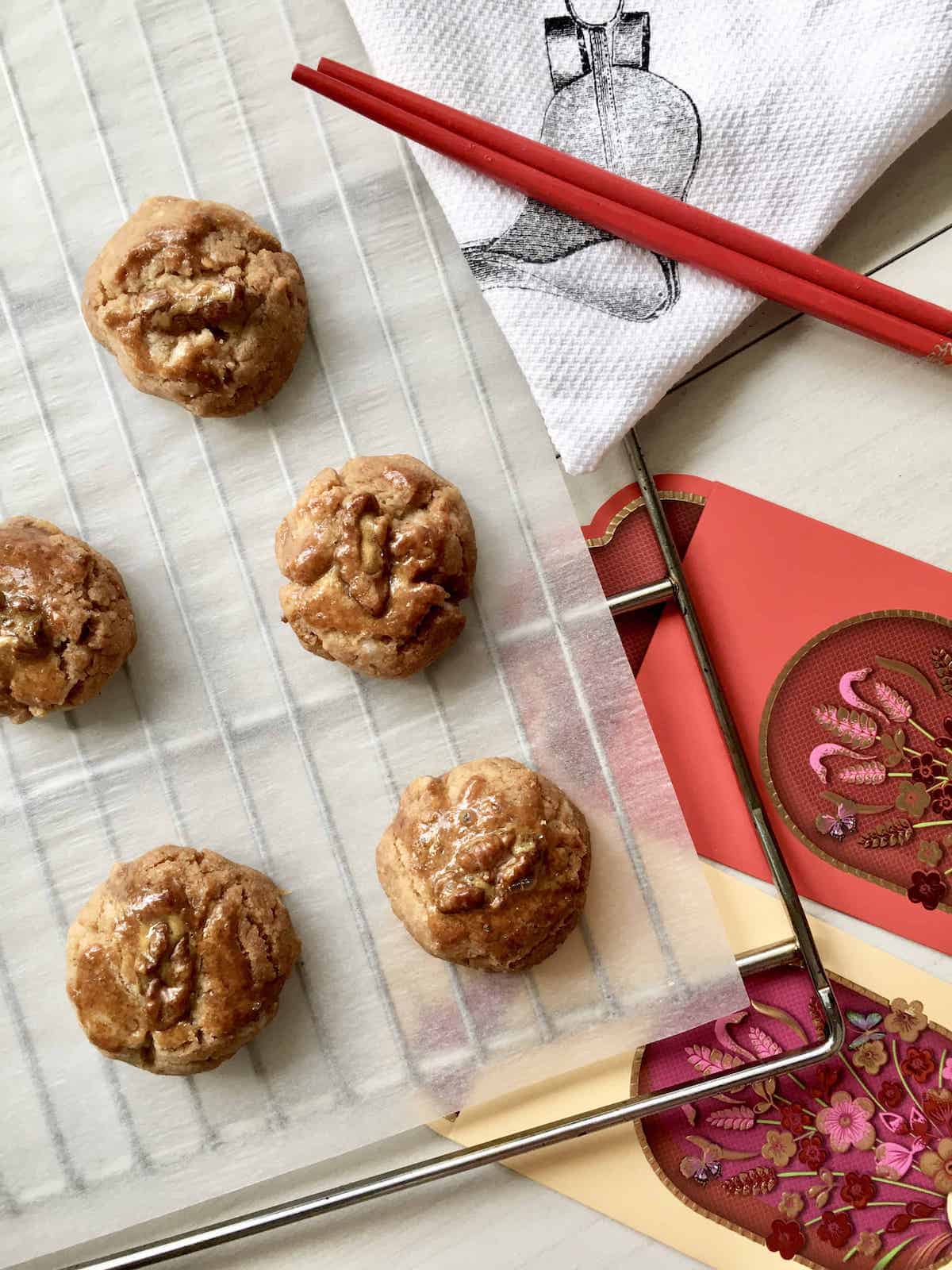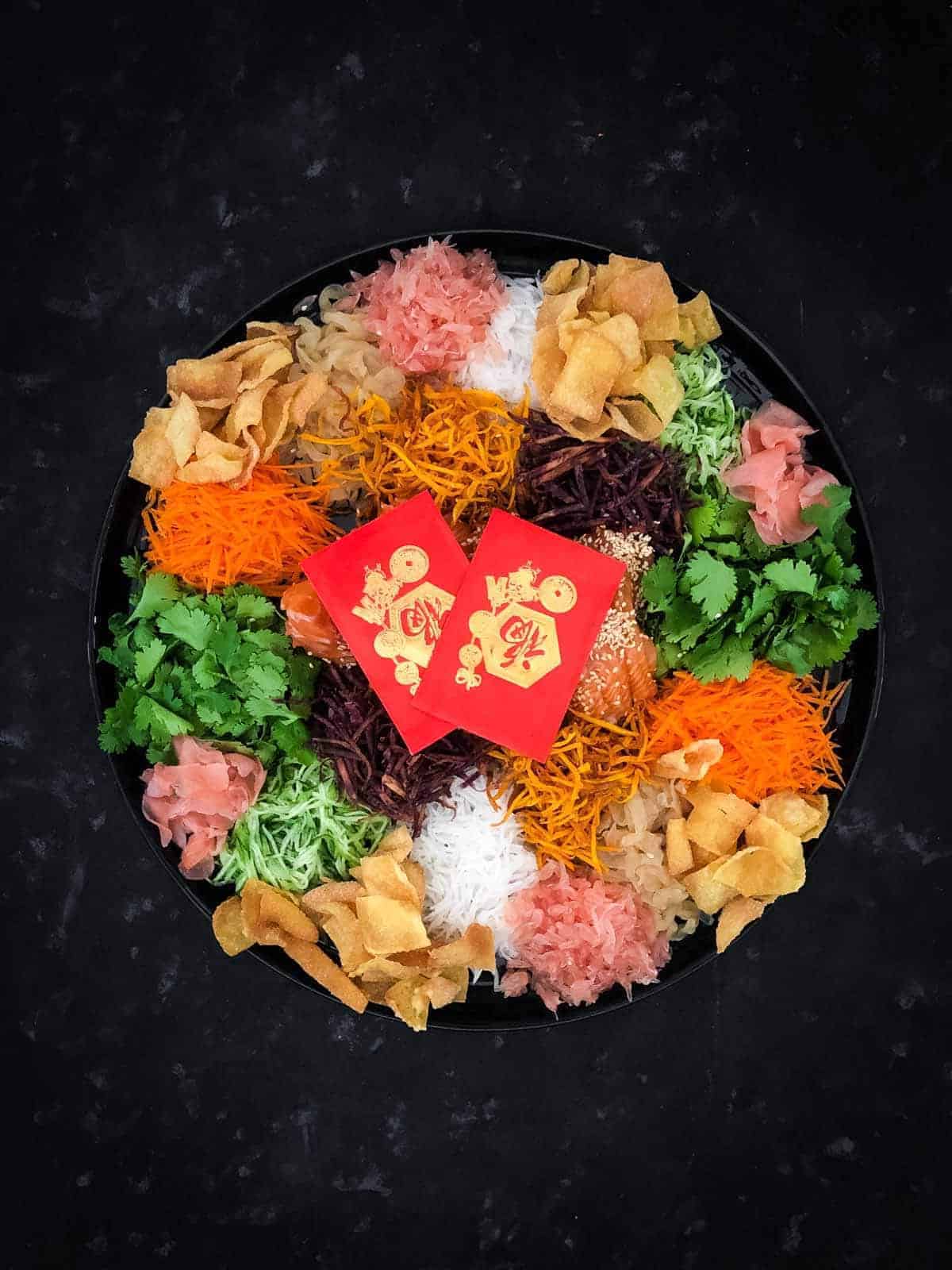 Yee Sang or Yu Sheng, is many people's favourite CNY dish! The dish originated in China donkey years ago, but its current form is a Singaporean invention from the 60s. It's great fun as you have symbolic sayings to recite as you add the different components- so there's an element of showmanship in this dish- and everyone gets together to toss the salad- the higher one tosses, the higher one will climb in the next year so people can get quite competitive! The bit that you get in your serving also has meanings: for example, if you get the fried wonton skin, it looks like gold nuggets, so you'll have money coming your way soon!
What to say when serving yu sheng/ yee sang:
as you squeeze the lime (or lemon) say da ji da li (大吉大利) (In English this means good luck(
As you add the fish (usually salmon), say nian nian you yu (年年有余) - fish is pronounced as "yu" in Chinese as well so this is a play on words to symbolise excess in the next year
As you pour the dressing oil (do it in a circular motion), say cai yuan guang jin (财源广进)
As you add the plum sauce, tian tian mi mi (甜甜蜜蜜) - because plum sauce is sweet (tian) your life will be sweet!
As you add seeds and sesame nuts, aay wu gu feng shou (五谷丰收)
As you sprinkle the fried bits- many people's favourite- say jin yu man tang (金玉满堂) (the golden dough looks like gold ingots)
And then you can toss like crazy, whilst saying any of this phrases:
HUAT AH! (i.e. you're gonna strike it rich!
gong xi fa cai (恭喜发财), shen ti jian kang (身体健康), wan shi ru yi (万事如意) (Happy New Year, May you Get Rich and be healthy and hope everything goes your way)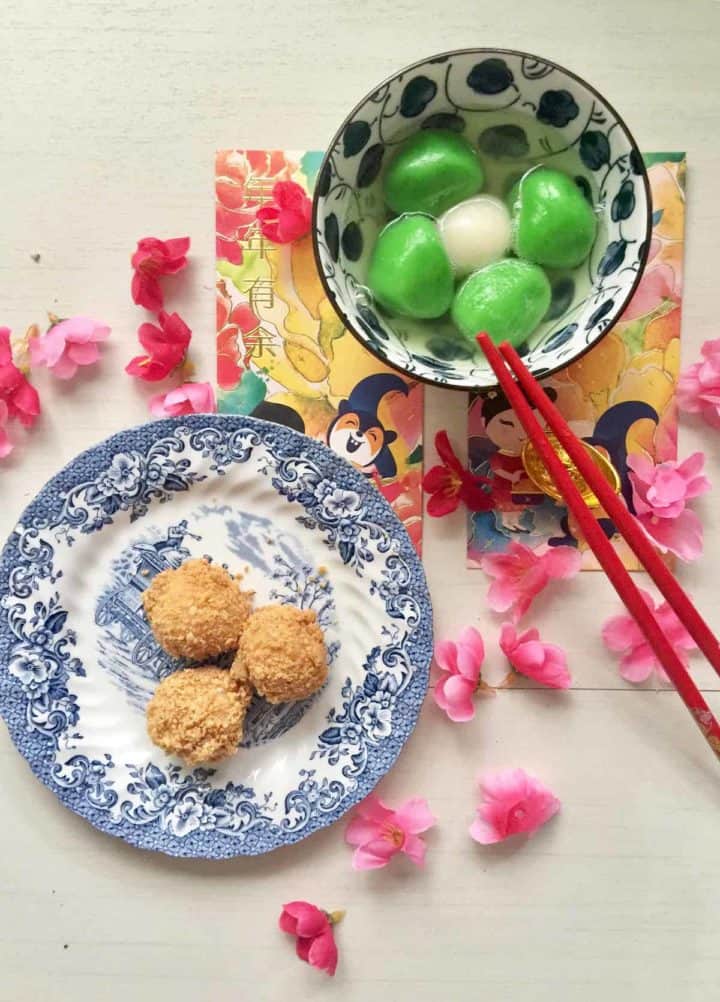 Another food associated with Chinese New Year is bak kwa or Chinese pork jerky- if you bought too much, here are some ideas for bak kwa leftovers!
Egg rolls
And if you're part of the air fryer craze, try making the egg rolls in the air fryer instead!
For 12 more lucky golden food suggestions for your lunar new year table, click here.
Fish & Prawn dishes = Prosperity & Laughter
Typically, Chinese people love to serve a whole fish- the head is actually considered a delicacy as the cheeks of the fish are very tender. If you eat the head of the fish, you must also eat the tail to represent wholeness- there's a beginning (head) and end (tail) for everything!
Nonetheless, many non-Asians find the sight of a whole fish on the table a little unappetising, so if you have non-Asian guests, try this sweet and sour fish instead!
Another popular lunar new year ingredient is shrimp!
Abalone = good fortune
Dumplings = Gold Ingots
A whole chicken = a good year
It's important to serve chicken as a whole on the CNY table as this represents wholeness and prosperity. Save the cut up chicken stir-fry pieces for other days of the year! Some whole chicken ideas include:
roast chicken
soya sauce chicken
poached in chicken stock with ginger and garlic (basically Singaporean Hainanese Chicken)
You can find other Asian whole chicken recipes here.

Pork
It's fine to cut the pork though!
Uncut Noodles = Long Life
Noodles are a key part of the Chinese New Year table, thanks to their association with long life in Chinese culture. For a lucky 8 CNY noodle recipes, click here. So far, I've never been to a Chinese New Year gathering with soup noodles- it's always been stir-fried/ dry noodles. If your family celebrates with soup noodles, I'd love to hear about it!
Update: my friend who is Hing Hwa does have mee suah soup for Chinese New Year. (My family is Hokkien so the traditions are different.)
Vegan
I've even done a round-up specifically for 23 vegan Chinese New Year dishes, so click this link to bring you there!
Pumpkin = a bountiful year
Here's a list of 5 Asian pumpkin recipes for CNY.
Sweets = a sweet year
For those on a diet, try these no sugar added sweet treats:
After so much feasting, have some plum tea to help you digest!
23 vegan CNY recipes + 8 noodle dishes + 13+1 Golden foods + 5 pumpkin recipes for a lucky lunar new year + these 26 recipes = over 75 recipes! (80 or so if you include the 4 CNY drink recipes below- not to mention the recipes in the CNY menu guide!)
You might also be interested in these CNY drink recipes: