What's a dinner party without a good selection of finger foods? If you like Asian cuisine, try these Finger Food recipes for 2023 which cater for all diets: from vegan to carnivorous to sugar-free! So good, you'll have no space for the main course!
Jump to:
Luncheon Meat Fries
🍿 Popcorn
Asian Popcorn
For more homemade easy popcorn recipes, click here.
Salted Egg Popcorn
Note: If you've never popped corn on the stove before, it's super easy (and fun!), click the link for a Healthy Stovetop Popcorn Guide.
Cornflake Crisp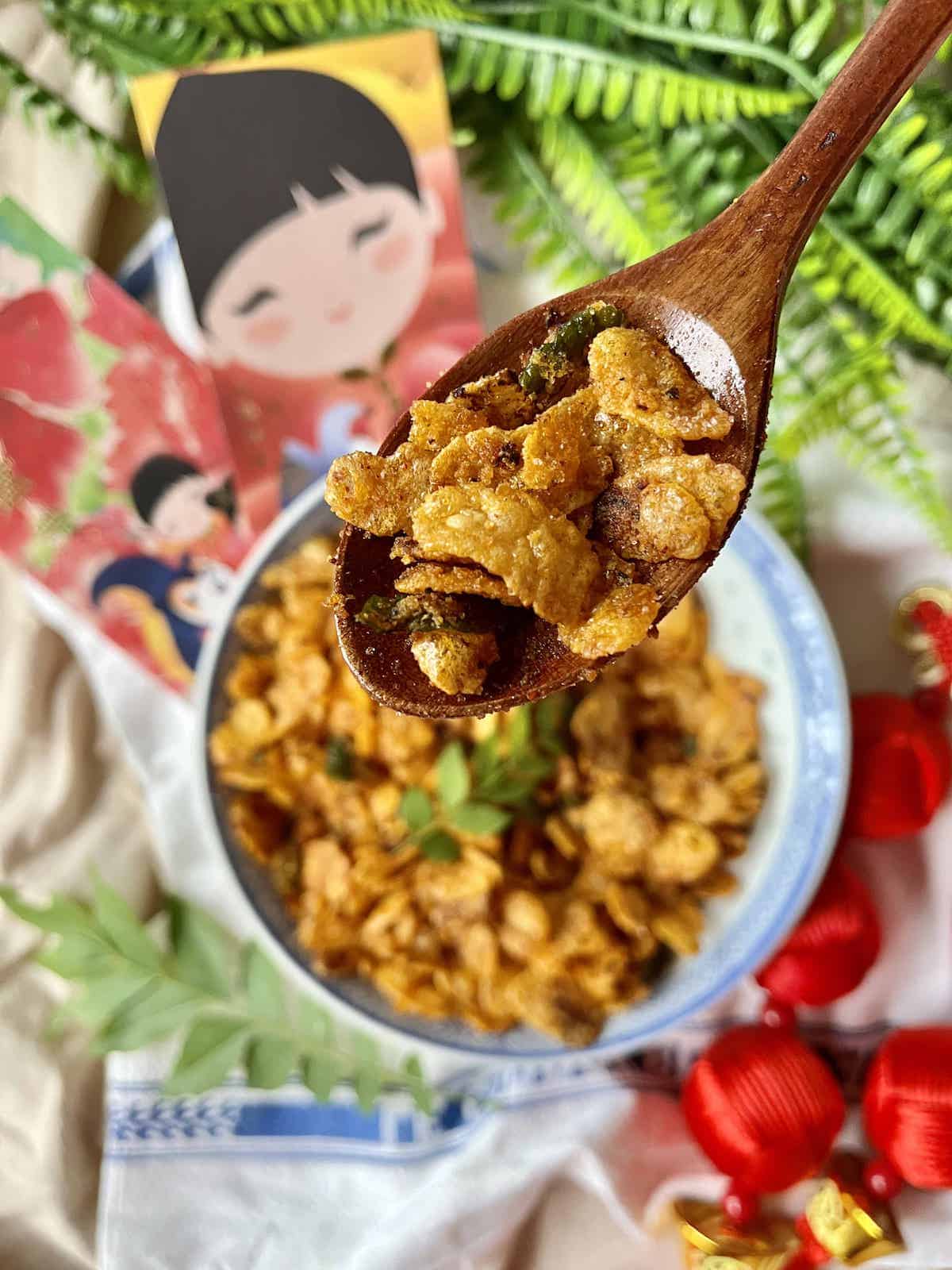 And since we're on the note of salted eggs...
By the way did you know it's really simple to make your own salted eggs at home? You just need salt, water, eggs and TIME!
🥬Vegan
Curry Puff
These Asian "samosas" or "empanadas" are so popular in Singapore, you can find them at convenience stores at petrol stations, albeit the puff pastry version and not the traditional dough type!
Make sure you use margarine and vegetable stock if vegan!
Note: If you're not vegan and not a potato fan, stuff them with tuna curry instead.
Tip: you can do the same and use puff pastry or even phyllo dough to speed ups he process. Curry puffs freezer really well too, so make a huge batch and keep the rest for your next party!
Popcorn
Fritters
Serve them with a sweet chili sauce and green onions or a spicy sauce like sambal aioli or gochujang mayo.
Egg Rolls
Air Fried Rolls
Shishito Peppers
🐔 Chicken Wings
Wings are a perfect Superbowl recipe so here are more Asian wing ideas!
FIngerlicking Fish Sauce Wings
The tangy calamansi lime juice, fresh ginger and fish sauce mixture will delight your taste buds!
Tip: substitute with lemon juice or rice wine vinegar if you can't get lime juice.
Chinese Chicken Wings
Chicken wings braised in a scrumptious soy sauce and hoisin sauce mixture till soft, juicy and tender. To give it a deeper flavor, you can use brown sugar instead of white and sprinkle with lightly toasted sesame seeds.
Better than any you get at a Chinese restaurant!
Tip: leftovers can be shredded to make chicken lettuce wraps!
🐄 Other Meat
Luncheon Meat Fries
Tip: Goes well with a side of your favorite sauces, such as gochujang mayo and sambal oelek aioli.
Pakoras
Don't forget to serve them with these Indian dipping sauces!
Satay
Korean Chicken
Kebab
Bao
For modern Asian flavor, use a pandan bao or matcha bun instead! If you don't have time to make red curry pork, you can use simple grilled meat and this Gochujang Compound Butter.
🐟 Seafood
Salmon Bite
Crab Bite
Shrimp Bite
This easy recipe is a Vietnamese version of 1 of my favorite Chinese appetizers. If you like shrimp as much as I do, try these Asian prawn recipes!
Canned Tuna Dip
Beer Shrimp
🥕 Vegetables
Potstickers
These vegan Chinese dumplings are the perfect finger food for a weekend party with friends- you can make them together before you feast!
Wontons
These cream cheese wontons are fried till crispy perfection.
Sliders
Note: the above recipe is not vegan because it uses LKK sauce- you could always use Chinese mushroom sauce instead if you are on a plant-based diet!
Poppers
Fresh Spring Rolls
Bhajis
Gluten Free
There are already a few gluten free appetiser recipes on this list (including the onion bhajis above) but click through for more nachos and dips GF recipes for Super Bowl as well as some gluten free Super Bowl appetisers.
Note: only some of the recipes and not the entire lists are gluten-free!
Cheese
Paneer
Sweets
Jelly Bites
Sugar Free Sweets
If you've over-indulged in the savoury Asian snacks above, these desserts which don't use any sugar will make sure your Superbowl isn't ruined by guilt!
Which of these Asian appetizer recipes was your favorite? If you enjoyed them, please do sign up for my Asian recipes' mailing list here!
P.S. After these Asian Snacks Recipes, you may want some Chinese plum tea to improve digestion!