Adapted from the recipe of a famous Singaporean Peranakan food author, Sylvia Tan, this easy spicy tuna dip is great for when you've nothing in the fridge and need to raid your pantry! It only requires 4-ingredients & about 15 minutes.
Jump to Recipe
Jump to:
When I'm at a loss what to cook, I like to make this quick and delicious, easy, spicy tuna dip recipe: it only requires 4 ingredients which are pantry staples in SouthEast Asian cooking - onions, sambal belacan, canned tuna and coconut milk. You don't need any onion powder, cayenne pepper, lemon zest, garlic powder, diced jalapeno etc that many other spicy tuna dip recipes call for. (The recipe also calls for salt and sugar but these are such basic cooking essentials, I figure they don't count!)
The best part is that it only takes 15 minutes to whip up! It's a good recipe for holiday parties or when friends come over unexpectedly - I love easy appetizers and this hot tuna dip has always been a favourite amongst guests.
If, like me, you're poor at grocery planning and always running out of 1 ingredient or another, here are some 5-ingredients-or-fewer recipes which may be helpful for you- this post is a collection of 15 5-ingredient recipes and this 12345 pork ribs is 1 of the most popular recipes on my site!
What is sambal?
If you're unfamiliar with sambal (sometimes spelt sambol), it's a spicy chilli paste common in most South East Asian countries that's pretty much magic. In Indonesia alone, there are 100s of different types of sambals! Some are fresh sambals, which have not been cooked, and others have been sauteed till fragrant. (This recipe calls for the latter type of cooked sambal.)
Sambal can be used as a side dip (think ketchup) which we eat with rice and dishes such as soya sauce braised pork, or tau yew bak. Alternatively, it can be mixed with other condiments such as mayonnaise (great with fries and potato chips) or even used as a stir fry sauce (hello sambal fried rice!). Whatever way it's used, it results in a really delicious dish. (One of my friends even adds it to her homemade pate!)
The best sambal in homemade and almost every Singaporean, Malaysian or Indonesian home will have their own recipe- I will share 1 of ours soon- but if you're short of time, it's easily available ready-made in most supermarkets.
Fans of spicy Asian food may also be interested in this easy spicy popcorn or this spicy fried rice noodles.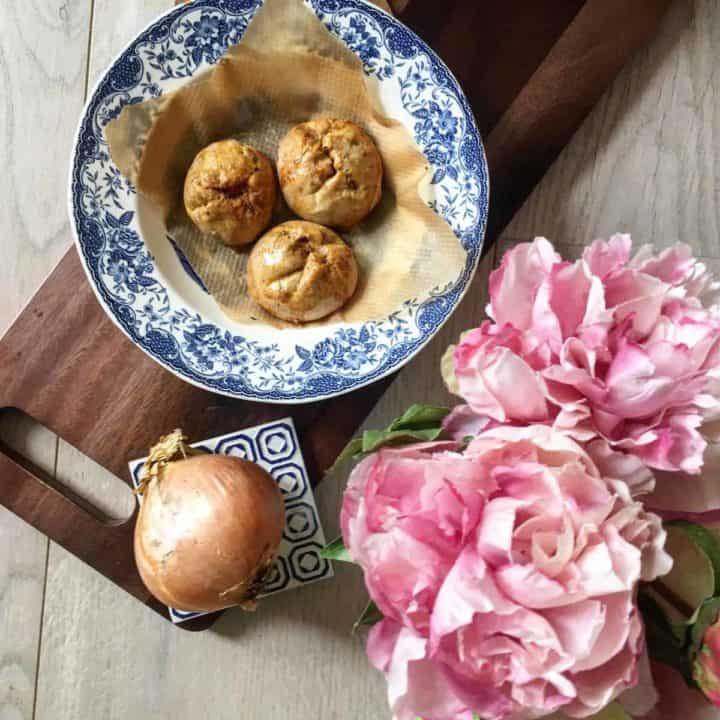 Origin of the recipe
I adapted this 4-ingredients easy tuna dip recipe from one in a Sylvia Tan cookbook (Sylvia Tan is a Singaporean Peranakan who has written several cookbooks and whose recipes can be found in local newspapers and magazines. You can access a selection of her recipes for free here.)
I decided to create my own version as I wasn't able to get Asian ingredients such as kaffir lime leaf or Asian shallots in London easily. Now that I'm back in Singapore, I have my own plant on my balcony! (For more kaffir lime leaf recipes- it's 1 of my favourite herbs- click this link.)
Ingredients & Substitutions
Canned tuna

I prefer tuna in oil, but you can also use tuna in brine. If using the latter, you will also need a neutral vegetable cooking oil such as sunflower or canola. I don't recommend using olive oil as it has quite a strong taste and you want the sambal + coconut flavors to take centre stage here.

Onions (preferably red but yellow works too)
Coconut milk

If you only have coconut cream, you can mix coconut cream with water in the ratio 3:1 to make coconut milk for example, ¾ Cups of coconut cream + ¼ Cup of water stirred well gives you 1 Cup of coconut milk. If you do not dilute the coconut cream with water, the dip will be much too thick!)
Different coconut milks have different thicknesses though, so if you find the final dish too thick, just add a bit of water to dilute it slightly.

Sambal belacan

Store bought or home made

Salt & Sugar
Optional ingredients: kaffir lime leaf

This is an ingredient in the original recipe and it gives the creamy dip an amazing fragrance. However, it's not a must. I used to leave it out when I was living in London as it is difficult to get outside of Chinatown in the UK.

Optional garnish: green onions

I only add this when I have guests over and want to prettify the tuna mixture.
Note: even if you like a tangier taste, I do not recommend adding lime- the flavours do not mesh well.
What to serve with
This easy, spicy, delicious dip is the perfect appetizer and goes well with:
pita chips
tortilla chips
corn chips
your favorite crackers
toasted bread
cut fresh vegetables such as cucumbers, carrot and celery sticks (crudites)
potato patties (I have a great recipe for homemade hash browns!)
Other delicious ways to eat this
This nice spicy dip also works well as a side dish, a topping for pizzas, on toast or crackers and as a filling for bread rolls and curry puffs (Click here for an easy no-kneading required vegetarian curry puff recipe).
Pretty versatile and a great snack, no?

Suggested side dishes
If you're having this easy spicy tuna dip with rice or fried noodles, some stir-fried vegetables in oyster sauce on the side would be nice as the flavour won't clash with the bold flavours of the sambal.
Alternatively, you could dial up the spice factor and pair it with something like assam fish coconut curry or mee siam. Finishing off with a chilled dessert like vegan coconut agar agar jelly is a nice note.
How to store
If you have made too much, you can keep the extra in an airtight container in the fridge for 2-3 days. As this delicious recipe contains coconut milk, it actually tastes better the next day but it is best not to keep it for too long (coconut goes bad easily).
If you've enjoyed this recipe, please do let me know in the comments below!
Can this spicy tuna dip be frozen?
I prefer not to freeze it as it contains coconut which has a short shelf life. However, I once made some for a friend who froze it.
Easy spicy tuna dip recipe (4-ingredient South East Asian recipe)
An easy, spicy, creamy tuna recipe that only calls for 4 pantry staples and can be made in 15 minutes.
Equipment
Pan or skillet

heat proof spatula
Ingredients
1

tablespoon

neutral vegetable oil

Sunflower or canola works well

1

Onion (peeled and minced)

I usually use yellow but substitute with red onions or shallots when necessary

1

tablespoon

sambal belacan tumis

This is the sambal sold in jars in most supermarkets. You can also make your own if you have belacan and chillies.

2

cans

tuna, drained weight 113g each (0.25 lb)

Either tuna in oil (preferred) or tuna in brine work. If it's tuna in oil, I sieve out the tuna and use the oil in place of the vegetable oil required

1¼

C

Coconut milk (300ml)

You can make coconut milk by mixing coconut cream with water in the ratio 3:1 (e.g. 3 tablespoons of coconut cream with 1 tablespoon of coconut milk)

1

teaspoon

Sugar, or to taste

Salt to taste

1 kaffir lime leaf, bruised

Optional but do use it if you have it as it makes the food much more aromatic

Optional garnish: spring onions/ green onions & coriander
Instructions
Heat pan and add oil. When the oil is hot, over low heat, add the onions to the pan and saute till soft and translucent but not brown.

Add the sambal chilli and stir fry till the aroma is released

Add the tuna, followed by the coconut milk and sugar. Saute gently till the entire mixture is well-mixed and warm.

Garnish and serve. See post above for serving ideas
Notes
Some cans of tuna are 120g (0.265 lb) instead of 113g (0.25 lb)- this recipe is flexible so you can still use the entire 2 cans when cooking this spicy tuna dip (instead of storing the extra tuna.)
I do not recommend freezing any extra but you can store it in the fridge, in an airtight container for 2-3 days
Note: different brands of coconut milk have different viscosities- if you want a more watery dip, just add a bit more water.
If you've enjoyed this recipe, please do let me know in the comments below!