Tau Yew Bak, or Chinese Braised Pork in Soy Sauce, is a beloved Singaporean and Malaysian Chinese comfort dish. It's so easy, it's the 1st dish most Singaporean Chinese learn to cook when they go away!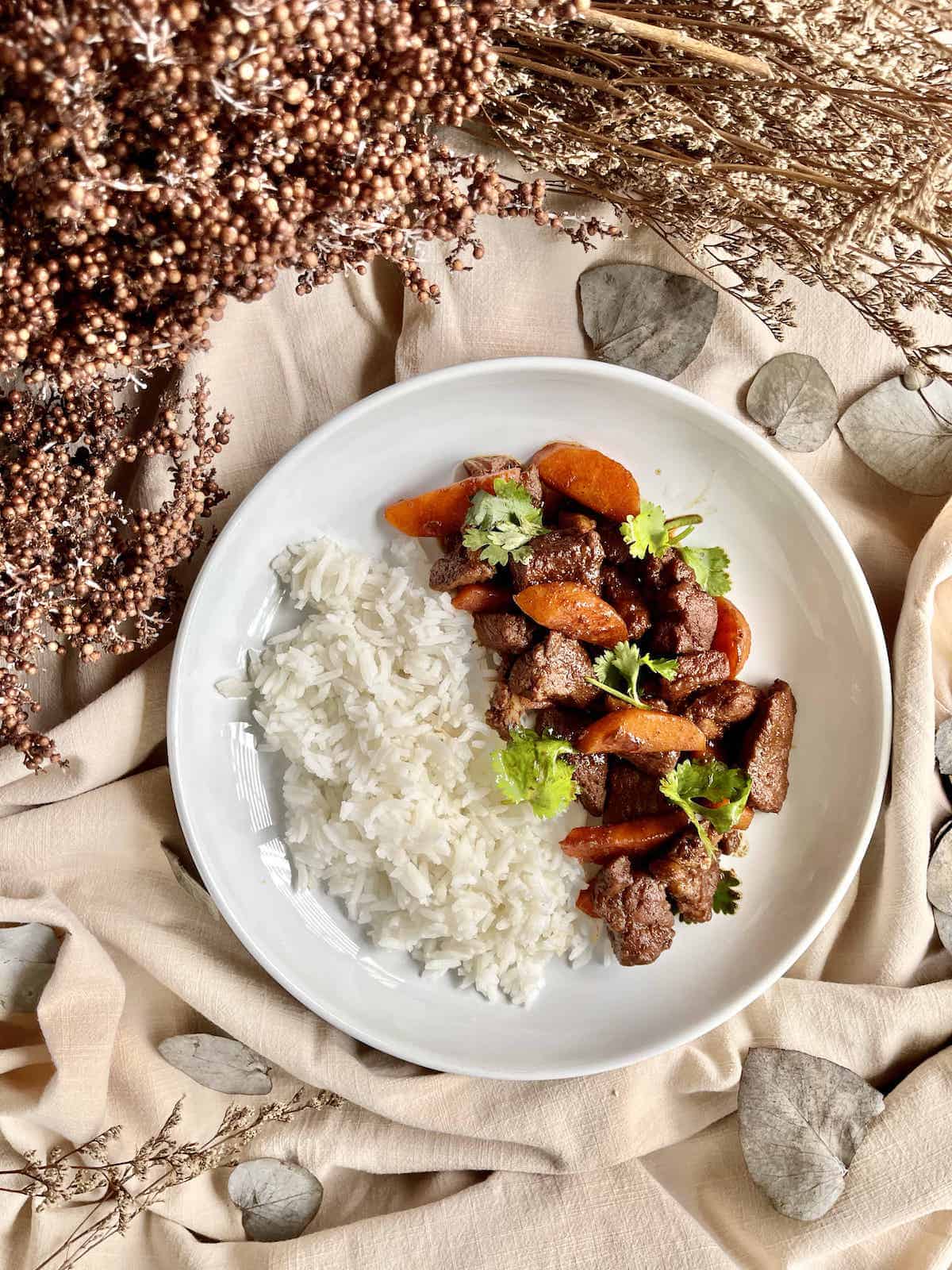 Jump to:
⭐ Why This Recipe is a Star
Tau Yew Bak is a much loved dish in the Singaporean and Malaysian Chinese community that is as easy to make as it is delicious: You only need simple ingredients and most of the cooking time is passive braising.
If you want to eat this delicious warming dish you need to make it yourself: it's so simple to cook, it's not commonly found in hawker centres or restaurants!
Fun fact: Originating from Fujian China and also known as Soy Sauce Braised Pork, "kong tau yew bak", "tau yu bak", "tau eu bak", "Lou bak", "lor bak" etc, Singaporeans have put their own touch on by pairing it with a side of sambal belacan.
"Tau yew/yu/eu" is the Hokkien word for soya sauce and "bak" meat so, as you can see, the name is rather literal!
Note: for more Singaporean recipes, try dry Mee Siam, Mee Siam Soup, Salted Egg Tofu or 1 of these popular Singaporean sweet treats.
🐖 Ingredients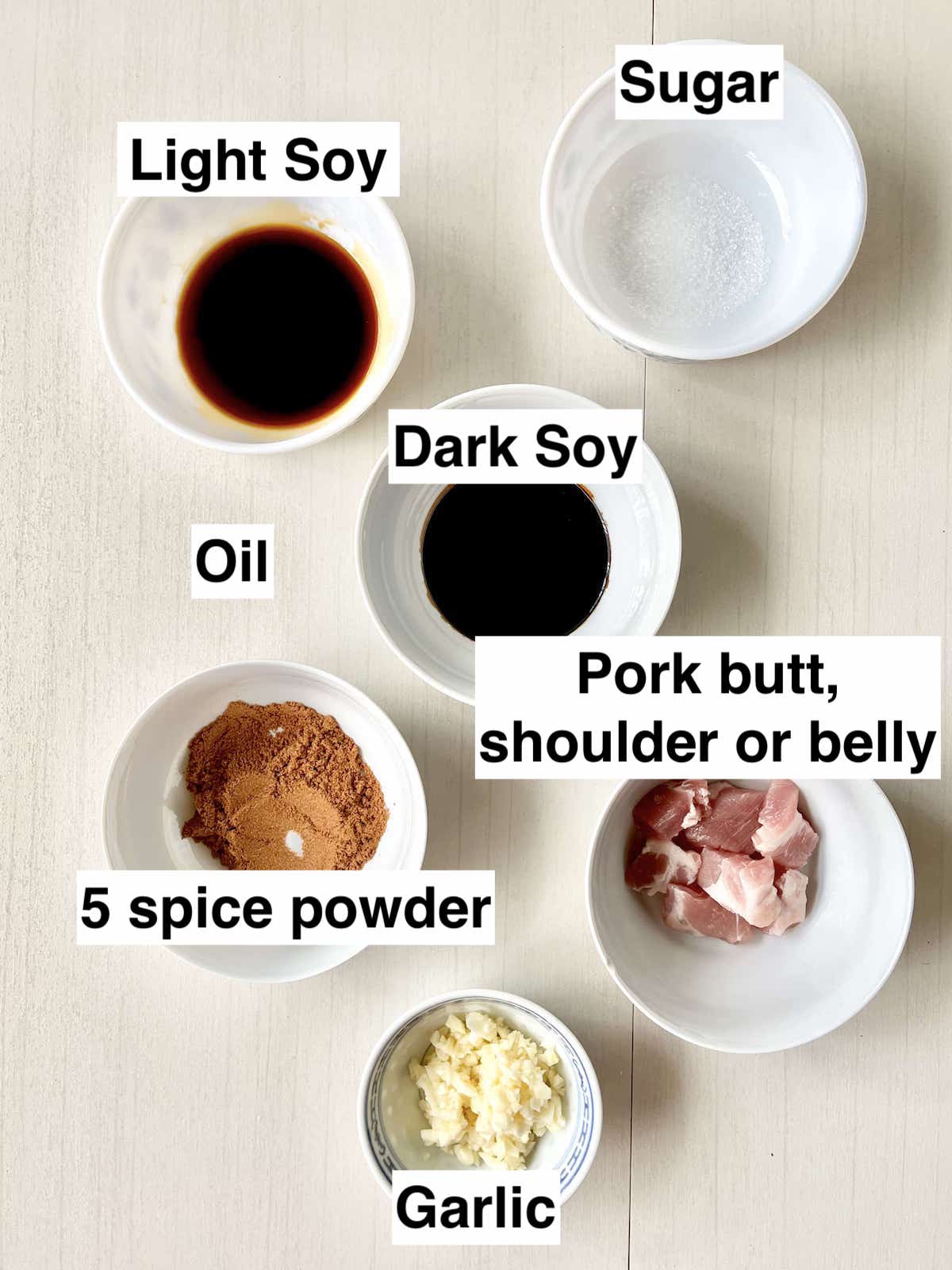 This soy sauce braised pork belly recipe uses 5 simple ingredients:
Pork: traditionally, tender pork belly was used but I prefer pork shoulder or pork butt as it is less fatty. To be frank, whilst the shoulder and butt are tender after braising, they're not quite as beautifully unctuous as using pork belly, even if you cook with homemade lard. Hence, if you can, the best thing to do would really be to use a mix of pork belly and pork shoulder/ butt.
soya sauce: both light soy for flavour and dark soya sauce are used for colour and some sweetness respectively. As it is the star of Tau Yew Bak, please use good quality soy sauces. (More on this below.) If you don't have thick dark soy sauce, which is less common than regular light soy, here are some dark soy sauce substitutes as well as a 2-ingredient, 2-minute DIY recipe. You can substitute with kecap manis if you don't have dark soy, but don't add the sugar till the pork has been cooked and you've tasted the sauce (as kecap manis is already sweet.)
white granulated sugar: you can also use rock sugar which is a traditional Chinese sweetener. However, it comes in lumps and is difficult to break up into exact amounts!
Chinese 5-spice powder: or substitute by adding a variety of aromatic spices such as star anise, cinnamon, peppercorns when braising the meat. This a flexible recipe and the proportions are more of a guideline so feel free to experiment. Add an extra cinnamon stick, a couple more star anise, throw in some white peppercorns for more fragrance! (If you have too much 5 spice, here are ideas to use the aromatic Chinese powder up.) 
For the full list of ingredients, please scroll down to the recipe card.
Note: Chinese soy sauce tastes different from Japanese.
What Kind of Soy Sauce?
There are many types of soy sauces in Asian cuisine: light soy sauce, thick soy sauce, sweet soy sauce, seafood soy sauce...
Despite the similar names, they can't be used interchangeably as they all add different elements to the dish!
As the name of the dish is literally Soy Sauce Meat, you can see that Soya Sauce is the 1 of the stars of the dish. Use the best soy sauce that you can find.
For everyday Chinese cooking, I use Lee Kum Kee (LKK) Soy sauce and when I want to be fancy, I use locally-made soy sauce that has been naturally fermented for 12 months, such as Nanyang Soy Sauce and Kwong Woh Hing Soy Sauce (preferred.) (Soy sauce was traditionally fermented over a long time to build flavour but many companies now use chemical hydrolysis to expedite the process and thus make more money.)
Fun fact: LKK was voted the best tasting soy sauce in an independent Cooks Illustrated blind test! Do note that LKK has different versions of light soy sauce, ranging from regular to premium.
A lot of Chinese restaurants in Singapore, including the fancy ones in 5-star hotels, use Pearl River Bridge soy sauce.
If you're wondering how I know, my family made friends with lots of chefs (we also used to have a restaurant.) Some were so close they even used to send me off with their homemade XO chilli and mooncakes when I went to St. Andrews, Scotland for University!
However, I don't use Pearl River Bridge as it had a cancer warning food scandal a while ago. 
Optional Additions
To reduce the cost of the dish- meat is expensive!- other ingredients can be added to bulk up the dish about 10 minutes before you switch off the fire.
tofu: go for firm or tau pok (tofu puffs.) Don't use silken tofu or egg tofu as they'll dissolve right into the sauce.
hard boiled eggs

If you want the eggs to be steeped in the flavour, add them straight away but if you're fussy about over-cooking, add them towards the end of the cooking time. Alternatively use quail eggs which are smaller- the flavour of the marinade liquid will seep right in.

carrots: adds sweetness to the sauce
Note: some families like to add dried shiitake mushrooms to the fragrant soy gravy. I usually don't as I find the mushroom flavour is quite overpowering. If you want to add some, just add in 1-2 pieces!
🐓 Variations
Soy Chicken Stew: If you don't take pork, you can replace it with chicken. Use chicken thigh as it is a more flavourful cut of meat, and is less likely to dry out whilst cooking. The cooking time would change too.
Vietnamese Thit Kho: use coconut water instead of regular water to braise the meat, and you'll get something similar to this Vietnamese comfort dish. Switch out the dark soy for Vietnamese caramel, and it'll be even more similar!
Filipino Pork Adobo: add some vinegar and bay leaves.
🔪 Step-by-Step Instructions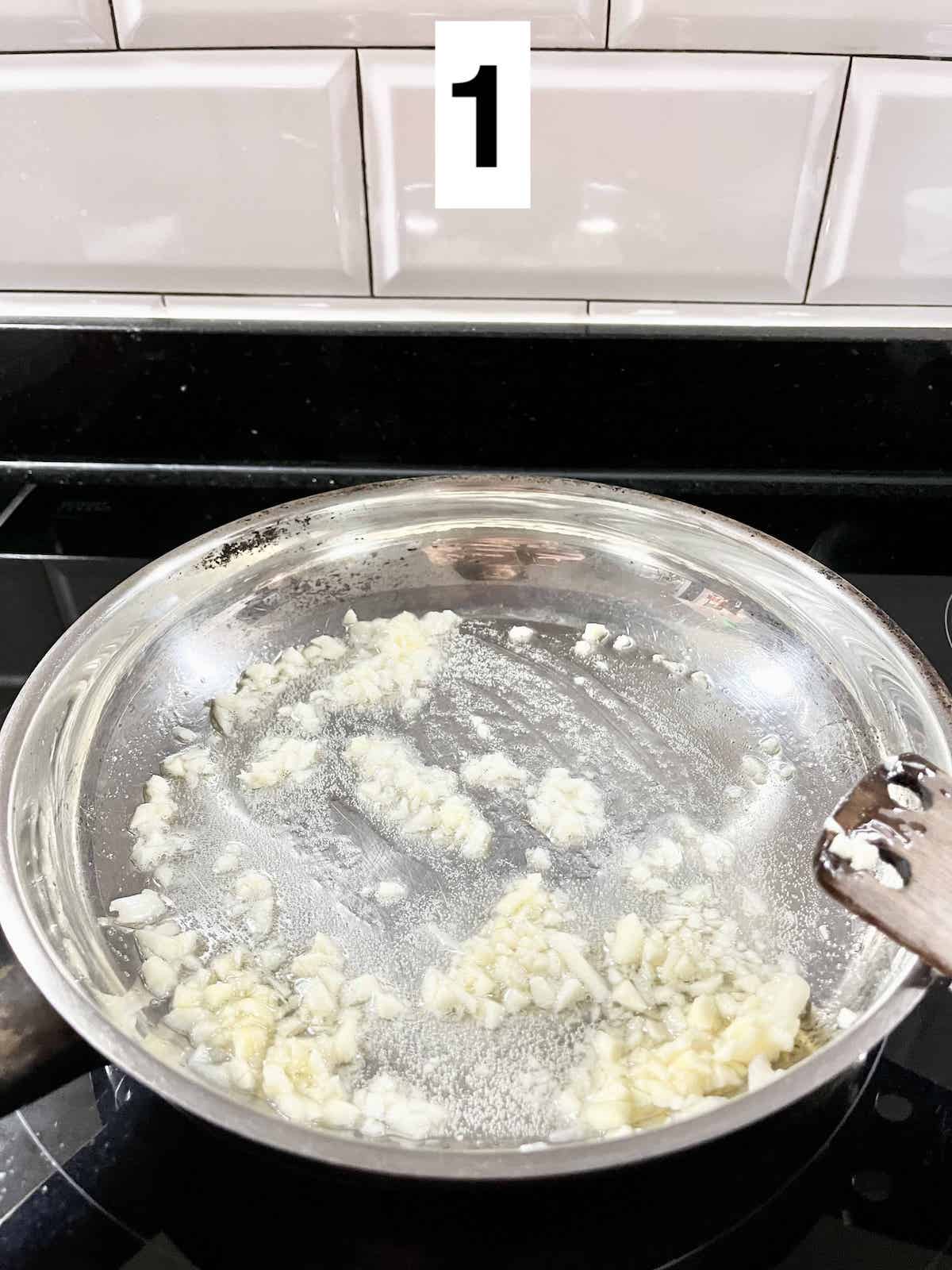 Take your pork out of the fridge about 15 minutes before you want to cook, so that it will be at room temperature before cooking.
Add both soy sauces, the sugar and the 5-spice powder to the pork and mix well.
Heat vegetable oil till almost smoking on medium heat.
Add the minced garlic and quickly stir-fry till fragrant.
Note: When I have rendered lard in the fridge, I use that for more flavor instead of oil. Don't let the garlic burn- lower the heat if it looks too hot!
Tip: If you have whole spices such as star anise, white peppercorns and cassia cinnamon, you can add them to the oil for a more aromatic dish.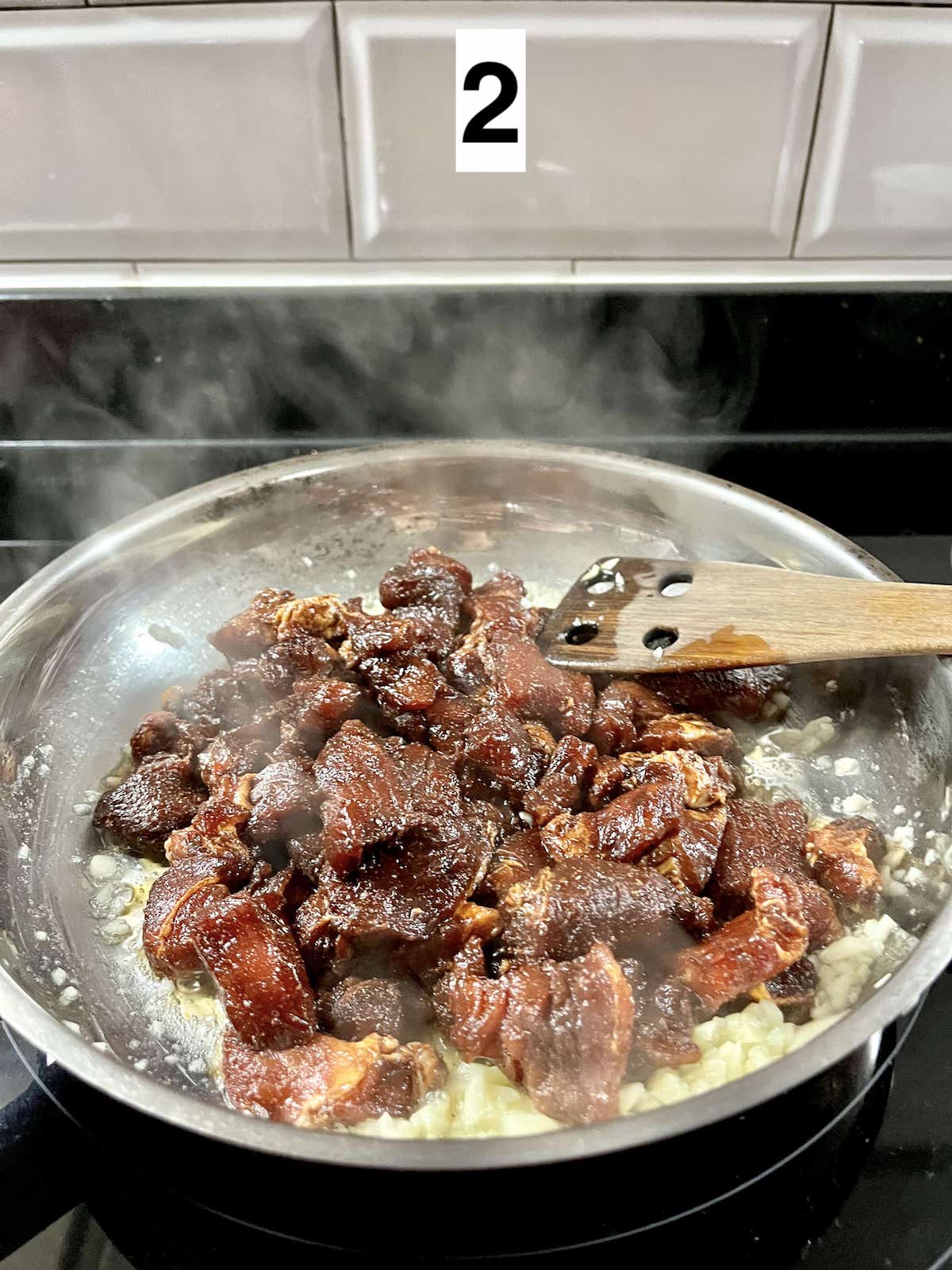 5. Add the pork and lightly sear till brown. It should caramelise nicely thanks to the sugar and dark soy added!
Note: Reduce the heat to medium-low if using pork belly. If not, your dish will be super oily!
6. Cover the pork with water (or pork stock, if you have some on hand) then simmer for 40-60 minutes, or till you get a nice syrupy sauce.
Tip: Don't add too much water at first or you may be braising for ever. You may also need to top up some extra water if your pan gets dry.
7. Season with salt and sugar, to taste, then serve with a bowl of piping hot white rice.
🍚 How to Serve
Tau yew bak is a comfort food that goes hand-in-hand with white rice or even teochew porridge! (Somehow it doesn't taste quite the same to me with noodles, even though they're both starches.)
Although this braised soya sauce pork is already very tasty, a lot of Singaporeans can't do without their spice, so we like to add some sambal chilli.
In the Singaporean Chinese home, we usually cook a couple of dishes to share, so pair this slow cooked Chinese pork dish with a plate of stir fry vegetables, such as kailan in oyster sauce, an omelette, or other Asian side dishes.
👩🏻‍🍳 Expert Tips
Tip #1: The Tau Yew Bak gravy becomes more flavourful the next day, so make a large pot and keep some in the chiller overnight. You'll thank me when you taste that sweet soy sauce broth!
Tip #2: You can also make this dish in a slow cooker (so you don't have to watch the stove) or pressure cooker (if you want to speed up the process.)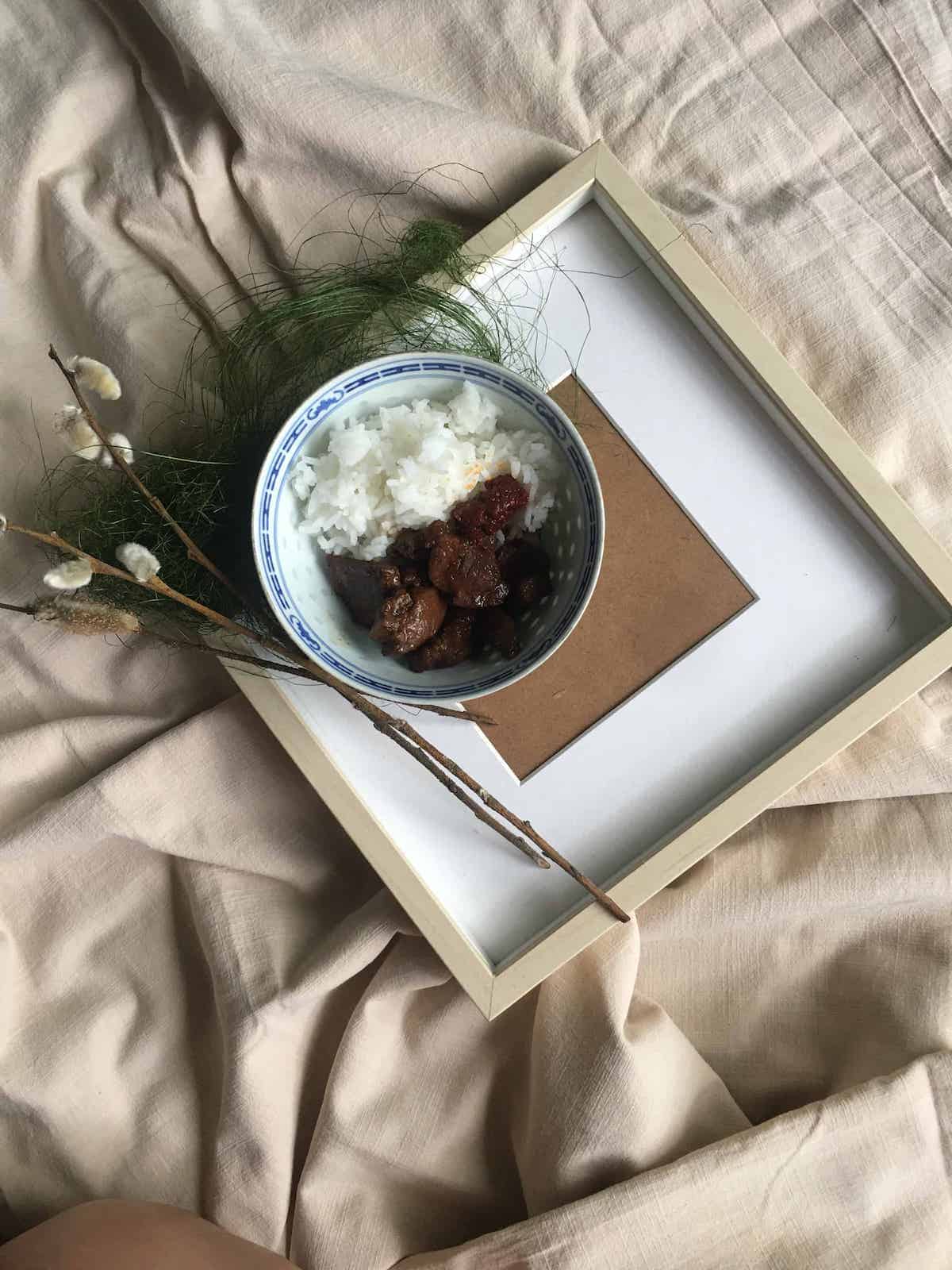 🥘 Suggested Accompanying Recipes
You may also enjoy these Singaporean Chinese dishes with the braised pork:
Enjoyed this savory Chinese Soy Sauce Pork recipe? Please leave a 5-star 🌟🌟🌟🌟🌟rating in the recipe card below & if you REALLY liked this Singaporean comfort food dish, a comment would make my week! Thank you and have a great day!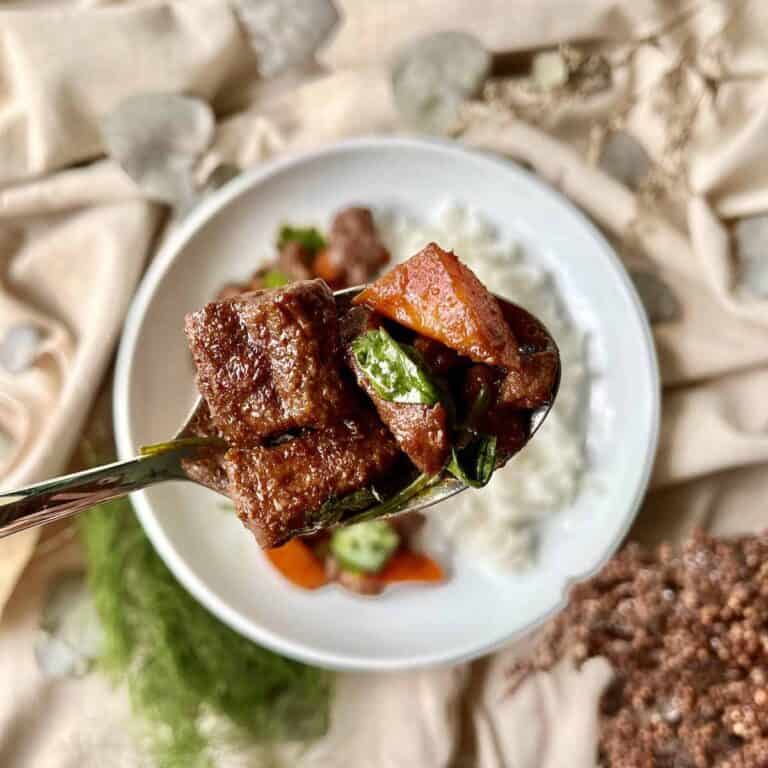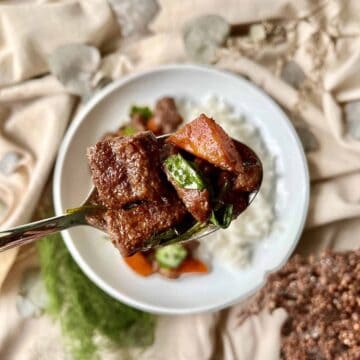 Tau Yew Bak (Braised Pork in Soy Sauce)
A super easy recipe to make for a weekday dinner after work, this braised pork dish is a delicious comfort food that doesn't require much prep time.
Ingredients
0.55

lb

pork

(250g) (8.81 oz) Cut the pork into small pieces, about twice the thickness of your little finger Traditionally pork belly but I find that too oily. You can mix with pork shoulder butt for a great combination of fat and lean meat or use 100% pork butt.

1½

Tablespoon

light soy sauce

1½

Tablespoon

dark soy sauce

If you like your food on the sweeter side, you can use kicap manis instead of dark soy sauce.

¼

T

5 spice powder

Substitute: spices such as cinnamon stick, star anise and peppercorns

1

teaspoon

white granulated sugar

or to taste.

Oil

About 1 Tablespoon or to taste. Substitute: lard

1

bulb

garlic

peeled and minced

Water

Enough to just about cover the meat in the pan. Substitute: pork stock

Salt

to taste

white granulated sugar

optional seasoning, to taste Substitute: rock sugar

Hard boiled eggs/ firm tofu/ cooked peanuts/ dried shiitake mushrooms/ carrots

Optional

Coriander leaves

Optional garnish, rough chop

Sambal belacan chilli

Optional
Instructions
15 minutes before you want to cook, add both soy sauces, the white sugar and the 5-spice powder to the pork. Mix well and leave covered on the counter to come to room temperature.

In the meantime, mince up your garlic.

Heat your pot over low-medium heat, then add some vegetable oil or lard. When the oil is shimmering, add the garlic and stir fry till fragrant.

Tip: If you have whole spices such as star anise, white peppercorns and cassia cinnamon, you can crush them then add and stir fry in the oil for a more aromatic dish.

Increase the heat to medium then add the pork and lightly brown the pieces. It should caramelise nicely thanks to the sugar and dark soy added!

Note: Reduce the heat to low if using pork belly. If not, your dish will be super oily!

Add enough water (or pork stock) to cover the pork then cover and simmer for 40-60 minutes, or till the pork is soft, cooked and you get a nice syrupy sauce.

Remember to top up the water if the pan is drying out!

Tip: Don't add too much water at first or you may be braising for ever. You may also need to top up some extra water if your pan gets dry.

If including hard boiled eggs/ tofu/ carrots to bulk up the dish, add them in during the last 10-15 minutes of cooking. (You can actually add the other ingredients earlier if you want their flavour to be more concentrated, however this will give you overcooked eggs with the tell-tale green rim around the powdery yolks)

At the same time, taste and season the stew (salt and maybe more sugar- will depend on the dark soy you use) accordingly to taste then serve with a bowl of piping hot white rice.
Notes
Here's a recipe for homemade 5-spice powder
If adding dried shiitake mushrooms to your loh bak, add 1 or 2 pieces at the most as the mushroom flavour can overpower the other ingredients.
Note: the nutritional information is an estimate automatically calculated using the WPRM recipe maker and I am not responsible for its accuracy. 
Nutrition
Calories:
456
kcal
Carbohydrates:
98
g
Protein:
14
g
Fat:
10
g
Saturated Fat:
4
g
Polyunsaturated Fat:
2
g
Monounsaturated Fat:
2
g
Sodium:
1031
mg
Potassium:
896
mg
Fiber:
14
g
Sugar:
16
g
Vitamin A:
3286
IU
Vitamin C:
15
mg
Calcium:
1252
mg
Iron:
45
mg
If you try this easy Asian pork recipe, let me know what you think in the comments or tag me @greedygirlgourmet on Instagram!
If you'd like to receive more such Asian meat recipes for fall, sign up for my news letter here!